This three meat pizza with homemade pizza crust is a meat lover's dream come true. Loaded with bold pepperoni, diced ham, and we can't leave off ground beef. Topped on a golden crust and loaded with cheese that's melted to perfection. Slice and serve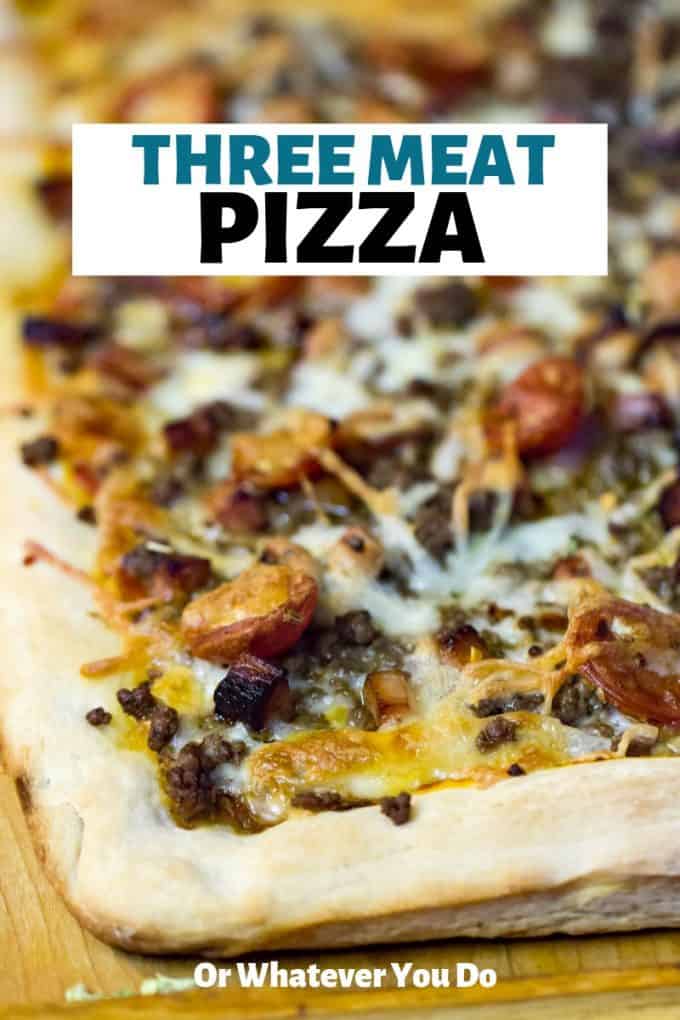 Three Meat Pizza
I am just a tad bit excited over this meat lover pizza recipe. I mean, homemade pizza is my jam, you guys. While ordering takeout is excellent for a night off of cooking, there is something about homemade pizza that just does me in. My three meat pizza is filling, loaded with protein, and the perfect treat for any time of the week.
If you are like me and have an obsession with good pizza, then you will want to add this to your menu, STAT. It is easy to whip up, and the outcome is crowd-worthy good.
In this post, I will share how to make that tender, golden brown crust that takes this pizza from just your normal run-of-the-mill pizza night to outstanding.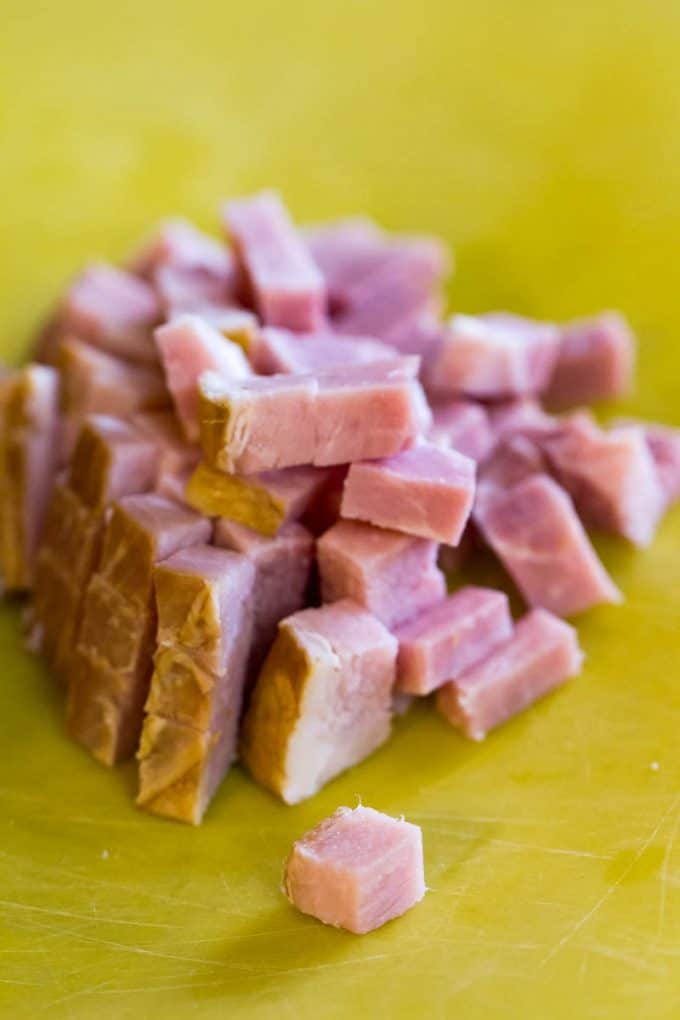 What Toppings Are On Three Meat Pizza
Technically any three meats would work here, but pictured here are ground beef, diced ham, and pepperoni.
You are welcome to play around with meats to fit your needs.
Easy Topping Ideas for Meat Lovers' Pizza
prosciutto
bacon
Italian sausage
Canadian bacon
grilled chicken breast strips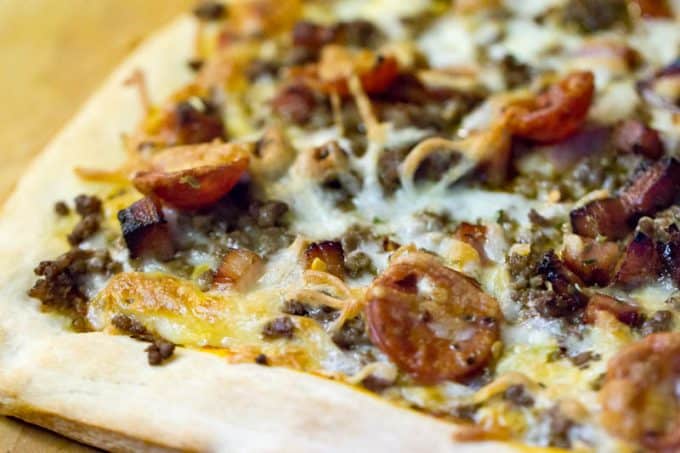 Homemade Pizza Dough For The Three Meat Pizza
I find that taking the time to make a homemade pizza dough can take your pizza from good to addictive. My recipe isn't hard to follow or very time consuming, so you will still find this recipe is rather easy to make. Then you have a homemade taste, that will pair nicely with the meat and cheese.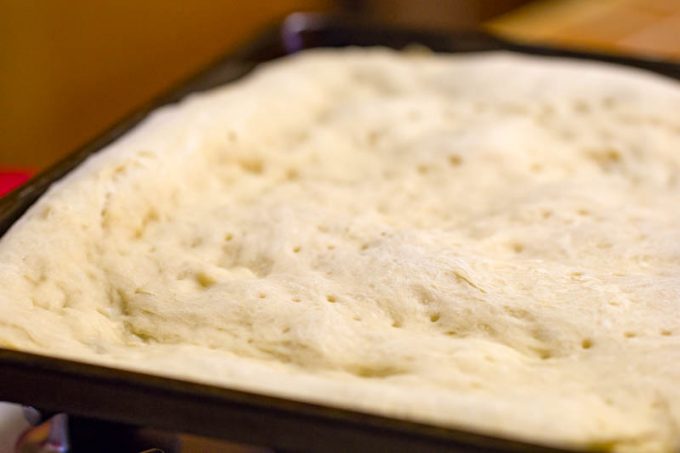 Yield: 3-4 pizzas
Pizza Dough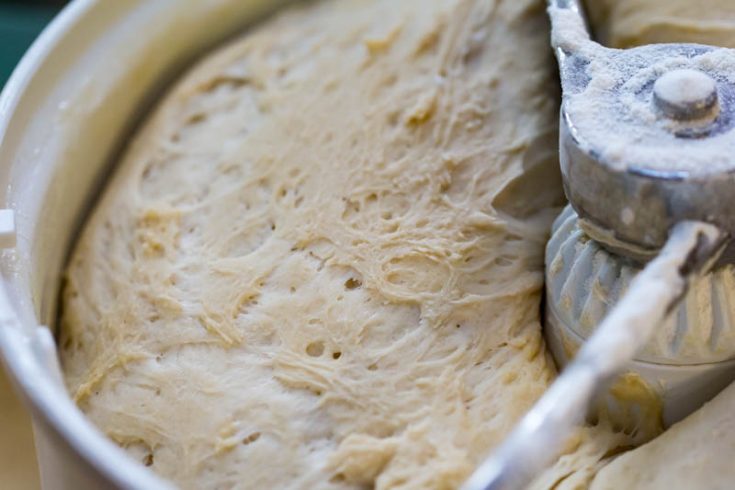 This simple homemade pizza dough recipe makes 3-4 large pizza crusts, depending on how thick you like them!
Additional Time
2 hours
1 second
Total Time
2 hours
25 minutes
1 second
Ingredients
4 cups warm water
4 teaspoons yeast
4 teaspoons red, pink, or kosher salt
1/8 cup honey
1/4 cup olive oil
9-11 cups bread flour
Instructions
Place the water, salt, yeast, and honey into your mixer with the dough hook attached. Mix about 30 seconds.
Turn the mixer on medium speed and begin adding flour until a soft dough is formed that cleans the side of the mixer. Mix for 4 minutes after the sides are cleaned.
Turn mixer to low and drizzle in the olive oil and mix until it is kneaded into the dough.
Cover and let rise in a warm place until doubled.
Take a large handful of dough and press and gently onto a large pizza pan. Par bake for 5 minutes at 450°. Remove from the oven and top with sauce and desired toppings.
Bake an additional 10-12 minutes, or until crust is golden brown and the cheese is melted.
Recommended Products
As an Amazon Associate and member of other affiliate programs, I earn from qualifying purchases.
Nutrition Information:
Yield:
32
Serving Size:
1
Amount Per Serving:
Calories:

875
Total Fat:

9g
Saturated Fat:

1g
Trans Fat:

0g
Unsaturated Fat:

5g
Cholesterol:

0mg
Sodium:

76mg
Carbohydrates:

309g
Fiber:

10g
Sugar:

2g
Protein:

51g
What kind of Sauce Is Best For Pizza?
Homemade sauce, of course. But if you don't have the time or ingredients for homemade, my personal favorite is the Ragu Pizza Sauce. NOT the "pizza quick" version though!
If you are looking for a killer homemade version make sure and check out my recipe below.
Yield: 4 pizzas
Easy Pizza Sauce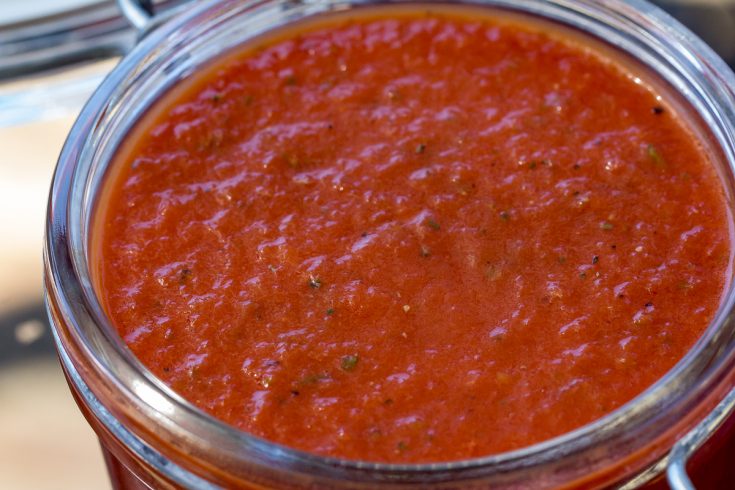 This quick and easy pizza sauce gets thrown together in about 15 minutes, uses common ingredients, and is better than anything that comes pre-made. Make it while your dough rises!
Ingredients
1/4 cup olive oil
1 tablespoon garlic, minced
2 28-ounce cans crushed tomatoes
1 teaspoon garlic powder
1 teaspoon onion powder
2 teaspoons salt
1 teaspoon pepper
2 teaspoons crushed red pepper flakes
2 teaspoons dried basil
2 teaspoons dried oregano
2 teaspoons dried parsley
1 1/2 tablespoons sugar
Instructions
Place everything in a food processor or blender and pulse until combined.
Spread on pizza crust and cook the pizza as you normally would.
If the sauce will be used for dipping and won't be cooked with the pizza, I recommend simmering it in a saucepan for 5-10 minutes before serving.
Recommended Products
As an Amazon Associate and member of other affiliate programs, I earn from qualifying purchases.
Nutrition Information:
Amount Per Serving:
Calories:

339
Saturated Fat:

3g
Sodium:

1689mg
Carbohydrates:

35g
Fiber:

7g
Sugar:

21g
Protein:

7g
How to Cook Three Meat Pizza
You have a couple of options for cooking this pizza. You can toss it on your pellet grill and cook it until the dough is cooked through and golden brown, or toss in your oven. I have cooked this pizza both ways, on the reg, and it's delicious both ways.
Sometimes the grill offers that savory wood-fired taste, which works really well with the crust. If it is too snowy or cold or rainy though, the oven is a perfectly acceptable sub-in. Kids and adults both enjoy the meaty toppings and the melted gooey cheese.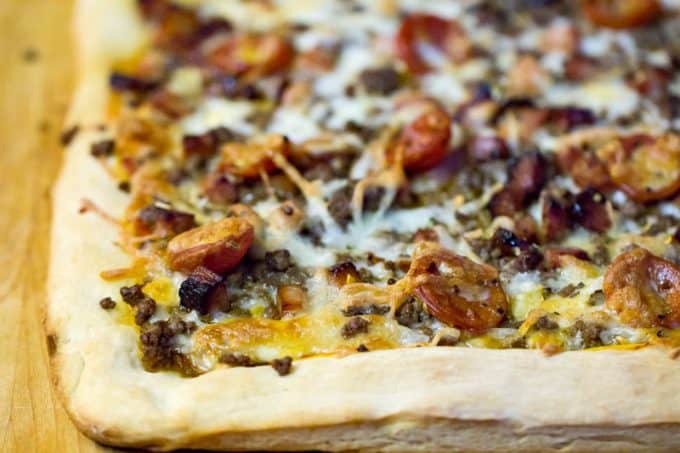 What is the Best Way to Reheat Homemade Pizza?
I've never tried this myself, but some people swear by taking your pizza slice and placing it in a cast-iron skillet on the stove and then slowly heating it up there keeps the texture as close to freshly-baked pizza as is possible when you are reheating leftovers. You can also just toss back in the oven and allow it to warm through that way as well.
Just whatever you do keep your pizza OUT of the microwave.
How Do You Know When Homemade Pizza Is Done
I find that looking at the bottom of the crust to see that it is well browned is a good indicator that your pizza is done. Then, look at the edges of the crust to see they are also golden, and that the cheese is melting all over the pizza.
My pizza is par-baked, which means you cook it partially before topping it. If you aren't using a professional pizza oven, this is really the best way to go so you can ensure your toppings and your crust are both perfectly cooked.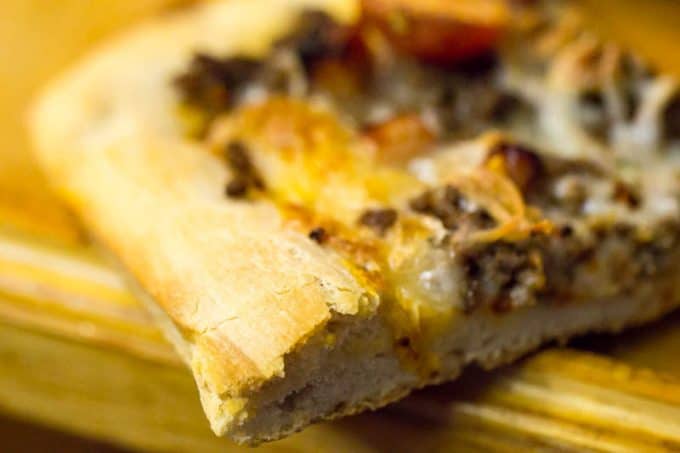 When Making Pizza What Goes On First?
Start with your crust and apply a nice layer of sauce that is spread evenly over the pizza crust.
The next part might be controversial, but so be it. If I can't be opinionated about things on my own site, we've lost the war I'm thinking, so buckle up.
PUT YOUR TOPPINGS ON TOP OF THE PIZZA
There. I said it.
When you put the toppings under the cheese they don't have a chance to really get hit with that direct heat from the oven or the grill.
I will definitely eat toppings under the cheese pizza. For sure. I mean, it is PIZZA and I am not usually a dumbass, so yes gimmie the pizza no matter what order you top it in, but in my perfect world? You have crust on the bottom, then copious amounts of homemade sauce, and then cheese, toppings, a little sprinkle of cheese, and then some pizza seasonings.
Perfect.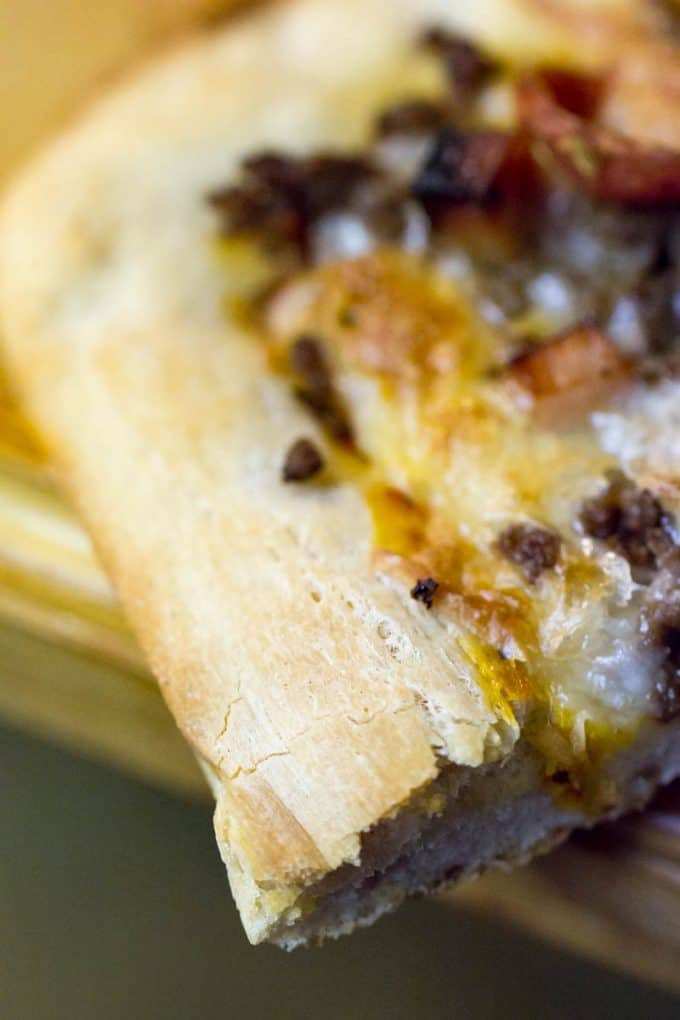 How Do You Get The Curled Pepperoni?
If you want to get that classic pizzaria-style curled pepperoni that makes itself into a little pepperoni-grease bowl with crispy edges, there are a few things to consider.
The first one is that you will never get that with your typically Hormel sliced pepperoni.
Don't get me wrong here. I LOVE that sliced pepperoni. I love it so much that I made up a ridiculous appetizer when I was a kid that were lovingly (and confusingly) called "Toocos" (pronounced two-kohs).
I don't know why I called them that, other than that they KIND of resembled a tacos.
Have you figured out what these are yet?
Pepperoni with mozzarella cheese in the middle, rolled up and secured with a toothpick, and then served with pizza sauce for dunking.
All cold.
They were not super popular at whatever party I served these at, but I remember people definitely played along, and I was super proud of this AMAZING appetizer that I'd crafted from my very own mind.
Blesssss my mother for playing along, and also those tupperare/candlelight/avon MLM guests that were over to shop and buy things from us and hang with us. That's the first party I can really remember participating in, and I probably harrassed my mom into buying those things and I'm PRETTY sure I ate most of the end result myself, but hey. We're here now, right?
Confession time though…
When I'm starving and working and just need a super easy snack to put some calories into my body, I still reach for these.
My kids love them too.
I no longer go to the trouble of rolling or toothpicks or any of that, but you'd better believe that once a month or so I'm grabbing and eating a handful of these as my lunch.
ALLLLL of that to say…you're never going to get curled pepperoni with that kind of meat.
In order to get curled pepperoni you need a pepperoni stick that you slice your very own self, at about 1/8 to 1/4 inch thickness.
You also need a SCORTCHING-hot oven, and to put those stinking toppings on the top of the pizza, okay? I told you it was important!
Can You Freeze Leftover Pizza?
Ohhh yeah.
You can freeze leftover pizza for to eat later, for sure. Just wrap in foil and then place in a freezer bag or airtight container. When you are ready to reheat it, just thaw in the fridge overnight and then place the foil into the oven to reheat.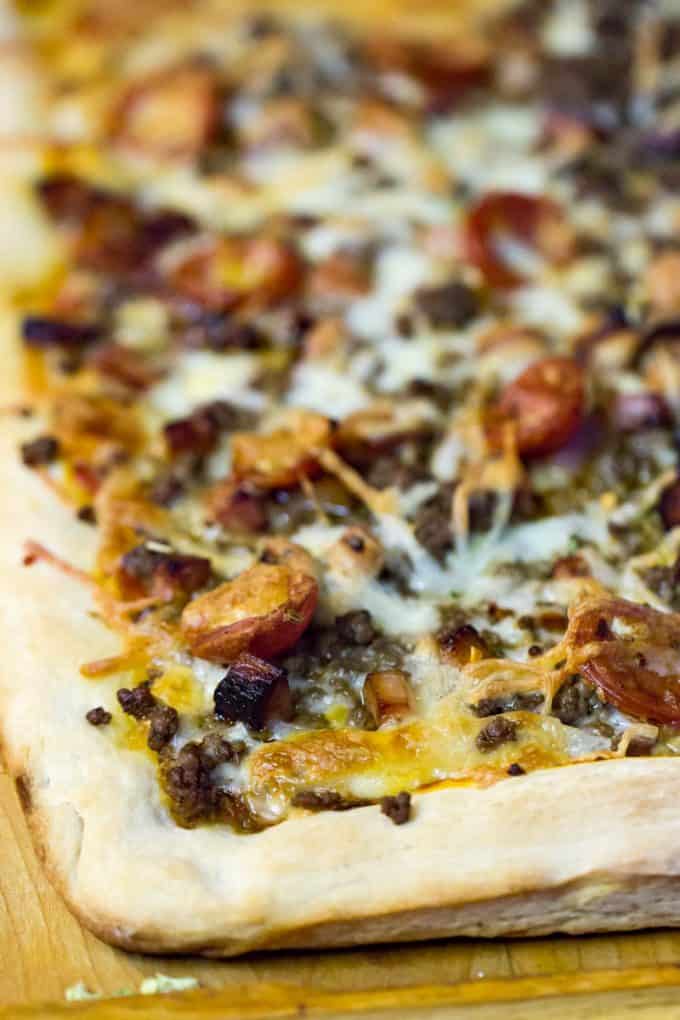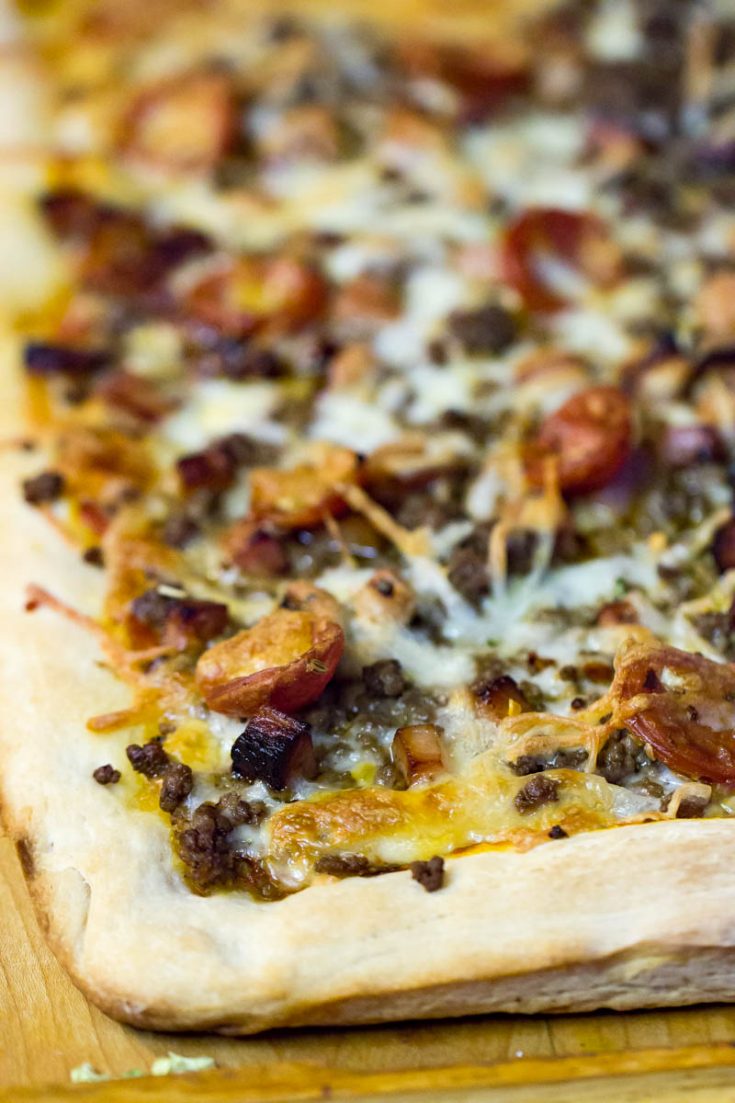 The Best Three Meat Pizza Recipe
Skip ordering takeout and make this homemade three meat pizza the next time you get a craving. Whether you are the family that eats pizza every Friday night or it is a treat here and there, give my recipe a try.
More Good Reads for Pizza Lovers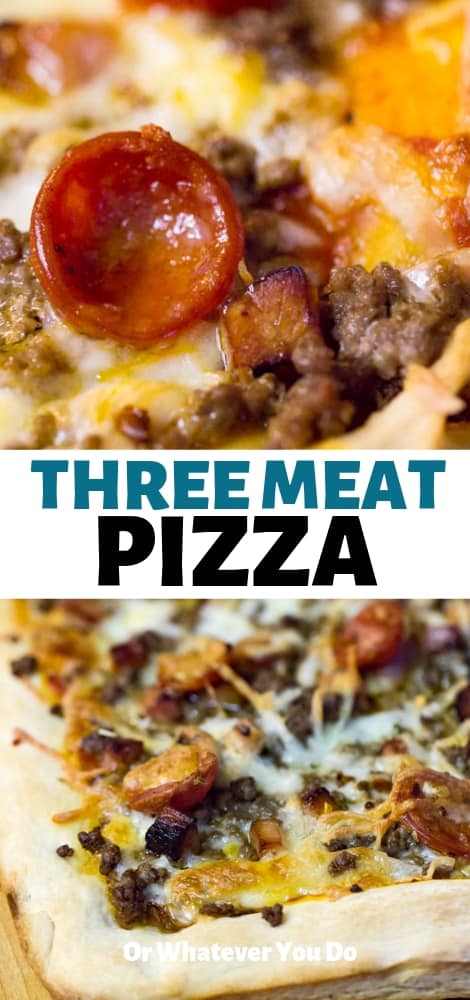 Yield: 2 pizzas
Meat Lovers Pizza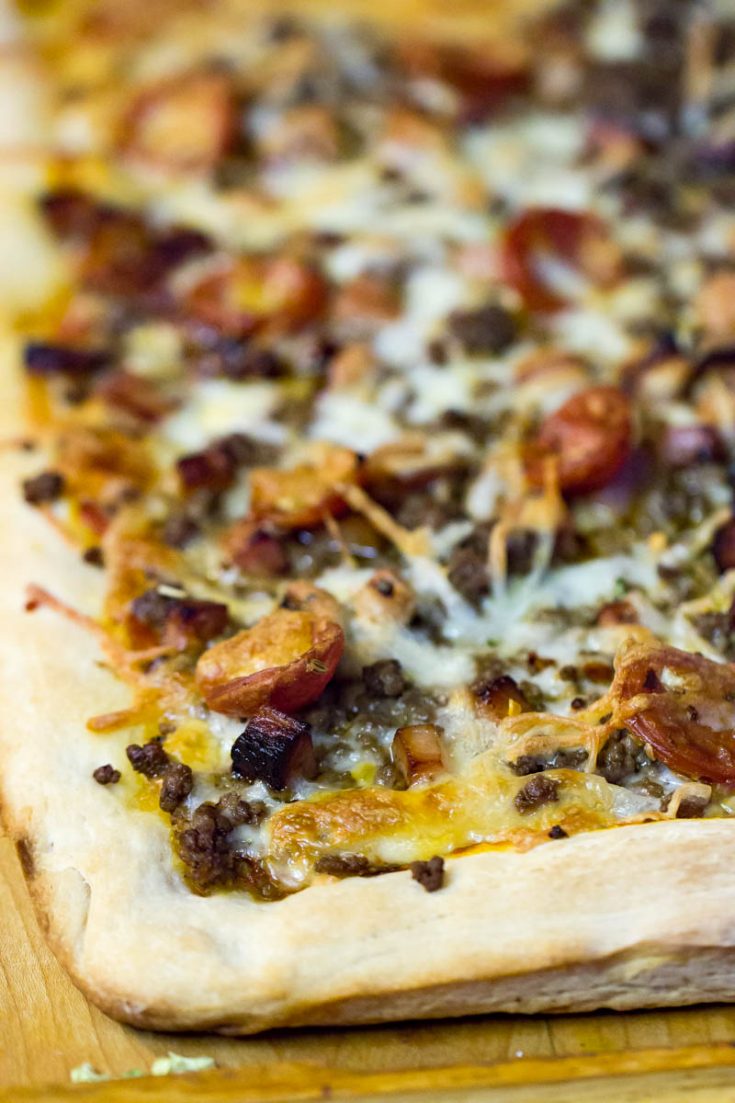 This meaty homemade pizza is packed with pepperoni, ground beef, and diced ham! All on a homemade crust with freshly made sauce. Turn pizza night into something special!
Total Time
1 hour
50 minutes
Ingredients
1 batch pizza dough
1 batch pizza sauce
3 cups diced ham
8 ounces sliced pepperoni
Seasoned Ground Beef
1 pound ground beef
1 teaspoon salt
1/2 teaspoon pepper
1/2 teaspoon garlic powder
1/2 teaspoon onion powder
1 teaspoon Italian seasoning
8 cups shredded mozzarella cheese
Instructions
Make the pizza dough according to the directions above, or use your favorite pre-fab pizza crust from the grocery store. Par-bake the crust for 10 minutes, and set aside.
Prepare the pizza sauce according to the directions included above, or buy your favorite pre-made sauce.
Place the ground beef in a large skillet along with the rest of the seasonings, and cook over medium-high heat until there is no more pink remaining. Drain the excess fat, and set aside.
Preheat your oven or grill to 450-500°, ideally. If your oven/grill doesn't get up that high, anything over 400° will do just fine.
Top the par-baked pizza with liberal amounts of sauce, then cheese, then toppings. IN THAT ORDER OR ELSE. 😉
Bake for 10-15 minutes, or until the crust is golden brown and the cheese is bubbly and melted, and serve hot!
Nutrition Information:
Yield:
6
Serving Size:
1
Amount Per Serving:
Calories:

857
Total Fat:

57g
Saturated Fat:

25g
Trans Fat:

2g
Unsaturated Fat:

24g
Cholesterol:

221mg
Sodium:

2506mg
Carbohydrates:

14g
Fiber:

0g
Sugar:

4g
Protein:

70g
Nutrition data provided here is only an estimate. If you are tracking these things for medical purposes please consult an outside, trusted source. Thanks!