In our easy Blackstone Pork Chops recipe, we're going to walk you through not only the perfect homemade marinade but also how to make sure your pork chops do not resemble the pork chops you probably had while you were growing up, but they are juicy, tender, and delicious.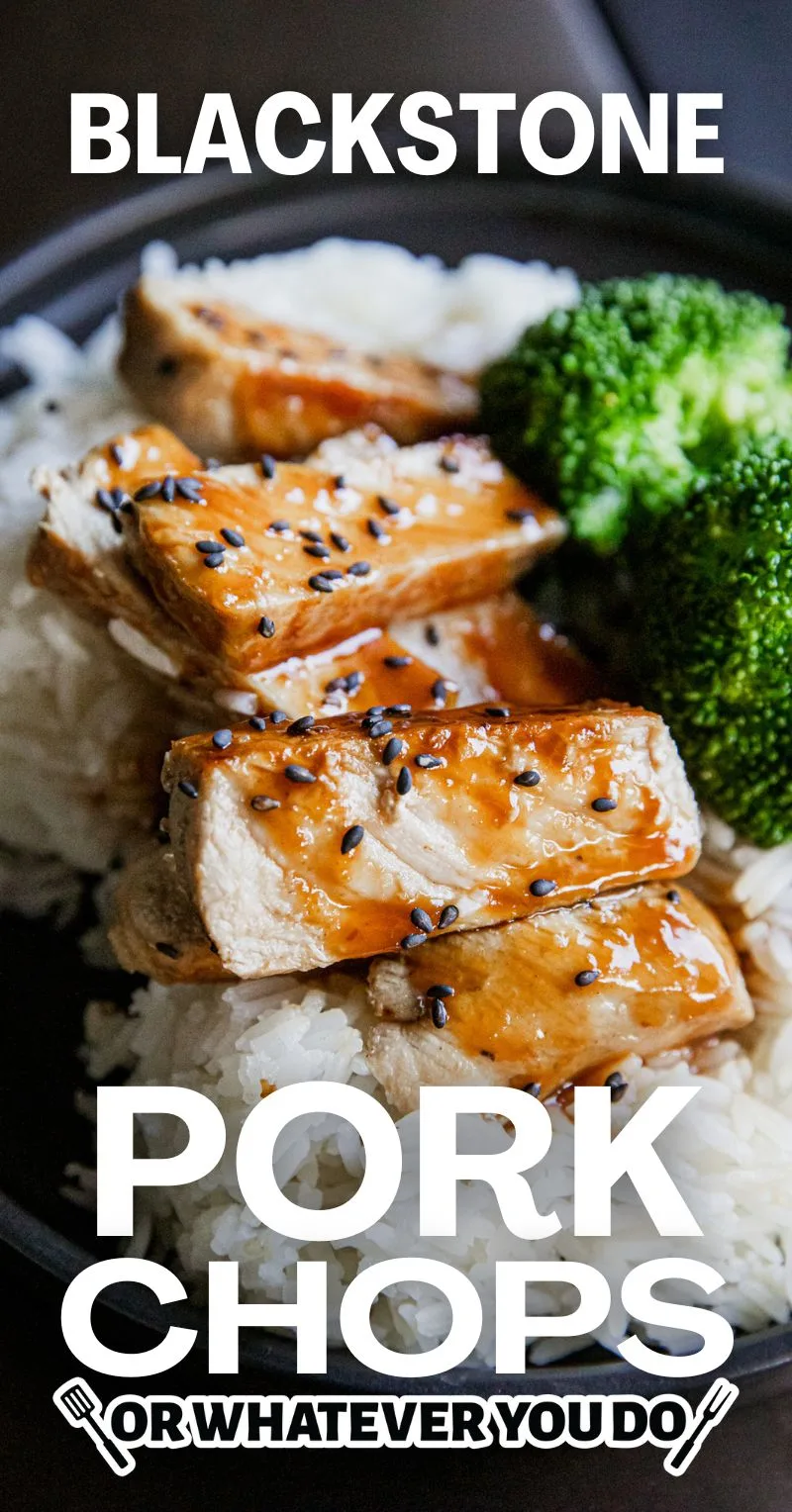 Blackstone Pork Chops
Are you looking to elevate your dinner game without spending a fortune? Look no further than our Blackstone Pork Chops! This delicious recipe boasts a homemade marinade that will knock your socks off and unbelievably juicy thick-cut pork chops that will leave your mouth watering. Whether you're cooking for a family dinner or hosting a small get-together, these pork chops are sure to impress.
Let's talk about the star of the show: the homemade marinade. Made with a delightful blend of lemon, garlic, thyme, and a few other ingredients, this marinade takes these pork chops to the next level. The garlic adds a delicious savory note, while the soy sauce and brown sugar balance out the flavors perfectly. It's a simple recipe, but trust us, it's a game changer.
These Blackstone Pork Chops cook to a perfect temperature of 135°F, then rest until they hit 140°F, ensuring that they are cooked through, but still delicious, tender, and juicy. The griddle is the perfect spot to make pork chops too because you get a beautiful sear and that irresistible crispy crust that we all love.
So what are you waiting for? Add these Blackstone Pork Chops to your menu rotation and impress your family and friends with your newfound cooking skills. Plus, they're easy to make and won't break the bank. It's a win-win situation!
More Blackstone Recipes here!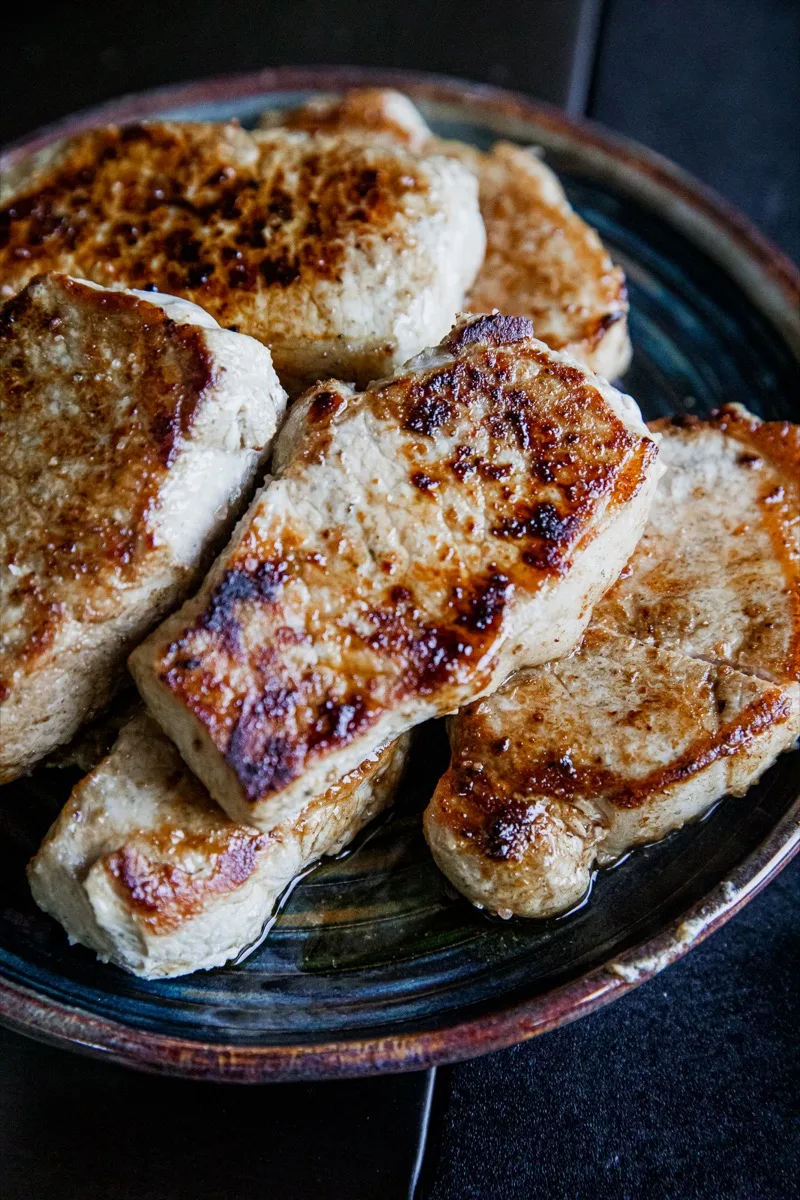 Blackstone Pork Chops Shopping List
Wondering if you have to hit the store? Here's the list of items you'll need to make this recipe. For specific amounts, please refer to the printable recipe card at the bottom of the post.
Olive oil
Lemons
Garlic
Thyme
Honey
Red pepper flakes
Apple cider vinegar
Parsley
Pork chops
Salt
Garlic powder
Pepper
Oil
This recipe uses our Easy Pork Marinade!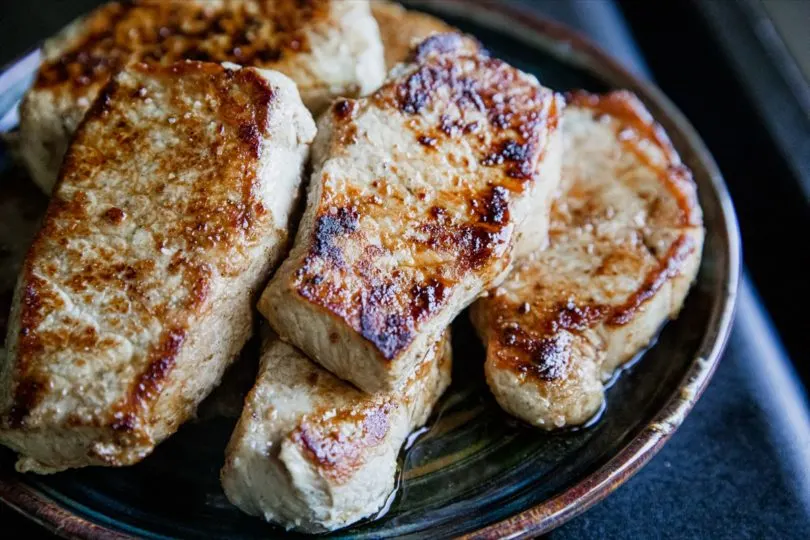 How to make Pork Chops on the Blackstone
This is just the overview so you can see what you're actually getting into here. When you are cooking, you'll want to use the full recipe at the bottom of the page.
Mix marinade
Combine all the marinade ingredients together and add the pork chops. Let them marinate for 4 hours.
Preheat
Preheat the griddle over medium heat.
Prep
Drain the marinade and pat dry with paper towels. Mix together the salt, pepper, and garlic powder. Season the pork chops on both sides.
Cook
Lay down some oil on the griddle and let it get good and hot. Put the chops down and leave them alone for a few minutes until the bottom is brown.
Flip, and let the other side brown. Check your temps using an instant-read thermometer and pull off the griddle once the internal temperature in the center reaches 135°F.
Rest & Enjoy
Let the pork chops rest, tented with foil, for 10-15 minutes before serving. Slice and enjoy! You can eat them plain, with bbq sauce, or as pictured with some Bachan's, steamed rice, and broccoli.
How about some Blackstone Naan Bread?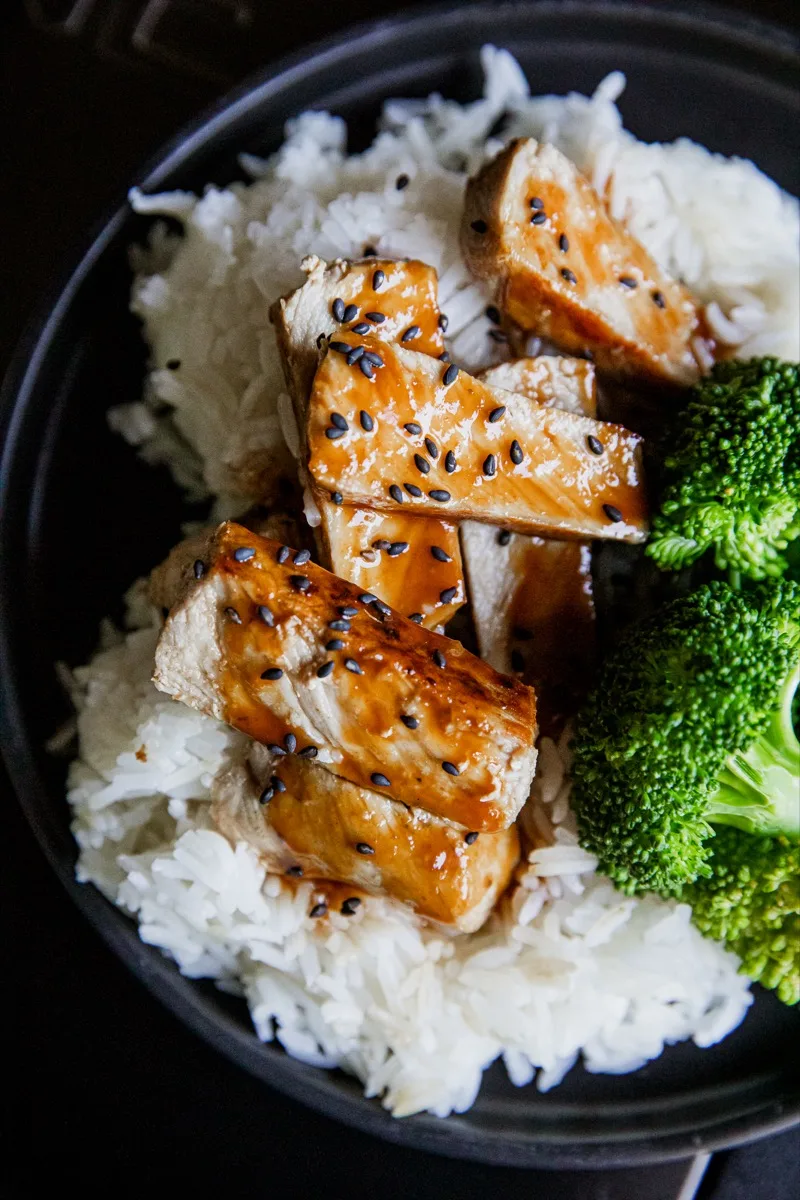 Blackstone Pork Chops FAQ
Can you use bone in pork chops for this recipe?
Sure! Bone-in chops work just as well as boneless chops for this marinade and cooking method. Get whatever you prefer (or what's on sale) and get cooking!
Can this dish be made in advance?
Not ideally, but if you have to, it can certainly be transported across town or something after it cooks. Undoubtedly, pork is a lean meat, so it is best eaten right after it comes off the griddle and rests. If you need to stretch that out another 20-30 minutes you'll still have a delicious dish waiting for you at the end of that time. Make sure to keep things covered to keep it hot. Pork doesn't love reheating.
What's the best thing to do with leftovers?
The BEST thing to do is to try not to have any leftovers, but if you DO wind up with some, they work great in this Spicy Yaki Udon!
Make some Miso Browned Butter Udon!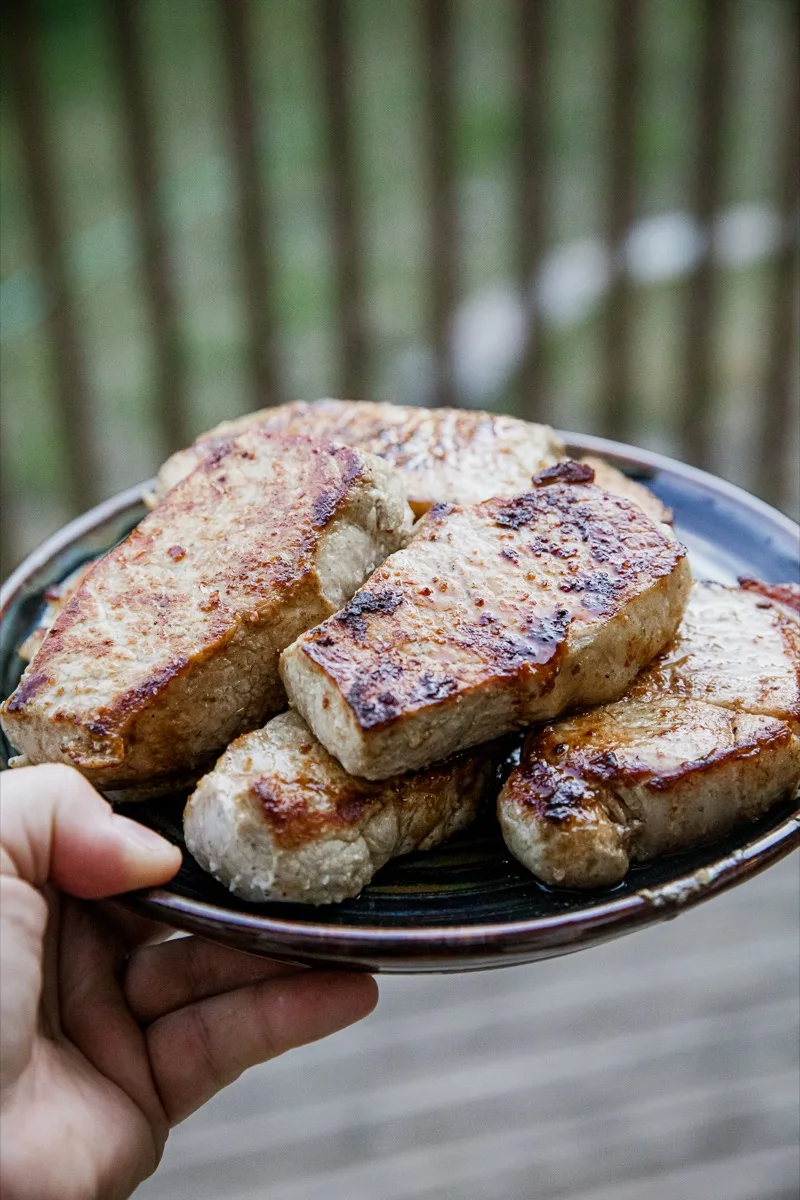 More great recipes featuring pork to love!
Pork Chops and Racks Recipes
Experience the savory and tangy fusion of flavors in these Grilled Teriyaki Pork Chops, grilled and served with a rich, homemade teriyaki sauce.
Discover a new level of pork chops with our Traeger Stuffed Pork Chops, where each chop is filled with a delightful mix of flavorful stuffing, and then we smother it in homemade mushroom gravy.
Savor the richness of this Grilled Rack of Pork, where took a whole pork prime rib roast and grilled it to a golden brown. It is packed with juicy, mouthwatering flavors and is a perfect centerpiece for your table!
Pork Loin and Tenderloin Recipes
The Traeger Smoked Pork Loin is an absolute treat, boasting a perfect balance of smokiness and juiciness, making it a must-try for pork lovers. Plus, pork loins are very budget-friendly. Also, you should grab a few when they are on sale and stick the extras in the freezer!
Indulge in our delicious Smoked Pork Tenderloin, a tender and smoky delight that we coat in a blend of bold spices and smoke to achieve a melt-in-your-mouth texture.
Spice up your mealtime with the amazing flavors in our Smoked Gochujang Pork Tenderloin, a Korean-inspired dish that perfectly blends smoky, spicy, and sweet flavors.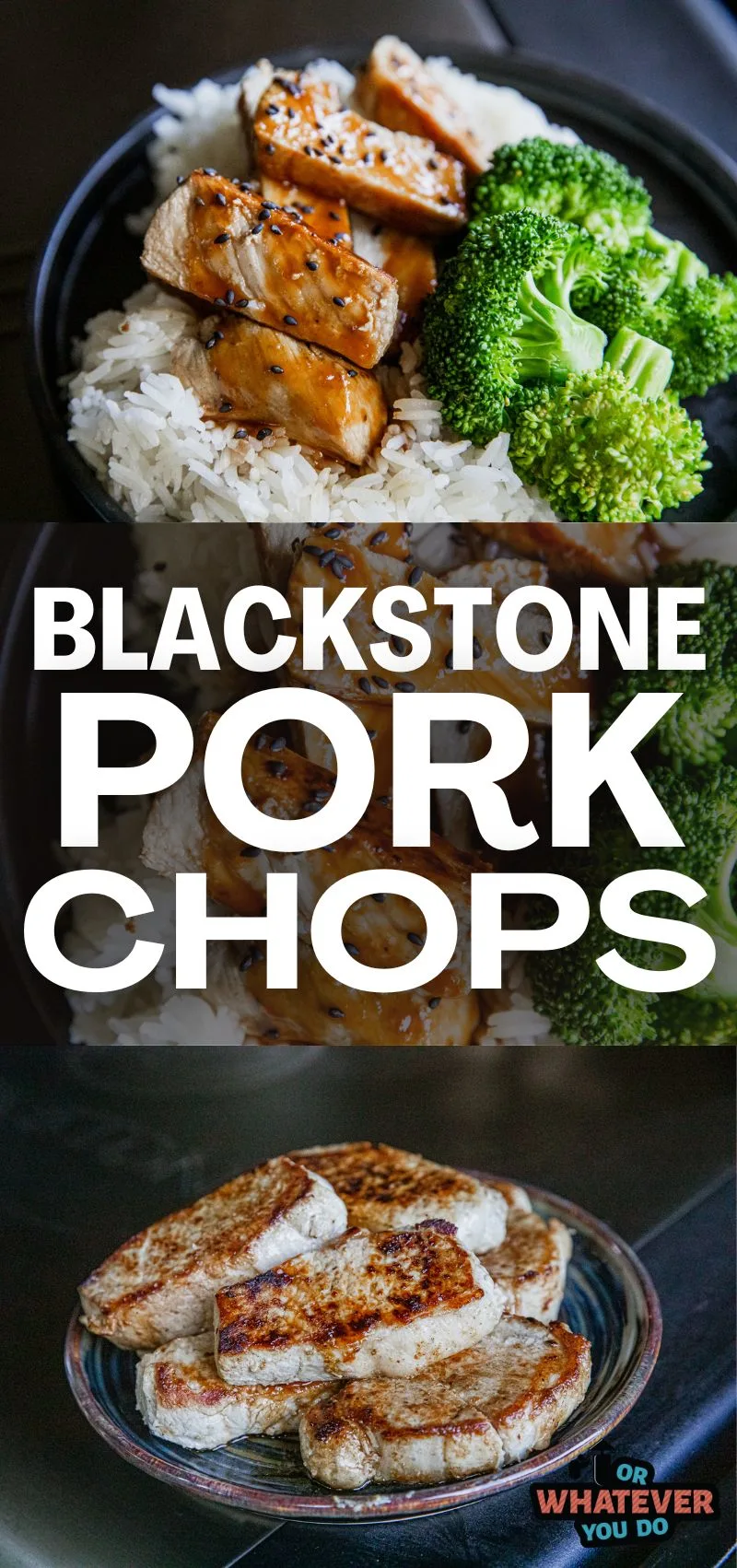 Yield: 8 servings
Blackstone Pork Chops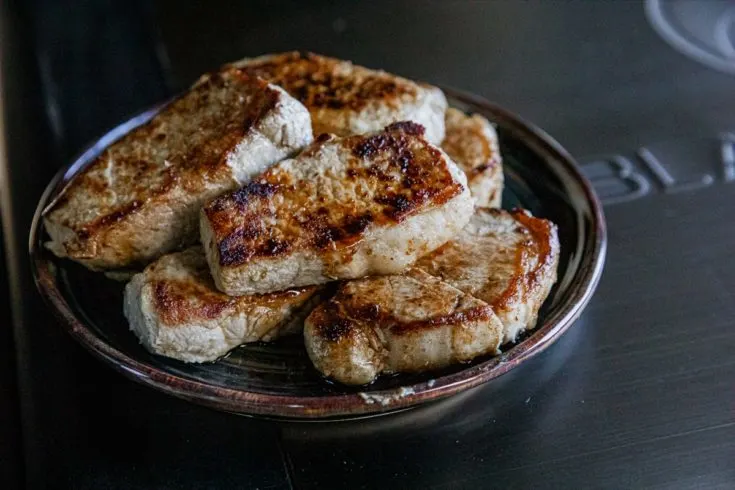 Our flavorful pork marinade makes ordinary pork chops extraordinary, and the Blackstone Griddle is the perfect place to cook them! Great sear, cooks a ton all at once, and dinner is done in a flash!
Total Time
4 hours
20 minutes
Ingredients
Pork Chop Marinade
1 cup water
1/4 cup olive oil
1/4 cup fresh squeezed lemon juice
1 lemon, thinly sliced
3 cloves minced garlic
2 sprigs fresh thyme
1 tablespoon honey
1 teaspoon red pepper flakes
1/2 teaspoon salt
1/2 teaspoon black pepper
2 tablespoons apple cider vinegar
1 tablespoon chopped parsley
Pork Chops
8 pork chops
2 teaspoons salt
2 teaspoons garlic powder
1 teaspoon pepper
4 tablespoons oil
Instructions
Combine all of the marinade ingredients in a large freezer baggie or a large flat-bottomed storage container. Whisk or mash the baggie together to combine. Add the pork chops and refrigerate the whole thing for 4 hours.
Drain the marinade off of the pork chops and pat dry with paper towels.
Preheat your Blackstone griddle over medium heat.
Mix together the salt, garlic powder, and pepper. Season both sides of the pork chops.
Put the oil down on the griddle. You can use less if you prefer. You just want a thin layer of oil on the griddle for the pork to cook in.
Brown the chops on both sides. Remove from the griddle when the internal temperature reaches 135°F.
Remove from the griddle and tent with foil and let the chops rest for at least 10-15 minutes. The internal temperature will rise by at least 5° in that time period.
Serve hot with your favorite sides. Pictured here you see steamed rice, broccoli, and plenty of Bachan's and sesame seeds on top.
Recommended Products
As an Amazon Associate and member of other affiliate programs, I earn from qualifying purchases.
Nutrition Information:
Yield:
8
Serving Size:
1
Amount Per Serving:
Calories:

470
Total Fat:

31g
Saturated Fat:

7g
Trans Fat:

0g
Unsaturated Fat:

21g
Cholesterol:

132mg
Sodium:

750mg
Carbohydrates:

5g
Fiber:

1g
Sugar:

3g
Protein:

41g
Nutrition data provided here is only an estimate.