Our Easy Pizza Sauce Recipe can be cooked, or not cooked. Either way, it'll be delicious! Throw this on your next homemade pizza, or use as a dipping sauce for anything that could use a dunk in some marinara.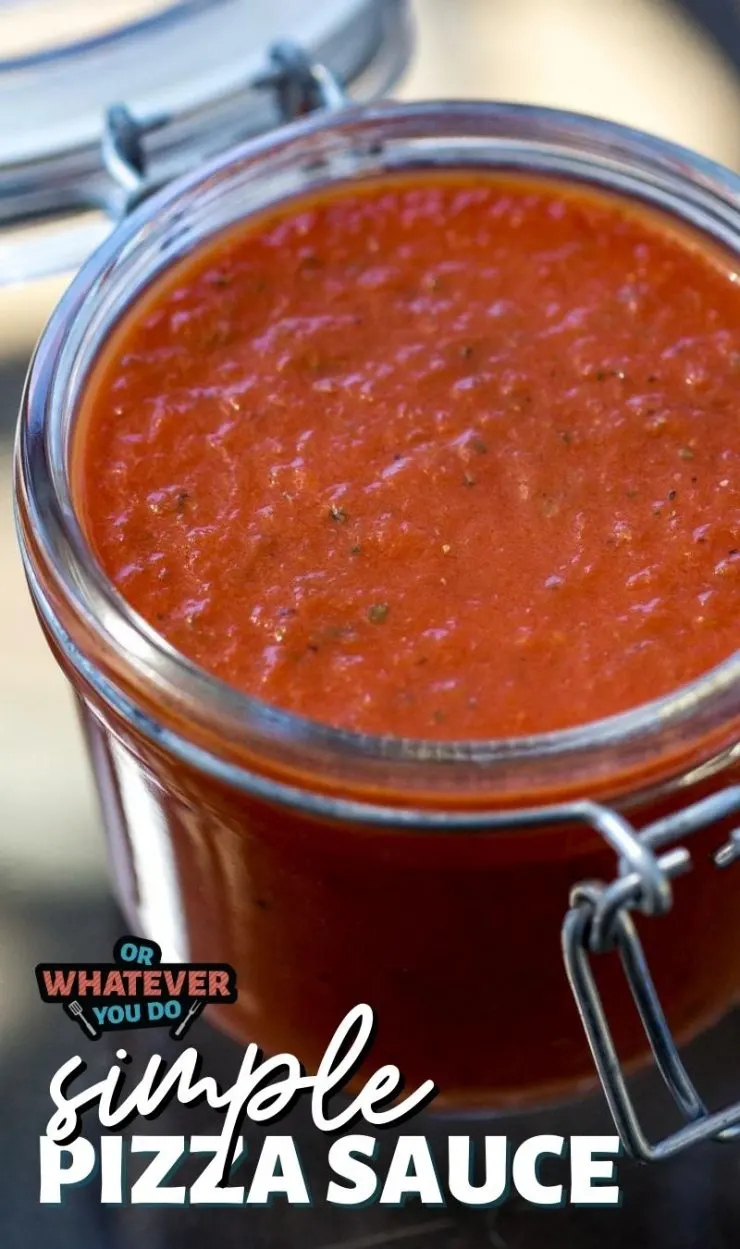 Easy Pizza Sauce
Homemade pizza is definitely one of my guilty pleasures. I'm a pizza/pasta/taco fan. It is my "comfort" food, and the favorites from my childhood, and what ends up on my family table more nights than not.
Take-out pizza definitely makes an appearance more often than my homemade variety, but when I have a little time to do some more pre-planning and get my pizza crust going, this sauce is quick enough to throw together while the crust is rising to not be too big of a pain in the butt.
It also would work really well in my Pepperoni Rotini Bake.
The kids always enjoy a good pepperoni pizza, but for me – my favorite is Hawaiian. Really great Canadian bacon, fresh-cut pineapple, and sliced mushrooms – ON TOP of the cheese please, with extra sauce to dip the garlic butter crust in.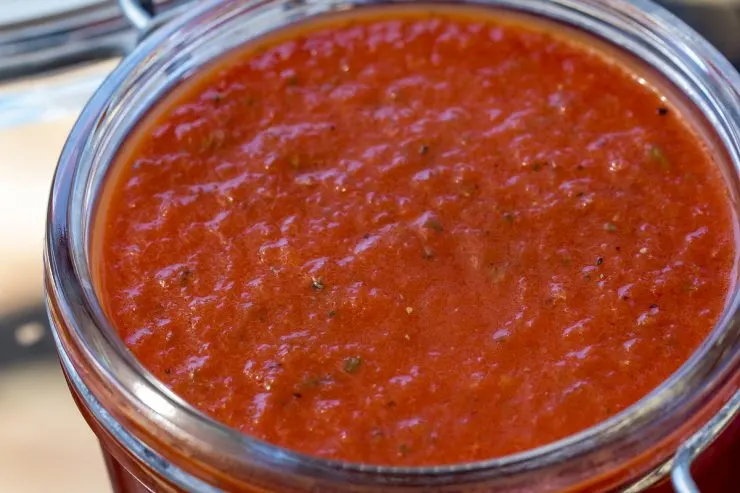 Easy Pizza Sauce shopping list
The ingredient list for this is short and sweet once you consider how many of these items are probably in your cupboard or pantry already. Just in case, let me go ahead and give you the low-down.
Olive Oil
Garlic
San Marzano Tomatoes
Garlic powder
Onion powder
Salt
Pepper
Basil
Oregano
Crushed red pepper
Parsley
Sugar
If you want to REALLY hit the easy button, you can cut out all of that but the tomatoes and olive oil and get some of this Spiceology Pizza Seasoning. I live by this stuff!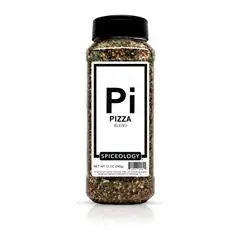 My go-to Pizza seasoning! Make pizza sauce. Throw it on top of pizza. Use it in pasta salad. Make salad dressing. So many options!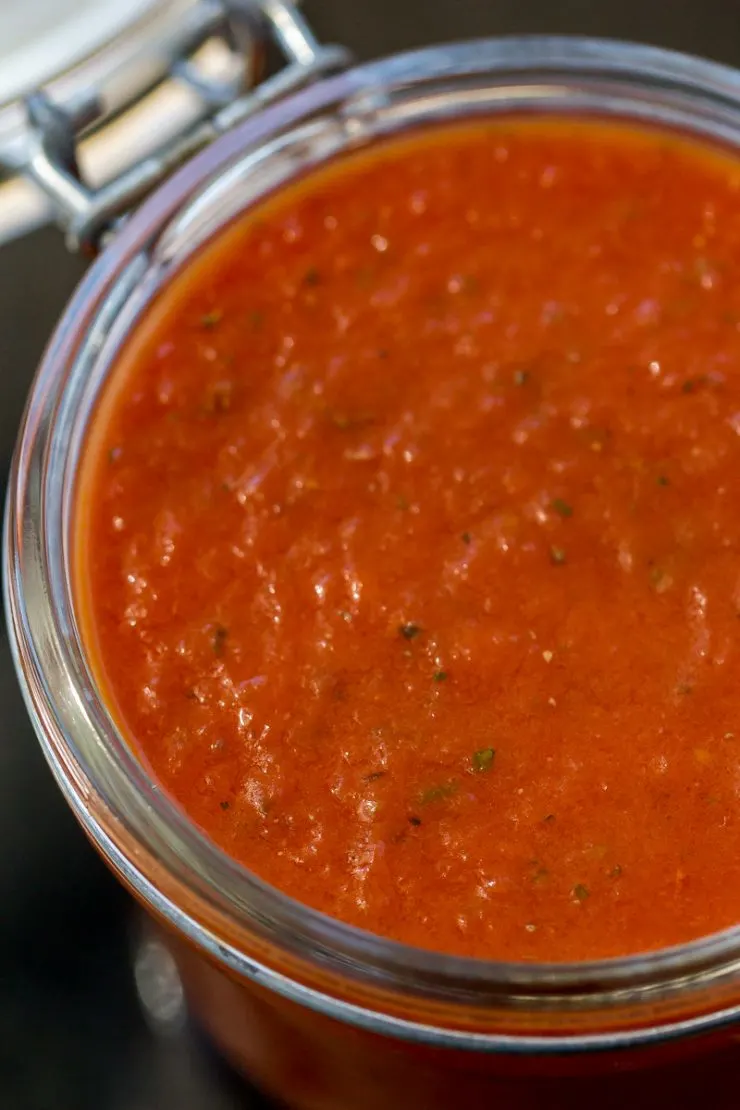 How to make the best homemade pizza sauce
Now – you guys know that I say this all the time, but I'm going to say it again.
BUY THE BEST TOMATOES YOU CAN.
It matters.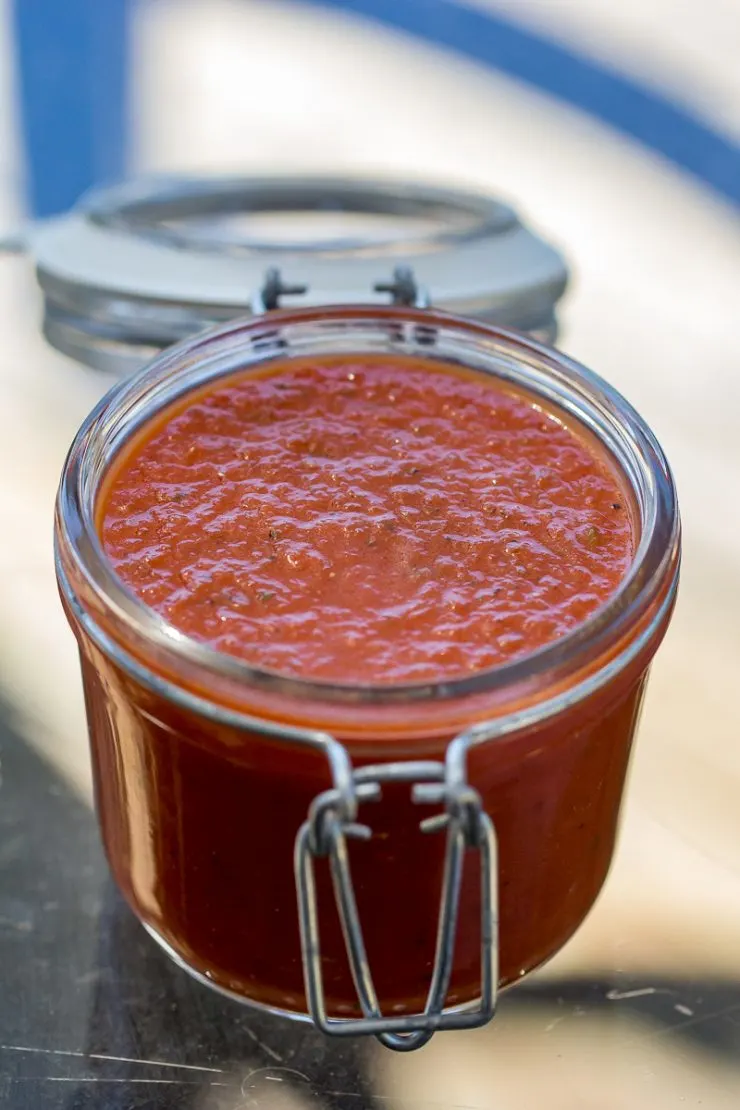 How many pizzas does this pizza sauce recipe make?
For this, I used a big 28 ounce can of crushed San Marzanos. It makes enough sauce for 2 – 3 large pizzas, depending on how crazy you go with the sauce.
I go crazy, and like extra to dip my crust in, so definitely two pizzas for me. If you are more conservative with your sauce love, you could probably squeeze 3 out of this. Personally, I love making a double batch and freezing the extra!
This would also be a really great option for dipping my garlic twisty breadsticks into!
Featured Reader Reviews
"I used the spices in this recipe but added it to my fresh roasted tomatoes instead if the canned …. TO. DIE. FOR! Yum!!!"

Anita – from Pinterest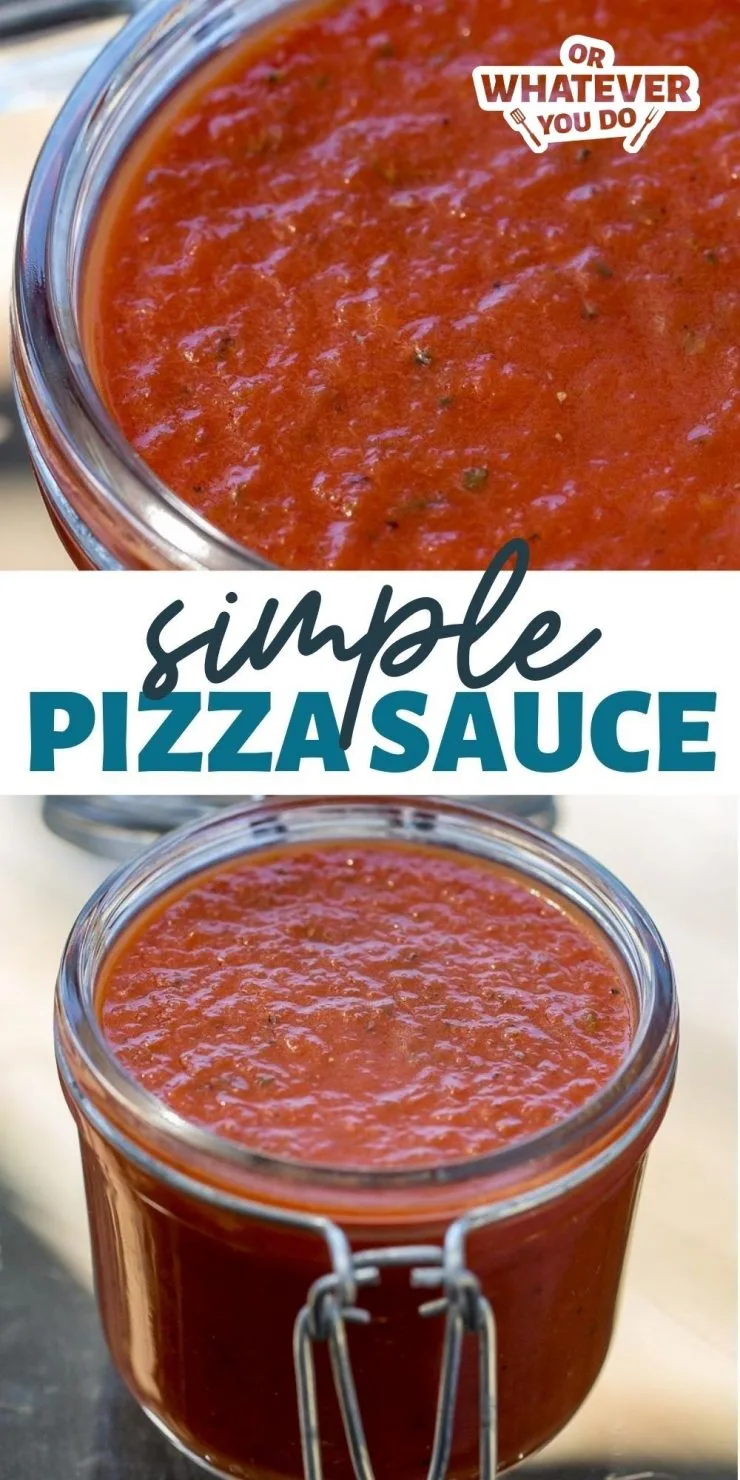 Yield: 4 pizzas
Easy Pizza Sauce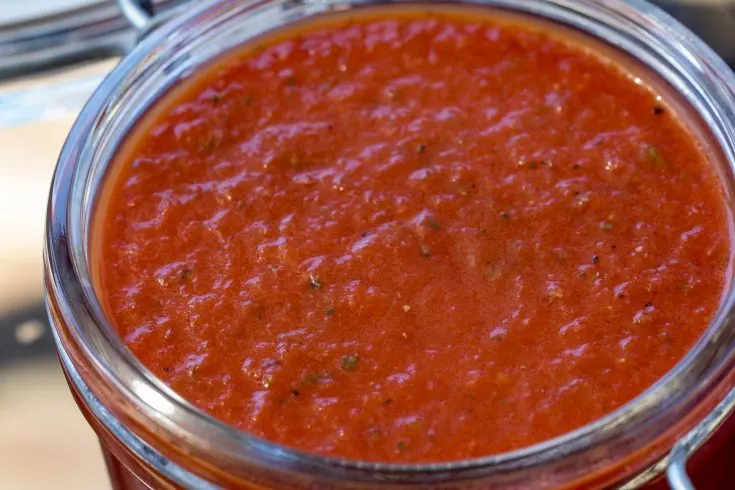 This quick and easy pizza sauce gets thrown together in about 15 minutes, uses common ingredients, and is better than anything that comes pre-made. Make it while your dough rises!
Ingredients
1/4 cup olive oil
1 tablespoon garlic, minced
2 28-ounce cans crushed tomatoes
1 teaspoon garlic powder
1 teaspoon onion powder
2 teaspoons salt
1 teaspoon pepper
2 teaspoons crushed red pepper flakes
2 teaspoons dried basil
2 teaspoons dried oregano
2 teaspoons dried parsley
1 1/2 tablespoons sugar
Instructions
Place everything in a food processor or blender and pulse until combined.
Spread on pizza crust and cook the pizza as you normally would.
If the sauce will be used for dipping and won't be cooked with the pizza, I recommend simmering it in a saucepan for 5-10 minutes before serving.
Recommended Products
As an Amazon Associate and member of other affiliate programs, I earn from qualifying purchases.
Nutrition Information:
Amount Per Serving:
Calories:

339
Saturated Fat:

3g
Sodium:

1689mg
Carbohydrates:

35g
Fiber:

7g
Sugar:

21g
Protein:

7g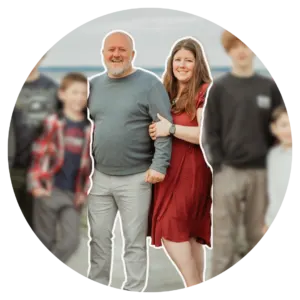 Nicole Johnson, a self-taught expert in grilling and outdoor cooking, launched Or Whatever You Do in 2010. Her blog, renowned for its comprehensive and creative outdoor cooking recipes, has garnered a vast audience of millions. Nicole's hands-on experience and passion for grilling shine through her work. Her husband, Jeremiah Johnson, also plays a pivotal role in recipe development, adding his culinary flair to the mix. Together, they form a dynamic duo, offering a rich and varied outdoor cooking experience to their followers.