If you've never had fresh Manilla clams before, you're in for a treat. Get to your local fishmonger or grocery store with a fresh seafood section, and get yourself some fresh live clams! Clam Linguine is a classic restaurant dish that's on almost every menu that serves seafood, and for good reason. It is easy to make and so delicious!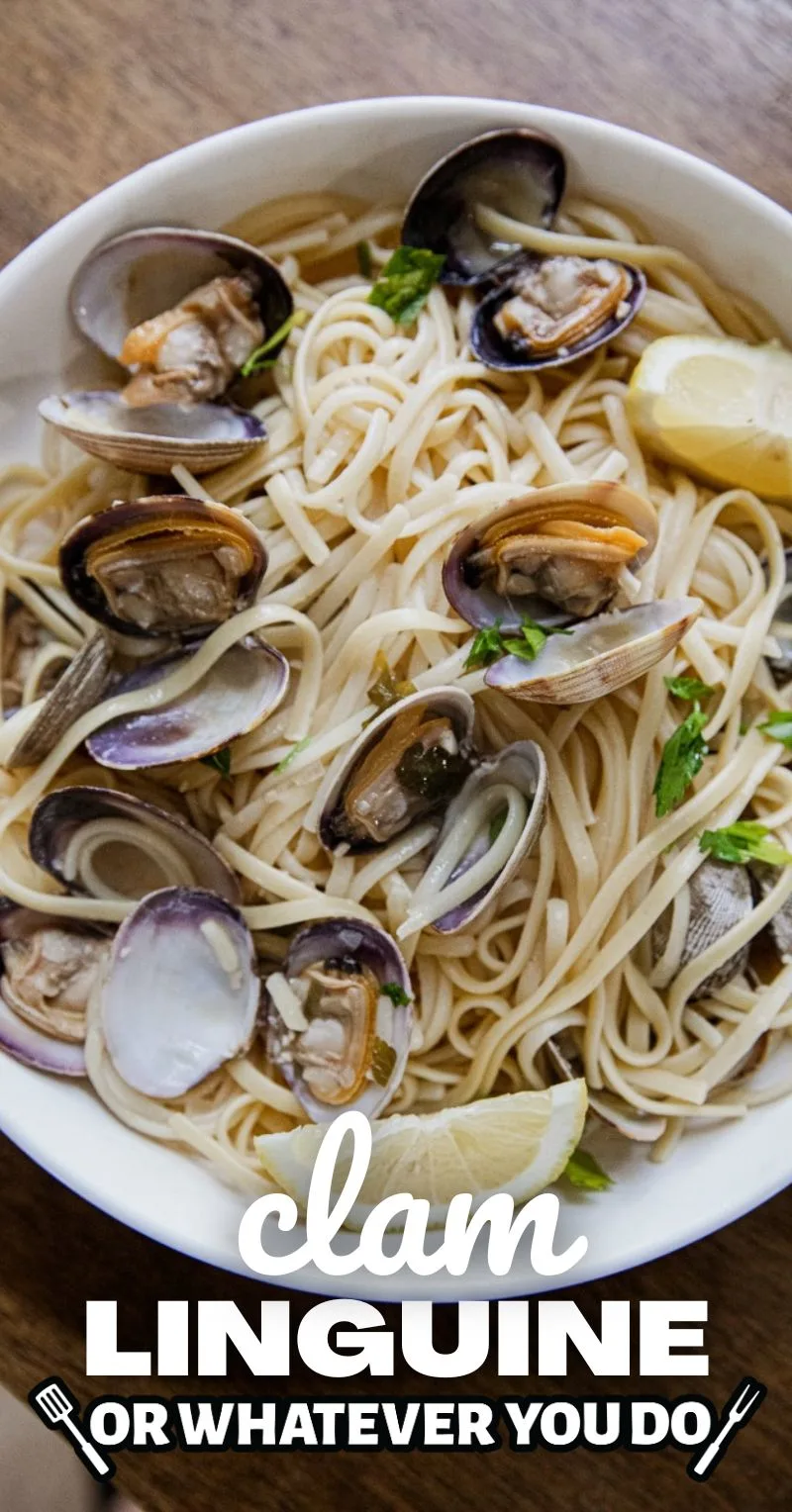 Clam Linguine Recipe
I love clams, but I came to that love later in life. Growing up in the Midwest, there weren't clams on any menu that I remember seeing. If there was soup on the menu it was much more likely to be a Chicken Noodle Soup, or Chicken Wild Rice soup as opposed to Clam Chowder, which is on almost every menu in the PNW.
Also – I was picky. I could get down with some shrimp and crab legs, but the thought of eating the WHOLE little animal kind of squigged me out for a while. They have STOMACHS in there, you guys.
I got over it. You can't tell, they taste great, and what better vessel for shoveling garlic, wine, and butter into your face than in a cute little clam shell?? I can't think of one.
Our clam linguine recipe is simple, brings all of those flavors into the dish, and includes pasta too, so it is a win/win situation on all fronts.
Try our Homamde Clam Chowder too!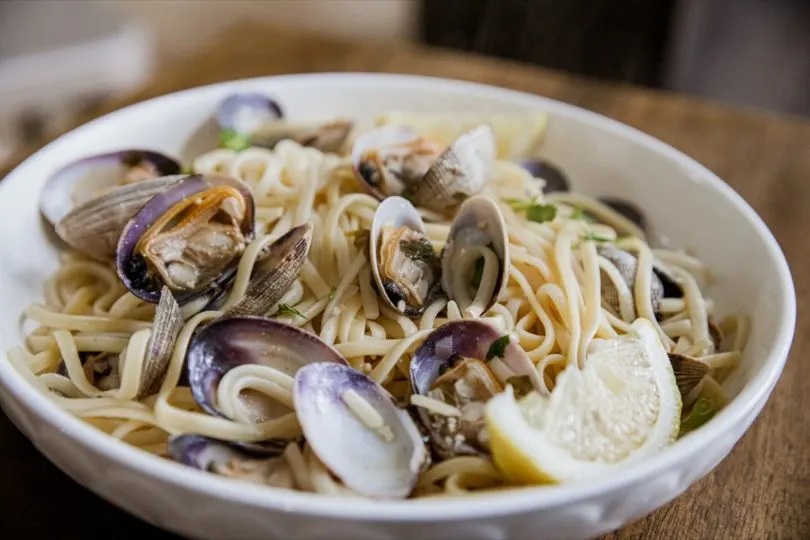 Clam Linguine shopping list
Wondering if you have to hit the store? Here's the list of items you'll need to make this recipe. For specific amounts, please refer to the printable recipe card at the bottom of the post.
Manila Clams
Butter
Garlic
Clam juice or clam or lobster base
White wine
Lemon
Fresh parsley
Linguine
Some Garlic Bread Sticks would be great with this!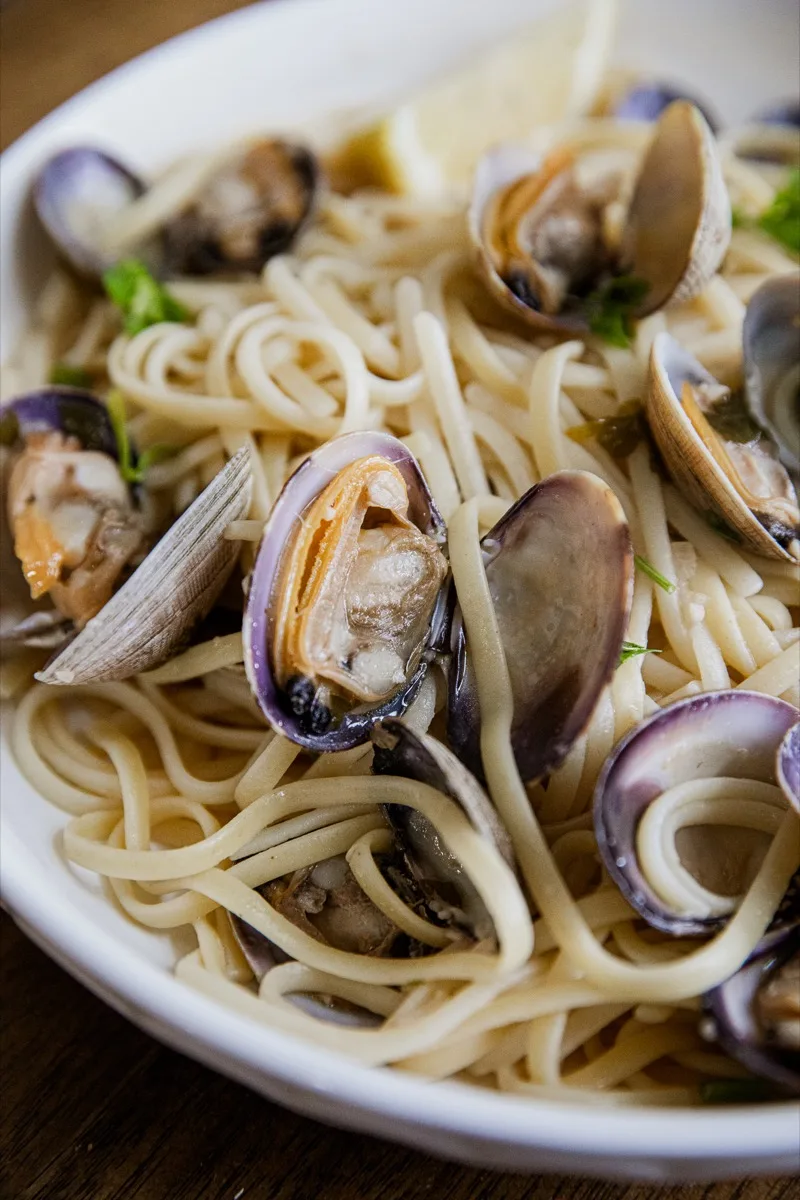 How to make Clam Linguine
This is just the overview so you can see what you're actually getting into here. When you are cooking, you'll want to use the full recipe at the bottom of the page.
Prep
Put a big pot of water on to boil and make sure it is well-salted! Pick through your clams and give them a good rinse.
Make the sauce
Melt the butter and saute the garlic. Add the other sauce ingredients and simmer.
Noods
Put the noodles to the water.
Clams
Next, add the clams to the pot and cover. Stir occasionally and simmer until the clams are all open. Remove any that haven't opened after the rest have.
Mix & Enjoy
Drain the noodles and toss the pasta in with the clams and the sauce. Top with the parsley and some fresh lemon wedges and enjoy!
Our Pellet Grill Seafood Paella is incredible!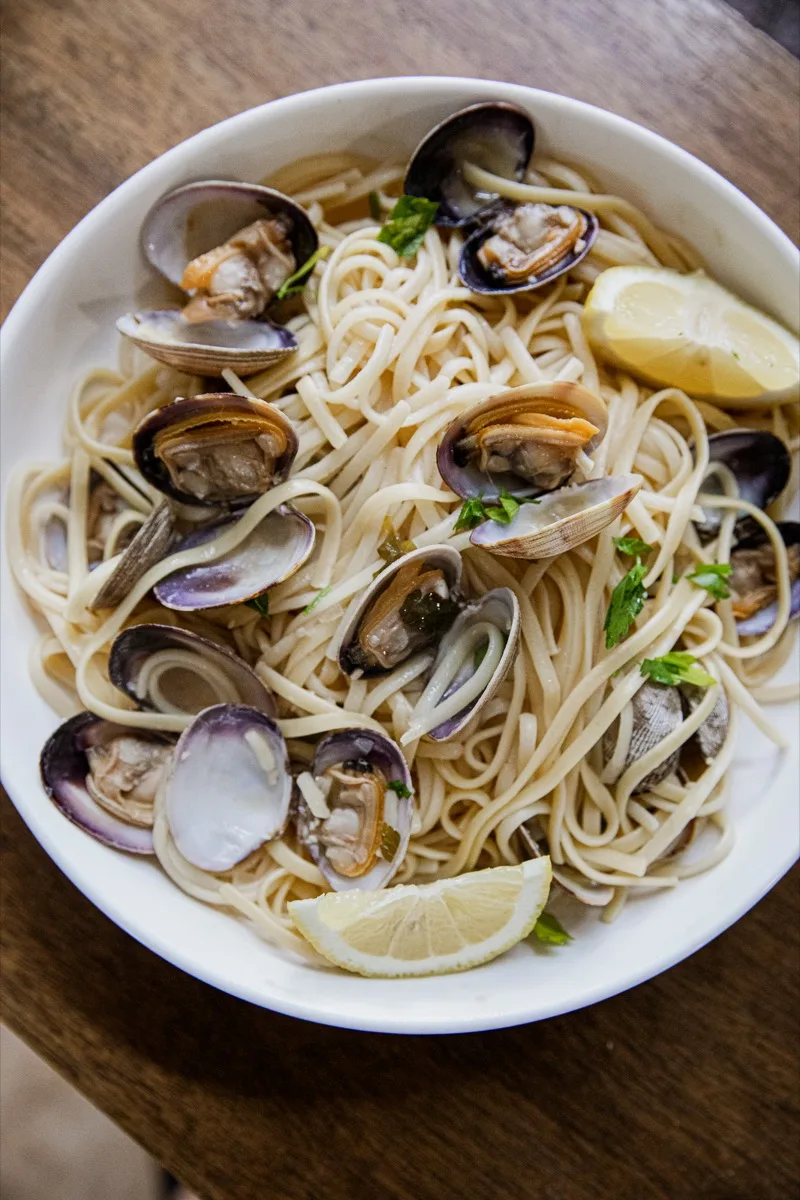 Clam Linguine FAQ
Can you use canned clams for this recipe?
You can, but I don't know if you should. Fresh clams are a very different experience than the canned variety, which I usually save for things like clam chowder. If fresh clams are readily available near you, pick some up! If they aren't, find a good source and splurge. I love Taylor Shellfish. This is not sponsored, I'm just a fan. They deliver nationwide. If you can't find high-quality fresh clams, I'd recommend making this with a different type of seafood. Shrimp, scallops, or fresh salmon would be great options! The same sauce recipe can be used.
What's the best way to store and reheat leftovers?
Clams don't make great leftovers, so do your best to make only what you'll eat in one sitting. If you do get a little extra and your eyes were bigger than your stomach, remove the clams from the shells and toss everything into an airtight storage container. Eat it within a day or two at the most. Shellfish typically doesn't last very long in the fridge.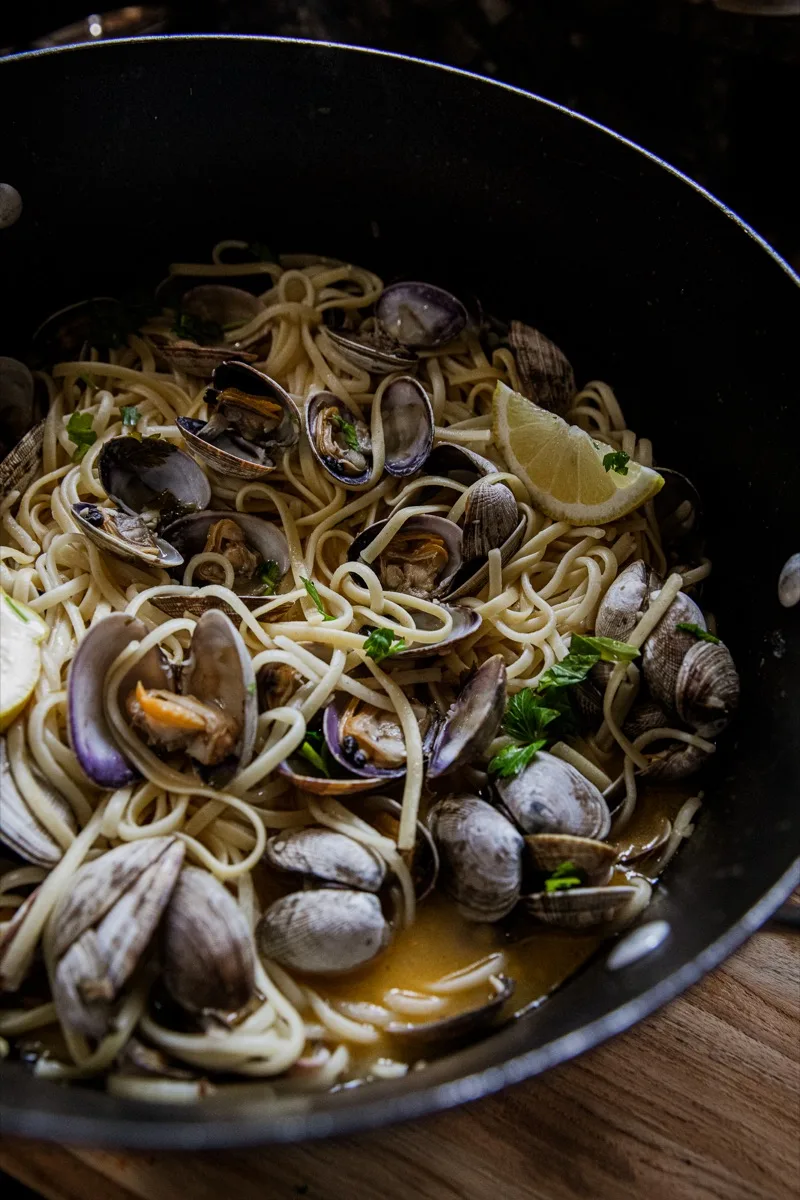 More great seafood recipes to love!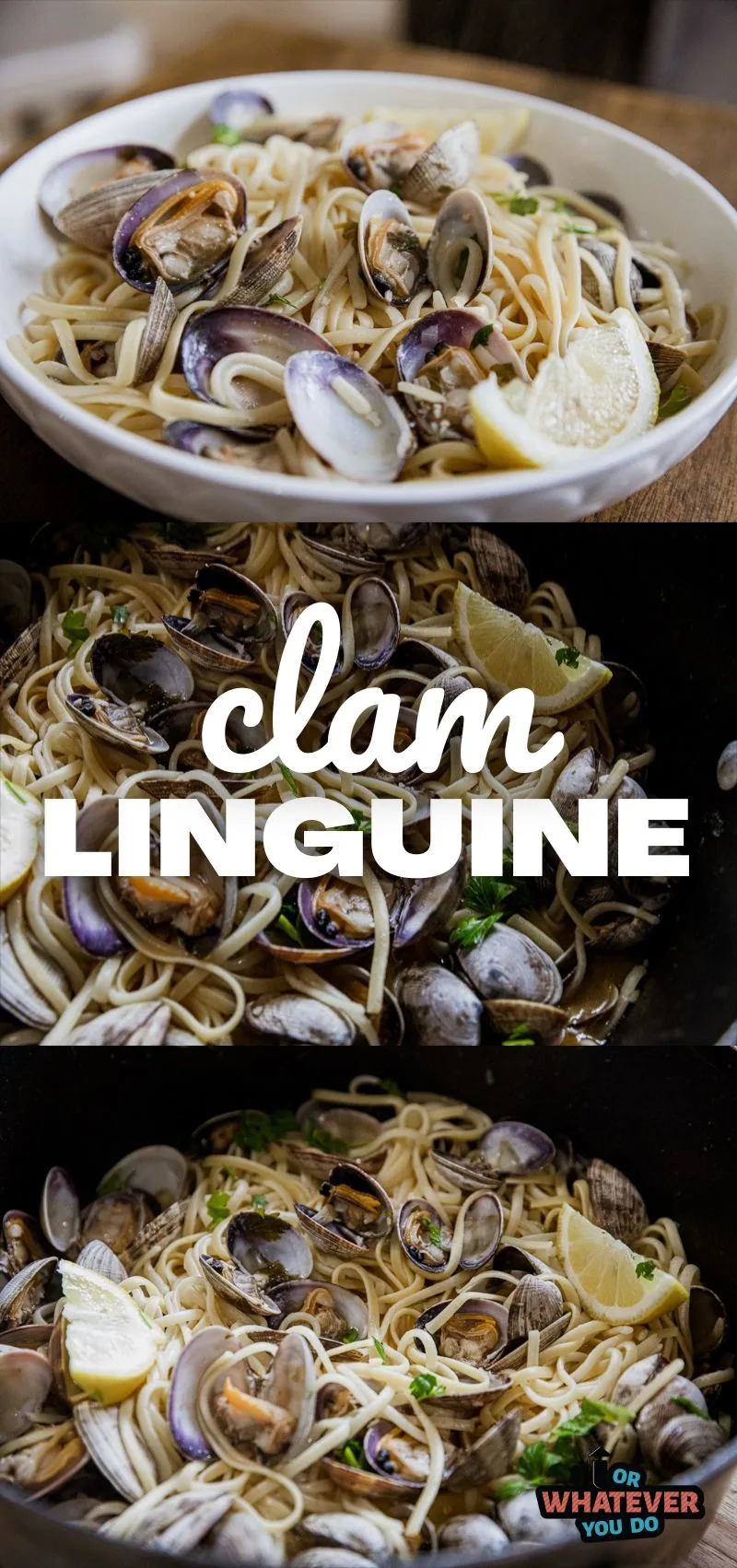 Yield: 8 servings
Clam Linguine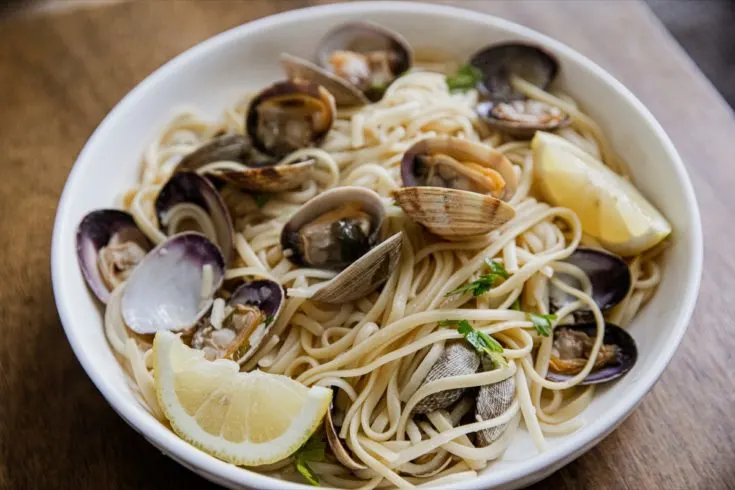 You can whip up a batch of homemade clam linguine in under an hour! It is so delicious (and easy) to make at home. Give it a try!
Ingredients
3 pounds Manila Clams
3 tablespoons butter
2 tablespoons minced garlic
1 cup water (or clam juice if you aren't using any base)
1 teaspoon clam or lobster base (optional)
1 cup dry white wine
1/4 cup fresh lemon juice
2 tablespoons fresh parsley
1 pound linguine
Instructions
Put a large pot of well-salted water on to boil. When it is almost boiling, start the rest of the process. Wash your clams well in cool water to make sure there's no dirt or sand on the outside of the shells. While you're washing them, check to make sure there are no dead clams in the batch by trying to move the shells in opposite directions to see if there's any give or if the shells will open. Live clams will be tightly shut.
In a large high-sided saucepan, melt the butter over medium heat and add in the garlic. Saute for 3-4 minutes.
Add the water, wine, lobster base (if using), lemon juice, and parsley. Simmer for 3-5 minutes.
Add the noodles to the boiling water.
Add the clams to the garlic and wine mixture. Cover, and let simmer until all the clams are open.
Drain the pasta and mix with the clams and sauce.
Serve hot with lemon wedges and extra parsley on top.
Recommended Products
As an Amazon Associate and member of other affiliate programs, I earn from qualifying purchases.
Nutrition Information:
Yield:
8
Serving Size:
1
Amount Per Serving:
Calories:

425
Total Fat:

8g
Saturated Fat:

3g
Trans Fat:

0g
Unsaturated Fat:

3g
Cholesterol:

135mg
Sodium:

2114mg
Carbohydrates:

29g
Fiber:

1g
Sugar:

1g
Protein:

50g
Nutrition data provided here is only an estimate.