Smoked salmon is a classic dish that is such a treat, especially here in the Pacific Northwest where the salmon is fresh and plentiful. This Togarashi Smoked Salmon is made on the Traeger and is as tasty as it is easy.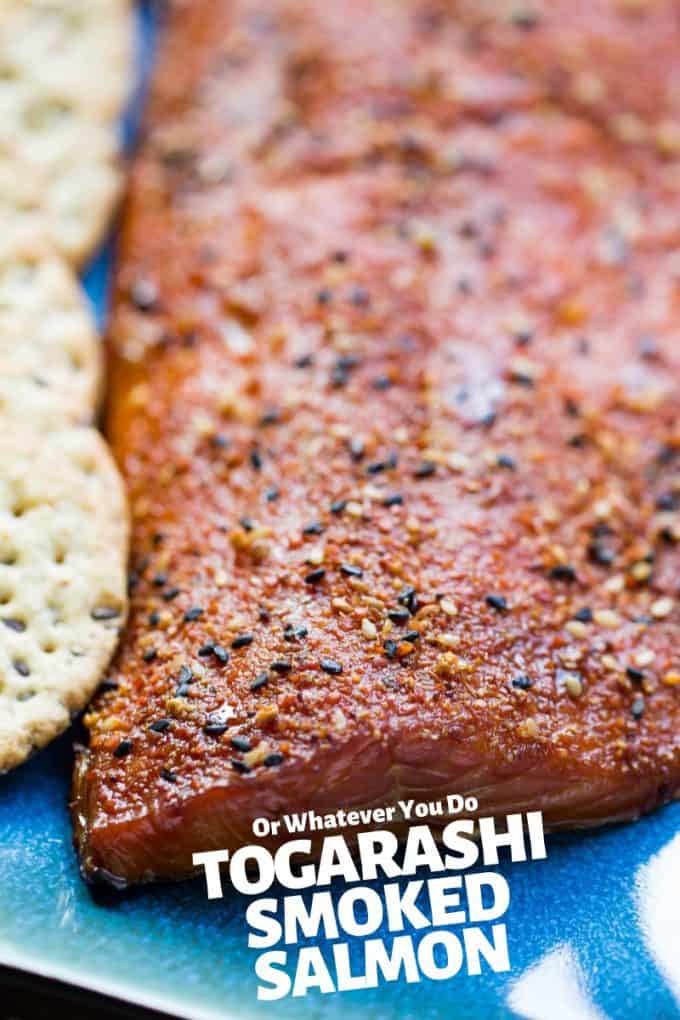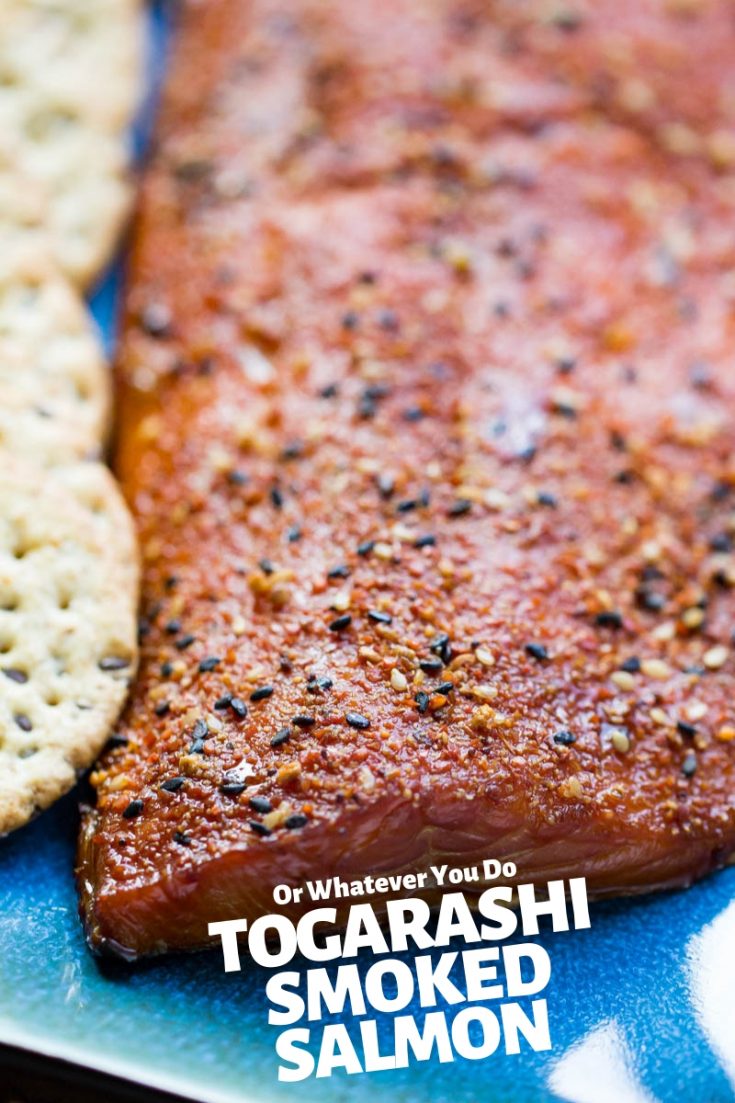 Togarashi Smoked Salmon
Living in the Pacific Northwest, we tend to have fresh salmon and a variety of fresh seafood available to us at any given moment.
I know. Hate us all you want, but we definitely pay for the awesome shellfish and seafood with all of the grayyyyy skies approximately 11 months of the year.
Okay, that's a stretch. It is only 10.5 months of gray, and when it is nice here it is SPECTACULAR, so it is worth it.
All of that preamble to say that you're going to find a lot of fish and seafood around here these days. Lots. Scroll down for a list of my favorite salmon recipes from the site, or check out my entire post all about my Salmon Recipes for the full low-down.
Get all of my Easy Traeger Recipes here!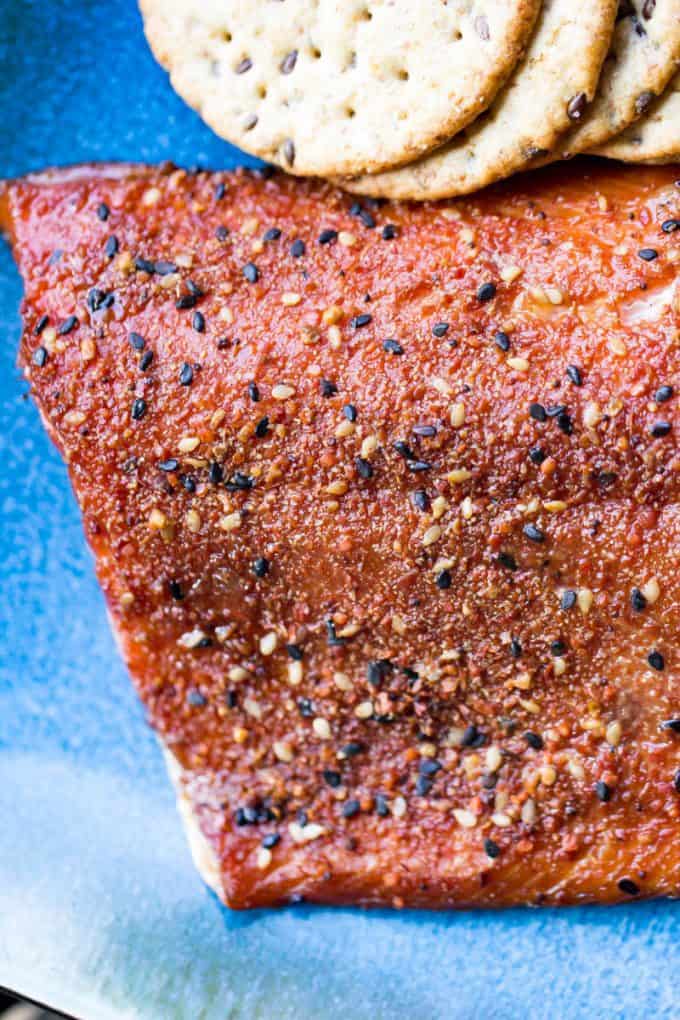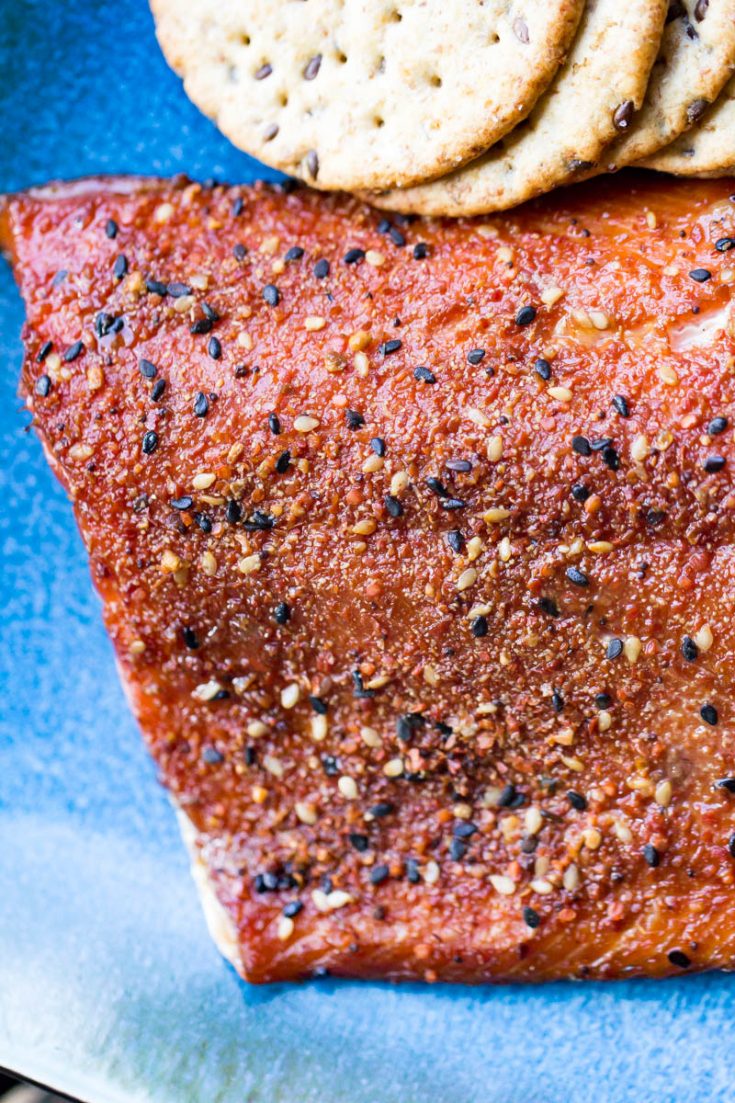 How should I serve this smoked salmon?
You can serve this easy smoked salmon as an appetizer with crackers, as a luncheon option with crackers plus assorted vegetables and fruits with a bowl of soup or chowder.
You can also serve this as a whole platter.
Place your smoked salmon alongside a variety of cream cheese, sliced English cucumbers, capers, thinly sliced red onion, avocado, cherry tomatoes, and soft-boiled eggs. You can also set out a platter of various crackers and breads. It would be a great option to bring along to a potluck, family gathering, book club night or girls weekend!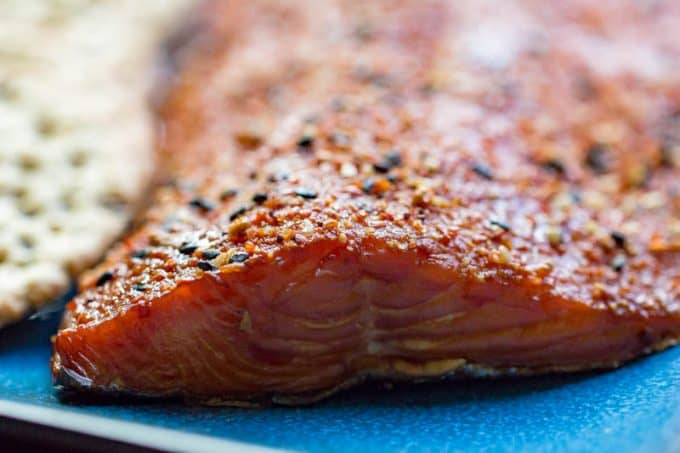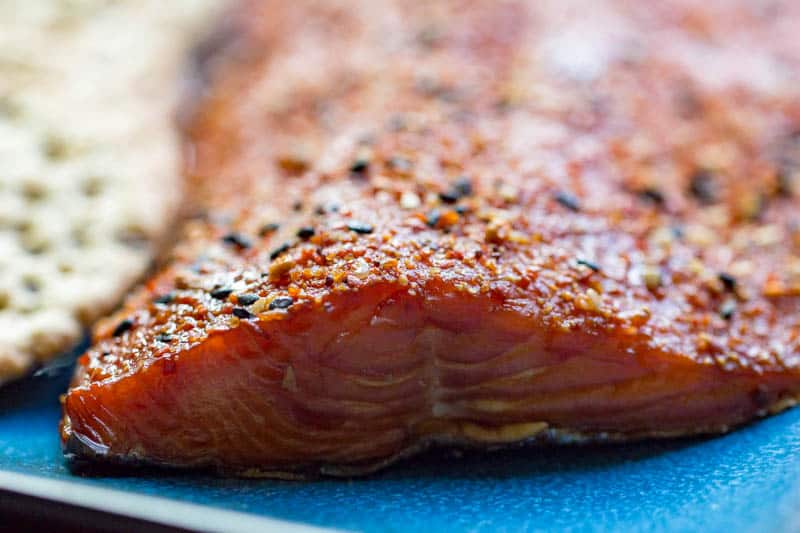 What do I look for when buying fresh salmon?
Moisture content is the most important thing to look for as to how fresh the salmon is, so if it looks dry, don't buy it. Also if there are browned spots on the belly, edges of the fillet, or on the skin – don't buy it.
You want the flesh of the meat to be brightly colored and firm, and there shouldn't be a strong fishy odor at all. If it smells fishy it is because it is likely old.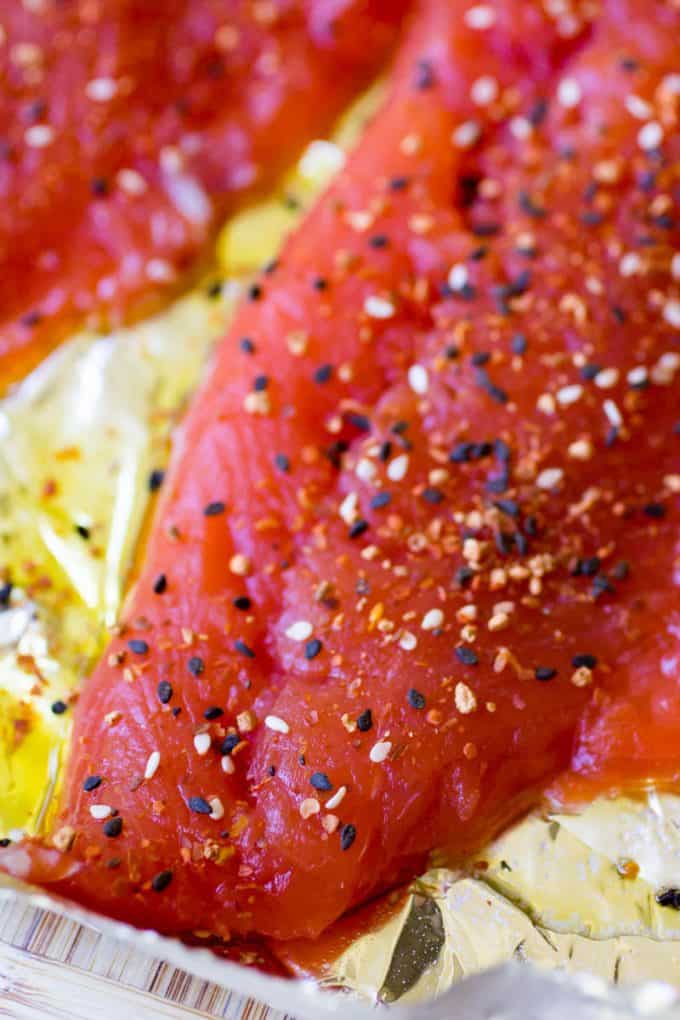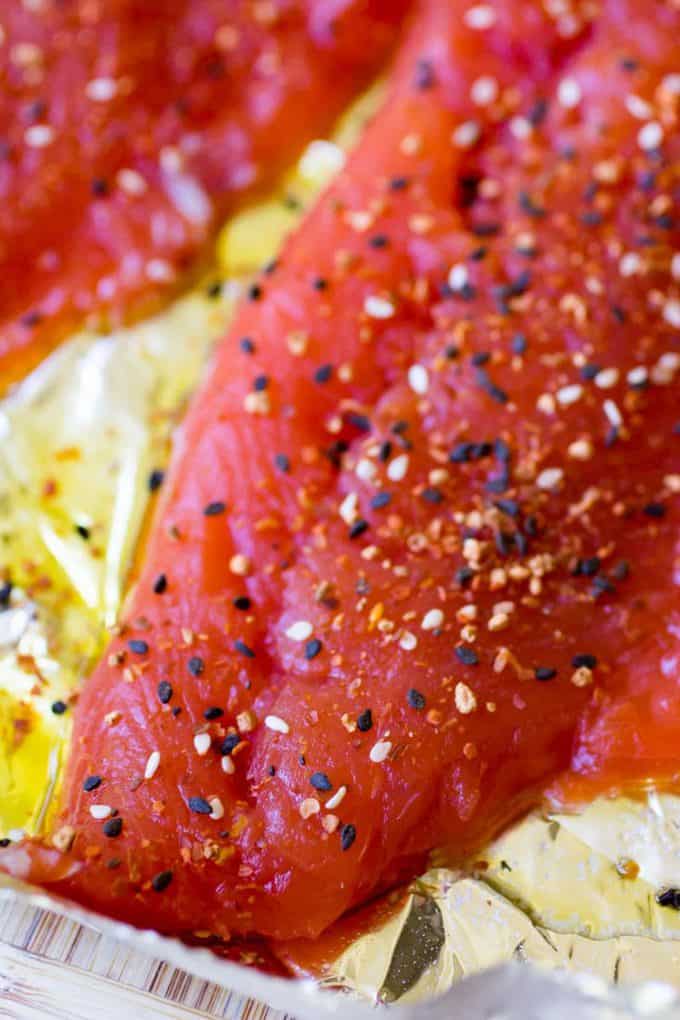 How many types of salmon are there, and what is the best to buy for smoking?
You can use any of these for smoking. Just choose what is easily available to you. But here are a few facts for you!
There are 6 types of Salmon, 5 of which are all wild-caught from the Pacific:
Chinook or King Salmon | Said to be the best tasting of the Salmon group. High in fat content and flavor.
Coho/Silver Salmon | Slightly more delicate flavor but similar to Chinook/King.
Pink Salmon | Most common Pacific Salmon. This variety is often canned, sold fresh or frozen, or smoked. Very light color and flavor.
Red/Sockeye Salmon | Known for their dark red/orange flesh and deep rich flavor.
Chum/Dog/Keta/Silverbrite | Smaller fish usually canned or sold frozen to foreign markets.
Atlantic Salmon | The only variety you won't find wild caught, as they are farm raised.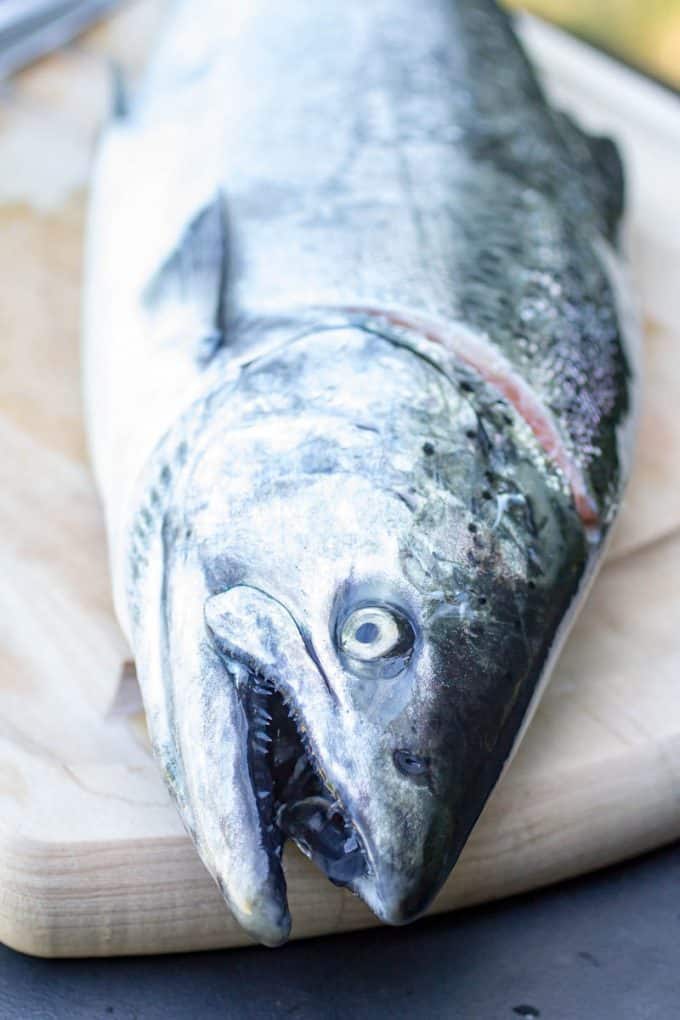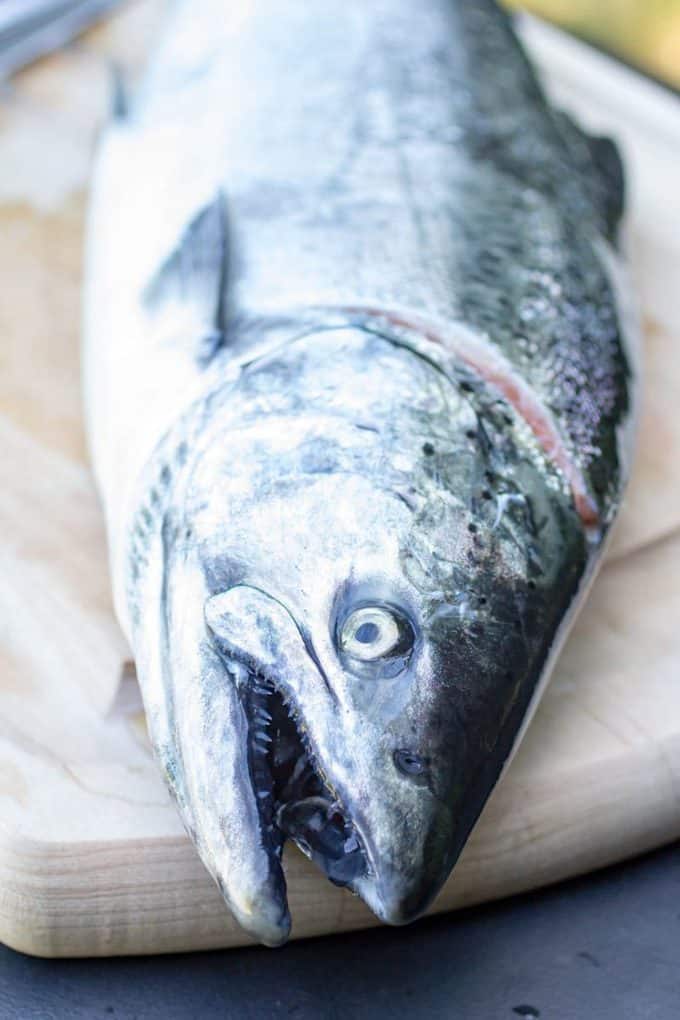 The best kinds of salmon for smoking are, in my opinion, King and Silver. That's really the only kinds of salmon we mess with, around here. Other sources may vary, but I say stick to the highest quality fish you can catch or afford for the best results.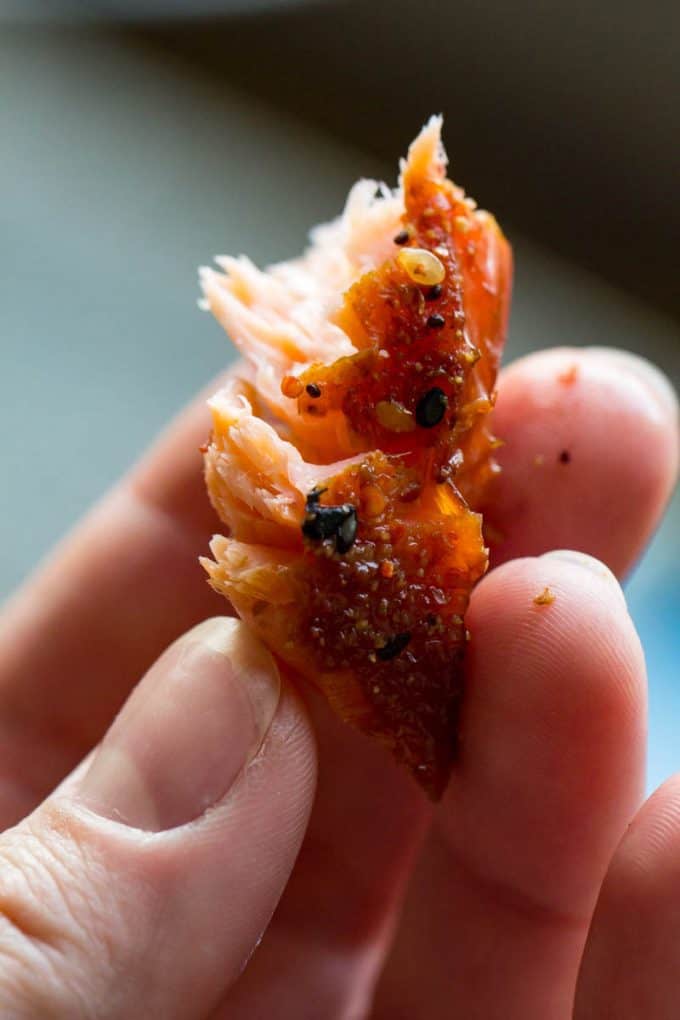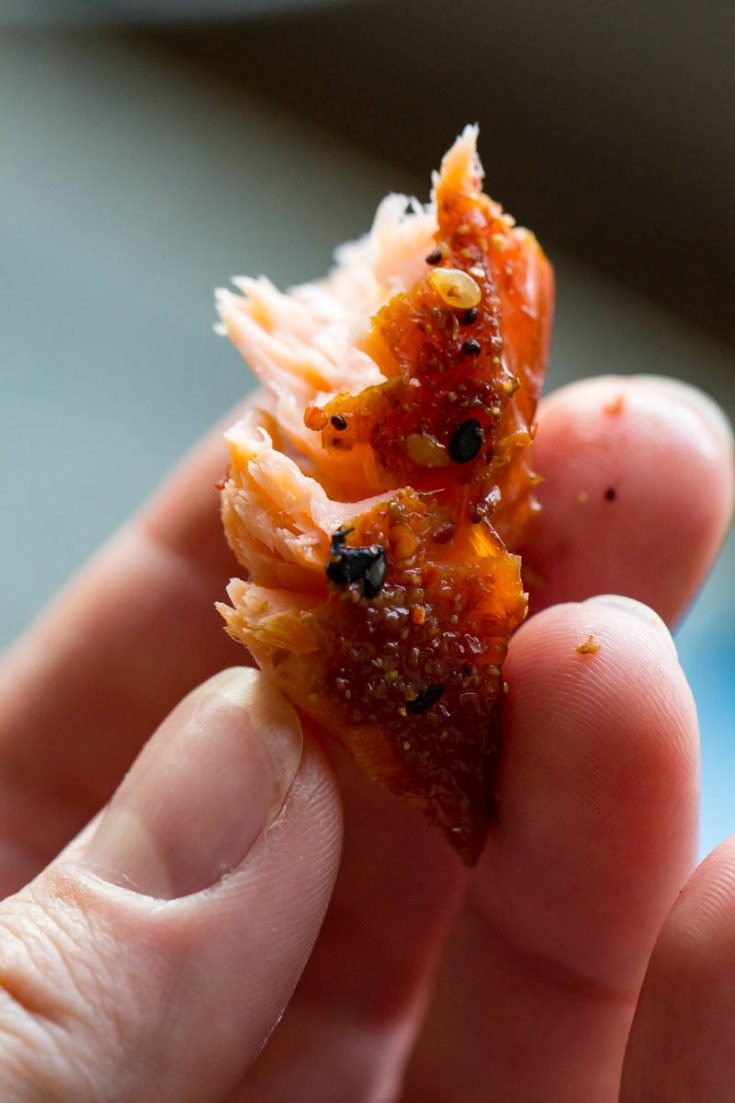 Do I have to "cook" smoked salmon?
Hot smoked salmon is already cooked during the smoking process, so you don't have to cook it before serving.
You do need to observe proper food-handling practices. Keep the smoked salmon in the fridge, and make sure it doesn't sit out at room temperature for more than an hour or two, at the most. The "danger zone" is between 40 and 140, so if your food stays in that range for too long it has the potential to make you sick.
What can I make with smoked salmon?
Yes! I have several ideas for you!
Easy Salmon Orzo Pasta Salad (you may substitute dressing to fit with the Togarashi seasoning)
Toss into a salad of fresh greens and vegetables for a light, nutritious lunch on the go
Toss a little into my Traeger Smoked Mac and Cheese for another layer of flavor
I love using my Traeger Pellet Grill every chance I get. It's easy to use and so versatile. Your whole meal can be prepared on it. I use mine year-round!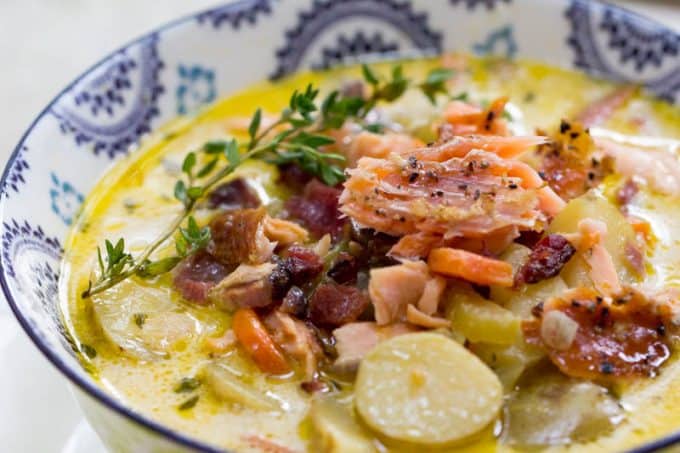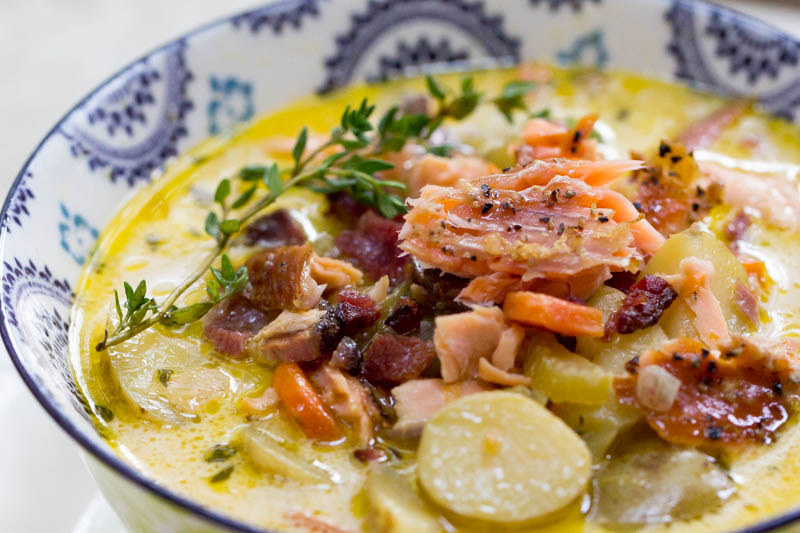 What is Togarashi?
This particular recipe uses Togarashi Seasoning, also known as Japanese Seven Spice or Shichimi. If you are not familiar with this seasoning, it is one of my new favorites. It has a kick but not a "point me in the direction of the nearest water fountain" kind of kick.
Togarashi has a variety of dried chili peppers and other seasonings like orange peel, black and white sesame seeds, Japanese pepper, ginger, poppy seed, seaweed, and various other spices depending on what brand you buy.
It is DELICIOUS!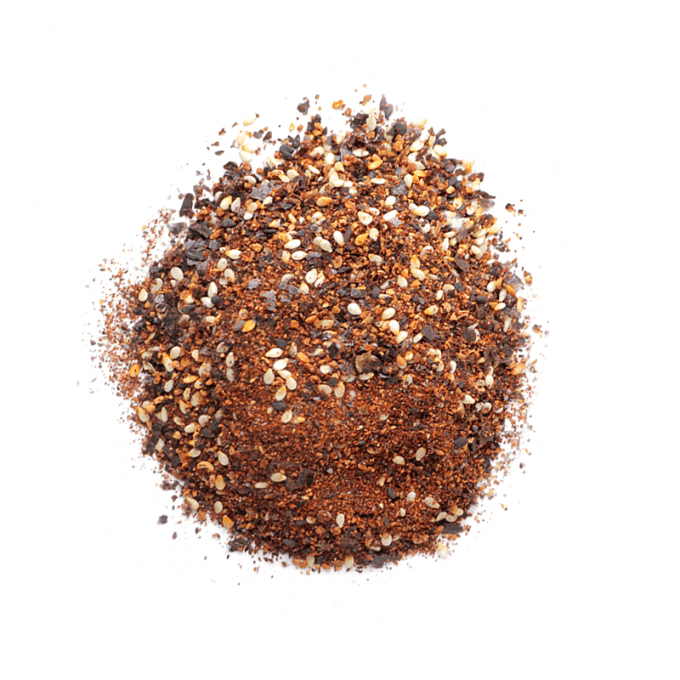 More ways to use Togarashi
Togarashi was the Sriracha of 2018 for me, so I've got plenty of ways for you to use up that food-service-size bottle of Togarashi that I had your order earlier. Check them out below:
Recipes Using Togarashi
I have all of the recipes using togarashi because I am slightly obsessed with this stuff. It is a Japanese 7-spice, and it is packed full of big bold flavors with a slightly spicy kick.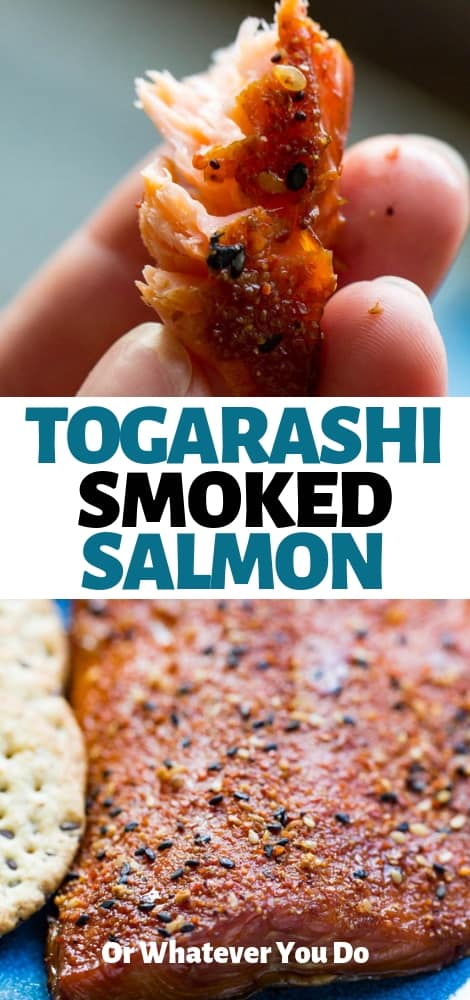 Yield: 2 large filets
Togarashi Smoked Salmon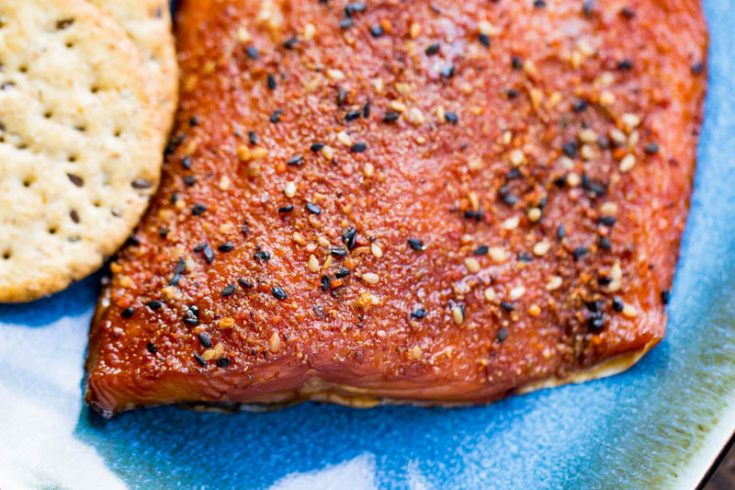 Fresh salmon is brined and then smoked on a wood-pellet grill with fresh lemon pepper seasoning!
Total Time
20 hours
15 minutes
Ingredients
Brine
4 cups water
1 cup brown sugar
1/3 cup kosher salt
Seasoning
Instructions
Make sure if you are using frozen fish that it is completely thawed before brining. Remove pin bones with tweezers.
Combine brine ingredients until the sugar is dissolved, and place into a large ziplock baggie or large covered container. Place your cleaned, thawed salmon into the brine, and refrigerate for 16 hours.
Remove the salmon from the liquid, rinse, and pat dry with paper towels. Let sit out in a rack in the fridge, uncovered, for 2-4 hours for the pellicle to form. DO NOT SKIP THAT STEP.
Season the salmon with the togarashi.
Turn your smoker to smoke to get the fire started, and place the salmon on a cooking rack that's been sprayed liberally with cooking spray.
Place the rack on the smoker, and close the lid.
Smoke for 4 hours, and don't let them smoker get above 180° or fall under 130°.
Remove from the grill and serve warm with crackers, or let it cool to room temp and then wrap tightly and keep in the fridge for up to a week. You can also vacuum seal and freeze.
Recommended Products
As an Amazon Associate and member of other affiliate programs, I earn from qualifying purchases.
Nutrition Information:
Yield:
10
Serving Size:
1
Amount Per Serving:
Calories:

166
Total Fat:

6g
Saturated Fat:

1g
Trans Fat:

0g
Unsaturated Fat:

4g
Cholesterol:

29mg
Sodium:

3772mg
Carbohydrates:

19g
Fiber:

0g
Sugar:

18g
Protein:

10g
Nutrition data provided here is only an estimate. If you are tracking these things for medical purposes please consult an outside, trusted source. Thanks!