Pacific Northwest Clam Chowder is made with fresh clams, clam base, white wine, potatoes, celery, onions, herbs, and LOVE. It is really amazing. Only with no heavy cream and not quite as much roux, you can call this Washington State Clam Chowder Light.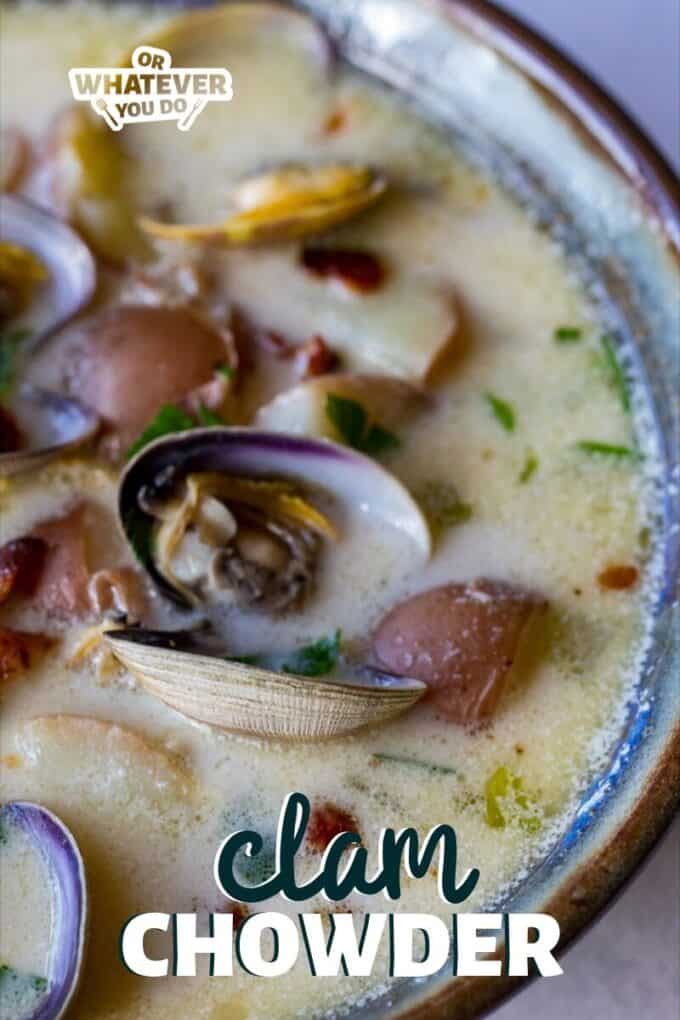 Clam Chowder Recipe
When you make a classic clam chowder, it seems like it would be time consuming and complex, but you'd be mistaken.
Unlike some soups that taste better after a bunch of hours simmering on the stove top, clam chowder preps and cooks pretty quickly. No day-long simmering needed here.
In fact, you pretty much want to serve it as soon as it is ready. Besides the fact that you don't want the clams to overcook, you also don't want the potatoes to lose their bite and turn into mashed potatoes in your pot.
Overcooked clams get more chewy and start disappearing due to shrinkage from cooking. The difference between clam chowder from a can and homemade classic home-style clam chowder?
No comparison!
The difference will spoil you. You will find yourself (mentally) calling out servers in diners about the chef not making real chowder. On the bright side though, making your own homemade clam chowder falls on the easy side of simple.
I used fresh clams for this recipe, and I suggest that you do as well if you have them available. If not, and you want to use canned clams, I'd suggest using my Copycat Dooger's Clam Chowder recipe instead. It is heartier, thicker, uses canned clams, and is totally delicious.
This version is on the lighter side. It doesn't have a super thick broth, or tons of heavy cream. Creamy clam chowder will never be a low-calorie meal, by a long shot, but this is definitely the lighter option of the two I have on my site.

How to make great clam chowder
To keep things simple, this recipe calls for clam base or clam "juice". Don't omit this because it adds a lot of flavor to the final dish. It brings the sweet and briny base to the soup and helps all the other flavors come together.
Sometimes, on the rare occasions when time permits, then making a seafood and or clam broth works too.
If you go that way, try and boil the bones and head of a fish and make sure to include the shells with the clams. You can even buy fish for making broth in many grocery stores these days.
If you don't want to go to all that trouble though, a high-quality clam base works really well.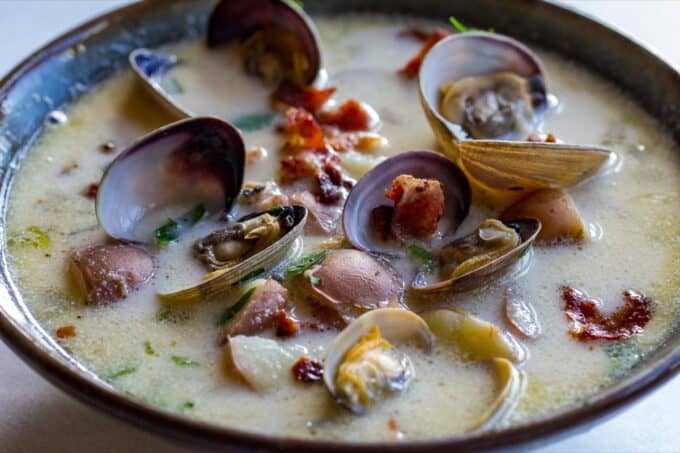 Clam broth or clam juice?
If you have never bought clam broth before, you might see "clam juice" and wonder what the heck is the difference? You probably will also wonder "what kind of machine actually "juices" a clam?" Or is the juice that stuff the clam spits out and someone stands there to try and collect it?
The fact is that there is no difference. Clam juice and clam broth are the same thing. It must be a regional or cultural thing. Kind of like how some people refer spaghetti sauce as "gravy".
Clam juice gets made by boiling clams then removing the liquid and straining it.
It is easy to make your own clam juice from the clams you will make the chowder with, if you go with using fresh clams. Just remove most but not all of the clams right before they are finished cooking. If you go that route you'll also want to buy some extra clam base.
Better than Bouillon makes a really good one. We're not using enough clams to really make a strong enough base. Believe me, because I tried. What I ended up with is basically a cream of potato soup with clams, which was totally delicious, but not really what we're going for here.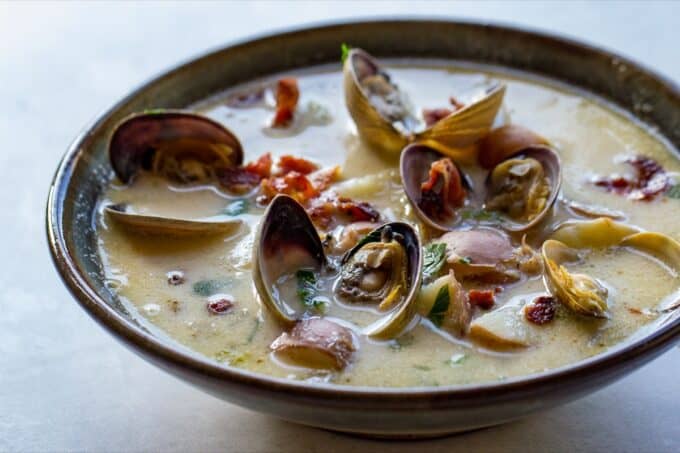 What is the right kind of clams for classic clam chowder?
There are quite a few ways to approach the clams. There are frozen chopped clams, canned clams, fresh clams, and live clams. There are also many different varieties of clams.
Any one actually from New England will grind you if you suggest any clam beside a quohog for clam chowder that's New England style. The quohog goes by "hard shell" and "round" clam.
The name refers to not just the type of clam, but also the size of the meat inside it. So, a quohog is also known as a "chowder clam". Full grown, a quohog can easily be chopped up to provide plenty of chowder meat.
Here in the Pacific Northwest, we don't have quohogs, we have things like manilla, razor, geoduck, cockle, butter, and horse clams. Any of these would work pretty well. You're going to want about 2 pounds of clams for this dish.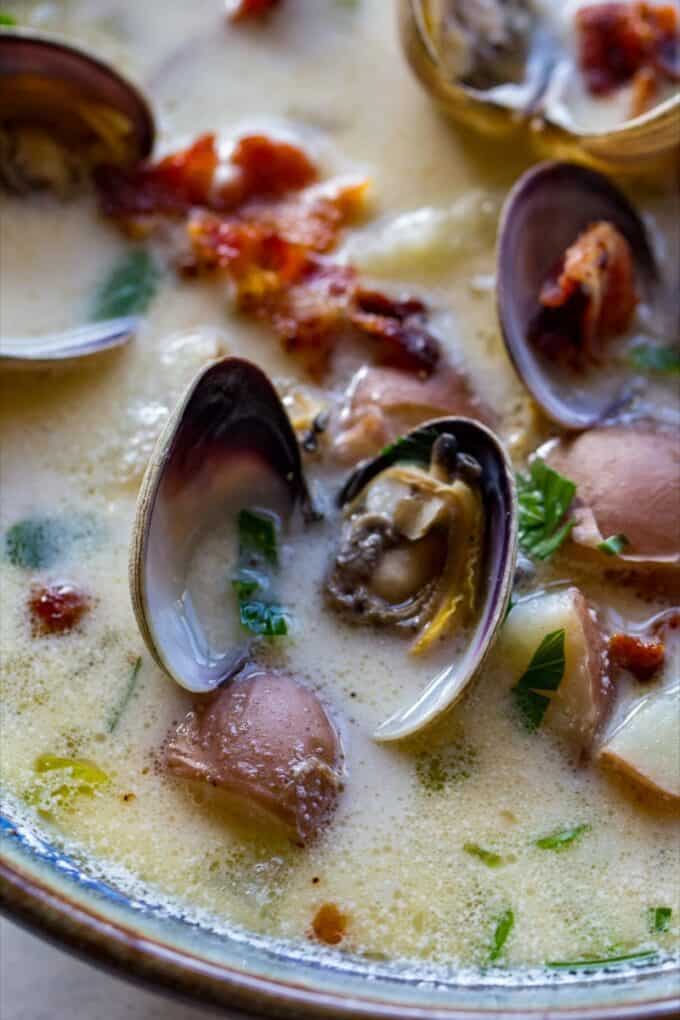 How do I cut the potatoes for clam chowder?
For this recipe, I wanted it really hearty with big bites to chew on. We used baby potatoes for this that were cut in half, and we even skipped the peeling.
I prefer to do it this way, but if you'd rather peel the potatoes first or cut them into a smaller dice, you can. You'll just need to keep an eye on things so that the potatoes don't overcook.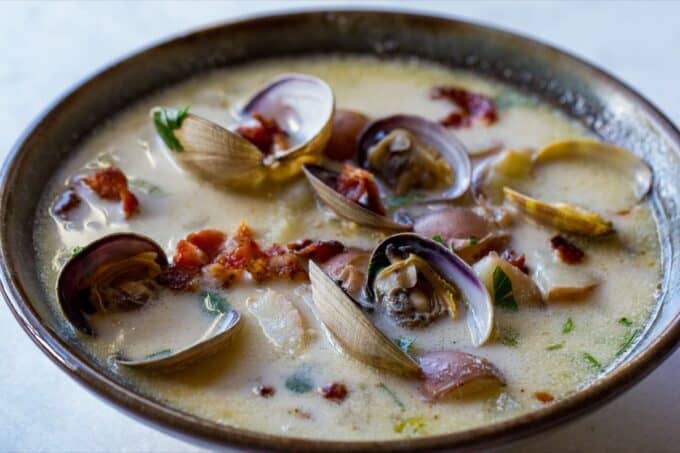 What can I serve with clam chowder?
This easy Pacific Northwest style clam chowder goes great with a lot of things. It can either be served as an appetizer or a main course. I have some suggestions for either way you feel like going.
Pin for later!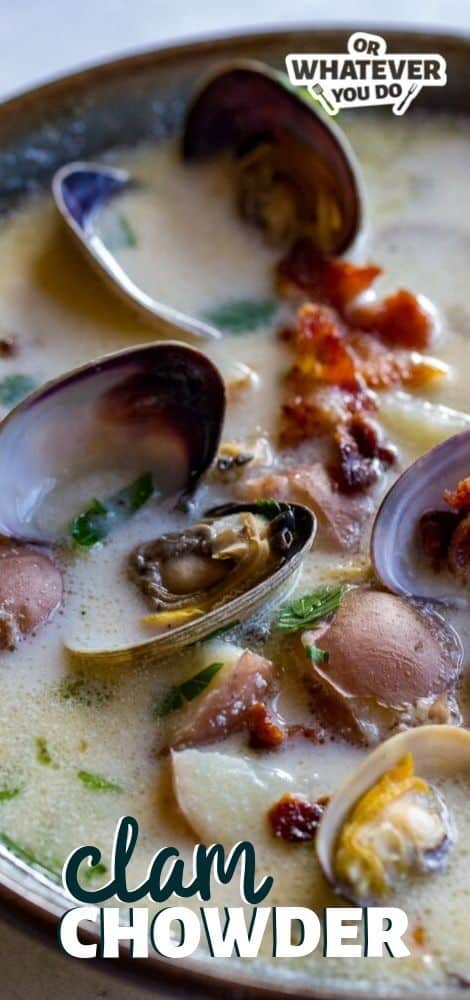 Yield: 6 servings
Fresh Clam Chowder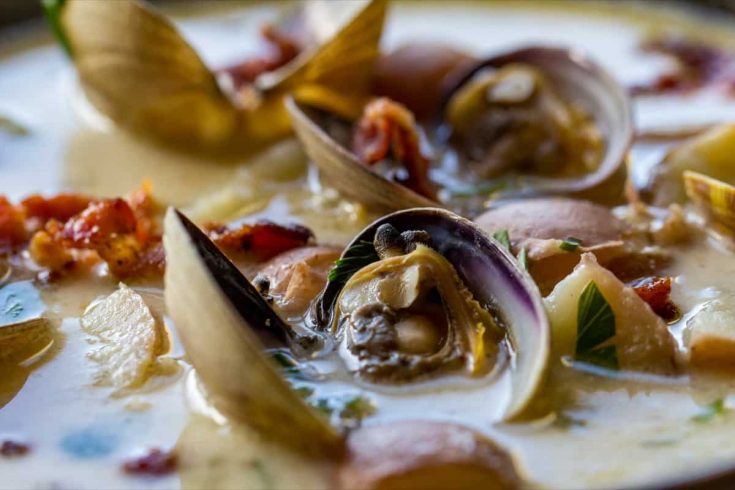 Nothing is better than a big bowl of clam chowder that's full of freshly dug clams. It is also easy to make and relatively quick to get on the table as well.
Ingredients
Clams
2 pounds clams (manilla clams preferred, but any small clams will do)
1/2 cup white wine
2 cups water
1 teaspoon minced garlic
Soup Base
1 small onion, diced
2 stalks celery, chopped
1 medium carrot, diced
1 stick butter
1/4 cup flour
8 cups water
3 tablespoons clam base
1 pound baby potatoes, halved or quartered depending on size
1/2 teaspoon salt
1/2 teaspoon white pepper
1/2 teaspoon ground marjoram
1 cup half and half
Garnish
1/2 pound bacon, cooked and roughly chopped
1 tablespoon parsley
Instructions
Soak your live clams in fresh cool water in your fridge for a few hours before you want to cook them. Drain and rinse well, scrubbing off any dirt from the shells that remain. Discard any clams that are dead. (If they open when you pinch the sides, they are dead.)
Place the clams, garlic, water, and wine in a large pot, heat over medium to medium-high heat, and simmer until the clams pop open.
Remove the clams from the broth, and set aside to cool.
Strain the broth through a fine-mesh strainer lined with cheesecloth or a tea towel to remove all impurities. Set aside.
Place your onion, celery, carrot, and butter in a large stockpot over medium heat. Saute until the onions and celery are tender.
Whisk in the flour until no lumps remain, and then continue whisking over medium-low heat for 2-3 minutes.
Add in the water, clam base, potatoes, salt, white pepper, and marjoram. Add in the reserved clam nectar from when you cooked the clams. Keep the actual clams out at this point though.
Simmer the soup until the potatoes are tender.
Add in the clams right before serving. Leave whole or chop if so desired.
Garnish with bacon and fresh parsley.
Recommended Products
As an Amazon Associate and member of other affiliate programs, I earn from qualifying purchases.
Nutrition Information:
Yield:
12
Serving Size:
1
Amount Per Serving:
Calories:

356
Total Fat:

18g
Saturated Fat:

9g
Trans Fat:

0g
Unsaturated Fat:

8g
Cholesterol:

99mg
Sodium:

1451mg
Carbohydrates:

17g
Fiber:

1g
Sugar:

2g
Protein:

29g
Nutrition data provided here is only an estimate. If you are tracking these things for medical purposes please consult an outside, trusted source. Thanks!