Looking for a quick, delicious lunch idea? Look no further! My Traeger Bean Tostadas are the perfect bite for any time of the day – plus they're vegetarian! Refried beans that are spiced to perfection and topped with cotija and crema; you'll be leaving a clean plate for sure!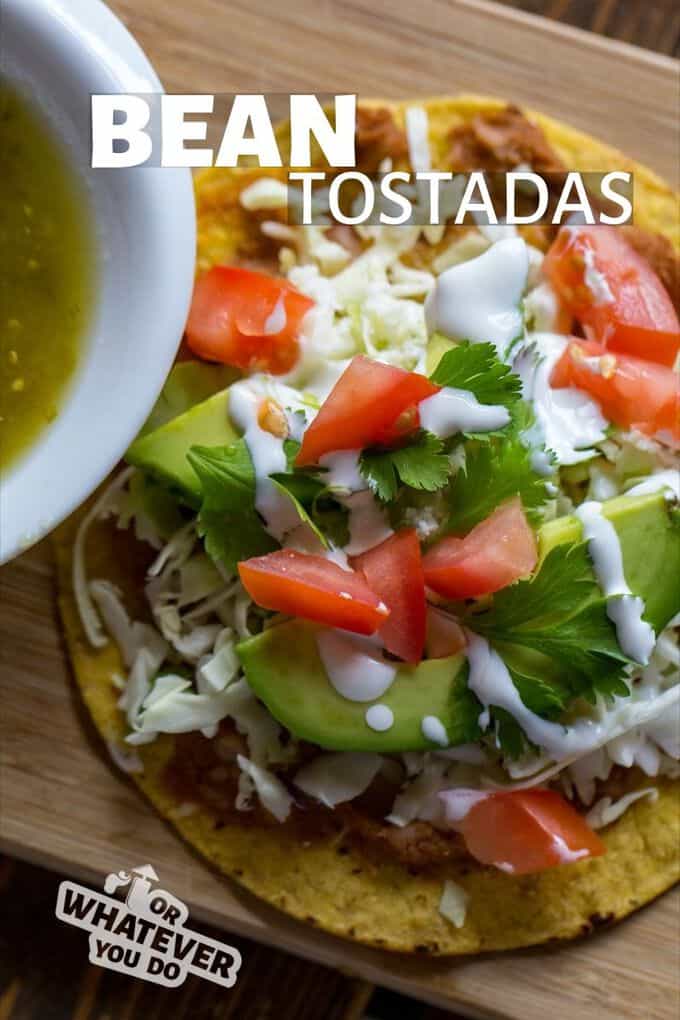 Traeger Bean Tostadas
I absolutely LOVE tostadas.
They're such a satisfying thing to eat; crunchy, salty, savory, and rich! It's one of my favorite things to have as a snack or for lunch.
Skip going out and spending too much on something like this at a restaurant when you can make something just as good at home.
If you have kids, they can come in handy at mashing up some beans if you want to make homemade refried beans.
No matter how you decide to tailor this dish, you're going to come out with something mouth-watering in the end.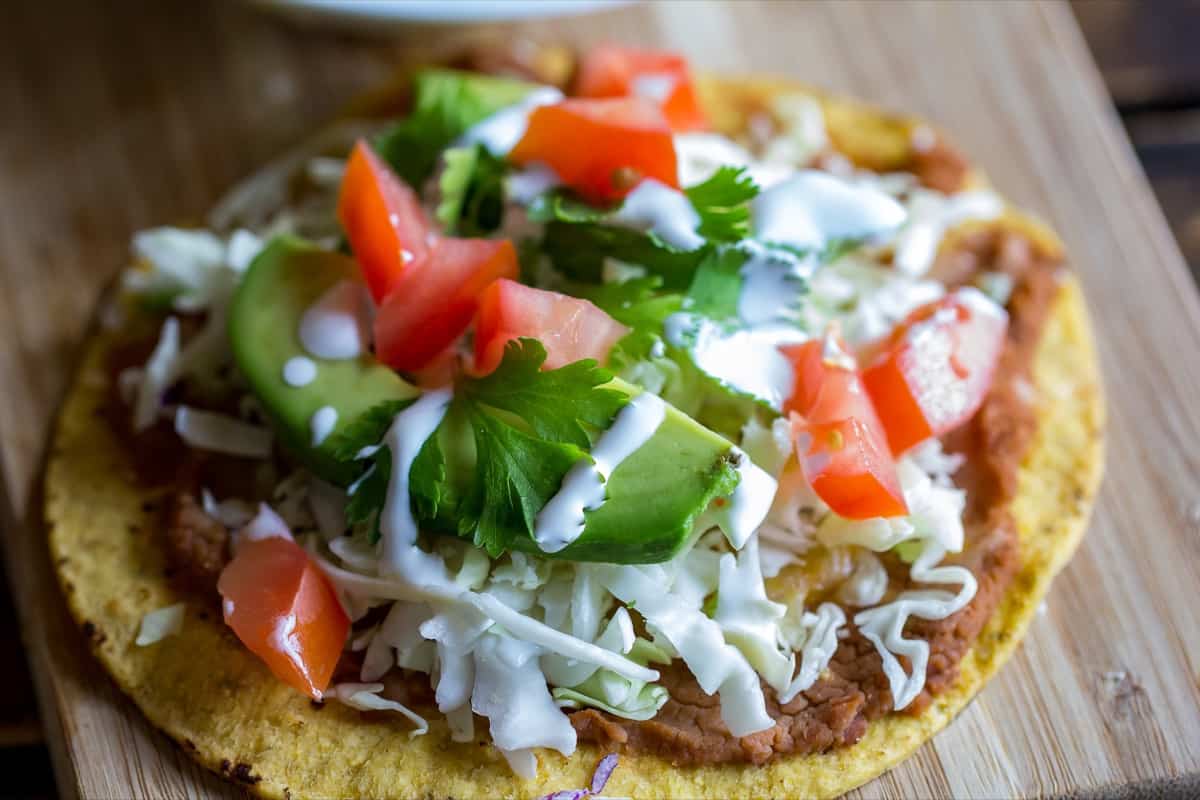 What Is The Difference Between A Taco And A Tostada?
The only huge difference is that with a tostada, the tortilla is usually toasted or deep-fried, and tostadas are served open-faced.
They're traditionally made with corn tortillas but you can also use flour tortillas if you prefer.
Other than their tortillas, they're pretty much the same thing with just a few minor adjustments!
Just like with tacos, tostadas are totally customizable and while my recipe is meat-free, you can 100% add whatever you want as a topping.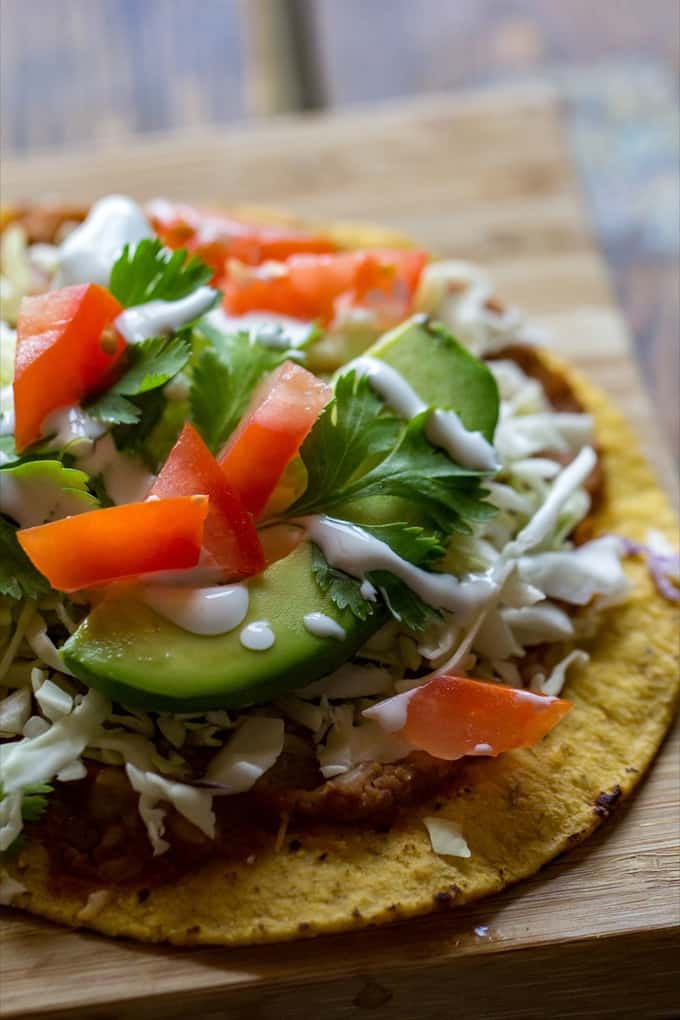 What should I serve with Bean Tostadas?
If you're trying to come up with some sides to serve with these, I've got some super delectable suggestions! My Grilled Mexican Street Corn and Pressure Cooker Mexican Rice would totally complete this meal.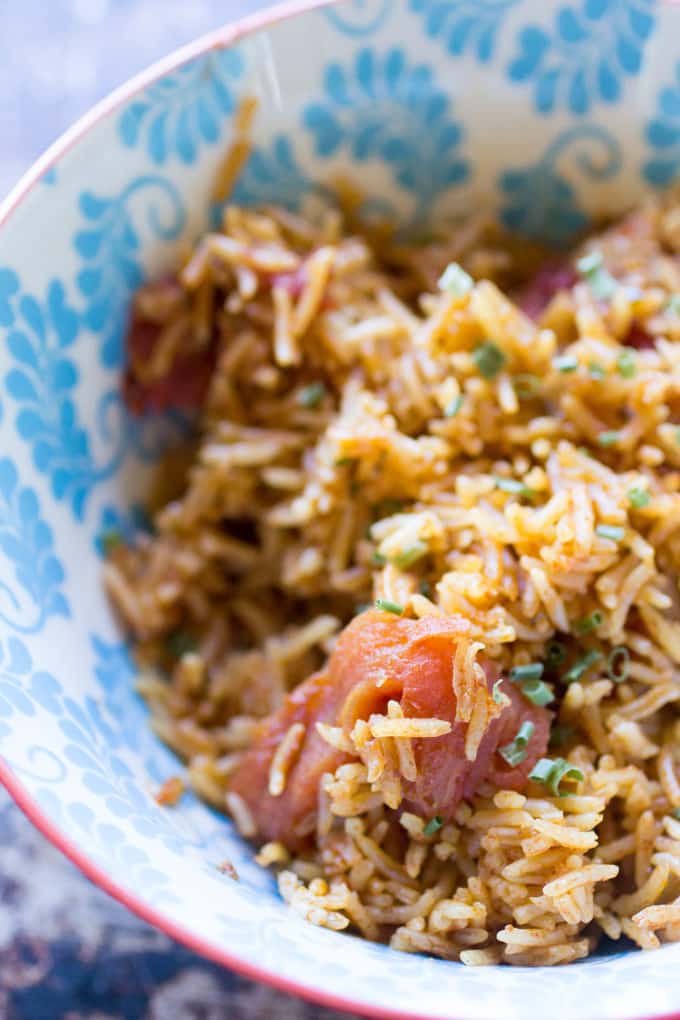 How To Make Crunchy Tostada Shells At Home!
These are SO easy to make and really add a special touch to your tostadas that store-bought ones just can't compete with.
I recommend using corn tortillas when making tostadas. They're so good and crisp up in a way that flour tortillas aren't able to.
There are two different ways that you can use to achieve crunch-tastic tostada shells.
If you're going for a healthier way, I'd go with baking. If you just want the crispy, crunchy good stuff, fry 'em up!
If you have an air fryer this is the perfect use for it. Just brush your tortilla lightly with oil and pop it in the air fryer and cook until it is crispy.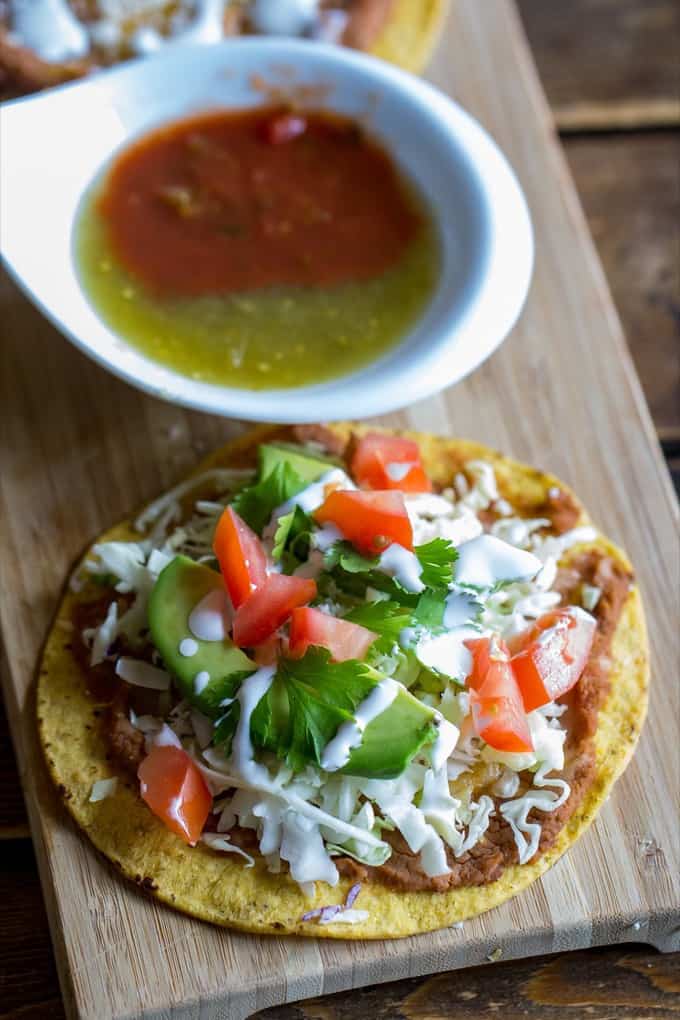 For baking:
If you want to bake your tostada shells, start by getting your oven ready by preheating it to 400 degrees, and prep a baking sheet with some foil.
Take your corn tortillas and brush them with a little bit of oil and set them on the foil. If you'd like, you can add some salt onto the tortillas at this point.
Pop the tortillas in the oven for 3-4 minutes per side or until you notice them getting really nice and golden brown. THEY WILL CONTINUE TO CRISP ONCE OUT OF THE OVEN so be sure not to overcook them!
Let them cool and BOOM, mouth-watering tostada shells right from the oven!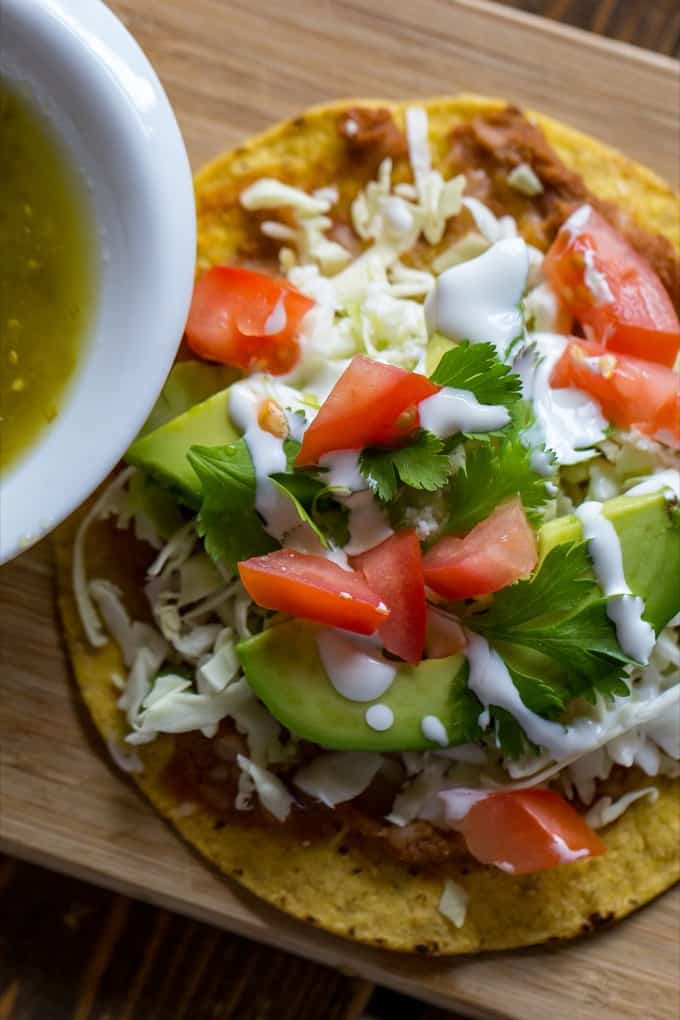 For frying:
Fill up a pan with oil until there's enough to completely cover the tortillas once they're submerged. Heat it on medium heat until it's SIZZLING hot.
Add your tortillas one by one. When you add the tortilla, it should bubble up immediately, if they don't, then your oil isn't hot enough and you need to wait longer.
Fry the tortillas for 30-60 seconds per side until golden brown. You may need to help keep the tortilla submerged with a metal spatula during this process.
Use tongs to remove the tortilla, it should be firm and crispy, and be sure to drain as much excess oil off as possible! Place them on paper towels to drain the rest of the oil, sprinkle with salt at this point if you'd like!
If you're making a lot of tostada shells, you can keep them warm by placing them in the oven! Place your tostada shells on a baking sheet and set your oven to 250 degrees, this will make sure they don't lose any of their crisp or warmth!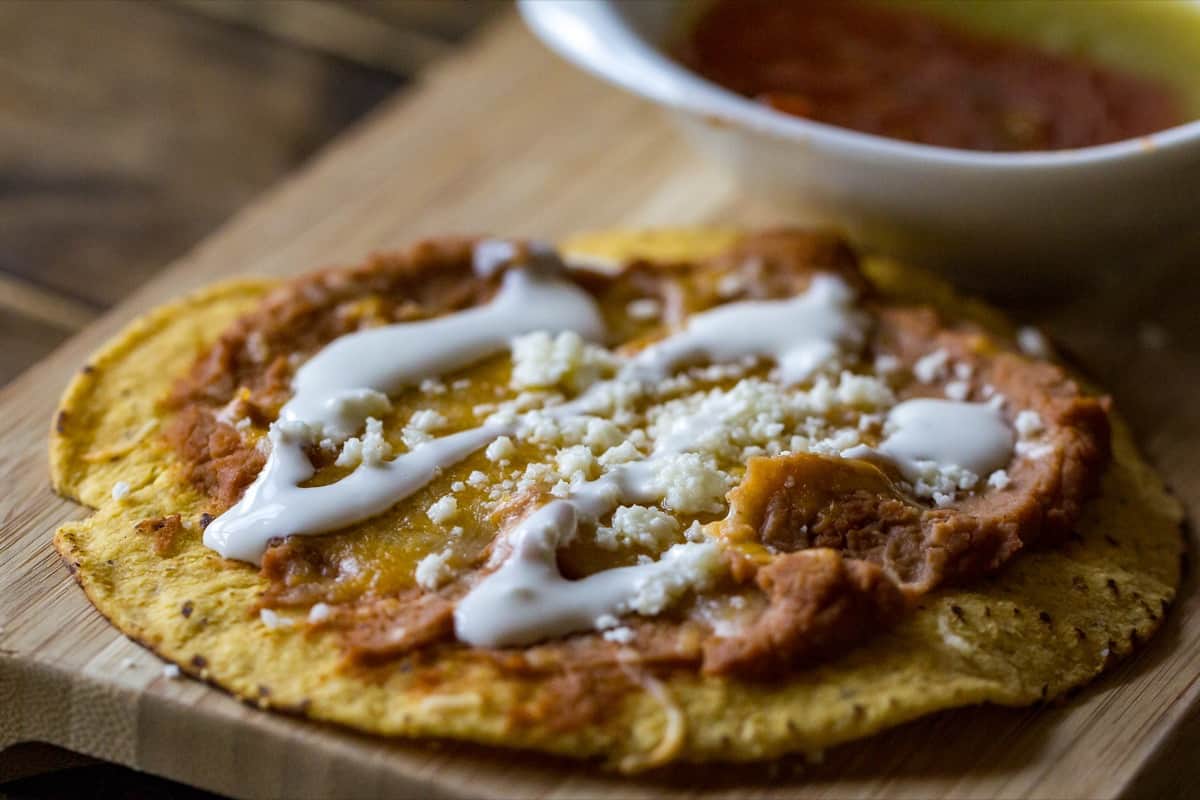 Can I Make Homemade Refried Beans?
Homemade refried beans are super delicious, and easy to make!
I'll walk you through some super easy steps that'll guarantee the most amazing homemade refried beans you've ever had!
Choose your beans –

The first and most crucial step is choosing which bean you'll be using. I recommend using pinto beans, they're the traditional way to go and they're perfect for refried beans because of how buttery they are! You can also use black beans if you don't like pinto!

Prep your beans

– If you're like me and enjoy a good shortcut, use canned beans for this. They're just as good as cooking them yourself, but save a TON of time. Just be sure to drain and rinse them thoroughly.

Cook your beans

– First, saute some garlic and diced onions until they are soft and aromatic. Once it's cooked, mash it with a fork a little bit and add in your beans, some chili powder, cumin, and salt. Cook it all together for about 5 minutes, stirring occasionally.

Mash your beans

– Take your bean mixture and mash it up with a potato masher until it has reached the consistency you enjoy! Squeeze in some lime and get eating!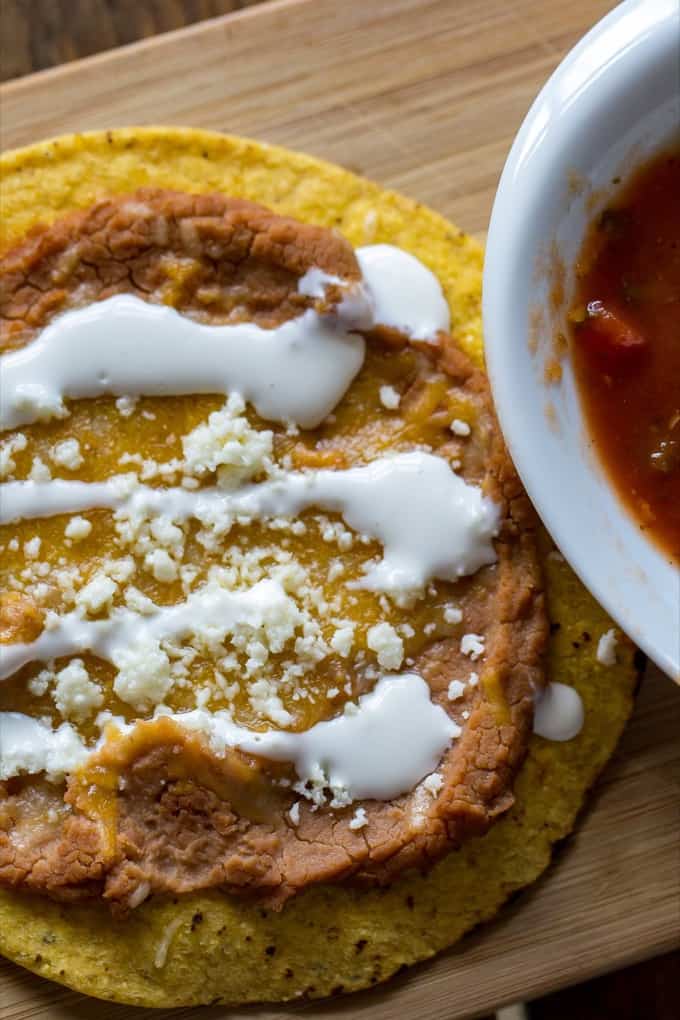 What Should I Put on Top of Bean Tostadas?
You really can top these bad boys with whatever you want, but I suggest a combination of the following:
Meat
Vegetables
Cheese
Literally anything
My Traeger Carne Asada, Blender Salsa, and Pickled Red Onions would be an AWESOME topping for these!
What I'd recommend to go along with the cotija and crema would be some fresh tomatoes and cilantro to keep it simple and really highlight the star here, which is the scrumptious beans!
You can substitute some cheddar cheese if you're not into cotija cheese for a more American take on it. Adding some jalapenos on top would be the PERFECT bite!
Pin for later!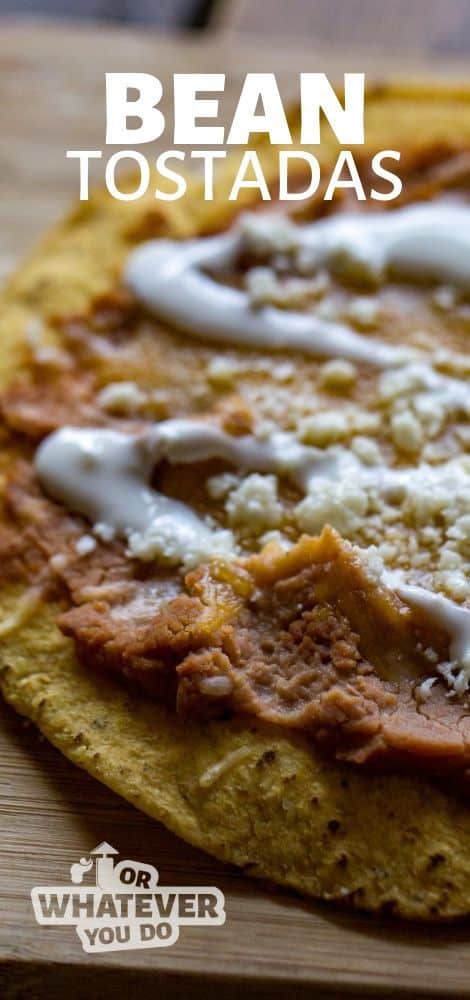 Yield: 6 servings
Traeger Grilled Bean Tostadas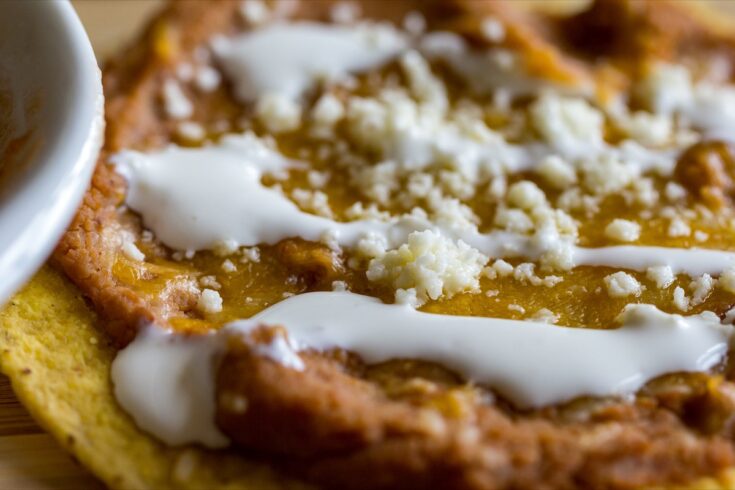 My grilled bean tostadas are cooked on the pellet grill to give them a little wood-fired flavor and served with your choice of toppings. SUPER easy dinner or lunch and very popular with the small people set.
Ingredients
6 corn tostada shells
1 can refried beans
1 tablespoon taco seasoning
1/4 cup shredded cheddar cheese
1/4 cup salsa
Garnish
1/4 cup crema or sour cream
2 ounces crumbled cotija cheese
1/8 cup chopped cilantro
Lettuce
tomato
avocado
onion
Instructions
Preheat your pellet grill to 350°.
Combine the beans, taco seasoning, cheddar cheese, and salsa in a bowl and mix until combined.
Spread the bean mixture on top of the tostadas.
Place the tostadas on the grill and cook for 6-7 minutes, or until they are hot.
Remove and top with the cotija and crema and any other toppings you'd like.
Recommended Products
As an Amazon Associate and member of other affiliate programs, I earn from qualifying purchases.
Nutrition Information:
Yield:
6
Serving Size:
1
Amount Per Serving:
Calories:

283
Total Fat:

17g
Saturated Fat:

6g
Trans Fat:

0g
Unsaturated Fat:

9g
Cholesterol:

24mg
Sodium:

754mg
Carbohydrates:

26g
Fiber:

7g
Sugar:

3g
Protein:

9g
Nutrition data provided here is only an estimate. If you are tracking these things for medical purposes please consult an outside, trusted source. Thanks!