A Smoked Pulled Wild Hog Sandwich is a mouth-watering dish that combines tender, smoky (wild) pork with a tangy barbecue sauce and a soft bun, making for a delicious and satisfying meal. Whether you're entertaining guests, looking for a hearty lunch, or simply craving some comfort food, a pulled smoked hog sandwich is sure to hit the spot.
Smoked Pulled Wild Hog Sandwich
We recently came into something pretty special in the form of about 75 pound of fresh, wild hog! One of the first things we made was a traditional pulled pork sandwich using my Smoked Pulled Pork recipe, and the results were amazing.
Wild hog generally has a slightly stronger and gamier flavor compared to farm-raised pork due to its varied diet and active lifestyle, but we got two sows and while the meat from these pigs was significantly leaner, I didn't notice any strong or gamey flavor from any of the dishes we've made so far.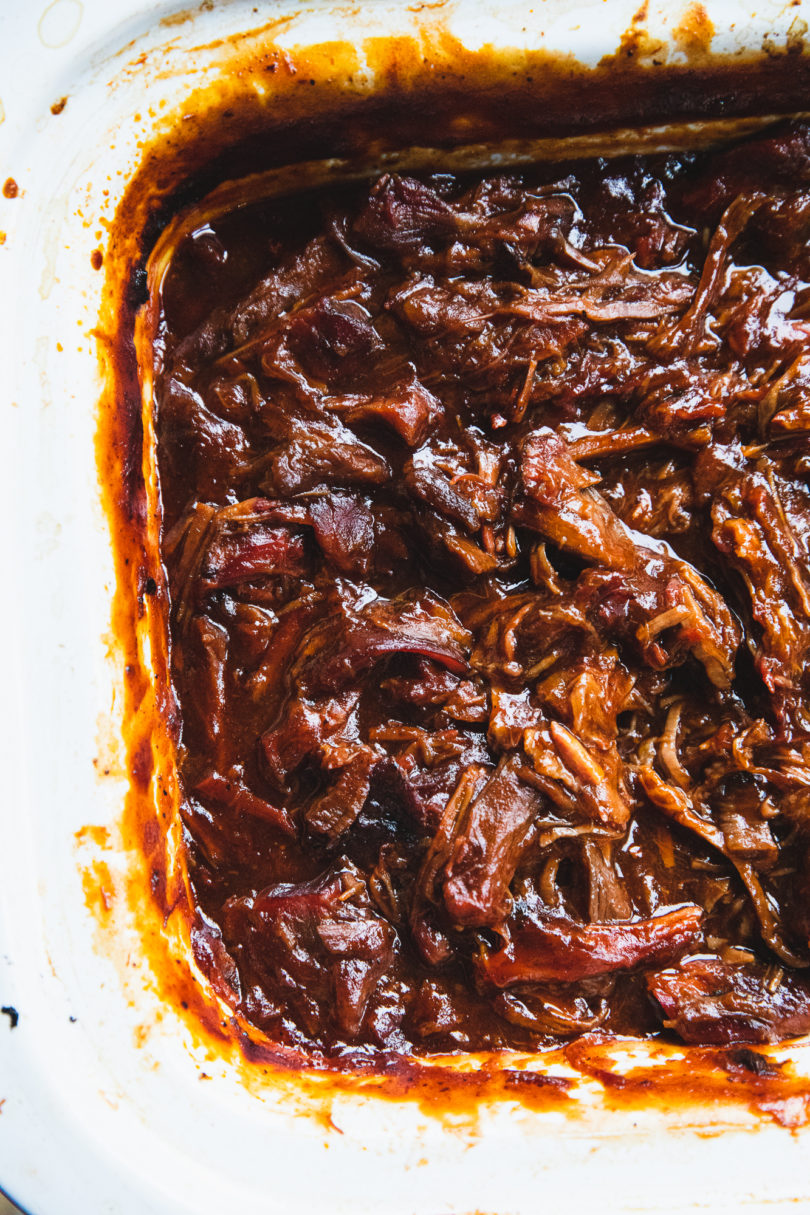 Wild Hog Sandwich shopping list
Wondering if you have to hit the store? Here's the list of items you'll need to make this recipe. For specific amounts, please refer to the printable recipe card at the bottom of the post.
hog shoulder
pork bbq rub (we like Whiskey Bent Old Fashioned)
dry hard apple cider
bbq sauce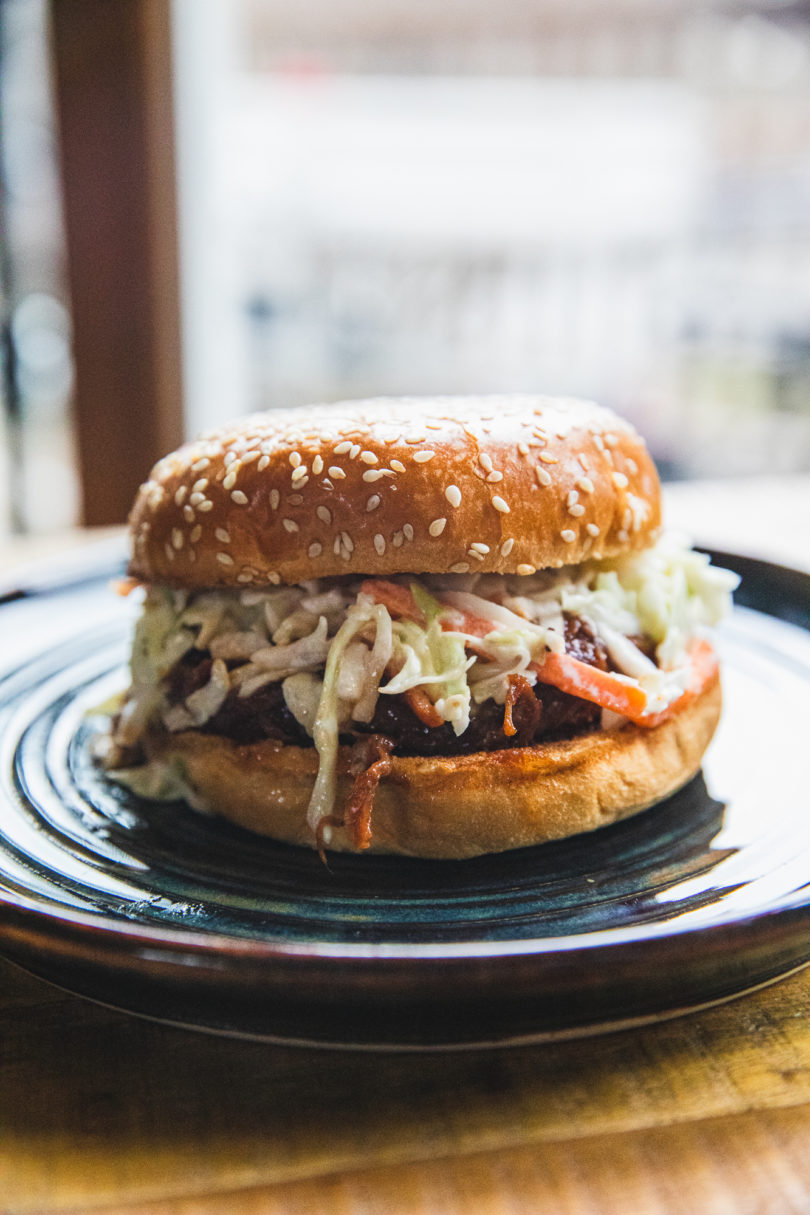 How to make Smoked & Pulled Wild Hog Sandwiches
This is just the overview so you can see what you're actually getting into here. When you are cooking, you'll want to use the full recipe at the bottom of the page.
Preheat
Fire the grill up and set it to 225°.
Season
Use a mustard binder and then season the wild hog shoulder heavily with your favorite pork rub. Some suggestions are listed below in the recipe card "Recommended Products" section.
Smoke
Toss your seasoned pork shoulder on the grill and let it smoke for 6-8 hours. I like to throw mine on in the afternoon and let it smoke until bed time.
Slow Cooker Time
Put the meat into a slow cooker or an Instant Pot on slow cooker mode along with a can of beer or dry hard cider. Cover and let it slow cook over low to medium heat overnight (or at least 4-6 hours)
Shred & Enjoy
Once the meat is fork tender (the time it takes to get here will vary based on your meat), shred it, remove any unappetizing bits, sprinkle in some additional seasoning rub, and your favorite BBQ Sauce.
Serve with buns and fresh coleslaw.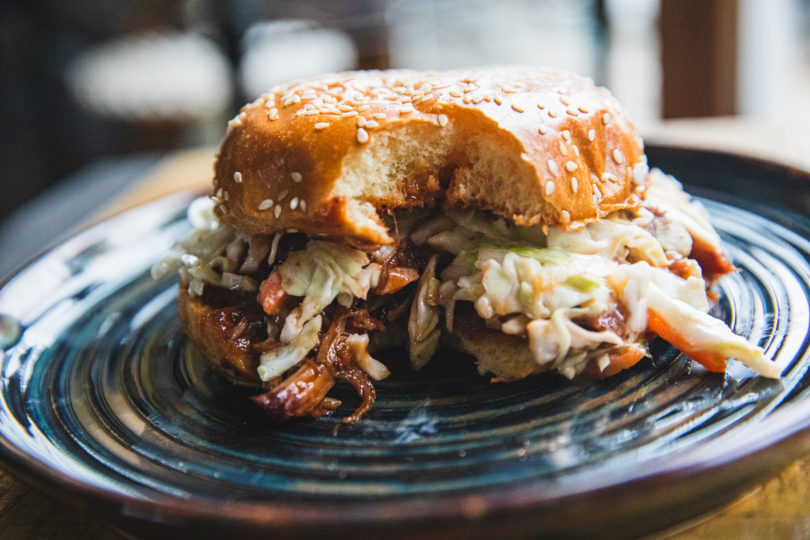 Smoked Pulled Hog FAQ
Is wild hog really safe to eat?
Yes! Get your wild hog from a reputable source, or hunt it yourself. Practice safe food handling, and always always always make sure you cook your wild pig to at least 160°F to kill all the things.
What does wild hog taste like?
The taste of wild hog and farmed pork can be quite different. Wild hog meat tends to have a more intense and robust flavor compared to farmed pork, which can be milder in taste. It is often described as a cross between pork and beef.
One of the main reasons for the difference in taste is the diet of the animal. Wild hogs have a more varied diet than farmed pigs. Wild hogs may feed on a range of foods such as acorns, berries, roots, and insects. In contrast, farmed pigs are typically fed a controlled diet of grains and supplements to ensure consistent growth.
The age of the animal can also impact the taste of the meat. Wild hogs tend to be older when hunted, which can result in tougher and gamier meat. In contrast, farmed pigs are typically slaughtered at a younger age, resulting in more tender meat.
Overall, the taste of wild hog can be more complex and flavorful, but even more delicious than their farmed counterparts.
What are the best pellets to use for wild hog?
We like to use Hickory or fruit woods like cherry or apple for wild hog. Typically though, we are just "use what you have" smokers. There aren't really any wrong answers here, so use whatever is handy and in your pellet box already.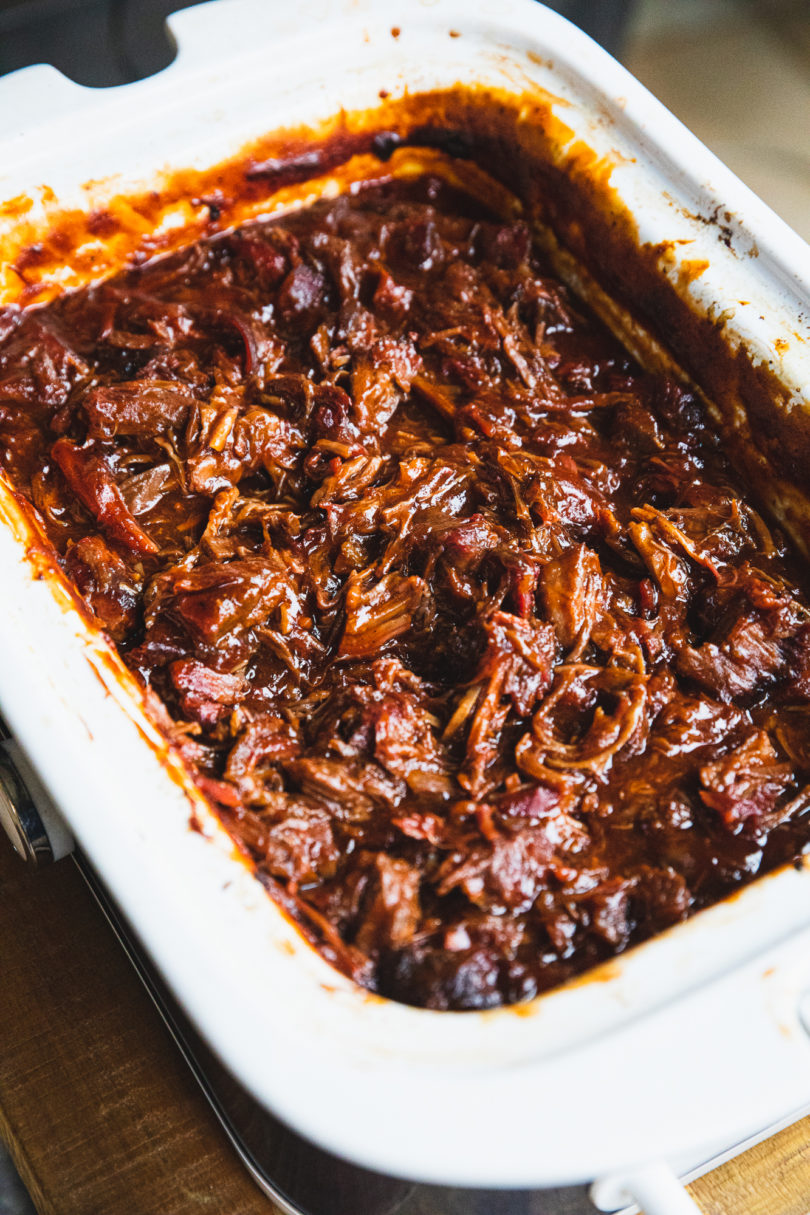 More great pork recipes to love!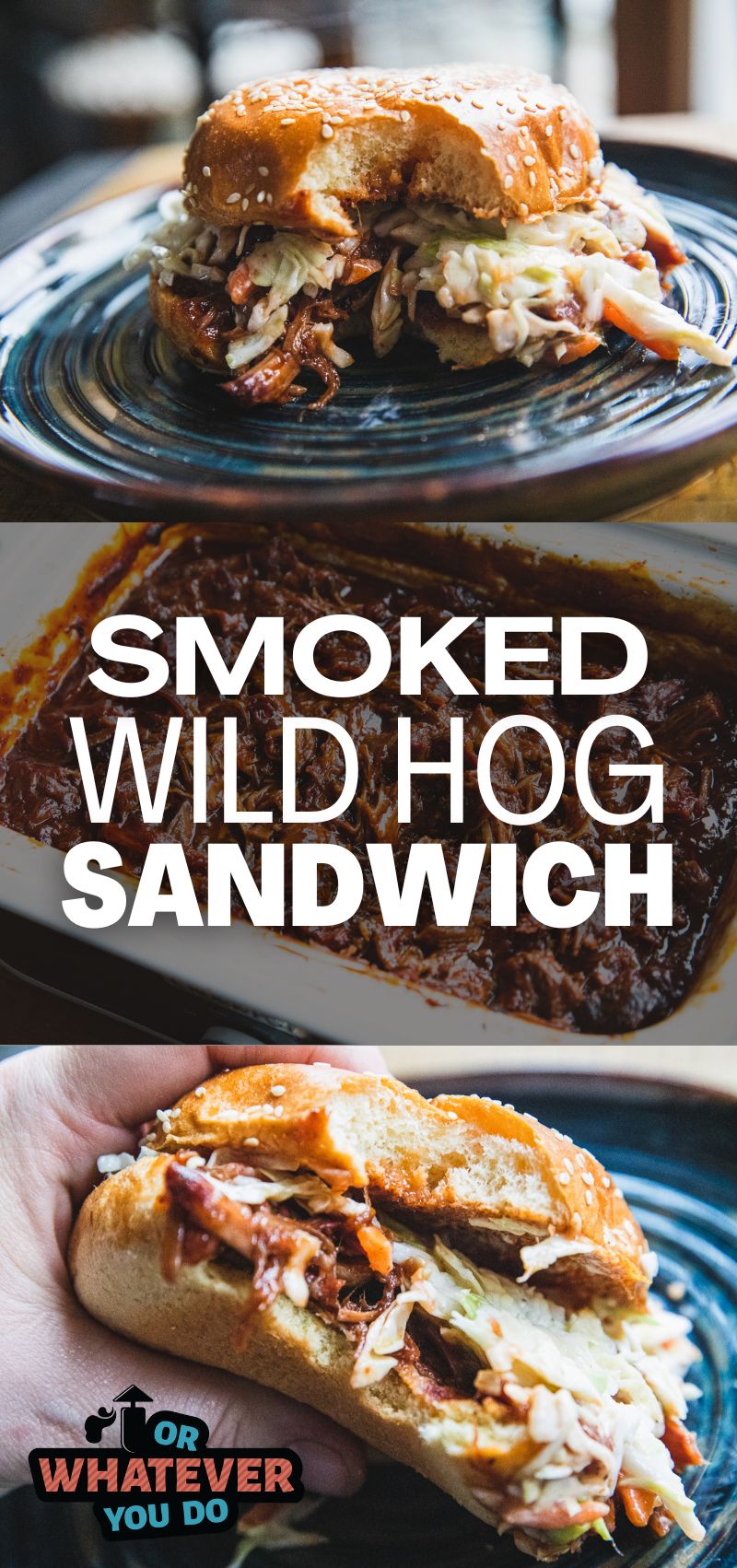 Yield: 8 servings
Pulled Wild Hog Sandwiches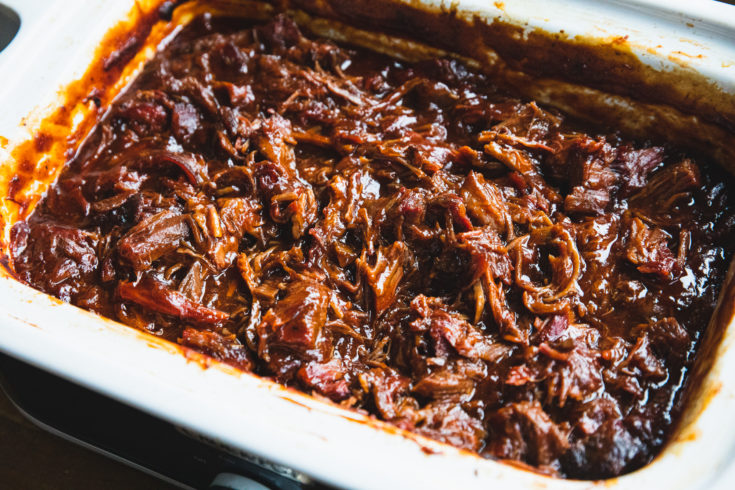 We love wild hog, and these Pulled Wild Hog Sandwiches are tender, smokey, and hit all the right notes!
Total Time
12 hours
10 minutes
Ingredients
4 pound hog shoulder roast
copious amounts of BBQ Rub
3 cups dry hard apple cider
1 - 8 ounce bottle barbecue sauce
Instructions
Preheat your pellet grill to 220-225°F.
Liberally rub the roast with mustard (optional) and then coat with bbq rub on all sides.
Place the shoulder on the grill and smoke for 6-10 hours.
Remove the pork shoulder to a slow cooker, foil pan, or Instant Pot. Pour in a bottle or can of hard cider.
Slow cook overnight.
At lunchtime (or dinnertime, these can hang out on low in the slow cooker until then, no problem) shred the roast and pour in some of your favorite barbecue sauce along with some more barbecue rub.
Recommended Products
As an Amazon Associate and member of other affiliate programs, I earn from qualifying purchases.
Nutrition Information:
Yield:
8
Serving Size:
1
Amount Per Serving:
Calories:

144
Total Fat:

2g
Saturated Fat:

0g
Trans Fat:

0g
Unsaturated Fat:

1g
Cholesterol:

11mg
Sodium:

502mg
Carbohydrates:

28g
Fiber:

1g
Sugar:

23g
Protein:

4g
Nutrition data provided here is only an estimate.