You should definitely make our Jalapeño Popper Smoked Chicken Soup because it's a unique and flavorful twist on traditional creamy chicken soup, and it incorporates the bold and spicy flavors of jalapeño poppers AND your favorite smoked chicken!.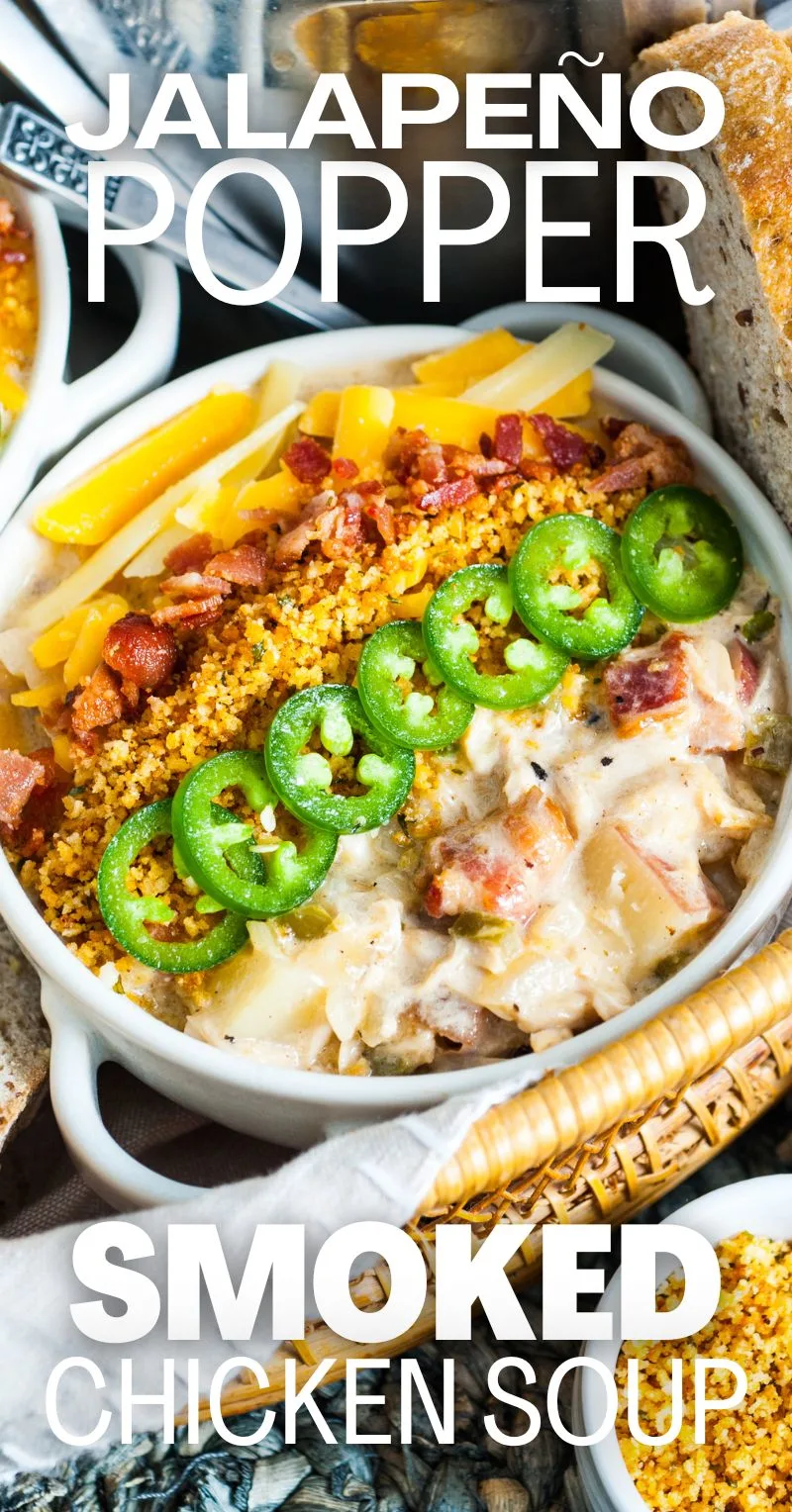 Jalapeño Popper Smoked Chicken Soup
Jalapeño Popper Smoked Chicken Soup is a truly incredible and delicious soup that packs a serious punch of flavor. It starts with a base of tender, smoky chicken that's been slow-cooked on our pellet grill, giving it a rich, complex flavor that's hard to resist.
The pulled chicken is then combined with a creamy blend of cheeses, including cream cheese, cheddar cheese, and Pepper Jack cheese, which gives the soup a rich and indulgent texture that's perfect for chilly nights.
But what really sets this soup apart are the jalapeños. These spicy little peppers are a staple in Mexican cuisine and add a fiery kick to any dish they're included in. In this soup, the jalapenos are roasted until they're smoky and slightly charred, giving them a deep, complex flavor that complements the richness of the cheese and the smokiness of the chicken perfectly. The jalapeños also add just the right amount of heat to the soup, making it a little bit spicy without being overwhelmingly hot.
The result is a soup that's both comforting and exciting, with a rich, indulgent flavor that's perfect for cold weather. The combination of smoky chicken, creamy cheese, and spicy jalapeños is simply unbeatable, and every spoonful of this soup is sure to leave you feeling satisfied and happy. The toppings are just bonus points, but don't skip them. That crunchy bread crumb mixture adds so much incredible texture and flavor to the soup!
So whether you're looking for a unique twist on traditional chicken soup or just want to try something new and exciting, this soup is a must-try dish for any Jalapeño Popper fans in your life that you won't regret making.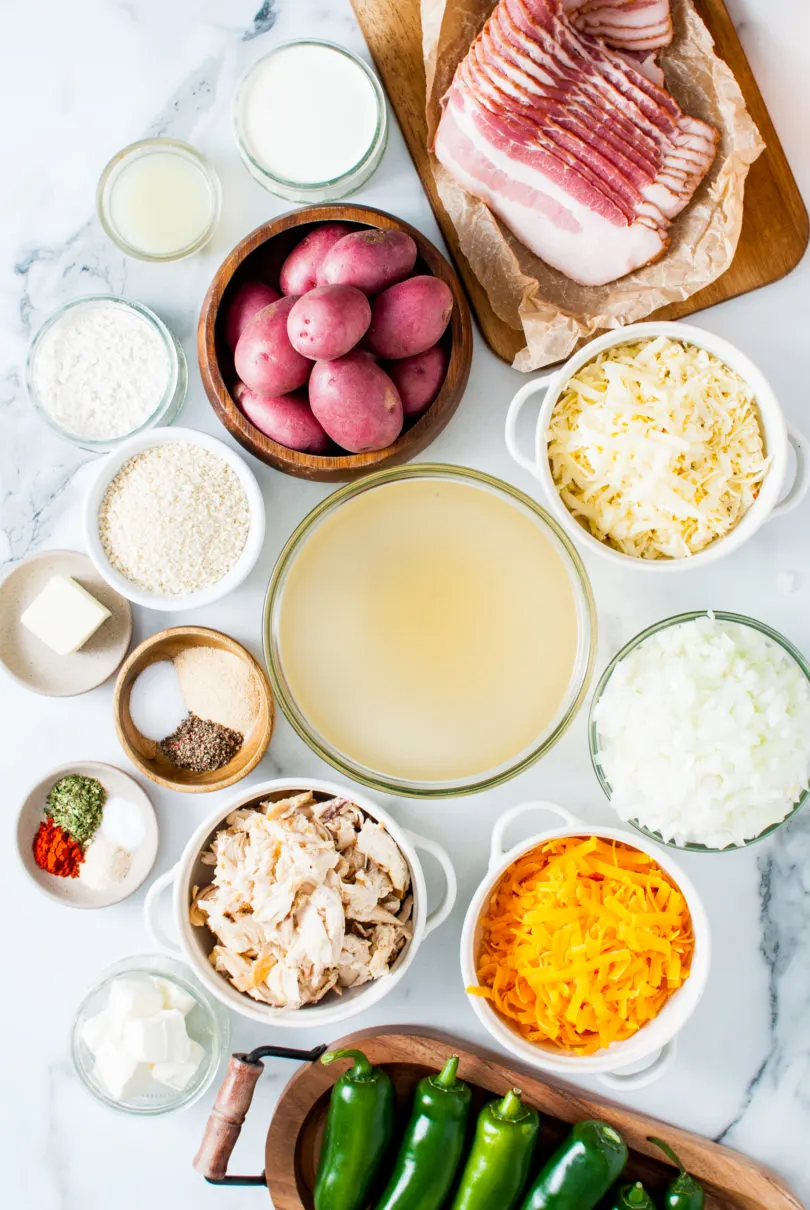 Jalapeño Popper Smoked Chicken Soup shopping list
Wondering if you have to hit the store? Here's the list of items you'll need to make this recipe. For specific amounts, please refer to the printable recipe card at the bottom of the post.
thick-cut bacon
white or yellow onion
jalapeño peppers
garlic powder
salt & pepper
flour
chicken broth
fresh lemon juice
cream cheese
heavy cream
cheddar cheese
pepper jack cheese
baby red potatoes
smoked chicken
butter
panko bread crumbs
smoked paprika
onion powder
parsley
How to make Jalapeño Popper Smoked Chicken Soup
This is just the overview so you can see what you're actually getting into here. When you are cooking, you'll want to use the full recipe at the bottom of the page.
Cook the bacon
If it isn't cut into bite-sized pieces yet, cut up your bacon and fry it up in your Dutch oven. Remove and drain on a paper towel. Reserve the bacon grease.
Sauté
Put the Dutch oven back on the stove and add a couple teaspoons of the bacon grease to the pot along with the onion and jalapeños.
Add a couple more teaspoons of bacon grease and the flour, salt, pepper, and garlic powder. Mix and cook over medium heat for 3-4 minutes.
Soup it up
Add the chicken stock and the lemon juice to the pot. Add the potatoes and simmer until the potatoes are tender.
Turn the heat down to low to medium-low, add the cream and cream cheese. Stir until combined.
Add the cheeses gradually, stirring often, until it is fully incorporated into the soup.
Add your smoked chicken.
Prep your toppings
Preheat your oven to 400°F. Make the crumb topping by pouring the melted butter over the panko. Stir in the rest of the crumb ingredients. Spread out over a parchment-lined baking sheet. Toast for 5-10 minutes.
Assemble
Stir in half the cooked bacon to the soup. Top the portioned soup with sliced jalapeño, shredded cheese, chopped bacon, and the toasted bread crumbs.
Enjoy
Serve hot with crusty bread or crackers.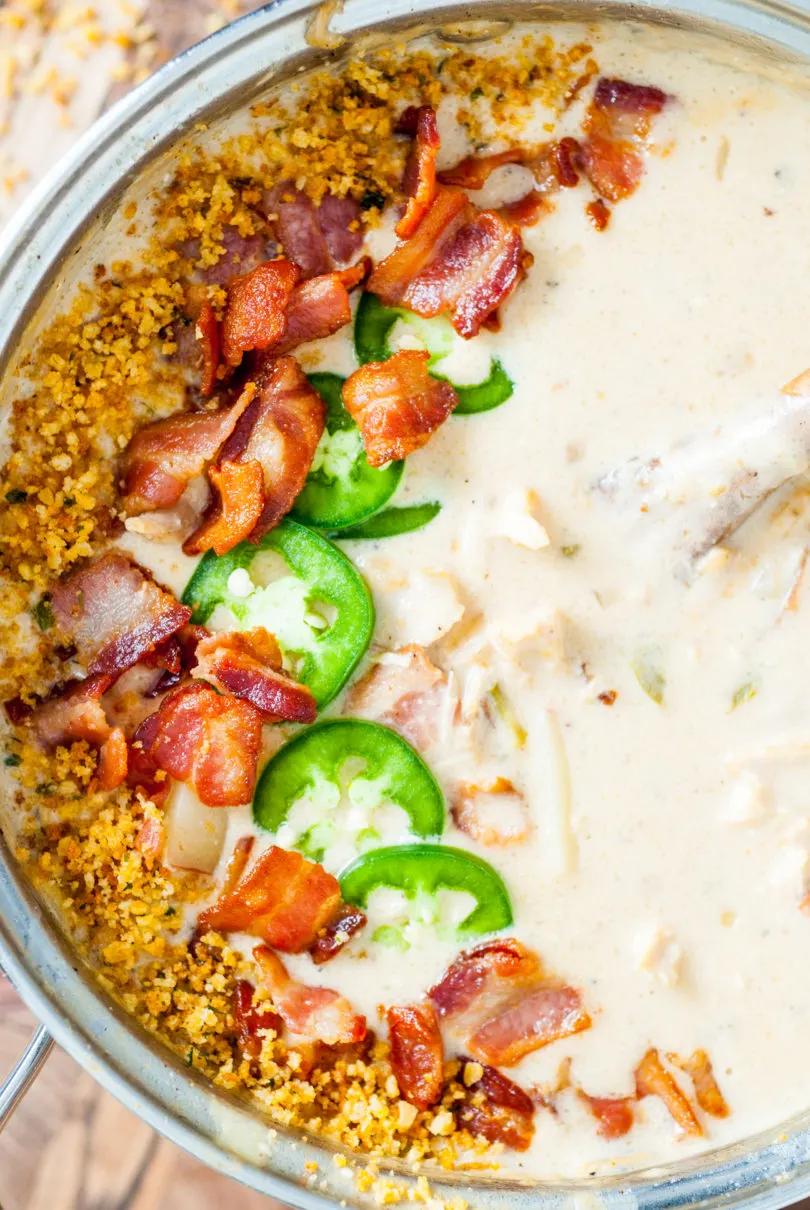 Jalapeño Popper Smoked Chicken Soup FAQ
What's the best way to reheat this soup?
This soup reheated great, keep it in an airtight container in the fridge for up to 3 days. I reheated a bowl in the microwave and a bowl on the stove, both were great! If you do reheat on the stove just make sure to stir frequently to avoid anything burning on the bottom. You may find the soup gets a tiny bit spicier the longer it sits… it won't get cray spicy by any means but just something to be aware of.
How can you control how spicy the end result is?
Pro tip – when working with jalapenos, or any spicy pepper, give the peppers a taste before beginning. This will give you an idea of how spicy that specific pepper is, as Jalapenos especially can vary in their spice levels.
Removing ALL the seeds and the white membrane inside also helps. Those contain a lot of the heat!
What are some other add-ins you can use?
Crunchy fried onions
Kale or spinach would add great texture
Red Bell peppers
Corn (frozen bagged corn would work great)
Croutons
Tortilla chip strips or crushed tortilla chips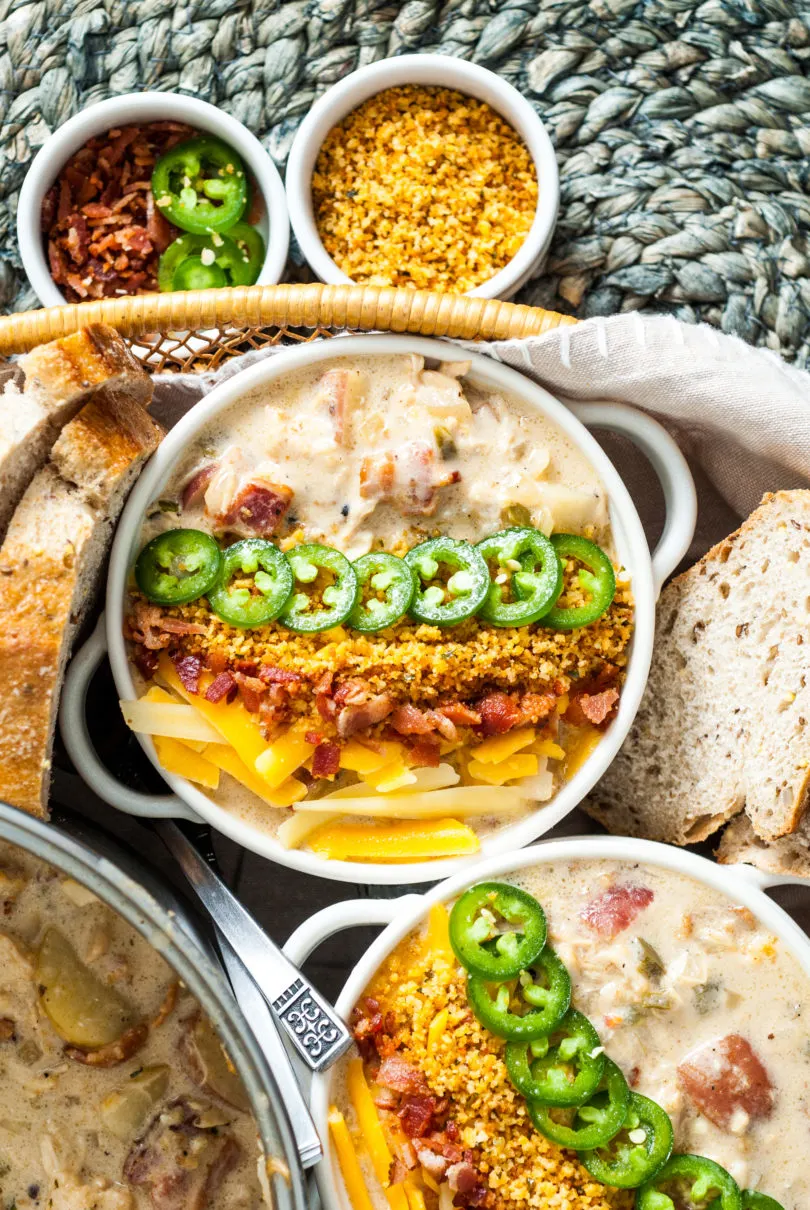 More great soup recipes to love!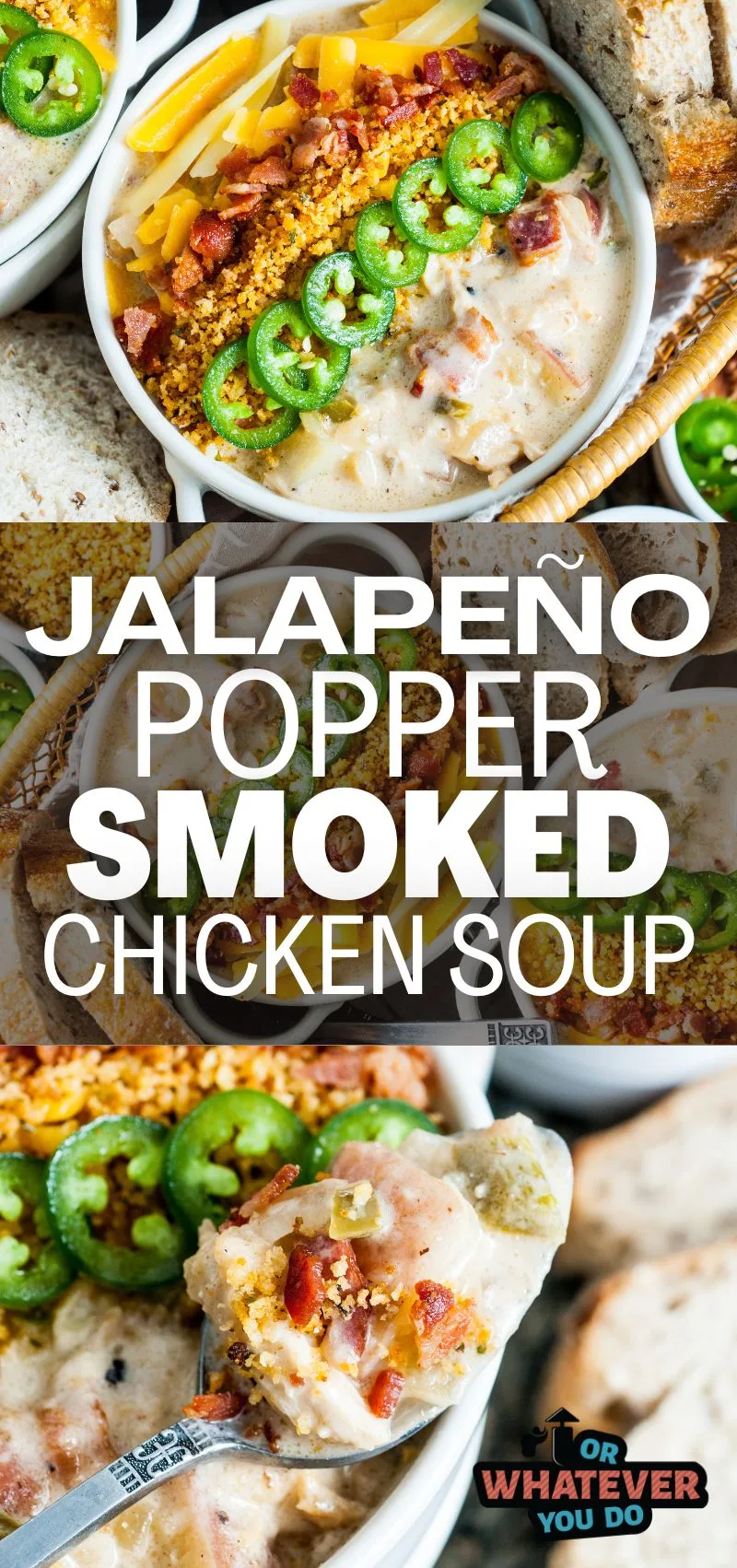 Yield: 6 servings
Jalapeño Popper Smoked Chicken Soup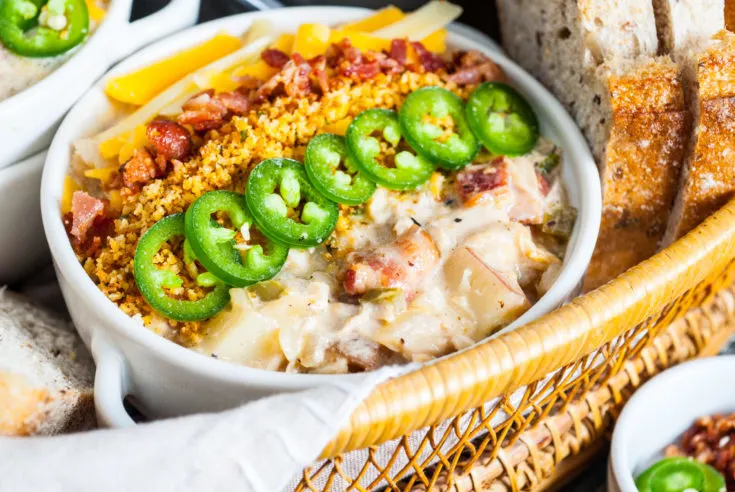 Ingredients
Soup
12 ounces thick-cut bacon
1 large white or yellow onion, chopped
3 large jalapeño peppers, de-seeded and chopped
2 teaspoons garlic powder
1 teaspoon pepper
½ teaspoon salt
⅓ cup all purpose flour
24 ounces chicken broth
1 tablespoon fresh lemon juice
4 ounces cream cheese, softened
½ cup heavy cream
1 ½ cups freshly shredded cheddar cheese
1 ½ cups freshly shredded pepper jack cheese
1 lb baby red potatoes, washed and halved
3 cups pulled smoked chicken
Bread crumb topping (optional)
2 tablespoons butter
¾ cup panko bread crumbs
¼ teaspoon smoked paprika
¼ teaspoon onion powder
¼ teaspoon salt
¼ teaspoon dried parsley
Toppings (optional):
Bread crumb topping
Cooked chopped bacon
cheddar cheese
fresh jalapeño slices
Instructions
Soup
Cut the bacon into bite sized pieces and fry it in batches in the bottom of a soup pot or Dutch oven over medium heat.
Once all the bacon has been cooked, set the bacon on paper towels to drain. Pour the leftover bacon grease from the soup pot into a heat-safe dish and set aside for later. I like to use a mason jar.
Return the soup pot to the stove over medium heat. Add the chopped onions, chopped jalapeños, and a couple teaspoons of the reserved bacon grease to the pot. Sauté the vegetables over medium to medium-high heat until they begin to soften and caramelize.
Add 2 tablespoons of the reserved bacon grease along with the flour, salt, pepper, and garlic powder to the pot.
Mix everything together and cook on medium heat while stirring frequently for 3-4 minutes.
Pour the chicken broth and lemon juice into the pot while stirring continuously. Cover and let simmer.
Add the potatoes to the pot of broth.
Bring the soup to a simmer, cover and let it cook, stirring occasionally until the potatoes are tender.
Reduce heat to a low to medium-low. Add the heavy cream and softened cream cheese. Stir until the cream cheese has melted completely and is fully combined with the broth.
Slowly add the freshly grated pepper jack and cheddar cheeses, a little at a time, letting it melt into the soup before adding any more.
Add the pulled smoked chicken to the soup.
Just before you are ready to serve, add the cooked bacon as well, reserving a little of the bacon to use as a garnish.
Serve the soup with the bread crumb topping, reserved bacon pieces, sliced fresh jalapeños, and additional cheese if you would like. Store leftovers in an airtight container in the refrigerator for up to 3 days.
Breadcrumb topping:
To make the topping melt 2 tablespoons of butter.
Pour the butter over ¾ cup of panko bread crumbs.
Add the smoked paprika, onion powder, salt, and dried parsley.
Mix well and spread onto a parchment lined baking sheet.
Toast the bread crumbs in a 400 degree oven for 5-10 minutes, watching carefully.
Remove from the oven and let cool. Use the toasted crumbs to top the soup.
Notes
Hit the easy button and use rotisserie chicken if you want this for a quick weeknight meal!
If you don't want to use the reserved bacon fat, you can replace that with butter or your choice of oil. But using the bacon fat will give you a great bacon flavor in the soup.
I like to wait to add the bacon until the very end, that way it keeps its texture. If you add it too early it will get soft.
Recommended Products
As an Amazon Associate and member of other affiliate programs, I earn from qualifying purchases.
Nutrition Information:
Yield:
6
Serving Size:
1
Amount Per Serving:
Calories:

1089
Total Fat:

67g
Saturated Fat:

33g
Trans Fat:

1g
Unsaturated Fat:

29g
Cholesterol:

262mg
Sodium:

3546mg
Carbohydrates:

42g
Fiber:

3g
Sugar:

6g
Protein:

78g
Nutrition data provided here is only an estimate.