The next time you fire up the smoker for a pork butt, make sure there's enough to enjoy some of these Smoked Pulled Pork Sliders with the leftovers! Tender pulled pork is sandwiched between fresh dinner rolls, topped with generous amounts of cheese, brushed with a garlic buttery topping, and then back in the pellet grill to get melty.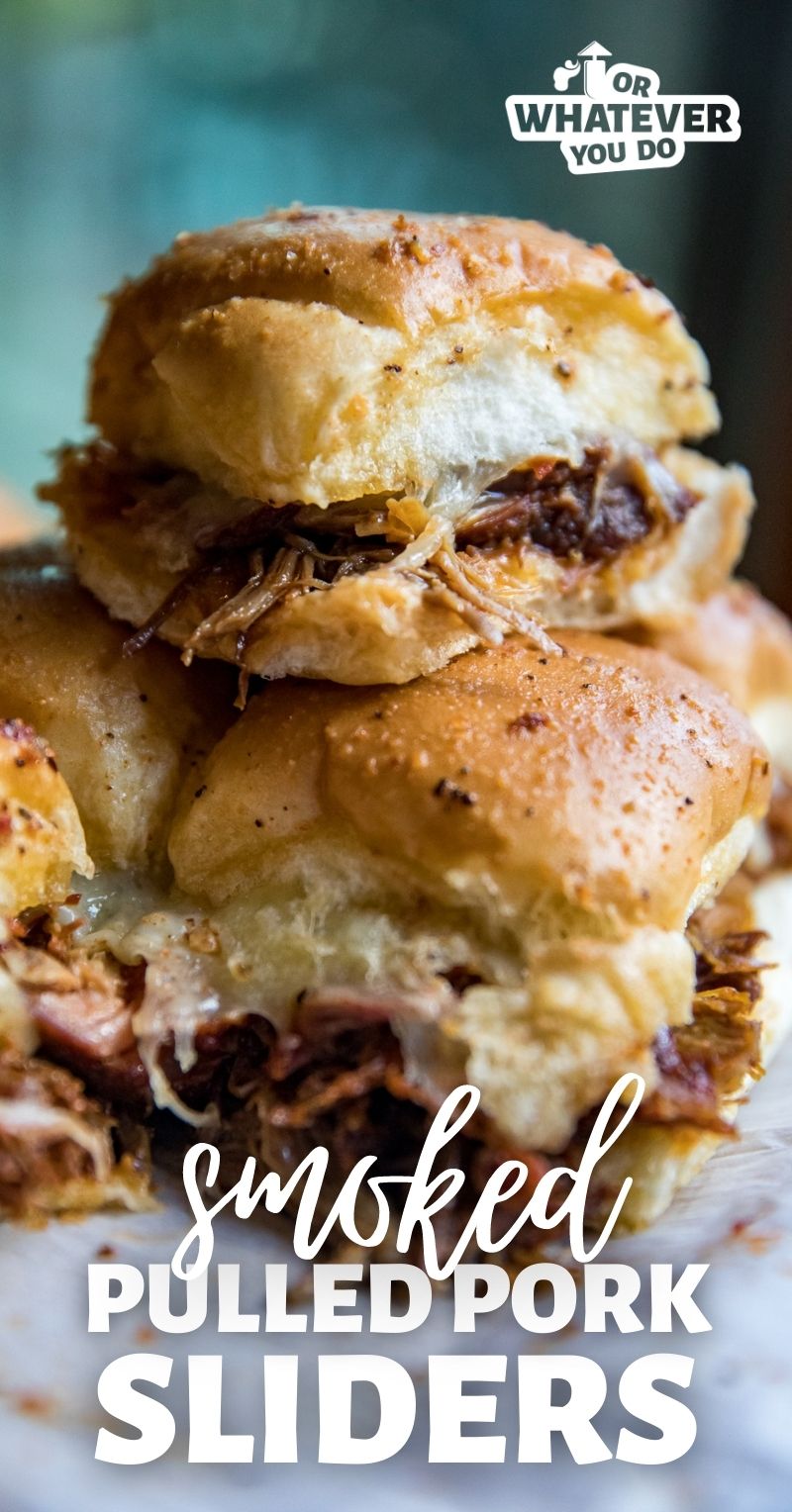 Easy Smoked Pulled Pork Sliders Recipe
I LOVE making pulled pork, but even with a family of 9, it is hard to eat it all. Even if we stretch it out over a few different meals. That's why I LOVE easy spin-off recipes that you can make to change things up a bit.
These pulled pork sliders are super easy to throw together for a crowd, and you can even use frozen pulled pork if you made too much last time and froze the excess. This would be great to make for a week of lunches, too.
Get all of my Easy Traeger Recipes here!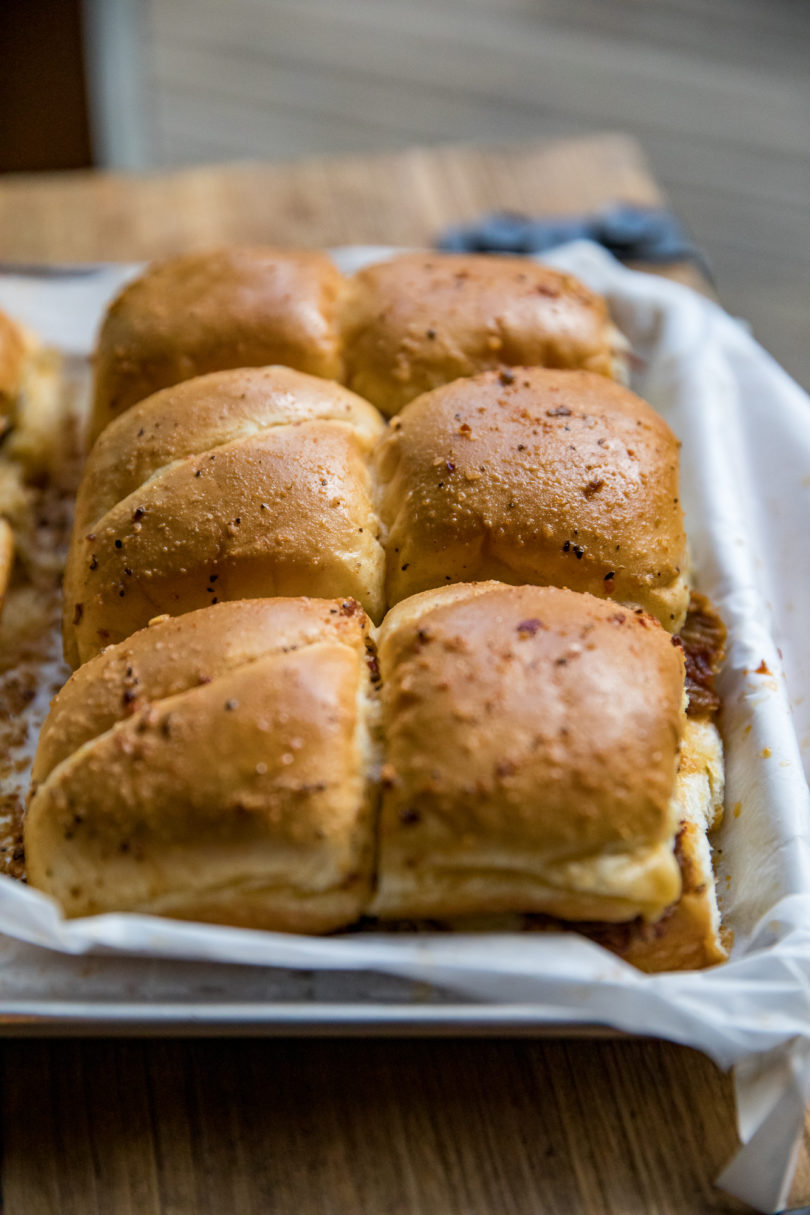 Smoked Pulled Pork Sliders Shopping List
Wondering if you have to hit the store? Here's the list of items you'll need to make this recipe. For specific amounts, please refer to the printable recipe card at the bottom of the post.
pork butt
hard apple cider
barbecue sauce
dinner rolls (that are the pull-apart variety)
cheddar cheese
butter
Roasted Garlic Blend (or substitute 1/2 teaspoon garlic powder)
Midnight Toker (optional, but amazing)
All my PORK RECIPES here!
How to make Smoked Pulled Pork Sliders
This is just the overview so you can see what you're actually getting into here. When you are cooking, you'll want to use the full recipe at the bottom of the page.
Rub, smoke, and shred the pork
This is a whole process, and you'll want to check out my whole post on Smoked Pulled Pork with instructions here.
Or you can be like me and use leftovers for this. 😉 You could even REALLY hit the easy button and use store-bought pulled pork.
Make your sliders
We went condiment-free for these sliders, meaning there is not mayo or mustard happening. There IS barbecue sauce and lots of cheese though. Not to mention that salty, garlicy butter we're going to brush on top, so there's no shortage of flavor or moisture here.
Smoke 'em
Stick your tray of sliders into a pre-heated 225° pellet grill or oven. Let them cook for about 25-30 minutes, or until the cheese is melty, everything is hot, and the tops are starting to brown a bit.
Eat!
Don't forget the cheese pull pics. You're going to want those for the Facebook group. 😉
Tag @orwhateveryoudo on Instagram if you make this recipe!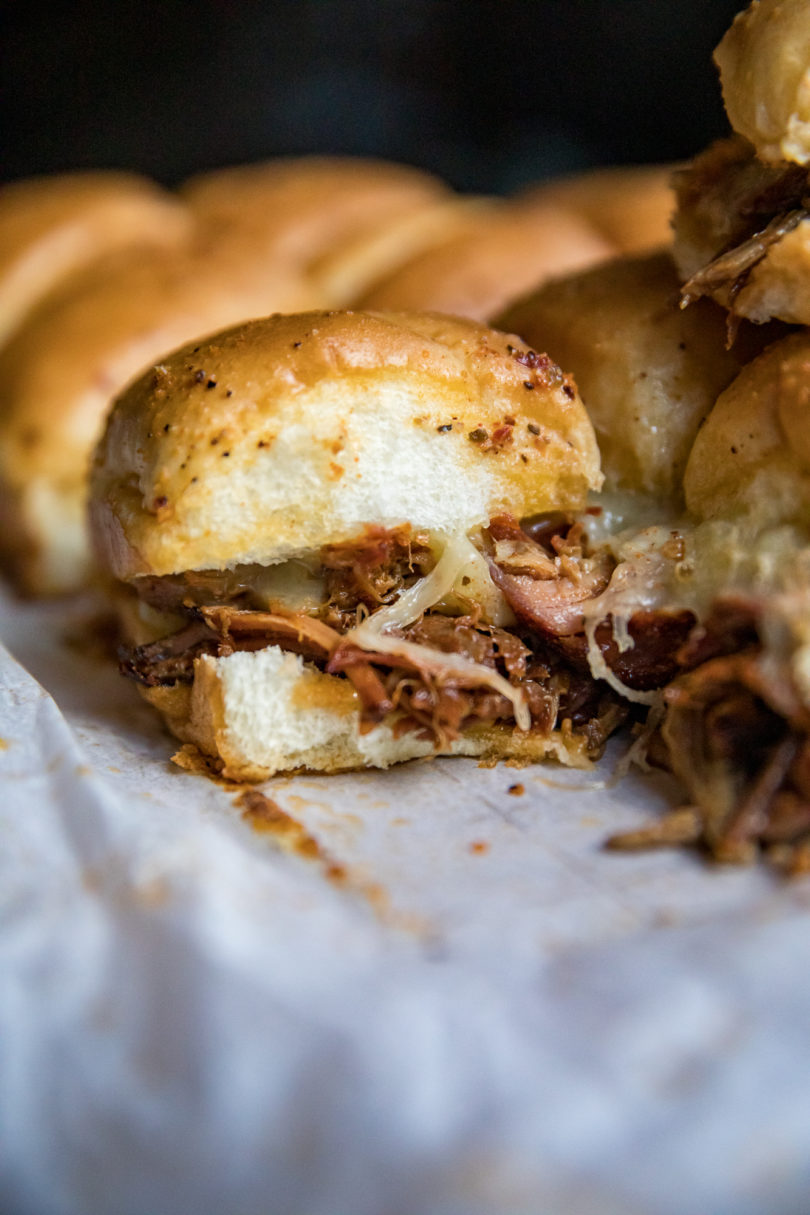 What's in the buttery mix on top?
One of my favorite finds of 2020 was, without a doubt, The Spice Guy and his whole menagerie of rubs, spices, herbs, and blends. Not only did his company bring our Everything Rub from the recipe pad to your doorstep, but I found some new favorites that are on the regular rotation in our seasoning toolkit.
Two of those, that I recommend to anyone looking for a great, versatile, and unique set of rubs to add to their collection, are the Roasted Garlic Blend and Midnight Toker.
Get all my favorite Spice Guy Rubs here!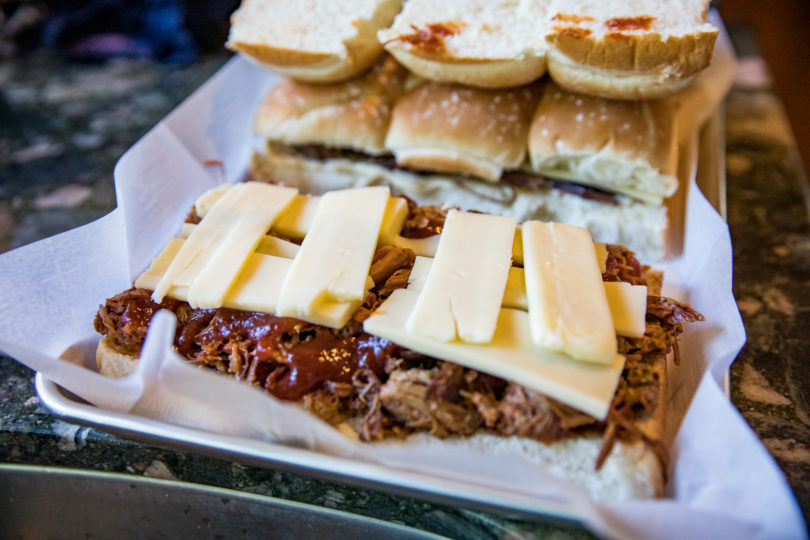 What else can you serve with Pulled Pork Sliders?
My all-time favorite thing to eat with pulled pork will always be a big heap of creamy coleslaw. My Smoked Mac and Cheese is also always a hit and goes really well with the tangy bbq pork.
You can get all of my easy side dish recipes here.
Follow me on Instagram!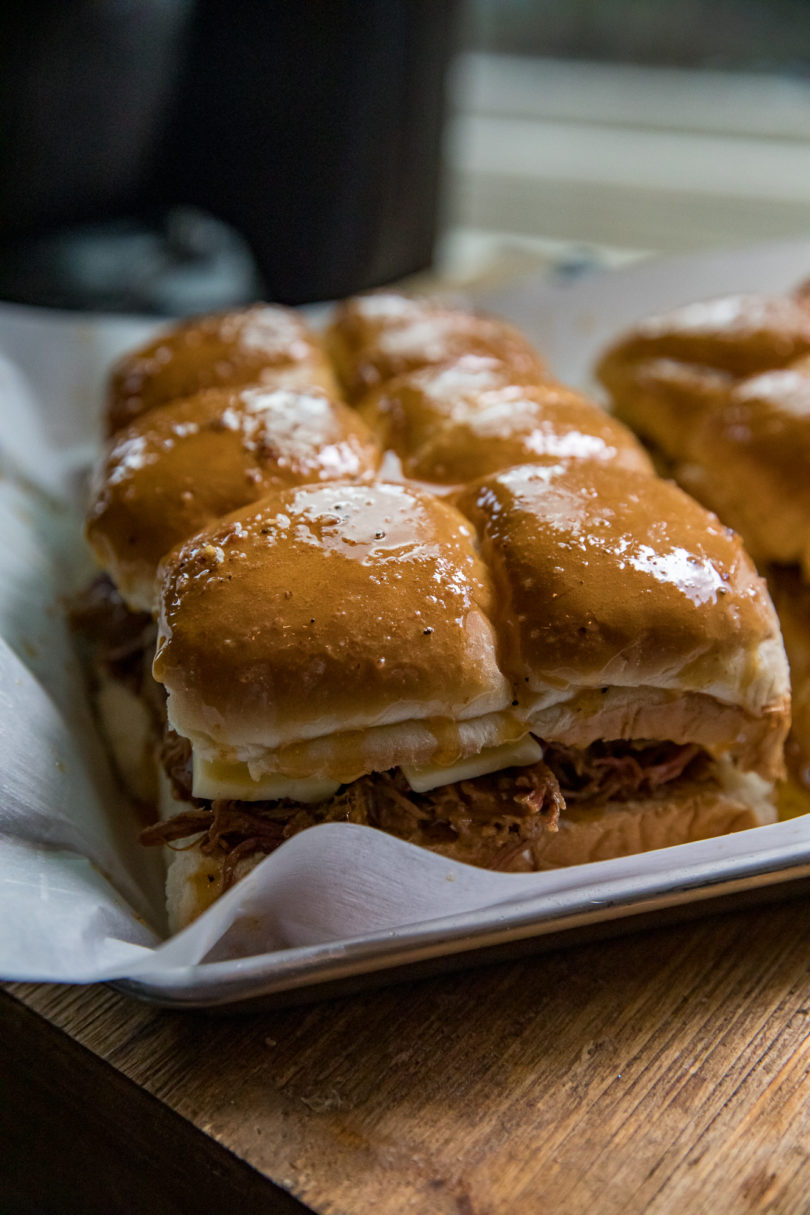 More recipes to love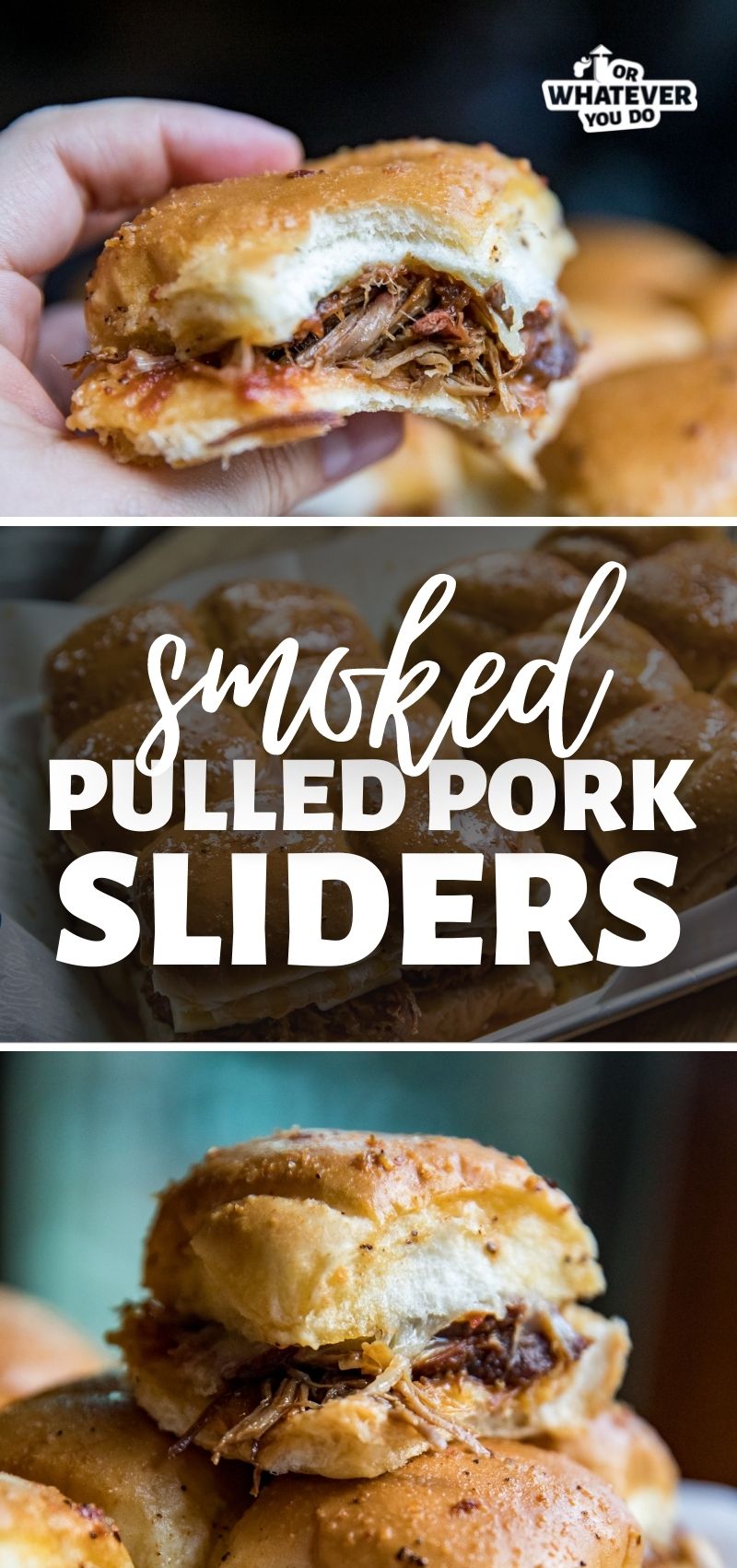 Yield: 12 servings
Smoked Pulled Pork Sliders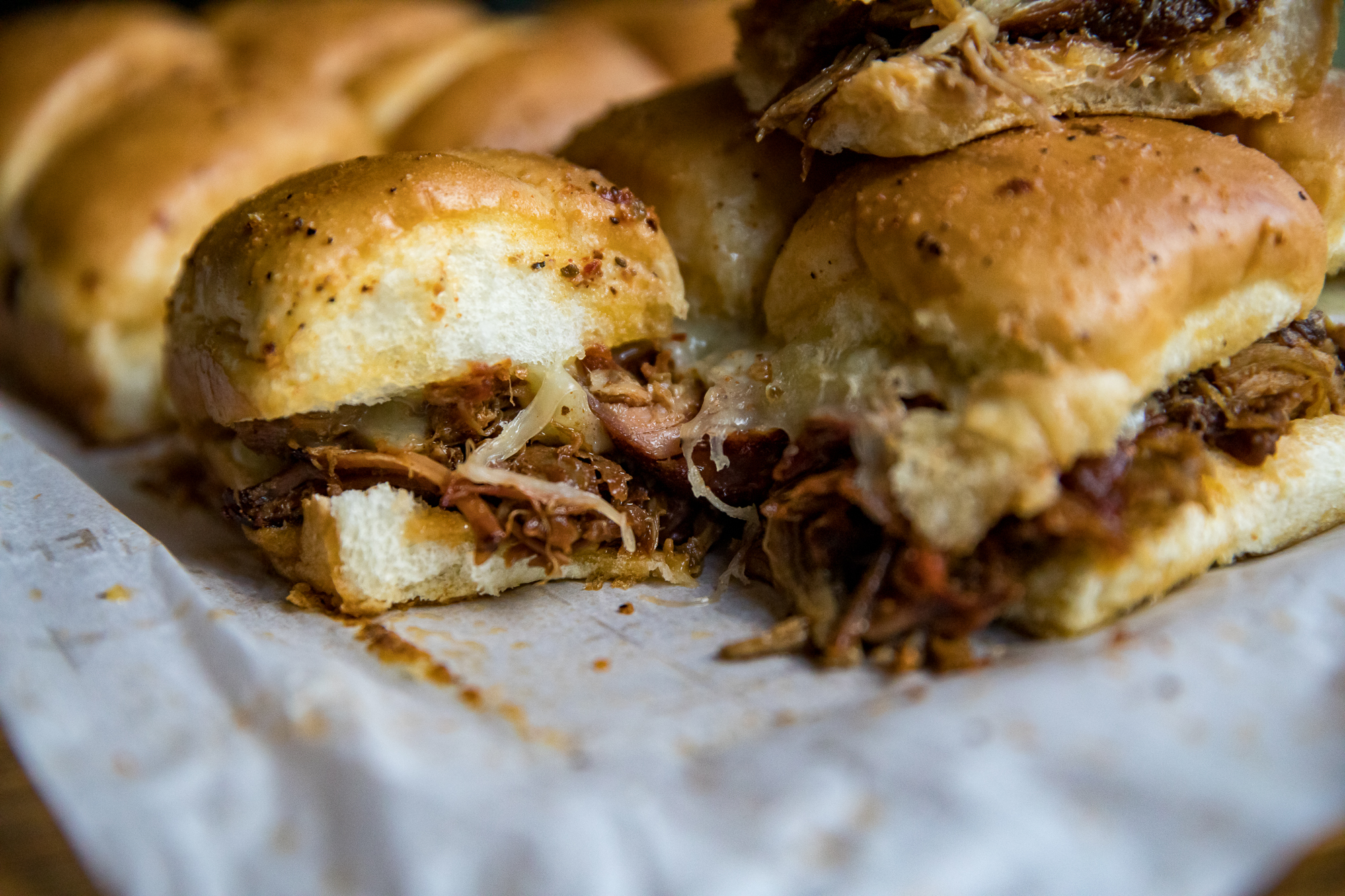 Tender smoked pulled pork gets heaped onto slider buns and then covered with cheese! The top of the buns is brushed with a buttery mixture that makes these the perfect sandwich!
Ingredients
12 pull-apart dinner rolls
6 cups shredded pulled pork
1 cup barbecue sauce
12 slices white cheddar cheese (or provolone)
1/2 cup butter
1/2 teaspoon Roasted Garlic Blend
1/2 teaspoon Midnight Toker
Instructions
Slice the buns in half, keeping them stuck together if possible so you have one big section of bun tops when you are done. Place the bottom into a grill-safe baking dish or on a cookie sheet.
Heap on the pulled pork, top with cheese, pour on some barbecue sauce and top with the bun tops.
Melt your butter and mix in the seasonings. If you don't have those specific blends, you can substitute some garlic powder, onion powder, and a little of your favorite barbecue rub.
Brush the melted butter over the tops of the buns and place it into a pre-heated over or pellet grill at 225°. Cook for 25-30 minutes, or until the sandwiches are heated through and the tops are starting to brown.
Remove and enjoy!
Recommended Products
As an Amazon Associate and member of other affiliate programs, I earn from qualifying purchases.