Spinach Tortellini and Meatball Soup crafts a hearty meal perfect for chilly weather and rainy days. The meatballs and tortellini are hearty enough to make this into a meal, but adding the rich tomato-based broth is comfort food in a bowl.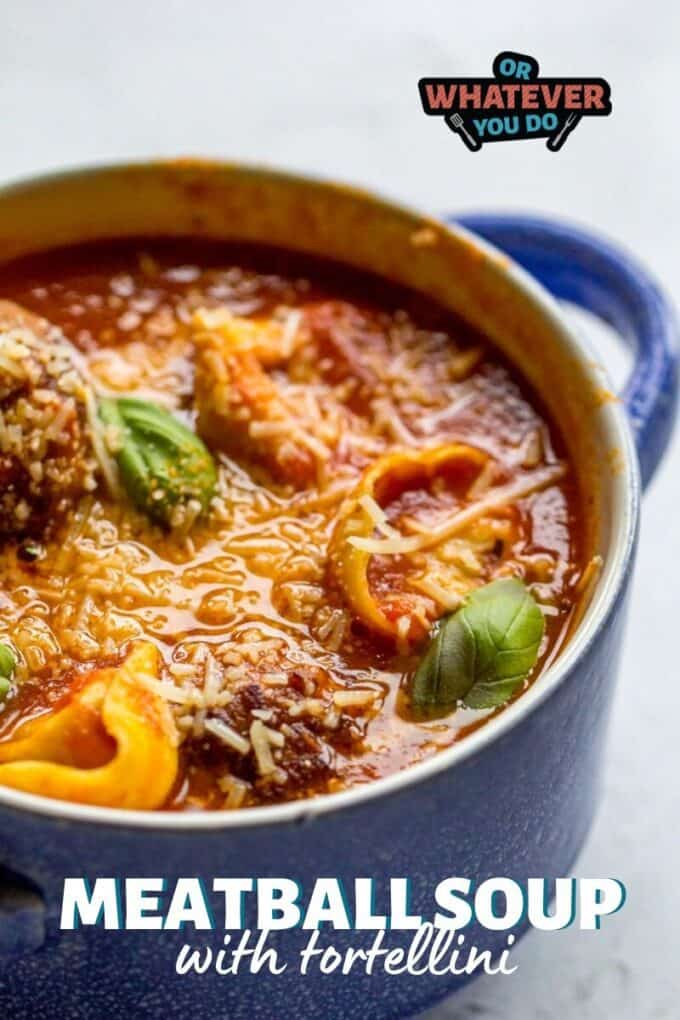 Tortellini and Meatball Soup
The prep is simple and speedy. You can keep it easily to enjoy again later. So, spinach tortellini meatball soup presents a wonderful option for a convenient dinner or simple lunch.
This is actually another approach to my sausage tortellini soup.
More hearty SOUP RECIPES here!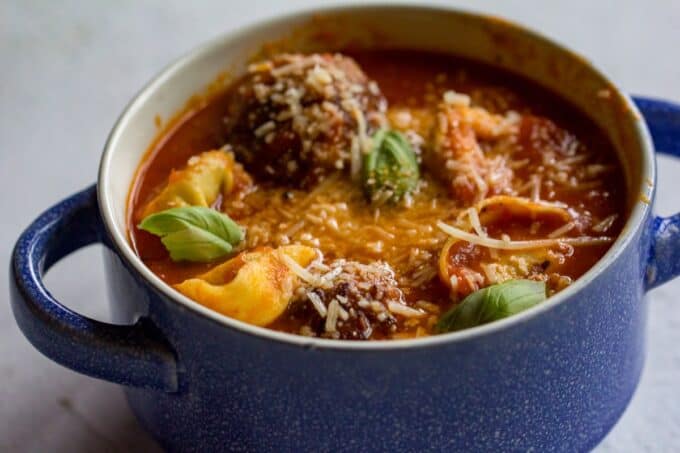 In the mood for Ramen? Make some!
With the spinach tortellini and spinach leaves added to the broth, enjoy a Florentine-style soup. The meatballs in the broth help deepen the flavors, while the tomatoes bring that satisfaction you find in a plate of lasagna or spaghetti.
This is also one of my favorite soups to make because it is just SO easy and quick. You can use a jar of your favorite spaghetti sauce and pre-made meatballs. Spinach tortellini are easy to find in the market.
Usually the fresh tortellini pasta shows up in or around the deli area. You can use the frozen tortellini found in the freezer section, but the fresh stuff is best.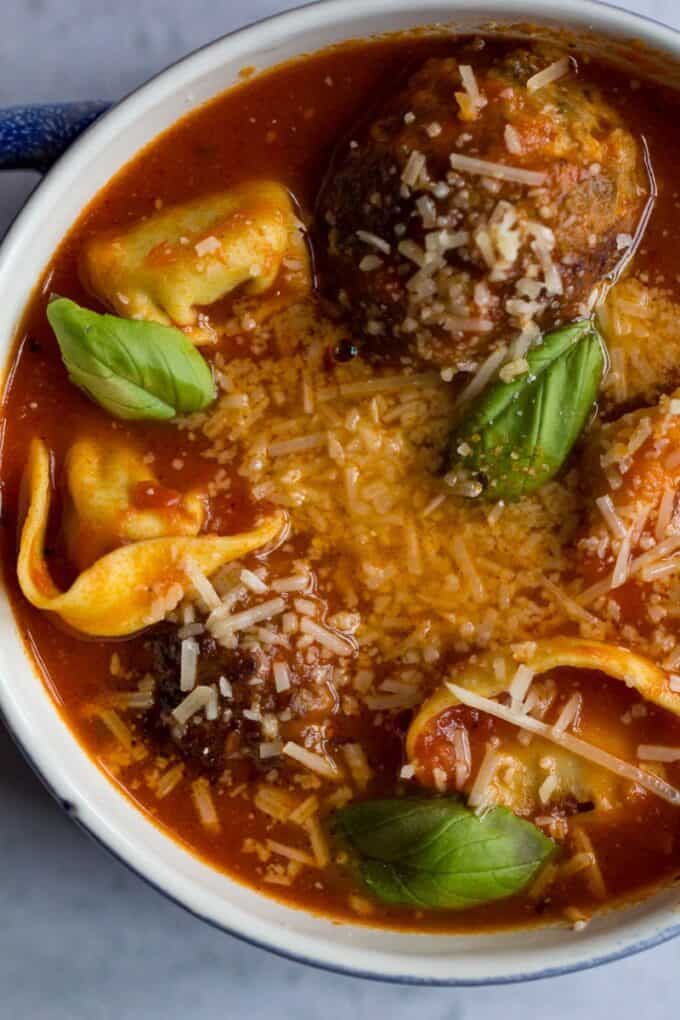 What broth is best for spinach tortellini meatball soup?
Nowadays, you can find a variety of broths in boxes, cans, and even freshly made in the deli section. For this recipe, I suggest chicken broth, and low sodium varieties are fine too. You get plenty of sodium in the meatballs and the tomato sauce, so you won't miss it in the broth.
However, this recipe will work just as well with beef or vegetable broths as well. You might have those handy in the cabinet so don't feel like you have to run to the store if you don't have chicken broth.
Make your own chicken stock!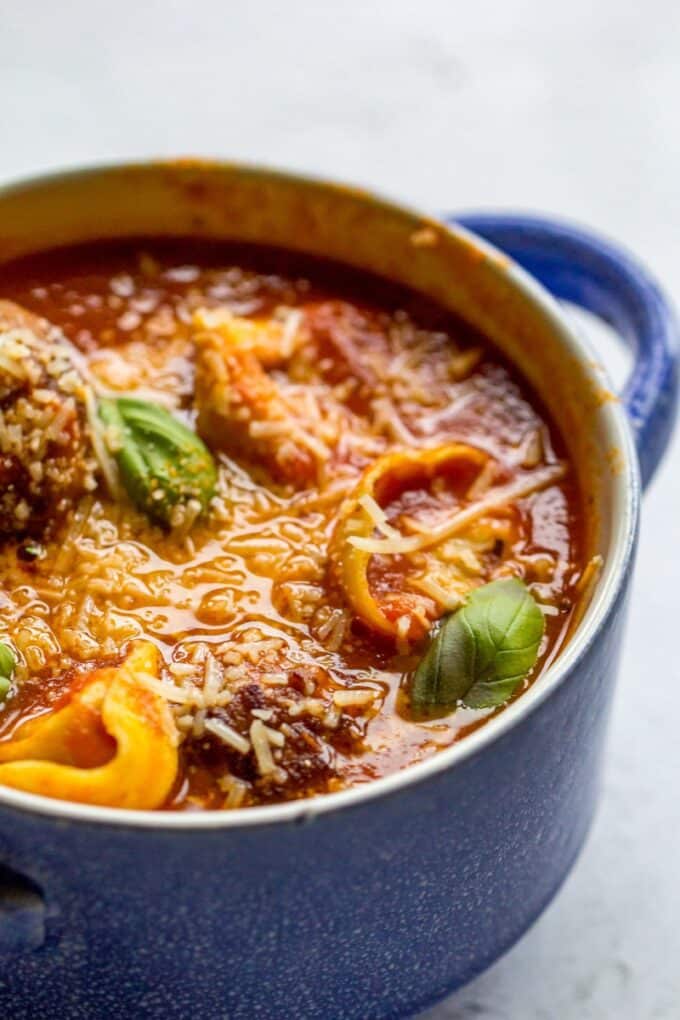 What kind of tomato sauce should I use?
If you want to keep it super simple, get your favorite jar of pasta sauce. There are so many varieties and everyone has a preference. For the recipe, I recommend one that is richly flavored with garlic and herbs.
If you like mushrooms, then go ahead and use a tomato sauce with mushrooms in it. Mushrooms work really well with spinach so it doesn't throw anything off at all. Mushrooms always make spaghetti better!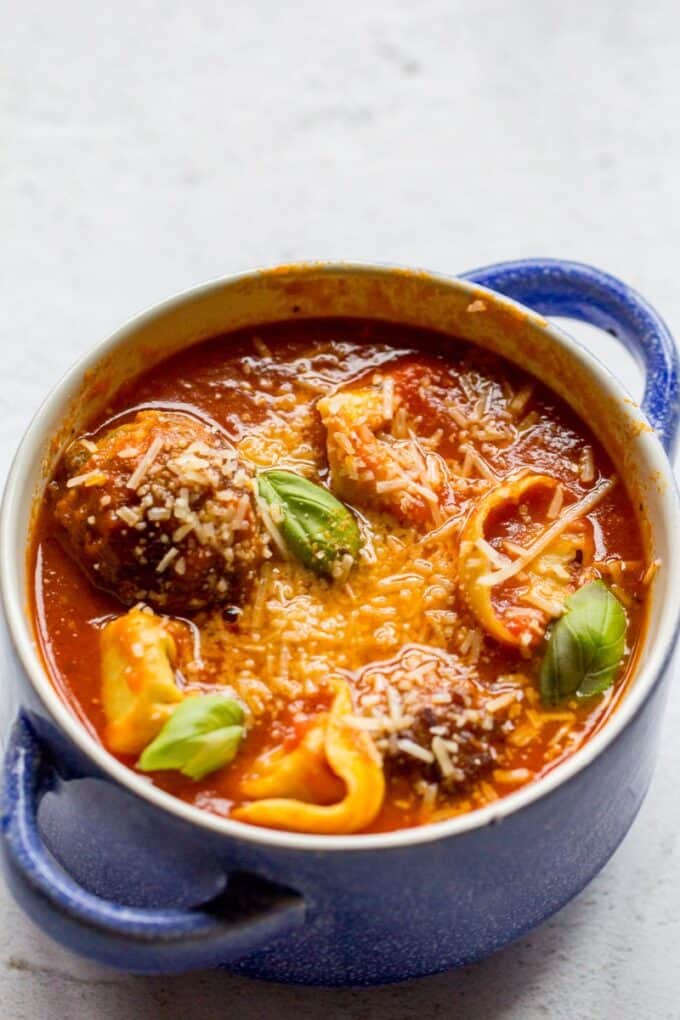 What about the meatballs in spinach tortellini and meatball soup?
I have a few meatball recipes that can work well. You could do my Traegar smoked meatballs or my mini meatballs. You can also go with store-bought frozen meatballs if you want to keep things short and sweet.
What kind of tortellini should I use for this meatball soup?
Fresh tortellini is best for this application, but you can use frozen in a pinch. I like to use a cheese and spinach filled tortellini in this soup to bring together the broth and spinach.
If you are feeling really frisky, you could make your own tortellini. I have a great pasta recipe here that I use for ravioli that would work well, or here's a great tortellini tutorial and recipe from The Culinary Ginger that details how tortellini is made along with her own dough recipe.
For the filling, I'd recommend this spinach and ricotta filling from Italian Food Forever. Looks incredible!
Getting the most out of the tomato broth
Yes, you can just add pre-made spaghetti sauce and the chicken stock together and call it good. That works just fine, and is actually what I end up doing about 75% of the time, but if you want to give it a little extra love, start the soup by sauting the onions, garlic, and tomatoes with some Italian herbs on high heat.
Then, add the sauce first and simmer it for about 20 minutes to reduce it a bit. The tomato sauce will lose some water content and the flavors intensify. Adding the stock brings it all together.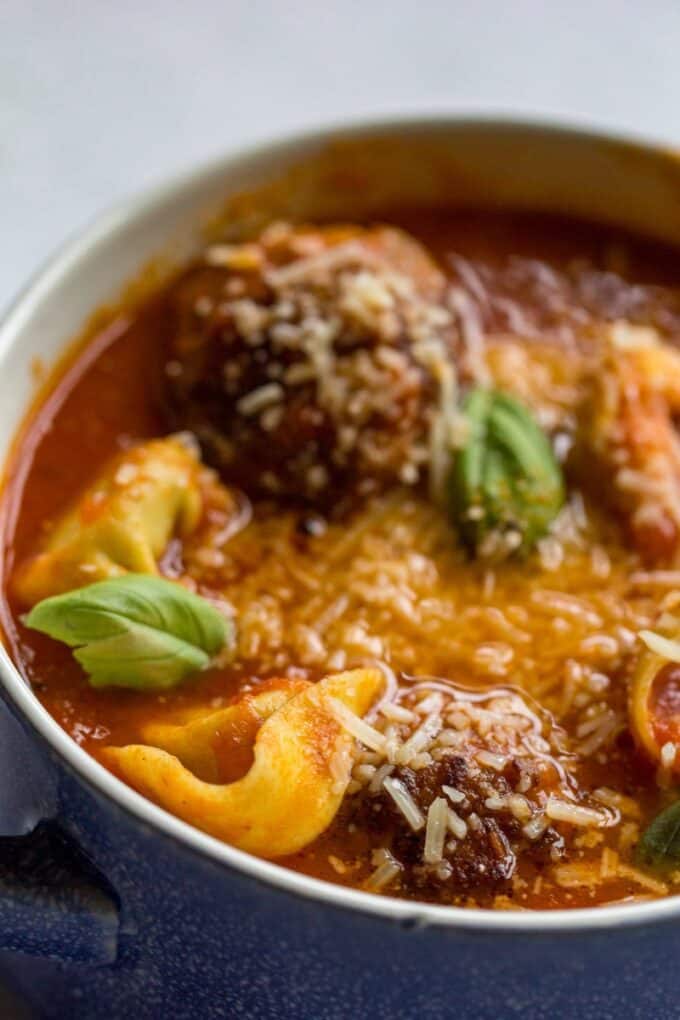 Fresh spinach leaves are best
For the spinach you can add to the soup, I recommend using fresh spinach leaves and not a package of frozen spinach.
If you must use frozen spinach, then thaw and drain it first. Otherwise it will water down the stock too much. The whole idea is to create those concentrated flavors similar to lasagna.
The goal is to get the spinach tortellini meatball soup to remind you of a great pasta dish like lasagna.
Add in some grilled spinach if you want to add a little wood-fired flavor to the mix.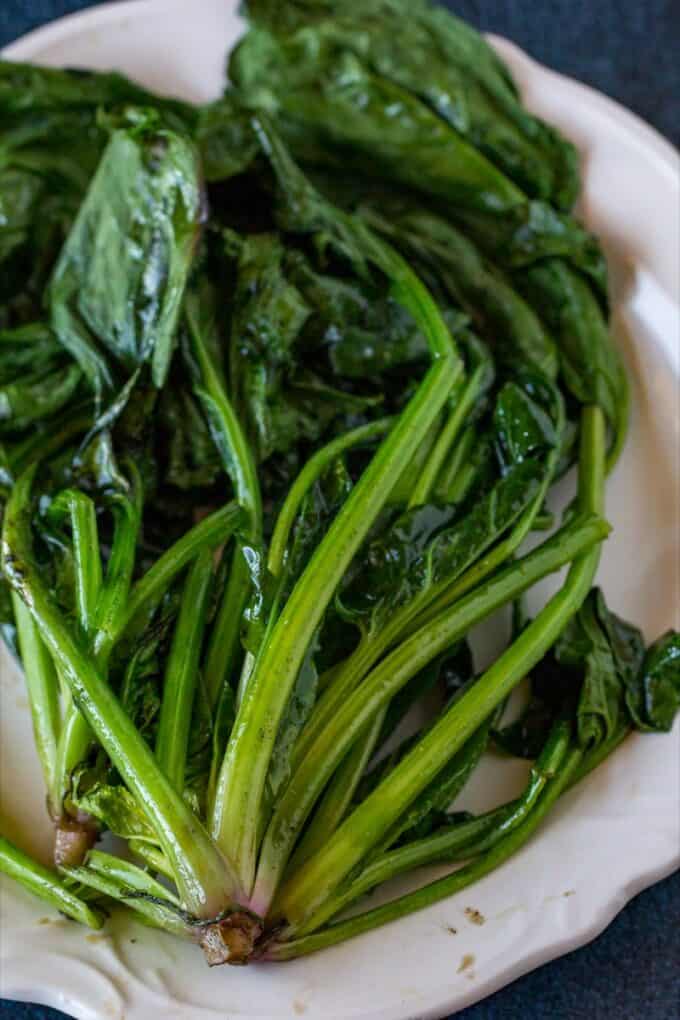 Storing your meatball soup
This soup freezes well, but only if you omit the tortellini. I highly recommend adding only as much tortellini as your family will eat in one sitting.
Frozen pasta tends to get mushy and gross in the reheating process, and that's the last thing you want in a big bowl of soup.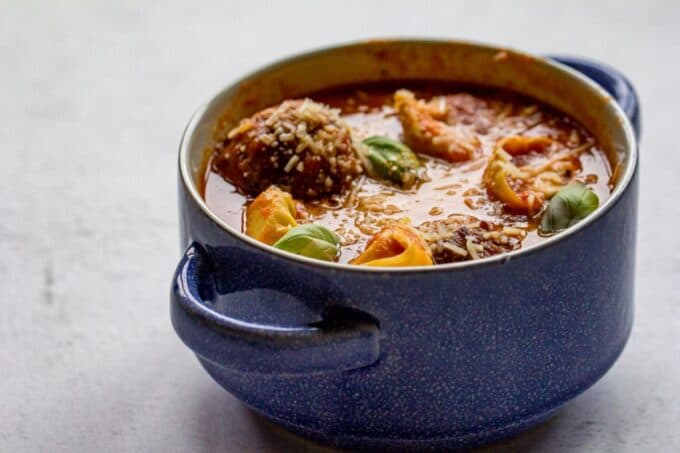 What to serve with spinach tortellini meatball soup?
Here are some classic sides that go perfect with your spinach tortellini meatball soup: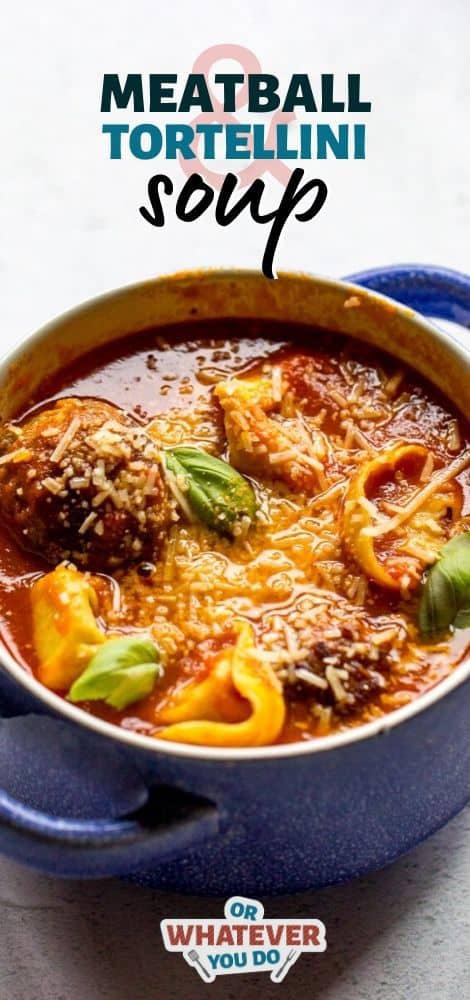 Yield: 8 servings
Tortellini Soup with Meatballs and Spinach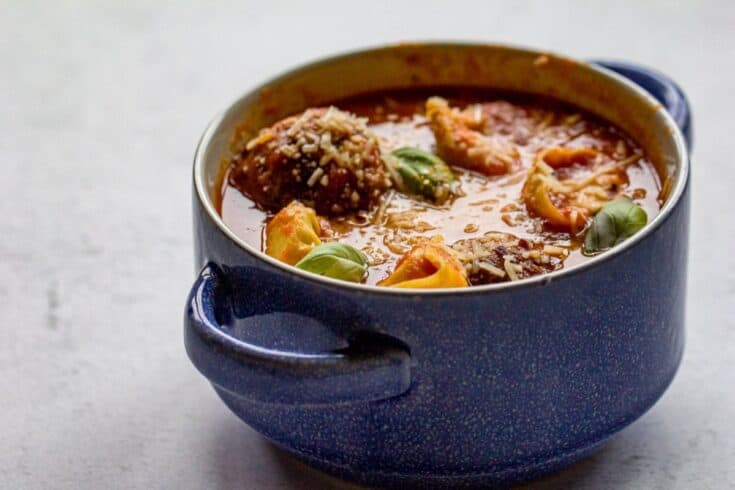 A delicious and easy soup that is full of ground beef, spinach, tomatoes, cheese, and tortellini. Quick family favorite dinner option that is hearty and comforting.
Ingredients
Sauce
1 large onion, chopped
2 tablespoons minced garlic
2 teaspoons dried oregano
1 1/2 teaspoon dried basil
1/2 teaspoon red pepper flakes
28 ounce can of diced tomatoes
16 ounces tomato sauce
2 bay leaves
8 cups chicken stock
3 tablespoons olive oil
Parmigiano Reggiano rind
1 package tortellini (spinach and cheese-filled is ideal here)
fresh spinach (as much as you'd like, depending on how much your family likes spinach)
1/2 cup fresh chopped basil
1/2 cup grated Parmigiano Reggiano
Instructions
Put your meatballs into a large stockpot over medium to medium-high heat with a bit of oil on the bottom of the pan. Brown the meatballs evenly on all sides, and remove from the pan.
Add in a little more oil, if necessary, and then add in the chopped onions and garlic. Reduce the heat down to medium, and continue cooking until the onions are soft. Remove any excess fat from the pan. Add the oregano, basil, and red pepper. Stir well and cook for 1-2 minutes.
Add tomatoes, tomato sauce, bay leaves, and chicken stock right into the pot. Let all of it come to a boil over medium to medium-high heat, and let it simmer for about 20 minutes. Add your Reggiano rind at this point.
Let the soup simmer for an additional 20-25 minutes, and then carefully add your tortellini and spinach into the simmering pot.
Cook the pasta & spinach in the soup according to the package directions, which are usually pretty short for fresh pasta. As soon as the pasta is done, remove from heat, stir in fresh basil and grated Reggiano.
Recommended Products
As an Amazon Associate and member of other affiliate programs, I earn from qualifying purchases.
Nutrition Information:
Yield:
8
Serving Size:
1
Amount Per Serving:
Calories:

560
Total Fat:

36g
Saturated Fat:

12g
Trans Fat:

1g
Unsaturated Fat:

22g
Cholesterol:

92mg
Sodium:

1672mg
Carbohydrates:

33g
Fiber:

6g
Sugar:

13g
Protein:

28g
Nutrition data provided here is only an estimate. If you are tracking these things for medical purposes please consult an outside, trusted source. Thanks!