Hibachi Shrimp Fried Rice is an easy dish full of tender shrimp, fresh vegetables, and by using your gas griddle you get all of the hibachi flavor too.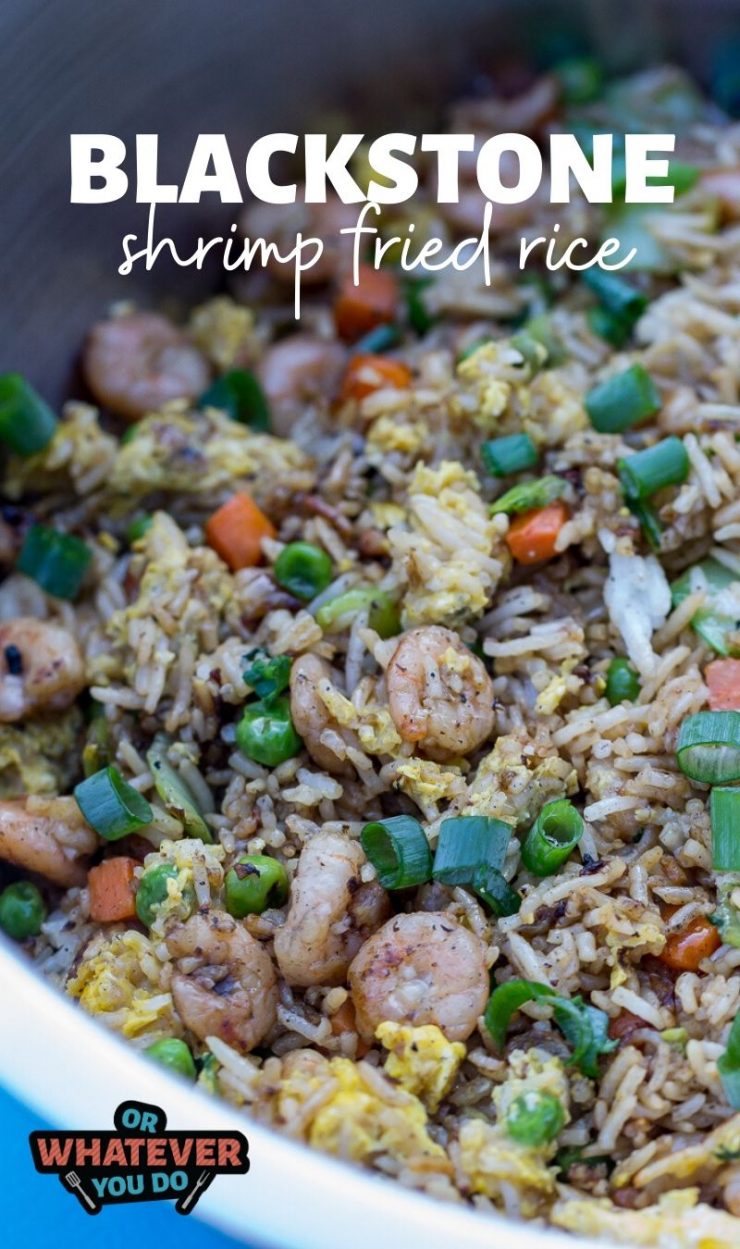 Homemade Shrimp Fried Rice
Hibachi Shrimp Fried Rice is a great way to handle leftover rice and it is a dish you can make in minutes. Cooking on a flat top griddle over a gas flame is a great way to go. The high heat and even distribution on the griddle allow every grain of rice to fry evenly and quickly.
The extra moisture steams out quickly so you don't end up with rice that is mushy or sticky.
Blackstone Shrimp Fried Rice
A gas fire hibachi grill takes an ancient and wonderful cooking method and powers it with modern convenience. Using a gas griddle for shrimp fried rice means not having to wait for coals to hit the right temp.
This recipe is pretty much the same as my pork fried rice recipe but goes for surf rather than turf with the shrimp. You can combine them and do shrimp and pork fried rice if you want to go fully surf and turf too.
Follow me on Instagram!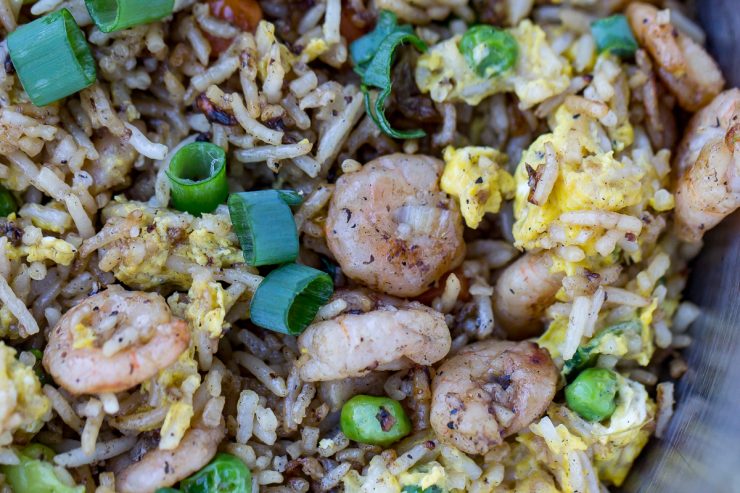 What is a hibachi anyway?
Hibachi style heating and cooking goes back over a thousand years in Japan. To this day, hibachis in Japan still come in cylinder shapes as well as rectangular.
In the good old US of A, most hibachis are rectangular-shaped grills that use a single layer of coals or are powered by gas. They make a very convenient camp stove. (As long as you are not backpacking into the backcountry and have to carry one for miles.)
In fact, you can use a Coleman camp stove with a flat griddle top. They may not be called a hibachi on the box, but it still is a hibachi by any other name.
North American style hibachis usually have a griddle flat top that turns over for a ribbed griddle top. You can also remove the top to roast over the open coals or gas flame.
Forget the electric flat top griddle though. You need gas or charcoal to get the heat high enough to make proper fried rice.
More Blackstone Recipes here!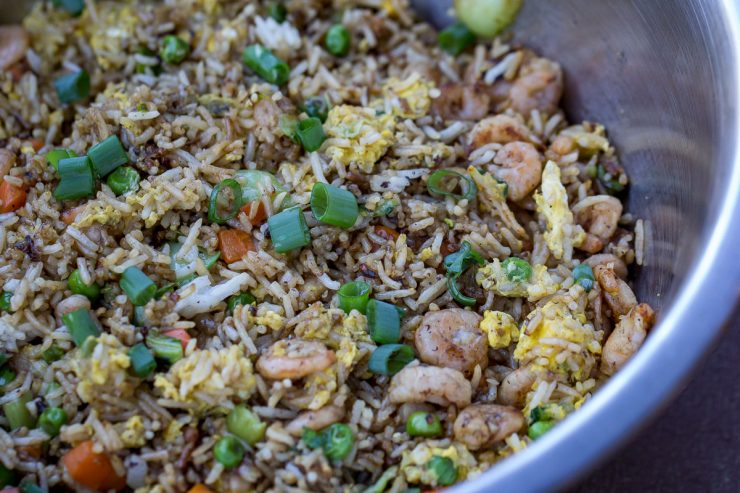 How to make great shrimp fried rice
If you make fried rice in a wok, then you know the key to success is super high heat. The dish needs to sizzle and pop and be turned just right to avoid burning. When you add the ingredients is also crucial
The trick is to get everything to finish cooking at the same time. So, each item gets added according to how fast it cooks. Cooking on the flat top of the griddle helps immensely. The griddle top keeps the heat even. You can see everything frying to perfection.
You also need to use an oil that has a very high burn point. Sesame oil is good for finishing and flavoring, but I use avocado oil to fry the rice properly. You can get avocado oil super hot without it scorching.
The higher the temp, the better the texture of the rice.
Great fried rice has a nice caramelized flavor, and a nice texture to it. There is a light chew to it but still, fluff to the grain as well.
How to RE-SEASON your Blackstone
Tips for perfect fried rice
Here are a few more things to keep in mind to get the rice just right:
Use cold rice, preferably leftover rice stored in the fridge.
Have the heat up as high as possible. The higher the better.
Prep your ingredients and have them easily accessible. Things cook quickly and you want to add everything in easy to reach succession.
The high heat oil is for cooking and the sesame is for seasoning but a light touch with each keeps the rice from being greasy.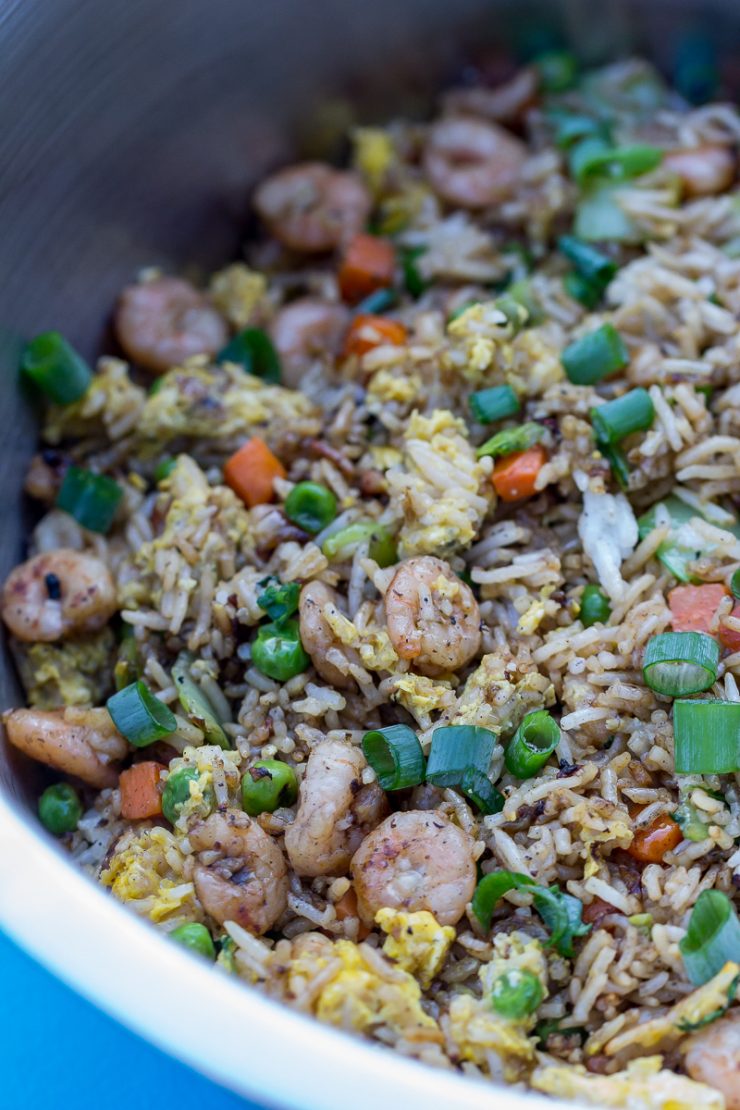 The right size shrimp for shrimp fried rice
When it comes to fried rice, you don't need the big 10 or 12 count shrimp. You would just have to cut them up to make sure that there is enough shrimp to go with every bite. Use the smaller sized ones.
They cook quickly. You can buy them cleaned and veined, and you get a nice bit of shrimp in almost every bite of rice without much extra work.
I recommend the 20 to 50 count size.
In case you didn't already know, the count size refers to how many shrimp it takes to make a pound.
Make Egg Rolls too!
What rice is best for fried rice?
I generally prefer jasmine, but you can use any white or even brown rice for this dish. I don't recommend the shorter grain arborio rice like you use for risotto. The short grains contain more moisture and more starch so they tend to end up sticky.
Check out our OWYD shop!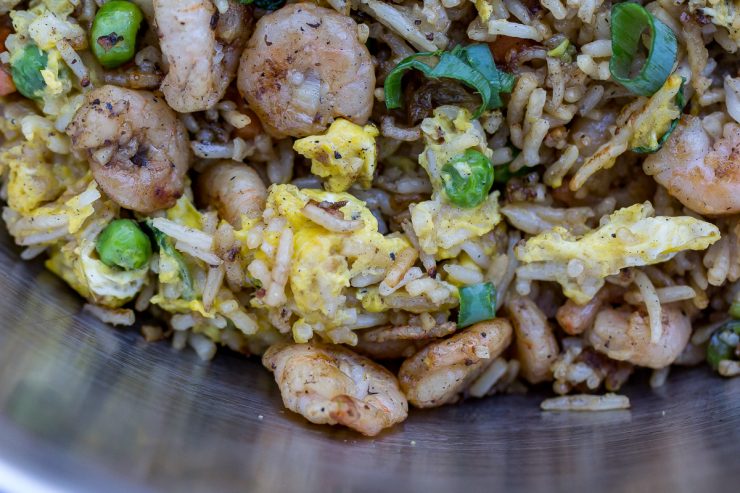 Any other Asian-inspired dishes to suggest?
If you are serving fried rice either as a side or a main course, then you might want a few other Asian dishes to go along with it.
If you love shrimp and want more shrimp on the table then try this panko shrimp recipe out. But, if you want to mix things up a bit then beef bulgogi goes great with it too.
When the shrimp fried rice will be the side, then definitely this grilled teriyaki salmon will blow your mind!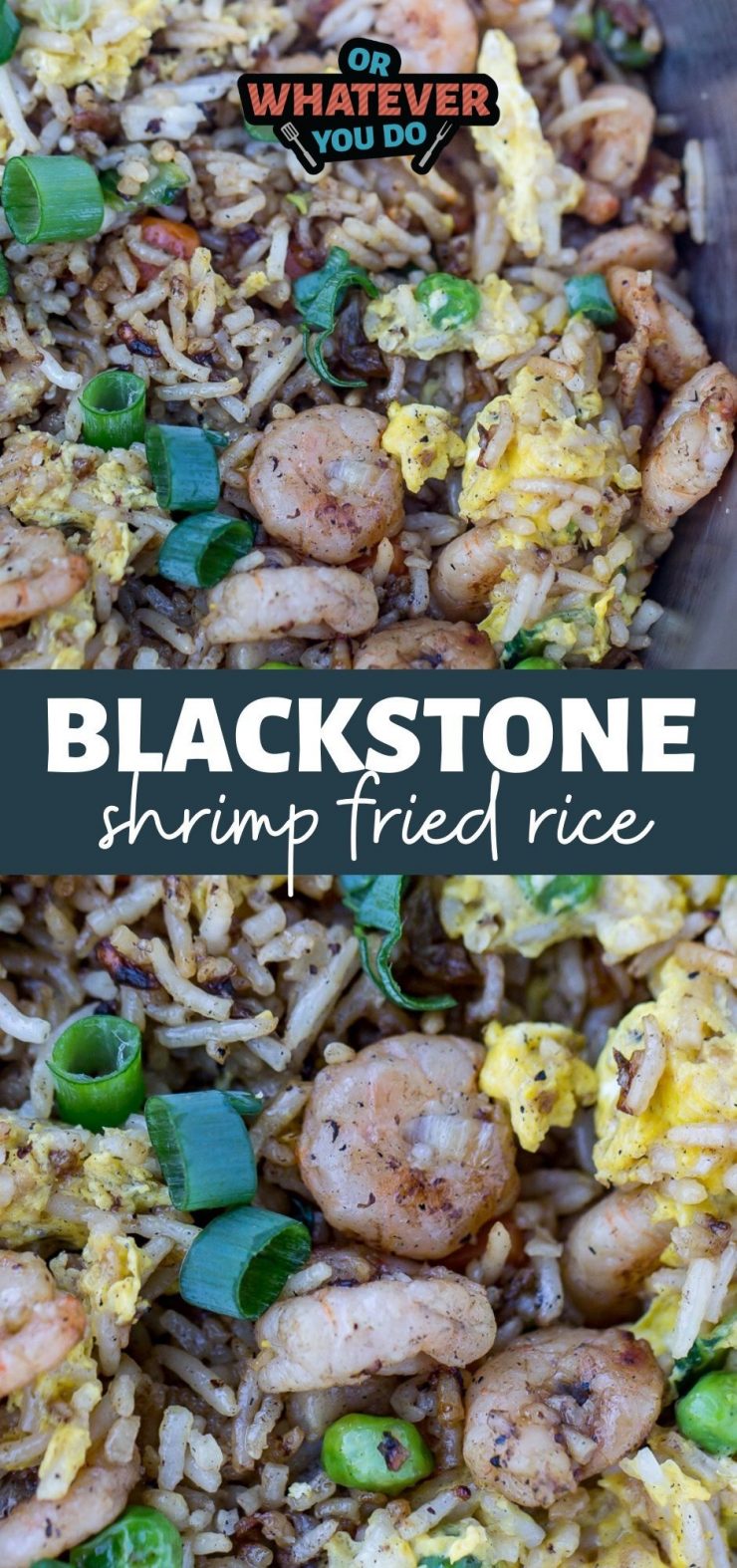 Yield: 8 servings
Shrimp Fried Rice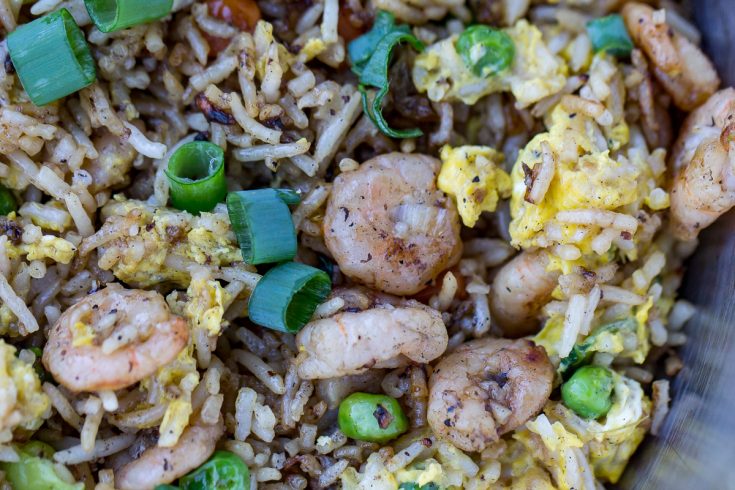 Shrimp Fried Rice just like take-out, but made at home on your gas griddle! The Blackstone (or similar) will give you that Hibachi-style fried rice you love, without even leaving your house.
Ingredients
4 tablespoons canola oil, divided
1 small onion, diced
2 cups shrimp, whatever size you prefer
1 cup frozen peas and carrots
3 cups cooked Jasmine rice, chilled
2 eggs, lightly beaten
1/8 cup soy sauce
1 teaspoon sesame oil
salt and pepper
Instructions
Preheat your griddle to medium-high or high heat (basically you just don't want to light the oil on fire), and place about a tablespoon of oil down.
Dump on the onions, frozen peas, and carrots and stir fry until heated through and the edges get a little crispy.
Add in the shrimp and cook until pink.
Move the shrimp and the vegetables over to the side of the griddle that is NOT a hot spot (if your griddle has multiple heat zones, turn one down). If you need to, remove it from the griddle to a pan.
Put down some more oil on the griddle, and let it heat up. Add on the cold rice and break it apart with your spatula. Continue moving it around the griddle, evenly coating with oil and letting it get toasty. Add more oil as needed.
Combine the shrimp, vegetables, and rice together and stir and toss until they are evenly combined. Drizzle the soy sauce and sesame oil on top and continue to stir and cook until it is evenly distributed.
Make a hole in the middle of the rice and add a little more oil. Crack the eggs inside, stir with the spatula, and toss to combine with the rice.
Recommended Products
As an Amazon Associate and member of other affiliate programs, I earn from qualifying purchases.
Nutrition Information:
Yield:
12
Serving Size:
1
Amount Per Serving:
Calories:

152
Total Fat:

7g
Saturated Fat:

1g
Trans Fat:

0g
Unsaturated Fat:

6g
Cholesterol:

38mg
Sodium:

324mg
Carbohydrates:

17g
Fiber:

1g
Sugar:

4g
Protein:

6g
Nutrition data provided here is only an estimate. If you are tracking these things for medical purposes please consult an outside, trusted source. Thanks!