Next time you're in the mood to roast up a whole chicken, try our Grilled Togarashi Spatchcock Chicken recipe! It is not only beautiful to look at, but has a bold and tangy dry rub that's perfectly complemented by our sticky sweet glaze.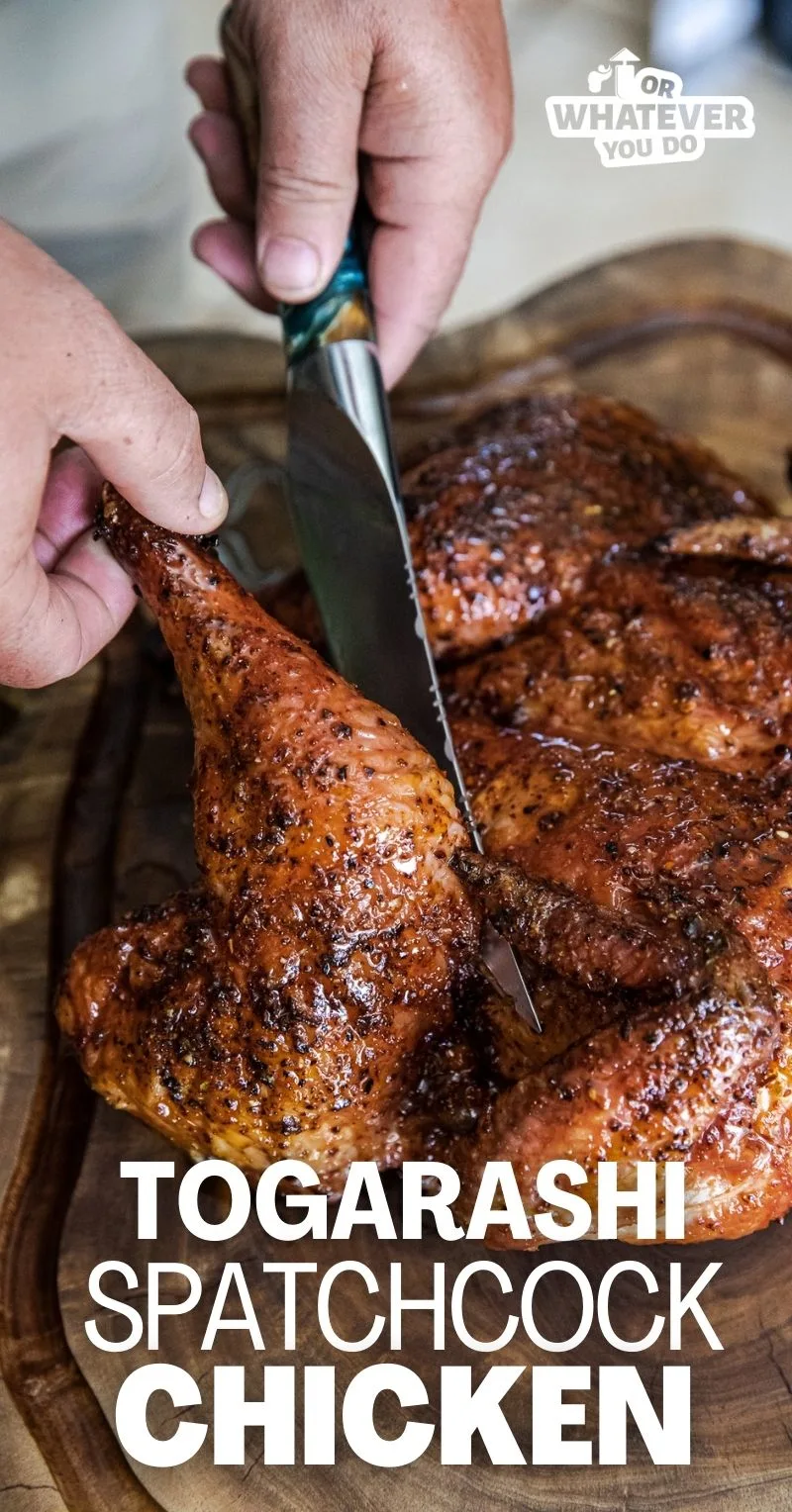 Grilled Togarashi Spatchcock Chicken
I love grilled chicken. I didn't always feel that way, but then pellet grills entered my life, and there's no better whole roasted chicken than one made on a pellet grill, and I'll stake a lot on that claim.
This particular recipe has a couple of unique ingredients that you may not have in your cupboards right now. But I'm here to tell you that you SHOULD. Togarashi and Gochugaru (Korean Chili Flakes) are incredibly versatile ingredients that can be used in all sorts of different uses, and you will not regret adding them to your spice collection, especially if you like umami+heat. I've linked my favorite versions down in the recipe card, and you can usually find both of these in most major grocery stores.
Get all of my Traeger Recipes here!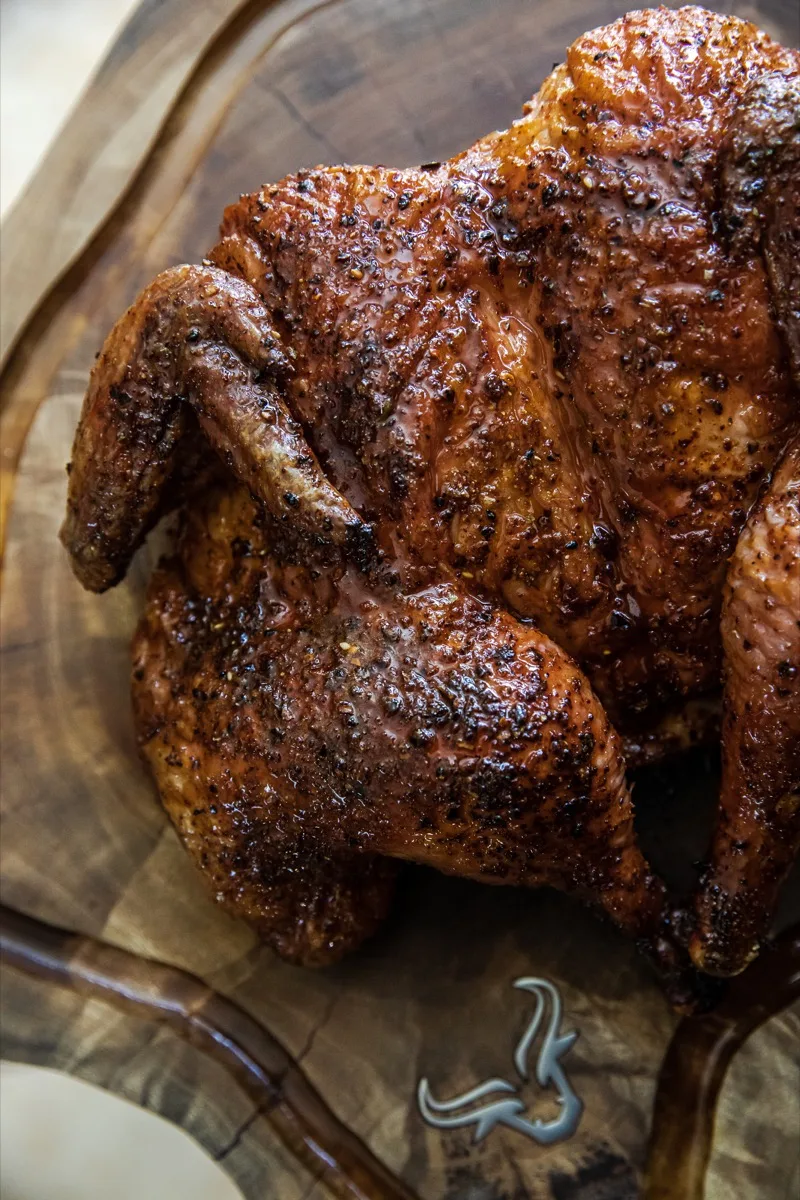 Spatchcock Togarashi Chicken shopping list
Wondering if you have to hit the store? Here's the list of items you'll need to make this recipe. For specific amounts, please refer to the printable recipe card at the bottom of the post.
Chicken
Granulated garlic
Salt
Black pepper
Honey
Soy sauce
Brown sugar
Sriracha
Garlic paste (Gourmet Garden)
Ginger paste (Gourmet Garden)
Lemongrass paste (Gourmet Garden)
Get 75+ of my favorite Traeger Recipes here!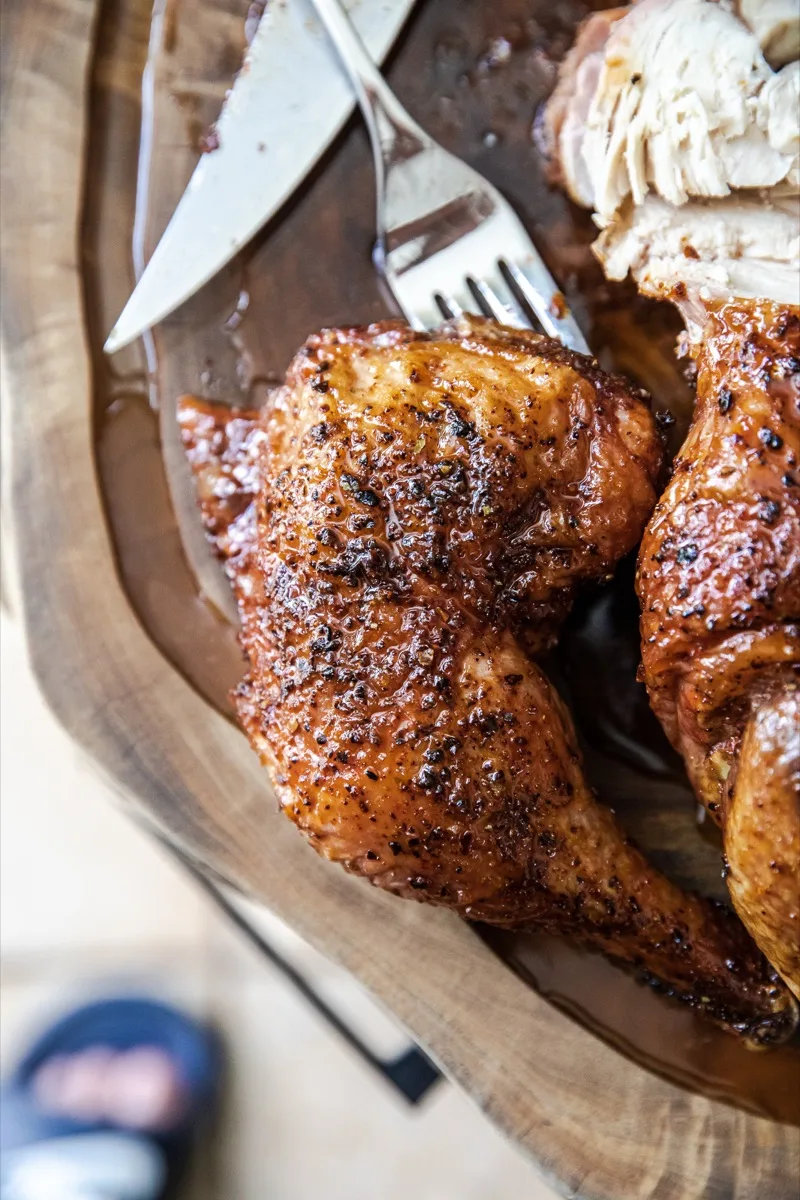 How to make Grilled Togarashi Spatchcock Chicken
This is just the overview so you can see what you're actually getting into here. When you are cooking, you'll want to use the full recipe at the bottom of the page.
Preheat
Preheat your grill to 350°F.
Prep
Remove the backbone of the chicken with sharp kitchen shears (link to my favorite kind). Put it cut side down and press firmly on the breast bone to flatten the chicken.
Mix together the dry rub ingredients and rub the entire chicken.
Roast
Place the seasoned chicken on the grill grates and let it roast until the internal temperature reaches 165°F.
Glaze
While the chicken is cooking, mix up your glaze. Paint it on the chicken once it reaches 165°F, and turn the temperature on the grill down to 225°F. Let the glaze set for around 15 minutes. Remove the chicken from the grill.
Rest & Enjoy
Let your chicken rest for about 10-15 minutes before slicing and serving.
Make with some Homemade Egg Rolls!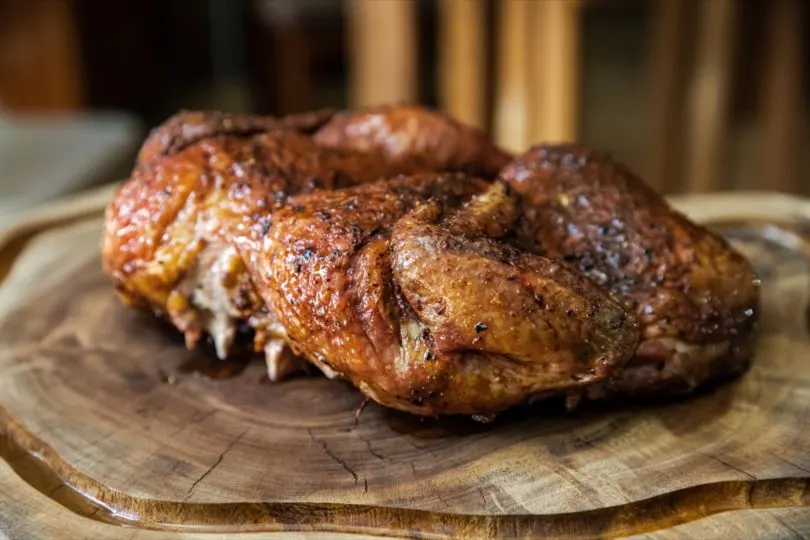 Togarashi Spatchcock Chicken FAQ
What's the best way to store and reheat leftovers?
We break down our chicken into manageable pieces and store them in a large freezer baggie. It'll keep for 2-3 days in the fridge. To reheat, you can stick it in the oven, air fryer, or even the microwave. I like to remove it from the bone before reheating, but either way will work. This would also make a really great chicken broth with the leftovers!
What is togarashi?
Togarashi, often called "Shichimi Togarashi" or "Nanami Togarashi", is a common Japanese spice blend that literally translates to "seven-flavor chili pepper".
The blend typically includes the following seven ingredients:
Coarse ground red chili pepper (the main ingredient)
Sichuan or Japanese pepper (sansho)
Roasted orange peel
Black sesame seed
White sesame seed
Hemp seed
Ground ginger
Nori or aonori (seaweed)
It's used as a seasoning in a wide variety of Japanese dishes, including noodle dishes like ramen and udon, rice dishes, and as a complement to meats and vegetables. Togarashi can provide a flavorful, spicy kick to dishes, but the level of heat can vary depending on the specific blend. The citrus notes from the orange peel and the nuttiness from the sesame seeds create a complex, balanced flavor profile.
What is gochugaru?
Gochugaru, also spelled Kochukaru, is a variety of chili pepper powder that's a crucial ingredient in Korean cuisine. The name "gochugaru" roughly translates to "chili powder" in English.
Gochugaru is made by drying Korean red chili peppers in the sun, de-seeding them and crushing them into a coarse powder. The powder is often vibrant red and has a heat level that can range from mild to moderately hot. It's slightly sweet and somewhat smoky.
Gochugaru is used extensively in Korean cooking, most notably in dishes like kimchi, a traditional fermented side dish, and in various stews, sauces, and marinades. It's known for its distinctive, complex flavor that contributes depth and a warm heat to dishes.
It's worth noting that Gochugaru has a unique flavor profile that's hard to replicate with other types of chili powder. That being said, if you can't find it, a blend of sweet paprika and cayenne pepper can work as a substitute in a pinch, though the flavor won't be the same.
Try with some of our Instant Pot Rice!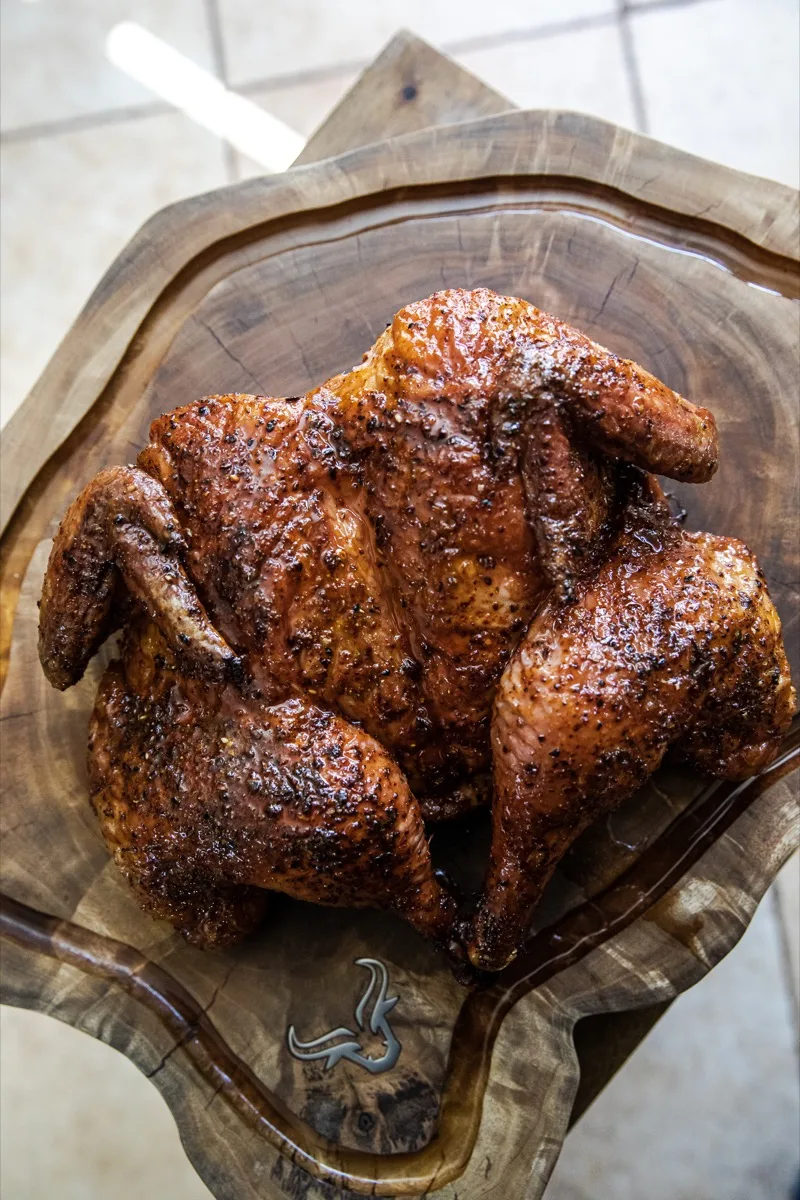 More great grilled chicken recipes to love!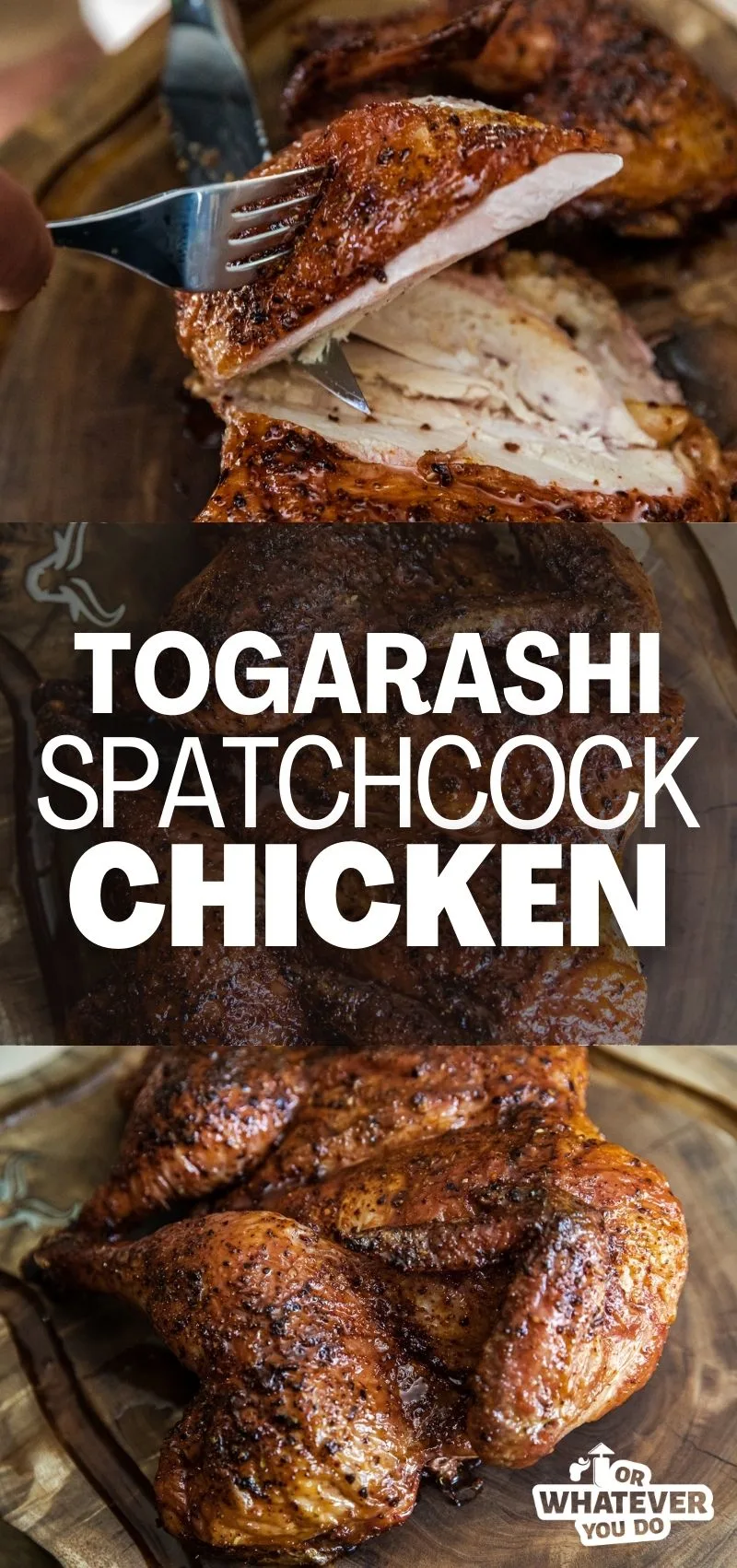 Yield: 6 servings
Togarashi Spatchcock Chicken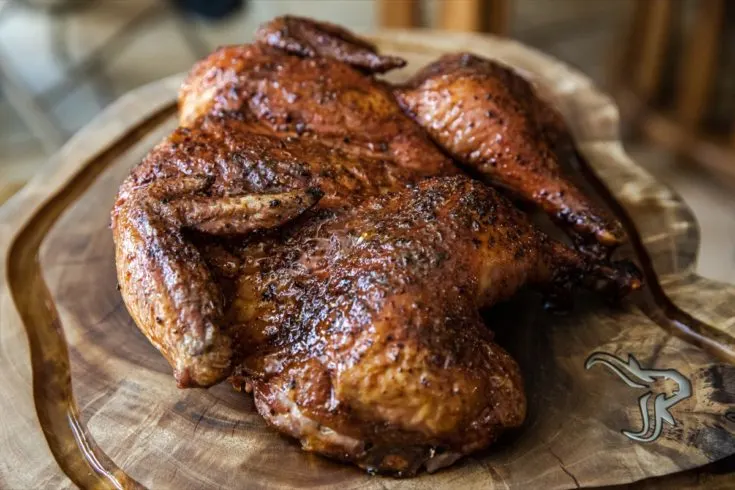 This simple homemade spatchcock chicken recipe has a spicy dry rub and a finger-licking glaze that will have you wanting seconds!
Total Time
2 hours
10 minutes
Ingredients
Chicken and Dry Rub
1 - 5 pound chicken, spatchcocked
1 tablespoon Korean pepper flake (gochugaru)
1 tablespoon togarashi
1 teaspoon granulated garlic
1 teaspoon salt
1/2 teaspoon black pepper
Glaze
3 tablespoons honey
2 tablespoons soy sauce
1 tablespoon brown sugar
2 tablespoons sriracha
1 tablespoon garlic paste (Gourmet Garden)
1 teaspoon ginger paste (Gourmet Garden)
1 teaspoon lemongrass paste (Gourmet Garden)
Instructions
Preheat your pellet grill to 350°F.
Spatchcock your chicken by using sharp kitchen shears and cutting out the backbone. Flip the chicken over so the breasts are up and press down on the breast bone to flatted.
Combine all the dry ingredients together into a rub and coat the entire chicken.
Place the chicken directly onto the grill and close the lid.
Cook the chicken until the internal temperature reaches 165 degrees. (Approximately 90 minutes.)
Combine all of the glaze ingredients in a bowl and whisk until combined. Turn the temperature of the grill down to 225°F. Brush over the chicken every 5 minutes, for 15-20 minutes.
Remove and let rest for 5-10 minutes before slicing and serving.
Notes
If you don't have Gourmet Garden products you can use fresh minced garlic, ginger, and lemongrass. For best results chop finely and then use a mortar and pestle to mash them into a paste.
Recommended Products
As an Amazon Associate and member of other affiliate programs, I earn from qualifying purchases.
Nutrition Information:
Yield:
6
Serving Size:
1
Amount Per Serving:
Calories:

900
Total Fat:

51g
Saturated Fat:

14g
Trans Fat:

0g
Unsaturated Fat:

32g
Cholesterol:

355mg
Sodium:

1138mg
Carbohydrates:

14g
Fiber:

1g
Sugar:

12g
Protein:

92g
Nutrition data provided here is only an estimate.