If you haven't fired up your Traeger for Smoked Hasselback Potatoes yet, why do you even have a pellet grill? Okay, that's a little extreme, but that's also how much I LOVE this simple, delicious side dish.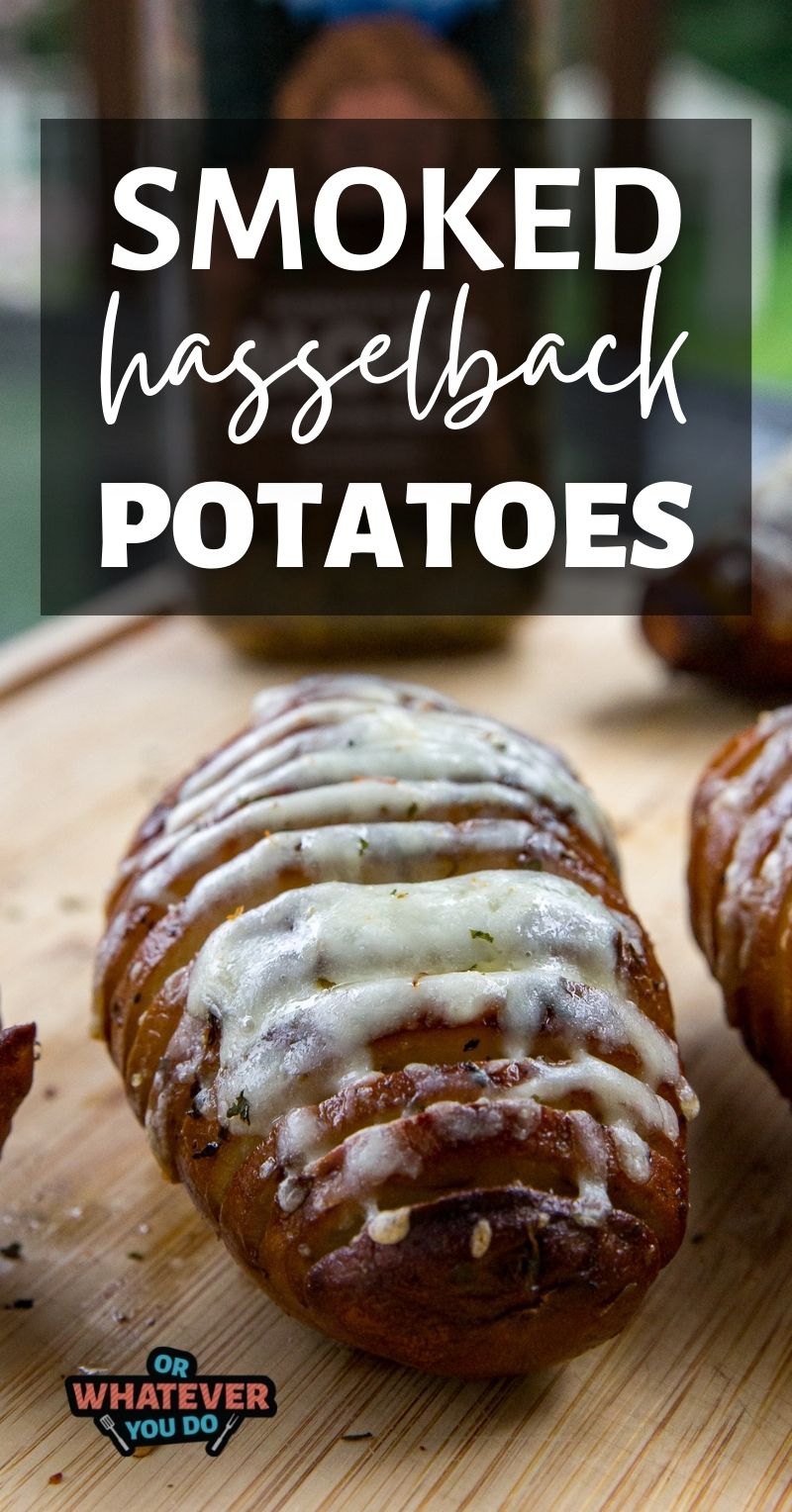 Traeger Smoked Hasselback Potatoes
Potatoes on the grill are one of my favorite things to make for a barbecue side dish. We've done them every which way before, but had never done Hasselback Potatoes on there for some reason. Crazy, right? Well, we fixed that and I'm so glad that we did.
Rubbed, sliced, and smoked before getting covered in cheese (and whatever else you want to throw on there, like more cheese, bacon, chives, pulled pork, whatever strikes your fancy), serve these alongside a nice grilled steak, a smoked prime rib, or a thick-cut pork chop.
Check out all of my Traeger Recipes!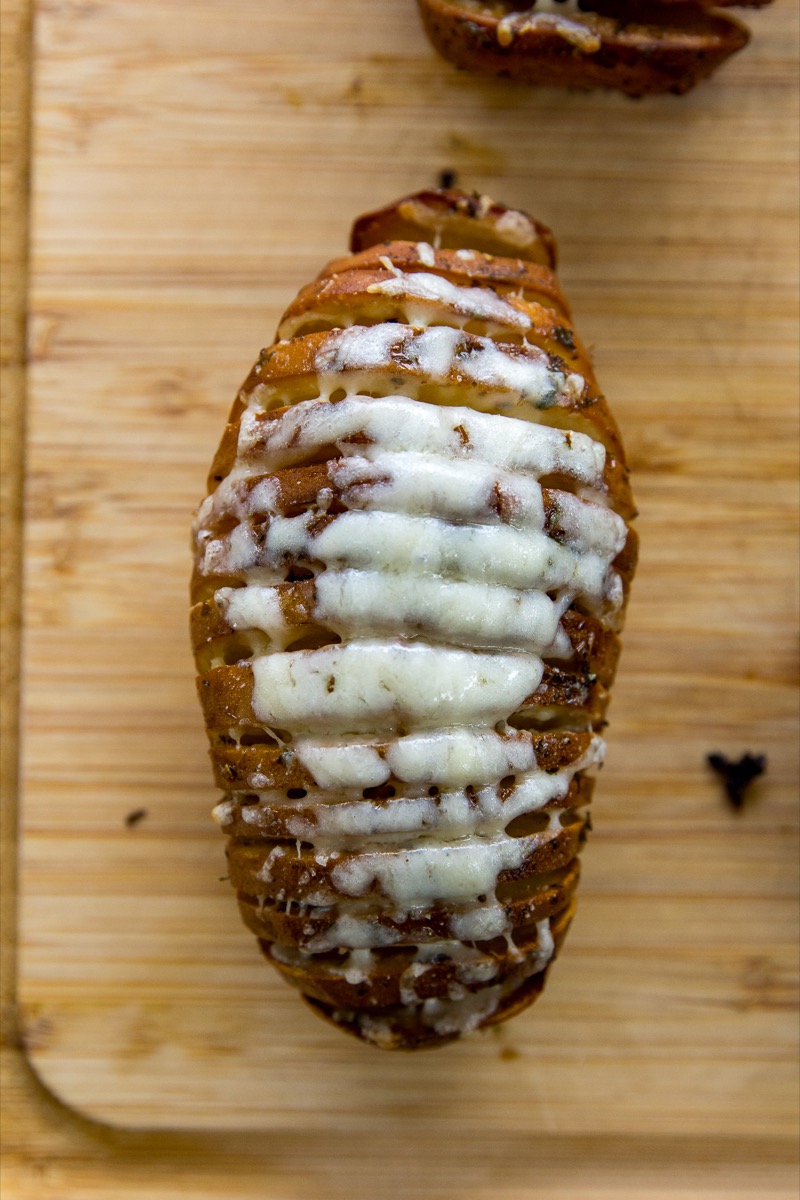 Hasselback Potatoes shopping list
Wondering if you have to hit the store? Here's the list of items you'll need to make this recipe. For specific amounts, please refer to the printable recipe card at the bottom of the post.
Follow me on Instagram!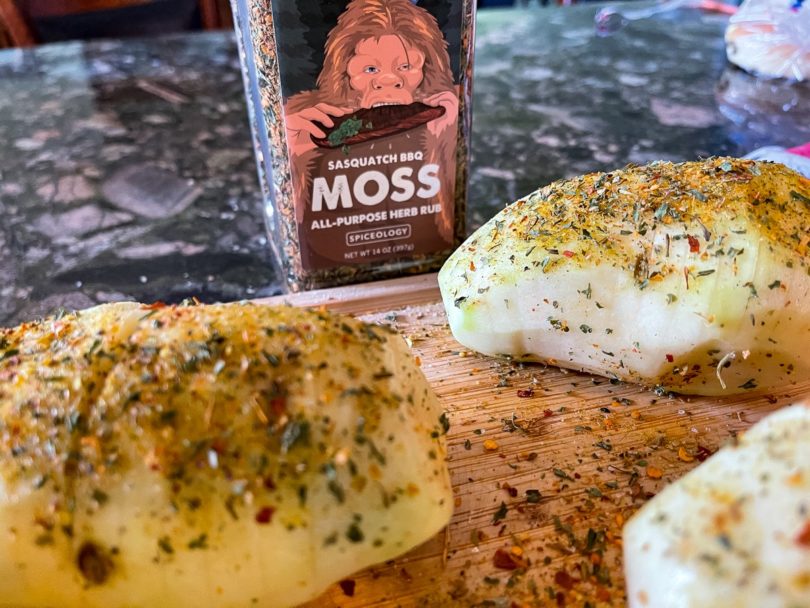 How to make Smoked Hasselback Potatoes
This is just the overview so you can see what you're actually getting into here. When you are cooking, you'll want to use the full recipe at the bottom of the page.
Wash
Really well. You're going to want to be able to eat the skin here without worrying about eating dirt.
Dry
Not optional! Wet potatoes don't rub with oil very well. I like to let mine dry overnight, but if you aren't that extra just give them a good rub-down with a clean dish towel.
Cut
Make sure you don't go all the way through! You need to leave about 1/4 inch on the bottom so they'll accordian. Or, hit the easy button and order this hasselback potato cutting tool.
Drizzle & Season
With oil and moss, that is. We like olive or avocado oil the best! Make sure to give them a little oil massage. If you don't have the Sasquatch Moss, a decent Italian blend would be a decent substitute.

(Moss is NOT an Italian seasoning, to be clear. There's nothing really like it I've found in the grocery stores. But Italian or Tuscan blend would still give you a great-tasting potato.)
Smoke & Grill
Smoke your Hasselback potatoes at 200° for 30 minutes, and then crank the heat up to 400°. Cook them for about an hour, or until the potatoes are tender and fully cooked.
Cheese
During the last 5 minutes of cooking, throw the potatoes onto a cookie sheet or grill-safe pan, and load them up with cheese. Cook until melted, and then enjoy!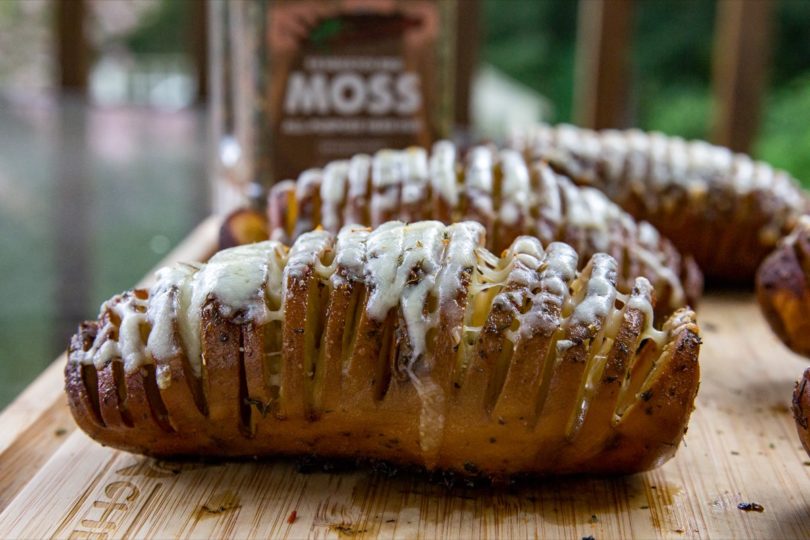 What to serve with Traeger Hasselback Potatoes
These are perfect as a side to basically any barbecue main, but here are some options I'd like to call out!
Get my easy Side Dish recipes!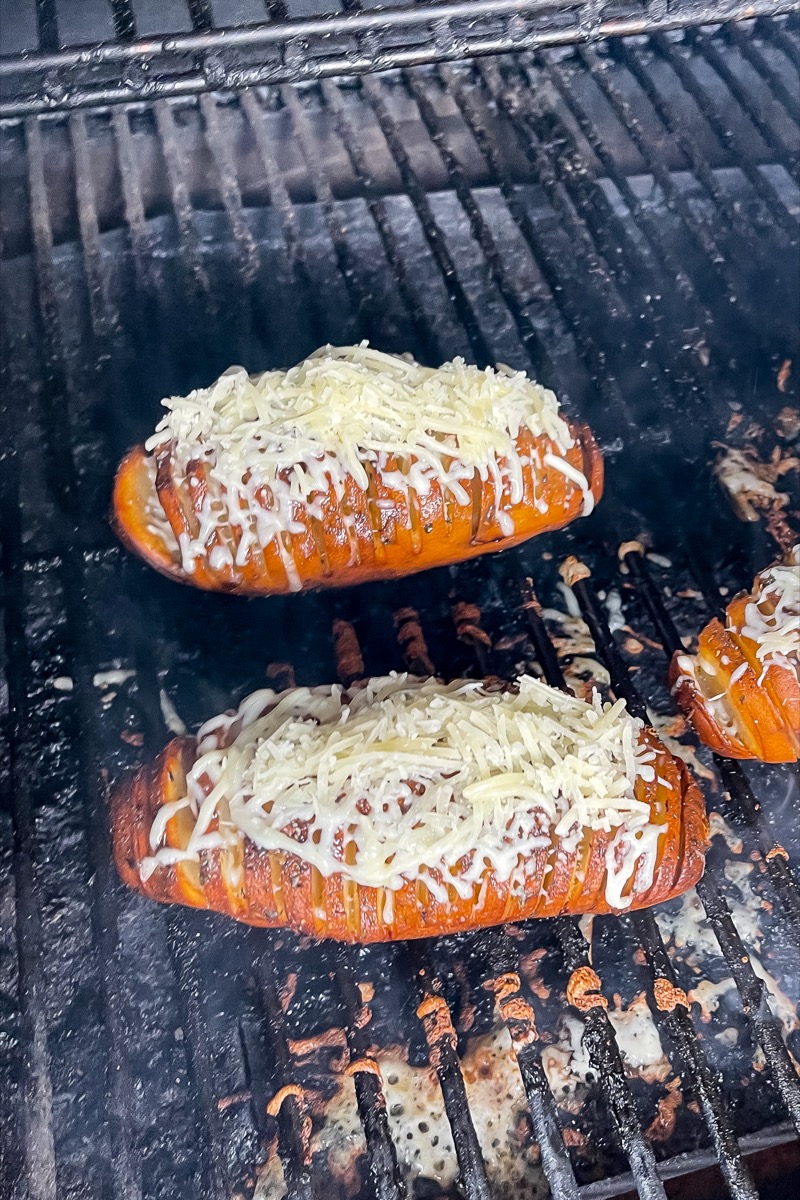 Pellet Grill Hasselback Potatoes FAQ
What are the best toppings for Hasselback potatoes?
Our favorites are the typical 'loaded potato' toppings. GOOD crispy bacon, chives, sour cream (or if you are lucky and live in the midwest, Top the Tater), and maybe a little extra Moss, just cause I love it so much.
You can get crazy though and top it with pulled pork, brisket chili, or whatever else you can dream up!
How do you store leftovers?
We toss them in a baggie in the fridge for up to 3 days. You can also freeze these individually, pre-non-cheese toppings.
How do you reheat leftover Hasselback potatoes?
If you want to keep the crispy exterior, reheat these in the oven, back on your pellet grill, or in the air fryer. If you don't care about that, the microwave will get the job done and get you eating quicker.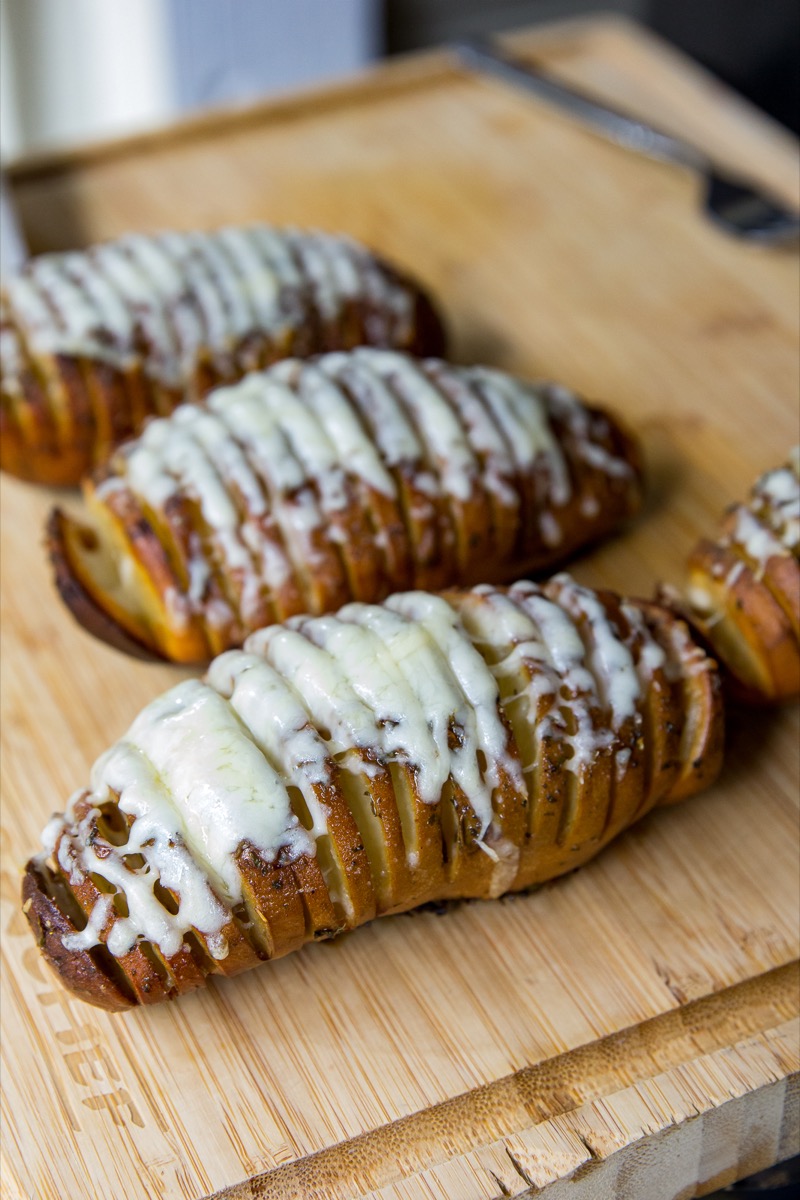 More potato recipes to love!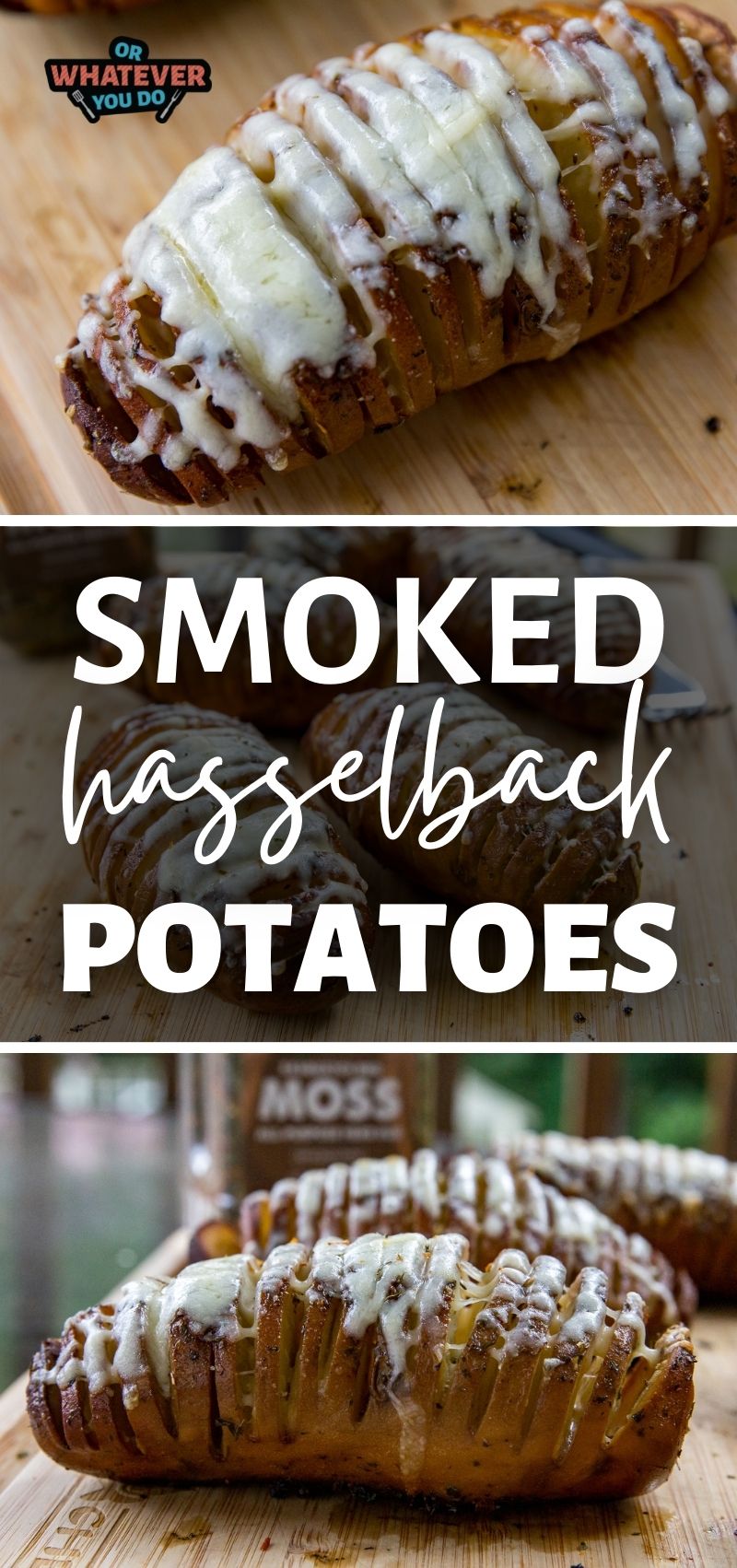 Yield: 6 servings
Smoked Hasselback Potatoes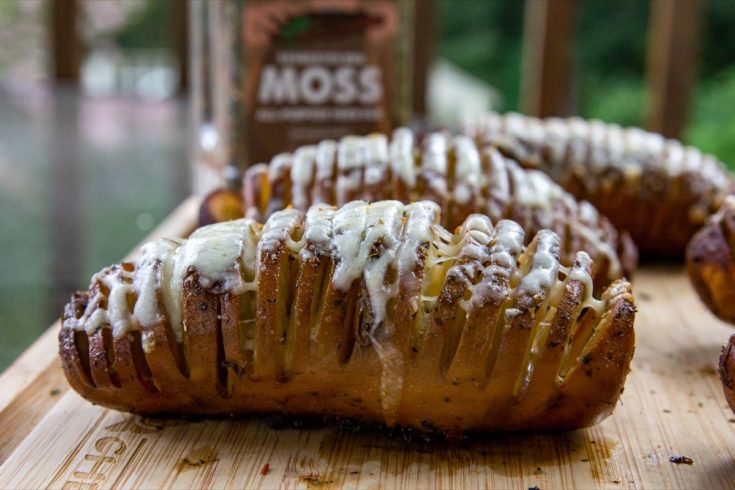 These fresh potatoes are rubbed, sliced, and smoked before getting topped with all of the cheese you can fit on them!
Total Time
1 hour
10 minutes
Ingredients
8 Russet potatoes, washed and dried
4 tablespoons olive oil
2 tablespoons Spiceology Sasquatch Moss
2 cups shredded sharp cheddar cheese
Toppings
Instructions
Preheat your grill to 200°. Wash and thoroughly dry the potatoes.
Slice into 1/4 inch slices, leaving 1/4-1/2 inch at the bottom of the potato so it will cook and open up.
Drizzle with olive oil and dust with moss.
Smoke for 30 minutes at 200°, and then crank the heat up to 400°. Cook for another 45 minutes (approximately, depending on the size of your potatoes) or until the potatoes are tender.
Place the potatoes into a grill-safe pan and top with cheese. Place back into the grill until the cheese is melted, and serve hot.
Recommended Products
As an Amazon Associate and member of other affiliate programs, I earn from qualifying purchases.
Nutrition Information:
Yield:
8
Serving Size:
1
Amount Per Serving:
Calories:

483
Total Fat:

28g
Saturated Fat:

13g
Trans Fat:

1g
Unsaturated Fat:

12g
Cholesterol:

61mg
Sodium:

463mg
Carbohydrates:

38g
Fiber:

4g
Sugar:

2g
Protein:

20g
Nutrition data provided here is only an estimate.