Easy Air Fryer Lobster Tails coated in garlic butter, seasoning, and cooked right in the Blackstone Air Fryer! Such an easy meal that is perfect for a special occasion or an average Tuesday.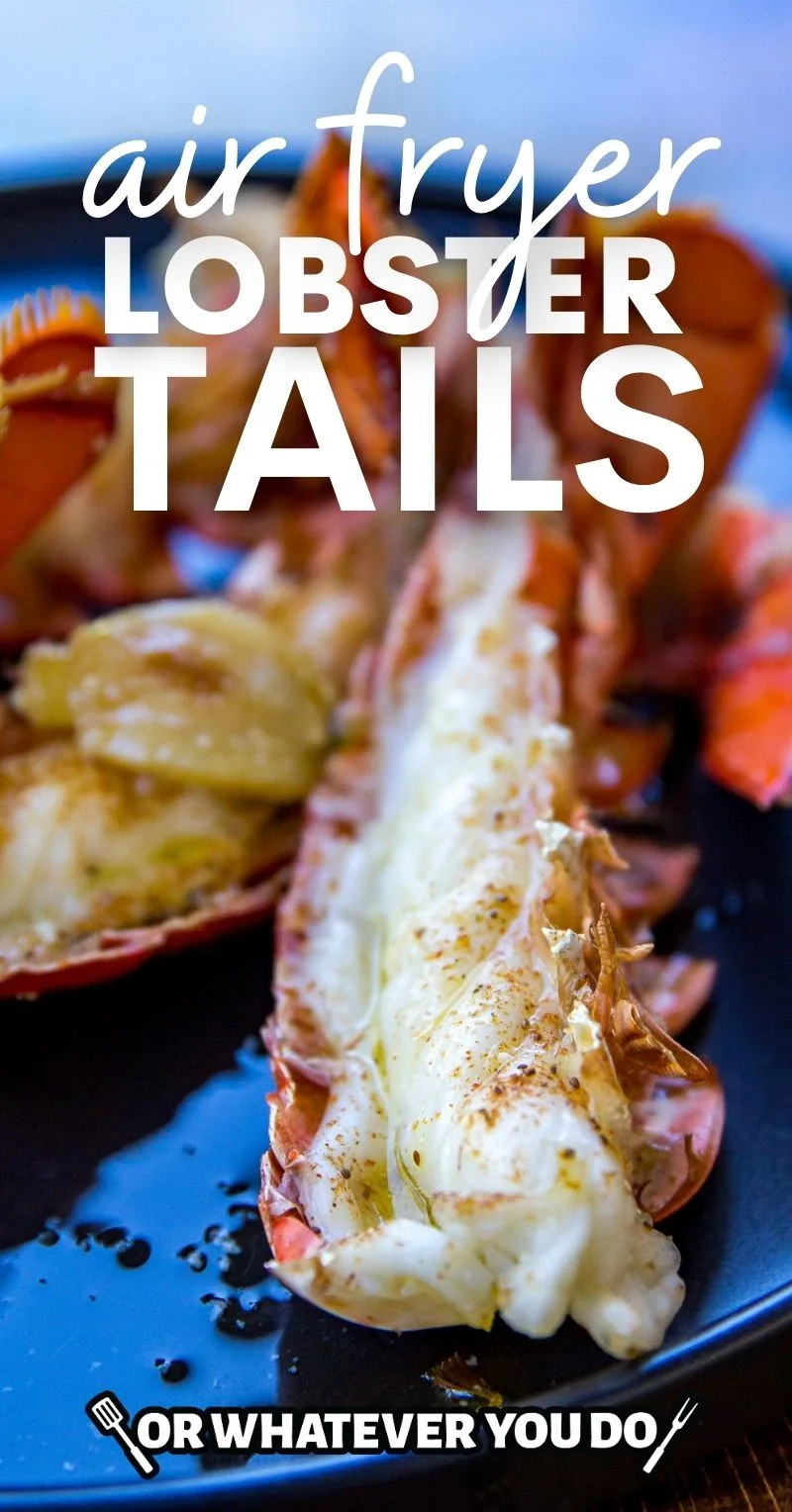 Blackstone Air Fryer Lobster Tails
Lobster tails don't have to be hard, scary, or intimidating to make. They are actually one of the easiest types of seafood to cook successfully!
Just like any seafood, the key is to not overcook it.
When is lobster tail done?
The USDA advises you to cook seafood to 145°. Some people choose to go a bit under that temp, but definitely do not go OVER it for the best results. To take accurate temps of seafood and any type of meat, I recommend an instant-read thermometer like the ThermoWorks One. If you have a Blackstone griddle, get the IR model. It has the thermometer and IR gun built into one! It is our go-to for temping anything that needs it.
More Blackstone Recipes here!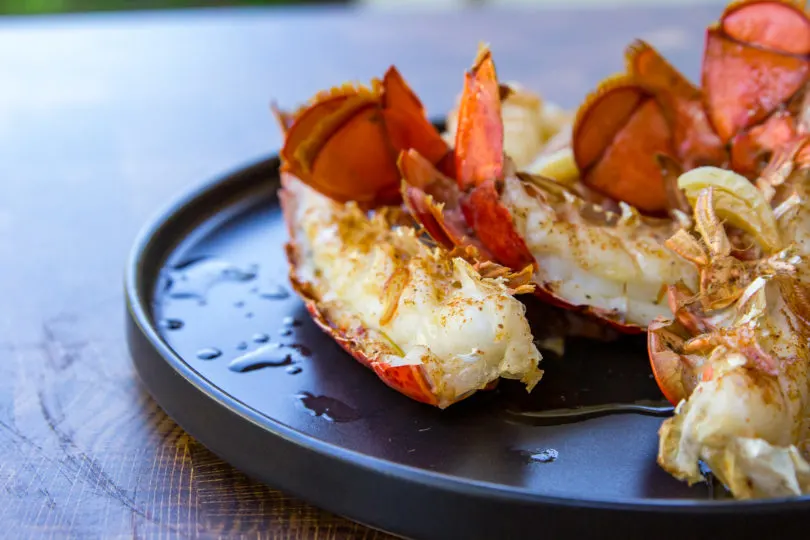 Air Fryer Lobster Tails shopping list
Here are the ingredients you will need to make this recipe. For the specific amounts, please refer to the printable recipe card at the bottom of the post.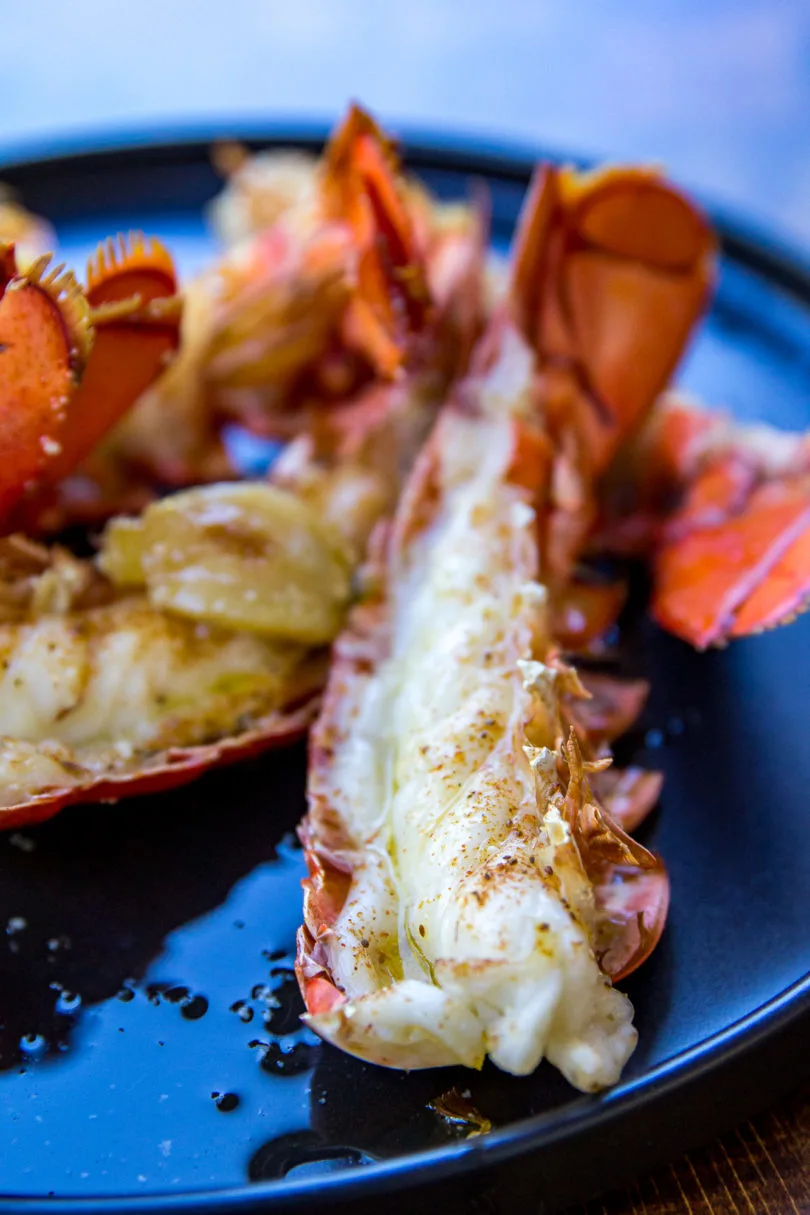 How to make lobster in the air fryer
Here's a quick overview of the process to make this dish. For the full recipe, please cook from the recipe card at the bottom of the post.
Split the tails
Use sharp kitchen shears. If you'd rather, you can also butterfly the lobster tails.
Preheat your air fryer
Don't skimp on this part! You want it HOT when you put the tails in, so make sure to heat it up thoroughly!
Brush with butter and season
Don't be shy! Lobster loves seasoning and butter and so will you.
Fry 'em up
Cook the lobster meat-side-up in the air fryer for 6-8 minutes, or until the internal temperature reaches at least 130°. (Please note, the USDA says 140° for seafood. Sometimes we live on the edge but if you do not or can not because of health concerns, please use your best judgment and if there's any doubt the USDA recommendations are definitely your best bet.)

AKA – you know that disclaimer on every sushi and steak menu that warns you that eating undercooked foods could cause health issues? Yeah, that.
More butter + time to eat
More butter is always a good option here. Then, it is time to get eating!
Follow me on Instagram!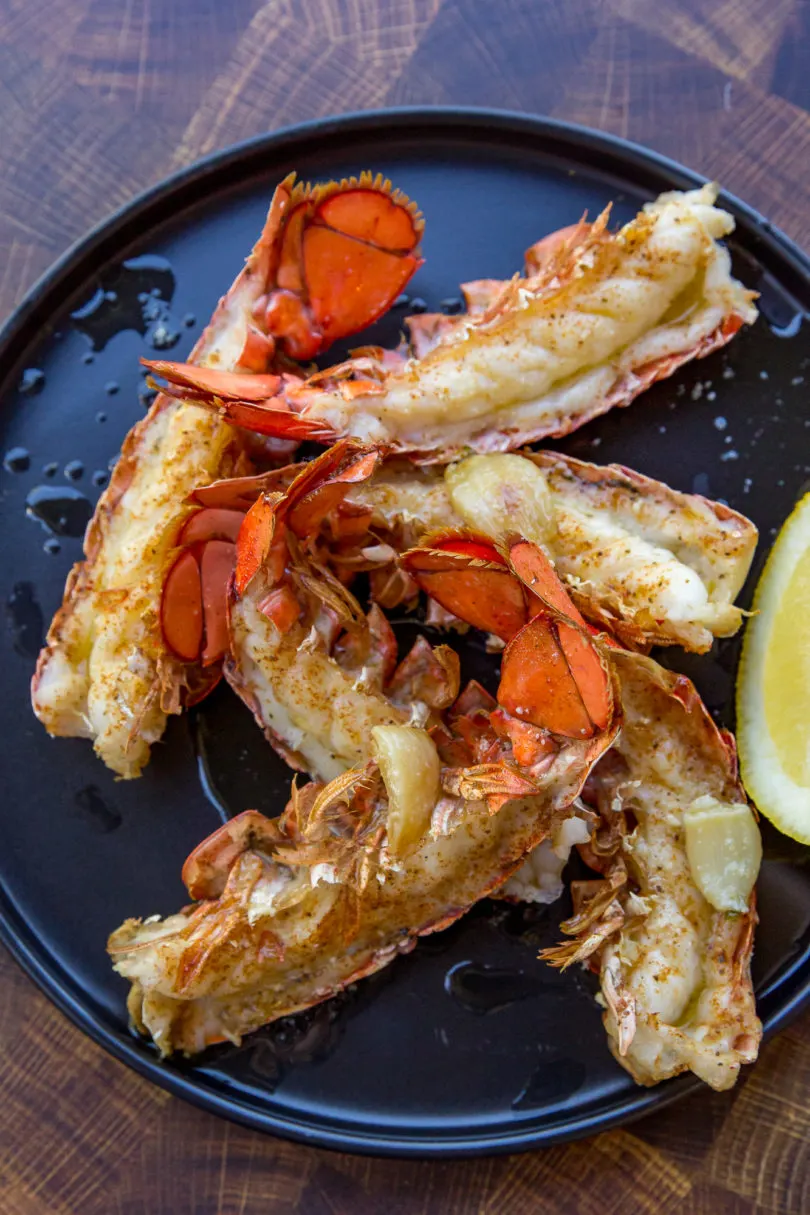 What else can you serve with lobster tails?
My first introduction to the amazingness that is seafood was at Red Lobster.
I KNOW.
But when you live in Northern MN that's about as good as it gets as far as shellfish and most non-lake-caught fish and seafood.
All that to say I have a pretty healthy appreciation for the Ultimate Feast, which consists of lobster, snow crab, shrimp scampi, fried shrimp, and sides like rice pilaf, mashed potatoes, a baked potato, or french fries. Once in a while, we'll put together something similar at home.
If you are looking for something a little simpler, I think our Creamy Mushroom Pasta would be fantastic along with a crisp Caesar Salad.
Have a pellet grill? Try our Traeger Lobster Tails recipe!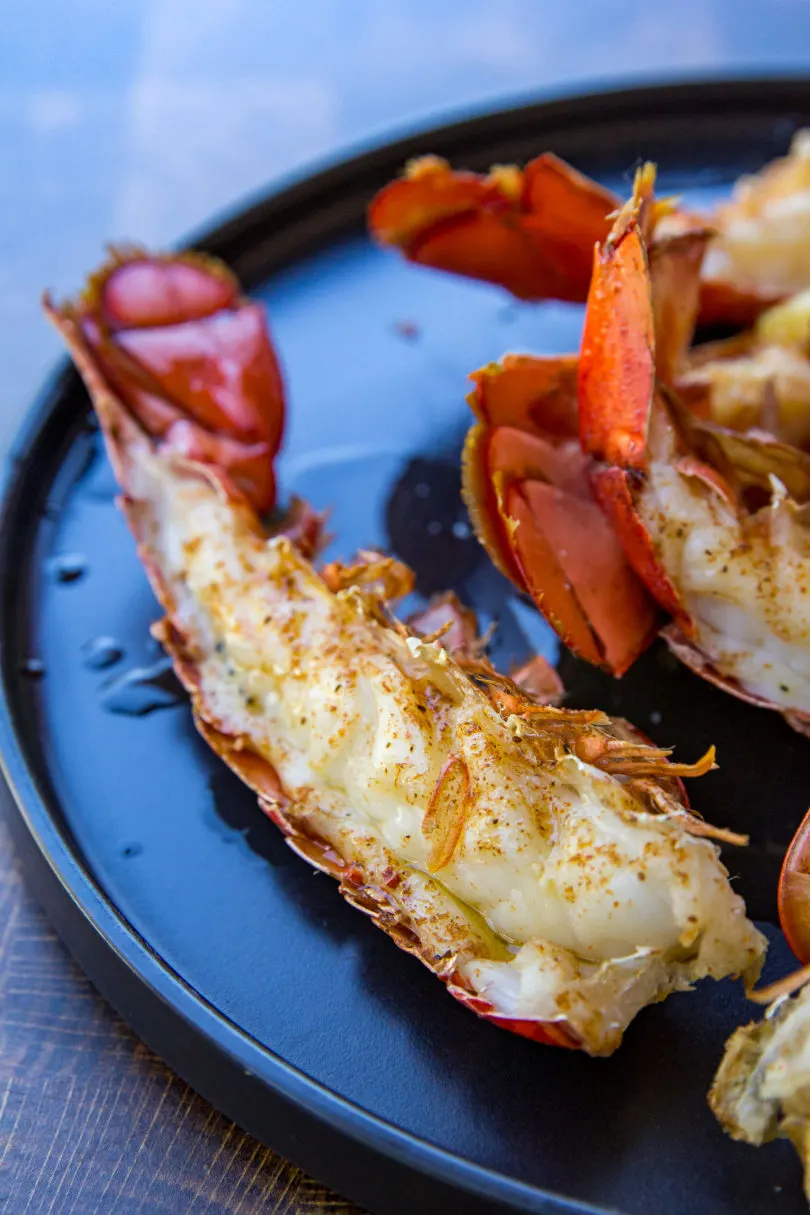 Air Fryer Lobster FAQ
How do you store leftover lobster tails?
You really shouldn't. Lobster is best served as quickly as you possibly can after cooking. If you have to, remove the meat from the shell and store the meat in a storage container or plastic baggie.
How do you reheat the leftovers?
As above, try not to have any leftovers. Lobster would be best reheated gently. If I had leftover lobster tail, I'd probably turn it into a bisque or cut it up and fold it into an omelette.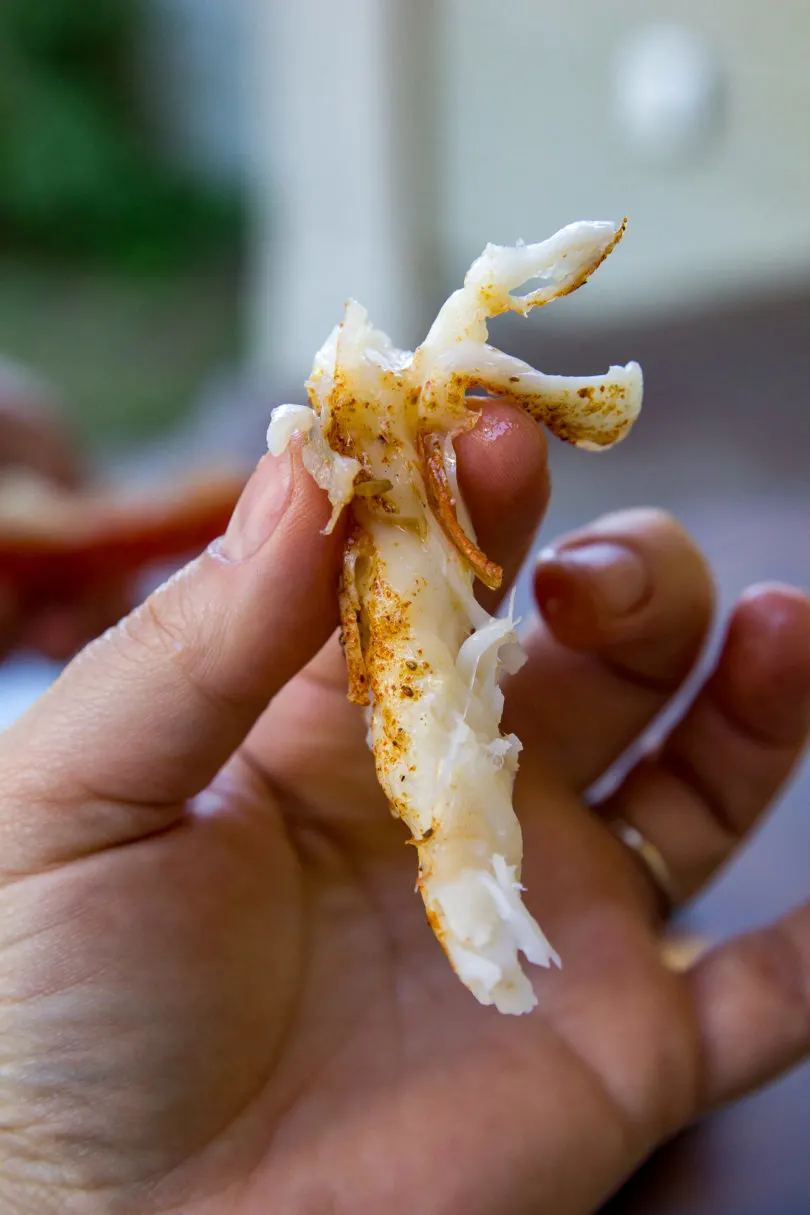 More recipes to love!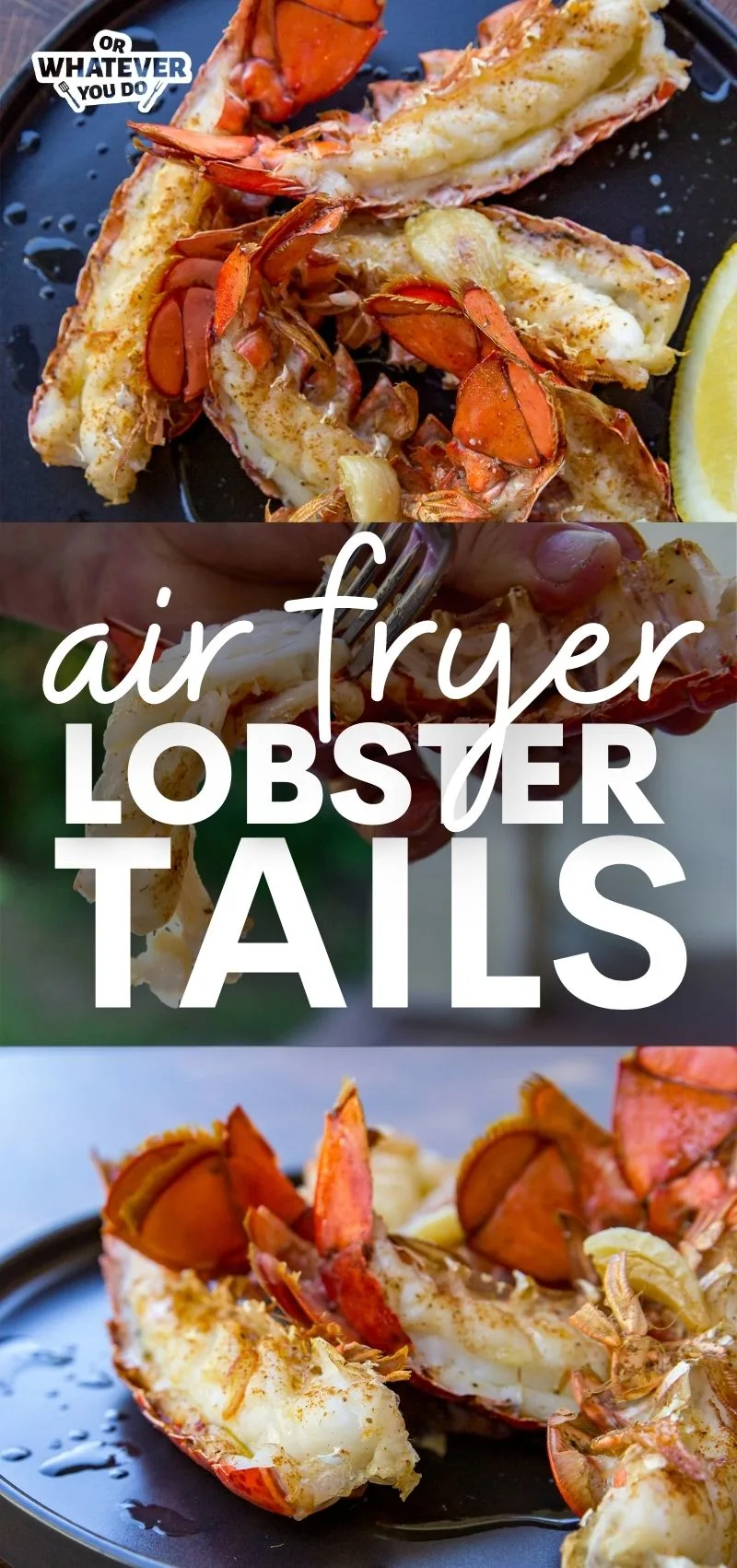 Yield: 6 servings
Blackstone Air Fryer Lobster Tails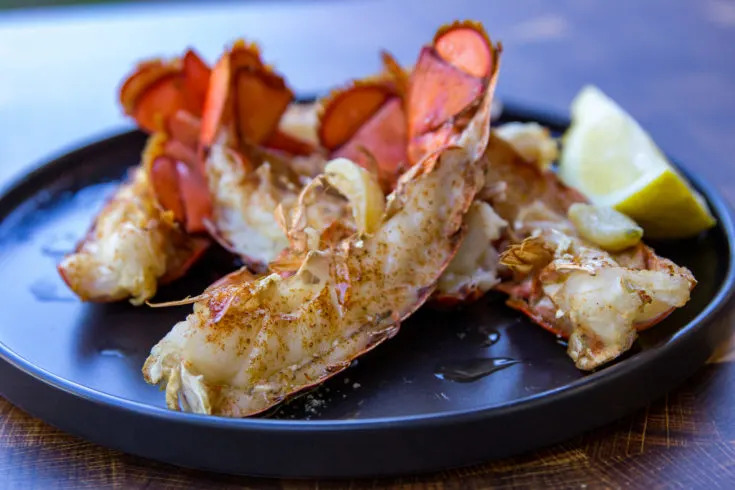 Lobster tails are something that a lot of people are intimidated by unnecessarily. With this easy recipe, you'll have restaurant-quality lobster tails in minutes right from your own home!
Ingredients
6 lobster tails, split
1 teaspoon salt
1 teaspoon paprika
1 teaspoon Old Bay
1/2 teaspoon pepper
6 tablespoons smoked garlic butter (or some salted butter with garlic powder also works in a pinch)
Instructions
Halve the lobster tails by down the middle with kitchen shears or a sharp knife. Alternatively, you can also butterfly the lobster tail by cutting down the middle top of the shell, pulling it apart, separate the meat from the shell, and close the shell under the meat so it is resting on top.
Brush the meat with garlic butter and season with salt, paprika, Old Bay, and pepper.
Preheat your air fryer to 450° (or "high" if yours doesn't go all the way to 450°).
Place the lobster tails in, meat-side-up, and cook for 5-7 minutes.
Remove, brush with more garlic butter (if desired), and serve hot.
Recommended Products
As an Amazon Associate and member of other affiliate programs, I earn from qualifying purchases.
Nutrition Information:
Yield:
6
Serving Size:
1
Amount Per Serving:
Calories:

136
Total Fat:

2g
Saturated Fat:

0g
Trans Fat:

0g
Unsaturated Fat:

1g
Cholesterol:

77mg
Sodium:

649mg
Carbohydrates:

6g
Fiber:

0g
Sugar:

0g
Protein:

23g
Nutrition data provided here is only an estimate.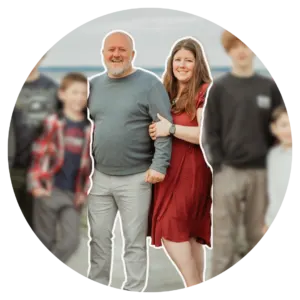 Nicole Johnson, a self-taught expert in grilling and outdoor cooking, launched Or Whatever You Do in 2010. Her blog, renowned for its comprehensive and creative outdoor cooking recipes, has garnered a vast audience of millions. Nicole's hands-on experience and passion for grilling shine through her work. Her husband, Jeremiah Johnson, also plays a pivotal role in recipe development, adding his culinary flair to the mix. Together, they form a dynamic duo, offering a rich and varied outdoor cooking experience to their followers.