If you have leftover brisket, I have the perfect way to use it up. These Brisket Bombs are tender Smoked Brisket Stuffed into fresh bread dough and then baked until they are hot, soft, and golden brown. Make a big batch and freeze them for later, or have a lunch your coworkers or classmates will be jealous of allllll week long.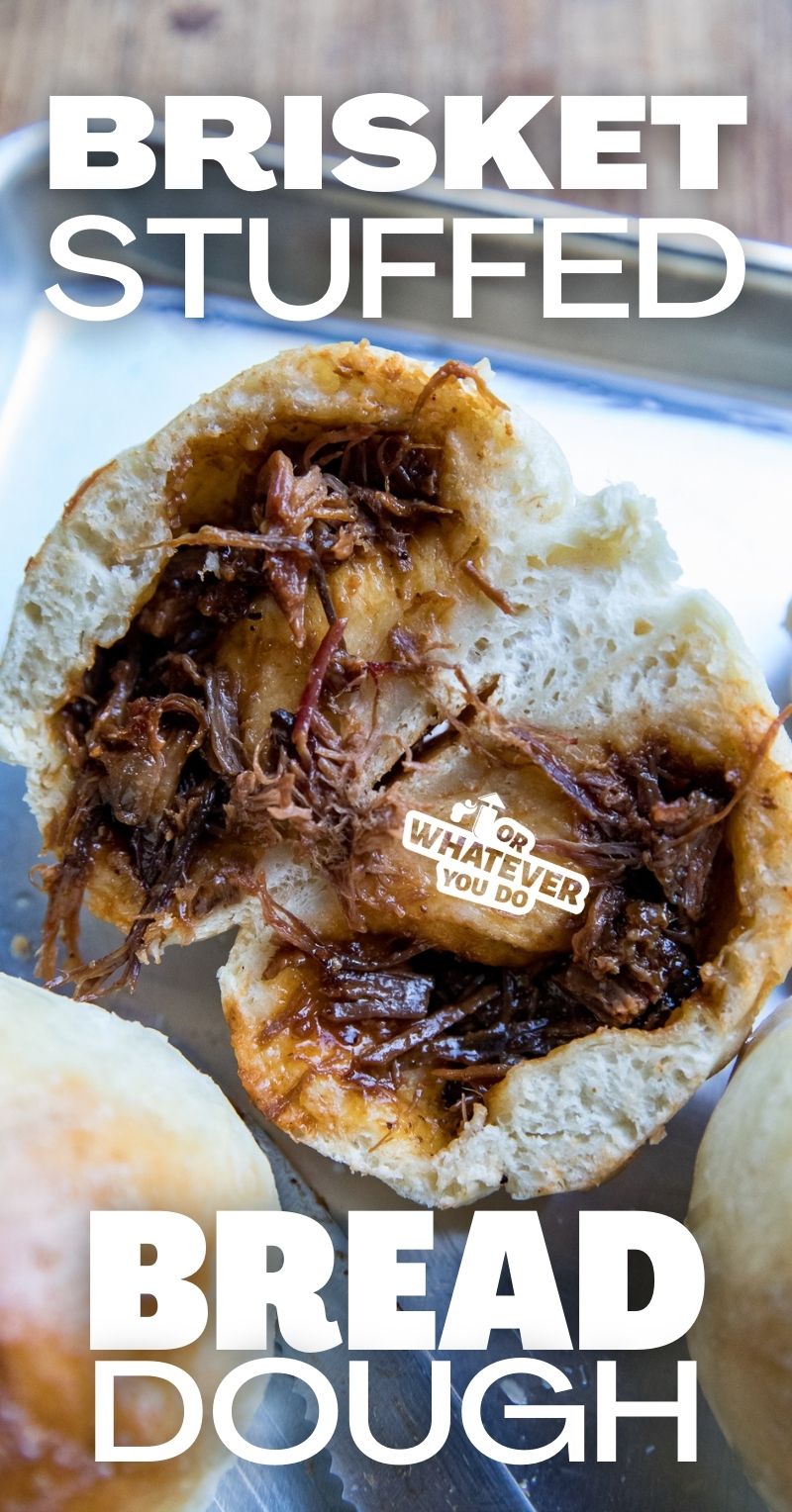 Smoked Brisket Bombs
Stuffed bread dough is one of my favorite meals. These are called any number of different things depending on where you grew up, but you may have heard it referred to as anything from a calzone, piroshky, runza, bierock, pasty, samosas, and number other names, but the basics are the same. If it is meat-stuffed yeasted dough, I'm in.
We've stuffed bread dough with a bunch of things over the years, but the most common that we tend to have is a beef, onion, and cheese mixture. It is very much like a Runza, if you've ever had one of those (Ohio people know what I'm talking about), which is very delicious – but I wanted a good way to use up some leftover brisket and this seemed like a perfect opportunity to make some fresh bread dough and get to stuffing.
Check out all of my Traeger Recipes!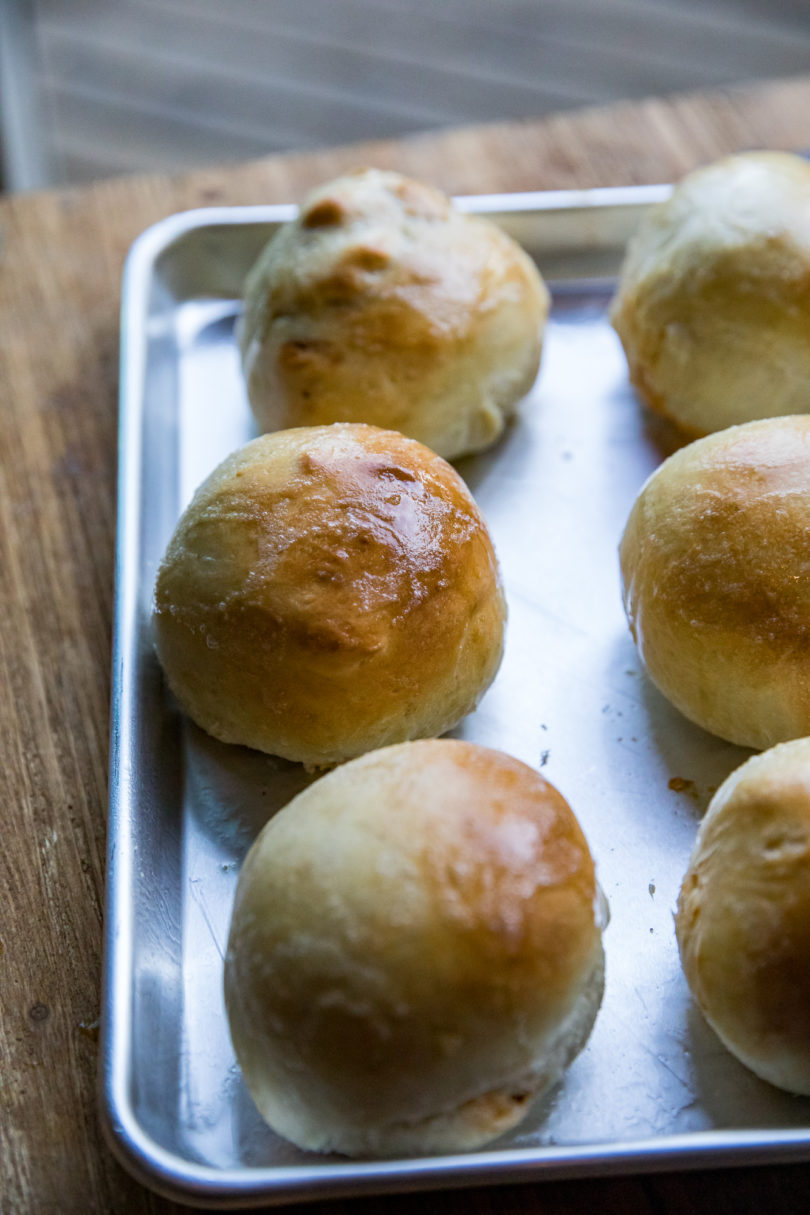 Brisket Stuffed Bread Dough shopping list
Wondering if you have to hit the store? Here's the list of items you'll need to make this recipe. For specific amounts, please refer to the printable recipe card at the bottom of the post.
cooked brisket
risen bread dough (store-bought or homemade is fine)
barbecue sauce
butter
More Traeger Beef Recipes here!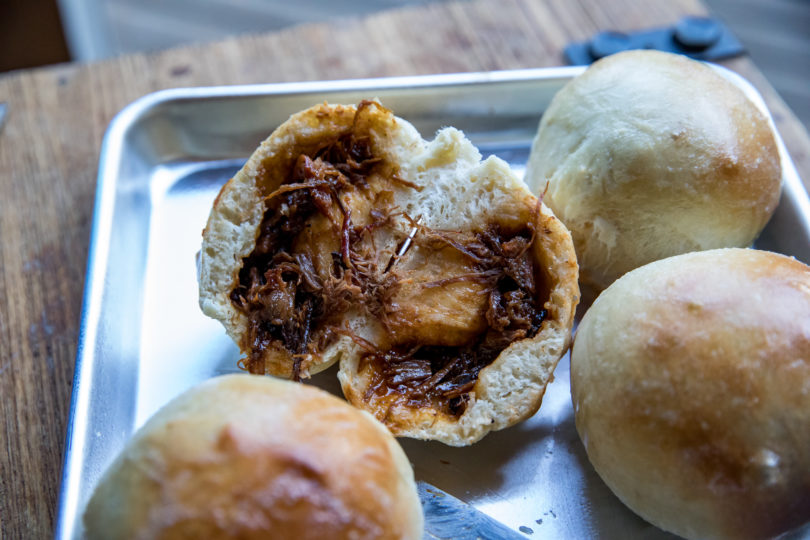 How to make Bread Dough stuffed with Brisket
This is just the overview so you can see what you're actually getting into here. When you are cooking, you'll want to use the full recipe at the bottom of the page.
If you are looking for the "how to smoke brisket" or "how to make bread dough" posts, you're in the right spot. Lucky for you, I like you, and I want you to get what you need here – so if you'd like to check out my Smoked Brisket Recipe or my Traeger Dinner Rolls recipe, just click!
Preheat the grill (or oven)
Your pellet grill or oven works well here for baking the bread. Whatever you decide to use, preheat it to 325°.
Stuff those buns
Make a small disc with a handfull of dough, and place a few tablespoons of brisket inside. We threw some bbq sauce on top for good measure too. Pinch together the sides to surround the filling and continue pinching and turning until it is sealed. Place the bun seam-side down on a prepared baking sheet.
Let them rise
While the grill or oven finishes preheating, let your stuffed rolls rise.
Bake them
How long depends on how big and doughy your rolls are, but usually between 20-30 minutes works. When the outsides and bottoms are browned, they are done. If you are using your grill, use the top rack or invert a large high-sided rectangular cake pan to create some more space between the fire and the bottom of the pan to prevent burning.
Butter
Pull the rolls out and while still hot, rub the tops with butter. Let cook for 10-15 minutes and serve!
See our Leftover Roast Beef recipes here!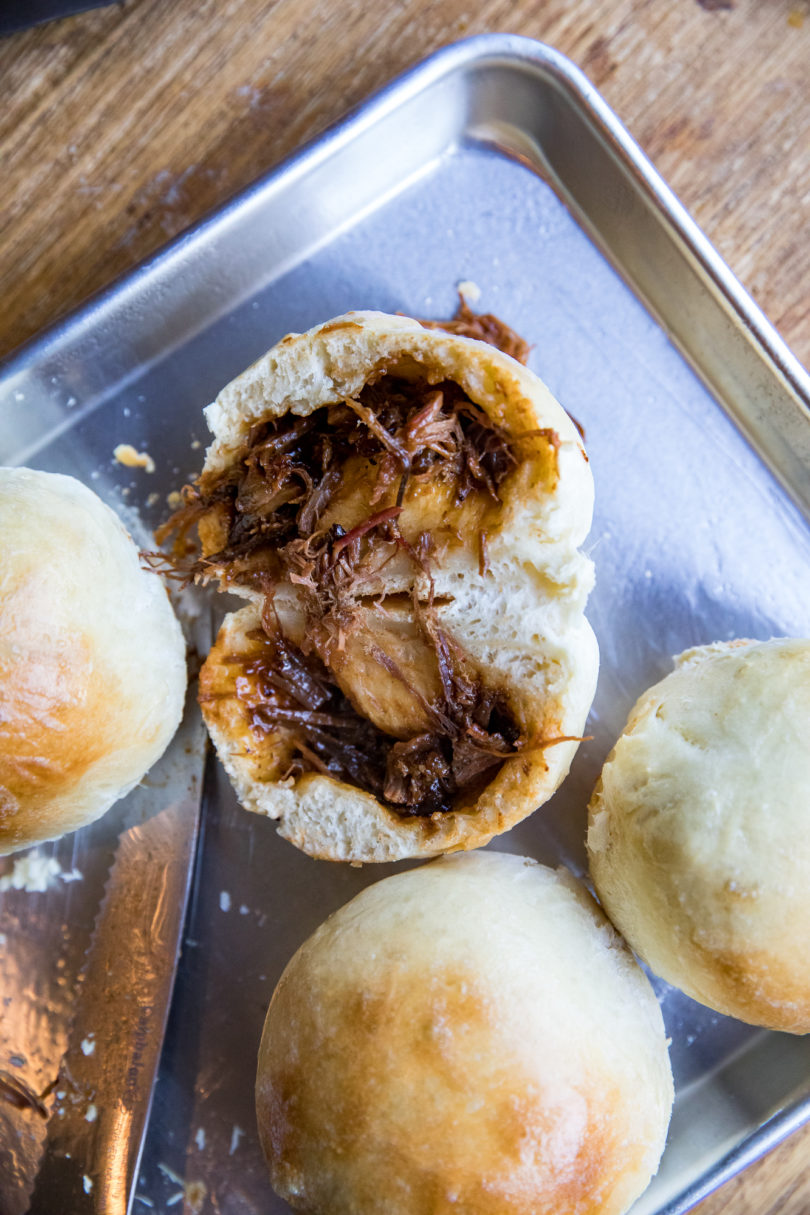 What else can you serve with Brisket Rolls?
These are great on their own or as a part of a big barbecue feast, but personally I love to sere them alongside some homemade air fryer potato wedges, Blackstone French Fries, some Smoked Mac and Cheese, or good old-fashioned Smoked Hash Brown Casserole.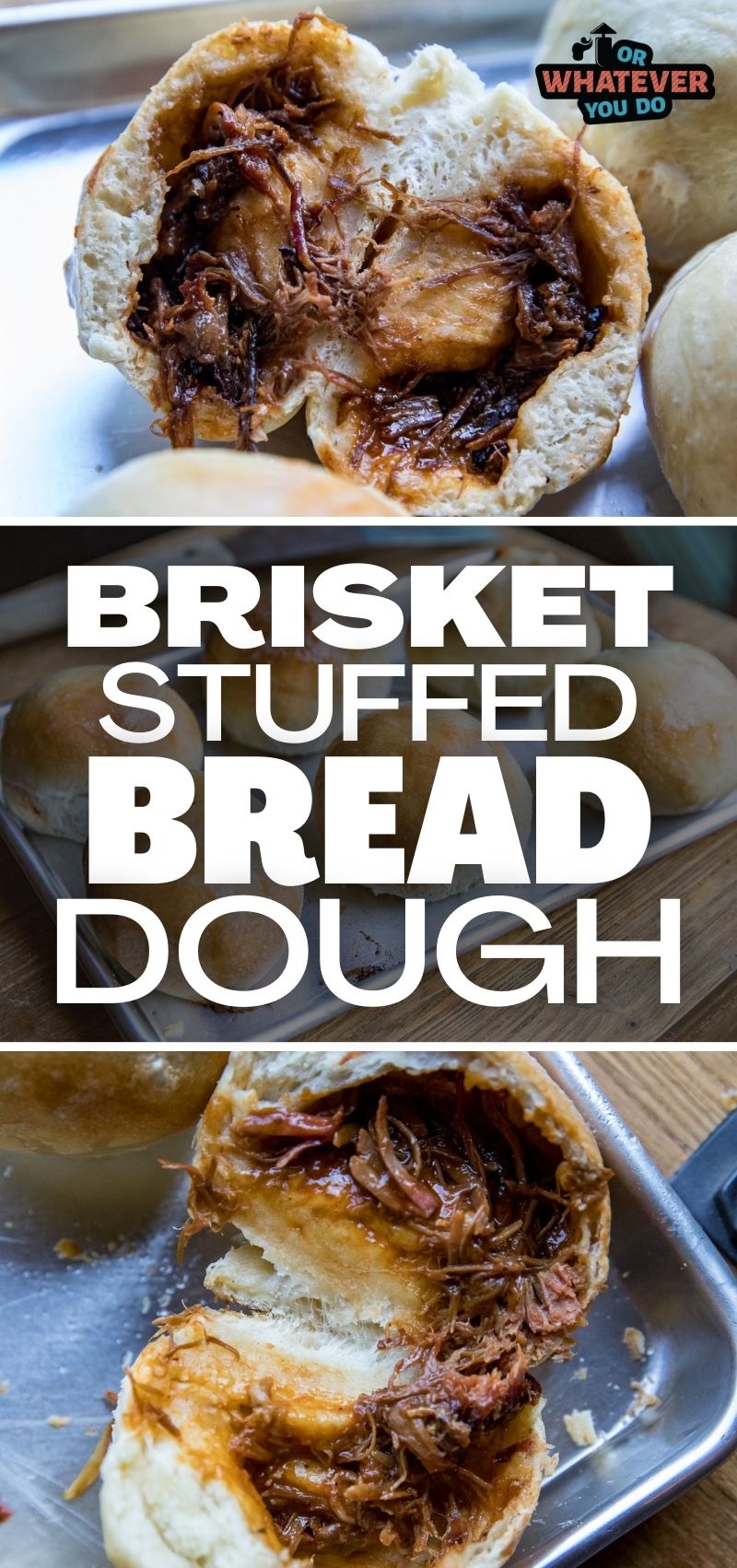 Yield: 12 servings
Brisket Stuffed Bread Dough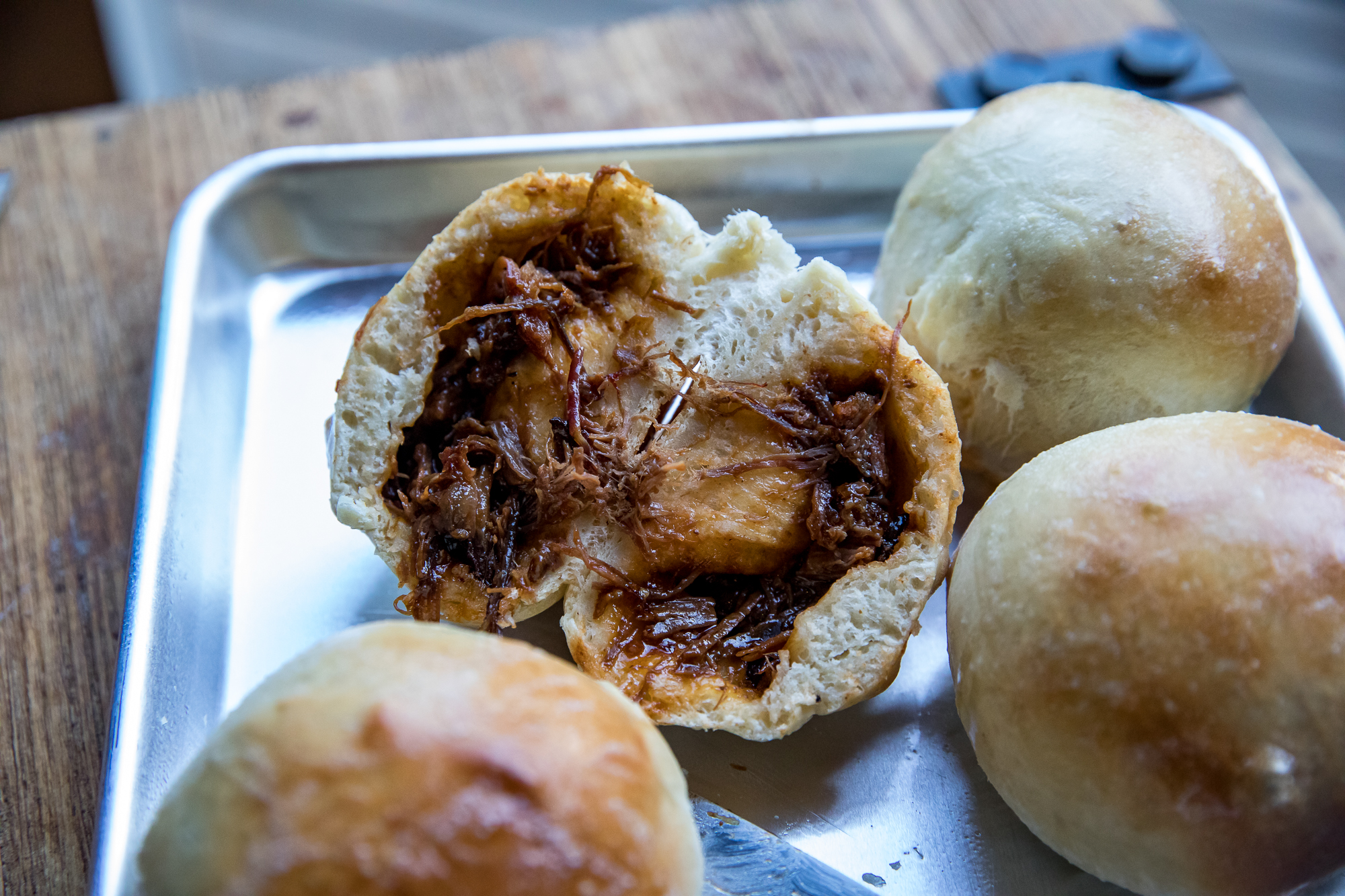 Freshly risen bread dough is stuffed with smoked barbecue brisket and then baked (or grilled) until the buns are golden brown.
Ingredients
12 dough balls
3 cups chopped smoked brisket
barbecue sauce
butter
Instructions
Using risen bread dough (or thawed, frozen rolls), make 12 individual portions and for small discs in your palm.
Take about 1/4 cup of stuffed brisket, and place it in the middle of the dough disc. Pull the sides up and around the brisket and seal them by pinching the sides together.
Prep a baking sheet with parchment paper or cooking spray. Place the rolls seam-side down on the prepped sheet, and cover lightly with plastic wrap or a light tea towel. Let rise for 20 minutes.
Preheat the grill while the dough is rising to 325°.
Once the grill is pre-heated, put the rolls inside. If you are using a grill, use the top rack or invert a large rectangle high-sided cake pan on the grill to create some more space. Bake the rolls for 25-30 minutes, or until the outsides are golden brown.
Recommended Products
As an Amazon Associate and member of other affiliate programs, I earn from qualifying purchases.
Nutrition Information:
Yield:
12
Serving Size:
1
Amount Per Serving:
Calories:

598
Total Fat:

35g
Saturated Fat:

13g
Trans Fat:

0g
Unsaturated Fat:

18g
Cholesterol:

31mg
Sodium:

500mg
Carbohydrates:

59g
Fiber:

2g
Sugar:

0g
Protein:

12g
Nutrition data provided here is only an estimate.