Traeger Spicy Fried Shrimp is crispy, a little spicy, and is such a great change-up from your typical grilled shrimp! Make it as an appetizer for a barbecue or cookout, or make it into a meal and serve with steamed basmati rice.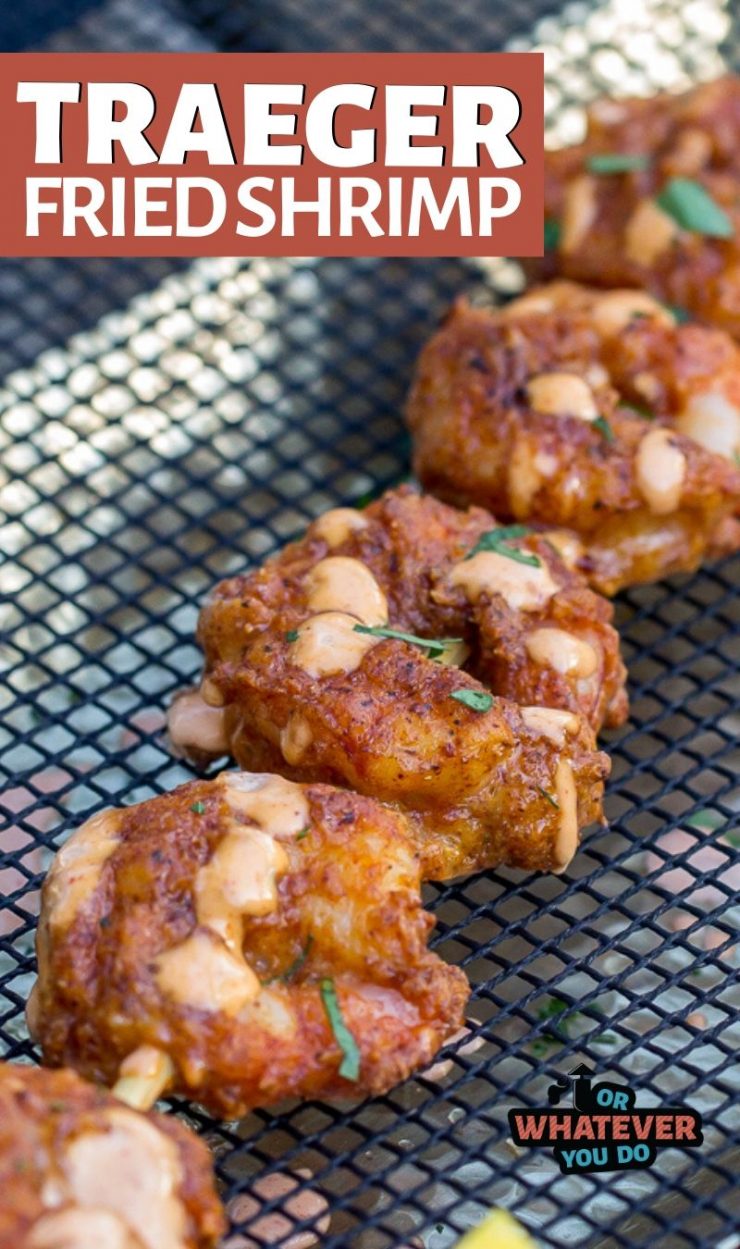 Traeger Spicy Fried Shrimp Recipe
Traeger fried shrimp is basically oven-fried shrimp, but on the Traeger instead. The shrimp is bettered, then the batter is baked on. Cooking for a few minutes helps set the batter, and then you brush lightly with oil and cook until crispy.
Surprised you can fry shrimp on a grill and don't have to dunk it in a hot oil bath? Then you will be equally startled by the result.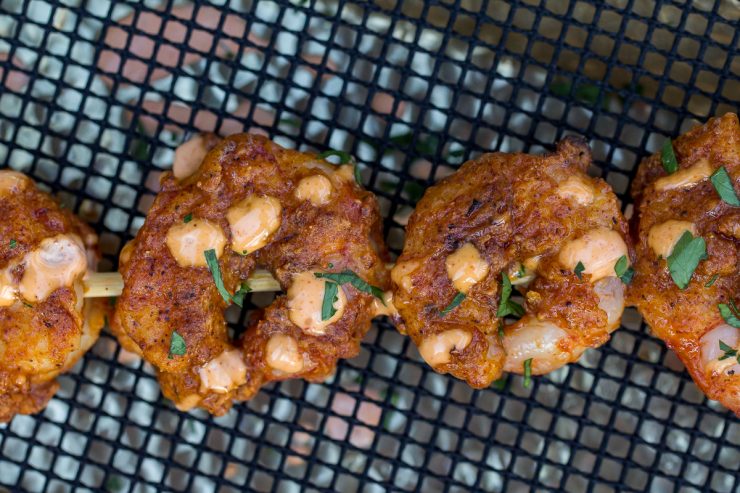 Make fried shrimp on your Traeger
Fried shrimp on a Traeger grill proves once and for all that nothing is impossible with a pellet grill. You can make this recipe even if you don't have a Traeger. Any other pellet or regular-style grill will work too. The Traeger just makes it easy and takes a lot of the guesswork out of the equation.
Check out all of my Traeger Recipes!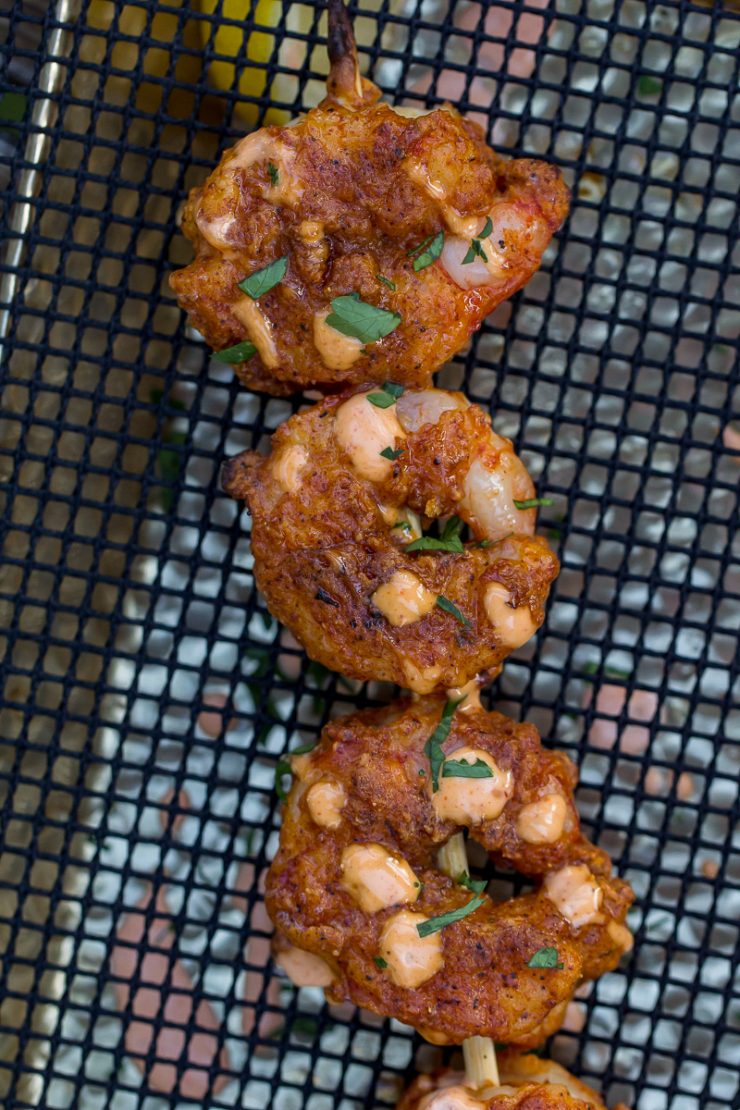 Tips for cooking fried shrimp on the pellet grill
One trick to make things a lot easier is to batter your shrimp and then toss them briefly in the freezer. Chilling them down a bit will help the batter stay on when you first put them on the grill.
Also, make sure your batter is reasonably thick. If it is too thin it might drip off too easily.
When you dredge the shrimp in the flour, make sure they are evenly coated. Then, tap off the excess flour and spice mixture before you dredge in the egg wash.
Same for when you remove the shrimp after dunking them in the eggs. Make sure to let the excess egg drip off back into your eggs. This makes it easier to have enough egg to coat all the shrimp, and it also helps when you dunk back into the flour spice mix for the second dredge.
Make sure the shrimp are not touching before you grill them!
When you get to "frying" the shrimp, get the grill preheated nice and hot, and that will help create a nice crunchiness to the batter.
No need to put on too much oil once the batter sets. If you have an oil mister handy, that makes it easy. Just be careful around the live fire. I recommend pulling the shrimp off, misting them lightly, then putting them back on the grill.
If you don't have a mister a pastry brush will do! Just go gently so you don't disturb the batter.
Remember, the shrimp will cook quickly, so it is all about having a nice high heat to finish them so that batter has a chance to get crunchy but the shrimp stays tender inside.
See all of my SHRIMP RECIPES here!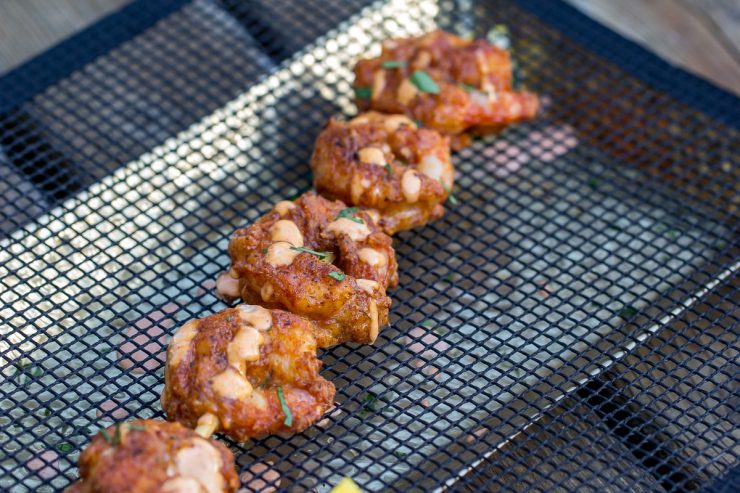 The best size shrimp for smoked grilled shrimp
In this case, I recommend a medium to large-sized shrimp. Yes, you can do any size, but it is much easier to turn them on the grill if they are on the larger sizes.
You can also get a non-stick grill mat to help out with that too.
In terms of count size, which is how shrimp are measured, I recommend anything from the medium 20-34 to the larger 12-16.
In case you are unfamiliar with the count size, the number refers to how many shrimp comprise a pound of shrimp on average inside the packaging.
If you have ever enjoyed shrimp tempura in a Japanese restaurant, then generally those chefs use medium to large sized shrimp for tempura. You want the shrimp to be large enough to not get lost in the batter.
Get more awesome Appetizer Recipes!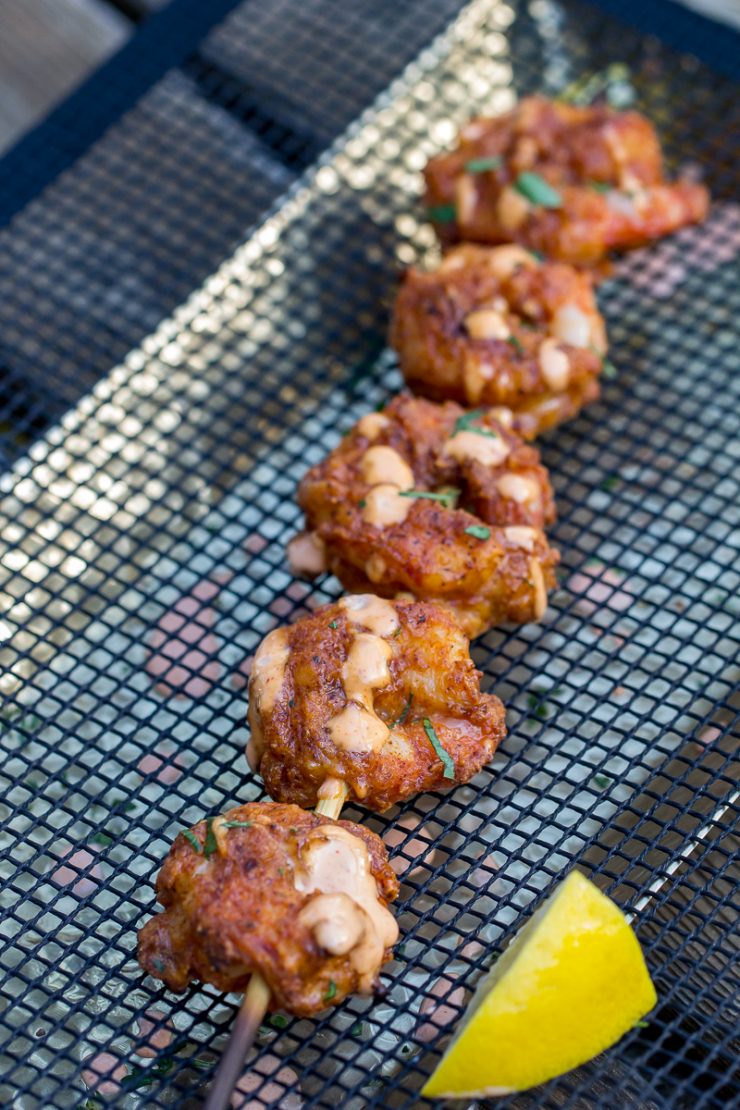 Nashville hot rub seasoning spice
I love this seasoning! It has a nice amount of heat to it and some folks may want to dial it down a bit. However, fans of spice will enjoy the burn and keep coming back for more. If it is too hot, then tame the flames with a glass of beer, or milk, or make sure to have a fire extinguisher handy..
I have a few recipes that I incorporate the Nashville hot rub in. If you like it too, then check out this Nashville hot mac and cheese!
Buy Nashville Hot Chicken Rub here!
More great recipes for your Traeger grill
You don't need to just use your Traeger in the summer, although it is awesome to get outside and grill every possible opportunity. I like to use mine year-round.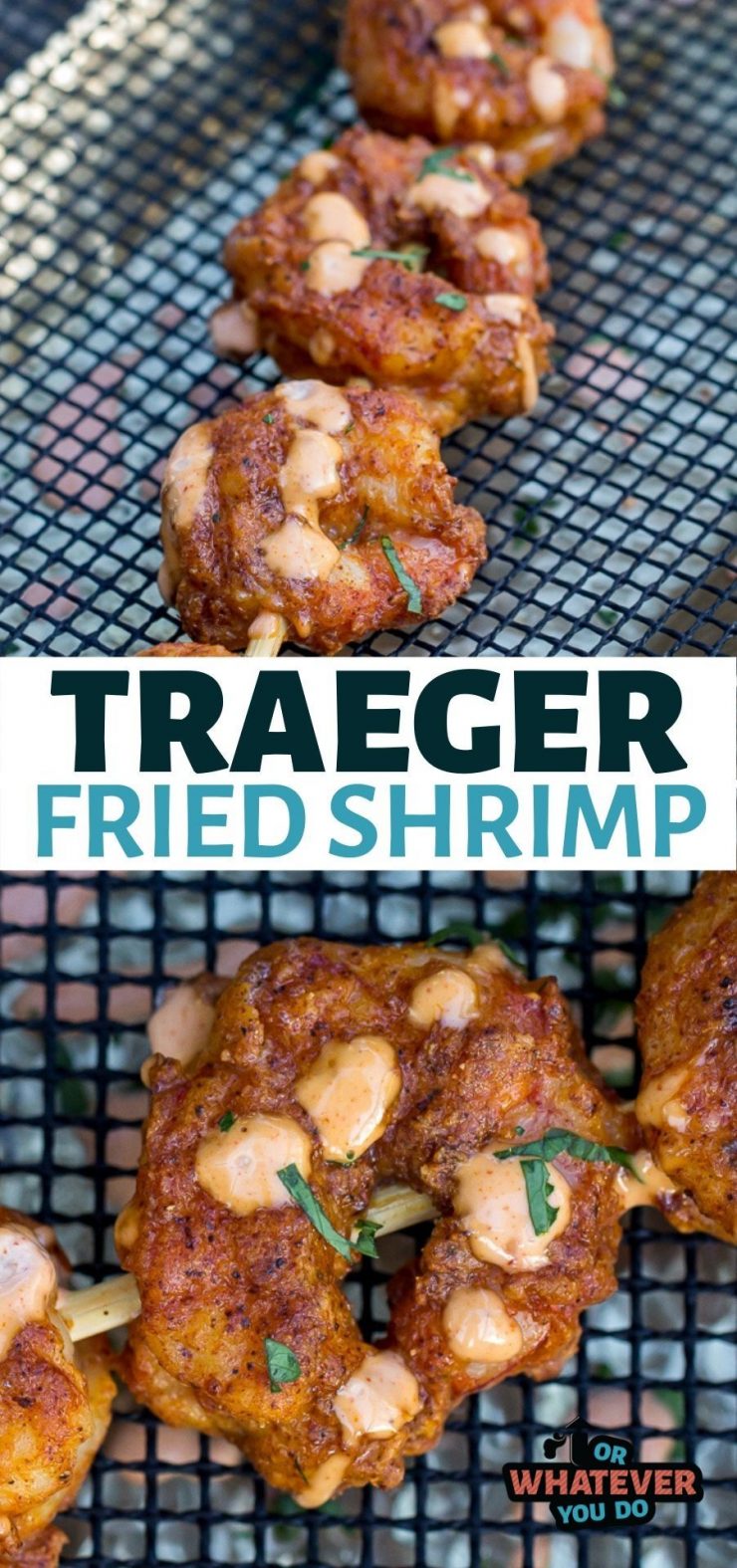 Yield: 6 servings
Traeger Spicy Fried Shrimp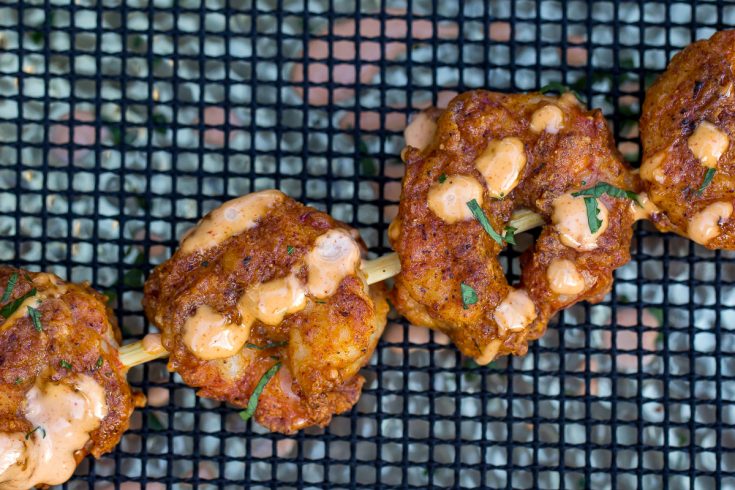 Traeger Fried Shrimp is crispy, a little spicy, and is such a great change-up from your typical grilled shrimp! Make it as an appetizer for a barbecue or cookout, or make it into a meal and serve with steamed basmati rice.
Ingredients
1 pound peeled and deveined shrimp
1 cup flour
2 tablespoons Nashville hot rub
1 tablespoon paprika
1 teaspoon salt
1/4 teaspoon white pepper
1/2 teaspoon onion powder
1/2 teaspoon garlic powder
4 eggs
1/3 cup oil
Instructions
Pre-heat your grill to 400 degrees Fahrenheit.
Remove your shrimp from the package, spread them out onto a paper towel, and pat them dry.
Mix all your dry ingredients in a medium-size bowl and set aside.
Crack your eggs into a small bowl and mix thoroughly with a whisk. You're now ready to dredge your shrimp.
Start by dredging your shrimp through the flour and spice mix. Make sure to get an even coat on all the shrimp. When you take your shrimp out of the flour mix, give them a little shake in order to get any excess flour off. (This will help the breading stick to the shrimp after cooking.)
Next dip all the shrimp in the egg wash, make sure to completely cover the shrimp. Remove the shrimp from the egg wash and let the excess drip off the shrimp back into the bowl.
Dredge the shrimp in the flour mix again following the same directions as the first time.
Place your shrimp on the skewers and set them on a plate.
Place the shrimp in your refrigerator for 15-20 minutes in order to let the dredge mix set up on the shrimp properly. This will help the breading stick to the shrimp also.
You're now ready to "fry" your shrimp on your grill. Caution: If you are placing your shrimp right on the grill, spray or rub the grates with oil to prevent sticking first. I highly recommend a grill mat for this dish.
After you put the skewers on, close the grill and let cook for 3 minutes. After 3 minutes, open the grill and remove the skewers and place them on a cookie sheet.
Brush each side of the shrimp with the oil and place them back onto the grill.
Cook for 5 more minutes and remove them from the grill and onto a plate lined with paper towels.
Enjoy!
Recommended Products
As an Amazon Associate and member of other affiliate programs, I earn from qualifying purchases.
Nutrition Information:
Yield:
6
Serving Size:
1
Amount Per Serving:
Calories:

327
Total Fat:

17g
Saturated Fat:

2g
Trans Fat:

0g
Unsaturated Fat:

14g
Cholesterol:

284mg
Sodium:

1117mg
Carbohydrates:

18g
Fiber:

1g
Sugar:

0g
Protein:

24g
Nutrition data provided here is only an estimate.