When the zucchini is coming out of your ears, Blackstone Zucchini Fritters are the perfect solution. These hearty little patties are flash-fried on the gas griddle and served with a spicy ranch dipping sauce!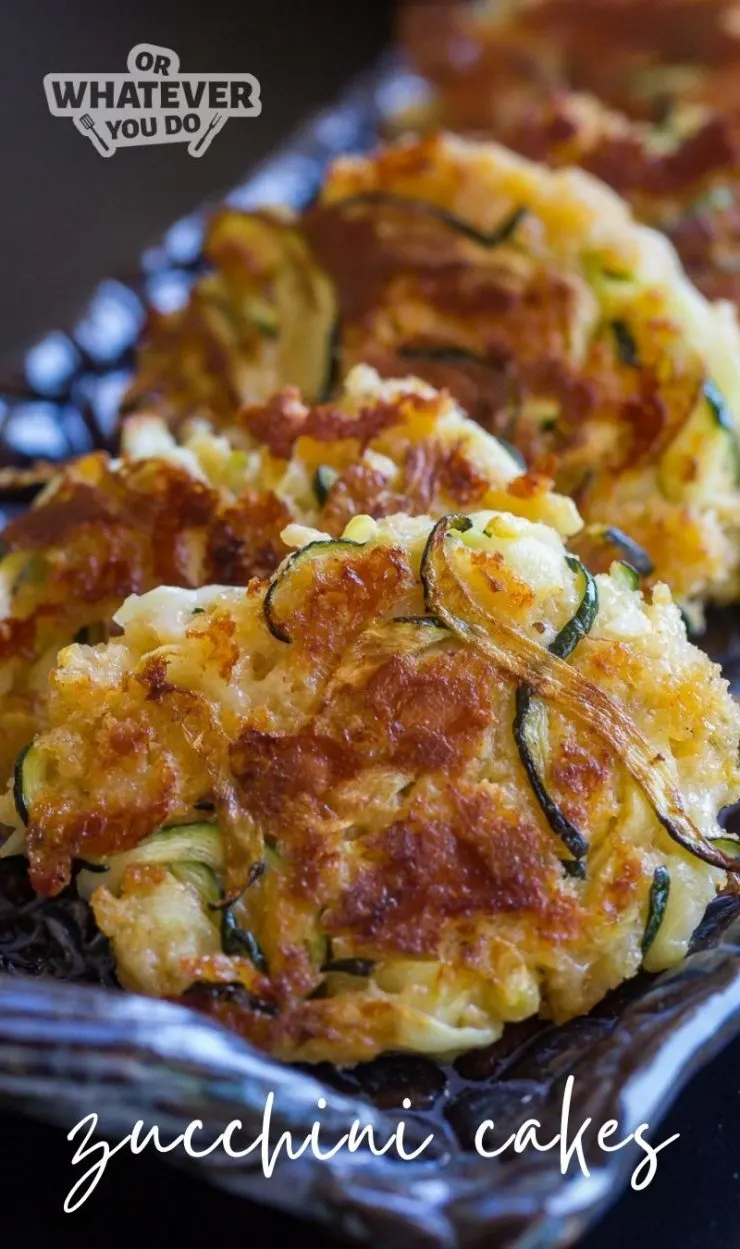 Blackstone Zucchini Fritters
I love summer, and even though I haven't actually grown zucchini in quite a few years, I always wind up with more than I know what to do with during the growing season from friends, family, and neighbors.
While I love some zucchini boats, zucchini stir-fry, zucchini bread, grilled zucchini, zucchini stir-fry, zucchini pasta bakes, and spiralized togarashi zucchini, zucchini cakes are a simple and easy side that is great on almost any barbecue spread, or as an appetizer.
Get all of my BLACKSTONE RECIPES here!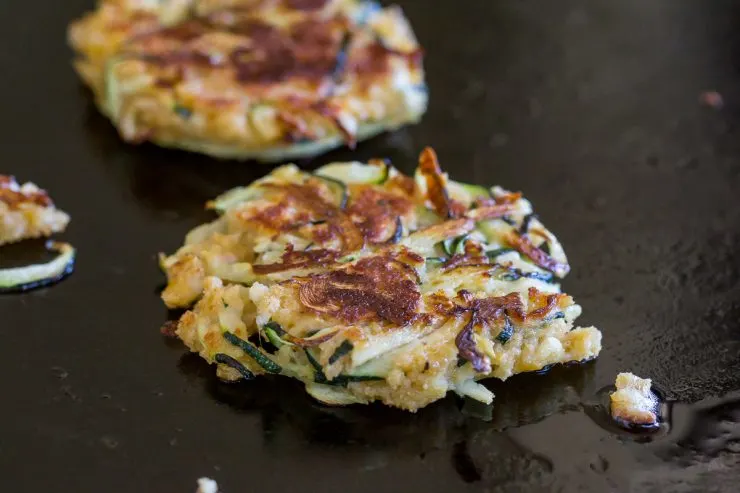 Zucchini Fritters ingredient list
zucchini
egg
bread crumbs
garlic
salt and pepper
parmesan cheese
oil for frying
Get more awesome Appetizer Recipes!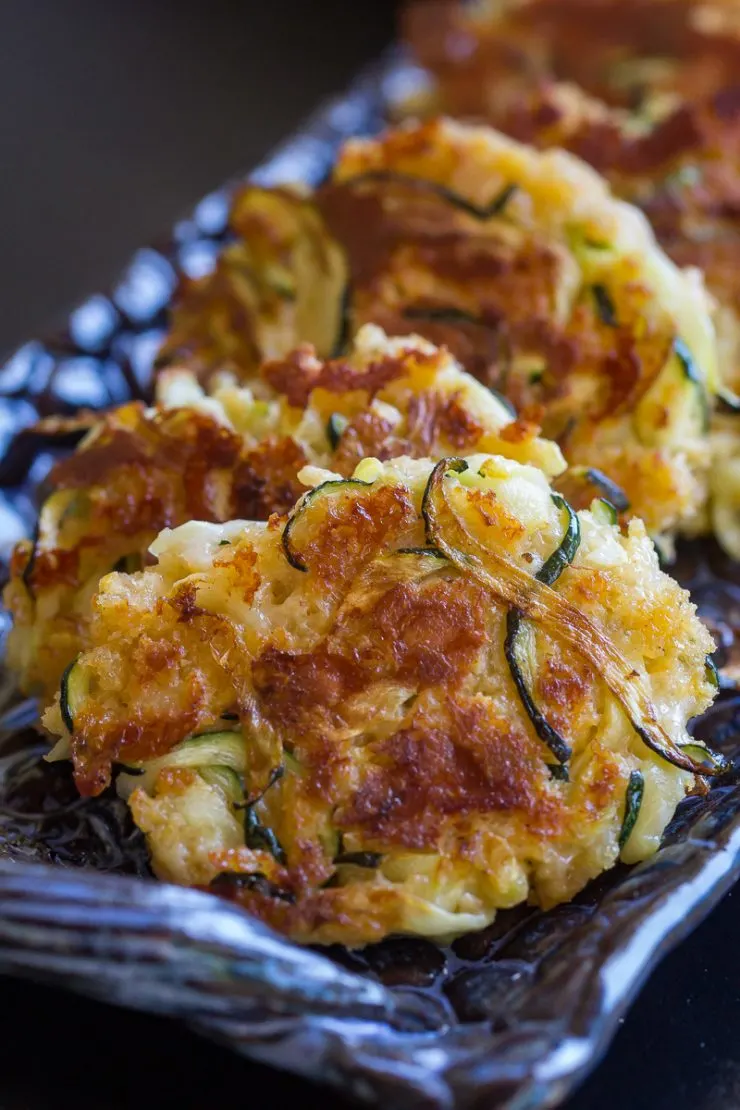 How to make zucchini fritters on the Blackstone Griddle
I love making these because they are SO simple to throw together. Just shred your zucchini, squeeze as much water out as you can inside a clean dish towel.
Then, mix together with the rest of the ingredients, and form into balls.
Preheat your Blackstone or other gas griddle over medium-low heat and lay down some oil and butter.
Place the balls onto the griddle and smash them down with a metal spatula until they are about 1/2 inch thick.
Cook for a couple of minutes, until it is browned, and flip once (laying down a little butter before you flip!)
Get more recipes for your cookout here!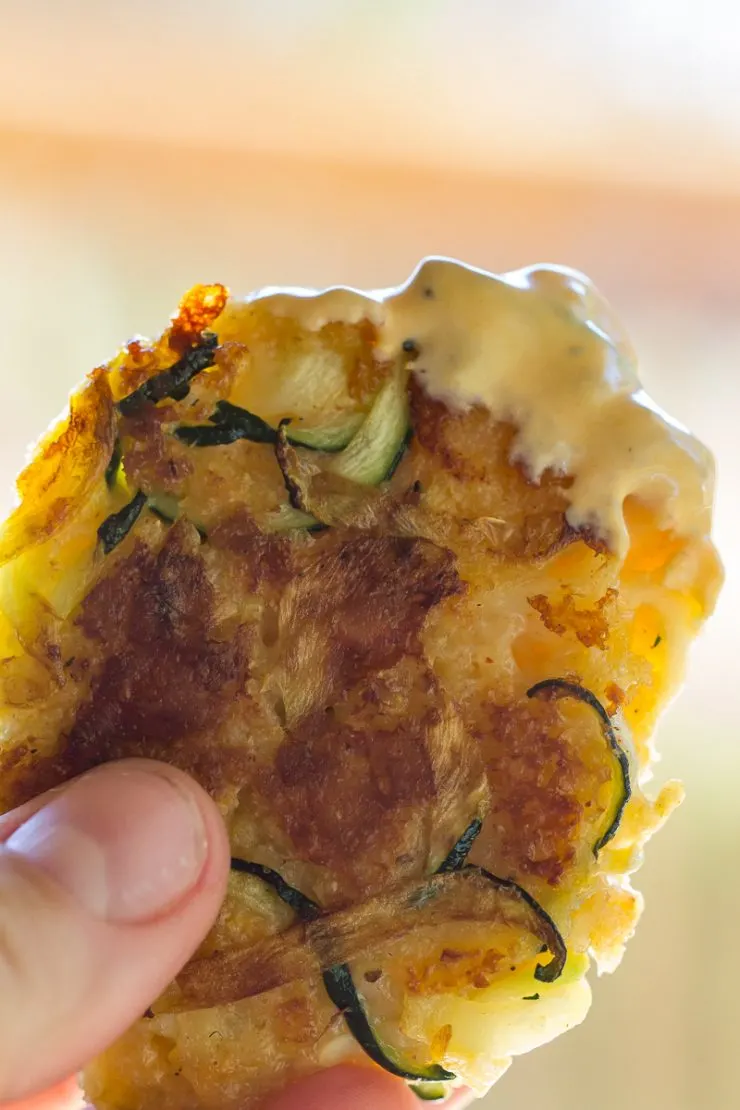 Are there any substitutions or mix-ins that would work?
There sure are!
You can substitute in a different kind of bread crumbs, a different kind of cheese, more or less garlic, add in some chives to the mix, or mix in your favorite rub or seasoning blend.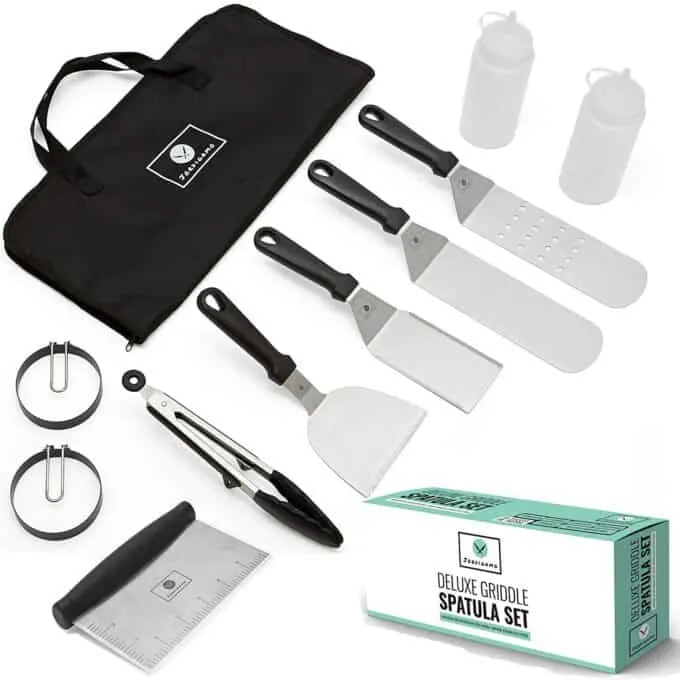 Flat top griddles have flat top tool needs, and this kit will set you up for griddle success. It also comes with a handy carrying case, for the win.
Set yourself up for the best griddle-fried eggs, pancakes, steaks, and anything else you can dream up.
Join our Easy Griddle Recipes Facebook Group!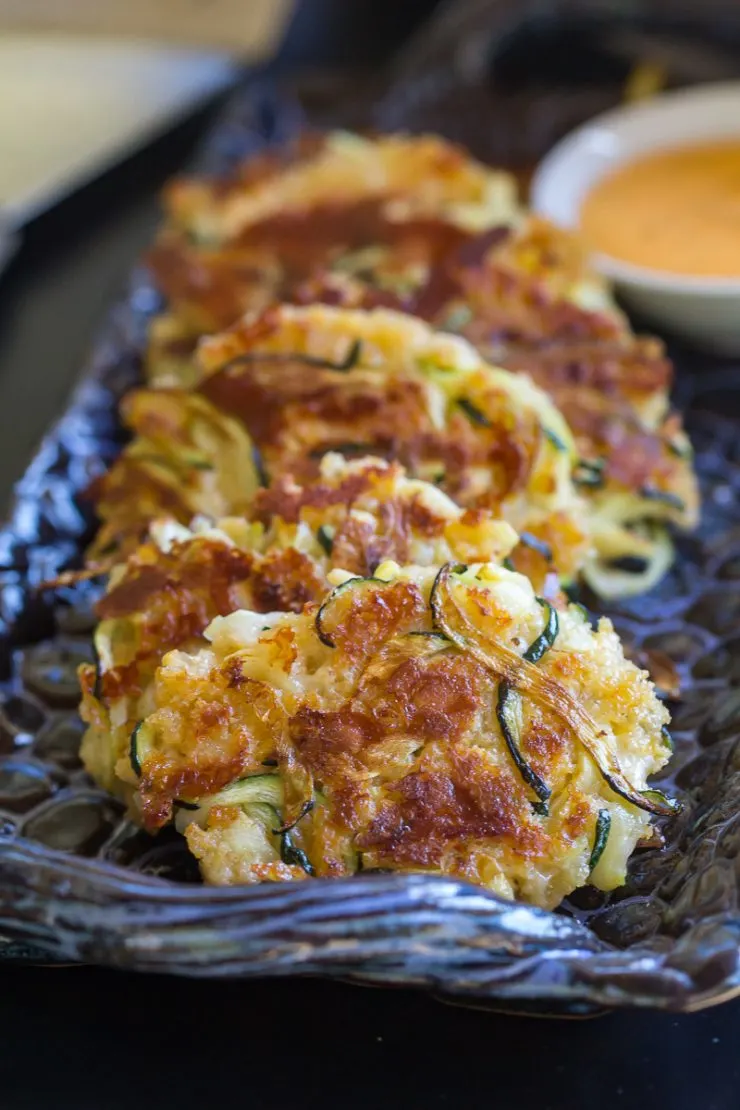 How to prevent your zucchini fritters from being soggy
Soggy fritters are a common complaint on the internets, and the solution couldn't be easier.
If something is soggy, it means there is too much liquid.
In this case, the excess liquid is coming from the zucchini.
The key to making these fritters crispy and light is going to be getting ALL the excess water out of them. My favorite way to do that is to put the shredded zucchini into a clean dish towel and then ringing out all of the excess water.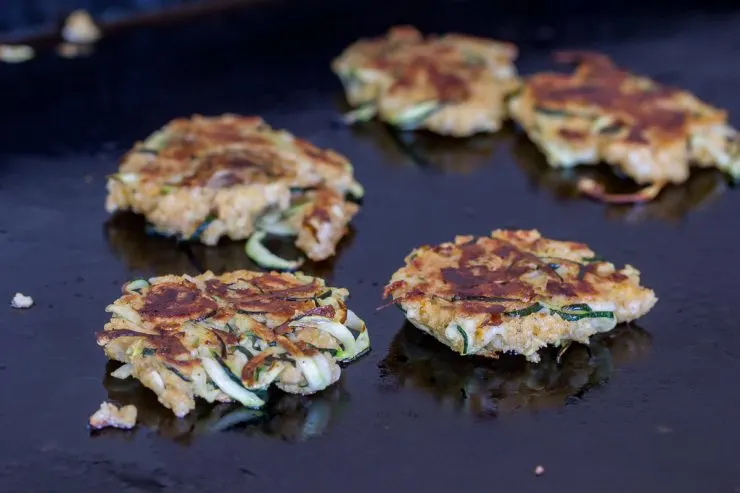 How to save leftover fritters
It is important to make sure that you keep these wrapped tightly in plastic wrap. If you toss them all into a storage container, you're likely going to end up with condensation and that'll make these soggy as well.
I like to wrap individually, and then throw them into a large baggie in the freezer. They keep for quite a while in a deep freeze!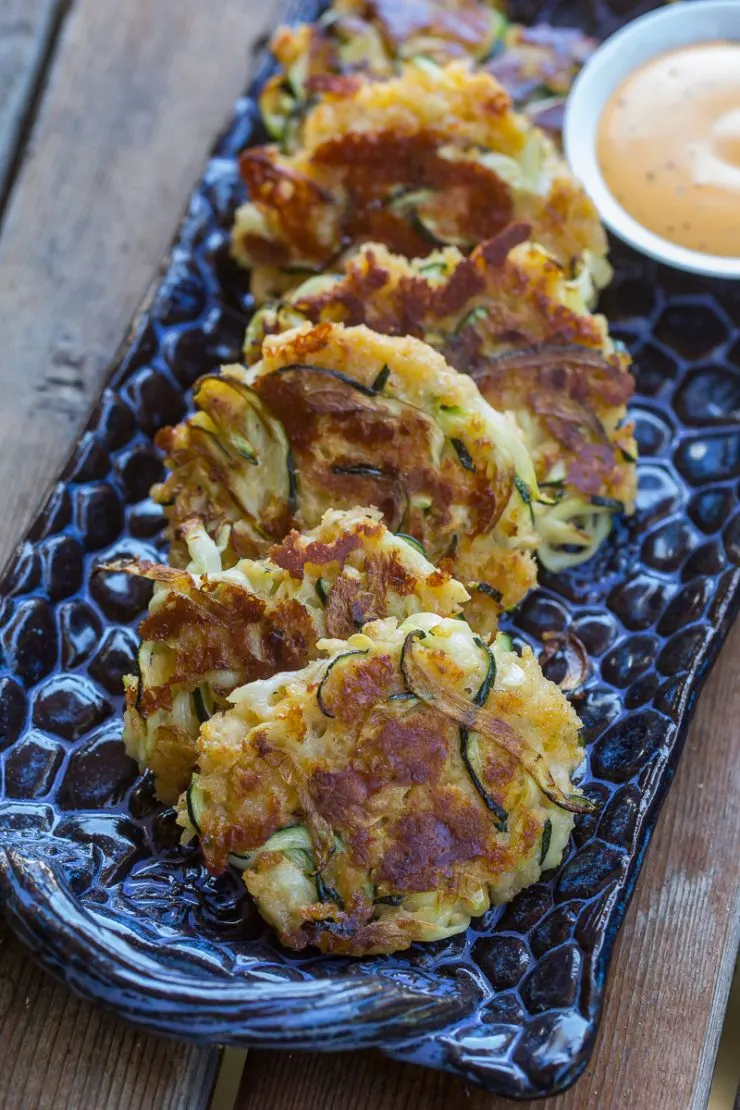 How to reheat zucchini fritters
The best way to reheat fried foods, whether it is deep-fried, pan-fried, or griddle-fried, is in the air fryer.
If you don't have an air fryer, a convection oven would be your next best bet, followed up with a regular oven if you don't have that.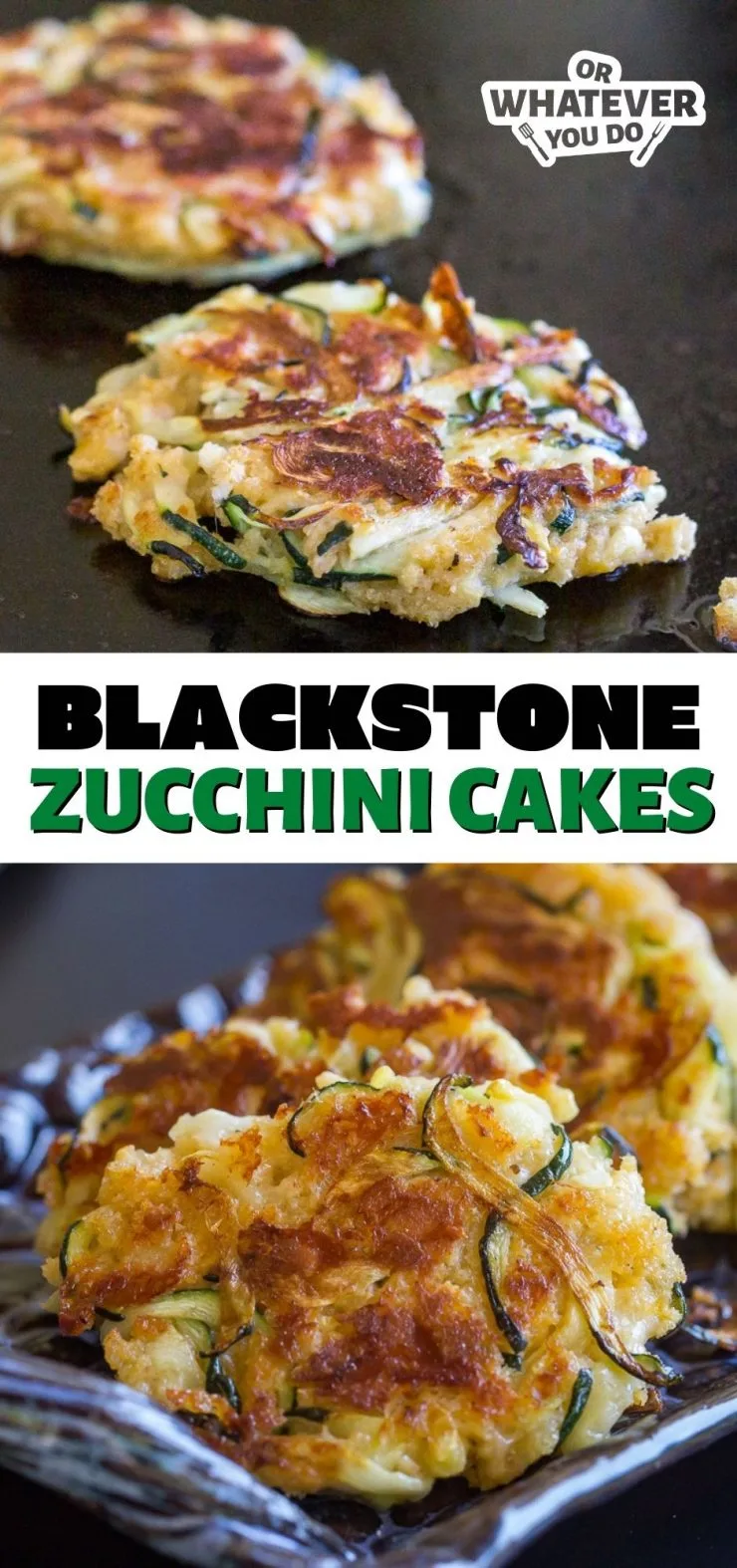 Yield: 12 servings
Zucchini Fritters Recipe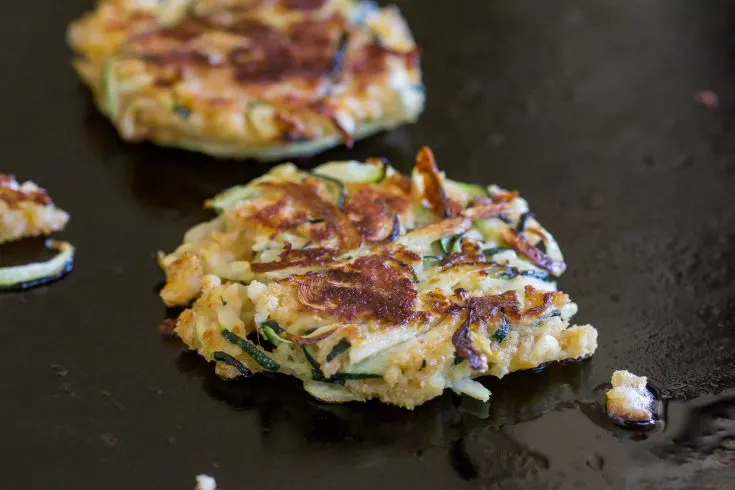 Delicious zucchini fritters are pan-fried right on the Blackstone Griddle! This easy recipe is a great way to use up that bounty of zucchini bursting out of all of the gardens.
Ingredients
2 cups shredded zucchini
1/2 cup panko bread crumbs
1/2 cup shredded parmesan cheese
1 egg, beaten
1/2 teaspoon minced garlic
1/4 teaspoon onion powder
1/2 teaspoon salt
1/8 teaspoon fresh ground pepper
oil for frying
Instructions
Place the shredded zucchini inside a clean dish towel, and squeeze out all of the excess liquid that you can.
Combine with the panko, parmesan, egg, garlic, onion powder, sale, and ground pepper. Mix until combined, and roll into golf-ball sized balls.
Preheat your Blackstone over low to medium-low heat. Lay down some oil and then place a ball of zucchini fritters on the grill.
Place a small piece of parchment paper on top of the ball and smash down with a spatula, smash-burger style.
Let the fritters cook until they are browned, and then flip over and brown on the other side.
Remove and serve hot with some spicy aioli or ranch dressing for dipping.
Recommended Products
As an Amazon Associate and member of other affiliate programs, I earn from qualifying purchases.
Nutrition Information:
Yield:
12
Serving Size:
1
Amount Per Serving:
Calories:

54
Total Fat:

3g
Saturated Fat:

1g
Trans Fat:

0g
Unsaturated Fat:

2g
Cholesterol:

18mg
Sodium:

185mg
Carbohydrates:

4g
Fiber:

1g
Sugar:

1g
Protein:

3g
Nutrition data provided here is only an estimate.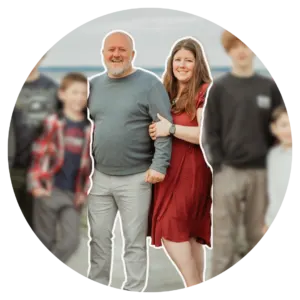 Nicole Johnson, a self-taught expert in grilling and outdoor cooking, launched Or Whatever You Do in 2010. Her blog, renowned for its comprehensive and creative outdoor cooking recipes, has garnered a vast audience of millions. Nicole's hands-on experience and passion for grilling shine through her work. Her husband, Jeremiah Johnson, also plays a pivotal role in recipe development, adding his culinary flair to the mix. Together, they form a dynamic duo, offering a rich and varied outdoor cooking experience to their followers.