This Smoked Tomato Basil Soup merges the smokiness of grilled tomatoes with the aromatic freshness of basil. A simple blend of onions and garlic forms the base, while the addition of chicken broth melds everything together. Cream adds a richness that will take this over the top. This soup is a play on traditional Tomato Basil Soup, but utilizes our Traeger Smoker to coax out deep, rich flavors from the tomatoes. The result is a comforting bowl that works as a warming winter meal or a chilled summer appetizer. It's a straightforward recipe that delivers complex flavors with minimal fuss.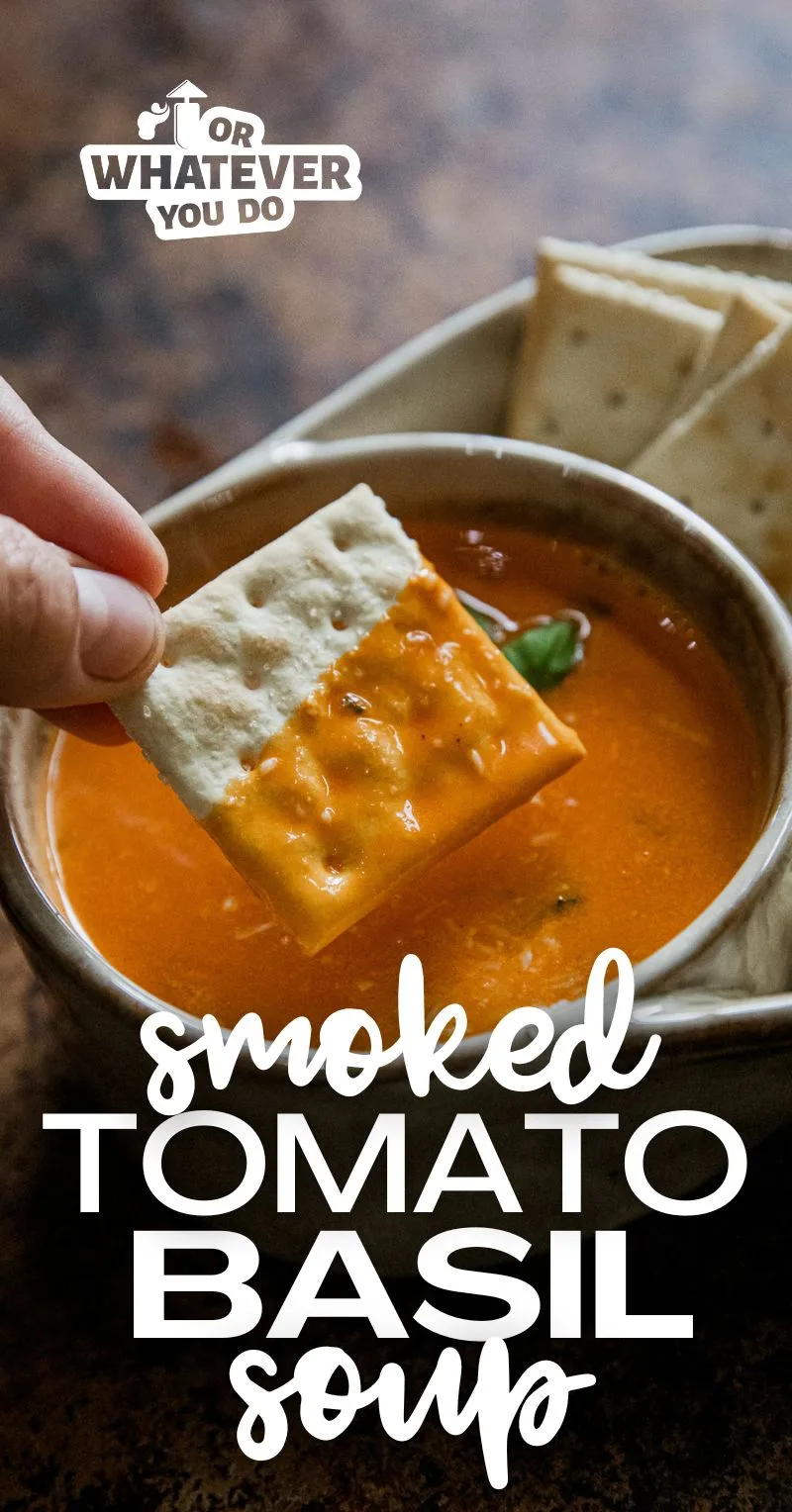 Traeger Smoked Tomato Basil Soup Recipe
Making this smoked tomato basil soup is a perfect opportunity to experiment with flavors and textures. Smoking the tomatoes offers a unique twist, infusing the soup with flavors that can't be achieved with raw or canned tomatoes. It's ideal for those looking to introduce a new standout dish into their meal planning or to impress guests with a homemade soup that has a gourmet edge.
This soup's popularity also comes from its versatility; it can be served hot during colder months for a warming effect or chilled for a refreshing summer dish.
Common variations of this soup often include the incorporation of proteins or other vegetables. Adding shredded chicken or white beans can transform it into a more substantial meal, while the inclusion of carrots or red peppers can vary the flavor profile. Some might opt for a vegan version, substituting cream with coconut milk or omitting it entirely for a lighter broth.
Additional toppings and sides can also enhance the soup. A sprinkle of grated Parmesan or a dollop of pesto can complement the basil notes, while a side of grilled cheese or garlic bread makes this a whole meal. For those looking to add a kick, a dash of red pepper flakes or a spoonful of harissa will introduce a pleasant heat that cuts through the richness of the smoked tomatoes.
Why you'll love this dish…
Homemade – from scratch!
Great way to use up that bumper crop of tomatoes.
Works perfectly as a side dish or a quick make-ahead lunch!
You can taste the fresh flavors of the tomato and basil in every bite.
Get all of my Traeger Recipes here!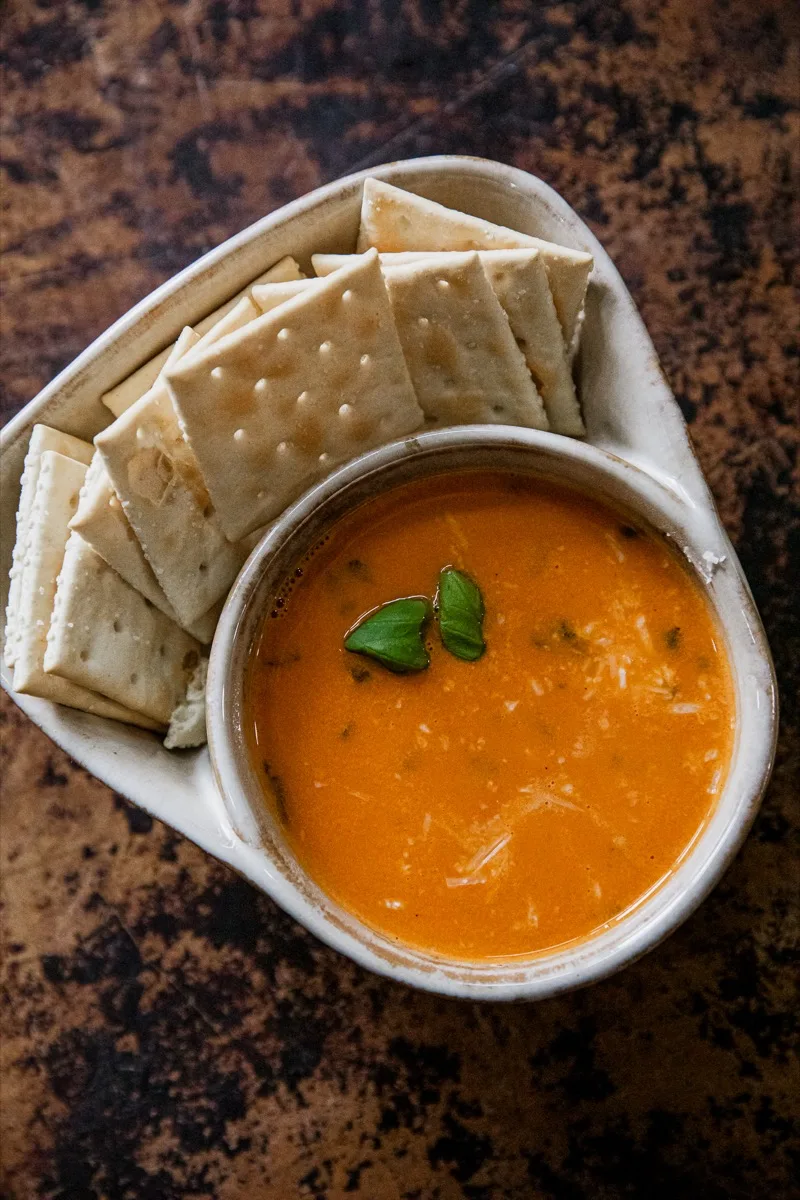 Smoked Tomato Basil Soup shopping list
Wondering if you have to hit the store? Here's the list of items you'll need to make this recipe. For specific amounts, please refer to the printable recipe card at the bottom of the post.
Ripe tomatoes
Olive oil
Yellow onion
Garlic
Chicken broth
Fresh basil
Heavy cream
Salt
Pepper
Parmigiano Reggiano
Basil buds
Get 75+ of my favorite Traeger Recipes here!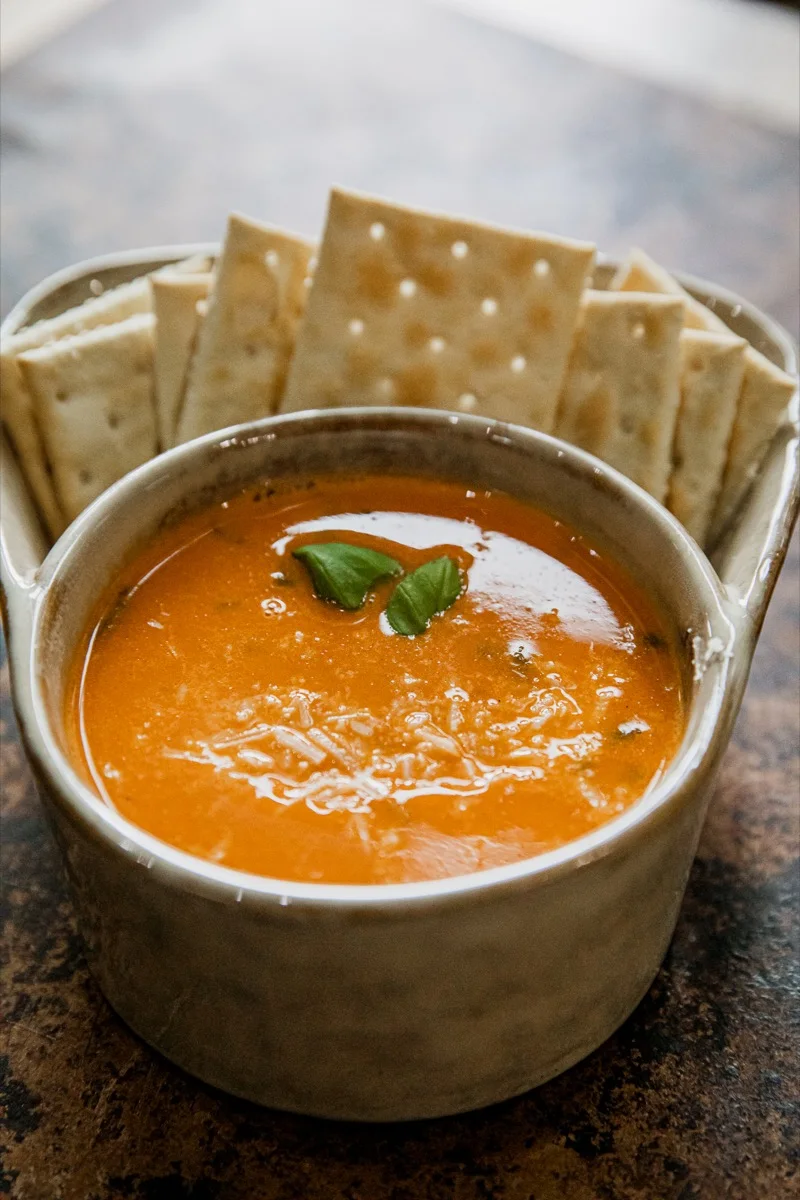 How to make Smoked Tomato Basil Soup
This is just the overview so you can see what you're actually getting into here. When you are cooking, you'll want to use the full recipe at the bottom of the page.
Preheat & Prep
Preheat the grill to 220°F.
Put the olive oil on a large baking sheet. Slice the tomatoes in half. Put them cut-side-up on the baking sheet.
Chop the onions and sprinkle around the tomatoes on the baking sheet.
Smoke
Smoke the tomatoes for 20 minutes. Turn the heat up to 325°F. Roast for 15 minutes.
Blend
Using a blender or an immersion blender, puree the tomatoes, onion, and the olive oil from the sheet pan until smooth.
Put into a sauce pot and add the chicken broth and basil. Simmer for 20 minutes.
Strain
OPTIONAL: Strain the soup through a fine-mesh strainer and use a spoon to get all of the liquid you can from the mix. Return to the soup pot.
Add the cream, salt, and pepper. Taste and add additional salt if necessary.
Serve
Garnish with basil buds, reggiano, and serve hot!
Try our Chicken Dumpling Soup too!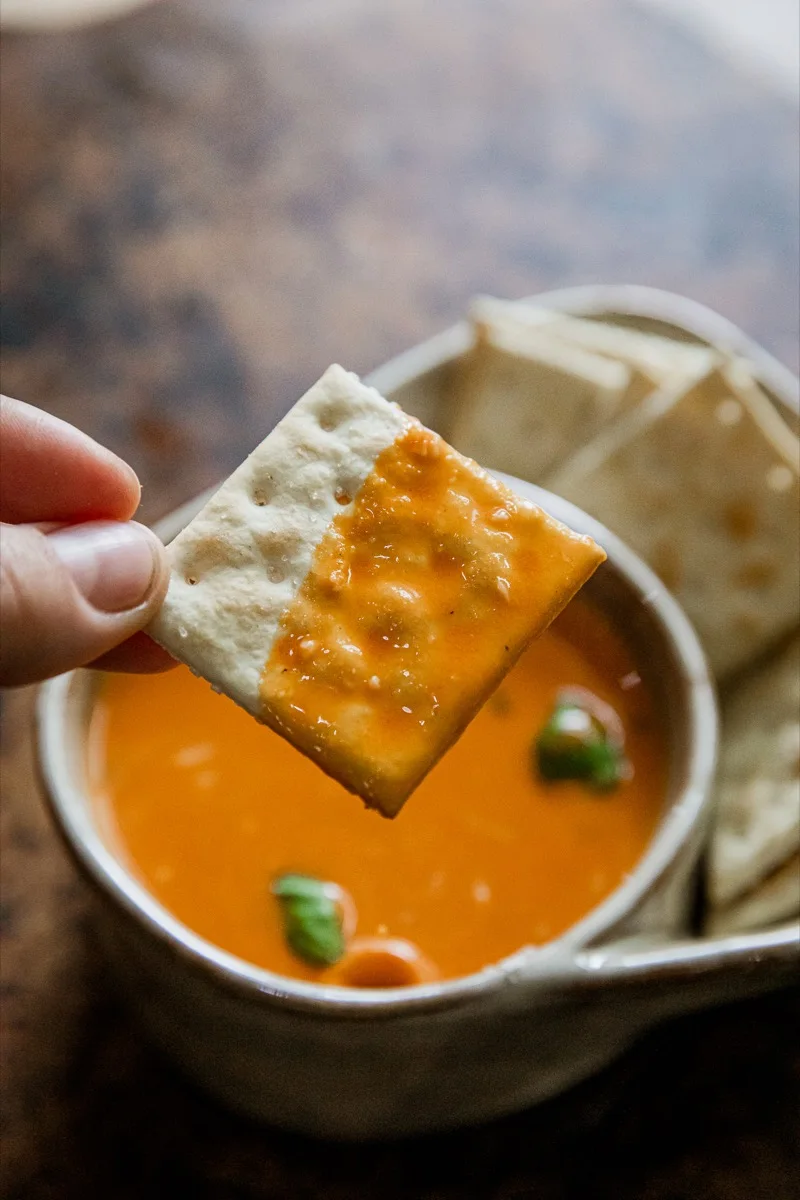 Smoked Tomato Basil Soup FAQ
Can this recipe be made in advance?
Yes! This recipe keeps well and can be made several days in advance. It is great for quick lunches or an easy make-ahead dinner side.
What's the best way to store and reheat this recipe?
Store this in any airtight container in the fridge for 3-4 days. Reheat in the microwave or back on the stovetop.
Are there any recommended additions or substitutions for this dish?
Sure! You can omit the cream and use vegetable broth if you'd like this to be a vegetarian dish. You can add in some red pepper flakes for a kick. You can toss in some red bell peppers with the tomatoes for a change in the flavor profile, too. This recipe is very versatile. Feel free to experiment!
Try our Lemon Chicken Orzo Soup too!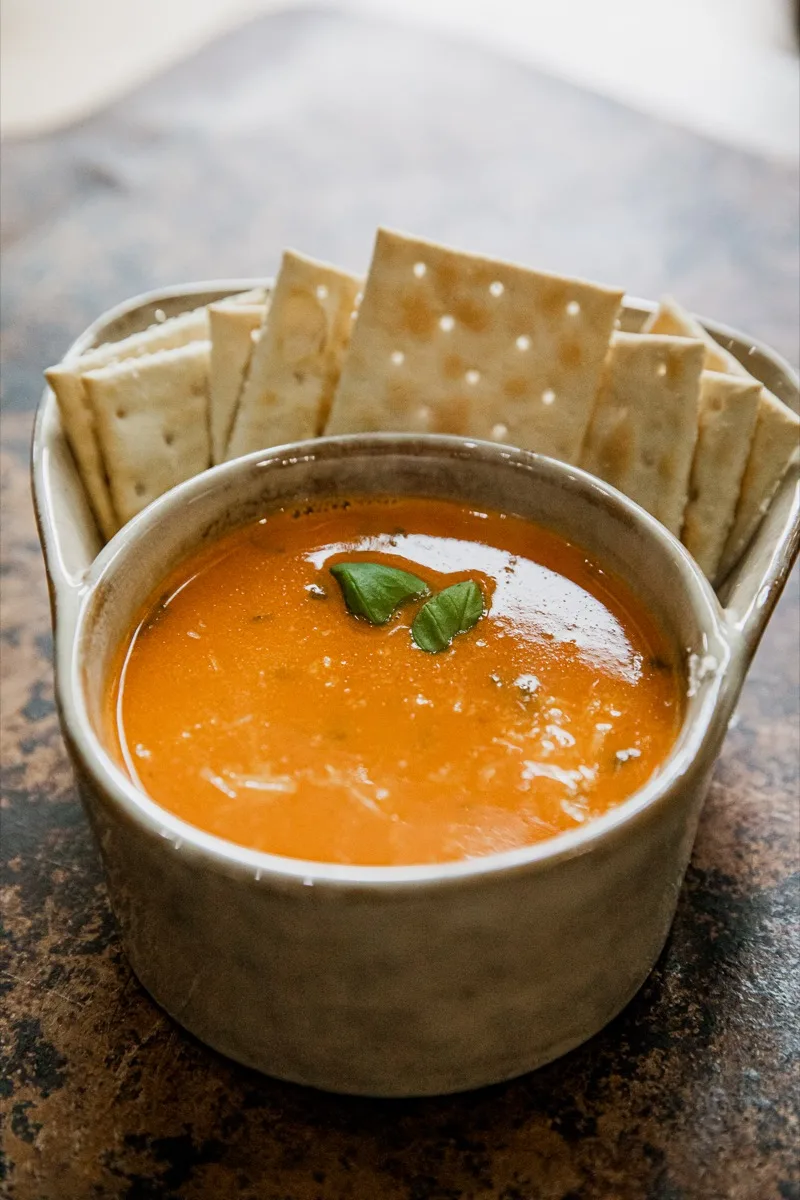 Serve this with…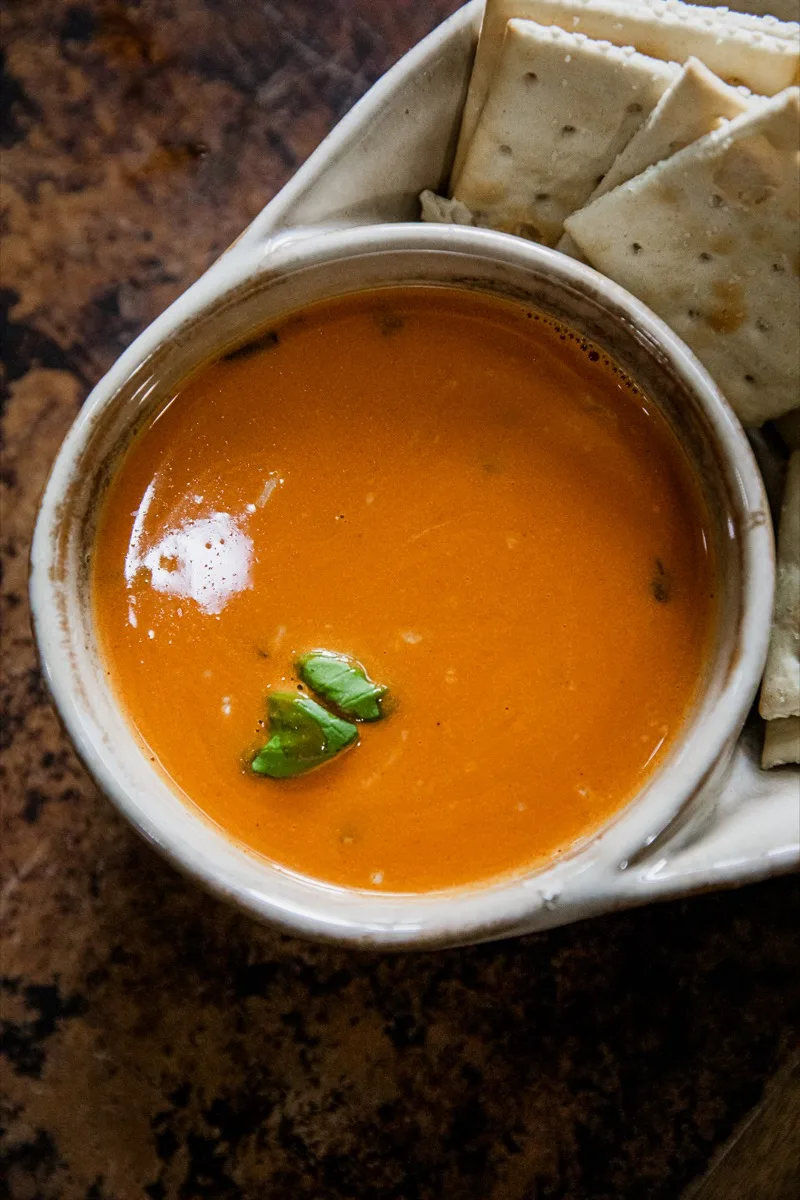 More great soup recipes to love!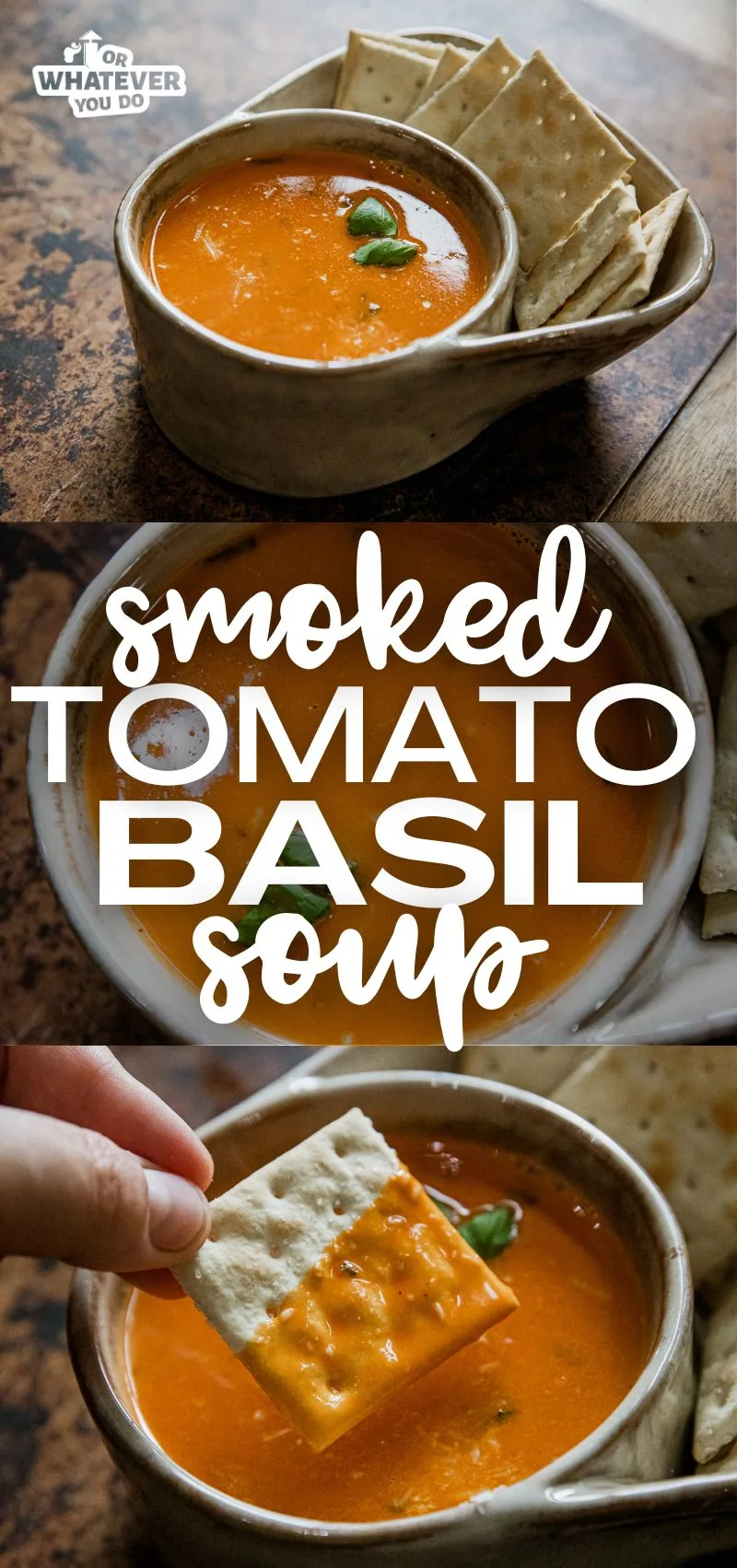 Yield: 6 servings
Smoked Tomato Basil Soup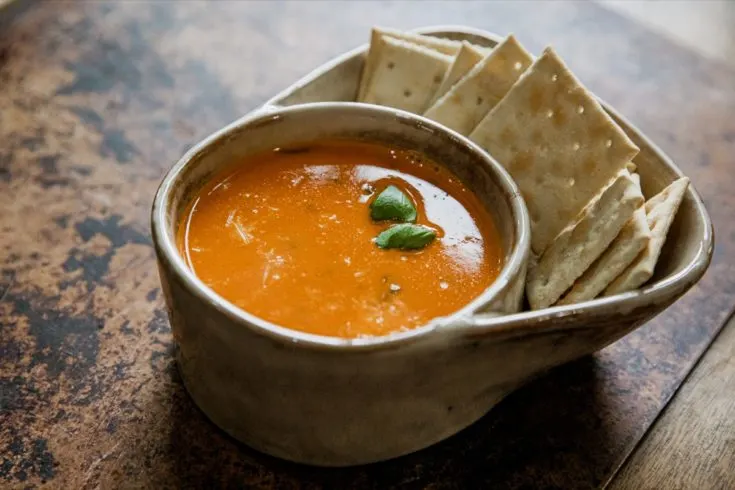 Savor the deep, smoky flavor of this Smoked Tomato Basil Soup, infused with garlic, onion, and a splash of cream—ideal for a comforting meal.
Total Time
1 hour
10 minutes
Ingredients
3 pounds ripe tomatoes
3 tablespoons olive oil
1 small yellow onion
3 cloves garlic
4 cups chicken broth (or vegetable broth)
1/2 cup chopped fresh basil
1/2 cup heavy cream
1/2 teaspoon salt
1/4 teaspoon pepper
1/2 cup Parmigiano Reggiano
Basil buds for garnish
Instructions
Preheat the smoker to 220°F.
Drizzle the olive oil over a grill-safe sheet pan. Cut the tomatoes in half and place them cut-side up on the olive oil coated pan.
Dice the yellow onion and sprinkle it onto the pan around the tomatoes.
Smoke for 20 minutes and then turn the temperature on the grill up to 325°F. Roast for another 15 minutes.
Remove from the grill and put all of the tomatoes, onions, and olive oil from the pan into a blender. Do it in batches if they won't all fit the first time.
Blend until smooth.
Pour into a medium sized pot and place over medium heat. Add the chicken broth and basil and simmer for 15-20 minutes.
For a silky smooth soup, strain the soup through a fine-mesh strainer and return to the pot. Discard the pulp and seeds.
Stir in the heavy cream along with the salt and pepper. Taste and add more salt if necessary.
Serve hot and garnish with basil buds or chiffonades of basil and parmesan cheese.
Recommended Products
As an Amazon Associate and member of other affiliate programs, I earn from qualifying purchases.
Nutrition Information:
Yield:
8
Serving Size:
1
Amount Per Serving:
Calories:

165
Total Fat:

13g
Saturated Fat:

5g
Trans Fat:

0g
Unsaturated Fat:

7g
Cholesterol:

25mg
Sodium:

720mg
Carbohydrates:

10g
Fiber:

2g
Sugar:

6g
Protein:

5g
Nutrition data provided here is only an estimate.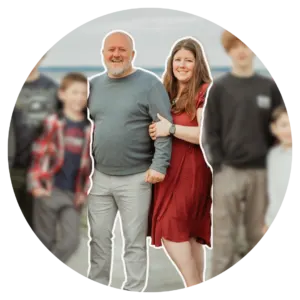 Nicole Johnson, a self-taught expert in grilling and outdoor cooking, launched Or Whatever You Do in 2010. Her blog, renowned for its comprehensive and creative outdoor cooking recipes, has garnered a vast audience of millions. Nicole's hands-on experience and passion for grilling shine through her work. Her husband, Jeremiah Johnson, also plays a pivotal role in recipe development, adding his culinary flair to the mix. Together, they form a dynamic duo, offering a rich and varied outdoor cooking experience to their followers.