These chorizo breakfast tacos pack a bit of a punch, but it shouldn't be anything those of you who like a little heat can't handle. Pick up some farm-fresh eggs to really get the most out of this!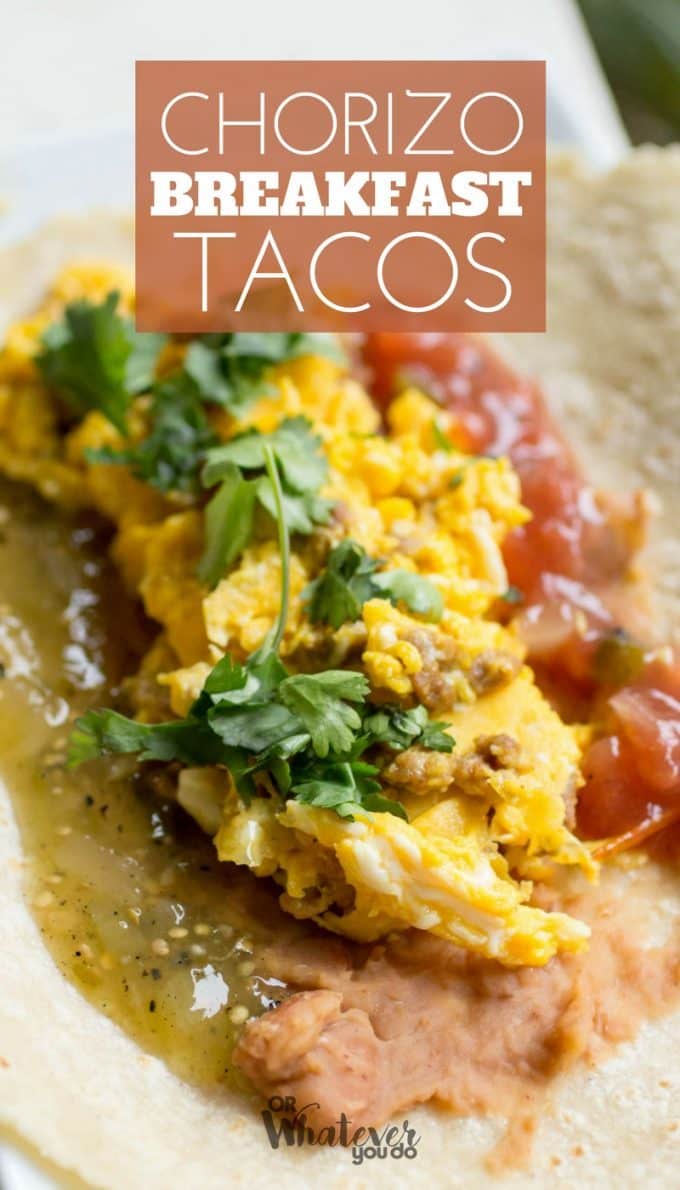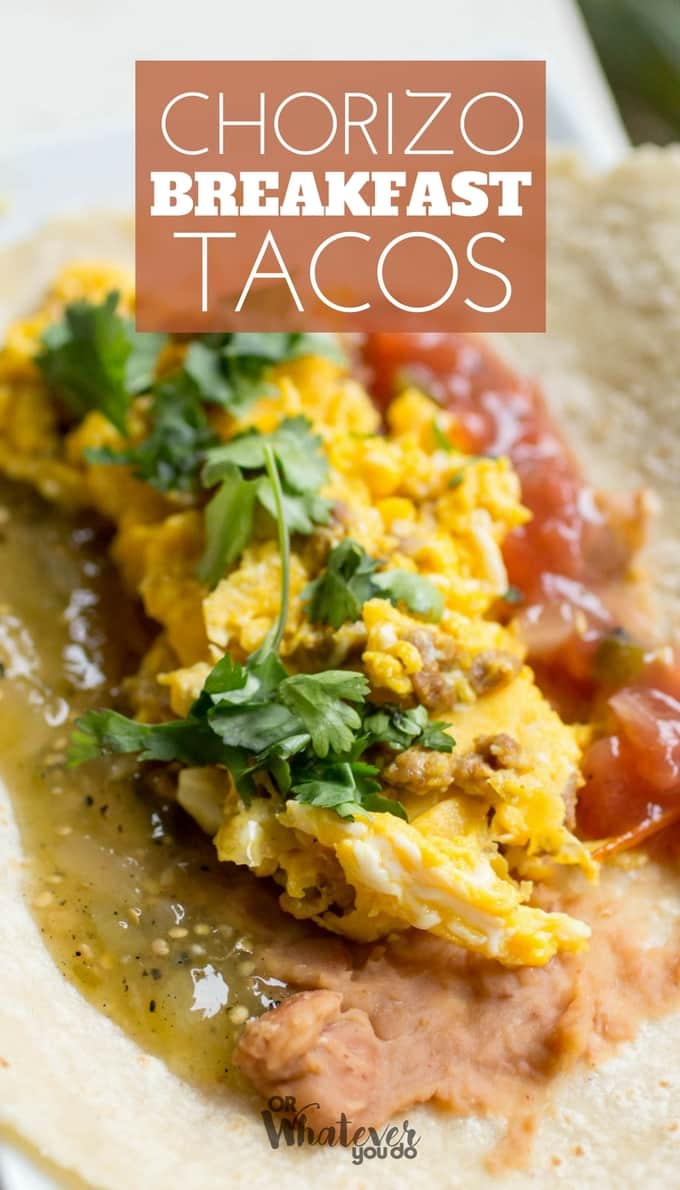 Chorizo Breakfast Tacos
I remember the first time I ate these tacos sitting in a small Mexican restaurant in West St. Paul, MN. That was in 1997 and I've been enjoying them ever since.
As long as they were on the menu.
Unfortunately, you won't find chorizo breakfast tacos on the menus of any fast food or Mexican chain restaurants, so if you don't have a local joint that serves them you're out of luck.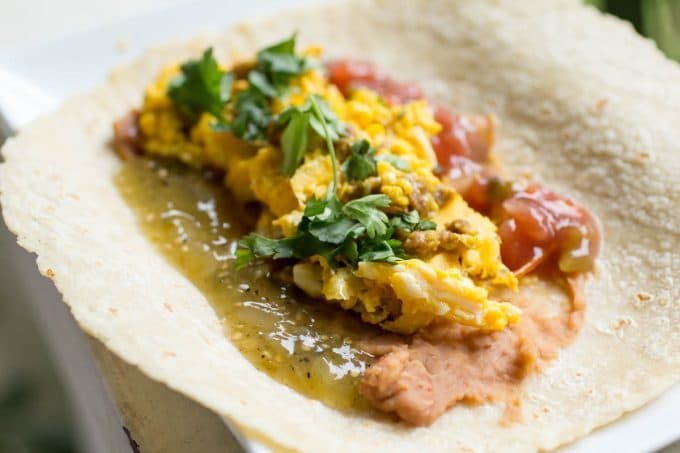 I found myself in that predicament far too often, so I decided that the only way to ensure getting my fix of these babies was to learn how to make them for myself.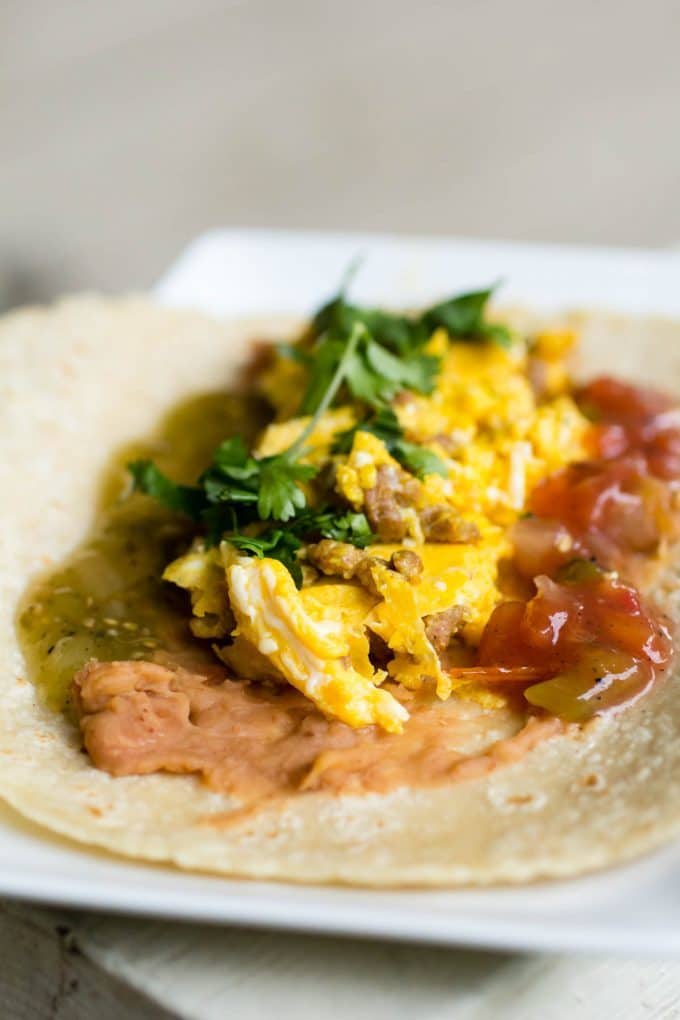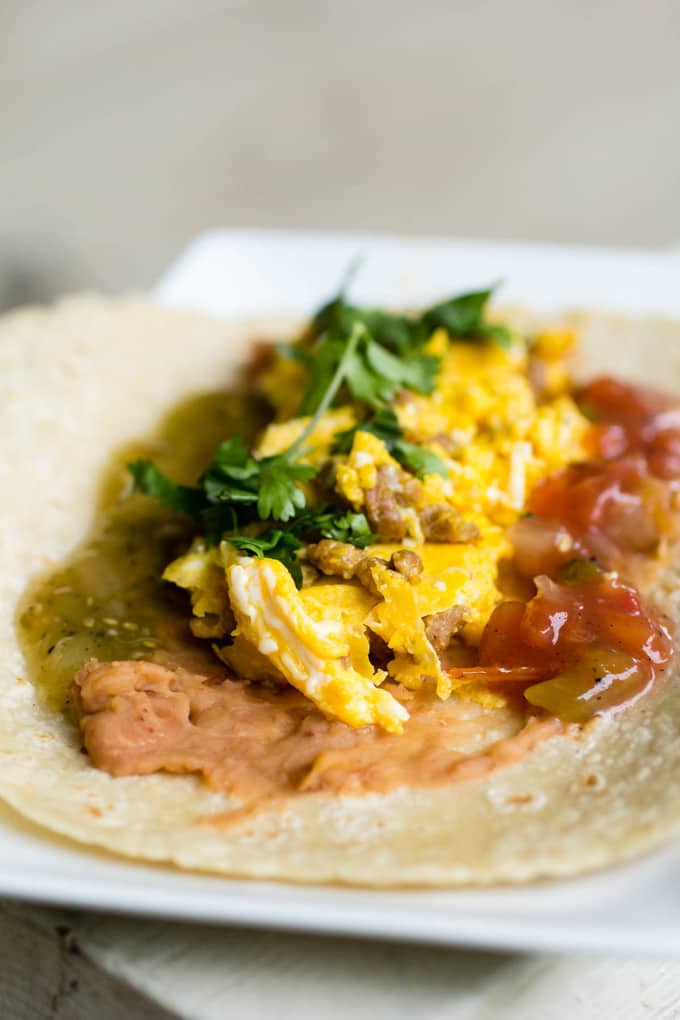 The main and most important ingredient you will need to source to make these is fresh chorizo sausage. Most local butchers and even some major grocers are carrying chorizo sausage these days. I was able to purchase it at Safeway to make it for this post, but your best quality will come from a local Carniceria Mexicana, (Mexican Butcher).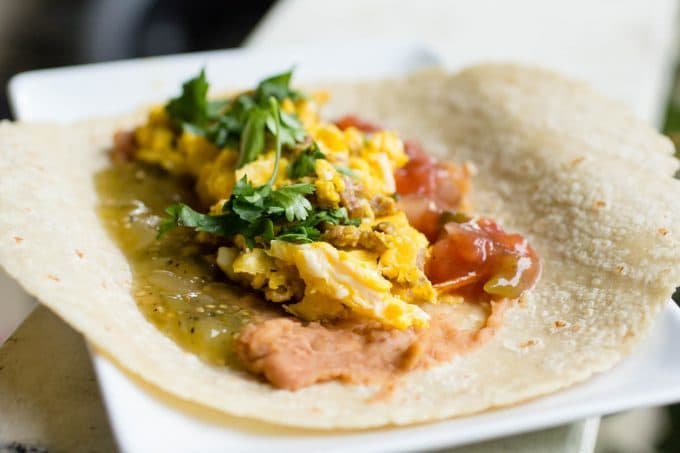 Make sure to cook the sausage all the way through until the outside is a little crispy, then add your egg mix to the pan.
Once you get a chance to try these chorizo breakfast tacos, you will be ruined for any other kinds. There is simply no other flavor I can compare it to.
Be sure to buy fresh chorizo which requires cooking, as there are other types that are cured or smoked, and definitely not what we want to make these with.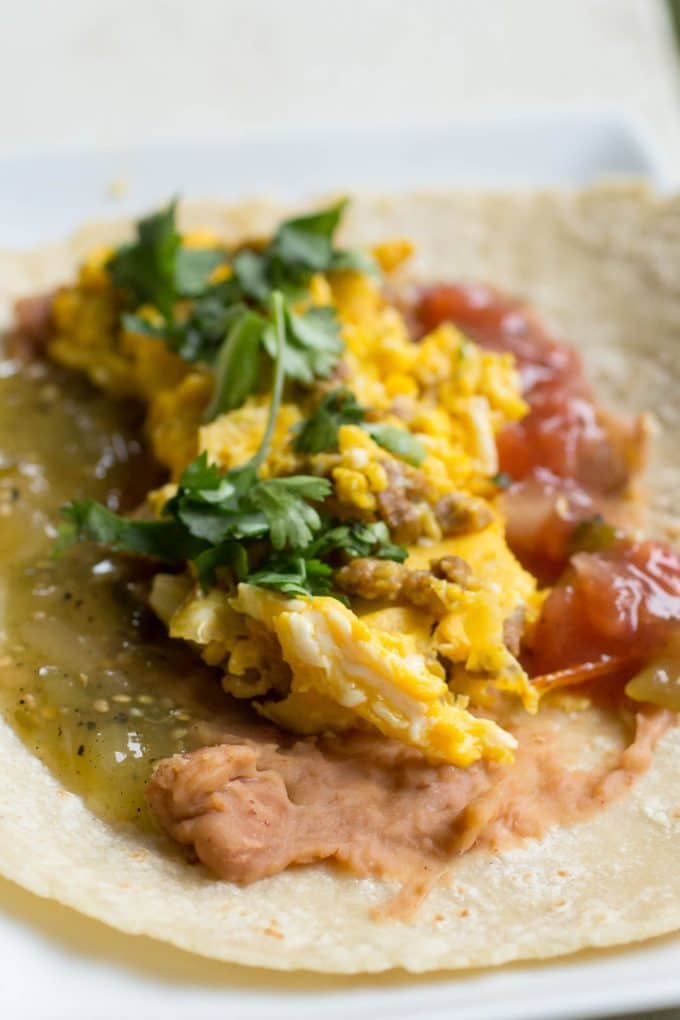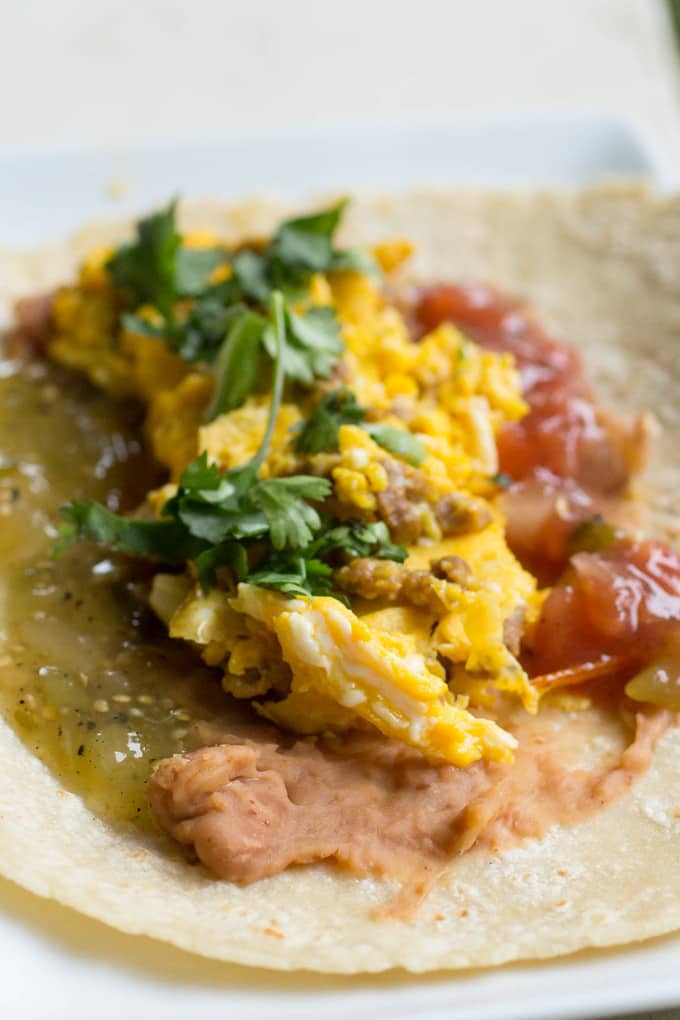 On a side note, these will only taste better if you had a few too many raspberry margaritas the night before. Now the only thing left to do is follow the recipe and make these for your very next breakfast.
You also might want to serve them with these amazing banana protein pancakes from The Creative Bite!
Pin for later!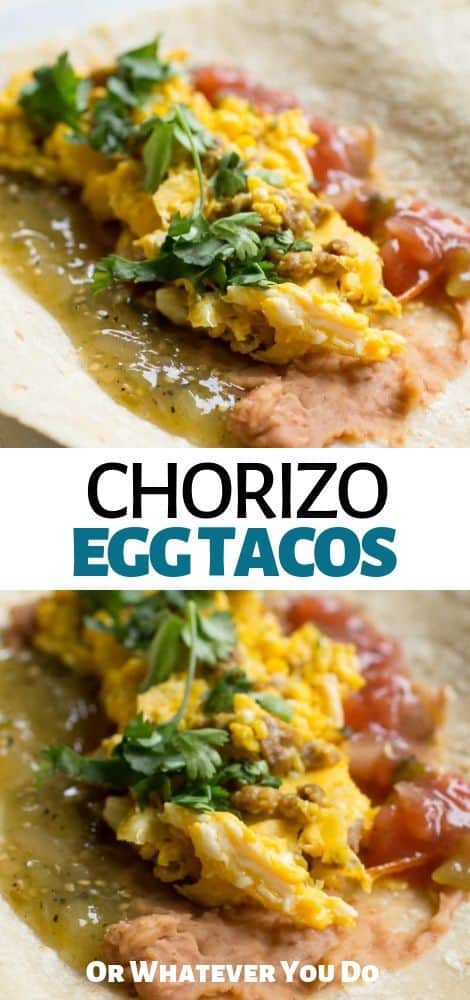 Yield: 4 people
Chorizo Breakfast Tacos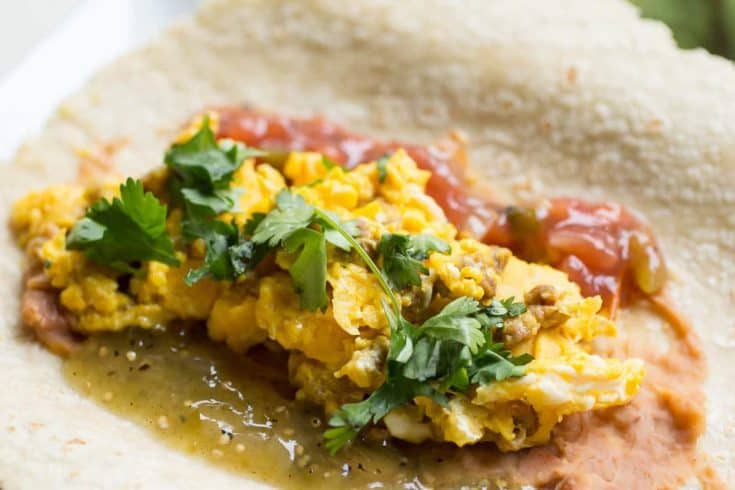 No longer are tacos just a staple for lunch or dinner. Chorizo breakfast tacos are the perfect way to start off your day.
Ingredients
8 large eggs
8 ounces fresh Chorizo sausage
12 small corn tortillas
8 ounces refried beans
1/4 cup chopped cilantro
1/2 cup red salsa
1/2 cup green salsa
1/4 cup shredded medium cheddar cheese
Instructions
Place the chorizo In a 12" frypan on medium high heat and saute for at least five minutes or until the outer edges of the sausage are a little crispy.
Drain any excessive fat from the pan leaving a small amount,(1 TBSP) at the bottom of the pan. Return the sausage to the pan if you removed it to drain the fat.
Mix eggs in a mixing bowl and pour into the frypan on top of the sausage. Fold the eggs and sausage every 20-30 seconds to keep from burning the bottom.
Remove from the burner when the eggs are fully cooked,(approximately 5 minutes) and set aside.
Place refried beans into a bowl and microwave on high for 90 seconds and then remove from microwave. Add the shredded cheddar cheese to the top of the refried beans and return to the microwave for thirty more seconds and then remove and set aside.
Place the corn tortillas on a plate, cover with a damp towel and microwave on high for 1 minute.
Remove tortillas from microwave and begin to build your tacos.
First a smear of refried beans, followed by a 1-2 ounce portion of eggs and sausage. A spoonful of green salsa on one side of the eggs and a spoonful of red salsa on the other and a pinch of the chopped cilantro on top of everything and you are ready to eat your tacos. Enjoy!
Nutrition Information:
Amount Per Serving:
Calories:

496
Saturated Fat:

12g
Cholesterol:

429mg
Sodium:

1646mg
Carbohydrates:

13g
Fiber:

3g
Sugar:

4g
Protein:

31g