Or Whatever You Do received a new Z Grills L6002E wood-fired pellet grill to test out and review. We were not compensated for this review, and all opinions are our own.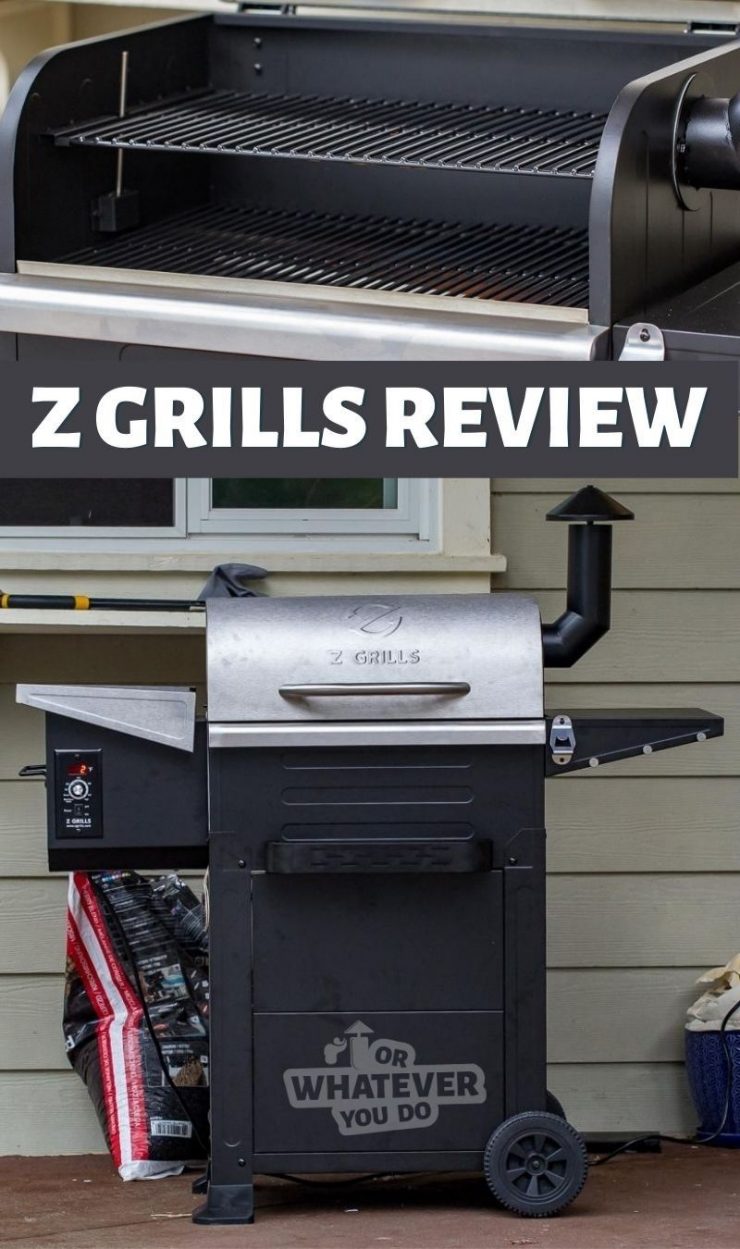 2020 Z Grills Pellet Grill Review
You guys know by now that we are more than slightly obsessed with the pellet grill, around here. We started out with a Traeger, quickly added a second Traeger, and then we got a Camp Chef and a Louisiana Vertical Pellet Grill to round out the collection.
When Z Grills reached out to us to see if we wanted to try out one of their pellet grills, I was all ears.
I had heard of Z Grills, but not had any hands-on experience with them. The closest I had ever come was when I started seeing them on display at our local Albertson's grocery store.
Now that we've had some time to put this machine through its paces, I wanted to share our full review.
Or Whatever You Do participates in several different affiliate programs. As an Amazon Associate, we earn from qualifying purchases.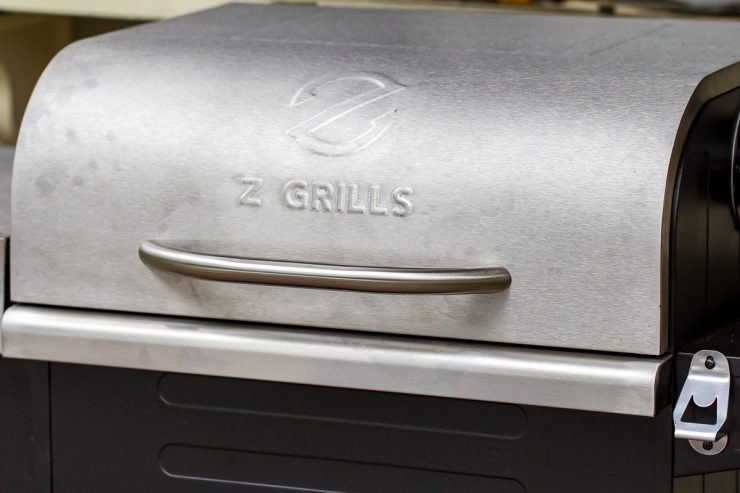 How did it arrive?
When we first received the grill at our house, I noticed a pretty good amount of damage to the outside of the box.
I was a little bit discouraged, as I expected a damaged unit that would need to go back to the manufacturer.
Luckily Z grills really knows how to pack their product to avoid shipping damage. All parts were protected well with foam and there weren't any loose parts jostling around inside.
As I began to unpack the box, the first thing that I noticed was that there was going to be more assembly than any other grill I have assembled. This was my fifth time assembling a wood-fired pellet grill, plus many other types of grills.
Looks can be deceiving when it comes to assembling grills, furniture , or other home appliances. Although the Z Grills was broken down much further in the box than other brands I've assembled, the actual assembly went quite smoothly.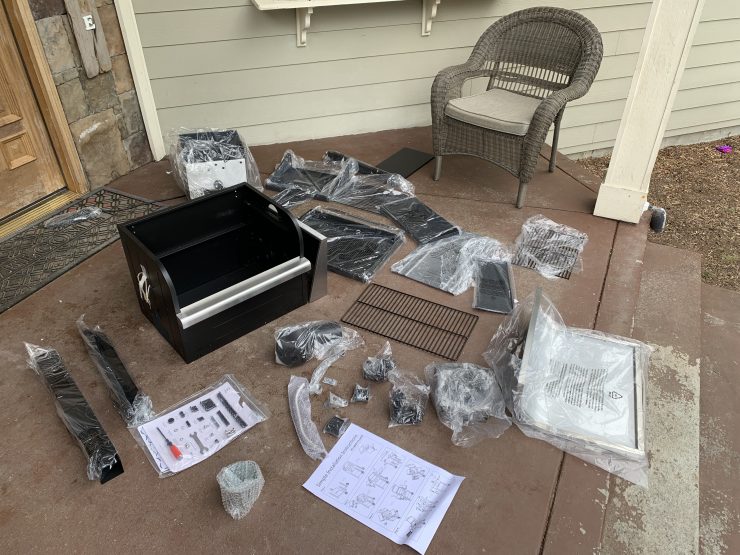 What leads to a smooth and easy assembly?
Clear instructions
Clear, detailed instructions.
The Z Grills instructions were excellent, start to finish. No holes or gaps, no leaps of faith on what I think the instructions would be telling me to do next if the next step didn't get left off the page.
Good illustrations
Good illustrations to go along with good instructions. Sometimes words alone don't draw the picture in my mind. It really helped to have some good illustrations for this assembly.
Finished metal edges
Raw metal is dangerous and a lot of times you don't even feel the cut, and only realize it after you see your own blood.
When there are raw metal edges on something you're trying to put together, you have to be really careful. You have to slow down. The Z Grills had no raw metal edges on the model I assembled.
Build matches specs
The engineer can produce perfect manufacturing specifications, but the plant the grill is built at has to match those specs.
The parts of the Z Grills all came together nicely.
All of the pre-drilled holes for the bolts lined up evenly with the holes in the parts they were getting connected to. That's nice when you can assemble a large item such as a grill and not have any bolts that are cross threaded just to finish the assembly.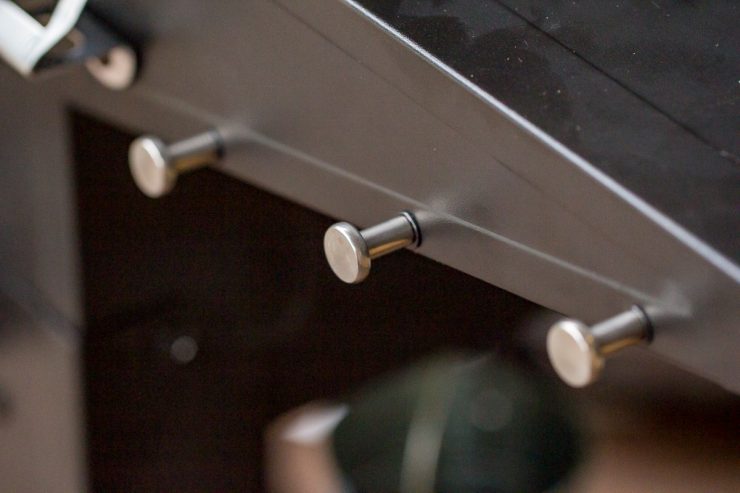 No damaged parts
Damaged parts can stop you in your tracks.
You'll need to get your camera out and start taking pictures of the damage.
You'll need to get on the phone with the manufacturer and report the damage along with the pictures you take.
Most manufacturers will send out the replacement parts, or a whole new unit if needed as soon as they have availability.
This can take time.
We recently had a dishwasher catch on fire due to an electrical issue. The manufacturer did make good on replacing the bad unit with a brand new one (at no cost to us), but it took over seven weeks to happen. SEVEN weeks of handwashing dishes in a family of nine. Not fun.
No parts or hardware missing
Again, this is going to stop the assembly from being completed. It will require you to follow the same steps as you would have to go through for damaged parts. Our Z Grills unit had no damaged or missing parts and no missing hardware.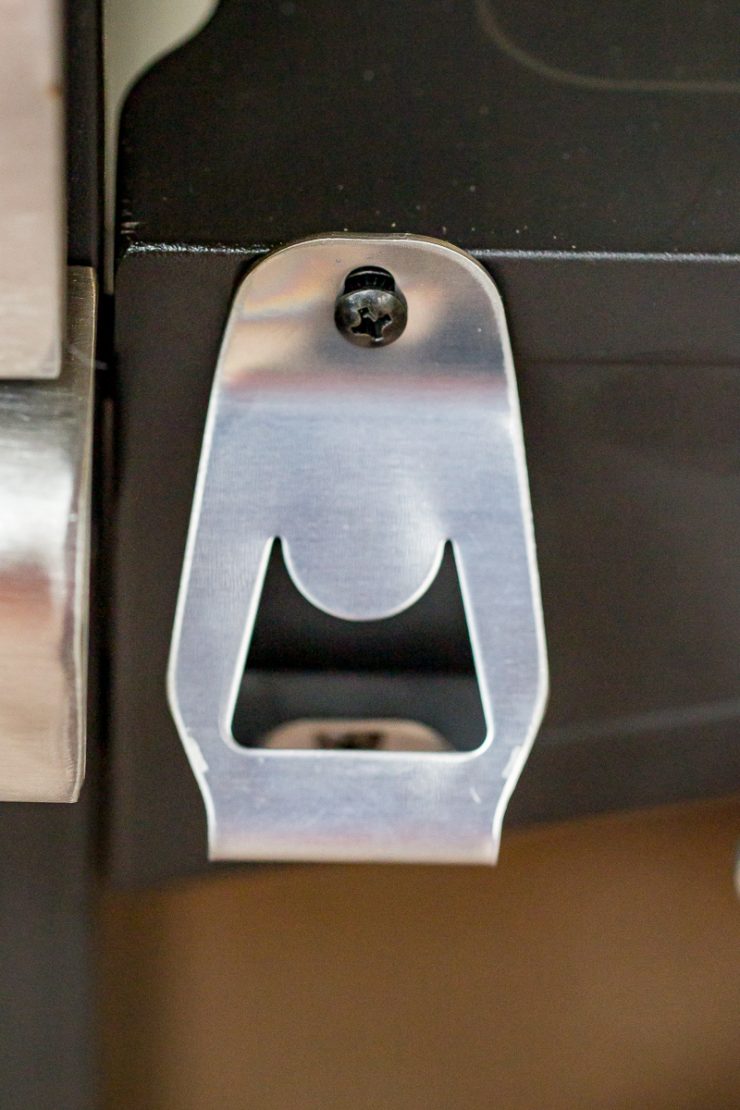 All tools needed are provided by the manufacturer
The unit we tested came with the two matching wrenches needed for assembly, but not the Phillips screwdriver. If all you need to complete is one extra tool, then that isn't worth complaining over.
The Z Grills checked all of the boxes for a smooth and easy assembly and once it all came together, it was a sturdy grill that felt stronger and more rigid than the sum of its parts.
Some of the metal parts of the grill are a little bit thin, like the walls of the grill and the lid, while some of the parts felt almost overbuilt like the stainless steel firebox and grease tray.
But, like I said, altogether, the assembled unit was sturdy and had a feel of above-average quality overall.
The next step in the process of owning and operating a new pellet grill is the startup and seasoning.
Check out all of the gear I use!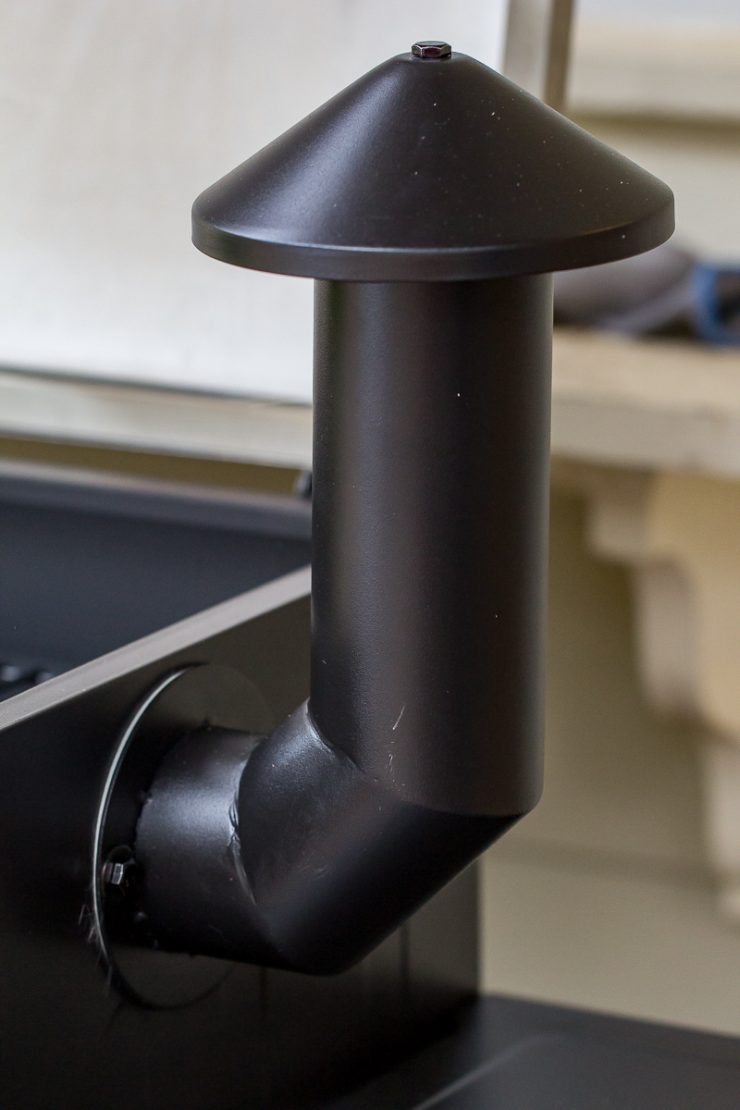 Startup & Seasoning on a Z Grill
Startup for the Z Grills is typical of most pellet grills.
Fill your hopper and put it on the smoke setting.
This is where most pellet grill manufacturers, Z grills included, tell you to shut it down and begin a series of starts and stops until you finally can just start it up and then turn it on high so that you can burn off any oils or chemicals from the factory.
This takes about 30-45 minutes to get to this point, and then I recommend a good 45 minute burn to make sure everything gets burned off well.
You don't want to ruin your first cook by serving food with an off taste from oils and chemicals left over from the factory.
The assembly went well, the initial startup and seasoning too. Now it's time to cook some food on it and see how it performs.
Join the OWYD crew on Patreon!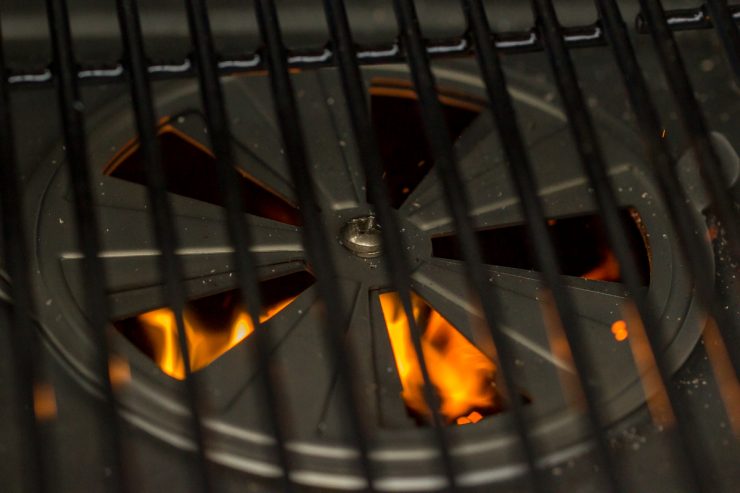 Our first cooks on the Z Grills Pellet Grill
For the first cook I went with some chicken legs and thighs.
I cooked on high, because I like my chicken skin crispy and I wanted to see how hot the grill would get with food on it.
With the grill set to high, (450F) it ran at 443F.
That's pretty accurate considering factors like wind and outside temperatures.
One thing I did notice was the grill lost significant heat when the lid was opened for even a short time. All in all, when the chicken came off the grill, the skin was crispy, it was cooked all the way through, and it tasted delicious.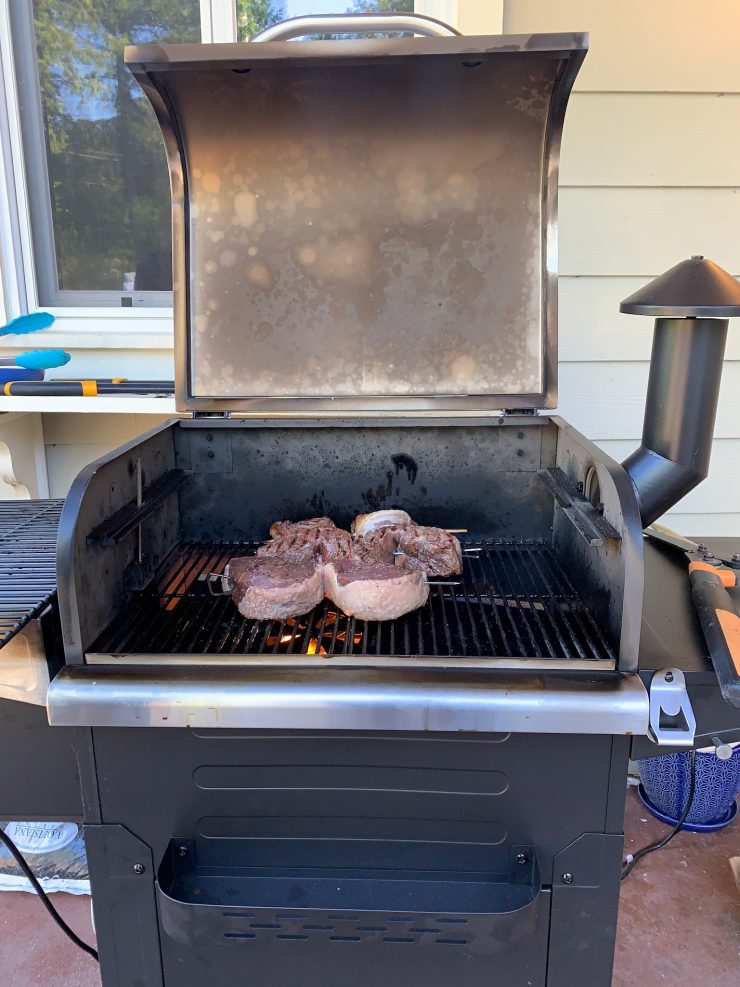 HIGH TEMP COOK TEST = √
Next up was some Spiny Dogfish Shark I caught while salmon fishing with my son. The grill cooked it well, I just am not a fan of dogfish I guess. I cooked some salmon as well that turned out delicious and flakey.
Most pellet grills operate well at high temperatures, but some seem to struggle with the smoke setting. People usually either experience wild temperature swings or flameout.
Flameout happens when the auger, (the auger is what feeds the pellets from the hopper into the firebox) slows down on the smoke setting to the point where the pellets inside of the firebox burn up before the auger pushes more into it.
The Z Grills we tested stayed at about 160F while on the smoke setting and we did not experience any flameouts during any of our cooks.
SMOKE SETTING TEST = √
The Z Grills does much more than grill and smoke foods. It can also bake, roast, sear, braise, barbeque, and char-grill.
As I get more time with the grill I will add in some reviews on its performance with these other cooking methods.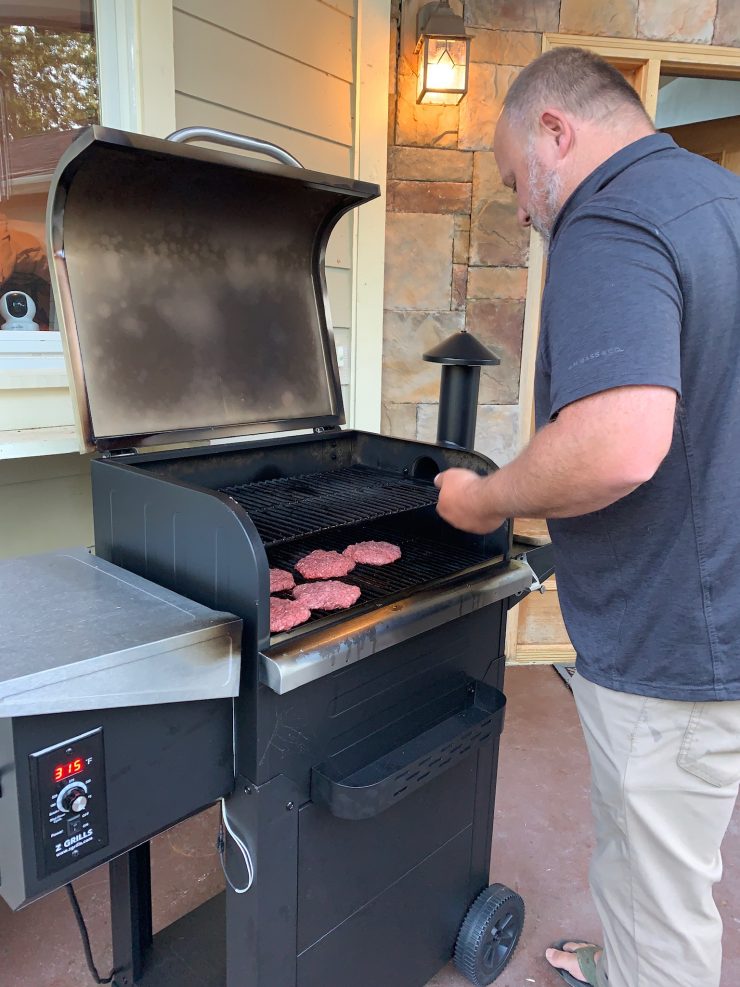 Summary
My impression of the Z Grills L6002E we tested is overall very positive.
With 600″ of cooking area for under $500.00, you are getting a pretty large grill for your money. By comparison, the Traeger Pro series 22 has 575" of cooking area but retails for $599.
The Z Grills also comes with some fun little extras like a bottle opener and utensil hangers that don't always come standard with other grills, and while they will be marginally impactful on your end result, they sure are convenient to have when you need them.
The build is solid enough, and the performance was on par with three other major brands I currently own.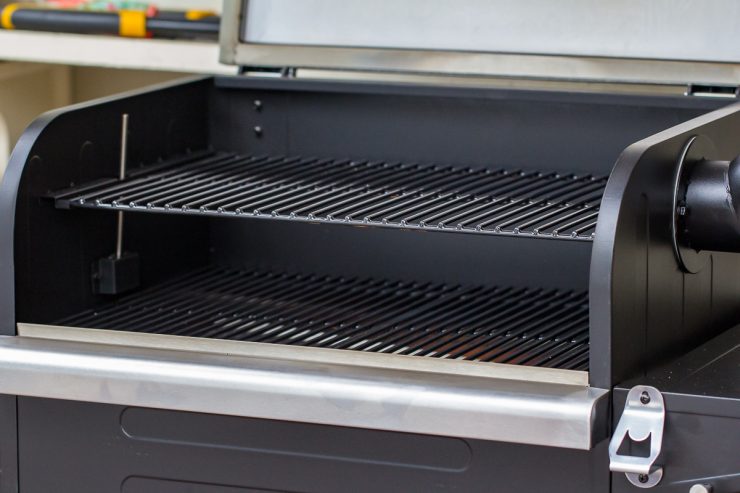 Things to note
There are a couple of things that I hoped the Z Grills would perform better at, such as the large and fast temperature drop when the lid was opened.
To be fair, all grills will lose temp fairly quick when the lid is opened, it's just that the Z Grills temp drop was noticeably faster.
Also, the unit requires a lot of assembly, and if you're not the best at appliance assembly you might be a little overwhelmed when you open your box.
Don't worry too much about that though. As I mentioned, Z Grills has done a great job with their instructions.
So, if you're in the market for a new wood-fired pellet grill, you might want to check out the Z Grills brand. They are a good mix of affordability and performance.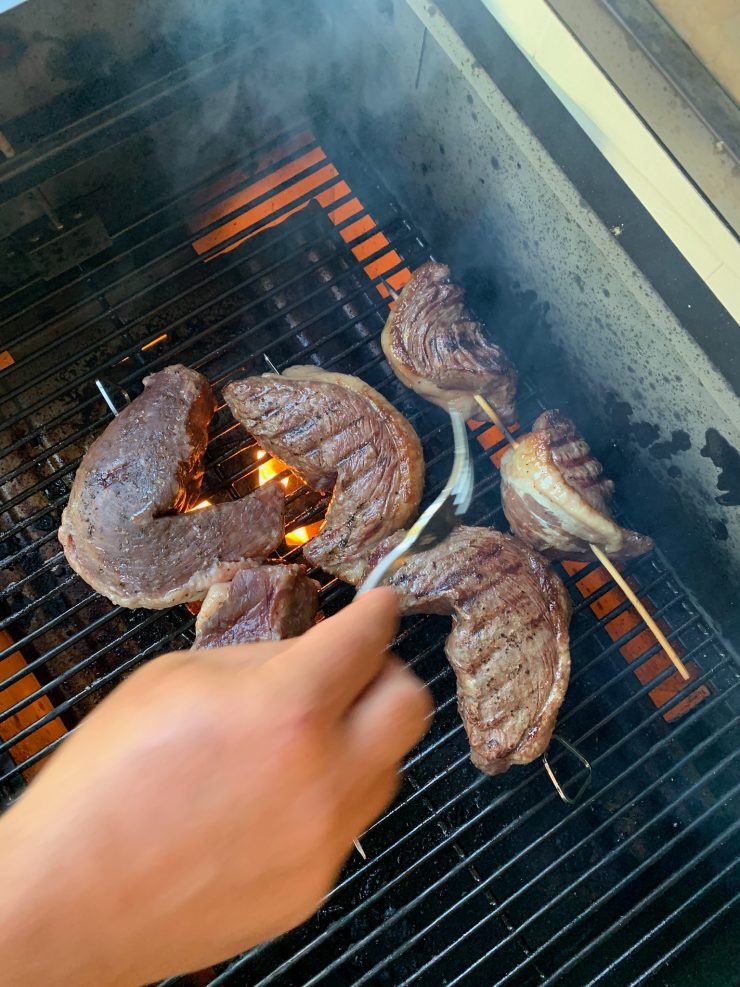 Want to buy a Z Grills Pellet Grill?
You're in the right spot! You can buy one right here.
Right now, you can get one of their best models, the 10002E, for just $499 if you use my special promo code below.
This is a great deal on a great grill, so if you are looking to get into the pellet grill game for a lower price point, now is the time!
This would make a great gift for a new graduate, homeowner, newlyweds, or any outdoor cooking enthusiasts in your life!
Buy here and use code: FBzgrills10002E