Blueberry Brioche French Toast is my baked version of my favorite brunch favorite. Fresh blueberries are mixed into chunked up brioche loaf pieces, drenched in a sweet egg and milk mixture, and then baked off in your over or favorite pellet grill.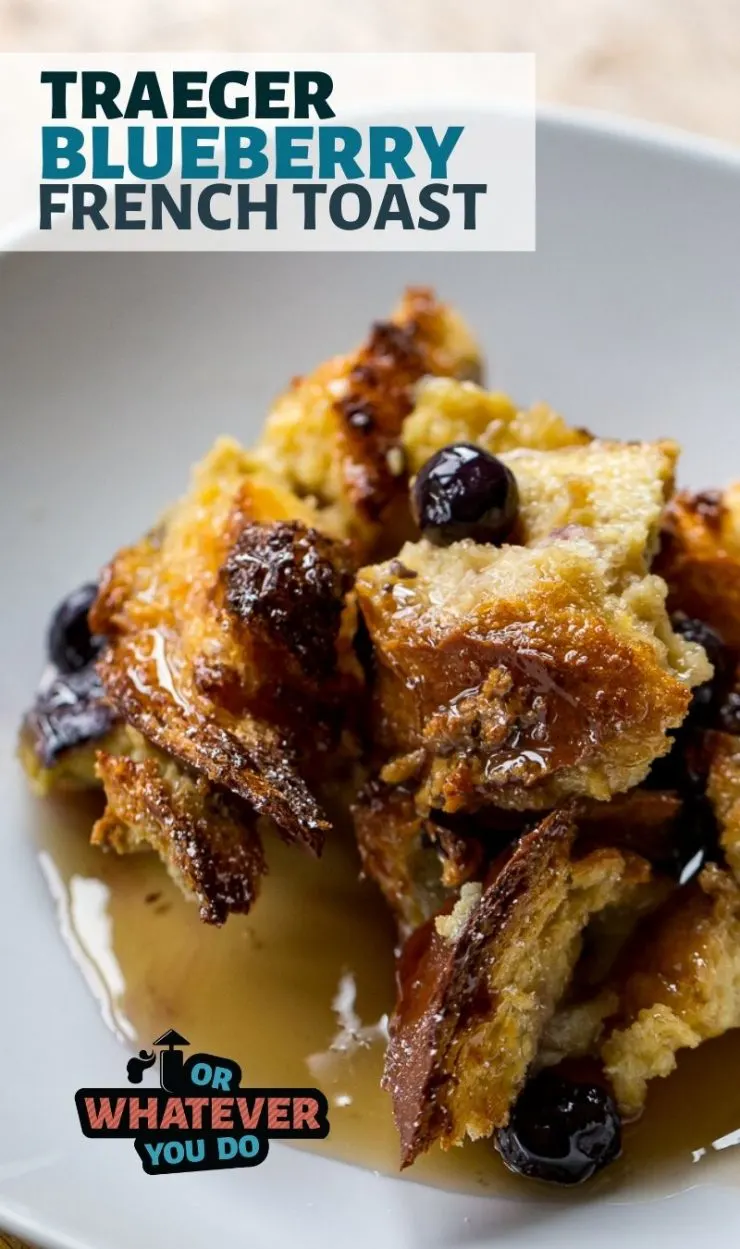 Baked Blueberry Brioche French Toast Recipe
Making baked blueberry brioche french toast carries a slight risk. You have to be prepared.
You may never want your french toast done any other way from that day on. Especially if you bake it in your favorite pellet grill.
You will only be happy if it is done that way for the rest of your natural life.
The secret ingredient that makes it so special actually hides in plain sight. The key to making world class french toast is using brioche for the toast part of the deal. Brioche french toast has a nice crunch on the outside, but the texture inside lies somewhere between the best parts of cake and custard.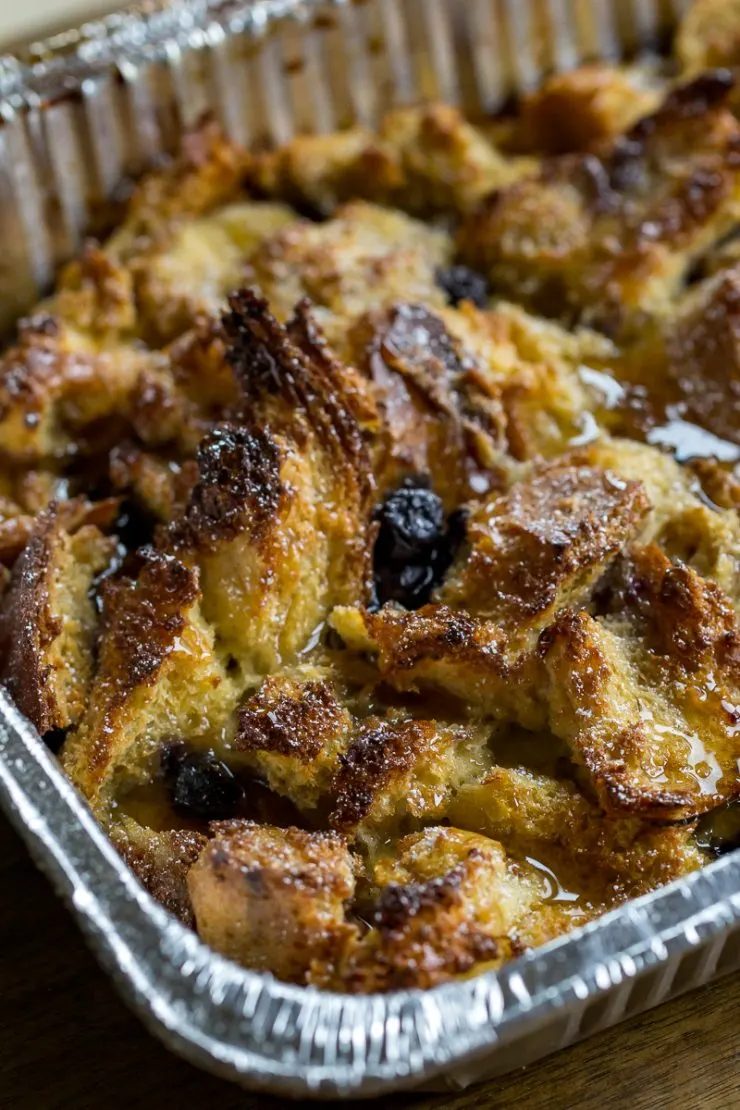 How to make baked french toast with blueberries
The toughest part of this recipe will be finding good brioche. If your market has a decent bakery, then no problem. Even if the brioche isn't completely fresh, its okay. It actually helps if it is a bit stale.
That is the way authentic french toast is done. In French, it is known as "pain perdu". (pronounced "pan pair-doo") and the oldest French versions of the recipe recommend using the brioche when it is slightly stale. In fact, the name in french actually translates literally to "lost bread".
That loaf that you forgot that went stale doesn't need to go into the trash. You can make it into a national treasure by turning it into the best french toast ever.
More great BREAKFAST RECIPES here!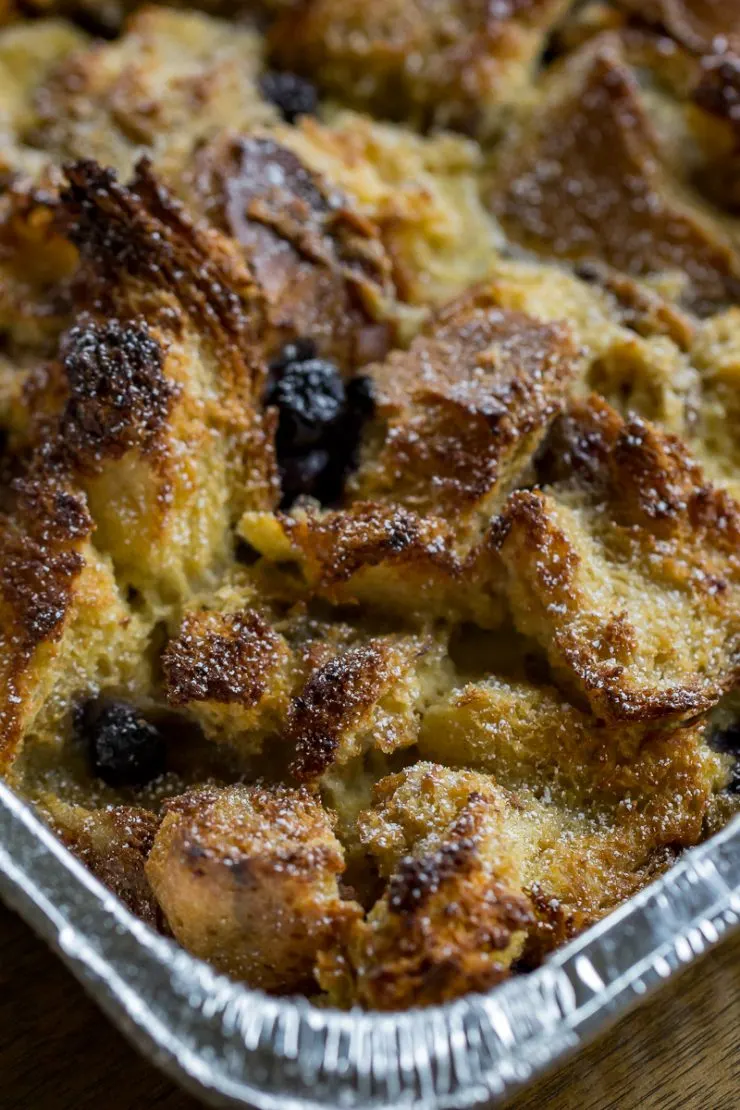 Why use stale bread for baked french toast?
The virtue of using stale bread is how it absorbs the moisture and protein from the egg wash. It soaks into the crust, but the egg stays on the outside. This helps the egg cook, but it also allows the interior of the bread to steam.
The steam is full of the vanilla essence, so the interior of the brioche turns into almost like a vanilla custard, only lighter.
Follow me on Instagram!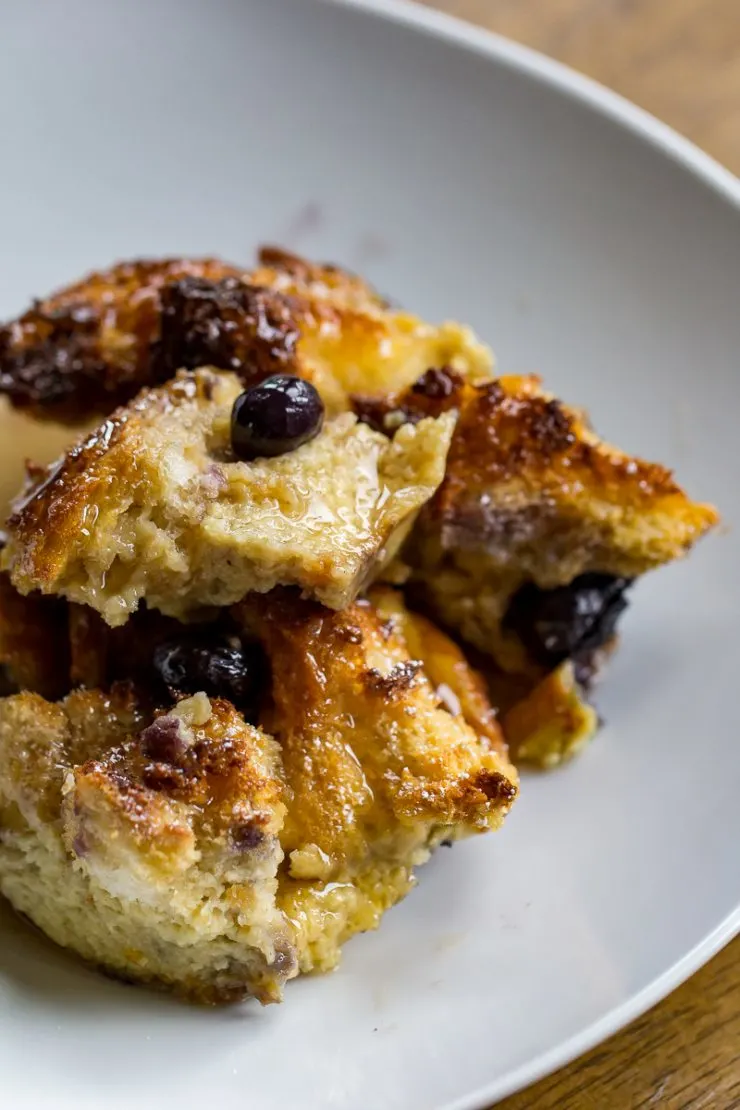 Spiceology has a great spice for every occasion that works perfectly. In this case, the apple cinnamon spice gives the blueberries a nice twist that makes you think of happy holidays and festive moments.
If you are unfamiliar with Spiceology, then check them out online. The simplicity and quality of their blends comes in handy for so many recipes. When you open the lid you will instantly smell the difference in quality.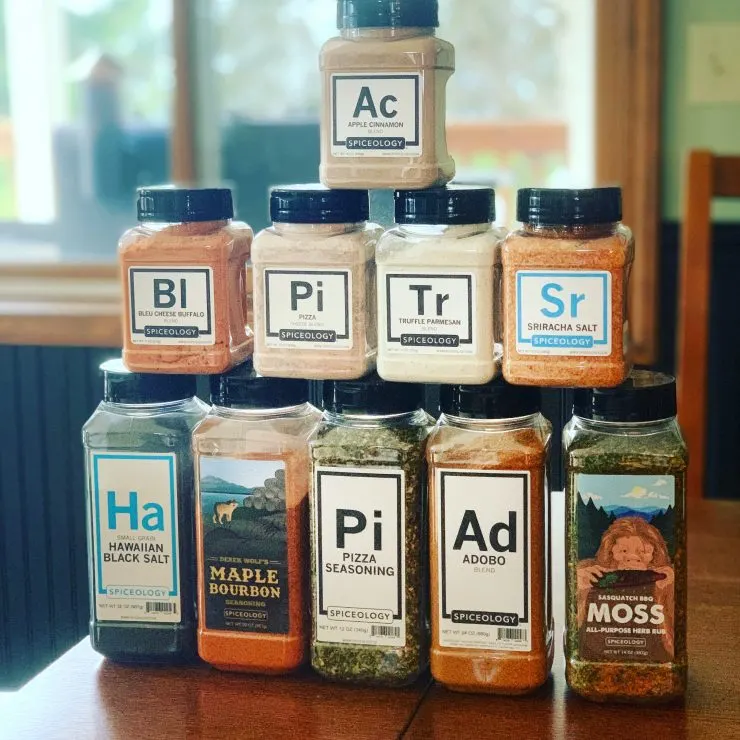 The best blueberries for baked french toast
Fresh blueberries are never far away, but sometimes they don't have enough flavor. In this case, starting with frozen blueberries is the best way to go. Freezing helps intensify and concentrate the flavor.
Make sure to wash the blueberries off and strain off or take off the woody stems if there are any. The texture is everything in this dish. Any distracting woody morsel will feel like you are accidentally eating a toothpick, so avoid that if at all possible.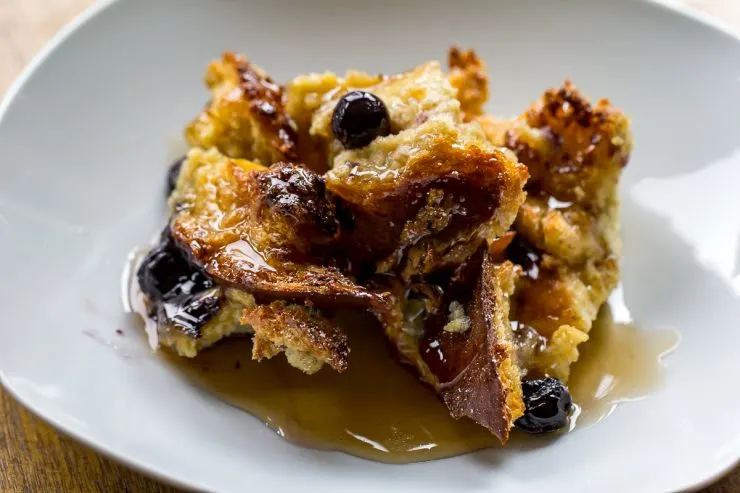 Tips and variations on perfect brioche french toast
Adding blueberries works wonders, but there are some other handy tips for getting the perfect piece of baked french toast.
Soak your bread in the egg mixture overnight – I know that sounds a bit extreme, but it's worth it. This is where using dry and slightly stale pieces of brioche makes all the difference.
Tear the brioche instead of cut it – All of those irregular edges will give this dish great texture, and it looks pretty stunning too.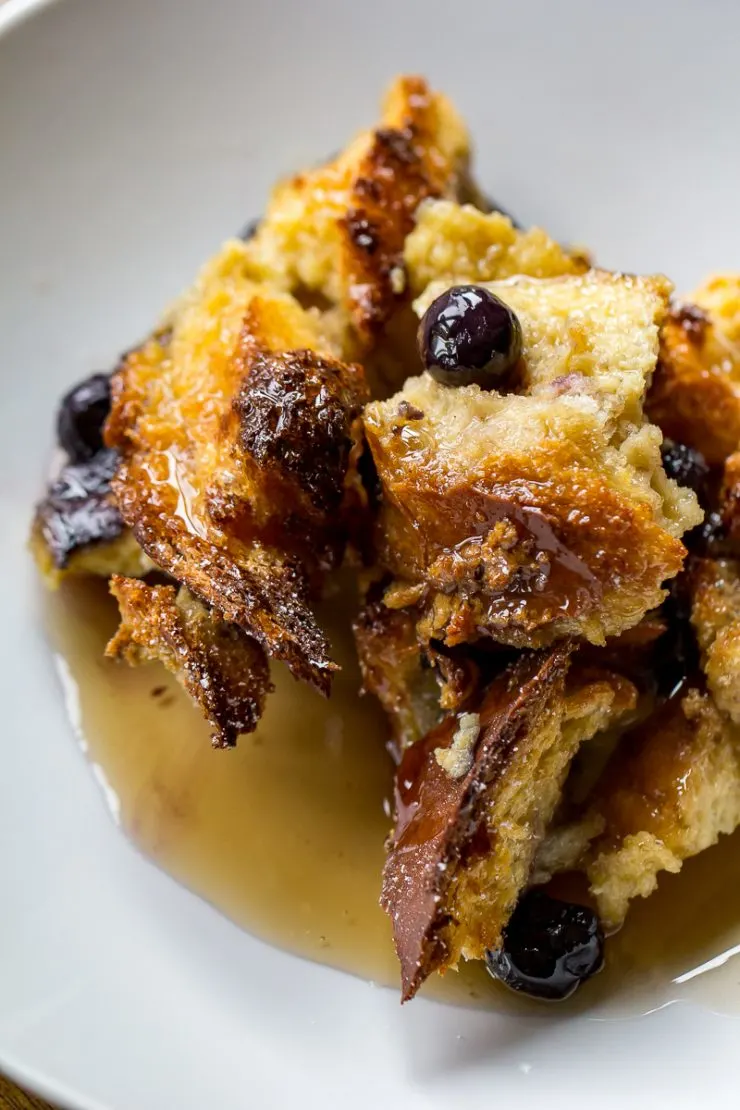 More ideas for breakfast and brunch
If you are looking for a few breakfast or brunch ideas to get out of doing the same 'ole – same 'ole thing, then check out some of these ideas for brunch. There are over 60 recipes there so you'll definitely find something that suits you.
I'd also like to point you to my Smoked Deviled Eggs Recipe. Smoking a deviled egg is life-changing.
You might also like a Tater Tot BreakfastCasserole or some Stuffed Hash Browns on the Blackstone. Tater tots and hash browns give heft and structure and the filling makes it a meal.
More recipes to love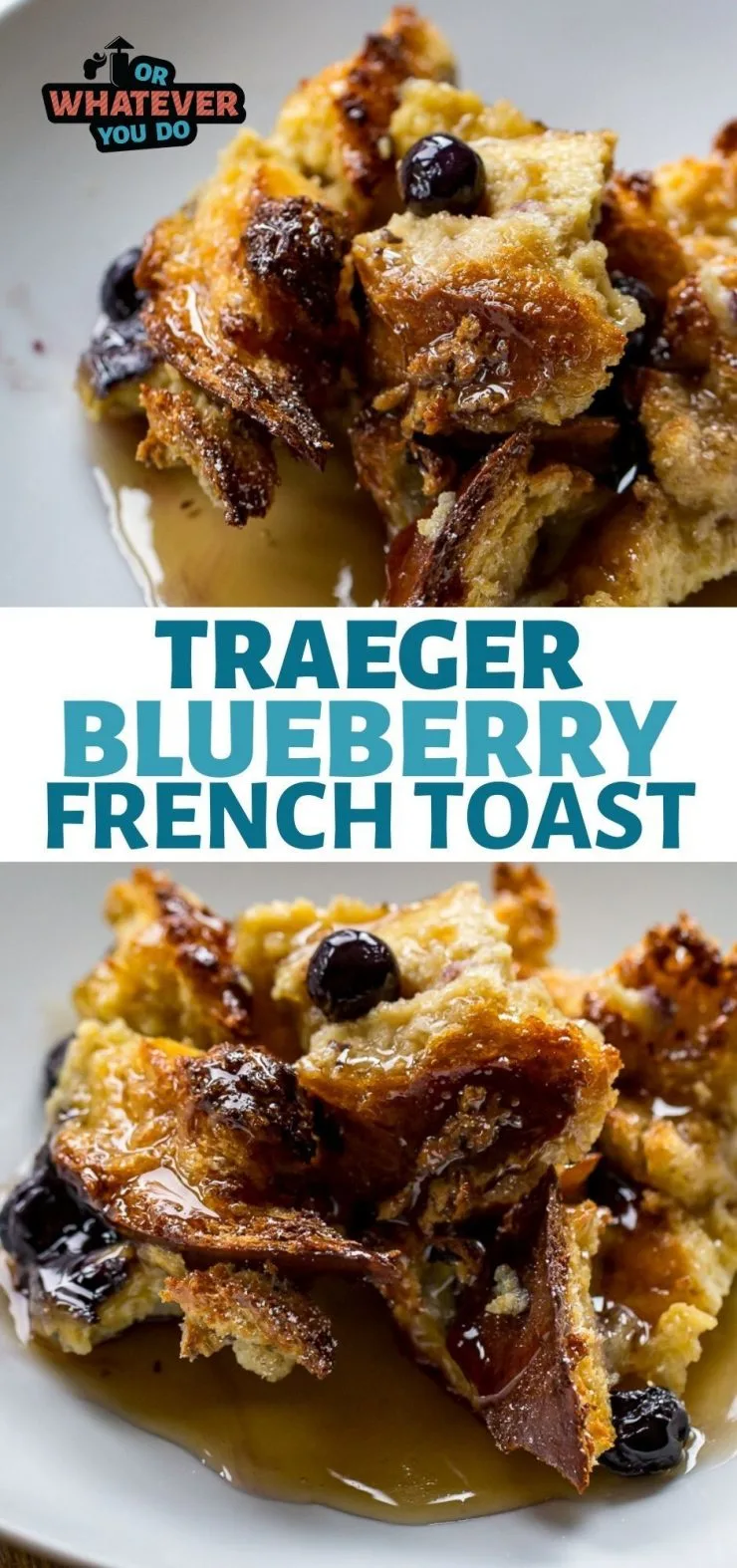 Yield: 12 servings
Baked Blueberry Brioche French Toast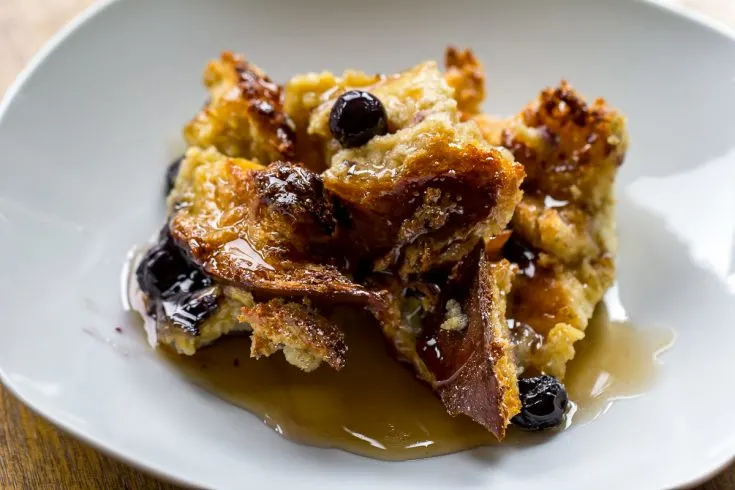 Easy Baked Blueberry Brioche French Toast to make your next brunch your best brunch EVER. This easy breakfast is tossed together in 15 minutes and can bake in your oven or your favorite pellet grill.
Ingredients
1/2 loaf brioche, chunked and spread between two pans
6 eggs
2 cups milk
1/2 cup brown sugar
1 teaspoon cinnamon
1 teaspoon apple cinnamon blend
1 cup blueberries (in one pan)
Instructions
Spray the bottom of a 10x13 high-sided pan with cooking spray.
Preheat your grill or over to 325°.
Place the chunked brioche in the bottom of the prepped pan.
Whisk together the eggs, milk, brown sugar, and cinnamon. Pour over the bread.
Sprinkle the top with the Apple Cinnamon Blend and the blueberries.
Place, uncovered, into the oven or grill, and bake for 30-40 minutes, or until the eggs are no longer jiggly and have reached at least 160°.
Remove from the oven or grill and serve with maple syrup, powdered sugar, and blueberry syrup.
Recommended Products
As an Amazon Associate and member of other affiliate programs, I earn from qualifying purchases.
Nutrition Information:
Yield:
12
Serving Size:
1
Amount Per Serving:
Calories:

143
Total Fat:

6g
Saturated Fat:

3g
Trans Fat:

0g
Unsaturated Fat:

3g
Cholesterol:

116mg
Sodium:

113mg
Carbohydrates:

18g
Fiber:

1g
Sugar:

10g
Protein:

6g
Nutrition data provided here is only an estimate.