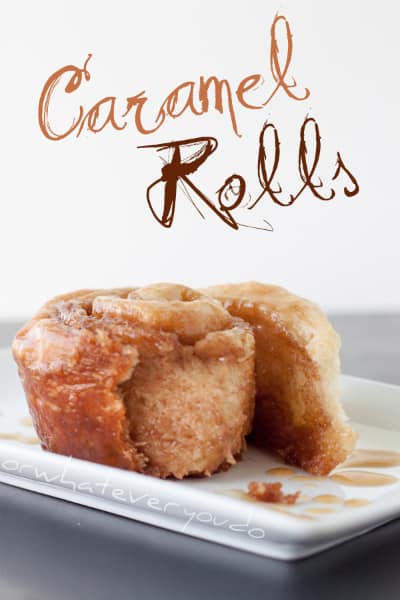 I usually make my own caramel sauce for this recipe. It can be a little tricky though, so if you want to do a brown sugar caramel sauce like I did this time, I promise it will still be good. Someday when you are feeling adventurous though, try out that scratch caramel! It is really worth the effort.
This recipe will make about 30 rolls, depending on how big you slice them. I love buying the tinfoil pans at the dollar store for this. Perfect for giving away to friends and neighbors without worrying about your pie plates or cake pans getting back to you. 🙂 I didn't have those this time, so I used my large cake pans, which worked perfectly!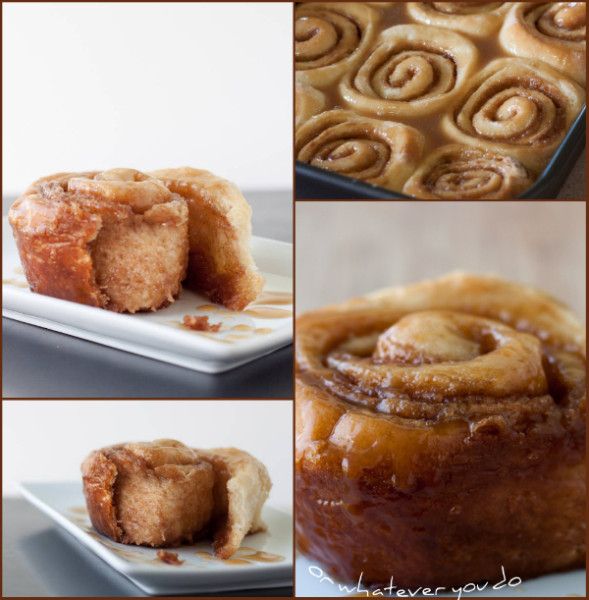 Start your dough by heating the milk up to warm. Not hot…just warm. You don't want to kill your yeast. You should be able to comfortably stick your finger into the milk. Put the warm milk in your mixer with the dough hook attached and add the yeast, egg, sugar, and salt. Mix until the egg is beaten. Start adding the flour until a wet dough is formed. After about half of the flour is incorporated, slowly pour in melted (but not too hot!) butter while the mixer is running. After the butter is mixed well into the dough, start adding more flour in until a soft dough forms and the sides of your mixer are clean. Mix for about 4 minutes, until an elastic, smooth dough is formed into a ball. Place the dough into a lightly greased bowl and cover with a damp towel and allow to rise until doubled in size in a warm, draft-free place.
When the dough has risen, punch down, grab 1/2 of it, and roll it out on a well-floured surface into a rectangular shape and its about 1/4 inch thick.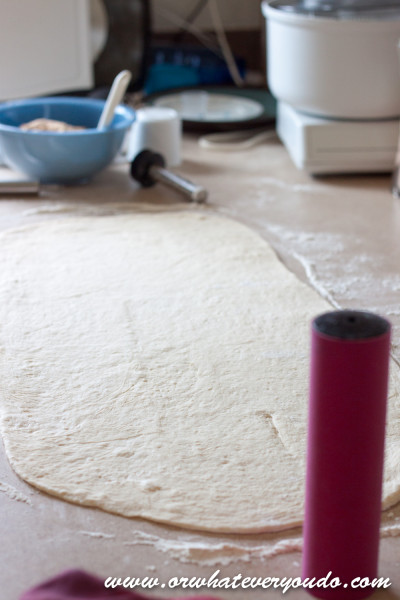 Pour enough melted butter over the dough to cover it well. I use about 1/2 cup, sometimes a little more.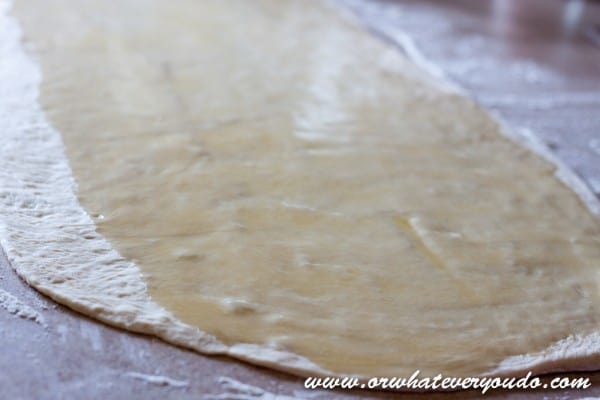 Now sprinkle and cover with the sugar/cinnamon mixture.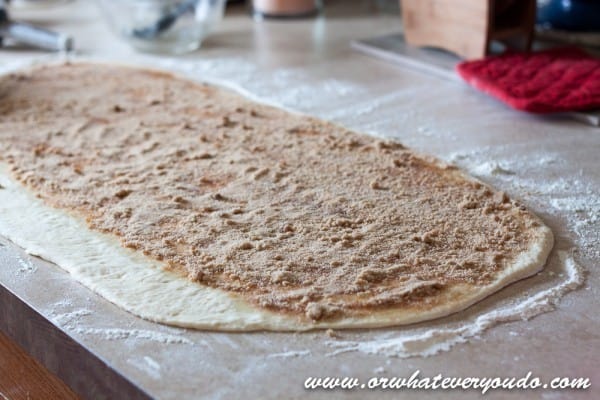 Roll the dough from the side farthest from you towards the front, and seal the seam. It helps to use a bit of water on your fingers and dampen slightly the edges so they will seal well.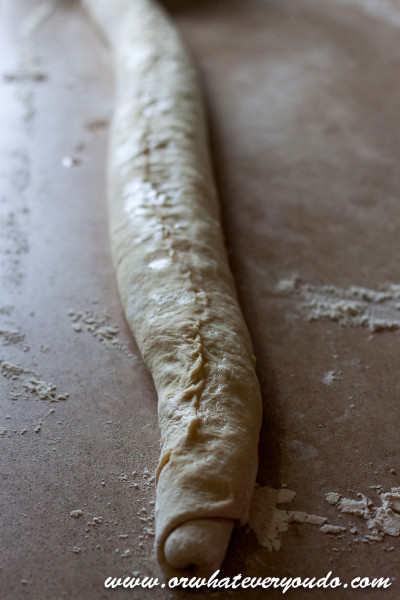 If the seam is really sticky, sprinkle and brush it lightly with some flour so it won't stick to your counter. Slice the dough with a serrated knife (I find a long bread knife works best) into pieces 2 inches thick.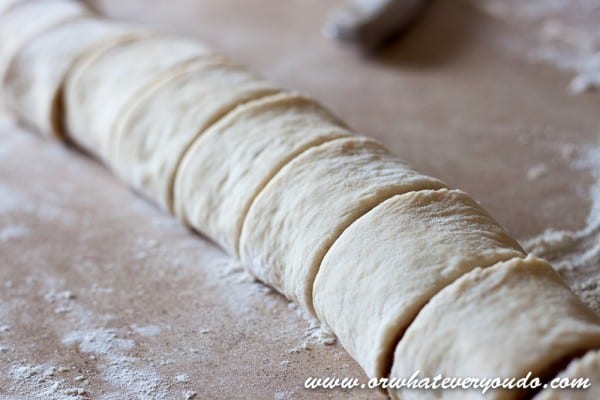 Repeat this with the rest of the dough and place into buttered pans.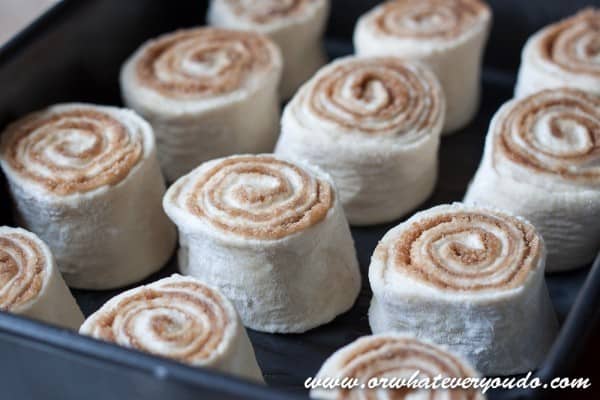 Cover and let rise until doubled.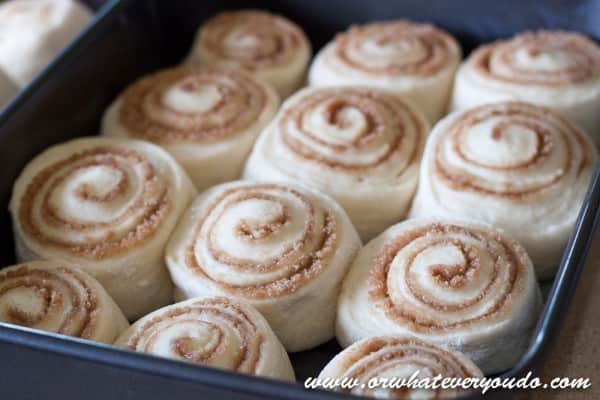 Bake in a 350 degree oven for 10-15 minutes, or until lightly browned on the top. Make sure the middle roll is done. If they are packed too tight into the pans the middle roll can stay a little doughy.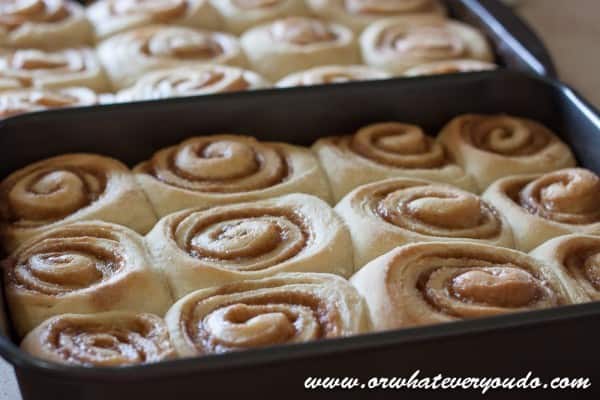 Top with your caramel sauce and enjoy!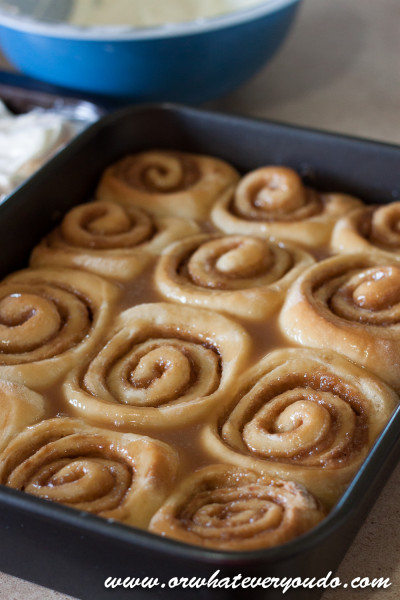 Caramel Rolls
Gooey scratch-made caramel rolls for a special weekend breakfast!
Ingredients
Dough:

3

cups

warm milk

2.5

tbsp

yeast

1

egg

1

stick butter

melted

1

cup

sugar

2

tsp

salt

8-10

cups

bread flour

1

tsp

baking powder

Filling:

2-3

sticks butter

melted

1.5

TBSP

cinnamon

2.5

cups

brown sugar

1

cup

white sugar

1

TBSP

corn starch

Topping:

1

cup

brown sugar

1/2

cup

butter

1

cup

heavy cream

1

tsp

vanilla
Instructions
Place warm milk, yeast, egg, sugar, and salt into a mixer with the dough hook attached. Beat until egg is incorporated. Mix the baking soda into the flour. Add approximately 1/2 of flour in batches. Mix until incorporated. Slowly drizzle in melted and cooled butter into dough and mix until combined. Add in more flour until a soft dough forms and cleans the sides of your mixer.

Let rise, covered, until doubled.

Roll out 1/2 of dough into a rectangle approximately 1/4 inch thick.

Spread enough melted butter over rolls to cover well.

Mix filling ingredients together well. Sprinkle over butter and lightly press down with hands or a rolling pin.

Roll up and seal seams well. Cut into 2 inch sections, place in two buttered 10x13 inch pans. Cover and let rise until doubled.

Bake in 350 degree oven until lightly golden brown, about 20-25 minutes, depending on the size of the rolls and the size of your pans.

Make caramel sauce by combining the brown sugar, butter, cream, and vanilla in a sauce pan and heating over medium-low heat until simmering. Stir frequently, and let simmer for 10 minutes until slightly reduced and the sugar is fully dissolved. Pour over rolls after they come out of the oven.
---
As always…
Thank You for looking! I LOVE comments. Use the comment form below to interact, or if you like what you see, and want to see more, please feel free to jump on over to my Facebook page and like me there. I post teasers for upcoming recipes, answer any and all of your questions, and every recipe from here gets linked to there as well.

If you are a pinterest fanatic like I am, you could also drop by and follow me there, and pinning my images is always appreciated!
Thanks for dropping by! Hope to see you again soon!
~Nicole~