Deviled Eggs celebrate the beauty and possibilities of eggs in such an amazing way. Eggs are such an important supporting role in so many dishes, so it is nice to see them the star of their own show for once.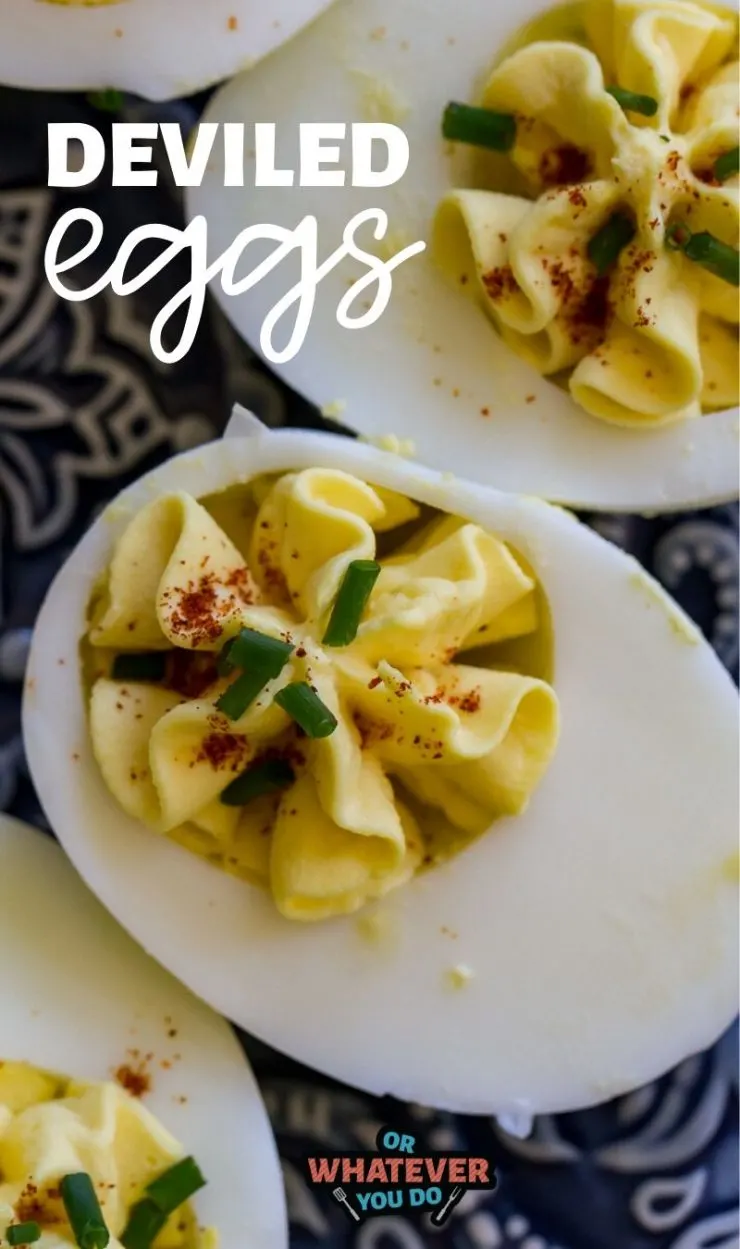 Simply Delicious Deviled Eggs
Making good deviled eggs is so simple, but somehow everyone has their own special take on what makes a great deviled egg. Really, as long as you get the right proportions so your filling holds some shape and isn't runny, and don't undercook or overcook your egg whites, then you can't go wrong.
More Easy Traeger Recipes here!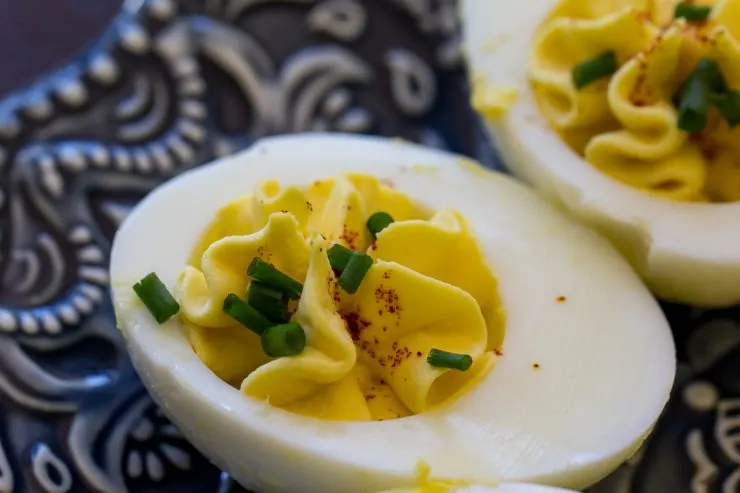 Getting The Egg Whites Just Right
Put your eggs in a pan and cover them with enough water so that they are fully submerged. Throw in a teaspoon of vinegar, and bring the temperature up to a boil. Once they boil, cover the pot and turn off the burner, but keep the pot on the warm burner.
You want the eggs to sit in the hot water for about 12-13 minutes. It is relatively hard to overcook them this way, but still, put a timer on it. Once you drain the eggs put them in ice water to chill them to room temp, and then chill in the fridge for a few hours.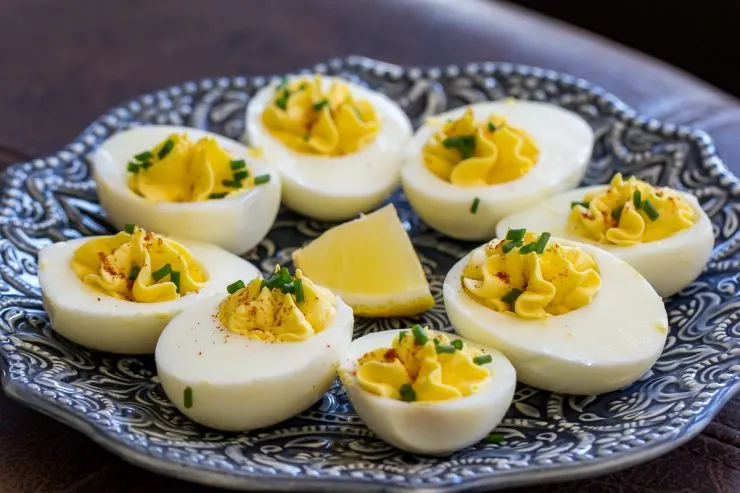 How to Peel Hard-Boiled Eggs
It took me a lot of years to finally land on a method to not make peeling eggs a pain in the butt. I avoided dishes with these for exactly that reason for a long time.
This time, SUCCESS.
What did I do differently?
I cracked all around the eggshell by lightly tapping on the counter, and then I give them another soak in water. The water seeps in-between the shell and the egg and makes the shell slide off much easier.
More recipes with eggs!
Hard-Boiled Eggs And Yolks For Deviled Eggs
Your egg whites should be nice and firm by now. Cut the eggs in half lengthwise. Then scoop out the yolks. The yolks will also be fully cooked too.
The way you can tell if your yolk is cooked just right? It should be a nice bright yellow/orange color. If it looks slightly green, then you overcooked it.
You can still use it, but it will be a less creamy and less appetizing color of yellow for the filling, and can sometimes smell a bit like sulfur.
These would be great to serve before this Smoked Beef Tenderloin!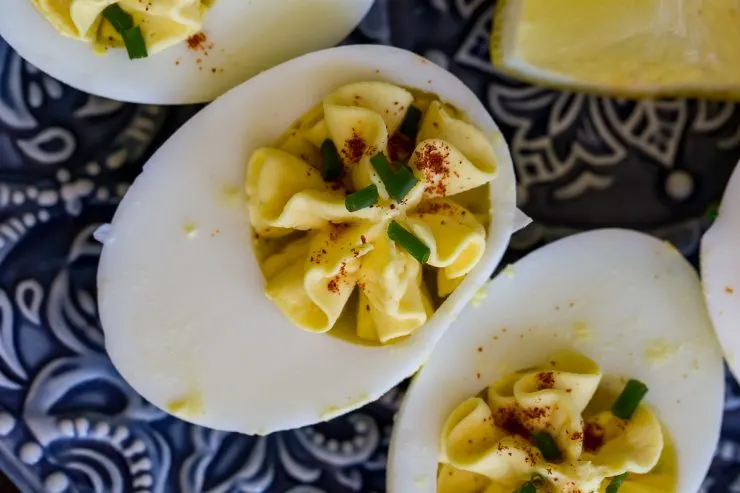 Miracle Whip, Mayo, Or Aioli For The Yolks?
Everyone has his or her own preference when it comes to mixing the yolks. Really, it comes down to a matter of taste. Each has its own flavor profile, and you will of course season with capers, gherkins, and whatever other seasonings you like in your deviled eggs.
Mayo, Miracle Whip, and Aioli are all emulsified sauces. Mayo and Miracle Whip are emulsions of eggs and aioli is an emulsion of olive oil and garlic. The main seasoning in Miracle Whip happens to be garlic.
I like Mayonnaise, personally, because I like the flavor best.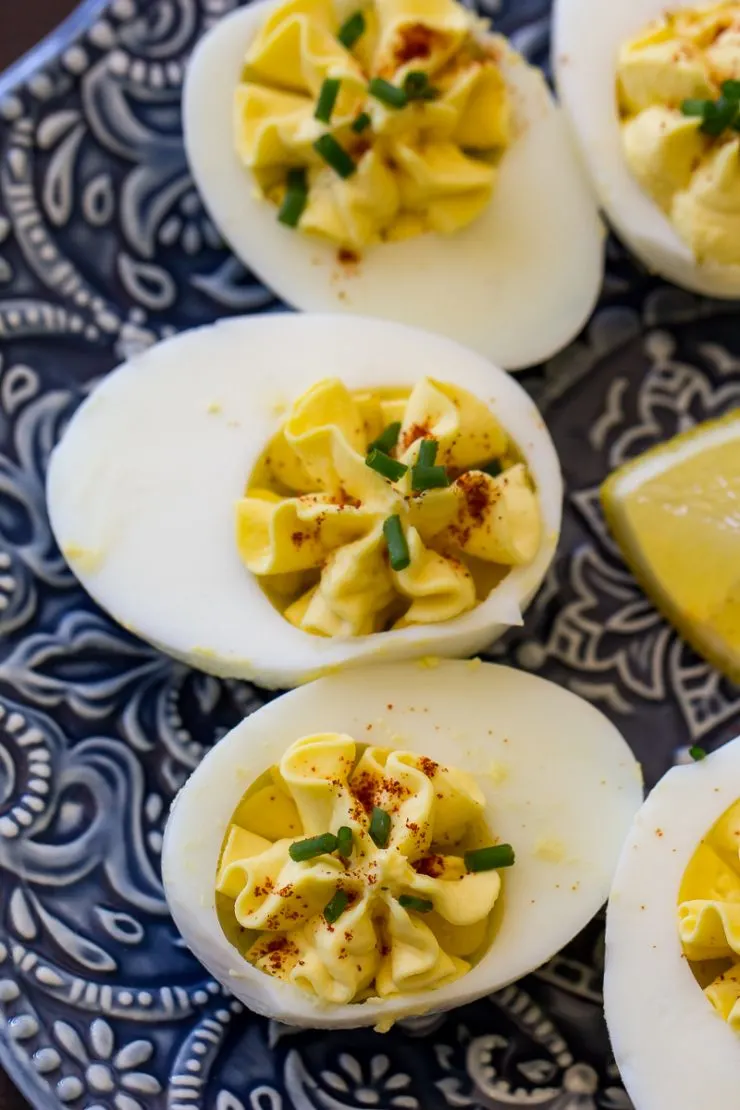 What Kind Of Mustard Works Best?
I recommend Dijon-style mustard and preferably the smooth seedless kind. Dijon mustard is mustard that also is seasoned with wine and it has a great full flavor to complement and bring out the flavor of the yolk mixture.
If you use dijon mustard with mustard seeds in it then expect a bit of crunch in your yolk mixture. I think the creamier the filling the better when it comes to deviled eggs.
You can use any type of mustard though. The bright yellow stuff will help cover up mistakes if you overcook the egg yolks.
Make a Mimosa while you're at it!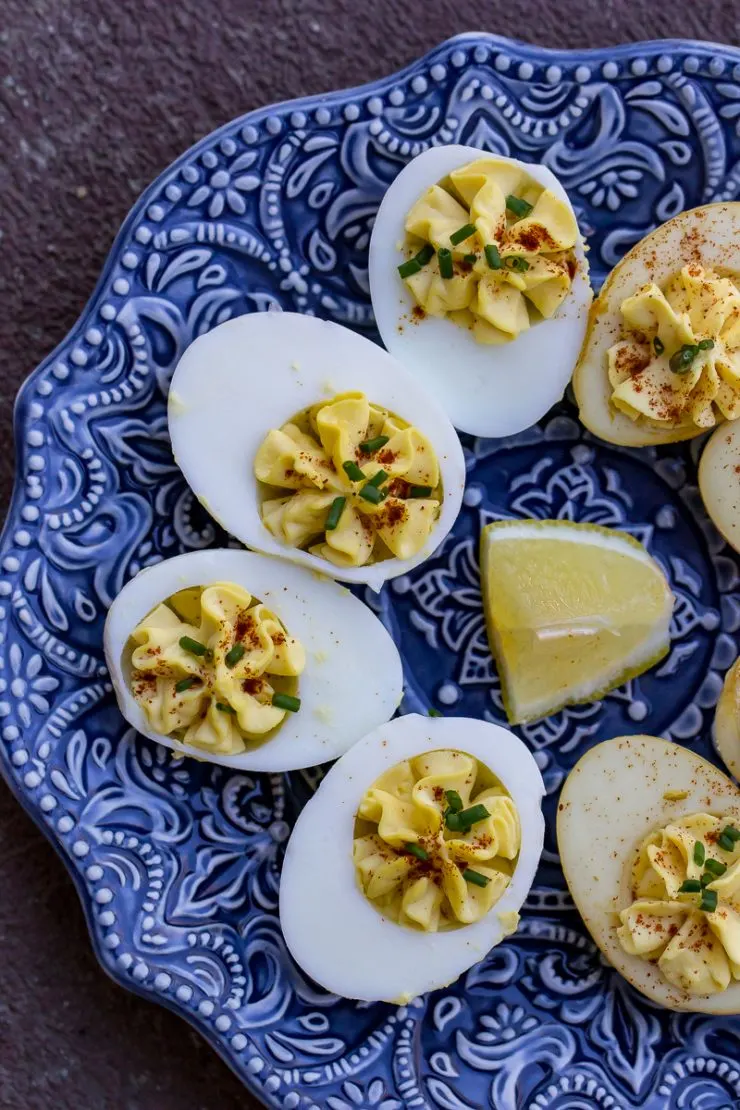 Don't Forget The Paprika And Chives To Finish
Paprika sprinkled over the top of the eggs and a bit of chive to finish them off. The combination of paprika and chives gives just a bit of flavor but also adds a nice touch of color to finish things off.
If you don't have chives or scallions handy, but you still want the green, then finely chop some parsley to sprinkle on them.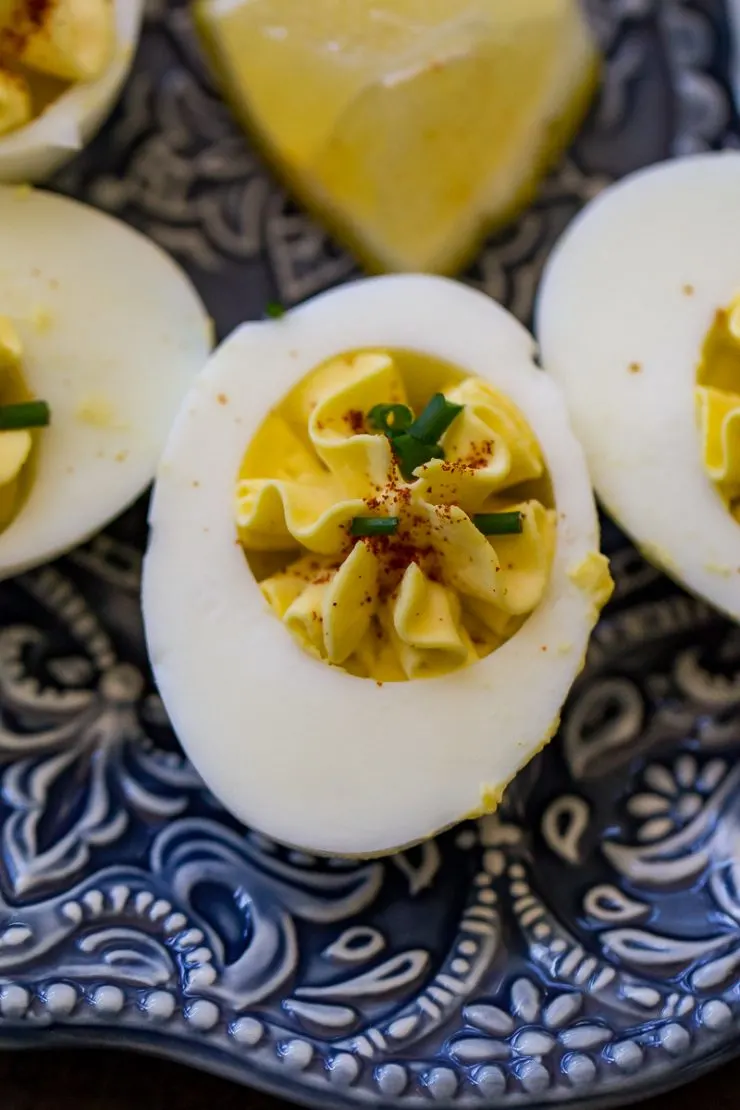 Seasoning Variations
Some people like to add sweet relish or chopped capers to their yolk mixture. Those work great but they are pretty vinegary and have a lot of moisture. If you are going to add those in, then cut back on the vinegar so you don't make the filling for piping to thin and runny.
Get all of the Easter Dinner Recipes here!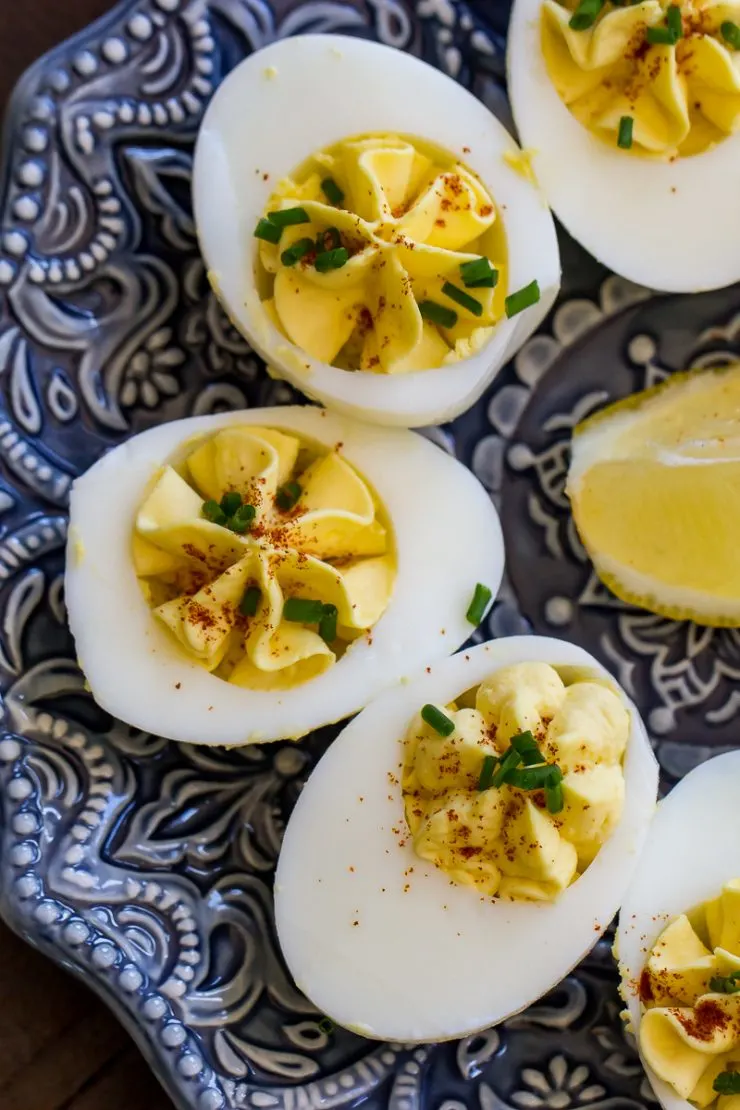 More Breakfast And Brunch Suggestions
Deviled eggs are the brunch item of choice. They also are the dish you have to make sure not everyone else is bringing to the Church social function. If you can find one of those deviled egg carrier plastic cartons then you are in business whenever you need deviled eggs on the go.
I have a few more suggestions for breakfast or brunch if you want to check them out.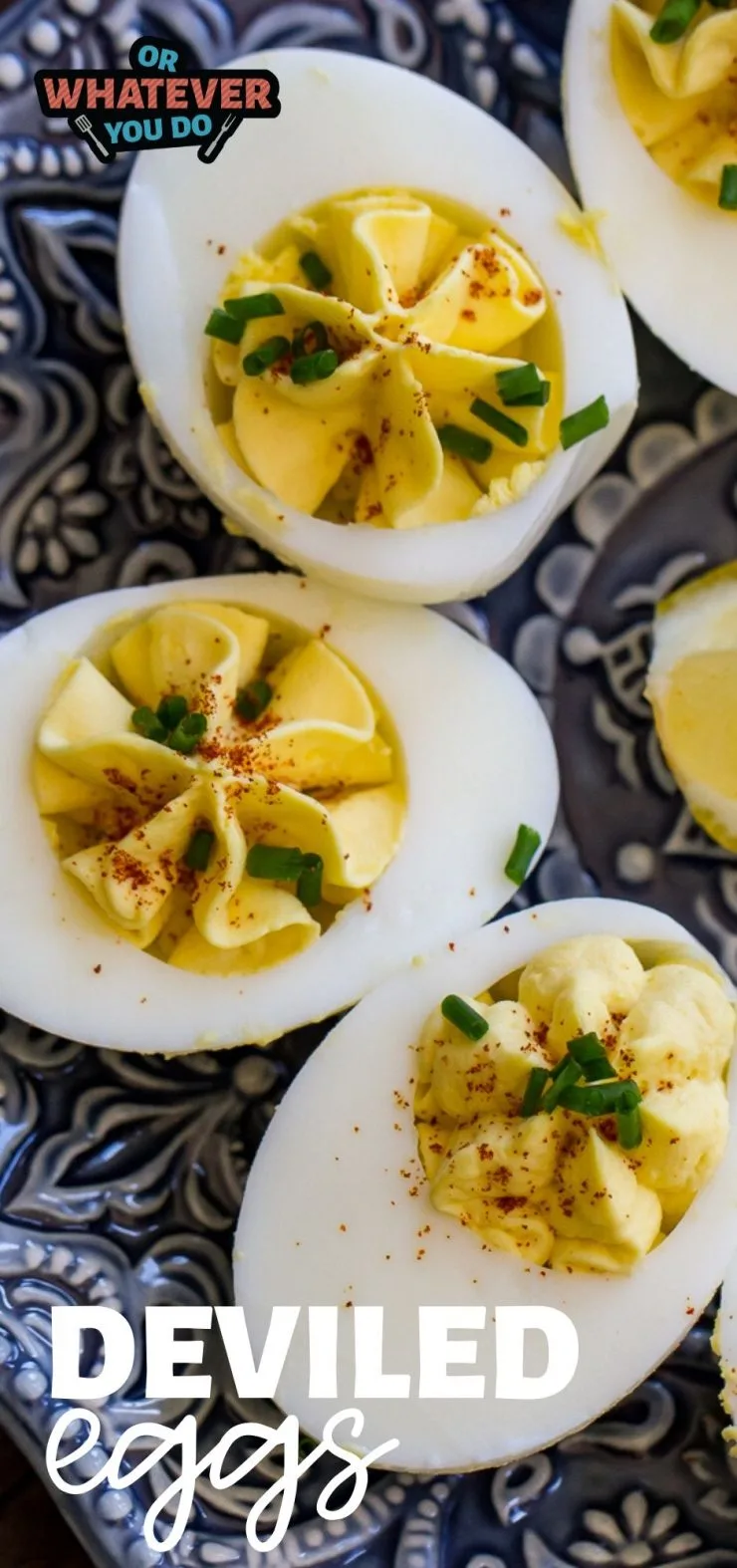 Yield: 6 servings
Deviled Eggs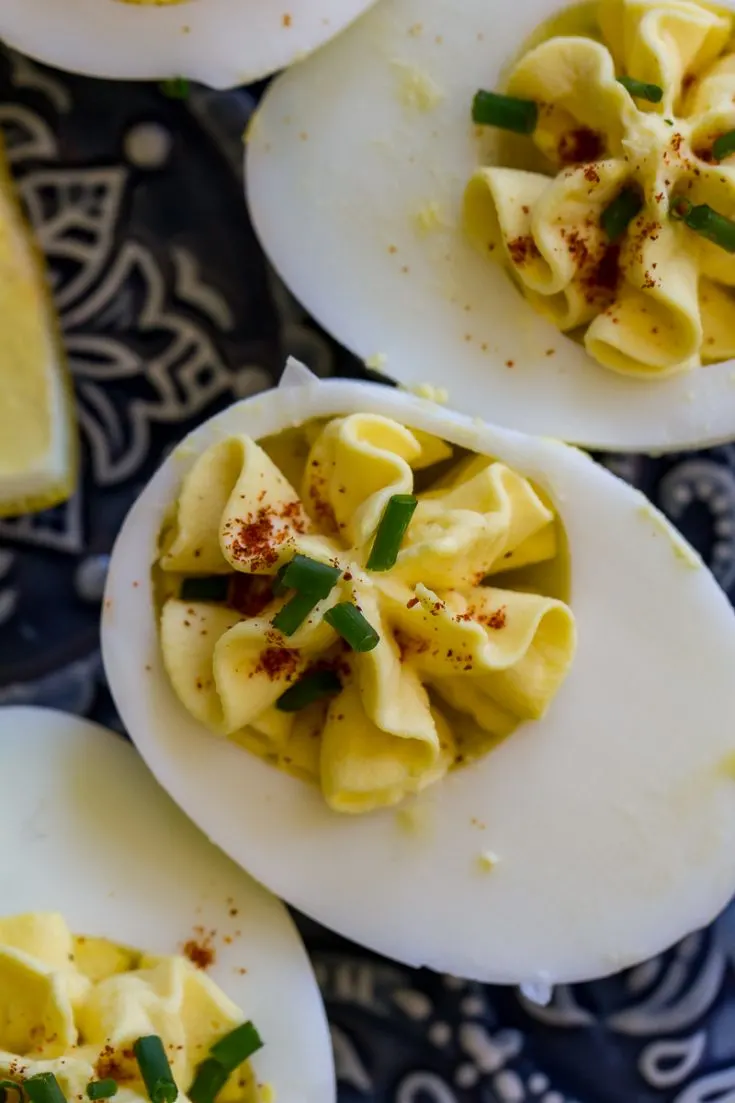 Traditional deviled eggs are a treat on any holiday table! Learn to make a classic buffet table staple!
Ingredients
12 eggs
Water (enough to cover the eggs plus 2 inches)
1/8 cup mayo
2 teaspoons sugar
1 tablespoon white vinegar
1 tablespoon Dijon prepared mustard
½ teaspoon salt
1 tablespoon chopped chives
1/8 teaspoon paprika
Instructions
Place a large pot of cold water on the stove, and place 12 eggs and 1 tablespoon of vinegar inside. Turn the stove up to high and bring the water to a boil.
Turn the heat off the burner, cover the pot, but leave the pot on the warm burner for 12 minutes.
Drain the eggs and rinse in cold water. Place in the fridge until they are fully chilled.
Peel the eggs, rinse in cold water, and carefully slice them in half. Scoop out the yolks and place into another bowl. Set out the egg whites on a platter.
Mash the egg yolks together with the mayo, sugar, 1 tablespoon white vinegar, mustard, and salt. Continue mashing until it is smooth and there are no more lumps.
Place into a piping bag with a 1m star tip attached, and pipe into the egg white hollows.
Garnish with chives and paprika.
Recommended Products
As an Amazon Associate and member of other affiliate programs, I earn from qualifying purchases.
Nutrition Information:
Yield:
8
Serving Size:
1
Amount Per Serving:
Calories:

136
Total Fat:

10g
Saturated Fat:

3g
Trans Fat:

0g
Unsaturated Fat:

6g
Cholesterol:

280mg
Sodium:

318mg
Carbohydrates:

2g
Fiber:

0g
Sugar:

1g
Protein:

10g
Nutrition data provided here is only an estimate.