Homemade Raspberry Muffins feature lemon and yogurt in the batter and are not only one of my favorite muffin recipes, but also one of my favorite breakfasts, period.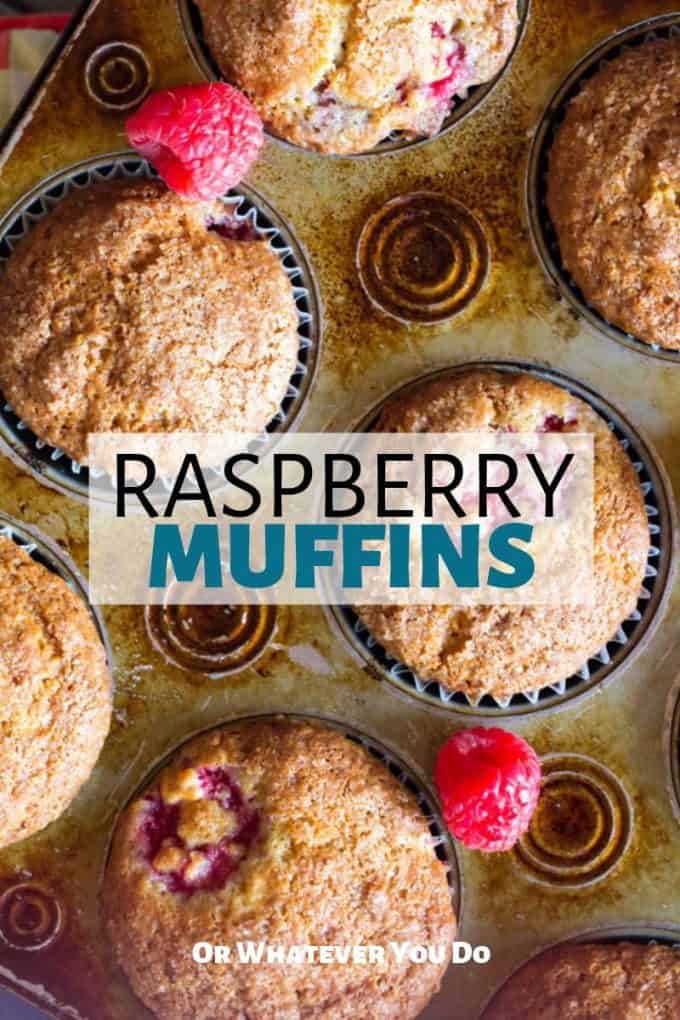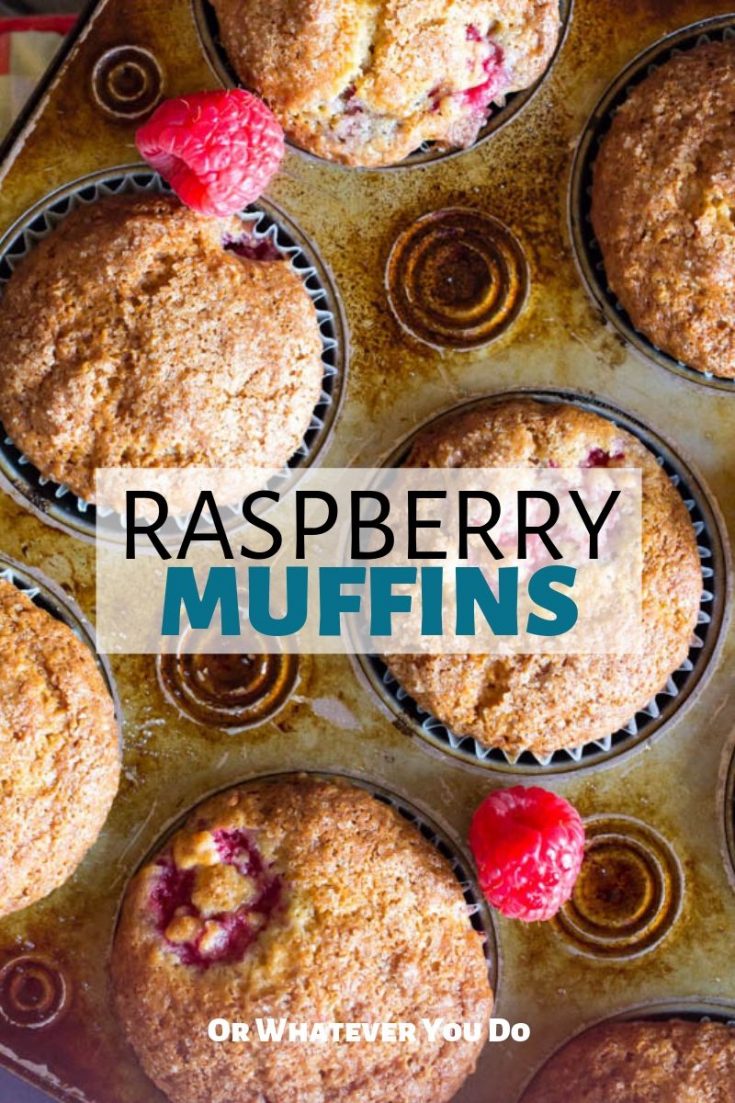 Homemade Raspberry Muffins
Muffins are such a quick and easy breakfast recipe. I love that you can just grab one and go, and that all of my kids tend to devour them.
Raspberry Muffins are also one of the easiest baked goods to make. Even beginner bakers can whip up with great results. Plus, you don't need any special equipment. You don't even need a hand mixer for these.
Pull out your wooden spoon and your mixing bowls and get baking!
Click here to save this post for later!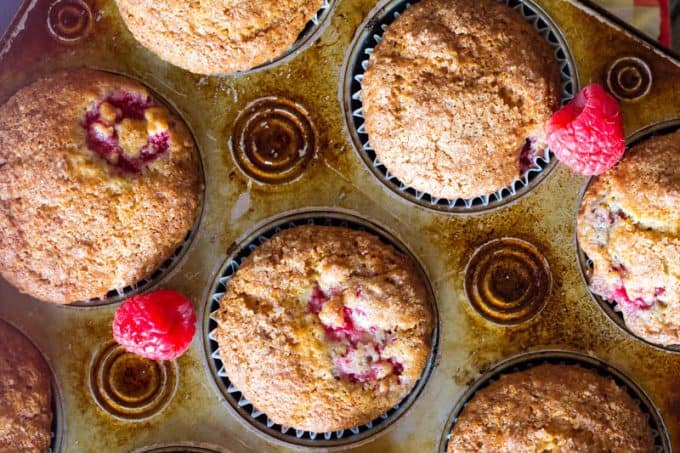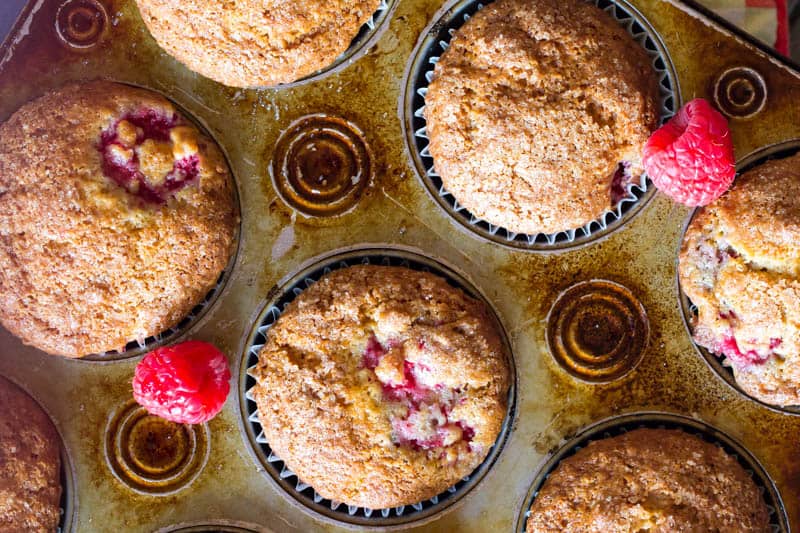 Secrets to great muffins
Muffins are easy, but you can make a few mistakes that can lead to less-than-ideal results. Read on to find out what NOT to do.
Don't over-mix!
Muffin batter is supposed to be a bit lumpy. Only stir it until it is just barely combined. If there are a few traces of flour left, that's okay. They'll bake up just fine.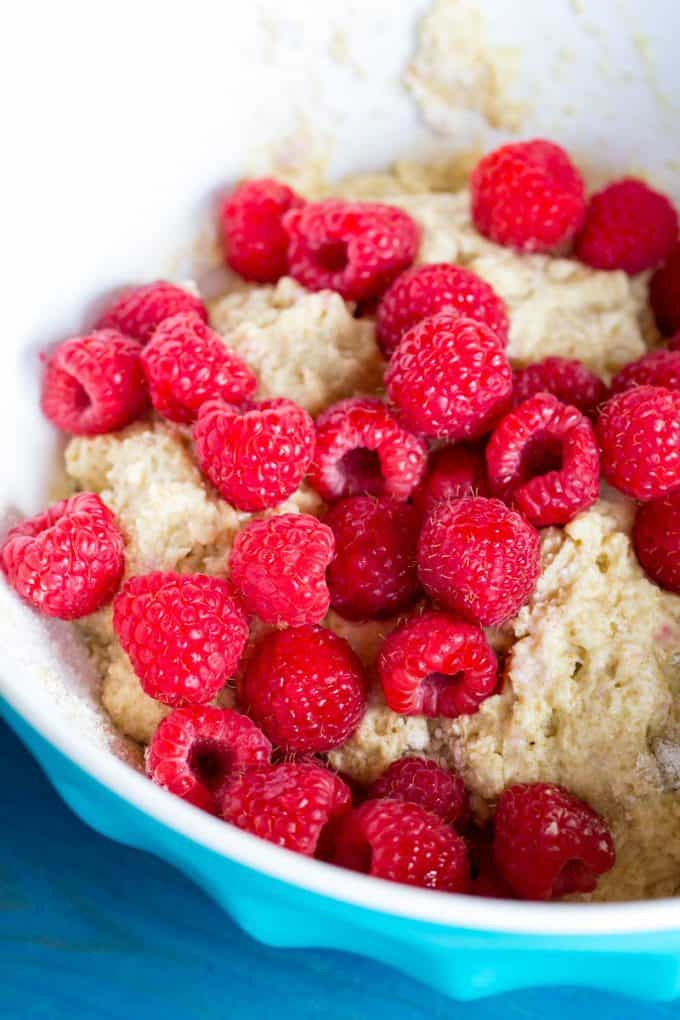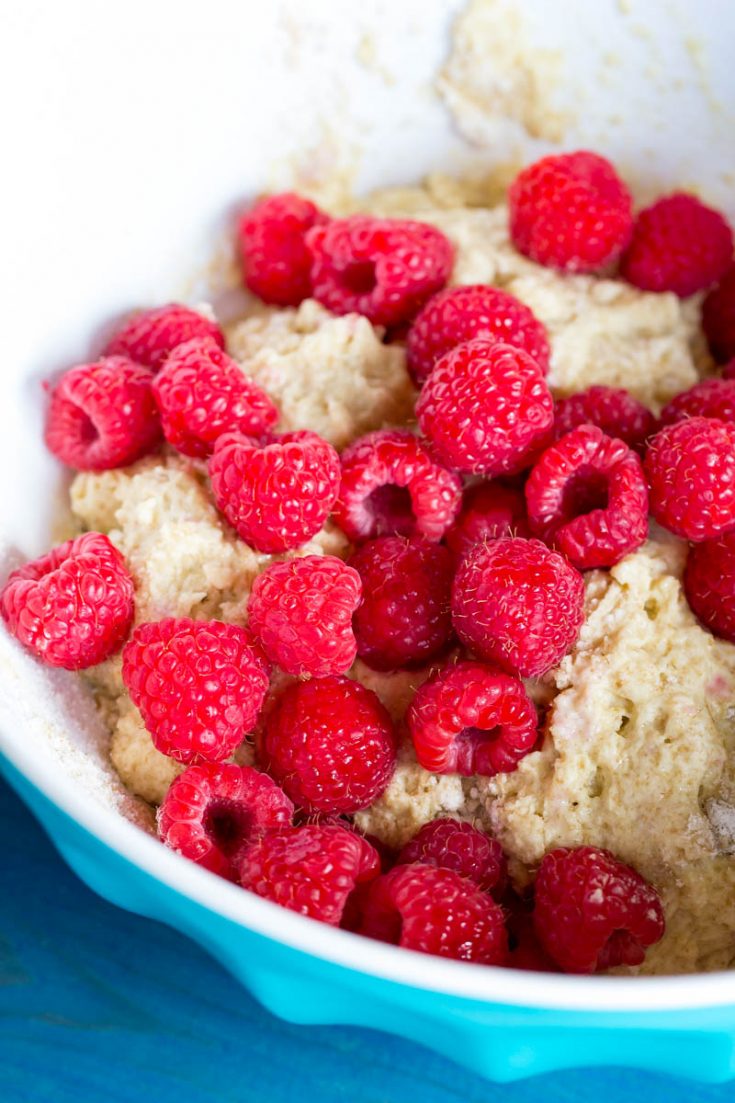 Beware of the frozen fruit sink
Frozen fruit tends to be easier to mix into thick muffin batter without having is break apart, especially delicate fruit like berries, but frozen fruit tends to sink to the bottom during the baking process, so beware.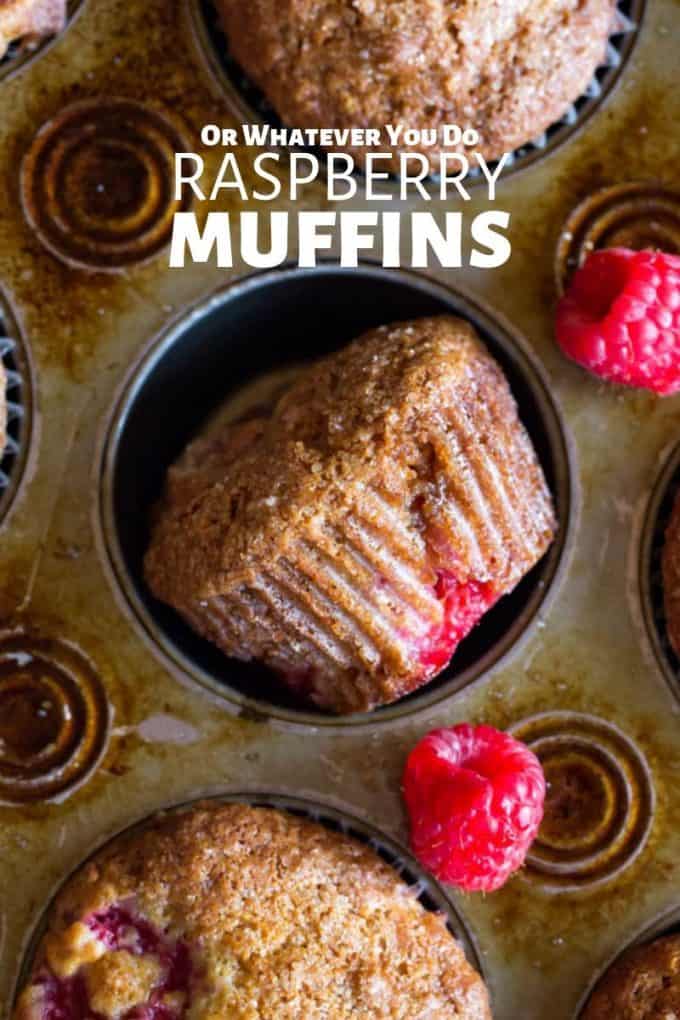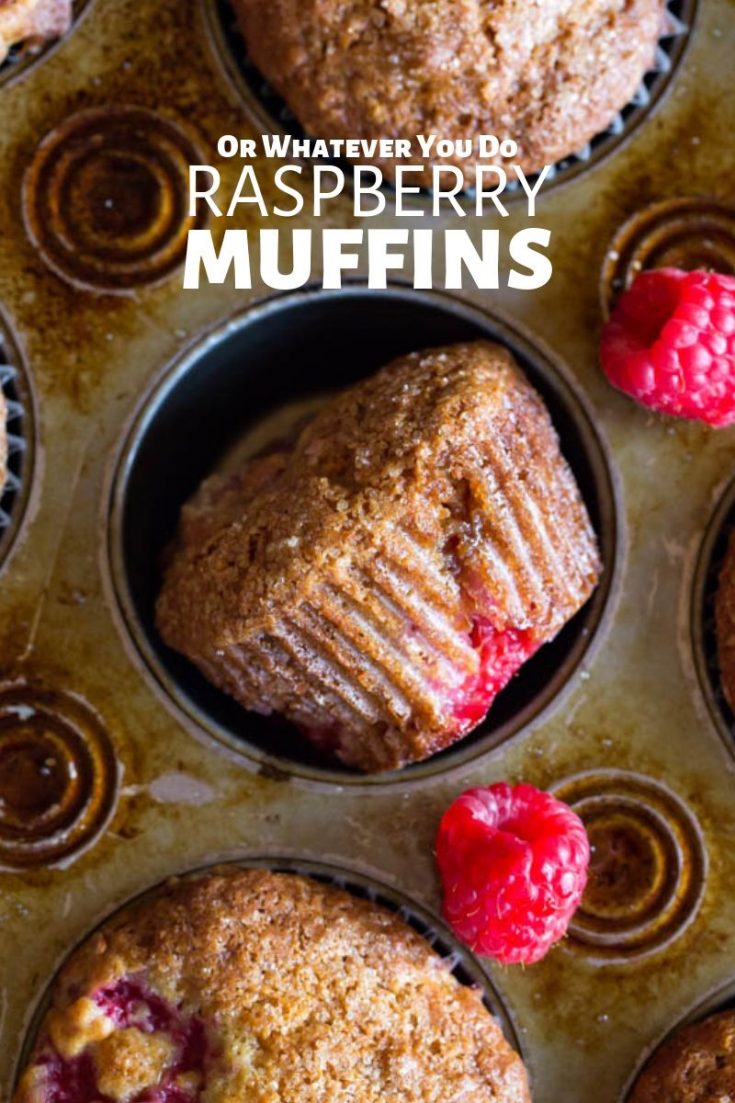 A thicker batter like this will combat the sinking a bit and the muffins will still be delicious regardless, but if you want a beautiful muffin with evenly-spaced fruit, I'd go with fresh.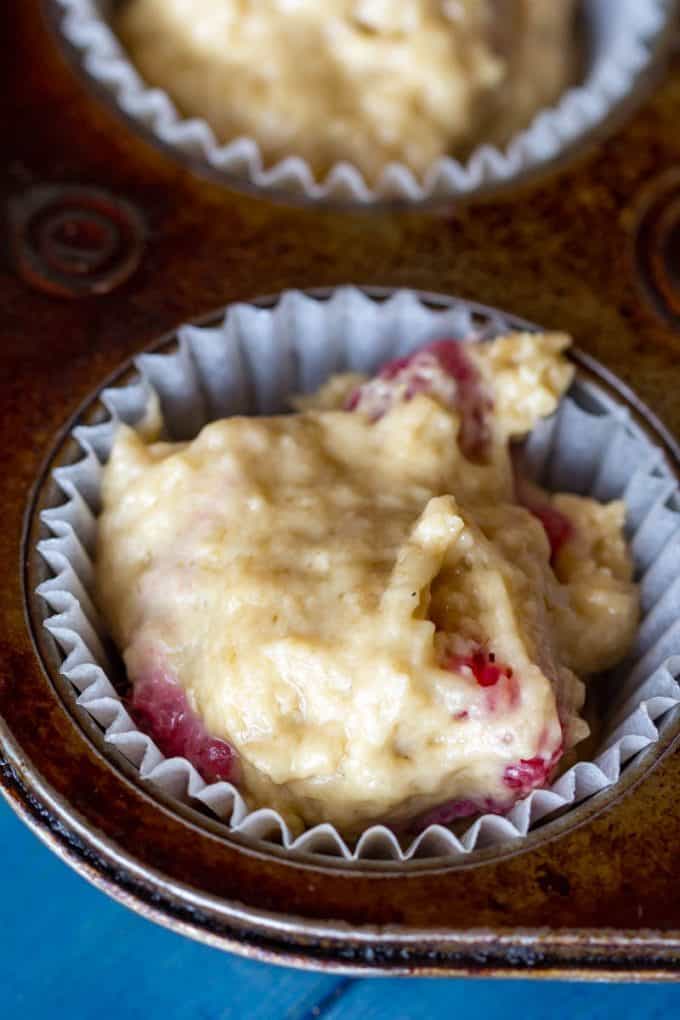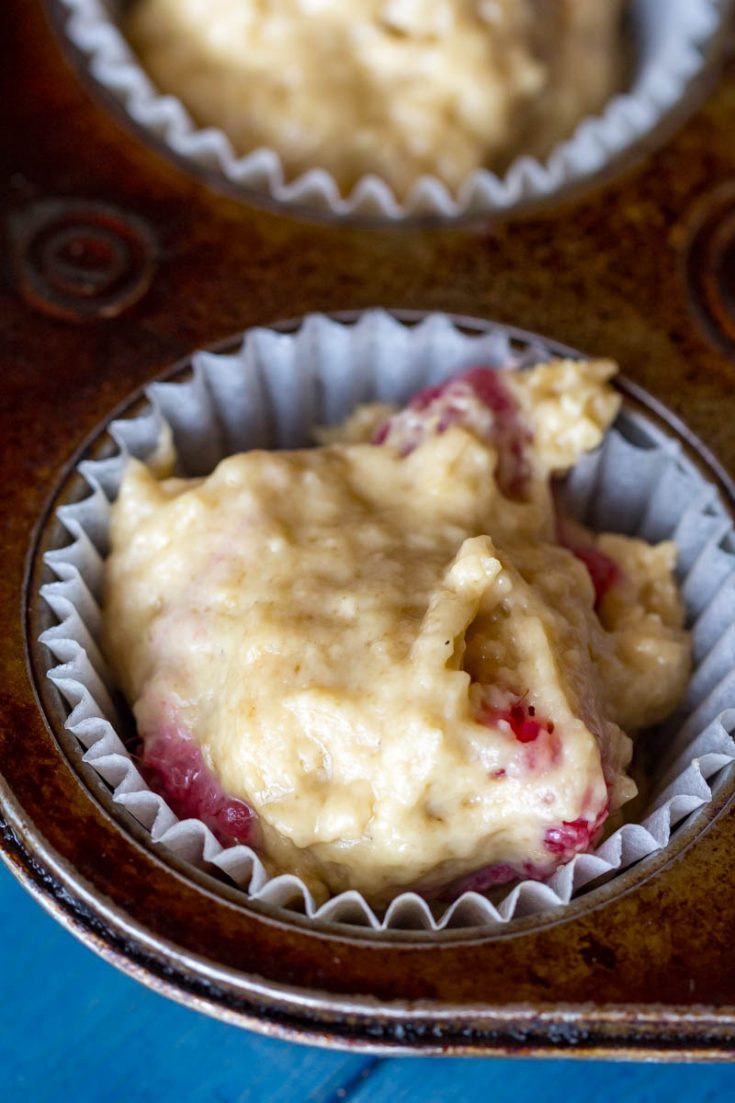 Can I substitute another fruit?
Sure! Blackberries, blueberries, or even chopped cherries would work really well in this easy muffin recipe. Feel free to experiment with different types or combinations. Just make sure the overall amount of berries is about the same and you should have great results.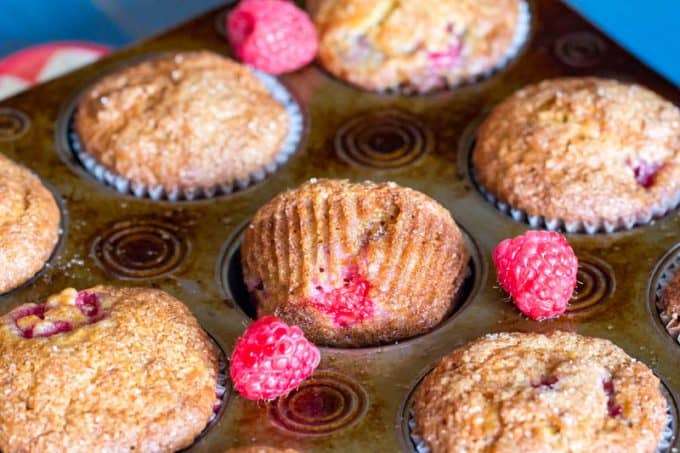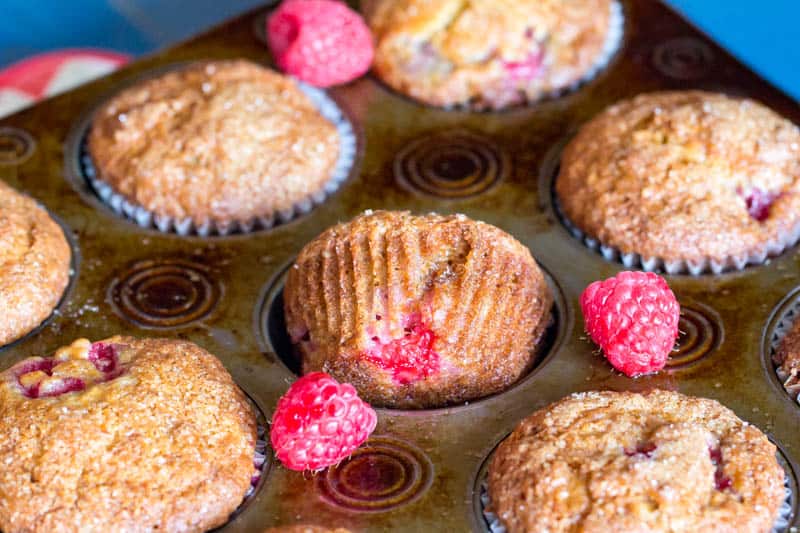 I moved on and thought I'd make some of my stand-by Blueberry Buttermilk Muffins.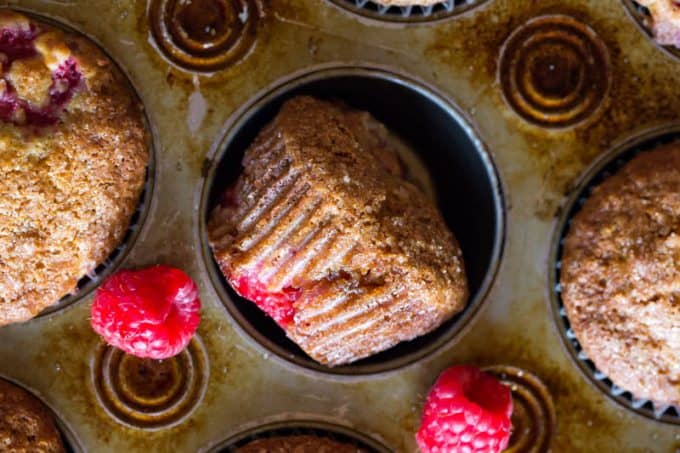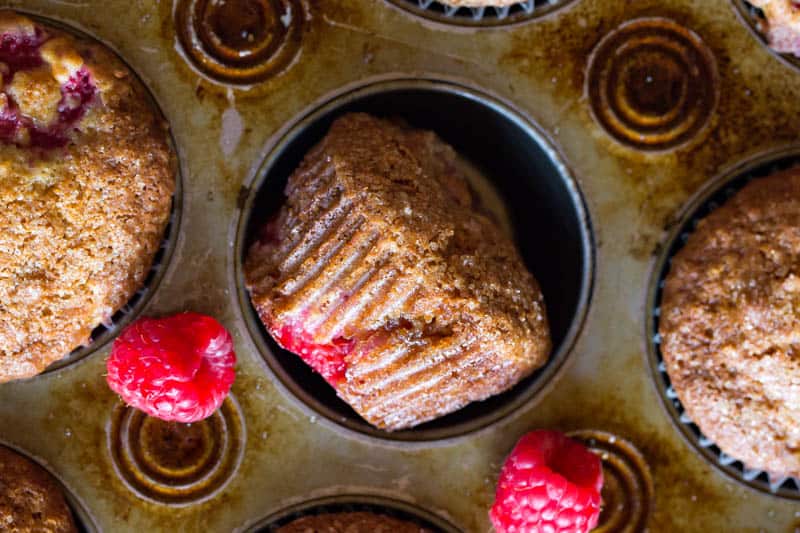 These were so easy. Two bowls, a spoon, and they were in the oven baking away. Start by combining all of your dry ingredients and whisking them up until they are fully combined.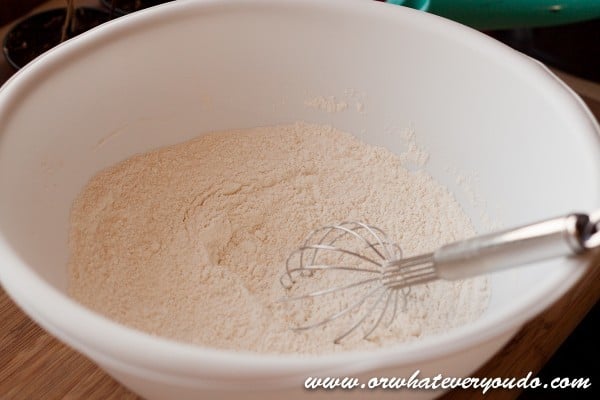 Next combine your egg, oil, lemon zest, and yogurt in another bowl. I used strawberry yogurt because that was all I had in the house. Obviously raspberry would have been the better choice, but the strawberry worked really, really well too.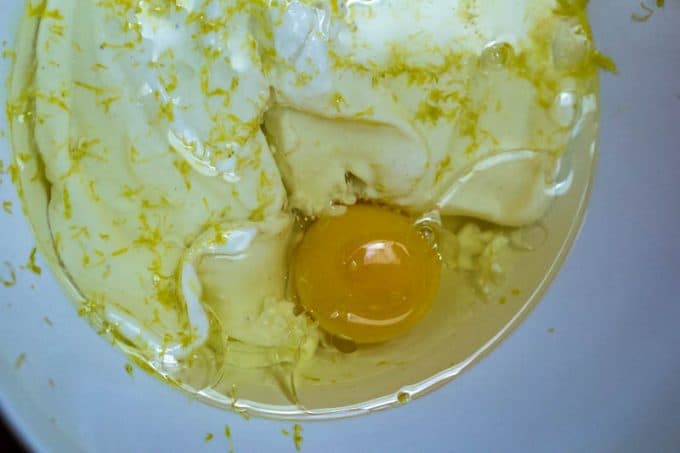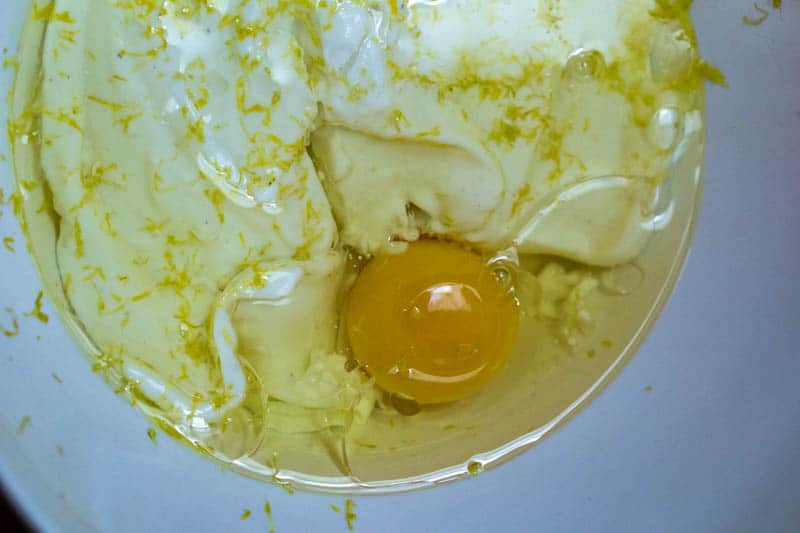 Whisk that together well and then add it to the dry ingredients. Stir until the flour mixture is JUST moistened.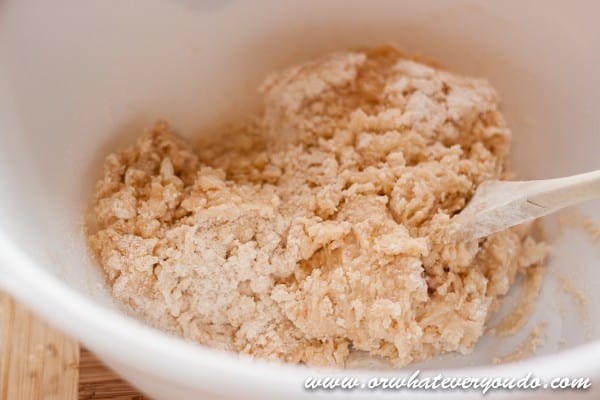 Next, gently fold in your raspberries. You can use frozen or fresh, just thaw frozen raspberries a bit before adding them into the batter if you are going that route.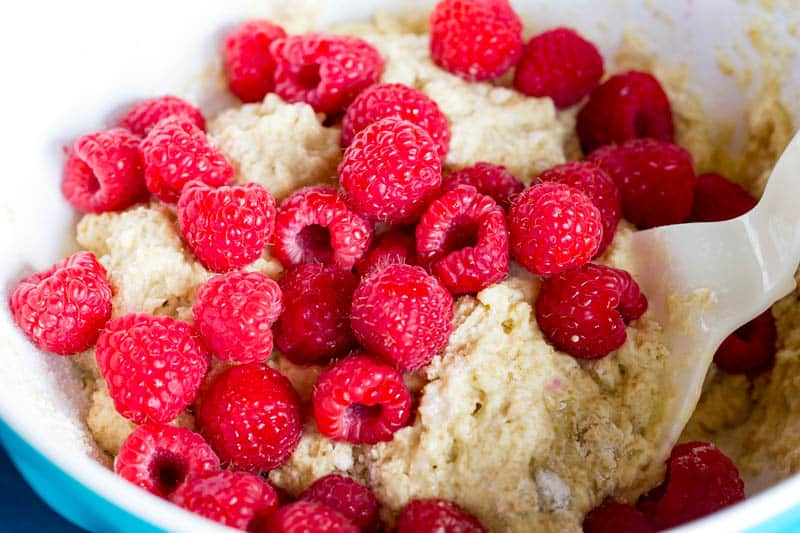 Scoop into a muffin tin that has been lined and sprayed. The more you fill the muffins, the bigger they will be.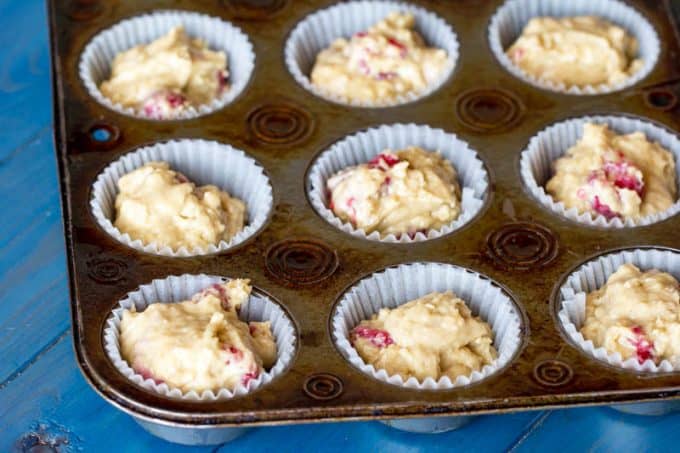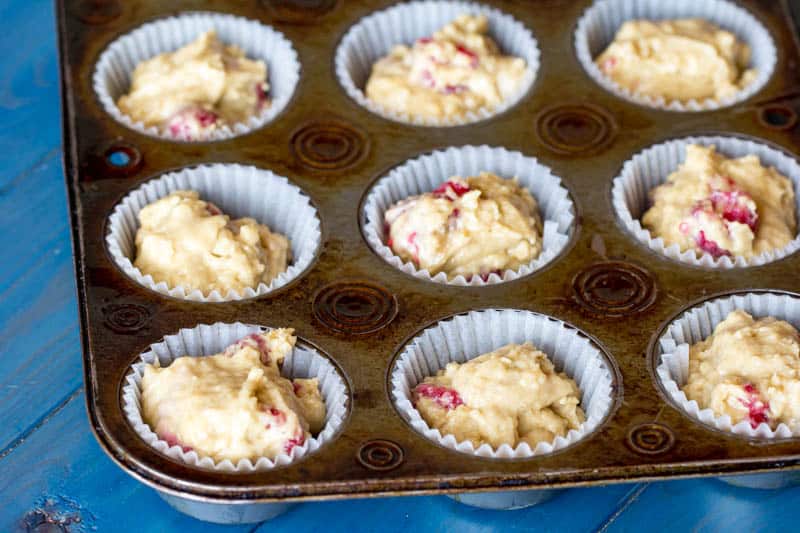 Sprinkle the tops of the unbaked muffins lightly with Turbinado sugar (AKA Sugar in the Raw).
Bake at 425 degrees for 15 minutes, and then reduce the heat to 350 for the remaining 10-15 minutes. The hot blast of high heat, in the beginning, helps the muffins rise to the occasion and get those nice domed tops.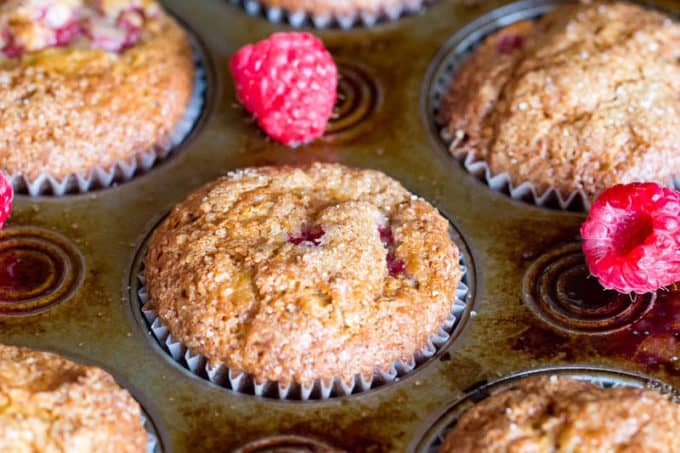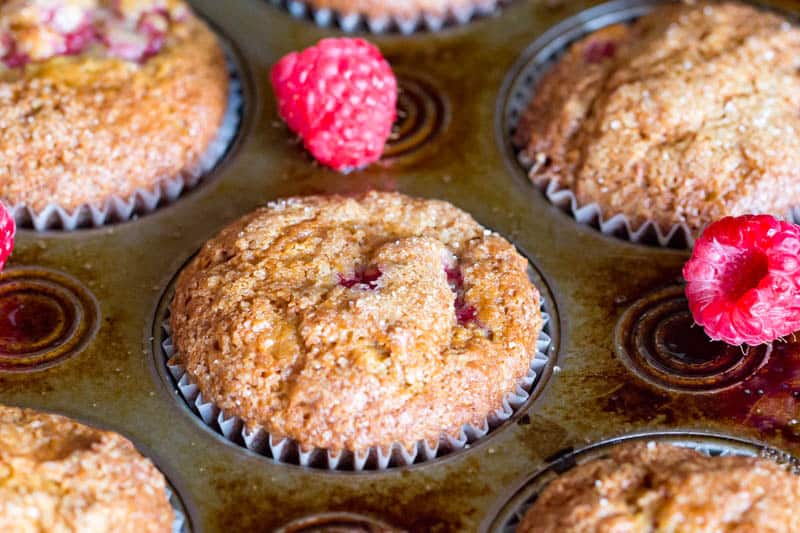 Let cool for 5 minutes in the pans, and then remove to wire racks to finish cooling.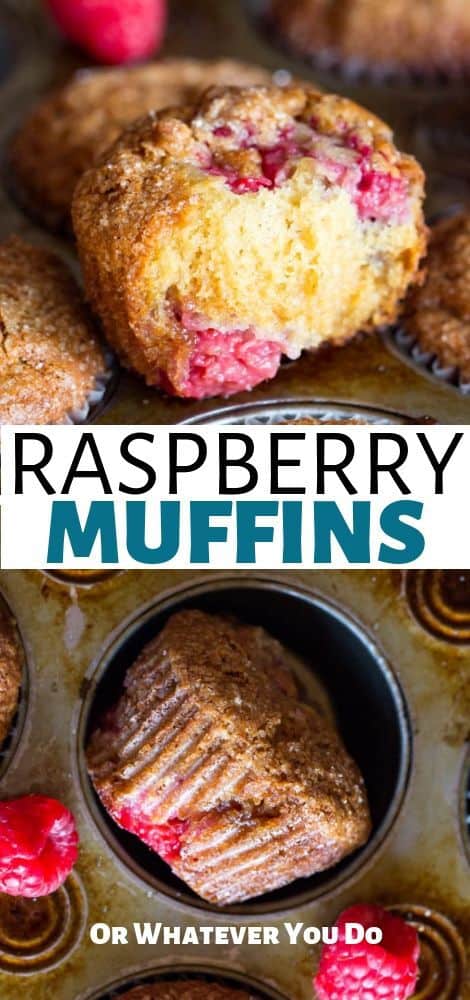 Yield: 8 servings
Raspberry Muffins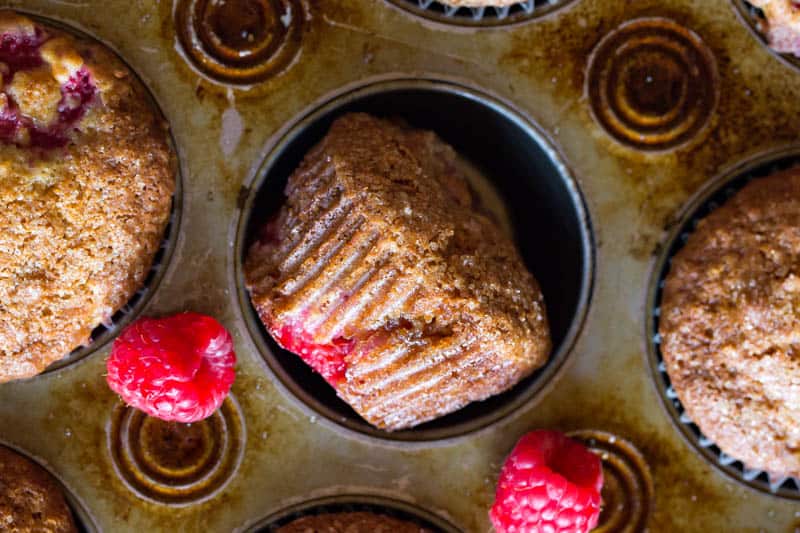 Delicious lemon raspberry muffins. Easy, fast, and they taste amazing!
Ingredients
1 1/2 cups flour
3/4 cup white sugar
2 teaspoons baking powder
1 teaspoon baking soda
1/3 cup canola oil
1 egg
2/3 cup raspberry yogurt
1 teaspoon lemon zest
1 cup raspberries
1/4 cup raw sugar
Instructions
Preheat oven to 425. Line and spray a 12 cup muffin tin.
Combine dry ingredients and mix well with a whisk.
Combine oil, egg, yogurt, and lemon zest in another bowl. Whisk until combined.
Add wet ingredients to dry ingredients and mix gently JUST until combined. Fold in raspberries.
Spoon batter into prepped muffin tins.
Sprinkle tops with raw sugar.
Bake for 15 minutes at 425, then reduce heat to 350 for remaining 10-15 minutes. Bake until tops are golden brown. Let cool in pan for 10 minutes, then remove and cool the rest of the way on a wire rack.
Nutrition Information:
Yield:
12
Serving Size:
1
Amount Per Serving:
Calories:

299
Total Fat:

10g
Saturated Fat:

1g
Trans Fat:

0g
Unsaturated Fat:

9g
Cholesterol:

24mg
Sodium:

299mg
Carbohydrates:

49g
Fiber:

2g
Sugar:

29g
Protein:

4g