This savory Caprese Salad with Balsamic Reduction recipe absolutely floored me with its deep, complex flavor. And it's so versatile! This simple tomato and mozzarella salad is swanky enough to serve as an appetizer at an upscale dinner party and casual enough to serve for your next family picnic.

Caprese with Balsamic Reduction
With just a few super-fresh ingredients and a drizzle of rich balsamic dressing that has just a hint of sweetness, this easy Caprese salad is guaranteed to impress anyone and everyone!
Caprese with Balsamic Reduction
The flavors in this simple fresh vegetable salad recipe are seriously heavy hitters. You're going to love how all the flavors come together to make something truly spectacular. Even better, it literally takes minutes to put together. Even the balsamic reduction only takes 20 minutes to cook, which means you can have this whole thing ready to go from start to finish in practically no time.
Whatever you're cooking for, whether it's a potluck for work, your relatives visiting from out of town, or just a regular Sunday dinner – this is the right dish for you! It's easy, it's fast, and it's IMPRESSIVE. Fresh Caprese Salad is light and fresh and the balsamic reduction brings it together to really pack a big flavor punch.
Love the idea of balsamic dressing on an appetizer-friendly dish? Me too! Next up, try my Chicken and Chanterelle Crostini .

Caprese Salad Recipe
This caprese salad recipe is super easy to make. The tomatoes are seasoned with salt and pepper, then layered with fresh mozzarella slices and fresh basil leaves. Then all you have to do is drizzle the balsamic reduction over it for a smashing success.
Part of the reason Caprese salad is so easy to make is that it has very few ingredients, and most of them are fresh. Check it out!
Tomatoes
Fresh basil leaves
Fresh mozzarella
Salt
Pepper
Balsamic vinegar
Dark brown sugar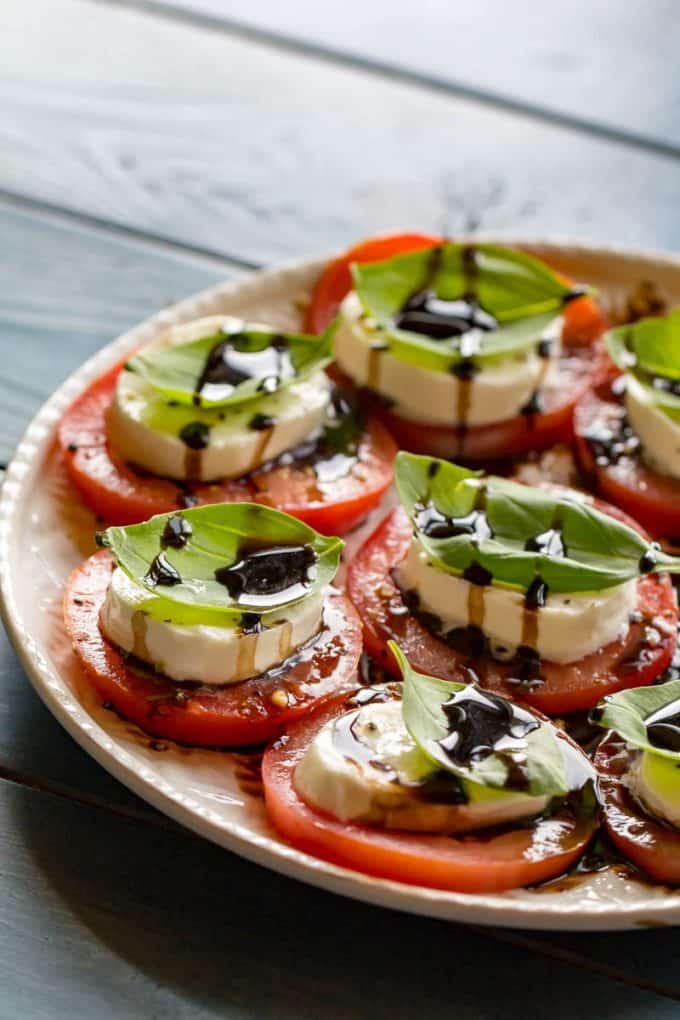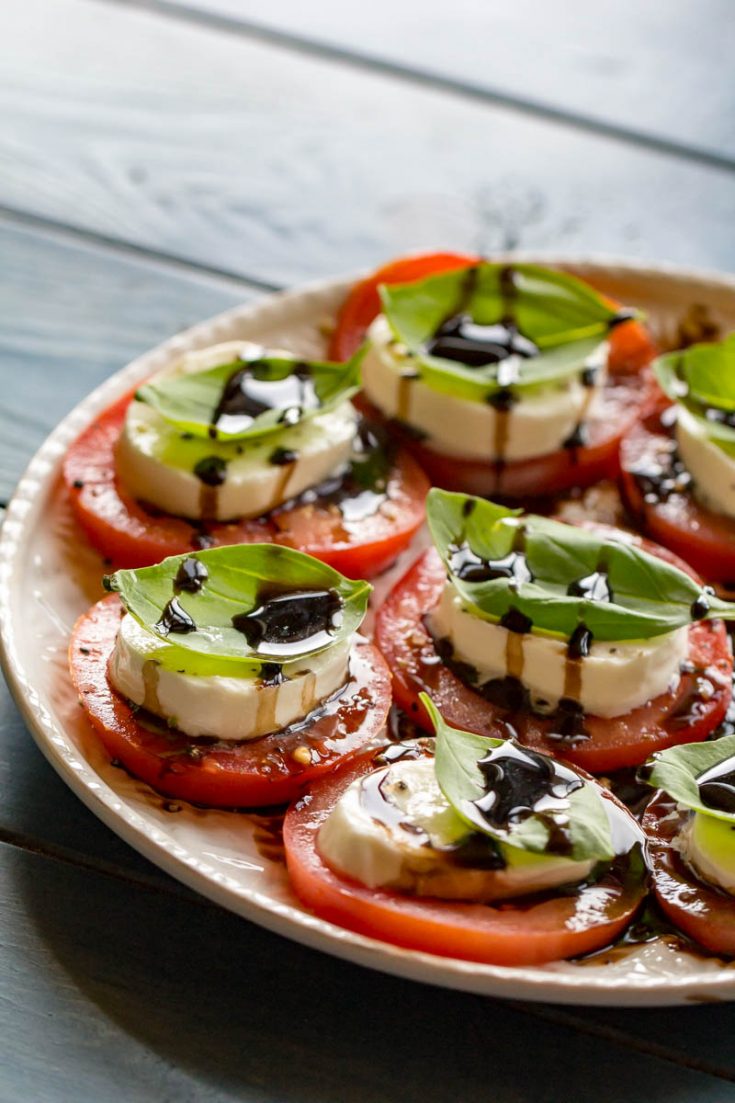 Where did Caprese Salad Come From?
Caprese salad is a wonderful dish that probably originated on the island of Capri in Italy. There's no way to know for sure, but since "Caprese" means "of Capri" it seems like a pretty safe bet.
Capri is an island in the Bay of Naples, and it's known for its high-class goods. Incidentally, it's also known for the Blue Grotto, a gorgeous cavern where apparently the sea looks like it's glowing?? Brb, I think I need to book a flight real quick.
"Caprese" is an Italian word, but here in America, we have embraced it! If you're traveling to Italy you might want to try to pronounce "kuh-pray-szhey", but most Americans just say "kuh-pre-say". Either way, we'll know what you mean – the deliciously fresh tomato, basil, mozzarella salad that tastes like it's straight from Italy.
How To Make a Balsamic Reduction
A basic balsamic reduction is a breeze to make. You only need one ingredient, balsamic vinegar, and a pot to heat it in. My version includes dark brown sugar for a little extra sweetness that really brings out the taste of the balsamic vinegar.
A balsamic reduction is a must-have for this Caprese salad, but you'll definitely want to pop over to my post (coming soon) dedicated to this delicious condiment. It's great on so many things, and it's so easy to make!
Basics on making Balsamic Reduction
Combine the balsamic vinegar and dark brown sugar in a saucepan.
Cook the mixture over medium-high heat stirring constantly until the sugar is dissolved.
Turn the heat down to a low simmer.
Simmer for about 20 minutes until the liquid is reduced by half.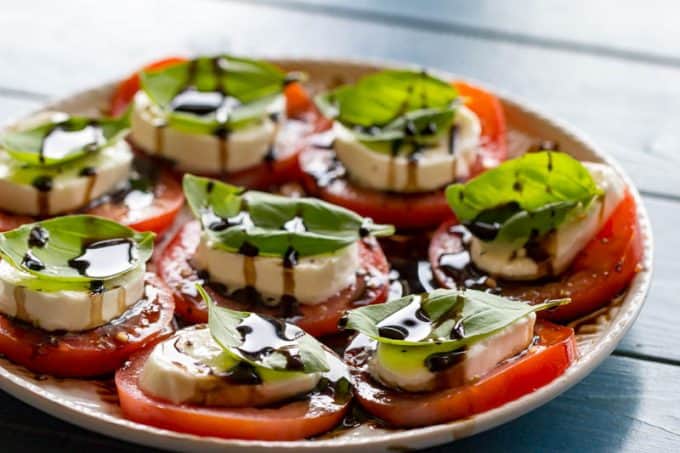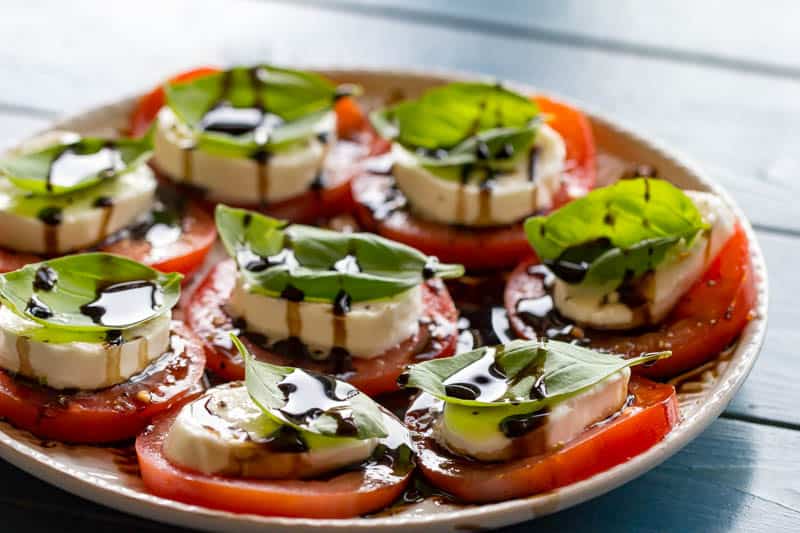 Storing a Balsamic Reduction
Balsamic vinegar by itself should always be stored in a cool, dry, dark place, like a pantry or cupboard. It should be well sealed, but it doesn't need to be refrigerated. Keeping it at room temperature preserves the taste. Don't worry, it will stay good for years.
Once you've reduced the balsamic vinegar, it will keep for a few days in a well-sealed container at room temperature. After a day or two, though, you should pop it in the fridge for ultimate freshness.
What to Serve With Caprese Salad
Caprese Salad is a great dish to serve with really anything, all summer long. The fresh, bright flavors mix well with pretty much everything! If you need some suggestions, I've got you covered.
Any dense, crusty bread is great with a Caprese salad. You can try these Garlic Breadsticks on the side. Baguettes are good too!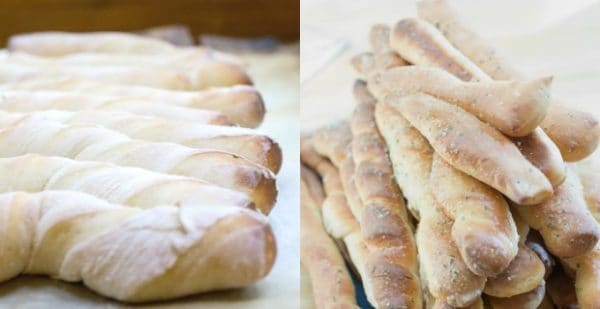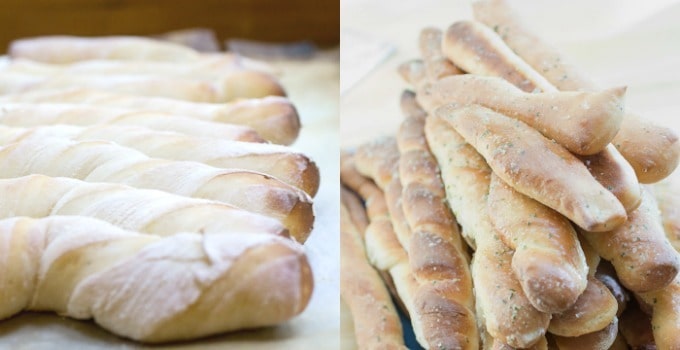 If you're looking for a main dish, think light. Caprese salad is made for breezy, sunny summer days, and you want an entree that matches that feeling.
A lightly seasoned, grilled chicken dish would be great. A classic like this Traeger Grilled Chicken recipe is perfect. My Honey Balsamic Traeger Grilled Chicken Legs or these Grilled Chicken Leg Quarters would pair well, too. Or, for something a little different, try my Traeger Grilled Chicken Kabobs.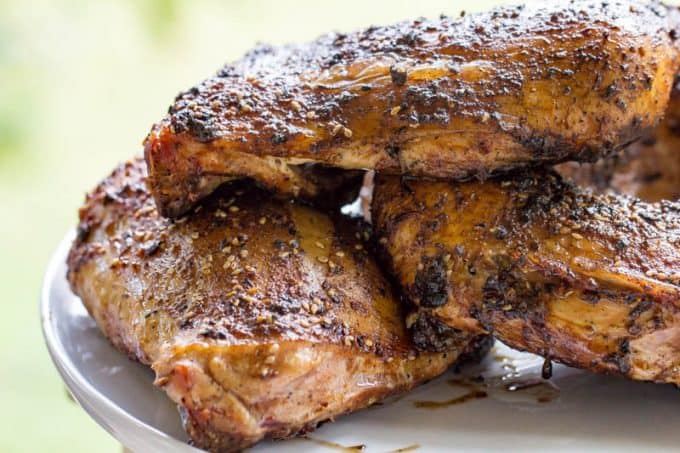 How to Eat Caprese
I love love love the rich taste of a classic Caprese salad. What's really special about it, though, is how incredibly flexible it is.
If you LOVE this Caprese salad recipe, try using it in some fun new ways. Take the same basic ingredients – tomatoes, fresh mozzarella, and basil leaves – and put a brand new twist on an old favorite!
Here are six ways to eat a Caprese salad minus the salad!
Caprese sandwiches on a crusty roll or sourdough bread
Caprese pizza with homemade crust
Finger food Caprese hors d' oeuvres on crackers
Caprese pasta
Caprese kabobs on the grill
Caprese grilled cheese
Pin for later!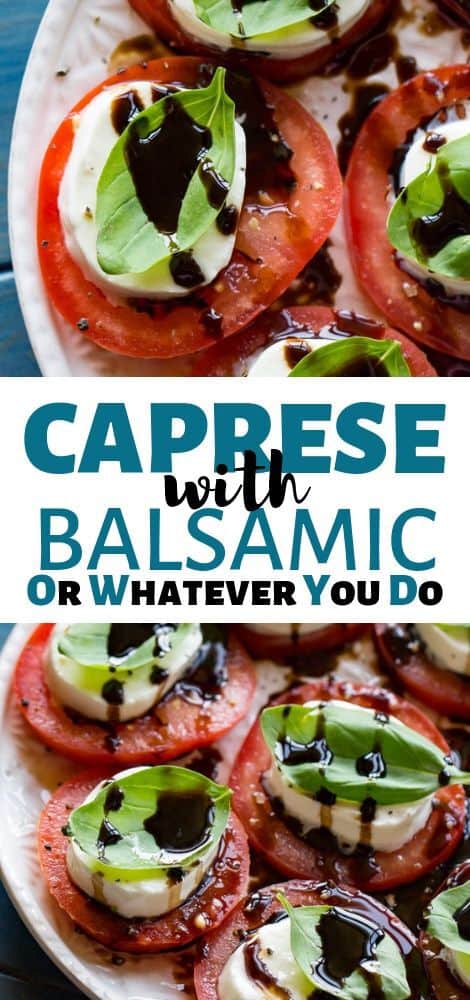 Yield: 8 servings
Caprese Salad with Balsamic Reduction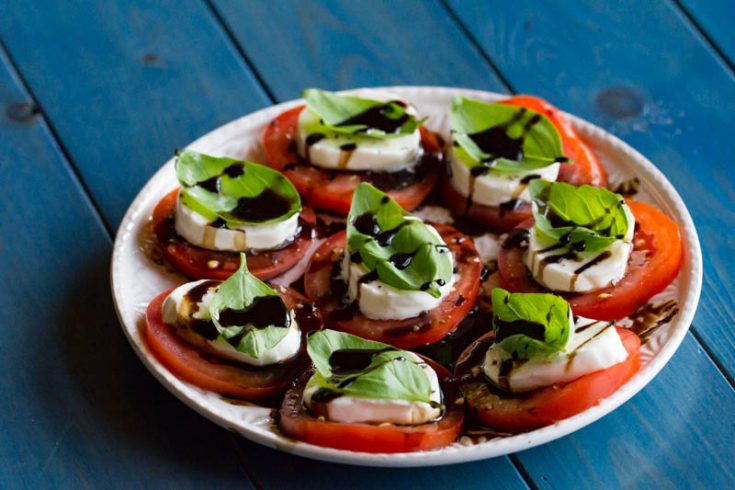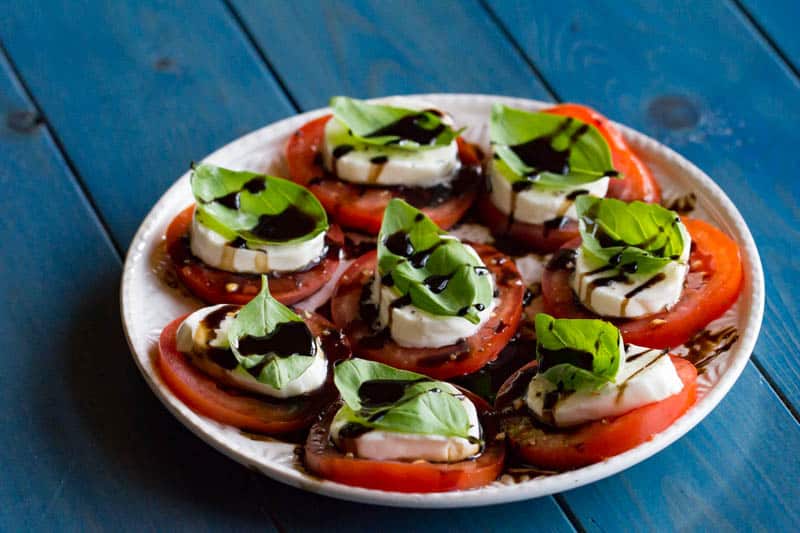 Fresh ripe tomatoes are lightly salted with pink sea salt, topped with fresh sliced mozzarella and fresh basil and a sweet balsamic reduction.
Ingredients
balsamic reduction
1 cup balsamic vinegar
3 tablespoons dark brown sugar
caprese
2 large vine-ripened beefsteak tomatoes, cut into 10-15 slices
1/4 - 1/2 teaspoon pink Himalayan sea salt
fresh ground black pepper
10-15 slices fresh mozzarella
10-15 large basil leaves
Instructions
Balsamic Reduction
Place the balsamic vinegar and the dark brown sugar in a small sauce pan over medium-low heat. Let the mixture simmer for 20-25 minutes, or until reduced by half.
Once the reduction has reduced, remove from the stove and let cool.
Caprese Assembly
Lay the tomatoes out onto a plate or two, and lightly sprinkle with salt and pepper.
Top with fresh mozzarella slices and basil leave.
Drizzle balsamic vinegar over the whole thing, let rest for a few minutes, and enjoy.
Notes
You can optionally drizzle olive oil on the caprese salad as well.
Nutrition Information:
Yield:
8
Serving Size:
1
Amount Per Serving:
Calories:

182
Total Fat:

10g
Saturated Fat:

6g
Trans Fat:

0g
Unsaturated Fat:

3g
Cholesterol:

34mg
Sodium:

379mg
Carbohydrates:

12g
Fiber:

1g
Sugar:

10g
Protein:

10g