Breakfast Biscuits for a Crowd are the perfect meal for a big family breakfast, a weekend brunch, or for a holiday morning. You bake off a big pan of scrambled eggs mixed with breakfast meat of your choosing, and then bake off some biscuits and go to town!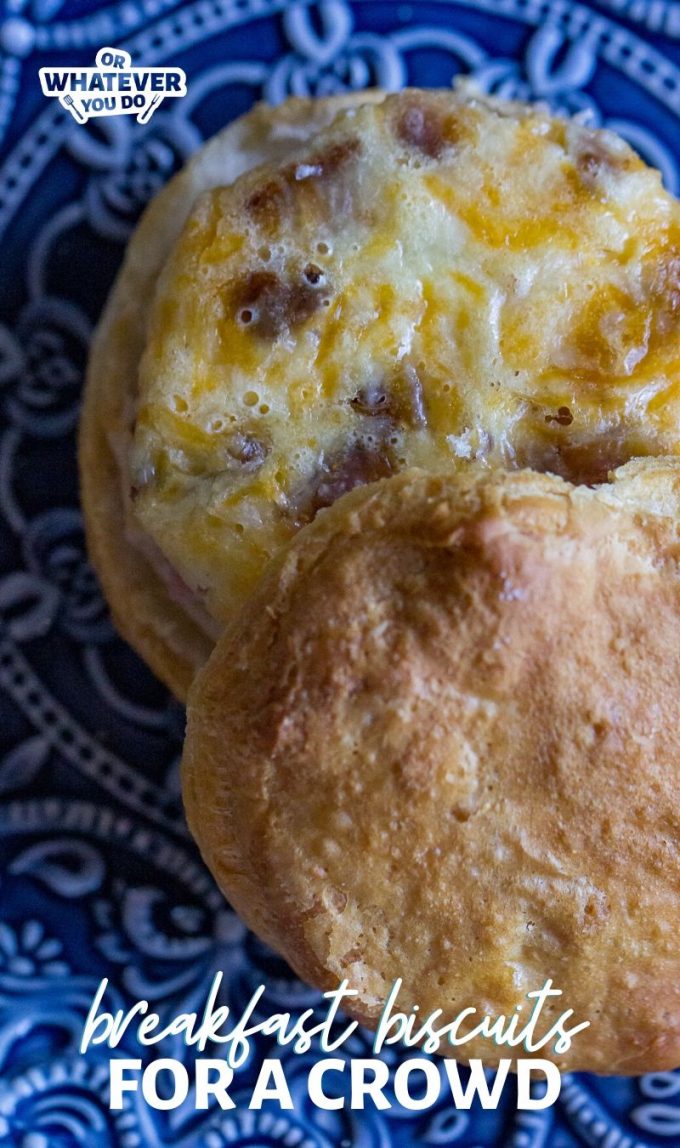 Easy Bacon Ham And Egg Biscuits
Making a batch of scrambled eggs, some bacon, and ham is a no brainer when you have only yourself and your immediate family to please. Add a few more mouths to feed, and all of a sudden you are a short-order cook and not leaving the kitchen for a few hours.
Will everyone get to eat on time? You need to be able to serve everyone together or you are going to get complaints from the peanut gallery. Nothing worse than a hungry person waiting for food.
How can you cook it all so everyone enjoys a well-done meal that you are not serving in waves?
Luckily, there are always useful hacks to help overcome those issues. Better yet, none of the shortcuts to cooking for a crowd have to mean trade-offs for taste, doneness, or presentation.
Or Whatever You Do participates in several different affiliate programs. As an Amazon Associate, we earn from qualifying purchases.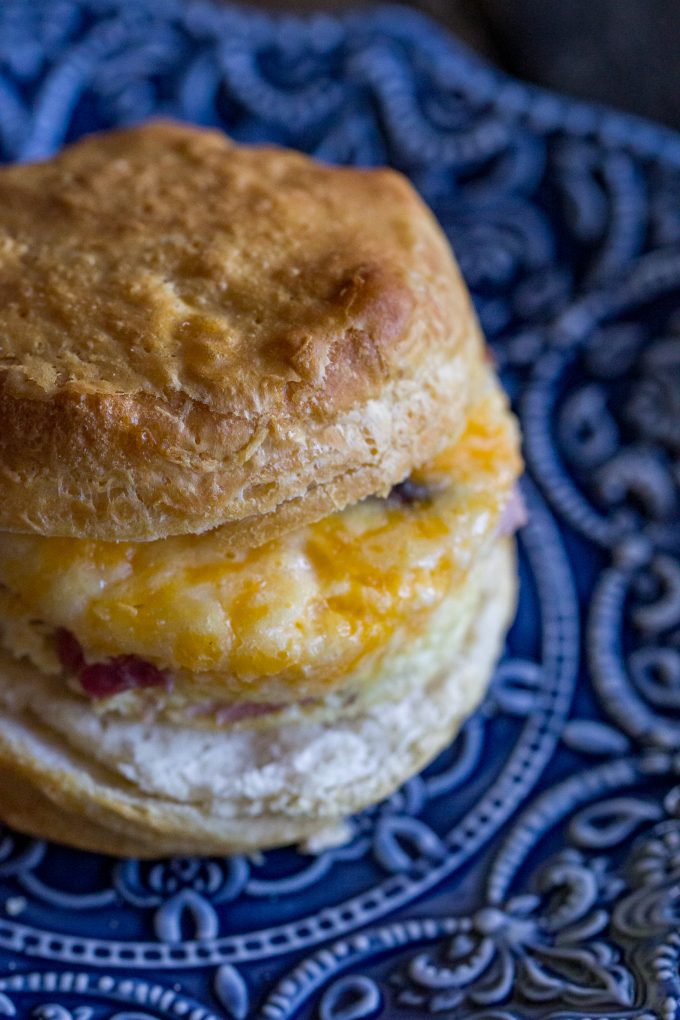 The Right Way To Cook Scrambled Eggs Without Scrambling Them
The legendary cook Julia Child espoused the perfect scrambled eggs. The way she made it sound, getting perfect scrambled eggs is sort of a zen like state. It involves whisking in figure 8's and the perfect balance of butter and cream.
The eggs must be stirred in such a way as to curdle and cook together perfectly. Full of flavor, perfectly textured, ready to serve to excited appetites!
Well, don't worry about that stuff.
You are going to bake the eggs and guess what…
They can still come out perfectly light and delicious. Plus, baking them means you can easily form cut the eggs so they fit just right on your biscuits.
Just don't over whisk your eggs and make sure the bottom of your pan is well-buttered or greased. You will be fine, even if the spirit of Julia stands over you with her whisk in hand.
More great BREAKFAST RECIPES here!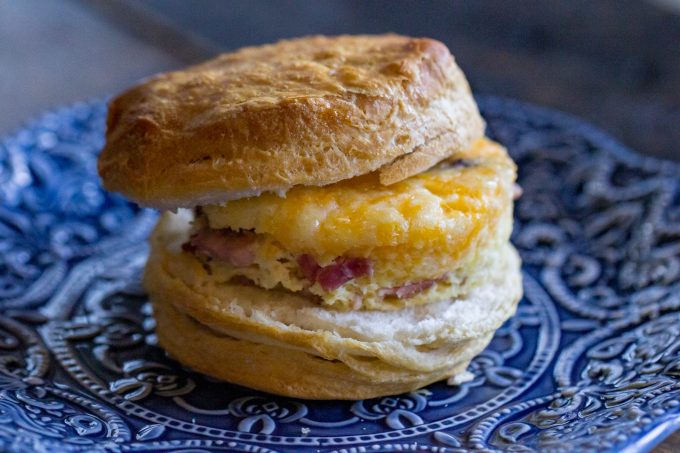 Use An Empty Can To Cut Your Eggs
If you don't have a round cookie cutter the right size for cutting the eggs, then don't fret. One, you can either just cut easy squares and call it a day.
If you want to look like a pro, then you can use an empty can of tuna to cut circular patties of cooked eggs that fit perfectly on the biscuit. Just cut out both ends of the can with a can opener and you are set to go.
Use up those EGGS with these recipes!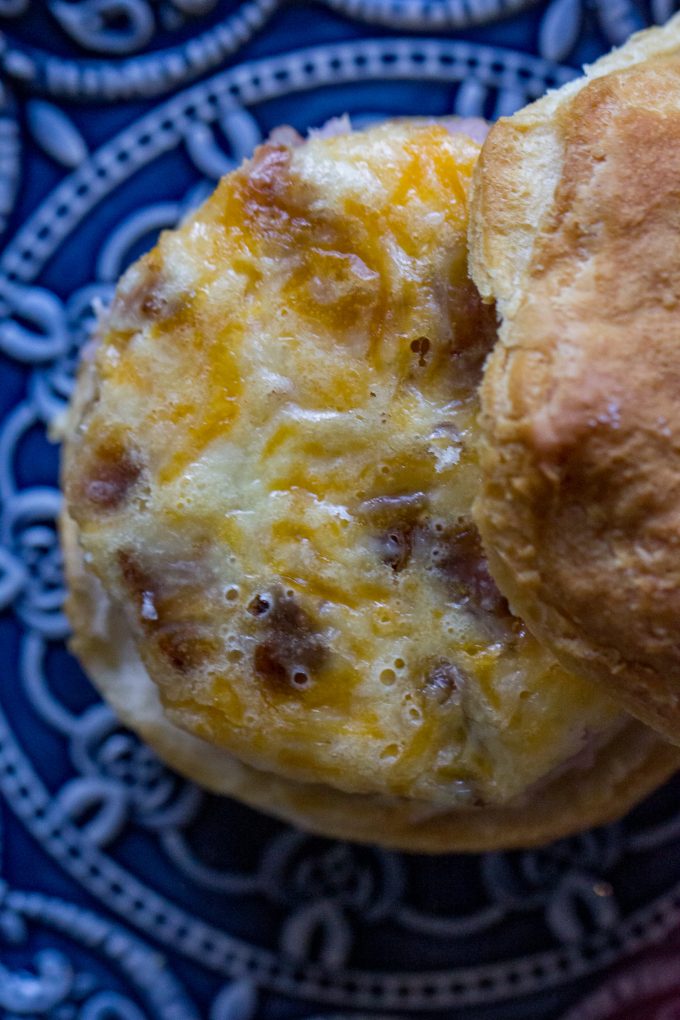 The Right Biscuits For Bacon, Ham, And Egg Biscuits
If you want to make homemade biscuits then check out my cheddar garlic drop biscuits recipe. They are super simple to make and come together in minutes. Another great option would be the biggest, fattest, fluffiest all-butter biscuits you've ever seen.
Otherwise, then go ahead and use the pre-made biscuits that come in tubes in the refrigerated section of the grocery store. The bigger, the better. You want plenty of room to set the eggs on.
If you decide to add any other ingredients as a garnish then the larger biscuit makes that easier too.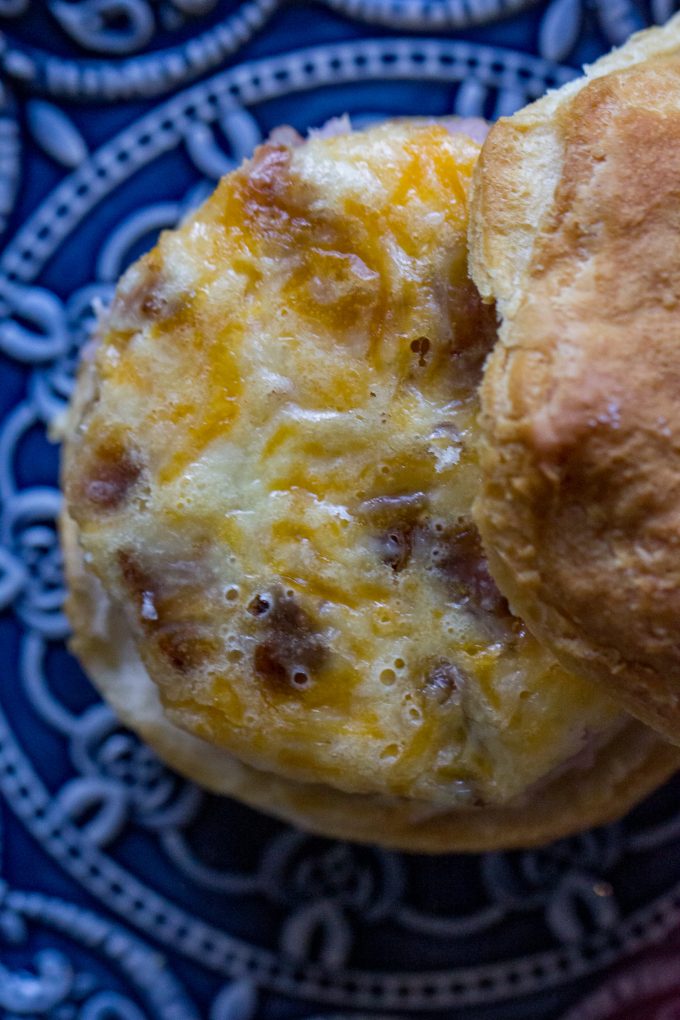 Ideas for Mix-Ins
With the bacon and ham already chopped into the eggs, you have plenty of creative space to fill between the top of the egg and the bottom of the biscuit on top. Why not a slice of melted cheese like cheddar or Monterey with jalapeno? Perhaps a few leaves or arugula?
Let the imagination run free and let people build their own creations.
Get fancy using the hollandaise sauce from my eggs benedict recipe.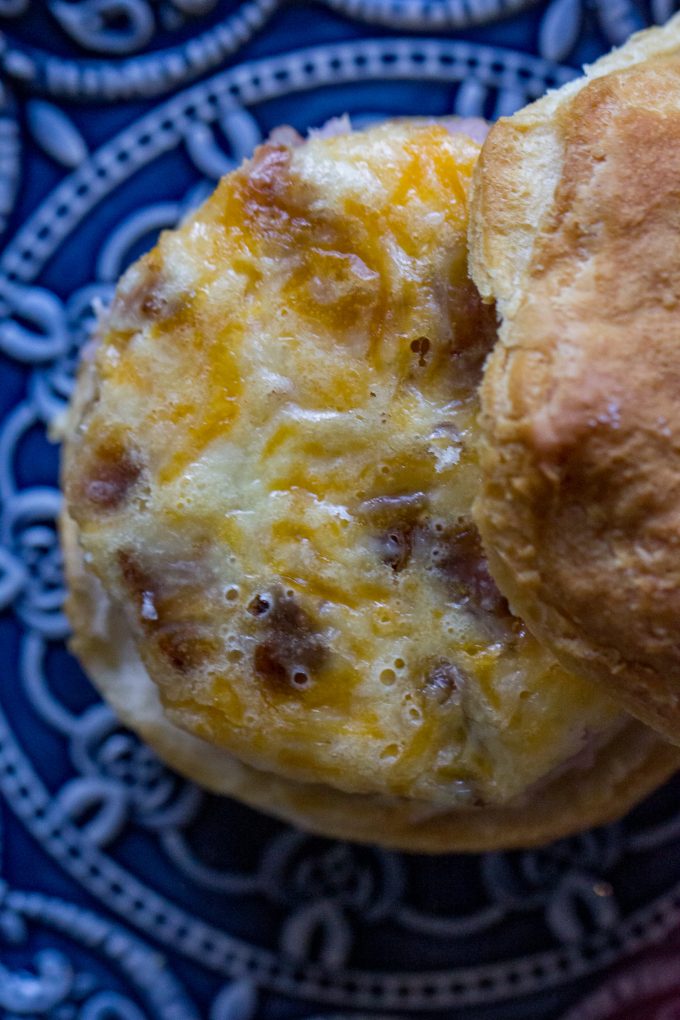 More Great Brunch Ideas
Bacon ham and egg biscuits can be a cornerstone of any great brunch. But you might need a few more dishes to really set the table properly with food folks will love digging into.
Here are a few of my favorite instant brunch winners:
Try some of these Breakfast Sweets!
Pin For Later!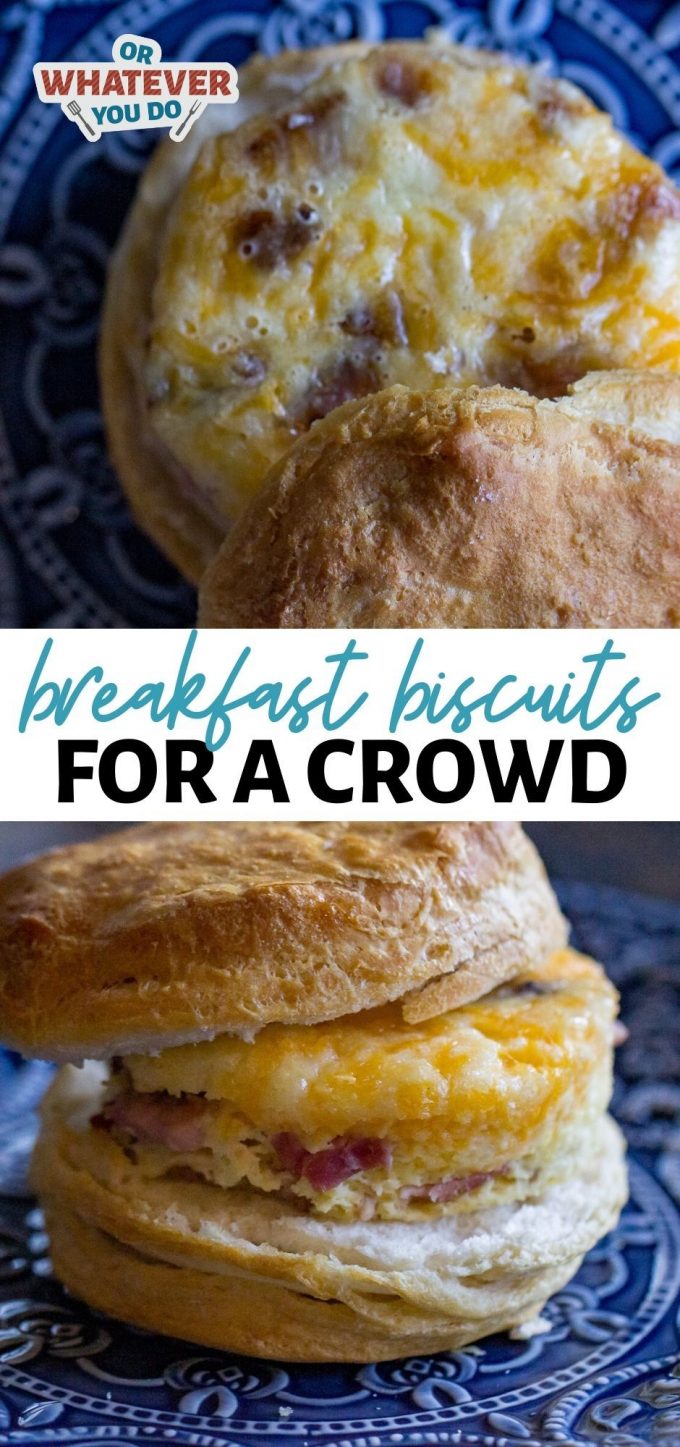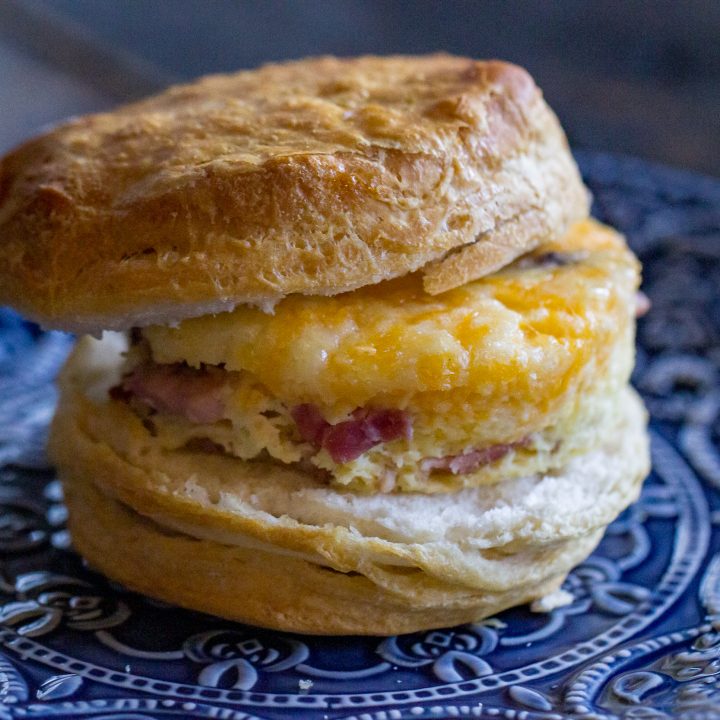 Breakfast Biscuits for a Crowd
This hearty egg bake is packed with sausage, ham, and bacon, and then sandwiched between freshly baked biscuits! The perfect breakfast for a crowd!
Ingredients
1/2 pound breakfast meats, cooked and roughly chopped
8 large eggs
1/2 cup 2% milk
1/4 teaspoon salt
1/8 teaspoon ground black pepper
sprinkle onion powder
sprinkle garlic powder
2 cups shredded cheddar cheese, divided
12 cooked biscuits (split in half)
Instructions
Preheat oven to 350°.
Whisk together eggs, milk, salt, pepper, onion, and garlic powder. Pour into a baking dish that's been buttered or sprayed with cooking spray.
Gently mix in the cooked ham, bacon, and sausage. Or a combination of those. Mix in 1 cup of cheese.
Bake for 20-25 minutes, or until the eggs are set. Top with remaining cup of cheddar cheese, and bake until melted.
Remove from the oven and let cool for 5 minutes. Cut into biscuit-sized pieces and place between cooked and split biscuits, and serve hot.
Nutrition Information:
Yield:

12
Serving Size:

1
Amount Per Serving:
Calories:

385
Total Fat:

22g
Saturated Fat:

8g
Trans Fat:

0g
Unsaturated Fat:

12g
Cholesterol:

163mg
Sodium:

581mg
Carbohydrates:

28g
Fiber:

1g
Sugar:

2g
Protein:

18g
Nutrition data provided here is only an estimate.