My Spicy One-Pot Mexican Rice is a quick and easy side dish that is packed with flavor, and uses some simple dump and go ingredients that'll leave you wondering how you ever lived without this on taco night! 

I'm on my way home right now to the beautiful Pacific Northwest after a short trip to Minnesota for a family funeral. Sad reason for a visit, but I got to see my brother and lots of cousins, my Grandma, my Mom, and lots of aunts and uncles in the process.
It's always a little weird, in my opinion, being back in your home town after being gone so long. Makes me a bit nostalgic, but mostly just glad that I just get to visit and that I don't live there still. I miss the family, and of course my friends that I don't get to see from back in the day, but I am pretty happy with my decision to fly the coop, and I'm glad to be going home.
In fact, I'm writing and publishing this from 20,000 feet. Thanks Delta! I have the whole row to myself, and this might be the best flight I've ever taken. But whoa am I tired.
It is 7:47 am right now, and I've been up since 4. Flying standby is amazing because well – saving $$ and flexibility in your plans, but it does require you to be super chill about the whole experience, prepare to catch the first flight out at the break of dawn, or be willing to live at the airport for a while. Also nerves of steel. Sometimes it is *really* cutting it close whether or not you get on the flight, which when flying alone can make things interesting and a little exciting (will I? Won't I? OMGosh the suspense is killing me!!), I wouldn't want to do it again with kids.
Traveling with kids in general is uber-stressful. Compounding that with not knowing how long you'll have to wait? No way. I'd spend infinity dollars if I had it available to make sure I had a plan I could stick to when carting kids along for the ride.
I'm starting to accumulate some airport time here lately in the past few years, and so far my favorite and the best best best service has definitely been in my good old home state of Washington. Sea-tac has really got it down, when it comes to keeping the lines down. Today at MSP I waited in line for 30 minutes just to check a bag, and then another 30-45 in line for security. 15 just for coffee. It must've been an abnormally busy day today. They did an amazing job though getting all.the.people though, and the lines were actually moving along pretty well. I'd definitely suggest at minimum leaving 2 hours in advance when flying out of MSP though, especially if you have bags to check.
Sea-tac is a little more forgiving. The last  few times I've flown out of these I've been checked-in, bags checked, and through security within 30 minutes of arrival, nearly every time. If I'm going to continue these multiple-times-a-year trips though, I'm definitely going to check into the TSA Pre-check. I wish I would've done it last year. It saves so.much.time.
Other airports I've been to, ranked from Best to Worst:
Chicago O'Hare
Amsterdam Airport Schiphol
Detroit International
A Berlin airport – I don't remember which one
MSP
Denver
Bismarck, ND
Duluth, MN
How many airports have you been in? Next week I get to add LAS VEGAS to the list. Yay!!
Back to business, huh?
Spicy Mexican rice and beans is perfect as a side dish for your next taco Tuesday, or as a filling for an awesome burrito. This packs a bit of a bite, so if you have some sensitive mouths in your family, pay attention to the recipe notes for a non-spicy alternative.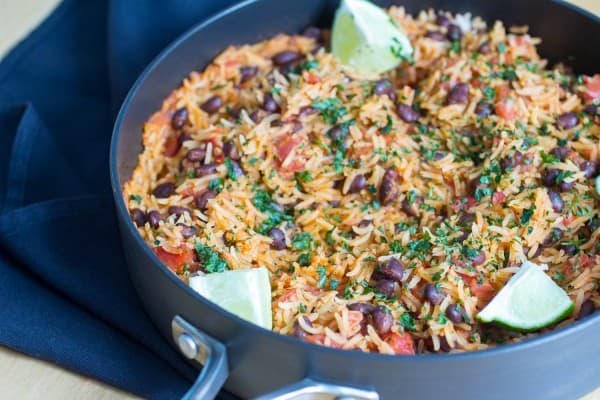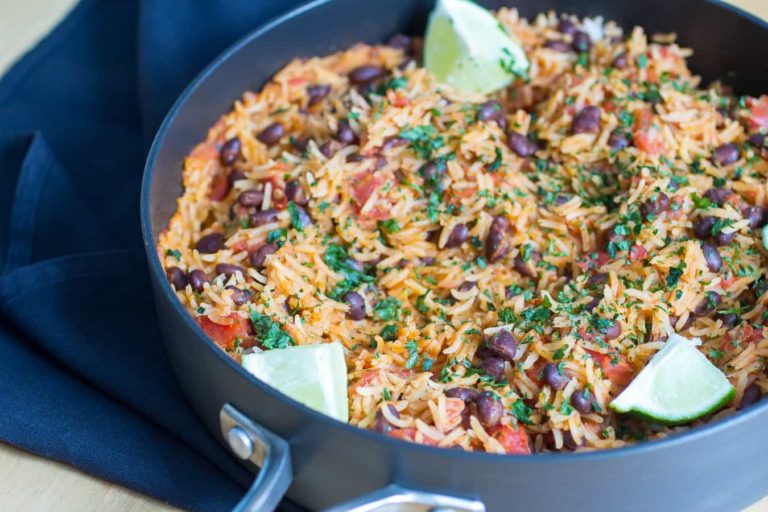 I love my Gourmet Garden lightly dried cilantro for this! I add it in during the last couple minutes of cooking, and it is amazing!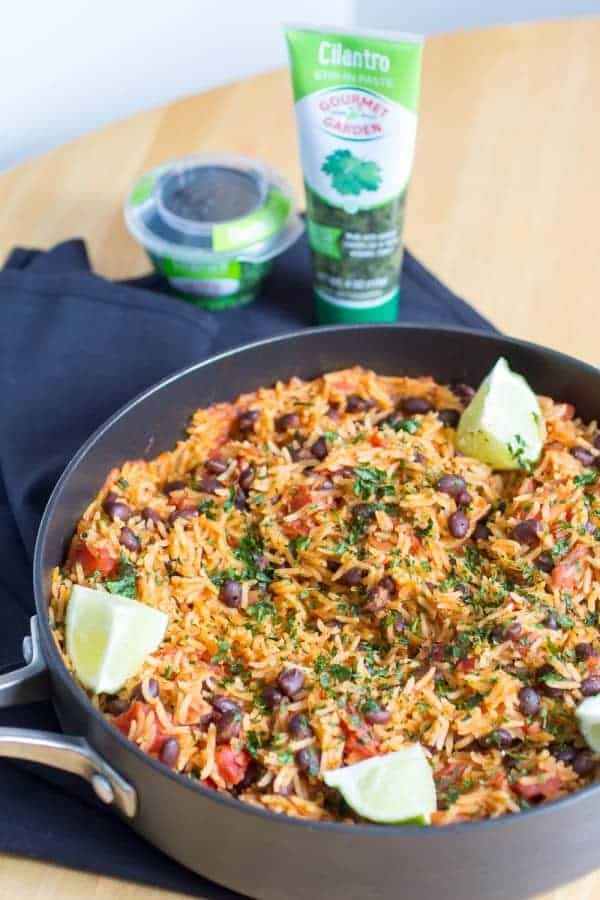 The key to a really good Mexican rice dish is to properly brown the rice a bit before you cook it. It gives the whole dish a flavor that can't be beat by adding some depth and a nutty base, and it also helps to keep the grains from sticking together during the cooking process.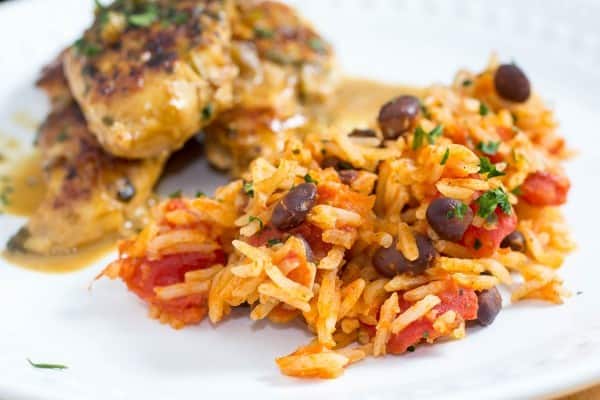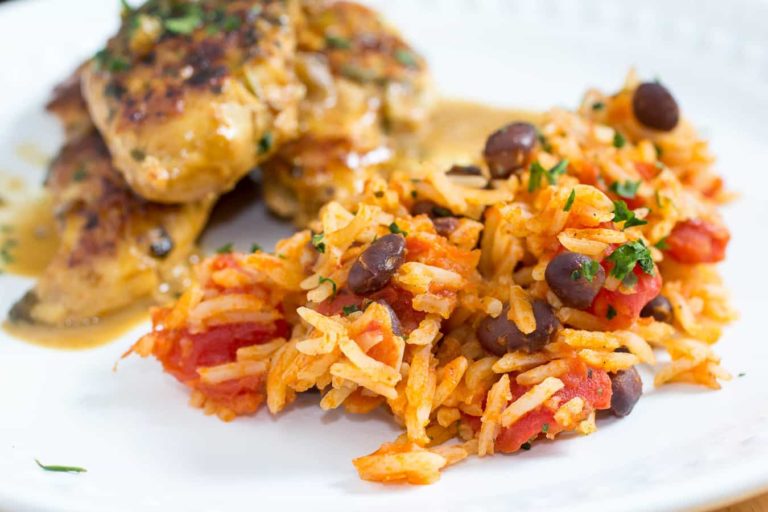 Need a main dish to go with this rice? I recommend these:
Chicken and Cilantro Cream Sauce
Smothered Burritos
Beefy Tamale Pie
Yield: 6 servings
Spicy One-Pot Mexican Rice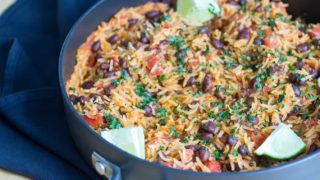 Spicy Mexican Rice made from scratch and all in ONE pot! Add in some taco meat to make it a complete meal, or serve as a side at your next taco Tuesday!
Ingredients
1 cup long grain white rice
2 tablespoons butter, salted
1 - 15.5 ounce can diced tomatoes with spicy red pepper, or sub the green chili variety for a less-spicy version
1 - 7.75 El Pato Hot Tomato Sauce, yellow can
1 - 15.5 ounce can black beans, drained and rinsed
1 1/3 cup water
1/2 teaspoon cumin
2 teaspoons chopped cilantro
1 teaspoon minced garlic
1/2 teaspoon salt, or to taste
1/2 pieces lime, cut into serving-sized
Instructions
Place the rice and butter into a skillet over medium heat. Stir constantly, until the rice is lightly browned.
Add the diced tomatoes, El Pato, black beans, water, and cumin. Stir to combine, reduce heat to low (a very low simmer), and cover. Stir occasionally after 4-5 minutes to reincorporate liquid throughout the dish, and then recover and cool an additional 5-10 minutes.
Stir in Gourmet Garden cilantro stir-in paste, chunky garlic, and salt. Taste. Cook additional 5 minutes if necessary, or until the rice is done. (Different varieties of rice will have different cook times.)
Garnish with lime and cilantro, and let guest squeeze lime over the finished rice.
Nutrition Information:
Yield:
8
Serving Size:
1
Amount Per Serving:
Calories:

433
Total Fat:

14g
Saturated Fat:

5g
Trans Fat:

0g
Unsaturated Fat:

7g
Cholesterol:

41mg
Sodium:

3107mg
Carbohydrates:

60g
Fiber:

14g
Sugar:

21g
Protein:

23g
Nutrition data provided here is only an estimate. If you are tracking these things for medical purposes please consult an outside, trusted source. Thanks!