When you need a big pan of comfort food, this Traeger Cheesy Chicken Casserole is the perfect fit. Tender grilled chicken is cubed up and mixed into this one-pan meal that cooks in the pellet grill and has so much cheese, it should almost be illegal.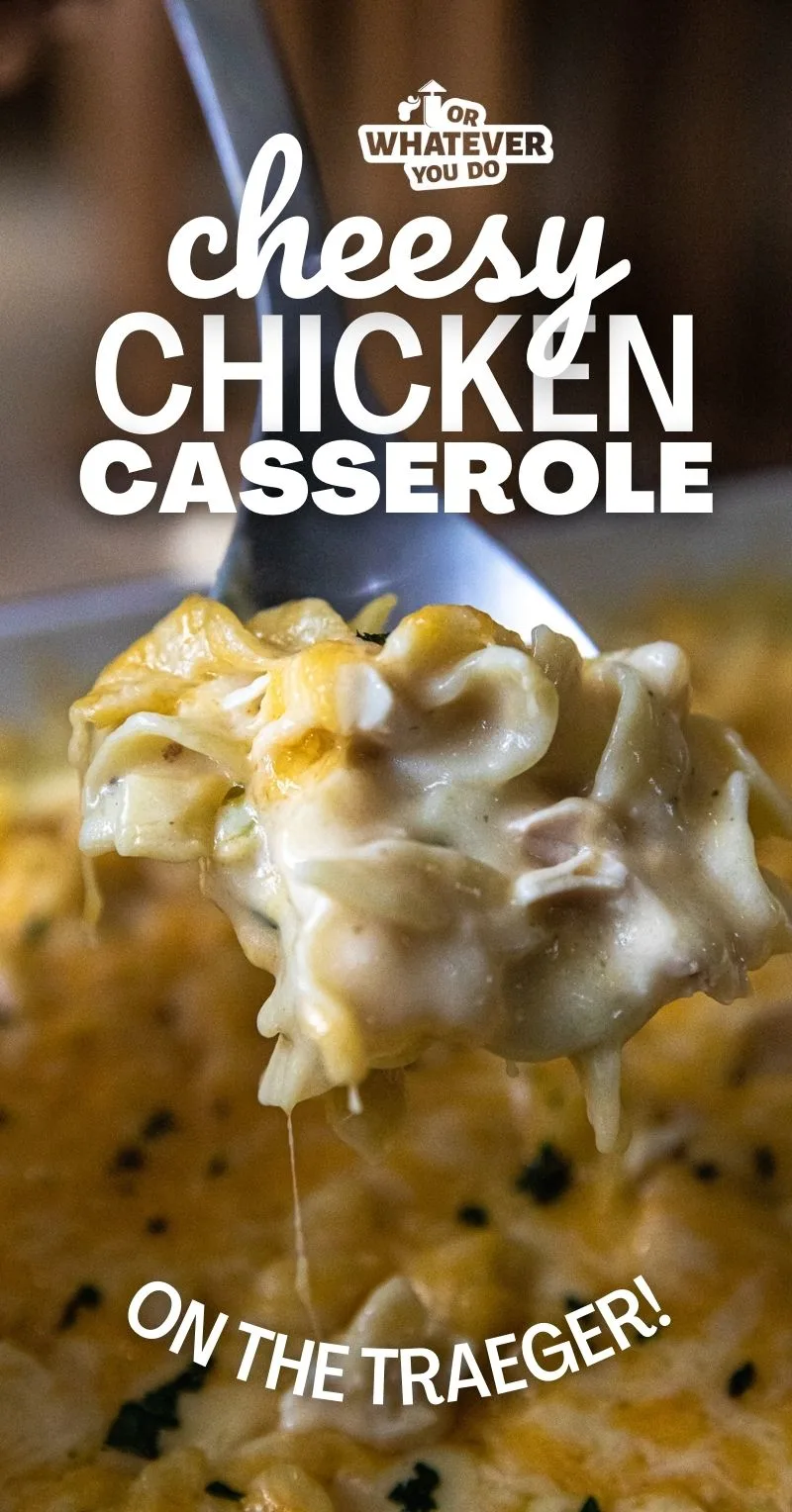 Traeger Smoked Cheesy Chicken Casserole
I grew up in the Midwest, so you can imagine how hard it was for me NOT to call this a Chicken Hot Dish. It should be called that, by all rights, but it lacks the standard "cream of" soups that are so common in all things hot dish that casserole seemed more appropriate. There are no "cream of" soups in this recipe, just real ingredients put together in a simple way to make something that is greater than all the parts.
This homemade cheesy chicken casserole was just what we needed after a long day. It was done in under an hour, we only dirtied two dishes, and who doesn't love noodles + cheesy + big chunks of chicken all in a savory, homemade sauce?
No one.
We kept it simple this time and served this with a big green salad, but there's nothing stopping you from throwing in a whole bunch of vegetables while this cooks. Some lightly steamed broccoli would be perfect, and if you're into a little crunchy topping this could really benefit from a sleeve of butter crackers crushed up and sprinkled on top. You do you.
This recipe calls for so much Better Than Bouillon you'd think they were paying me to say this, but they aren't (so far! I'm not opposed, wink wink)! We use this stuff ALL THE TIME in our kitchen and when I saw all the new varieties they were coming out with, I grabbed them all.
If you don't have them, can't find them, or would rather not use them, you can sub in chicken stock, fresh mushrooms (or mushroom powder), fresh garlic, and fresh or dried Italian Herbs like basil, oregano, and thyme into the mix. This recipe is very forgiving, so add a little of this and a little of that and experiment!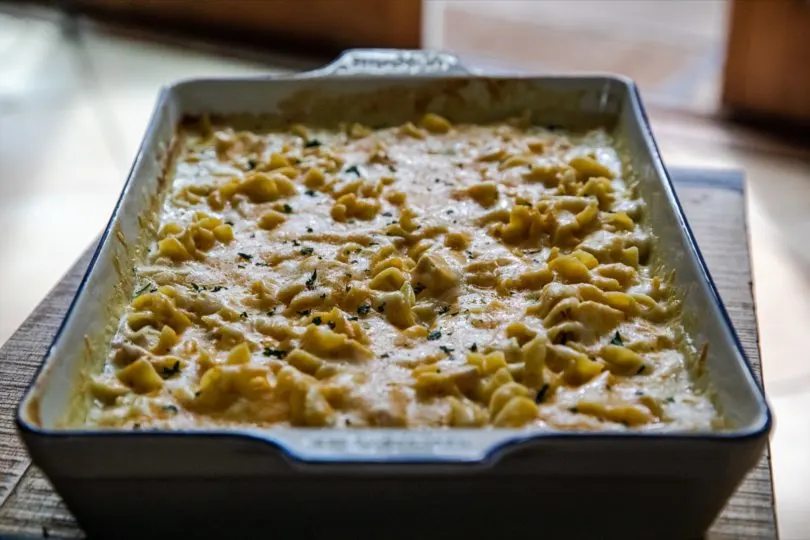 Cheesy Chicken Casserole shopping list
Wondering if you have to hit the store? Here's the list of items you'll need to make this recipe. For specific amounts, please refer to the printable recipe card at the bottom of the post.
Butter
Flour
Better Than Bouillon Chicken
Better Than Bouillon Garlic
Better Than Bouillon Italian Herbs
Better Than Bouillon Mushroom
Pepper
Onion powder
Whipping cream
Extra-wide egg noodles
Shredded cheese
Fresh chopped parsley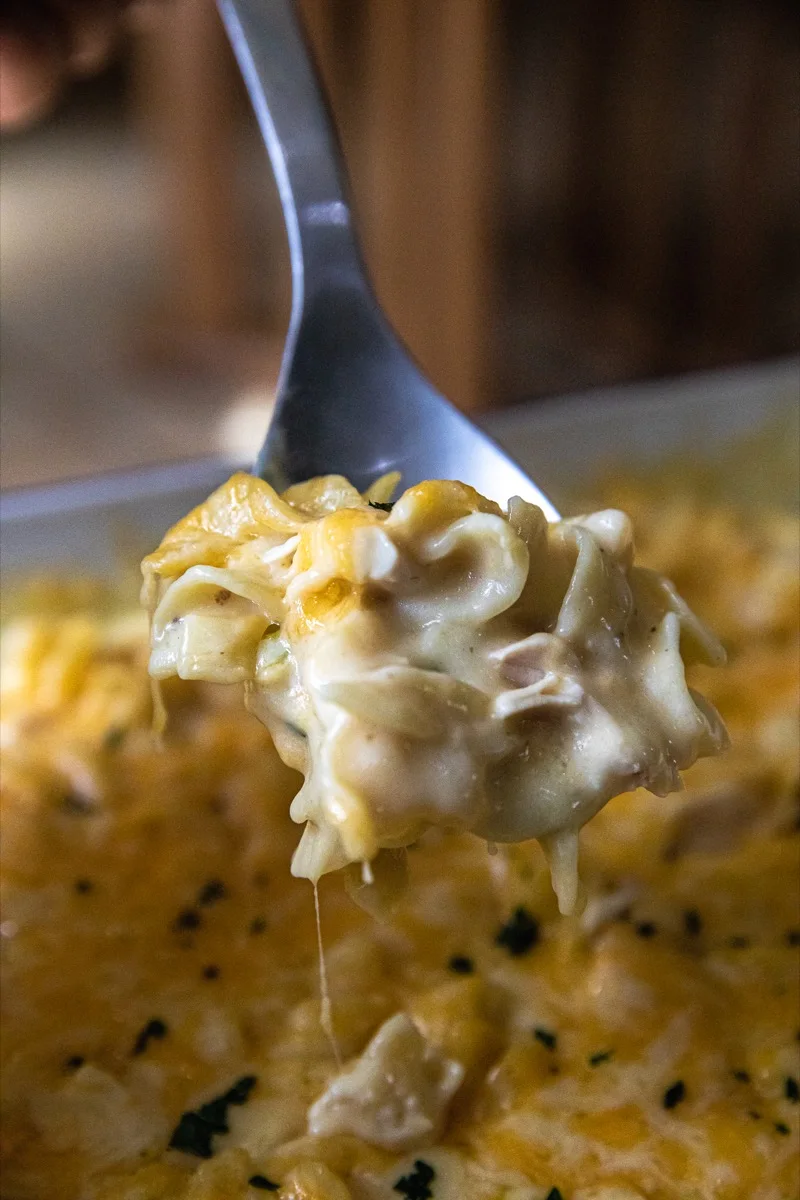 How to make Cheesy Chicken Casserole
This is just the overview so you can see what you're actually getting into here. When you are cooking, you'll want to use the full recipe at the bottom of the page.
Preheat
Fire up the grill and get it heating to 350°F.
Make the sauce
Make a butter roux and then make the rest of the sauce. Let it simmer until it thickens slightly. Remove from the heat and stir in the cream. Set aside.
Mix it
Mix the uncooked noodles, chicken, most of the cheese, and the sauce together in a grill-safe baking dish. Pour the sauce over and put on the grill.
Bake it
In the pellet grill, that is. Cook for 20 minutes and then check it and give it a stir. Toss in the rest of the cheese and let it finish cooking.
Enjoy
Sprinkle with fresh parsley and enjoy!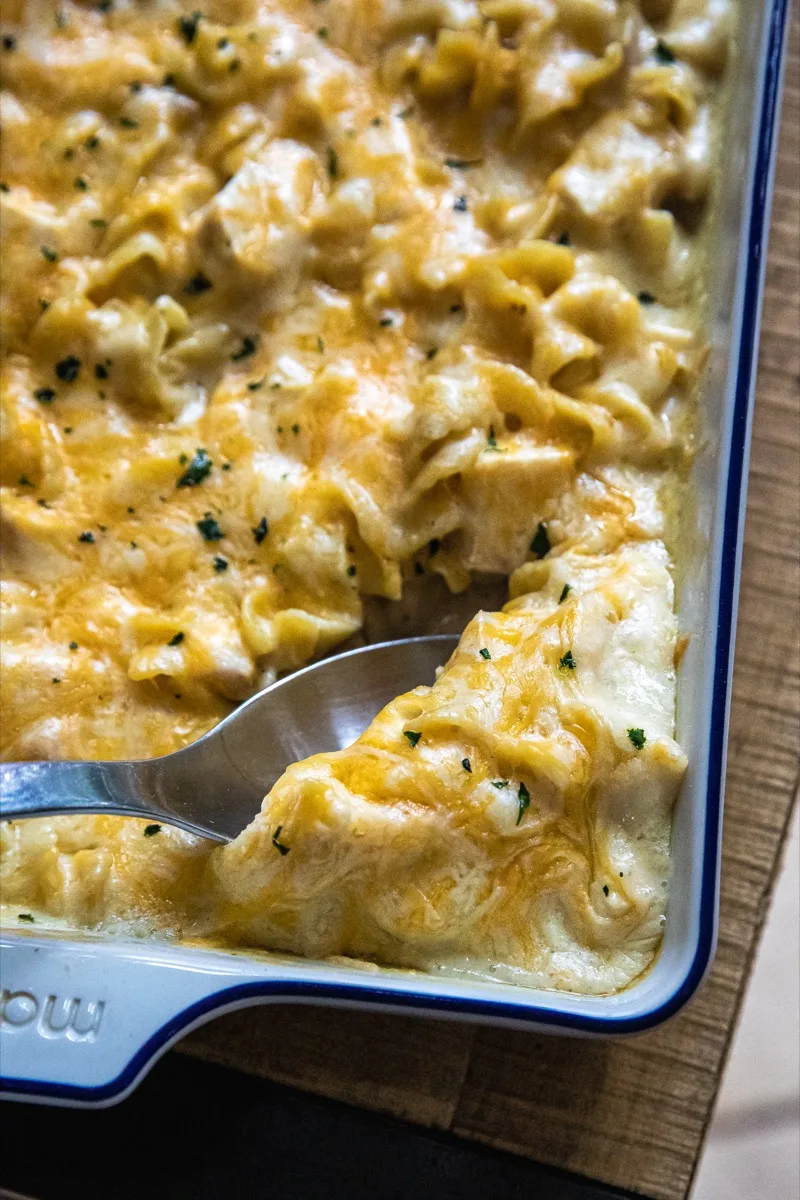 Homemade Cheesy Chicken Casserole FAQ
Can you make this in the oven?
Yes! This recipe works great in the oven too. You can even make it on the stovetop if you don't feel like firing up the pellet grill OR the oven.
What's the best way to store and reheat leftovers?
Cover the leftovers with foil and store in the fridge for 4-5 days, max. Reheat in the microwave, but don't overdo it! The noodles will get mushy.
Can you use another type of noodle?
I prefer egg noodles with this recipe, but in theory you could sub in another type.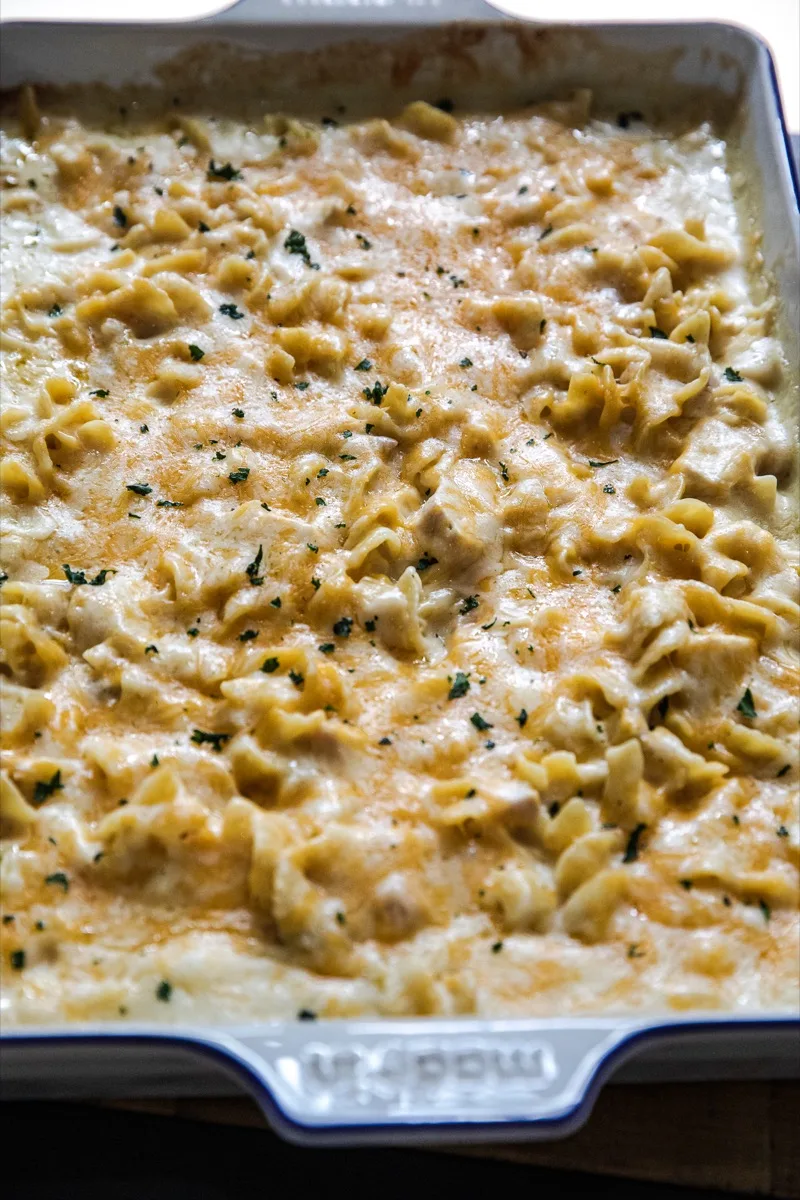 More great recipes to love!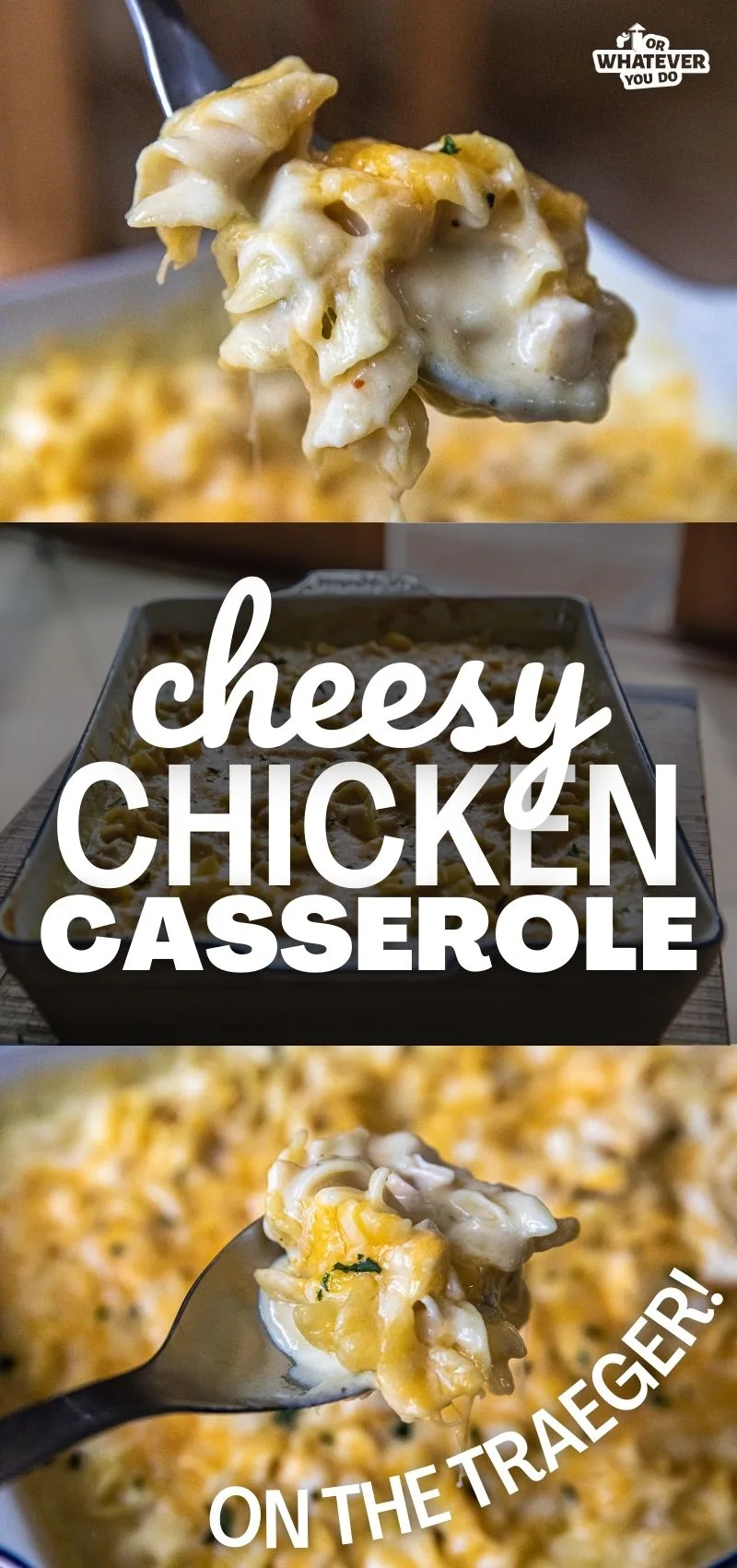 Yield: 8 servings
Traeger Cheesy Chicken Casserole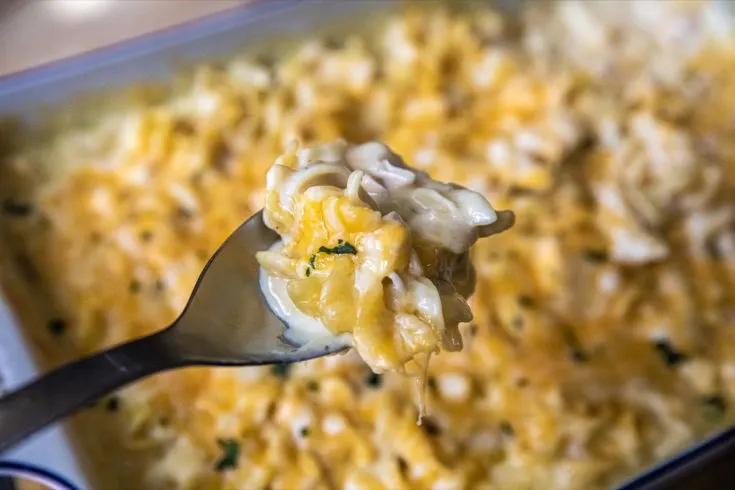 This hearty creamy homemade cheesy chicken casserole is perfect for those days when you need something that everyone will look forward to and will enjoy.
Ingredients
1/2 cup salted butter
1/3 cup all-purpose flour
6 cups water
4 teaspoons Better Than Bouillon Chicken
1 teaspoon Better Than Bouillon Garlic
1 teaspoon Better Than Bouillon Italian Herbs
1 teaspoon Better Than Bouillon Mushroom
1/2 teaspoon pepper
1/2 teaspoon onion powder
1 cup whipping cream
16-ounce bag extra-wide egg noodles
4 cups diced cooked chicken
16-ounces shredded cheese (we use the Kraft Triple Cheddar variety a lot)
1 teaspoon fresh chopped parsley
Instructions
Preheat the grill to 350°F.
In a large saucepan or Dutch Oven, melt the butter over medium-low heat. Whisk in the flour and cook for 3-4 minutes, stirring frequently.
Whisk in the water and all of the bouillons along with the pepper and onion powder. Increase the heat to medium or medium-high, and bring to a simmer. Whisk frequently until the mixture has thickened.
Remove from heat and stir in the cream.
In a large 10x13 inch high-sided grill-safe baking pan that's been lightly sprayed with cooking spray, dump in the uncooked egg noodles, cooked chicken, and 3/4 of the shredded cheese. Pour the sauce over the top and give it a little stir to make sure all the noodles are mostly submerged.
Put the dish into the preheated grill and let cook for 20 minutes. Check and stir, and test the doneness of the noodles. Top with the rest of the cheese and cook until the noodles are tender and the cheese is melted. Chances are the noodles will be tender already, but your mileage may vary!
Remove from the grill and sprinkle with fresh parsley. Serve hot with crusty bread and fresh salad.
Recommended Products
As an Amazon Associate and member of other affiliate programs, I earn from qualifying purchases.
Nutrition Information:
Yield:
8
Serving Size:
1
Amount Per Serving:
Calories:

708
Total Fat:

53g
Saturated Fat:

28g
Trans Fat:

1g
Unsaturated Fat:

20g
Cholesterol:

210mg
Sodium:

954mg
Carbohydrates:

22g
Fiber:

1g
Sugar:

2g
Protein:

36g
Nutrition data provided here is only an estimate.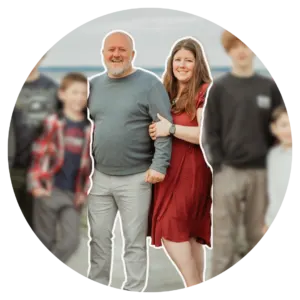 Nicole Johnson, a self-taught expert in grilling and outdoor cooking, launched Or Whatever You Do in 2010. Her blog, renowned for its comprehensive and creative outdoor cooking recipes, has garnered a vast audience of millions. Nicole's hands-on experience and passion for grilling shine through her work. Her husband, Jeremiah Johnson, also plays a pivotal role in recipe development, adding his culinary flair to the mix. Together, they form a dynamic duo, offering a rich and varied outdoor cooking experience to their followers.