A Bellini Rum Punch plays on the original Peach Bellini to create a wonderful concoction, perfect for the summer cocktail hour. Refreshing and light, with a kick. This is a summer cocktail for all seasons.

Bellini Rum Punch
The Peach Bellini originated in Venice Italy at the world famous Harry's Bar. The original Peach Bellini brings blended peach juice together with sparkling and fruity Prosceco sparkling wine to create a delicious cocktail on its own right with the colors of a summer sunset.
In this version, white rum with a splash of dark rum gets added that not only adds a bit of a kick to it, but also deepens its beauty and flavor.
Click here to save this post for later!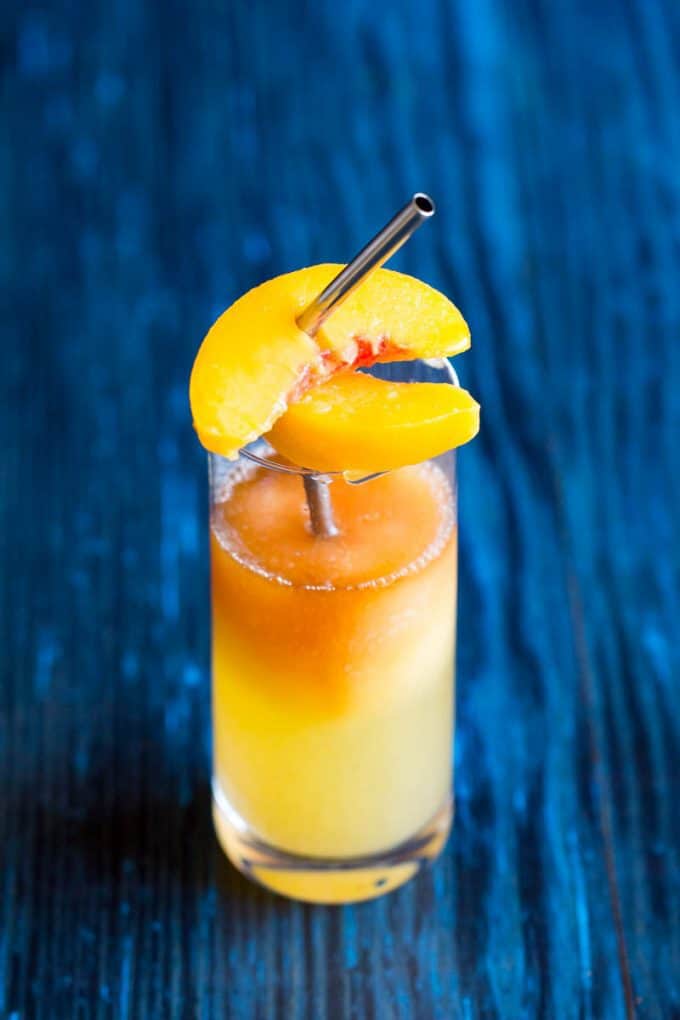 The origins of the Bellini Rum Punch
Harry's Bar became famous early in the last century as a place where iconic drinks were invented, great writers like Hemingway came to imbibe, and tourists were always welcome. Harry's Bar now has locations around the world, but it all started with Giussupe Cipriani and his favorite American customer.
Giussupe was a creative bartender in a place where the most creative artists of the day, writers and painters and other colorful sorts, would come to enjoy his creations. Everyone from Arturo Toscanini to George Clooney and many other famous writers, actors, composers, and more have enjoyed a round or three at Harry's over the years.
Indeed, even the Bellini cocktail, which combines peach juice with the Italian version of Champagne called Prosceco, was named after the artist of a painting.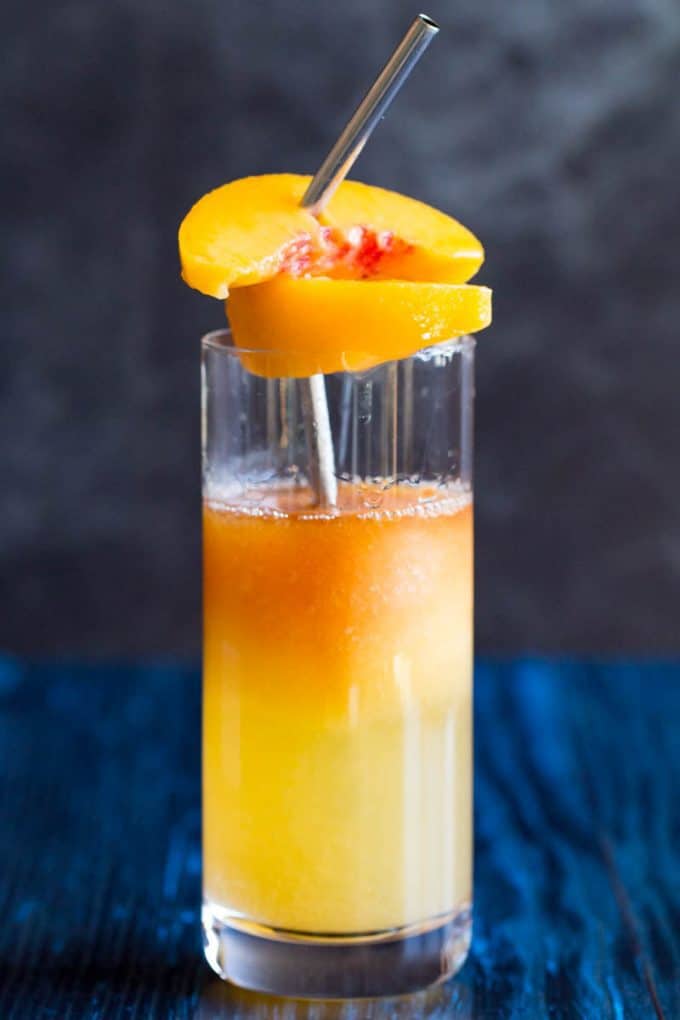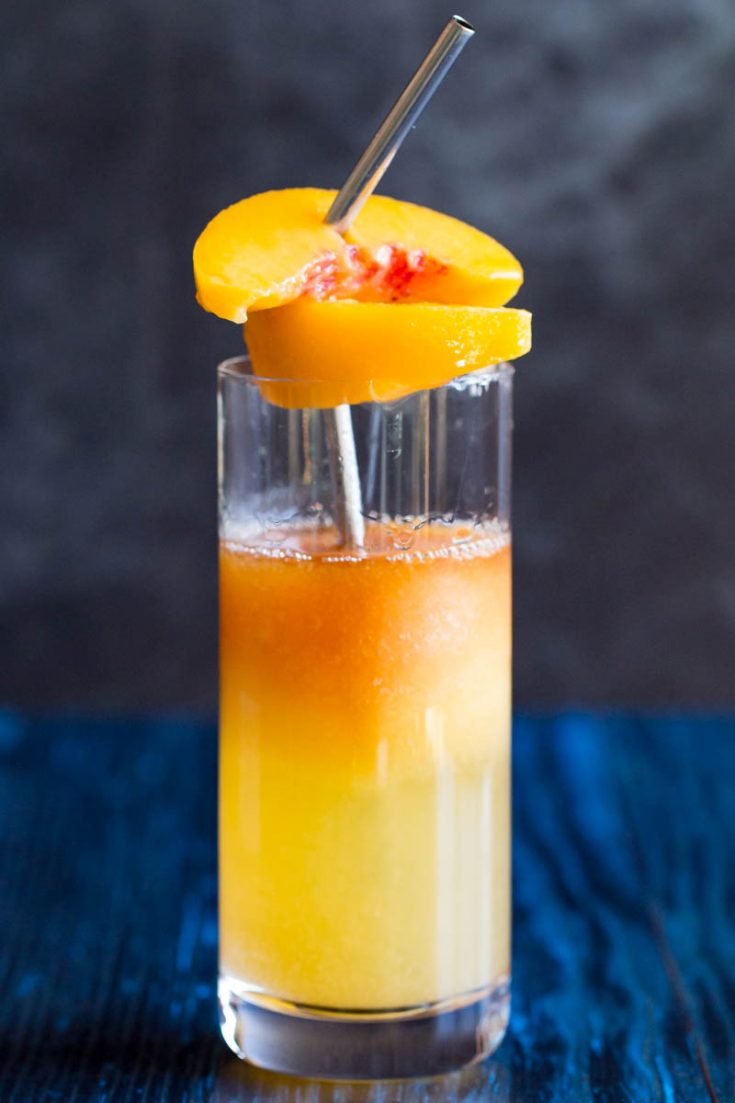 What is a Bellini?
The original Bellini cocktail takes four parts prosceco and two parts blended peach juice stirred together. So it is kind of like a peach mimosa in that way.
For looks just pour the peach juice on top and let it drift down into the sparkling wine. I think it is more fun to look at when you serve them that way. You can even add a little splash of extra color if you add just a few drops of maraschino cherry juice or grenadine on top too.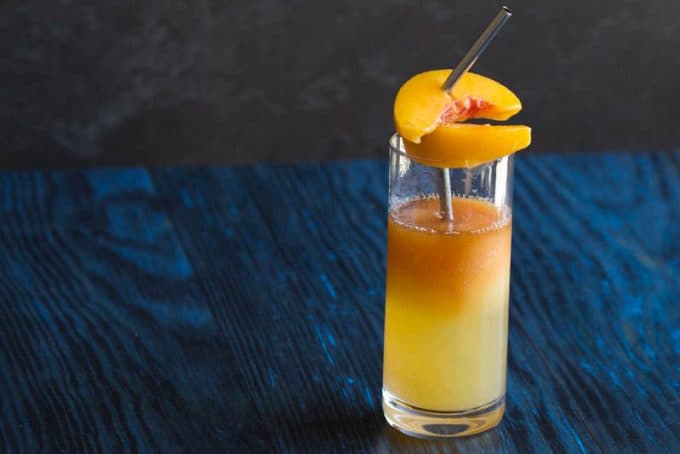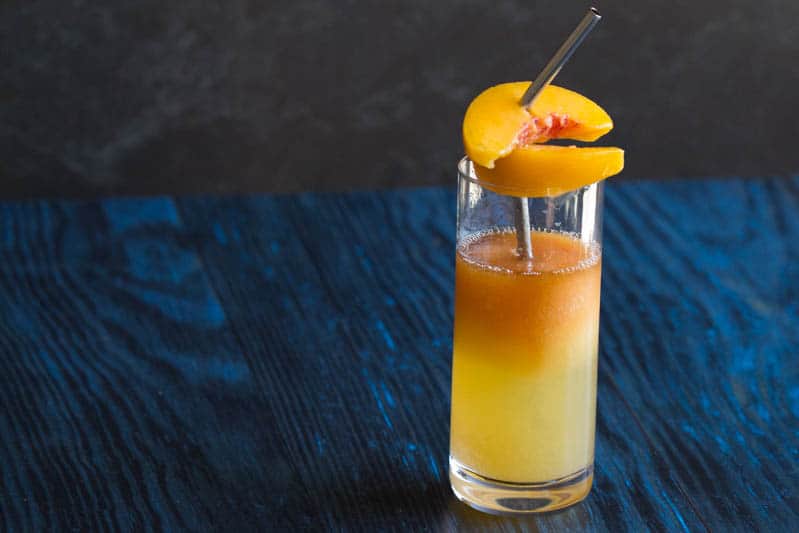 Variations on the Bellini cocktail
If it has peach juice mixed with prosceco, then it is a bellini. However, stir in other types of fruit juices and it gets called by many other colorful names based on artists. For example, with Mandarin orange juice it becomes a Pucinni, and with strawberry juice it is called a Rossini. With rum, we are going to call it a Bellini Rum Punch!
More awesome drink recipes here!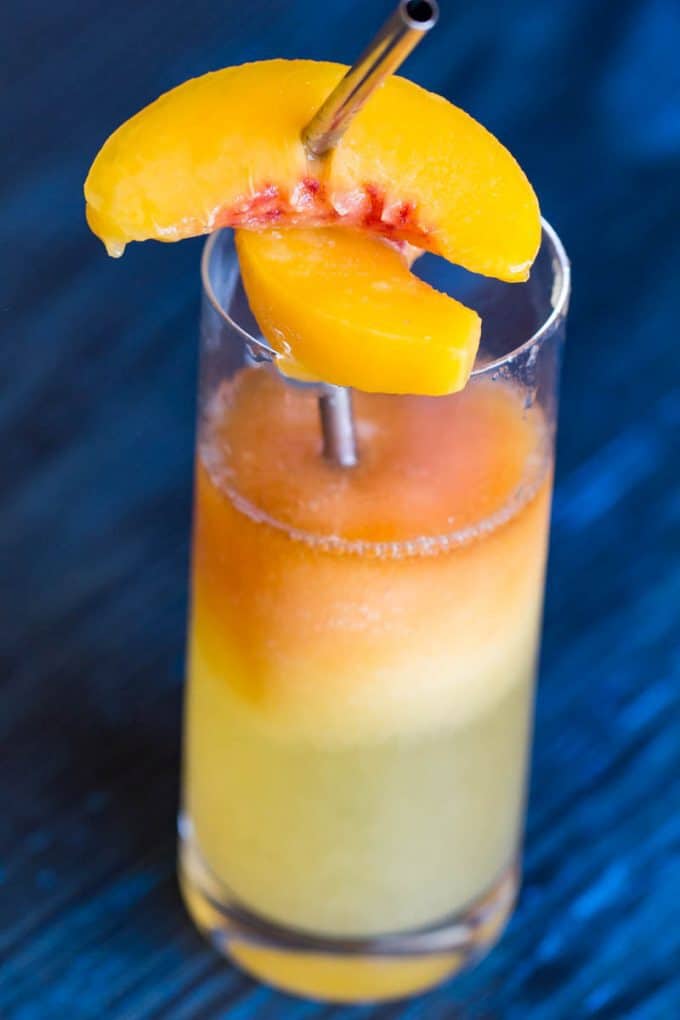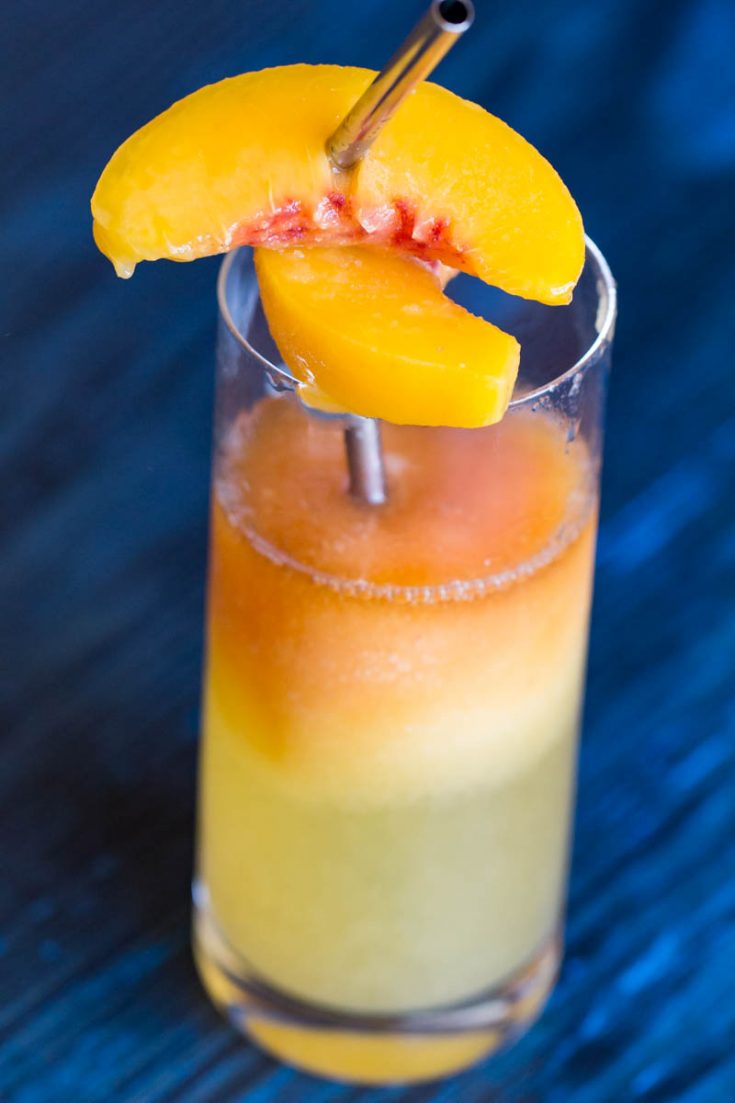 What type of Rum is best in the Bellini Rum Punch?
For the Bellini rum punch, use both white rum and dark. I like Meyers for the dark rum because it is easy to find, but really any type of dark rum works. The deeper the caramel color of the rum the better it looks when you add the splash of it on top of the drink.
On the other hand, I mix frozen peaches and the white rum in the blender. The amount of rum in ratio to the peaches really depends on how many drinks you are making and how strong you like them to be.
Since you also have alcohol from the splash of dark rum and the prosceco, no need to go too wild. This cocktail is so good and the fruit juice masks the bite of the liquor so it is easy to make it strong enough to knock down a conga line of guests without trying too hard.
I recommend one or two parts of the white rum to two or three parts of the blended peach juice. You can always go stronger or lighter if you prefer.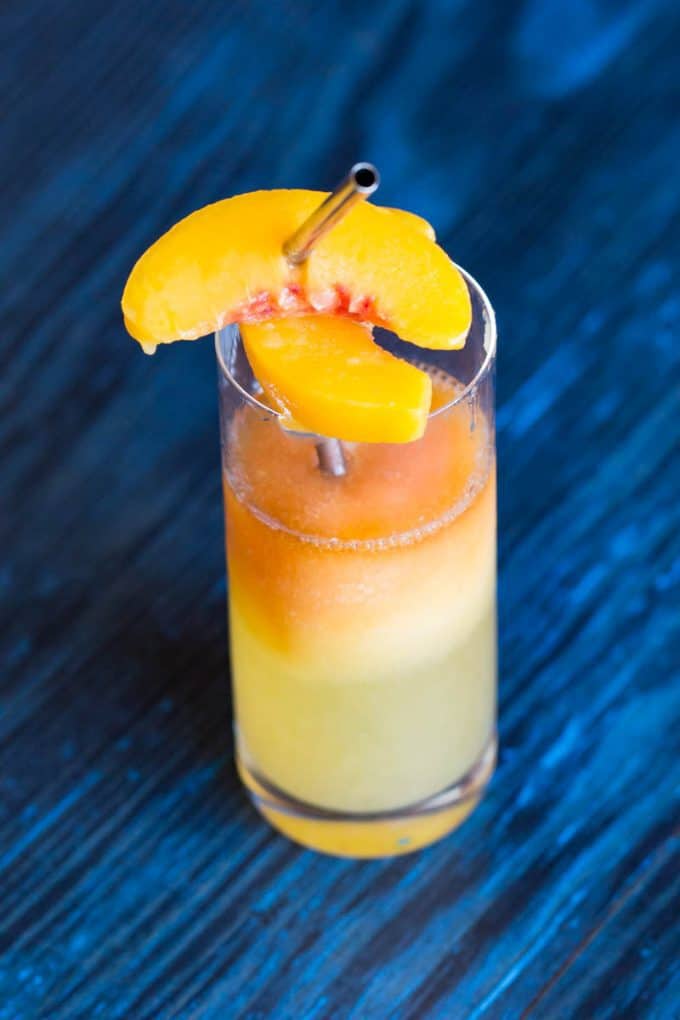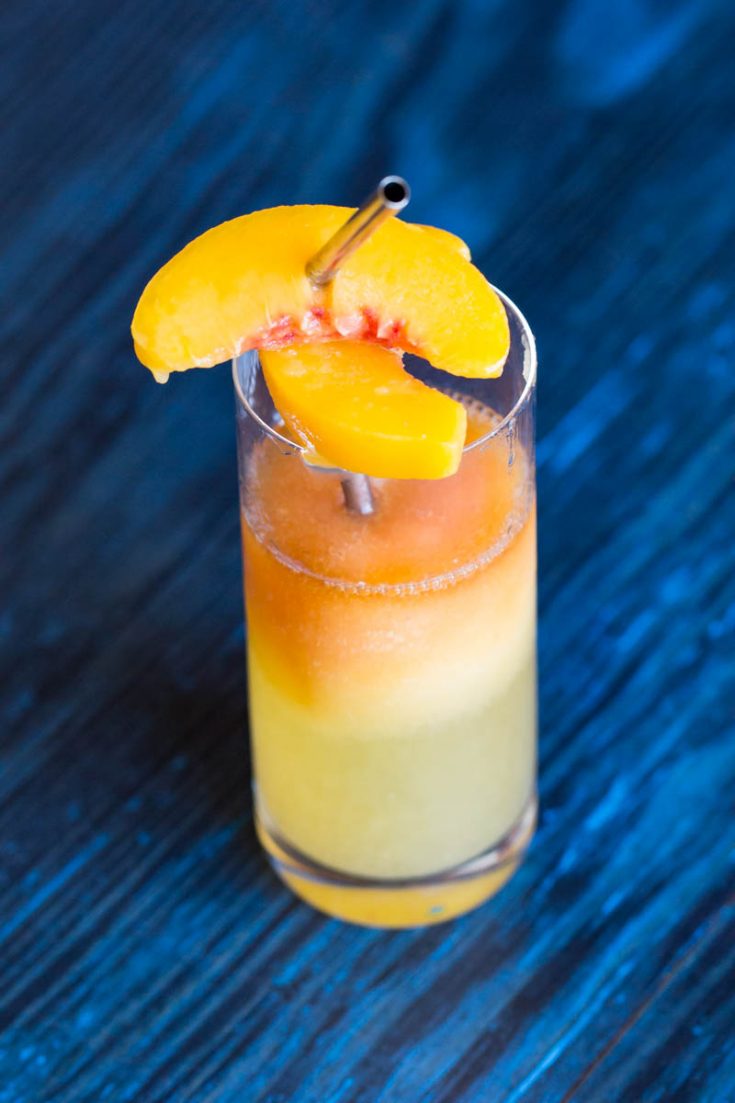 Cool and refreshing bellini cocktails
The key to making a great bellini cocktail is getting all your ingredients nice and chilled before mixing them. Keep the rum in the freezer, use frozen blended peaches to create your peach juice, and make sure your prosceco is nicely chilled.
Don't chill the prosceco in the freezer though. It doesn't have a high enough alcohol content not to freeze like the rum does.
Also, store your unused portion on ice or in the fridge to keep it nice and chilly. This drink is so refreshing and delicious and the colder the better.
If you want to make the blended peaches ahead of time, freeze the peach/rum mixture in ice cube trays for a fun twist on this refreshing drink.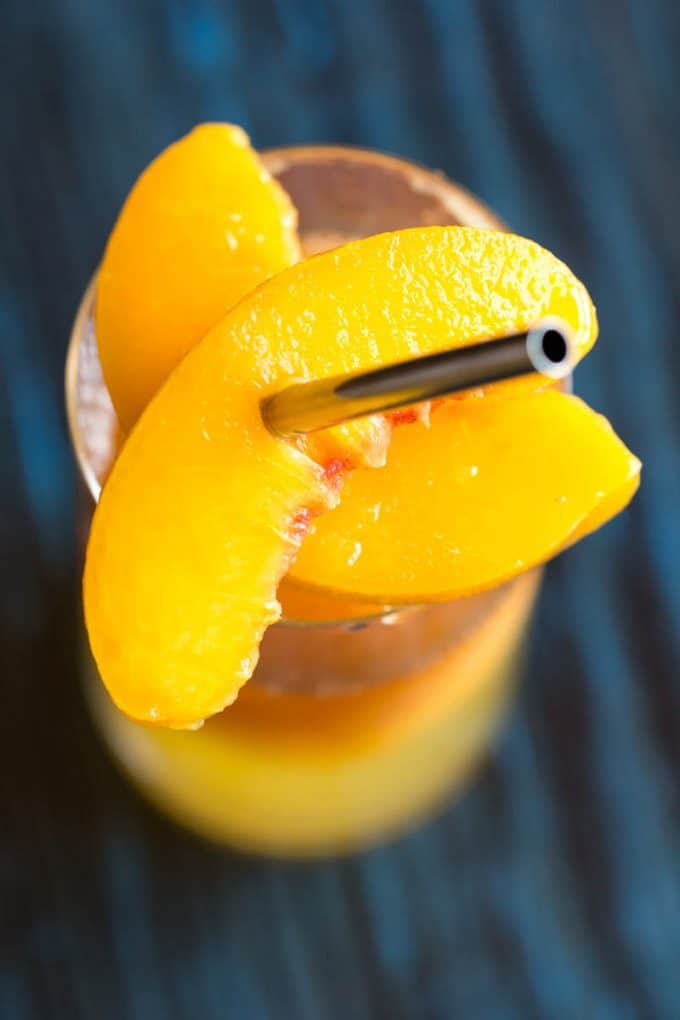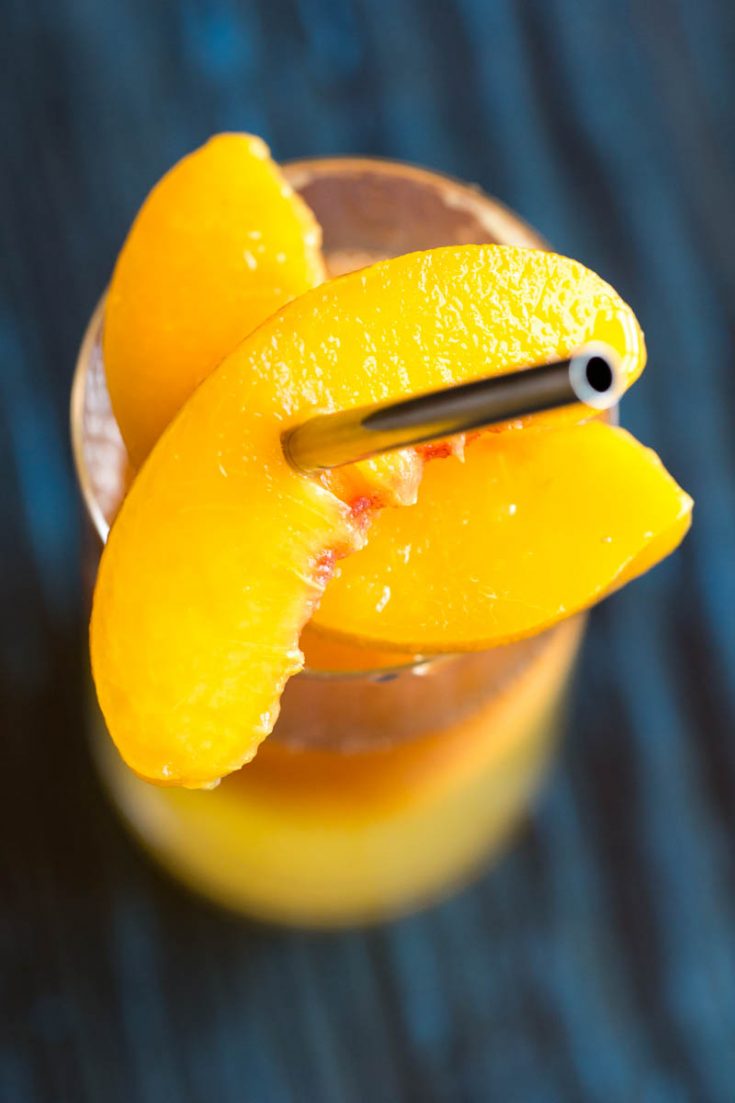 Creating the Bellini Rum Punch
With a regular bellini, you mix two parts peach juice to four parts prosceco. With the Bellini Rum Punch, you can keep this ratio of juice to sparkling wine. Your "juice" in this case will just be juiced, so to speak, with that white rum.
The mix of white rum in the peach juice can be anywhere from one to one, to one to four depending on how strong you want the cocktail to be. I usually go with one part white rum to two parts peach juice.
Base how much of a splash of dark rum you choose to use off of how strong you make the white rum and peach juice. Anywhere from a quarter of a shot to a full shot of dark rum works. You just pour that right on top and serve.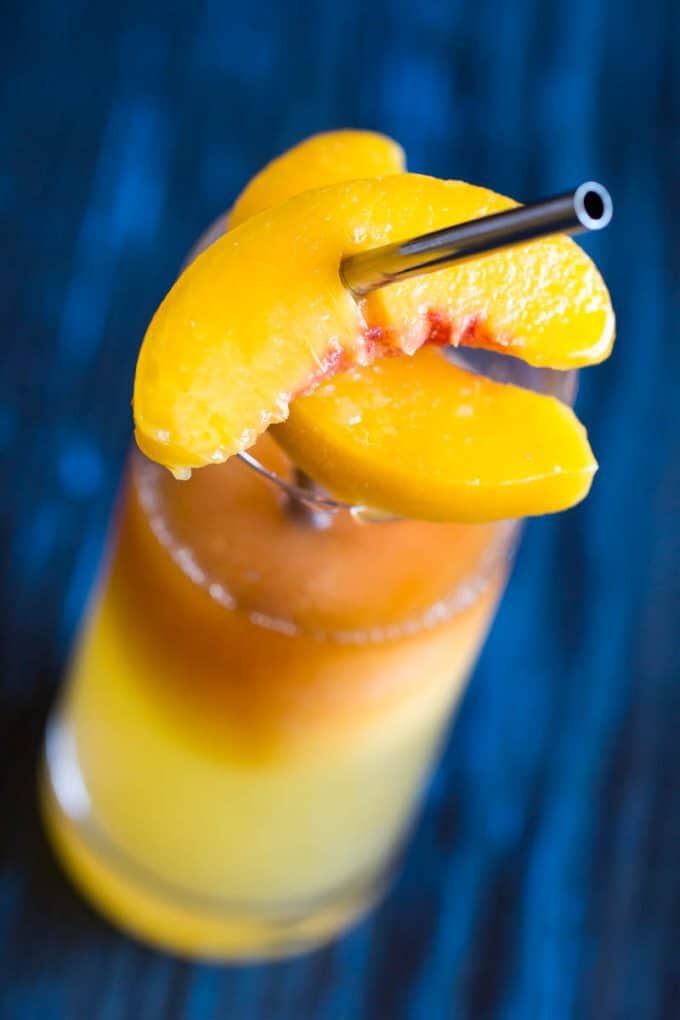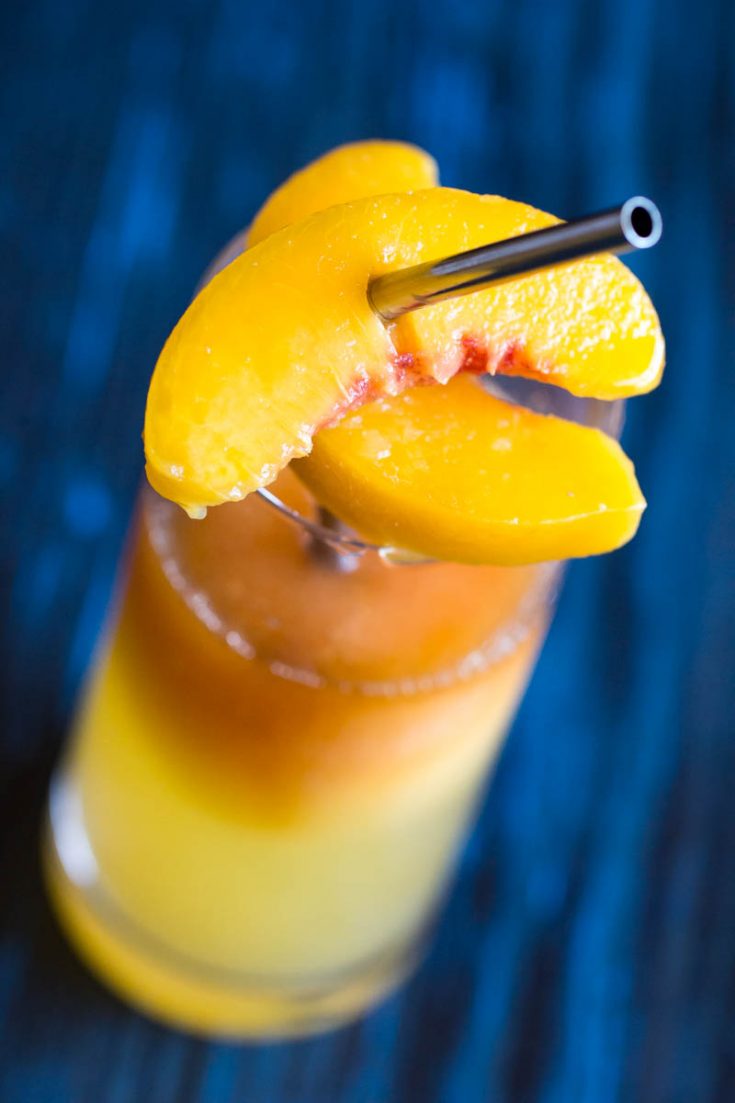 Want some appetizer suggestions to go with your bellini rum punch?
The bellini rum punch goes down easily and puts a smile on your face from the first sip. Better not drink too on an empty stomach, right?
Peaches just happen to go very well with anything grilled. They are the summer fruit perfect for the outdoors and cooking with fire and smoke.
Of course I have some fun suggestions if you want to make something to go along with your delicious bellini rum cocktails!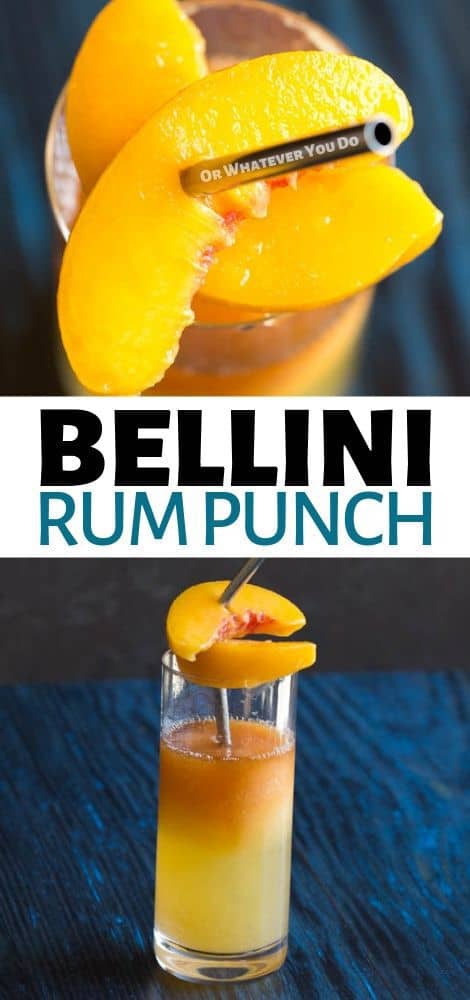 Yield: 4 drinks
Bellini Rum Punch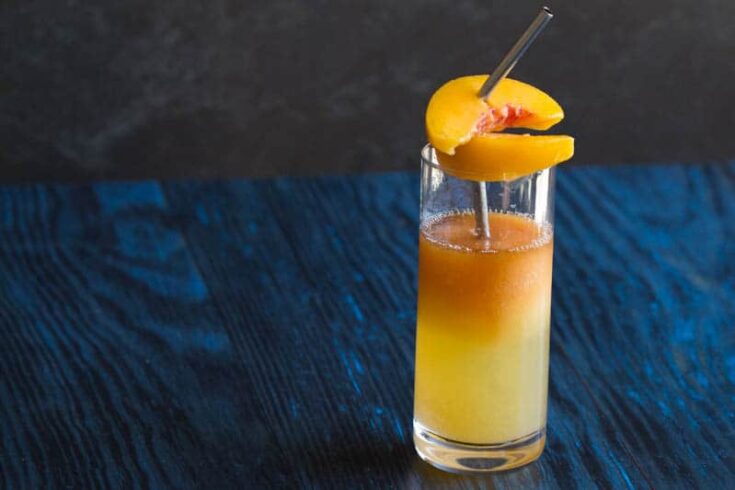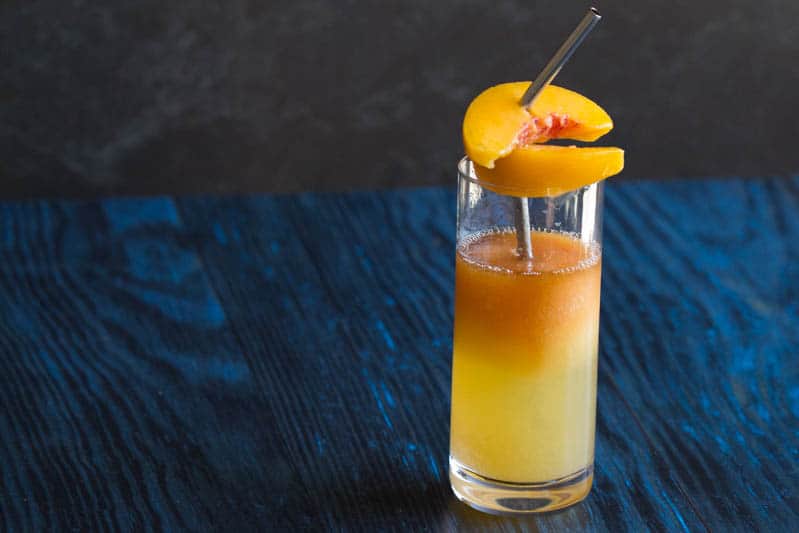 This refreshing twist on a classic bellini packs a bunch! Added light and dark rum for effect, and taste, and all the things.
Ingredients
1 cup frozen peaches
1/4 cup light rum
1 bottle prosecco
2 ounces dark rum
Instructions
Blend together the frozen peaches and light rum. Divide equally between 4 champagne flutes.
Top with the prosecco or champage.
Using a spoon, gently top each glass with an equal portion of the dark rum float.
Garnish with fresh peach slices (optional).
Recommended Products
As an Amazon Associate and member of other affiliate programs, I earn from qualifying purchases.
Nutrition Information:
Yield:
4
Serving Size:
1
Amount Per Serving:
Calories:

225
Total Fat:

0g
Saturated Fat:

0g
Trans Fat:

0g
Unsaturated Fat:

0g
Cholesterol:

0mg
Sodium:

10mg
Carbohydrates:

9g
Fiber:

1g
Sugar:

5g
Protein:

0g
Nutrition data provided here is only an estimate. If you are tracking these things for medical purposes please consult an outside, trusted source. Thanks!