There's nothing like a really good piece of meat, seasoned well, and grilled on a warm summer night. This Grilled Pork Tenderloin with Fresh Herb Sauce is juicy and tender and cooks in 15 minutes.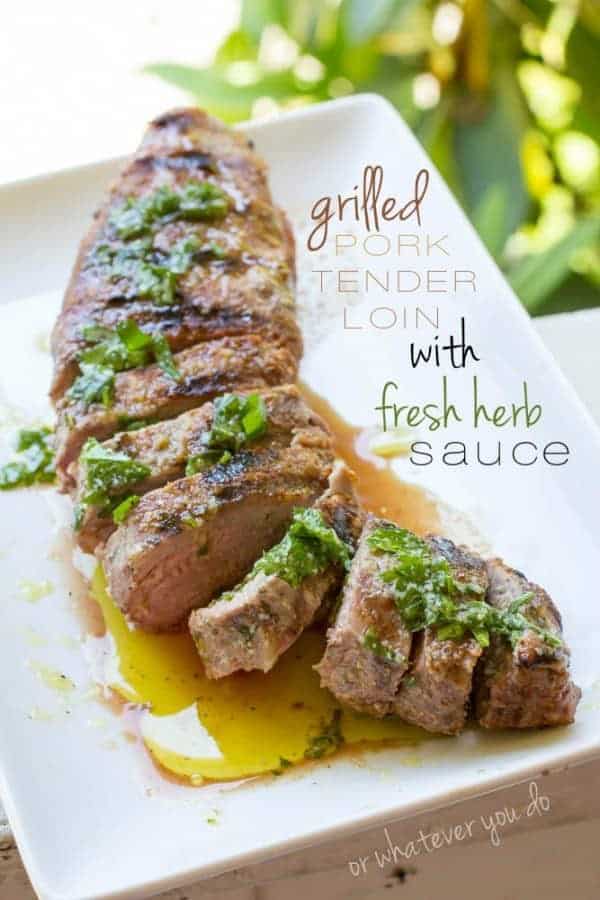 Grilled Pork Tenderloin with Fresh Herb Sauce
Quick and easy and did I mention EASY has been the name of the game around here lately, and this meal was no exception. Pork tenderloin is one of my favorite pieces of meat to toss on the grill, and this grilled pork tenderloin with fresh herb sauce was one of my favorite meals of the year this far!
Need an easy father's day dinner? You found it! We got these pork tenderloins at Costco.
This is another creation made especially for you all by my awesome husband and best friend and new blogging partner – Jeremiah. He's got the cooking and is making some serious strides on the food styling. Next I just have to get him in on the actual writing and content creation.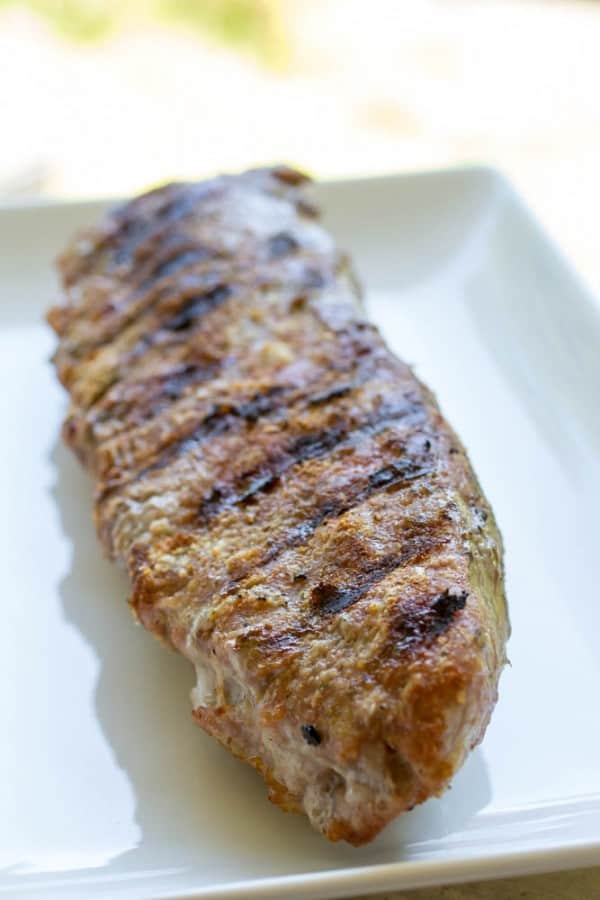 The key to pork tenderloin is to NOT OVERCOOK it. Its a super lean, quick-cooking cut of meat, and it also continues cooking for a few minutes after you pull it off the grill.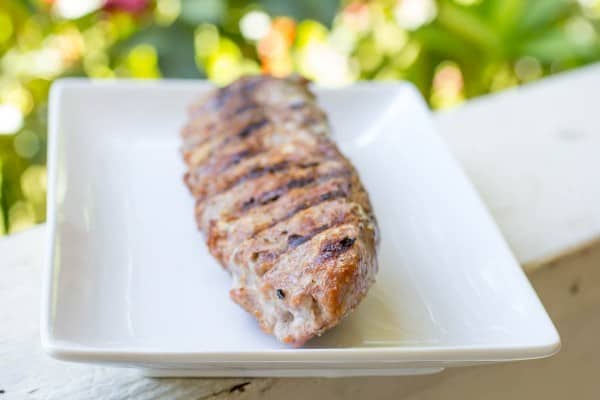 Another key to keeping your tenderloin juicy is to let it rest for about 10 minutes after you pull it off the grill. Cutting into it will release the juices before they've redistributed back into the meat, and that's never good. You want the juices in your meat – not on your plate.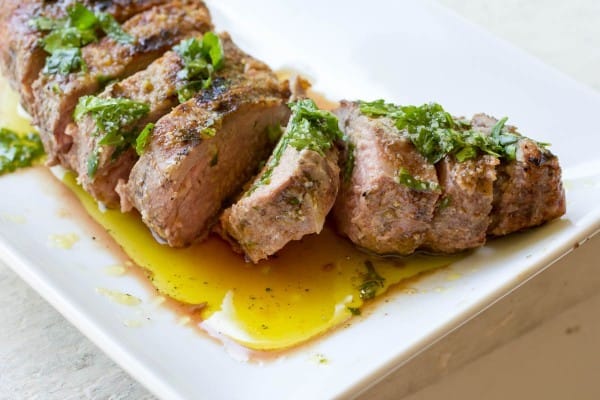 The fresh herb sauce is such a fresh and bright compliment to the meat. It is almost a chimichurri, but is lacking the typical acid/vinegar that makes that sauce unique.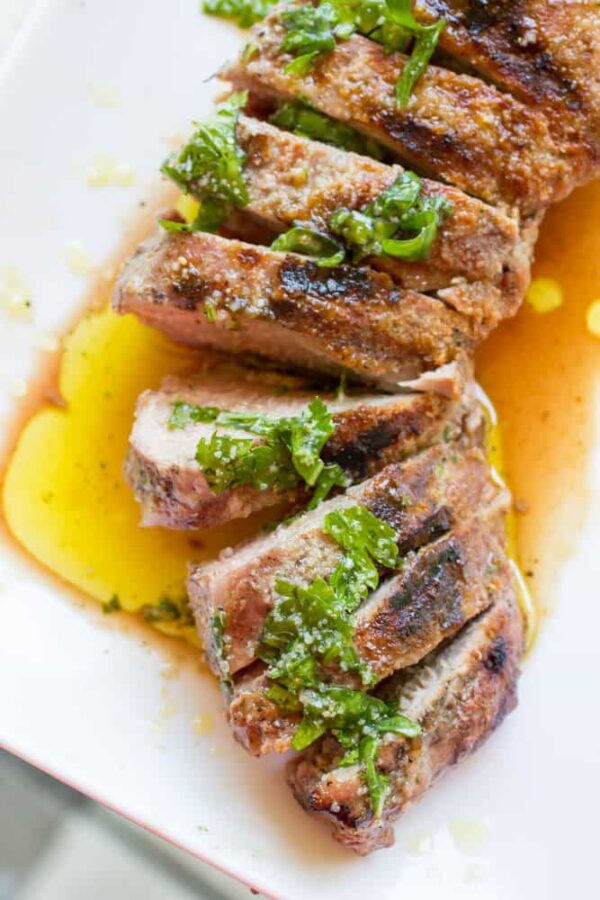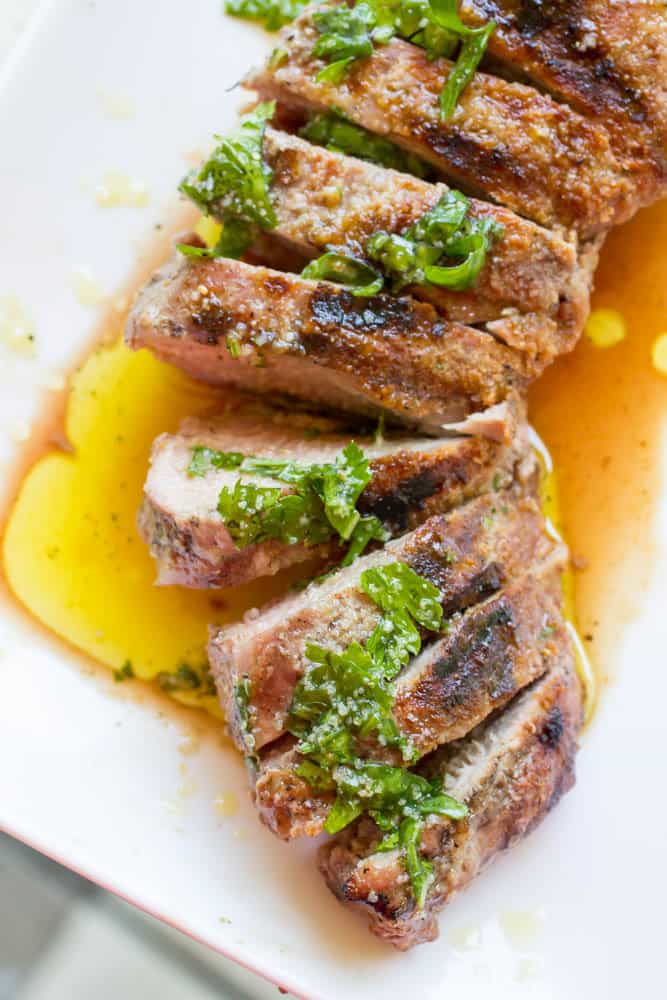 Serve with my easy cheesy orzo, or a big salad with my Greek Freak Dressing.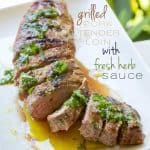 Grilled Pork Tenderloin with Fresh Herb Sauce
Ingredients
Pork:
1

pork tenderloin

generous amount of bbq seasoning
Fresh Herb Sauce:
1

handful fresh basil

1/2

handful fresh flat leaf parsley

1/4

teaspoon

garlic powder

1/3

cup

olive oil

1/2

teaspoon

kosher salt
Instructions
Preheat grill to medium heat. Remove any silver skin from the tenderloin that is remaining, and pat it dry with paper towels.

Liberally coat the tenderloin in my

DIY BBQ Seasoning

, and then cook over semi-indirect heat on your grill. Turn the meat frequently to ensure even cooking, and temp the meat at about 15 minutes to ensure its reached 140-145 degrees. Its okay if its a bit pink on the inside. That's normal,

and safe

. Remove from the grill and let rest for 10 minutes.

While the pork is resting, make your herb sauce by placing all of the ingredients into a small food processor and pulsing a few times. You can also do it by hand by just finely chopping the herbs and mixing in the oil and salt and garlic powder.

Slice the meat diagonally, and spoon generous amounts of the herb sauce on top.