My Million Dollar BLT is extra easy to make, and there's a secret trick that will have even those of you who have never been fans of BLTs going back for seconds. Read on to see what all the fuss is about!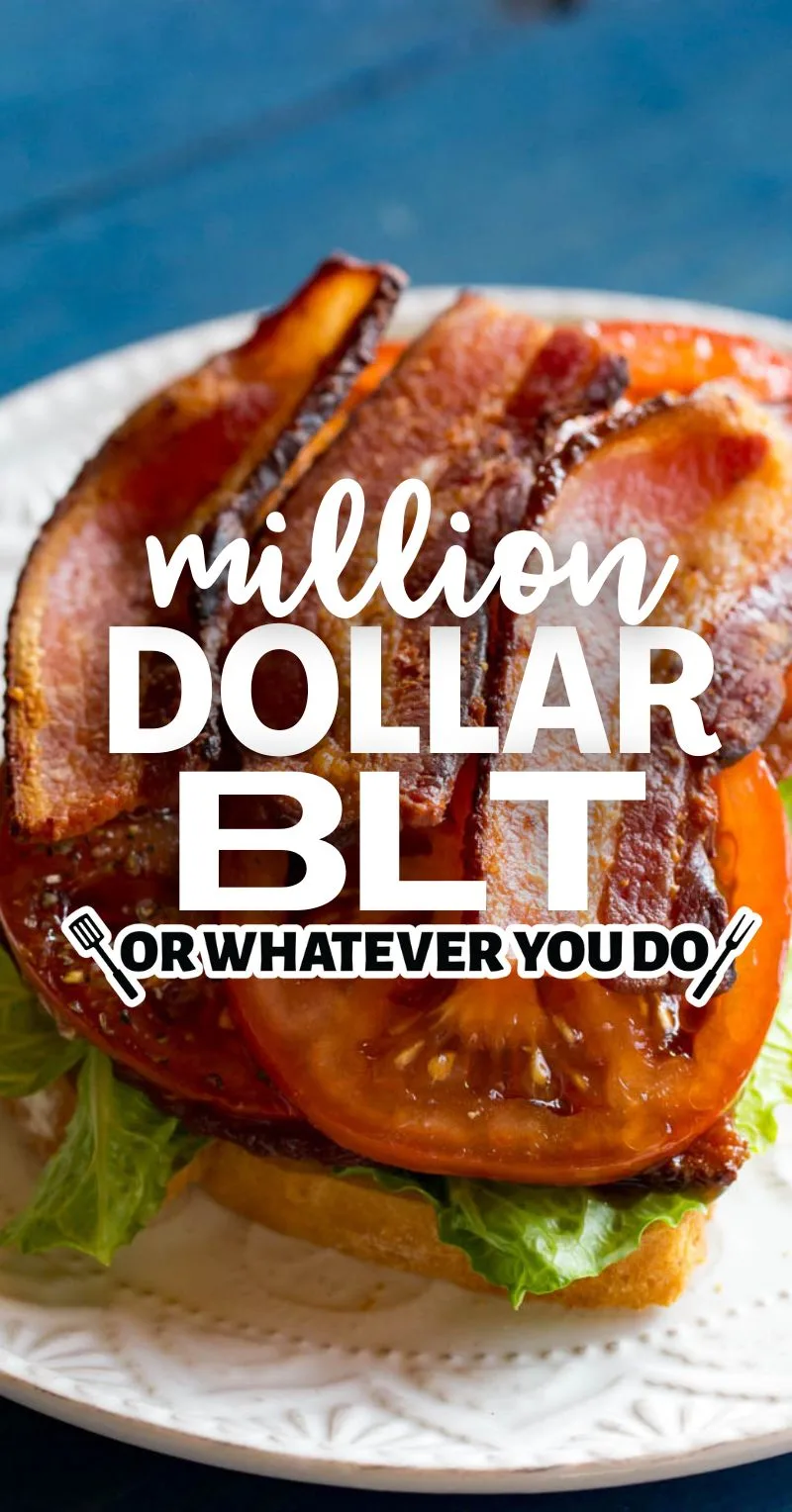 Million Dollar BLT
BLTs are a classic American sandwich with lettuce, fresh sliced tomatoes, and lots of crispy fried bacon. They are typically served on toasted white bread with a thin mayo spread.
My BLTs are the best because I marinate my tomatoes in Italian seasonings, salt, pepper, olive oil, and balsamic reduction. The bread is lightly toasted, and it is served with LOTS of big thick bacon, mayo, and romaine lettuce.
This bacon, lettuce, and tomato sandwich is AMAZING. No kidding, this is the best BLT recipe! Marinating the tomatoes in Italian seasoning and balsamic reduction adds so much extra flavor, and it only takes a few additional minutes to prepare. Thick sliced bacon brings a smoky, salty taste, and fresh romaine lettuce is the leafy green that ties it all together.
This super easy, delicious sandwich is going to be your go-to lunch all summer long! It's simple to put together, flavorful, and perfect for these sunny summer days.
For even more excellent summer sandwich ideas check out my Simple All-Natural Turkey Sandwich or my Crispy Panko Fish Sandwich.
Try our Chopped Italian Sandwich too!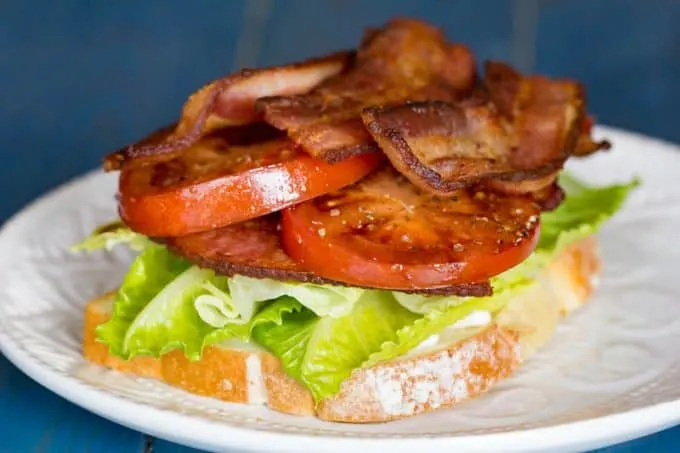 Where did the BLT originate?
Even though bacon, lettuce, and tomatoes have been around for ages, it wasn't until relatively recently that someone thought to put them together into a sandwich. Around 1900 there is a recipe recorded in a cookbook that talks about a bacon, lettuce, and tomato sandwich that also included turkey. (Also good, but not the classic!) In the 20s there were a few recipes that were close, but most of them included pickles instead of tomatoes.
There are a lot more references to BLTs in the 40s and 50s, but they weren't called BLTs back then. That didn't catch on until the 70s, probably from cafes trying to speed up their ordering!
No matter where they came from though, BLT sandwiches are a modern classic. Crunchy, delicious, and filling, they're a great culinary invention!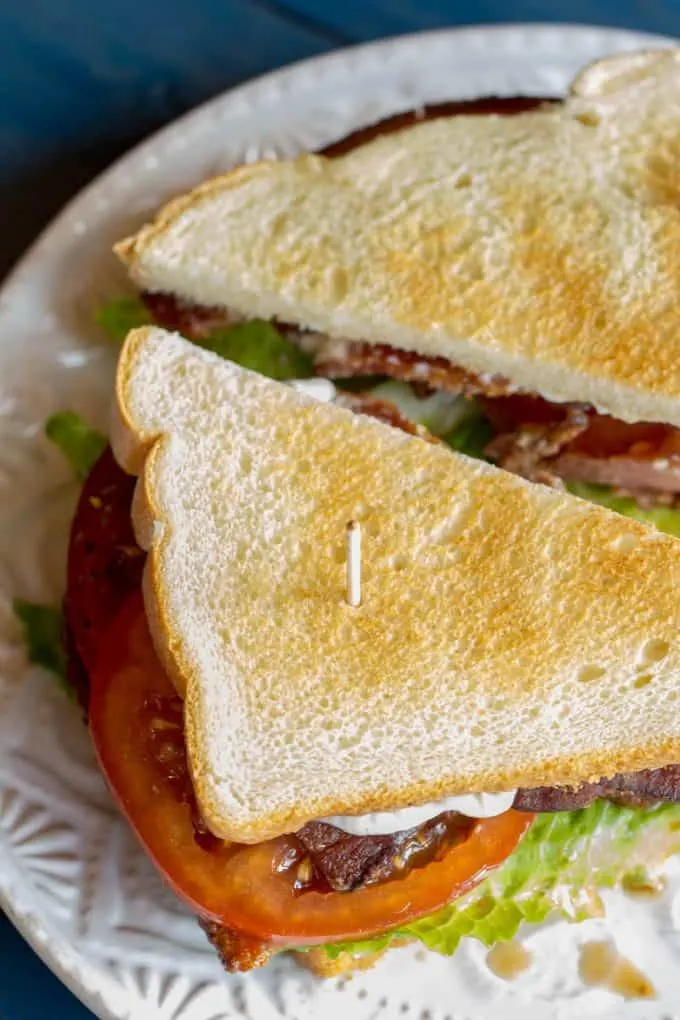 What goes on a BLT?
Part of the attraction of a good BLT is the simple ingredients. Here are the basic components for my perfect BLT.
Thick cut bacon
Fresh Romaine lettuce
Tomatoes
I prefer Roma tomatoes because of the concentrated flavor, but some people prefer beefsteak because they have more flesh and fewer seeds
Mayonnaise
Bread (I like sourdough, but you can use your favorite!)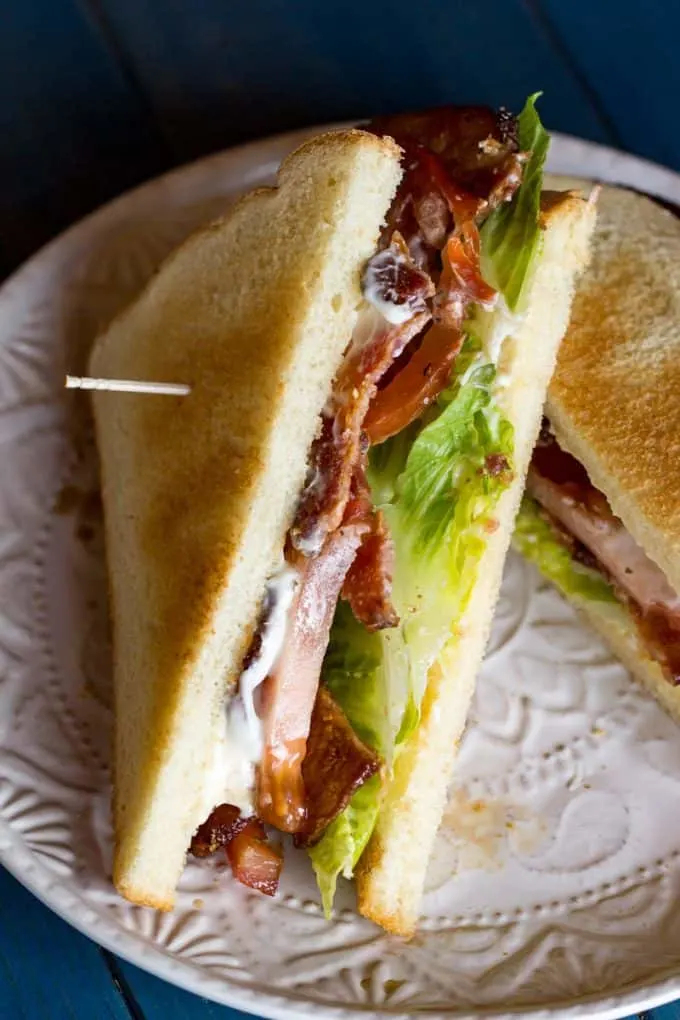 Secrets for the perfect Million Dollar BLT
You might think that making a BLT is as easy as throwing some ingredients on bread, but it is pretty easy to make a really bad BLT! If you keep a few things in mind, you can make your BLT even better.
Don't make BLTs out of season. Ever. You must have GOOD tomatoes. A BLT is a summer sandwich. Fight me.
Remember to drain the bacon after cooking. Less oil means a crisper sandwich.
Choose a thick sliced bread with a hearty flavor. Homemade or bakery bread are great for sandwiches!
Let your toast cool before you spread the mayo on it so the bread doesn't warm up the mayonnaise.
After you wash your lettuce pat it dry to remove any excess water.
Cut your bacon in half after it's been cooked to fit more neatly on your sandwich bread. It will also help cover more of your sandwich with bacon, which is always good.
In addition to this, my personal secret is to marinate your tomatoes.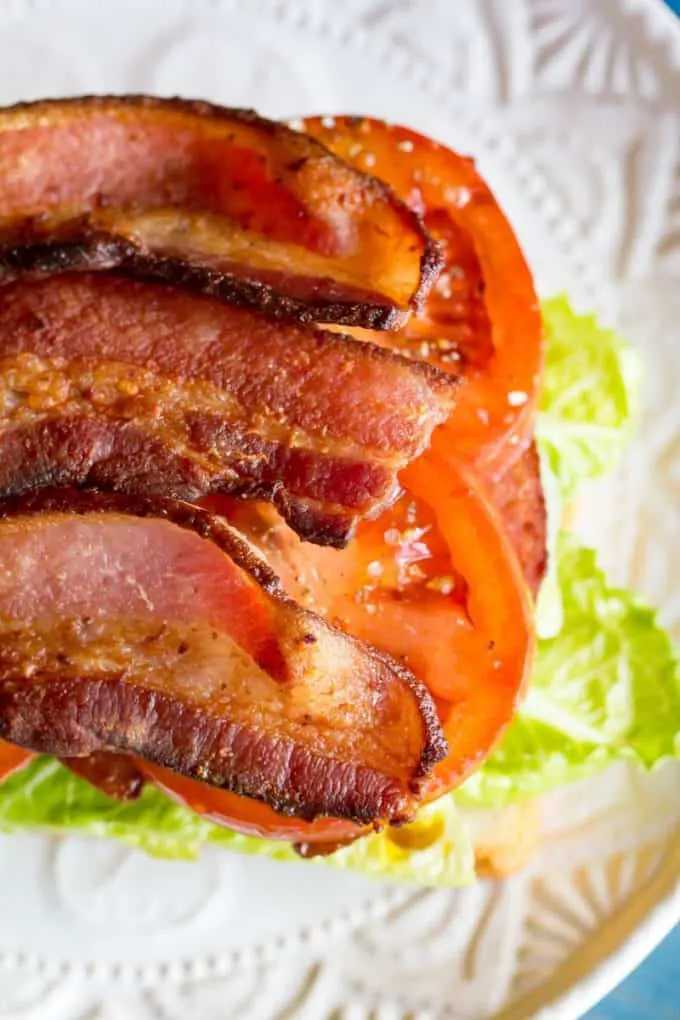 How to marinate tomatoes for a BLT
You only need a few simple ingredients for your tomato marinade to make this the best BLT you've ever had.
Olive Oil
Balsamic Vinegar (or a balsamic reduction if you have one handy or want to go the extra mile and make one)
Salt
Pepper
Italian Seasoning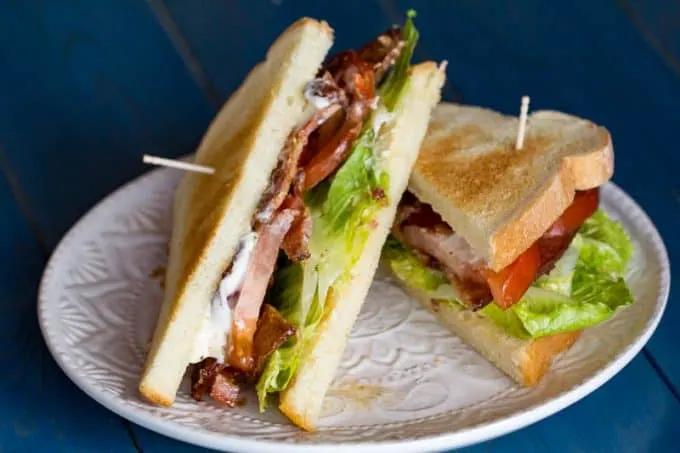 Balsamic Reduction Instructions
You probably remember my balsamic reduction recipe from my Caprese Salad With Balsamic Reduction. (Another awesome summer lunch idea, by the way!)
A balsamic reduction is super easy to make, and it really brings this BLT recipe to a whole new level. "Balsamic reduction" sounds fancy, but it is the easiest thing in the world to prepare! It only has two ingredients, and it only takes 20 minutes.
Combine balsamic vinegar and brown sugar in a saucepan
Heat on medium-high and stir constantly until the sugar is dissolved
Simmer for 20 minutes until the mixture is reduced by half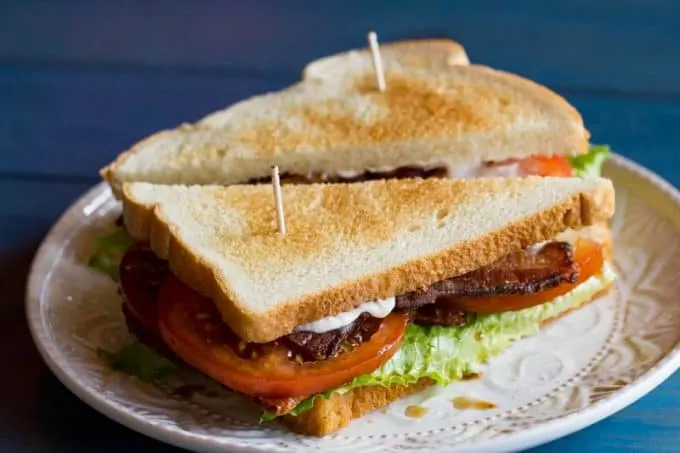 What else can you put on a BLT?
One great thing about BLTs is how much you can customize them. There are tons of ways to change it up and get a variation on your favorite! Try some of these additions, maybe your discover a brand new flavor combination to fall in love with.
Avocado adds a creamy, smooth texture and a new layer of flavor
Horseradish–mix it with the mayo to give your sandwich a spicy kick
A fried egg makes this sandwich even heartier
Kale is a great option in addition to lettuce
Sriracha sauce if you like that spicy flavor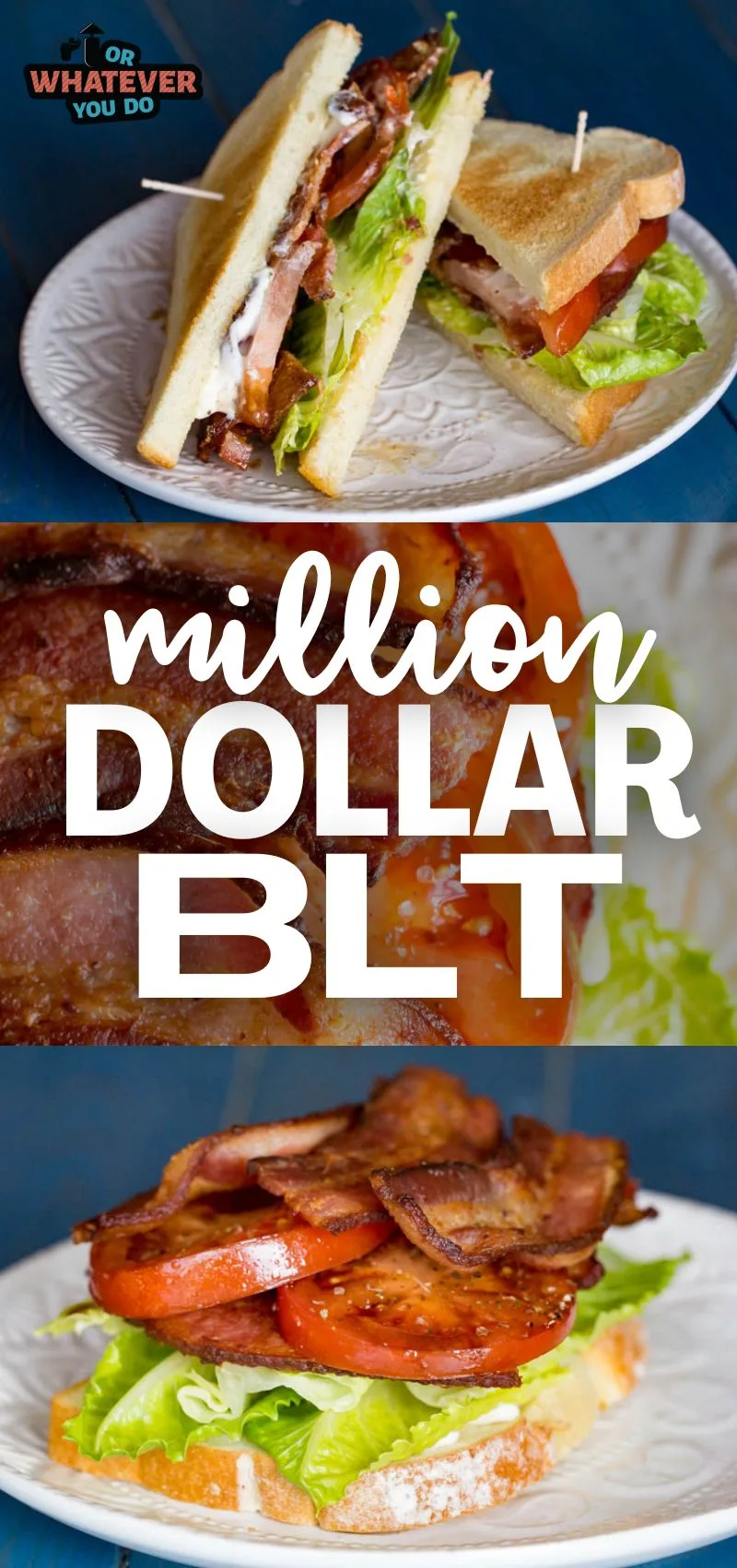 Yield: 2 sandwiches
Million Dollar BLT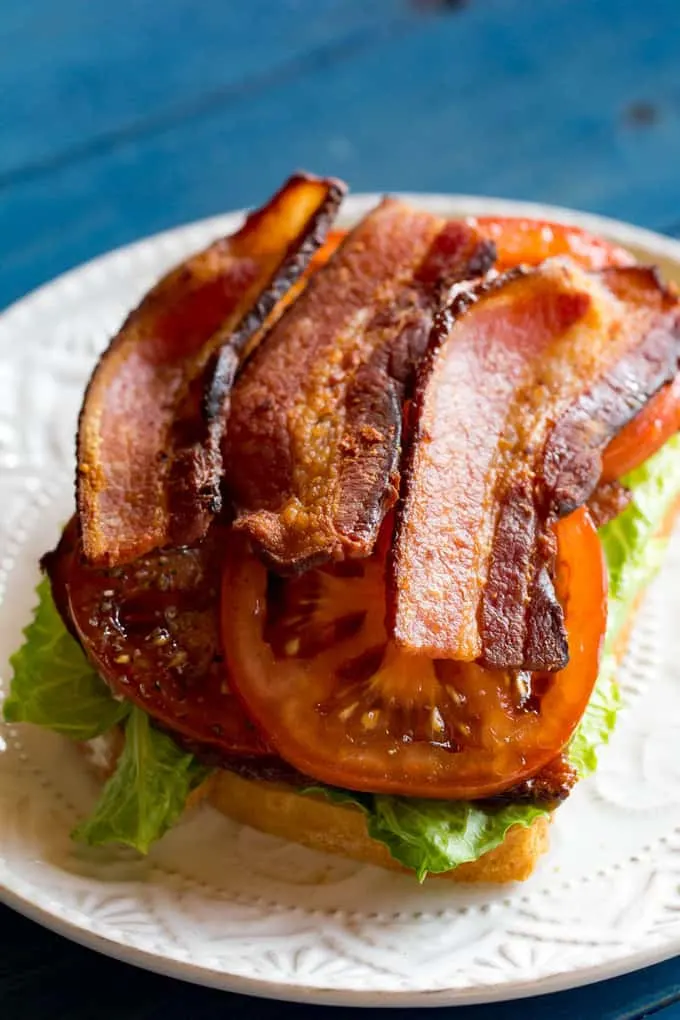 These are really the ultimate BLT. Thick cut bacon, fresh crisp lettuce, and juicy marinated tomatoes are put between two slices of lightly toasted bread with a thin coating of mayo.
Marinating Time
30 minutes
Ingredients
1 large beefsteak tomato, vine ripened and in season
1/4 cup olive oil
1/8 cup balsamic vinegar or balsamic reduction
1/2 teaspoon Italian seasoning
1/4 teaspoon salt
freshly ground black pepper
12 slices thick cut bacon
fresh iceberg lettuce
4 slices thick cut white or sourdough bread
mayo
Instructions
Slice the tomatoes and put them in a dish along with the olive oil and balsamic vinegar. Let sit while the bacon cooks.
Cook the bacon over medium-low heat until it is crisp. Remove to a paper towel to drain.
Toast the bread lightly, and give each piece a light swipe of mayo.
Layer on slices of lettuce followed by the tomatoes. Salt and pepper the tomatoes after they are on the sandwiches.
Top with bacon and the other slice of bread.
Slice and serve.
Nutrition Information:
Yield:
2
Serving Size:
1
Amount Per Serving:
Calories:

767
Total Fat:

58g
Saturated Fat:

13g
Trans Fat:

0g
Unsaturated Fat:

43g
Cholesterol:

74mg
Sodium:

1728mg
Carbohydrates:

30g
Fiber:

2g
Sugar:

11g
Protein:

29g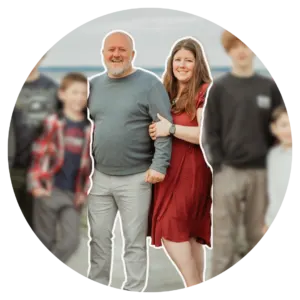 Nicole Johnson, a self-taught expert in grilling and outdoor cooking, launched Or Whatever You Do in 2010. Her blog, renowned for its comprehensive and creative outdoor cooking recipes, has garnered a vast audience of millions. Nicole's hands-on experience and passion for grilling shine through her work. Her husband, Jeremiah Johnson, also plays a pivotal role in recipe development, adding his culinary flair to the mix. Together, they form a dynamic duo, offering a rich and varied outdoor cooking experience to their followers.