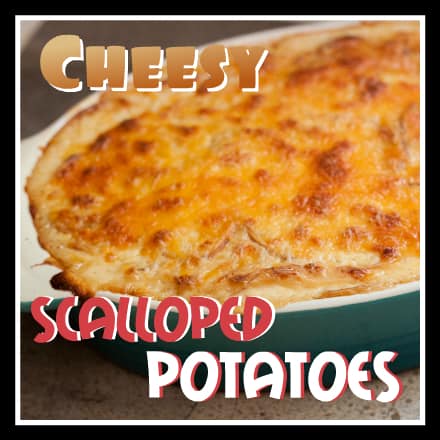 These potatoes are the awesome. For real. I love them, and I could eat way, WAY too many of them if I allowed myself. Which I did, the morning after I made these, when I ate the leftovers for breakfast. Cheesy potatoes are a breakfast food, right?
These are incredibly simple to throw together, and then its just bake.eat. Very easy.
Start by melting some butter in a sauce pan. I used about 1/3 of a cup.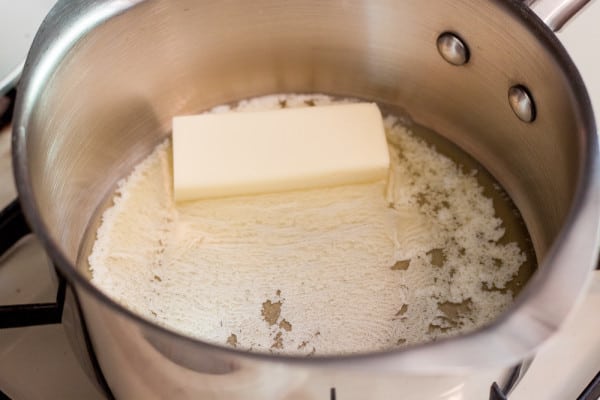 When that is melted add in a little less than a handfull of flour. I didn't measure this. You want enough for it to be stirrable and not too pastey, but pretty thick. Let this cook a bit over low heat, stirring frequently, until it starts to look a little golden. You want a developed roux if you want what you are adding to it to be flavorful.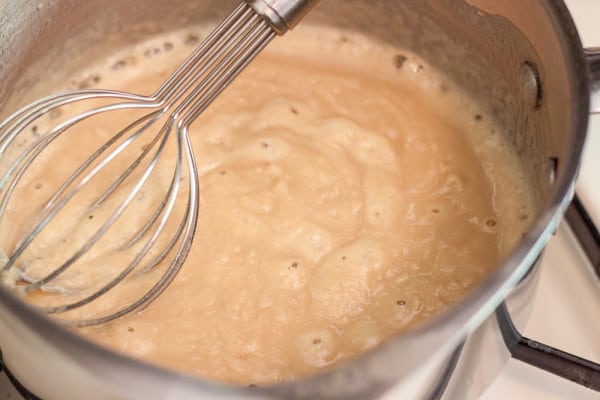 When that's nice and golden and delicious, add in the milk. About 3 cups. Let it cook a bit, stirring stirring and stirring some more over medium-low heat, until it thickens up. If it is TOO thick, add more milk. This will depend on how much flour you added, or how big your hands are. My hands hold about 1/3 a cup I think.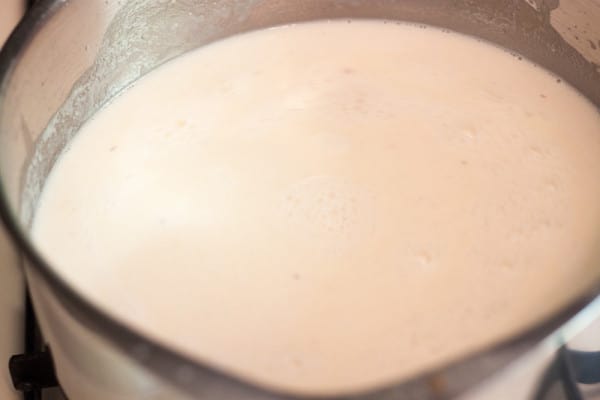 When its thickened but not TOO thick (you want it to be like a thick-stew consistency. Kind of gravy-like. Clear as mud for you? You definitely don't want it as thick as mud. Well, maybe mud soup mud, but not mud pie mud.
Now add in a tsp of dry mustard. Add in 1/2 tsp of salt. A few shakes of pepper. 1 tsp of A-1 steak sauce, or worchestershire. I can't use worchestershire because it contains fish, which my little almost 6 year old buddy Isaiah is highly allergic to. A-1 does the trick quite well.
Stir this all up well and turn the heat down as low as it'll go. If you haven't already, peel and thinly slice 6-7 medium sized potatoes. I use my awesome Pampered Chef Mandolin. Makes the slicing much faster, thinner, and more uniform. You could use frozen hashbrowns for this if you really wanted to. I have in the past and the casserole turns out great. The texture is definitely different using frozen rather than fresh spuds, but if you need speed or to cut out a step, feel free to use them.
When the potatoes are sliced, lay ⅓ of them them down evenly in a greased or pammed casserole dish. Now take a few handfuls of cheese and toss this on the potatoes.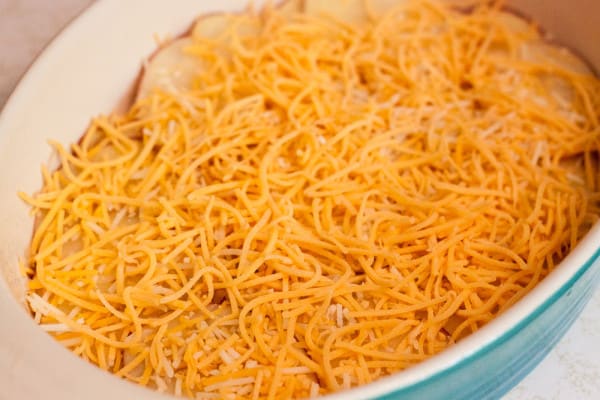 Now take a few handfuls of cheese (I used mozzarella) and stir them into the sauce mixture until well combined. You may have to add a little more heat for it all to incorporate well.
Pour about ⅓ of the milk mixture over the potatoes and shake the pan around a bit to make sure to get the cheesy rouxy goodness everywhere. Now top it with another layer of potatoes.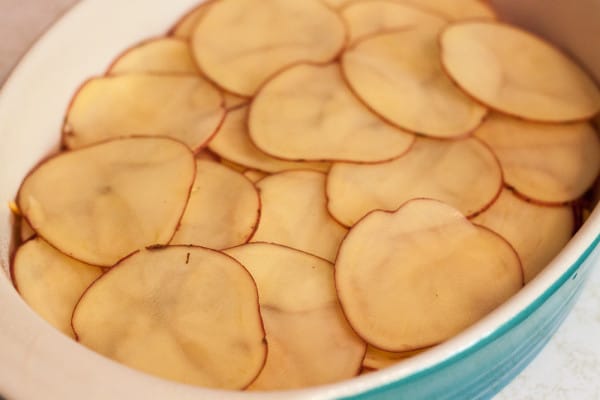 Then add more cheese and sauce.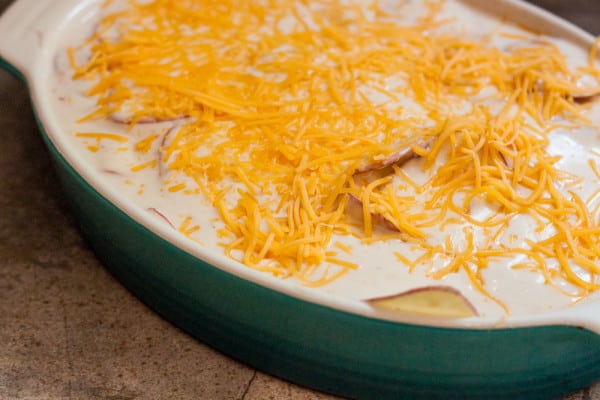 Bake the whole thing at 350 until the potatoes are tender, the cheese is melty, and you can't resist any longer. It'll take about 35-45 minutes.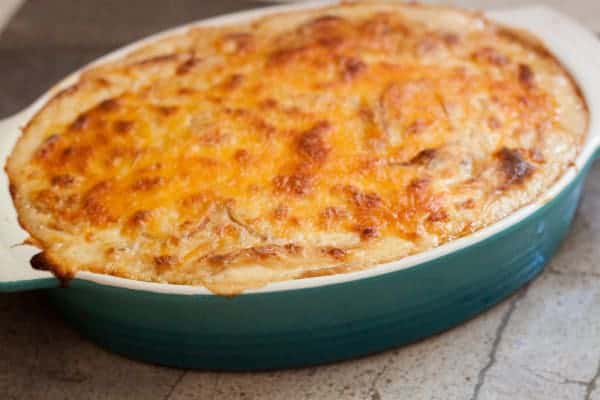 Now wait until they won't burn your mouth horribly, then eat. I served these with our pulled pork sandwiches. I also serve them with a ham dinner, and a few other things.
Tip:
When cooking with milk, use the lowest heat you can to achieve the results. Milk "breaks" when too high of heat is applied. Also, use the fullest fat milk you have. I NEVER cook with anything below 2%. Whole is definitely better if you have it around the house.
Yield: 6 servings
Cheesy Scalloped Potatoes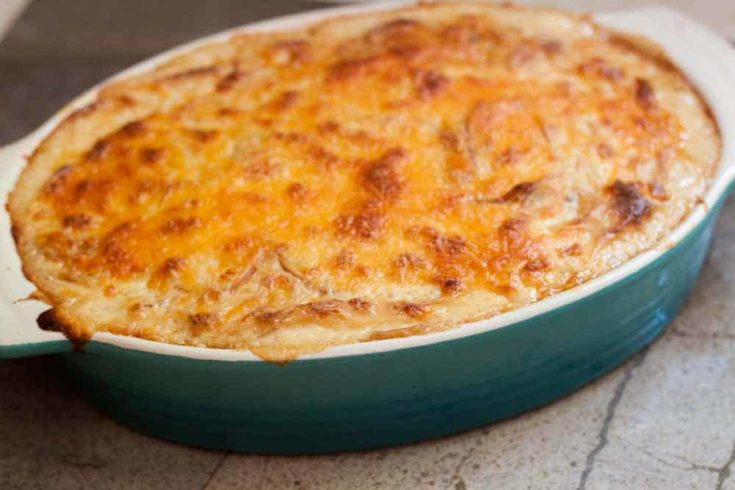 Scalloped potatoes are easy to make, and so much better than pre-made!
Ingredients
1/2 cup butter
1/3 cup flour
3-4 cups milk
1 tsp dry mustard
1/2 tsp salt
a few shakes pepper
1 tsp A-1 steak sauce
6-7 medium potatoes
2 cups mozzarella cheese
2 cups cheddar cheese
Instructions
Melt butter. Add flour and stir while cooking over low heat until golden brown. Add milk and seasonings. Stir until thickened. Reduce heat to low.
Peel and slice potatoes into thin, even ovals. Layer into a greased or pammed casserole dish adding in a few cheese layers as you go. Pour sauce over potatoes. You may not need it all. Reserve extra for mac-n-cheese tomorrow. Sprinkle cheddar cheese over top.
Bake at 350 for 35-45 minutes, or until poataotes are tender and everything is melted and delicious.
Nutrition Information:
Yield:
8
Serving Size:
1
Amount Per Serving:
Calories:

727
Total Fat:

37g
Saturated Fat:

22g
Trans Fat:

1g
Unsaturated Fat:

12g
Cholesterol:

119mg
Sodium:

893mg
Carbohydrates:

68g
Fiber:

4g
Sugar:

14g
Protein:

32g
Nutrition data provided here is only an estimate. If you are tracking these things for medical purposes please consult an outside, trusted source. Thanks!