Our easy Traeger Stuffed Pork Chops are a delicious way to enjoy tender, center-cut pork! Buy a whole pork loin and slice it into thick chops yourself to save some money, and stuff with a savory stuffing mix. Topped with homemade mushroom gravy, this is soon to become a family favorite!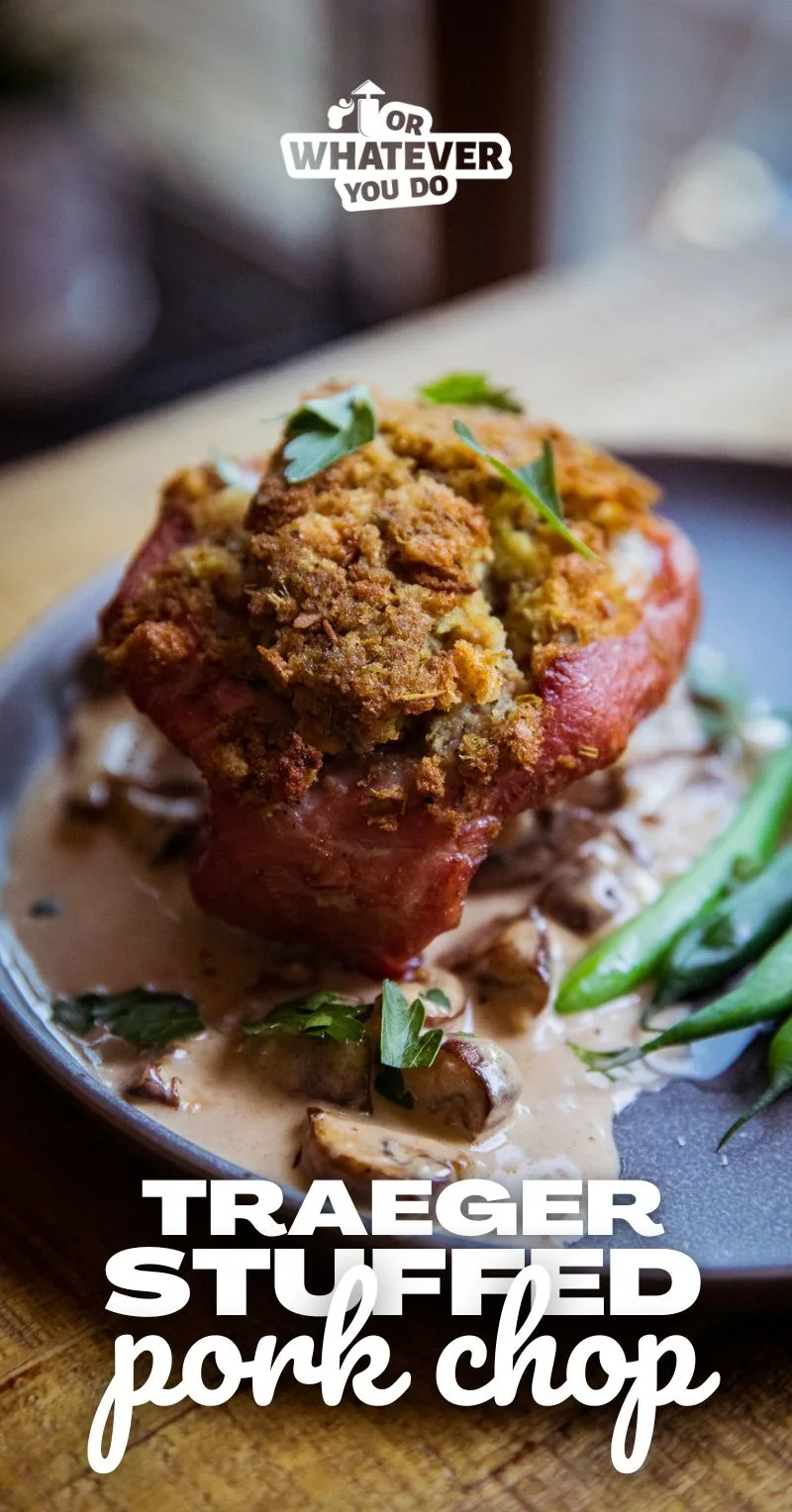 Traeger Stuffed Pork Chops
Grilled pork chops are one of the tastiest and easiest things you can make. No matter what kind of grill you have, I guarantee it'll do a fantastic pork chop. We regularly make Smoked Pork Chops and Grilled Pork Chops for quick dinners, but sometimes I crave something a little different.
If you want something a little different too, try this easy Traeger Stuffed Pork Chops recipe! We serve it with a homemade mushroom gravy that is begging for some mashed potatoes underneath.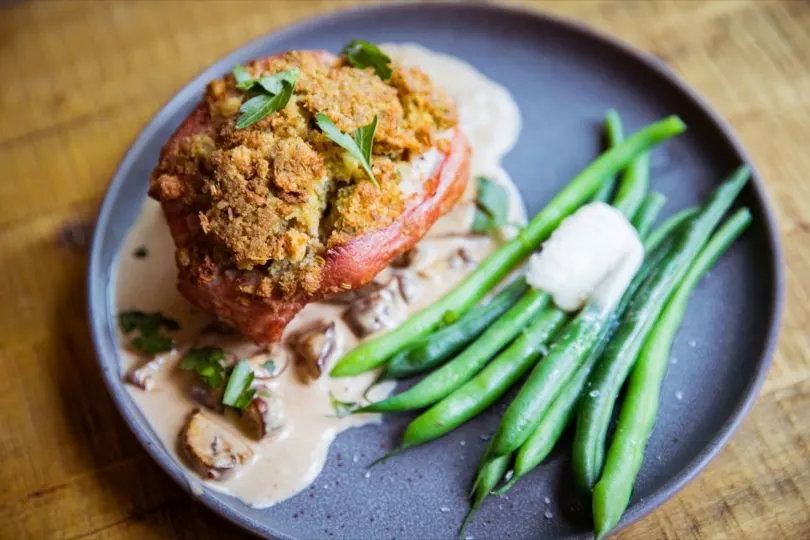 Grilled Stuffed Pork Chops shopping list
Wondering if you have to hit the store? Here's the list of items you'll need to make this recipe. For specific amounts, please refer to the printable recipe card at the bottom of the post.
pork chops
Honey Habanero Rub (or your favorite pork rub)
stuffing mix + any ingredients called for on the package
mushrooms
butter
flour
Oomami Blend (optional, but amazing!)
granulated onion
chicken stock
heavy cream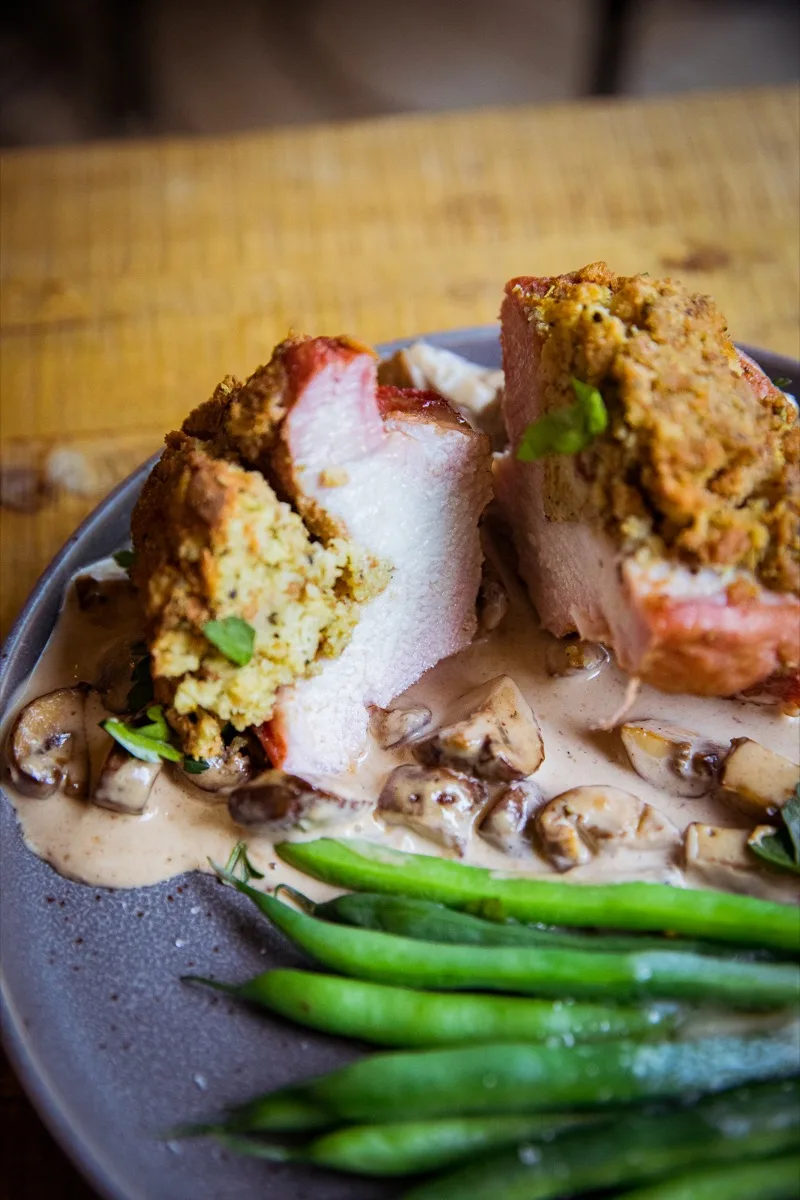 How to make Stuffed Pork Chops on the Pellet Grill
This is just the overview so you can see what you're actually getting into here. When you are cooking, you'll want to use the full recipe at the bottom of the page.
Preheat
Fire up the grill and heat to 350°F.
Prep
Make a pocket in your chops, season all sides, and stuff with the prepared stuffing.
Cook
Cook for about 35-40 minutes, or until the internal temperature of your pork chop reaches at least 145°F.
Make the sauce
Whip up the mushroom sauce/gravy while the pork chops are cooking.
Enjoy
Serve these with generous amounts of the mushroom sauce and a fresh salad or some sautéed vegetables.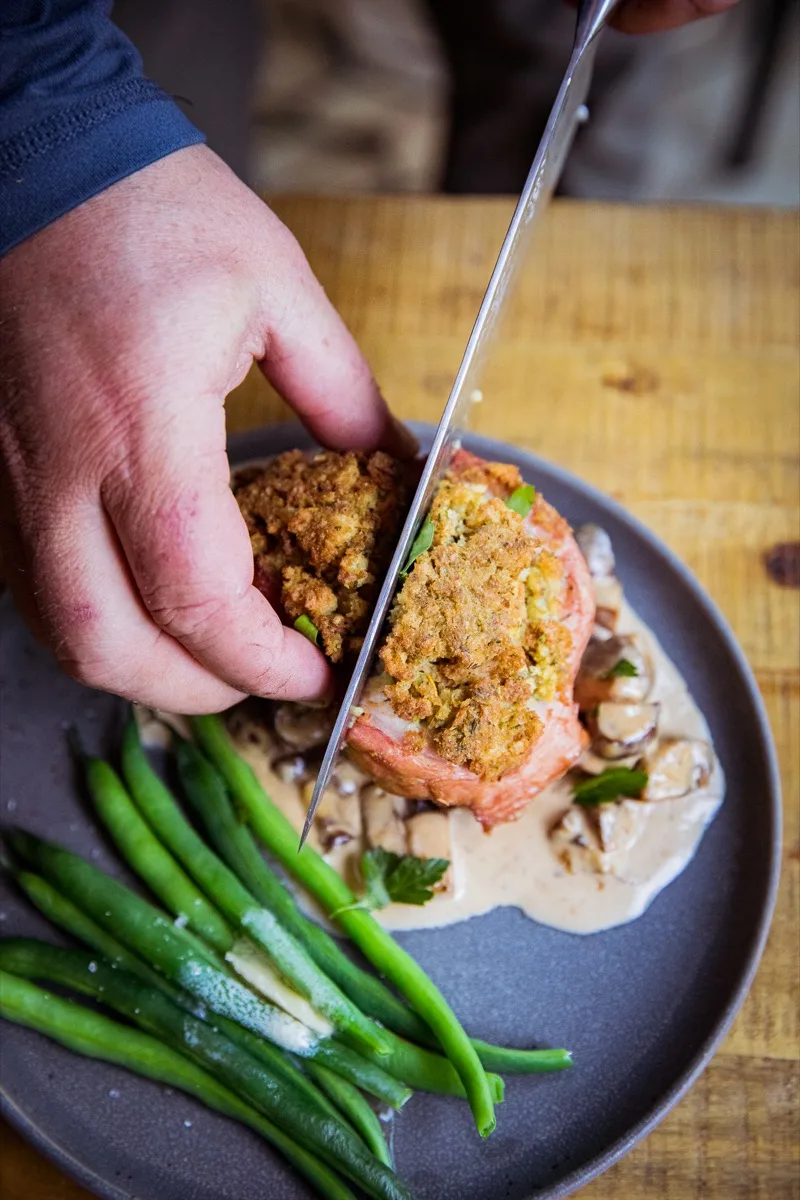 Stuffed Pork Chop FAQ
What's the best way to store the leftovers?
Store these covered in the fridge for 2-3 days.
How should you reheat leftovers?
The microwave works pretty well for reheating! Just don't overdo it or you'll dry out the pork.
Are there any substitutions for the rub you suggested?
Sure! If you don't have Honey Habanero Rub from Spiceology (it is available at Costco in the PNW for a limited time) you can sub in your favorite pork rub, or just a simple mix of salt, pepper, and garlic powder.
More great recipes using pork!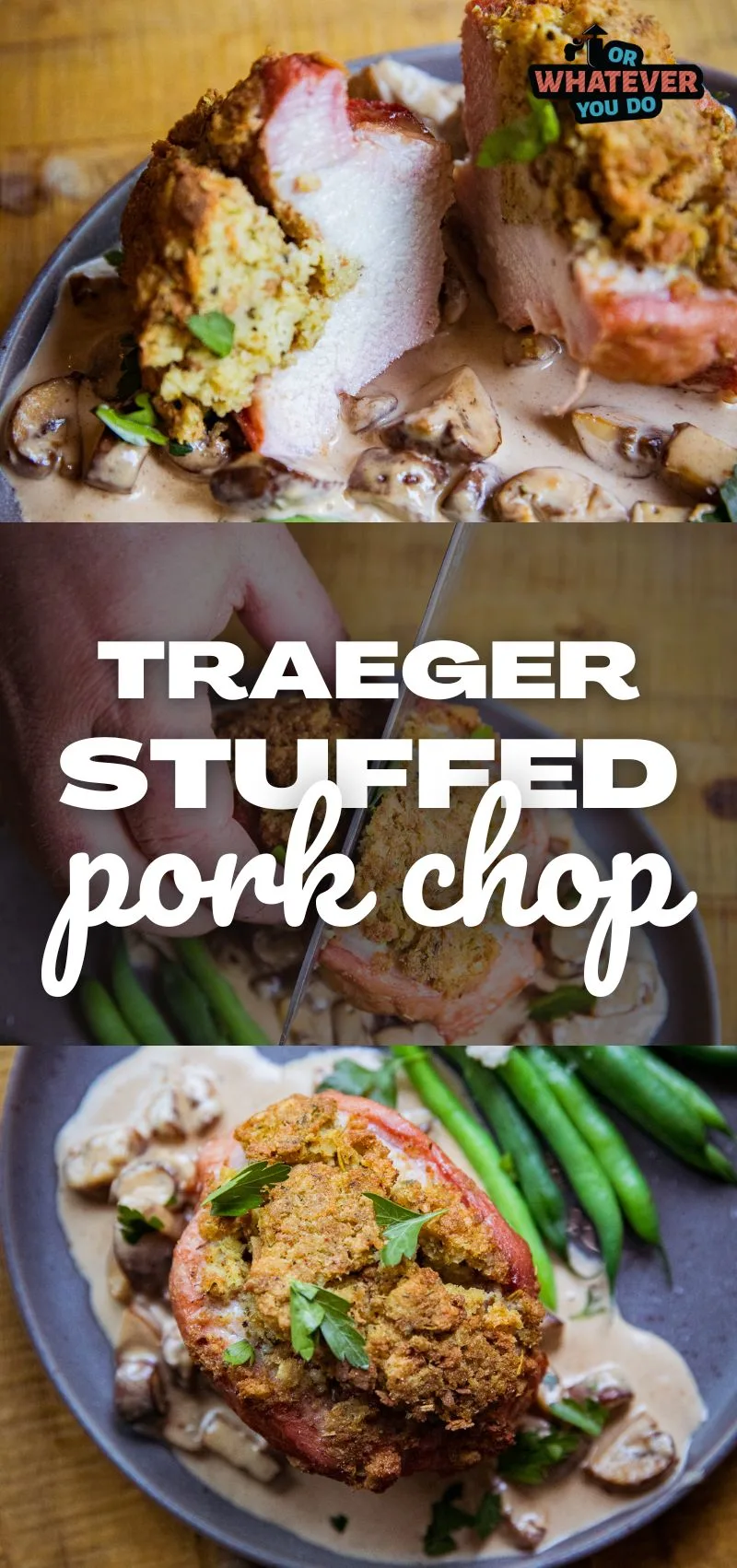 Yield: 4 servings
Traeger Stuffed Pork Chops with Mushroom Gravy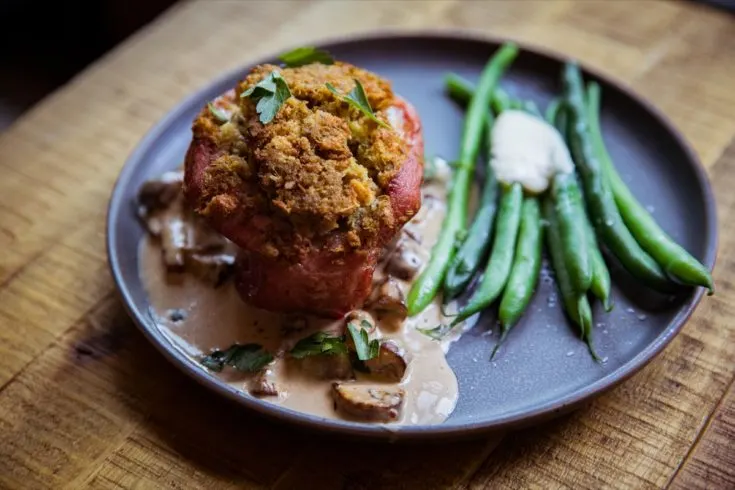 Tender, center-cut pork chops get butterflied and stuffed with savory, delicious stuffing before hitting the Traeger! Topped off with homemade mushroom gravy, you're going to love this dish!
Total Time
1 hour
5 minutes
Ingredients
Pork Chops
4 center-cut pork chops, at least 2" thick
2 tablespoons Honey Habanero Rub*
2 cups prepared stuffing mix
Mushroom Gravy
8 ounces cremini/baby bella mushrooms
3 tablespoons salted butter
2 tablespoons all-purpose flour
1 teaspoon Oomami Blend**
1/2 teaspoon granulated onion
1 1/2 cups chicken stock
1/2 cup heavy cream
Instructions
Preheat the pellet grill to 350°F.
Prep the pork chops by slicing a pocket into the long side of the chop, being careful not to cut all the way through. Flip the pork chop over so the cut side is facing up. Season the pork chops on all sides with the pork rub.
Prepare your stuffing according to package directions, or if you're feeling ambitious, you can whip up some homemade stuffing. Stovetop or the store brand works just fine though. Hit the easy button. No judgement here.
Stuff as much of the stuffing into the pork chops as you can, heaping it over the top a bit too for good measure.
Place the stuffed pork chops onto the grill, stuffing-side up. Grill for 35-40 minutes, or until the internal temperature of the chop reaches at least 145°F.
While the chops are cooking, whip up your mushroom gravy by sauteeing the sliced mushrooms in the butter. Cook until the liquid releases and evaporates. Stir in the flour and mix until there are no more lumps. Shake in the Oomami (if using) and the granulated onion. Pour in the chicken stock and let simmer until slightly thickened. Finish with the cream. Let it simmer for another 5 minutes or so, stirring frequently, until it reduces slightly.
Remove the chops from the grill and serve with the mushroom sauce.