This simple Traeger Pork Tenderloin with Mustard Sauce is a snap to throw together, takes less than 30 minutes from fridge to table, and is a family favorite!

Traeger Pork Tenderloin grilled with mustard sauce
Pork tenderloin with mustard sauce offers a great option for grilling on your Traeger grill that cooks quickly. Pork tenderloin is as lean as chicken breast, so it is a healthy option as well. The mustard sauce provides a touch of tanginess along with a slight measure of heat that really plays nicely with the taste buds.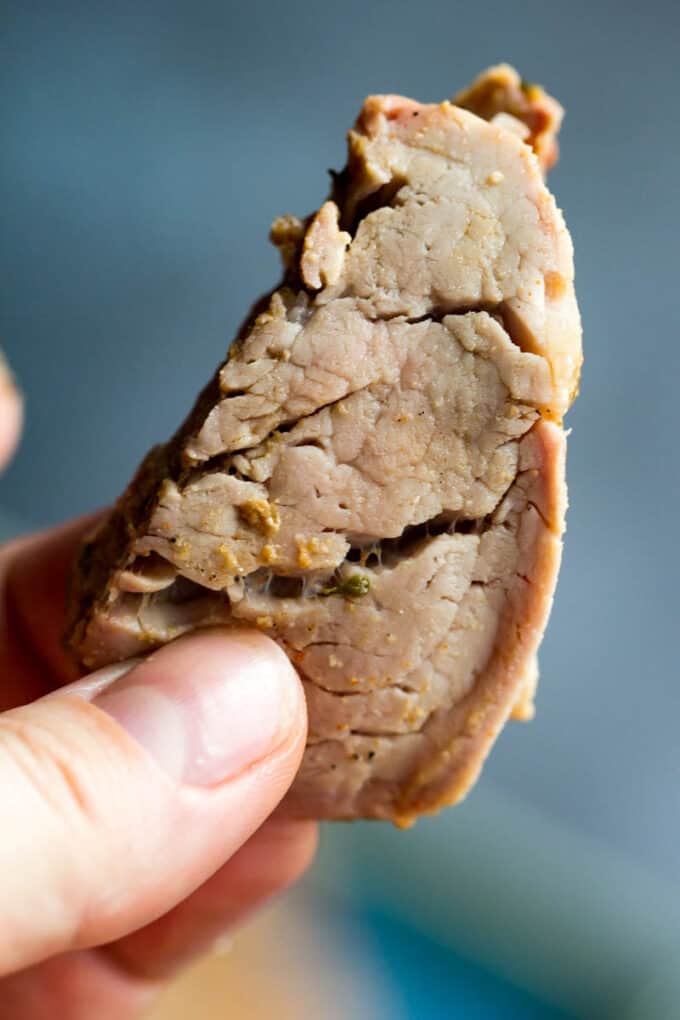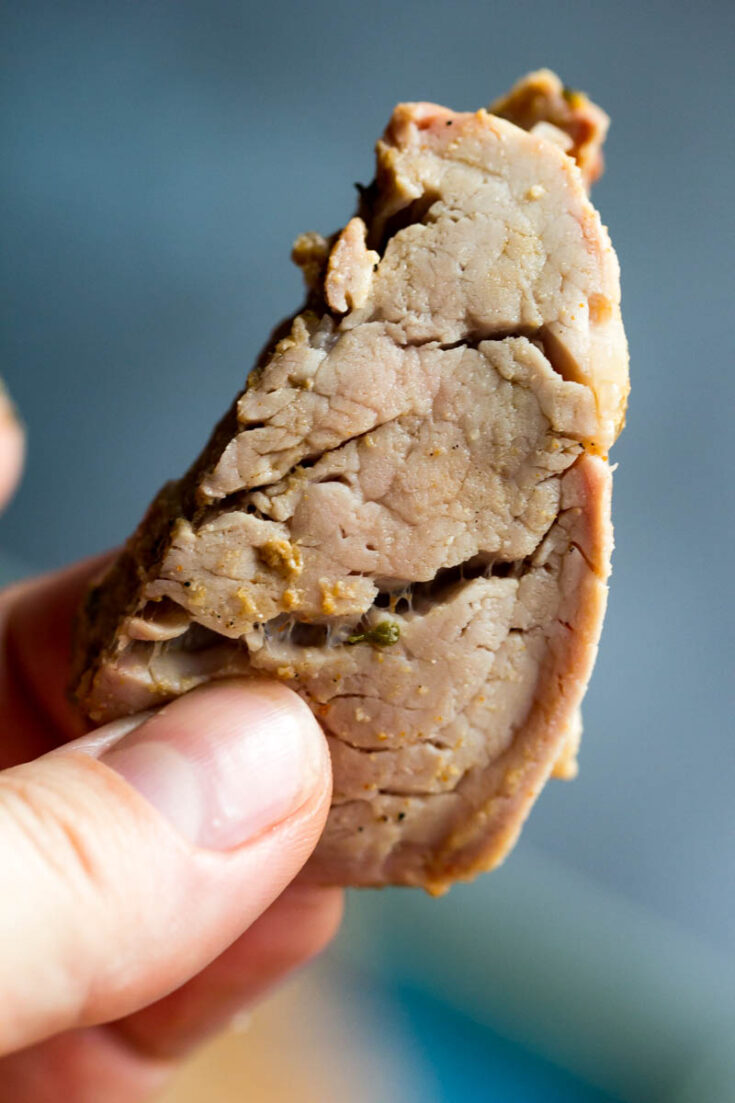 Pork tenderloin needs to be cooked with tenderness
Pork tenderloin, especially for pork, is a very lean cut of meat. Since it is not too thick and the size is very even, it cooks quickly on your Traeger grill, or any grill you have available for it.
While the pork tenderloin is pretty flavorful and certainly tender, the mustard sauce goes a long way to help moisturize the meat so that it doesn't dry out when you cook it. Cook time is going to be about 15 or 20 minutes depending on the size of your tenderloin.
Pork tenderloin needs to be cooked to 145° for the proper doneness, and you will let it rest for about 3 minutes after it comes off the grill. Be careful not to have the grill temperature too high or else the exterior of the meat dries out quickly. About 350° works to help cook it evenly without drying out the outer edge.
Because pork tenderloin cooks quickly, it works great for those times when you want to get something on the table before everyone starts that "is it ready yet" chant that drives even the most patient of us nuts sometimes.
All my PORK RECIPES here!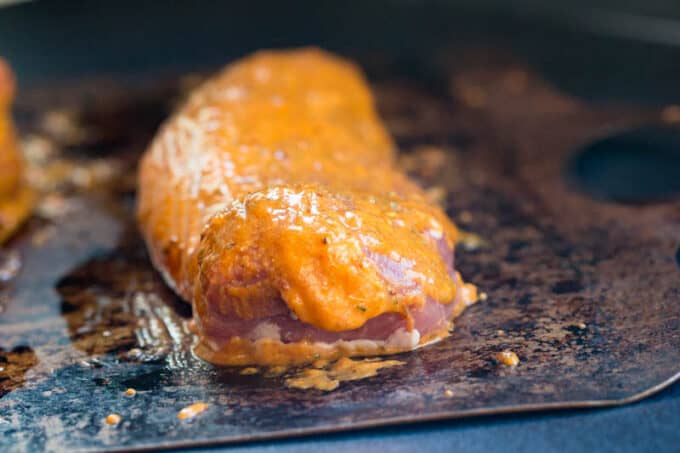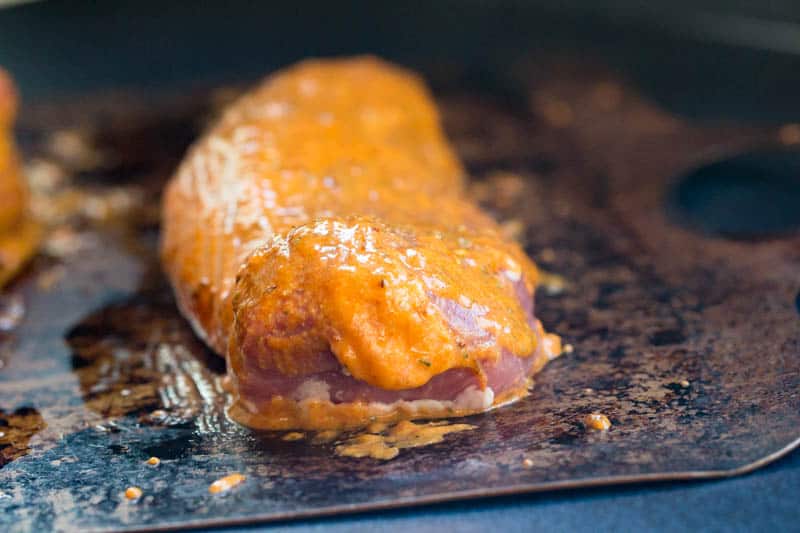 Pork tenderloin mustard sauce magic
Some things are just made for each other. Mustard goes with pork like hazelnuts go with chocolate. There is a reason you never have to stray far from a hot dog to find mustard. Mustard and pork just bring out the best in each other like a successful old married couple. They complete each other.
The mustard sauce that coats this pork tenderloin recipe uses the bit of vinegar to help tenderize the pork, the mustard works its magic to flavor it, and the rest of the ingredients all play a similar role adding flavor or moisture accordingly.
However, definitely the mustard is the star all the seasonings orbit around in this dish.
For that reason, even if you are tempted to add more red pepper flakes to pick up the heat, try to resist the temptation. You don't want the red pepper to overtake the mustard.
Check out all of my Traeger Recipes!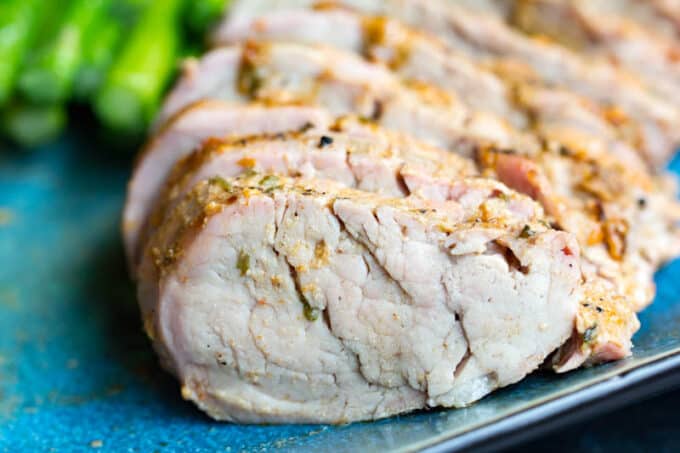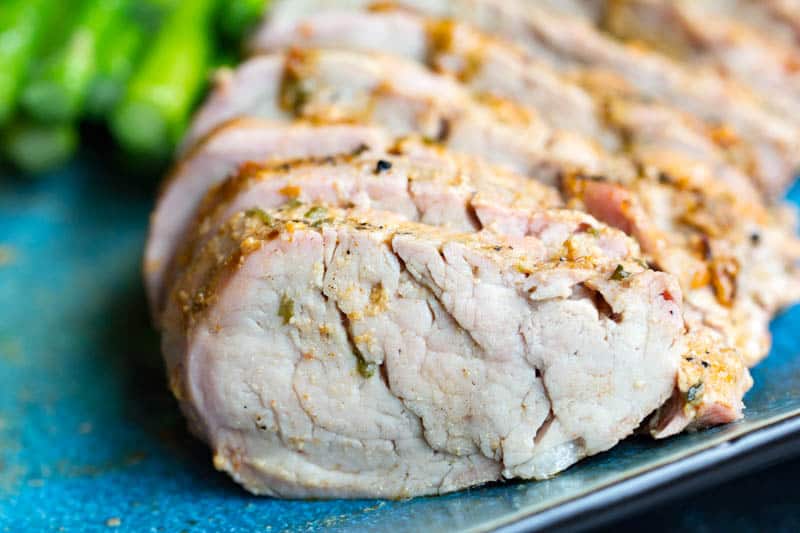 The right mustard for grilled pork tenderloin with mustard sauce
If you want more spicy heat you can use very hot mustard. My personal preference for the ideal mustard is Dijon-style mustard. If you don't have that handy, then really any mustard works for the recipe including that squeeze bottle of yellow mustard you have from the last time you had hot dogs.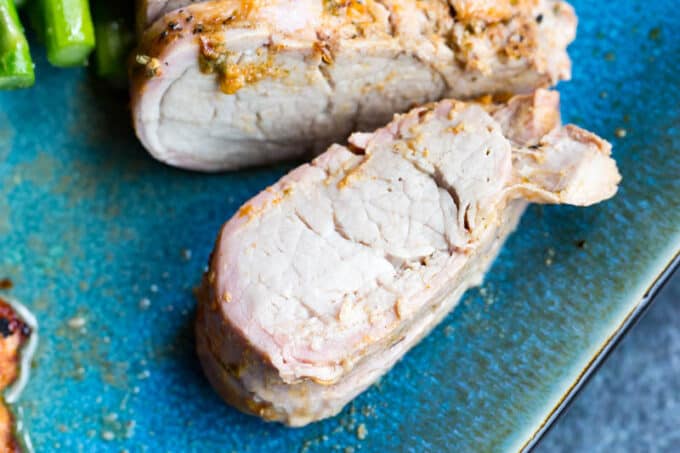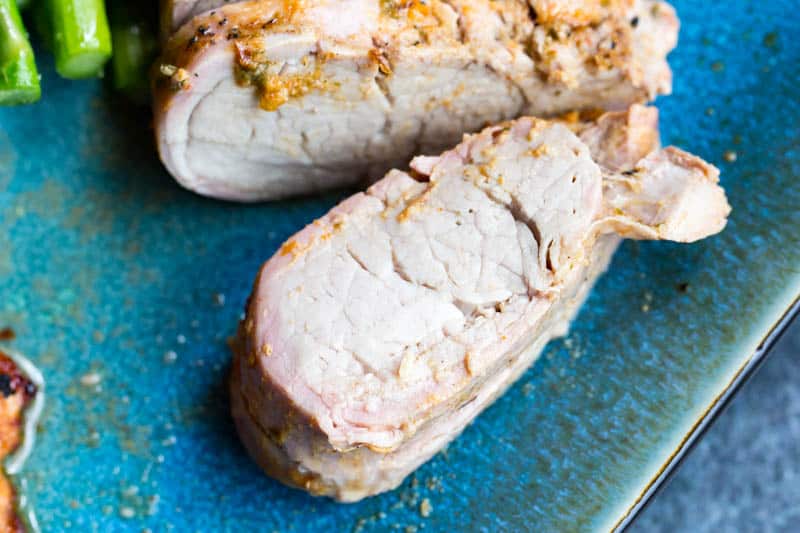 What is Dijon mustard?
Dijon mustard originated in Dijon, the capital city in the Burgundy region of France. So, not only is Burgundy famous for its wines, but also for being the origin of this wonderful mustard! The mustard plants in fact were grown as a ground cover underneath the grape vines.
True Dijon mustard is made with verjus (verjuice) which is made from the tart juice of unripe grapes. It also has wine it it. The Dijon mustard most people are familiar with is Grey Poupon and that is the mustard I like best for this particular recipe.
Dijon mustard with pork tenderloin, with its more complex flavors, just seems to lend elegance to the dish. With Dijon mustard, just like that it goes from just good to absolutely gourmet.
You can find Dijon mustard that has mustard seed in it, or you can go with a variety that is creamy without seeds. Both work just fine. Some folks prefer not having the little seeds of mustard on their meat because they think it makes it grainy, but others like the extra bite of heat from them.
My preference is for whatever I have on the shelf, handy and ready to use. I know any variety will taste delicious!
More Easy Traeger Recipes here!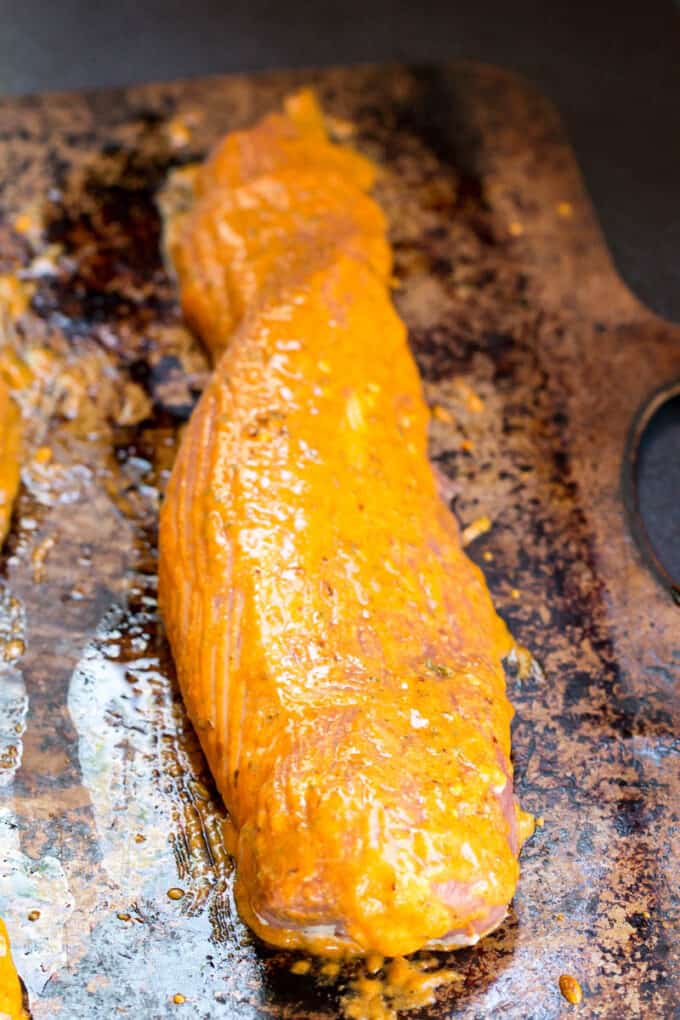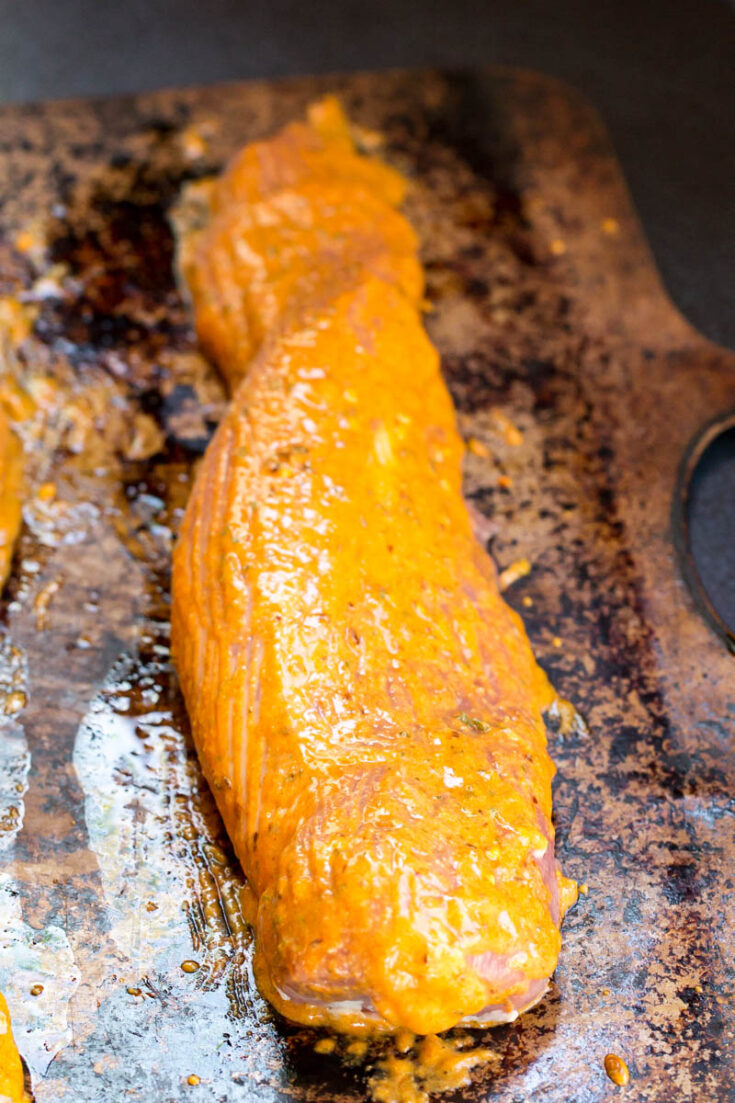 How long do I season the pork in the sauce?
You can prep your mustard sauce for the pork tenderloin any time even right before it goes on the grill.
I like to make the sauce a day ahead and let the pork marinate in it overnight. The sauce has enough flavor to make the meat delicious either way. I just love the way it tastes after marinating a while, even an hour or so before I throw it on the grill.
The flavor of the sauce easily penetrates the pork tenderloin and seasons the meat so well. This is a case where you really can't have too much of a good thing.
Buy Pellets here!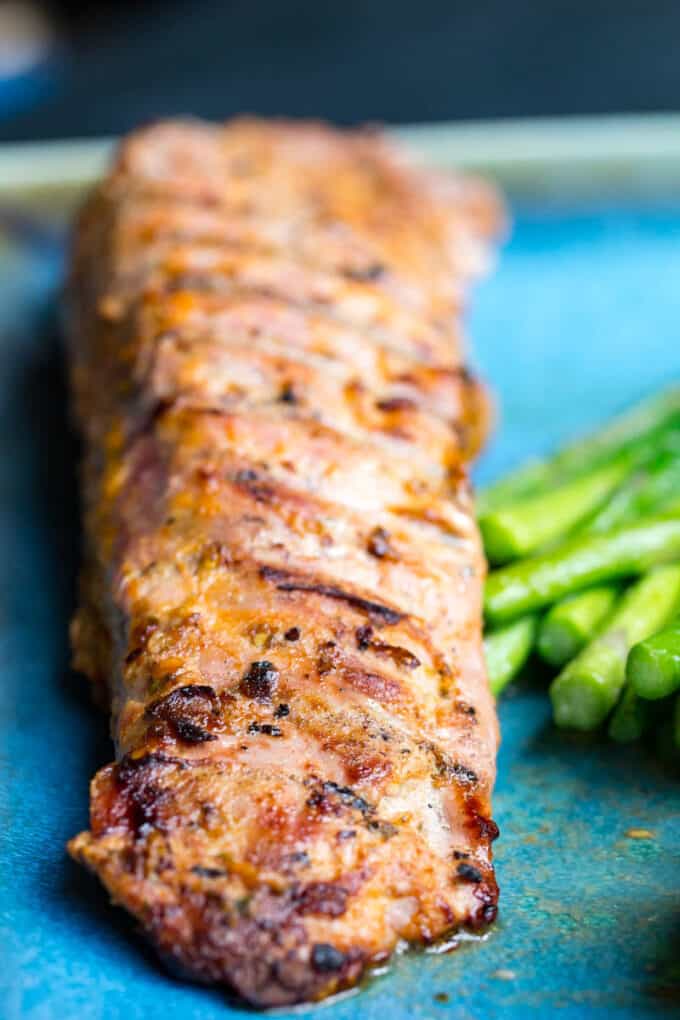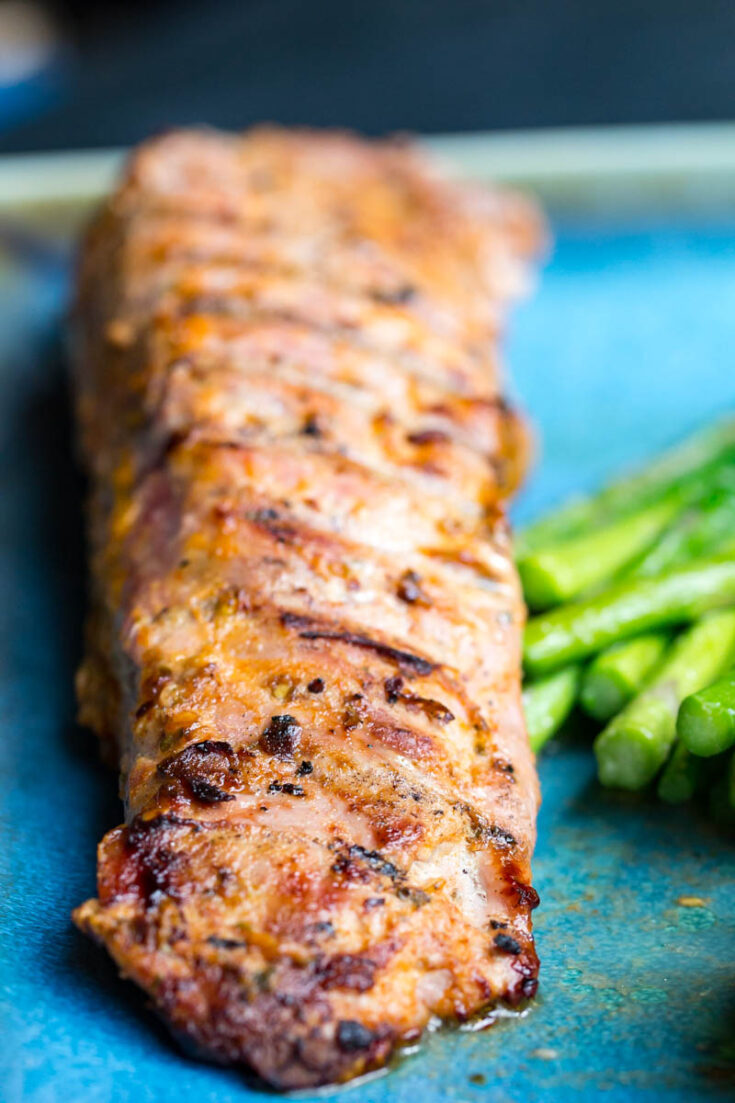 How do I cook the pork tenderloin with mustard sauce on my pellet grill?
With the meat soaked in your sauce, throw it on the grill. Make sure you are not too close to the flame so the exterior doesn't dry out too quickly. Also, keep extra sauce on hand so you can continually baste the meat in it as it cooks.
Pork tenderloin cooks quickly, so you want to watch out that it doesn't overcook.
Pork tenderloin is usually sort of tubular in shape, so you can roll it on the grill to make sure to get equal coverage of the heat. Baste, baste, baste. Keep painting that pork with the sauce as you go.
Get more awesome Appetizer Recipes!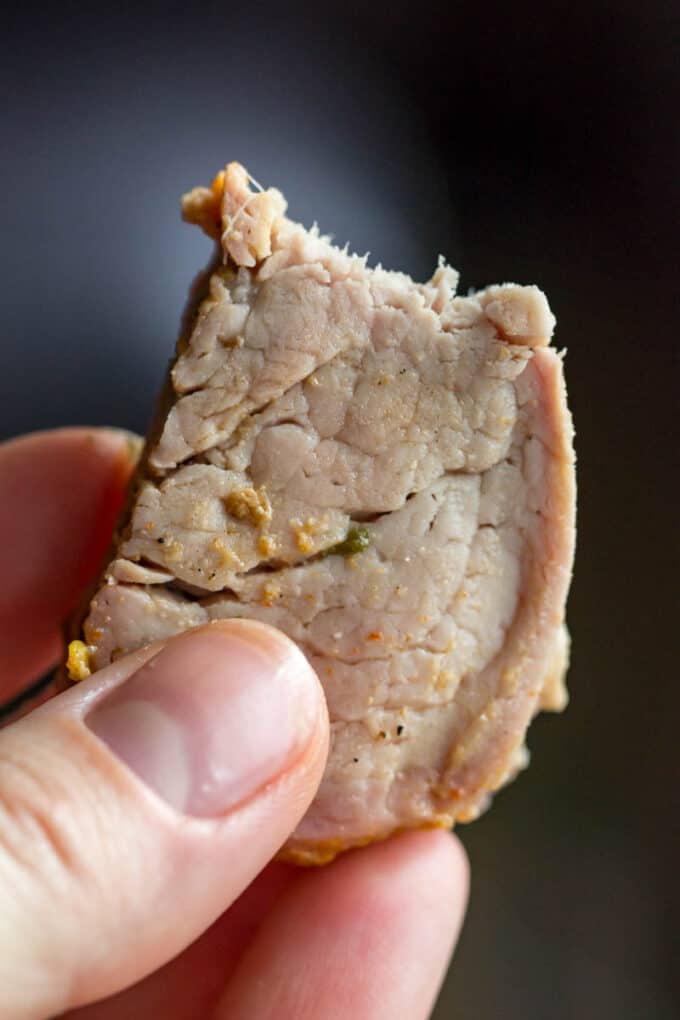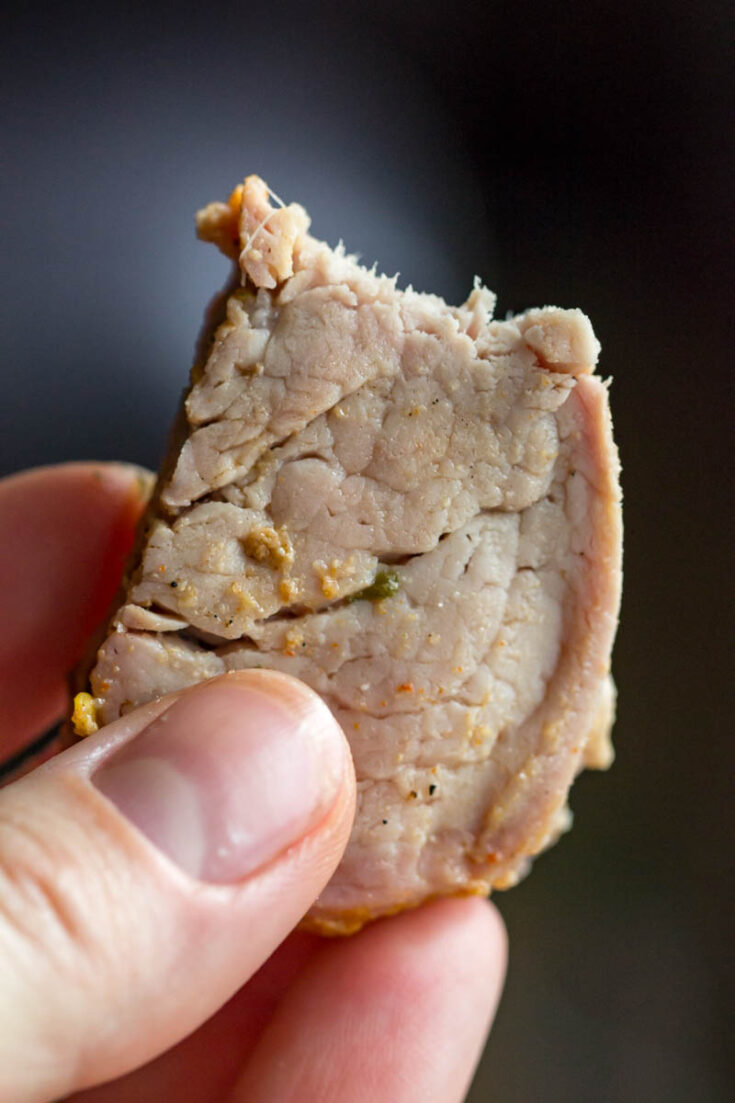 What about smoking my pork tenderloin with mustard sauce?
If you have a Traeger smoker grill then you may also want to add a touch of smokiness to this dish. Pork tenderloin will absorb the flavor of the smoke quickly, so you don't need a lot of time to hit it with the smoke.
If you do want to smoke the dish a bit, then add your smoker pellets and smoke the pork for about five minutes first. You can do this with or without the sauce on the meat depending on if you have the sauce ready to go or whether you pre-marinated it first.
You are just putting the meat on the smoker long enough to add a touch of smoke but not long enough to cook it. So it doesn't really factor in as cooking time. With pork, cooking time is all relative to getting that proper 145 degrees f so temperature is more important than time.
When the meat is ready, pull it off the grill and let it rest for three minutes prior to serving.
Follow me on Instagram!
More delicious pork tenderloin recipes here!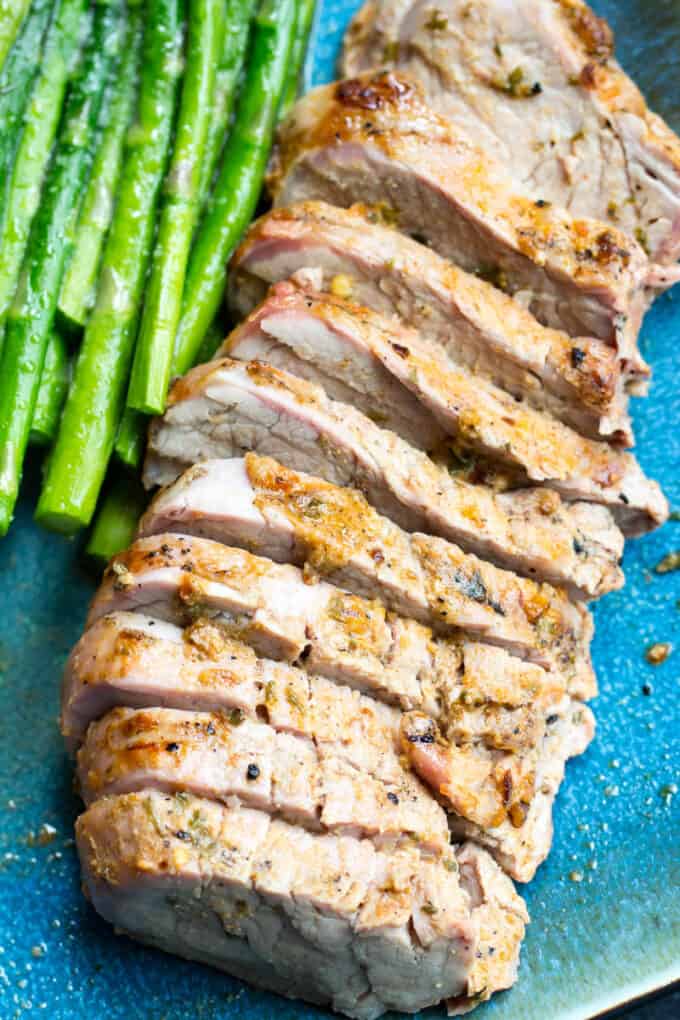 What can I serve with my pork tenderloin with mustard sauce?
I have asparagus pictured and that makes a great side for this dish. You can also go with any sort of salad, from greens to pasta to fruit salad, any salad works great. Also, potatoes baked or fried or boiled and mashed work. Rice dishes are ideal too.
Here are a few recipes from the site to check out if you need some ideas: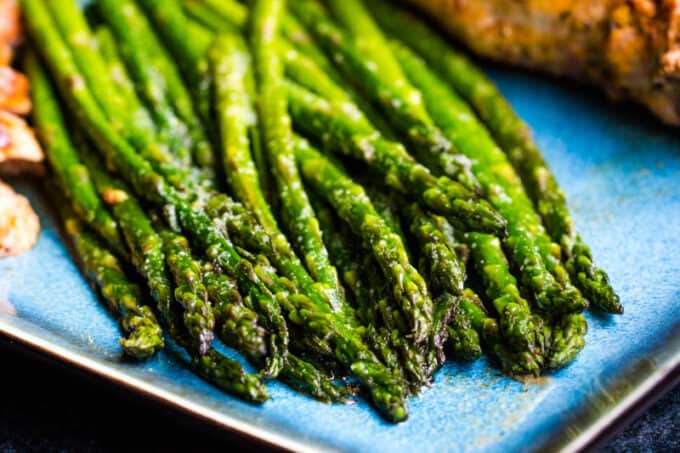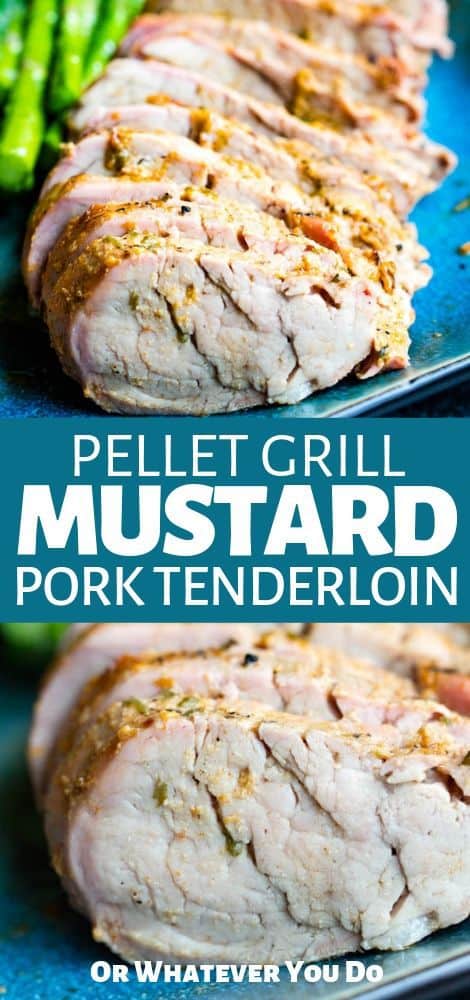 Yield: 4 servings
Pellet Grill Mustard Pork Tenderloin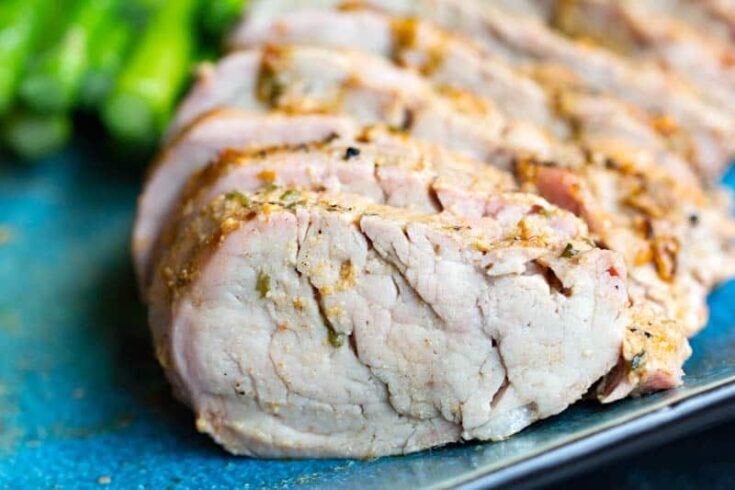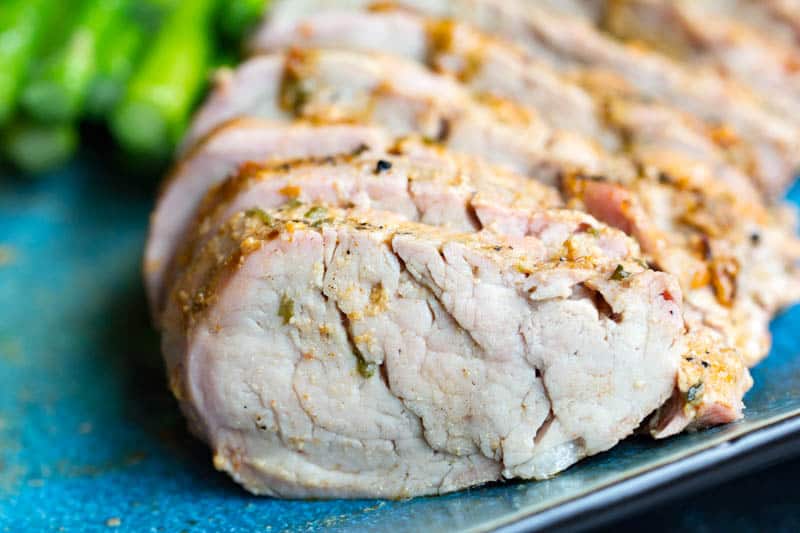 This tender pork tenderloin cooks in a flash and stays super moist when it is cooked on the pellet grill! Serve in a sandwich or on its own.
Ingredients
1 pork tenderloin
1 1/2 tablespoons Dijon mustard
1 1/2 tablespoons cooking oil
1 1/2 tablespoons white vinegar
1 teaspoon red pepper flake
1 teaspoon paprika
3/4 teaspoon salt
1/2 teaspoon parsley flakes
1/2 teaspoon onion powder
1/2 teaspoon granulated garlic
1/4 teaspoon ground black pepper
Instructions
Preheat your pellet grill to 350° according to factory directions.
Combine all of the mustard sauce ingredients and rub onto your pork tenderloin.
Place on the grill, turning every 5 minutes, and cook for 15-20 minutes or until the internal temperature reaches 150°.
Recommended Products
As an Amazon Associate and member of other affiliate programs, I earn from qualifying purchases.
Nutrition Information:
Yield:
4
Serving Size:
1
Amount Per Serving:
Calories:

87
Total Fat:

6g
Saturated Fat:

1g
Trans Fat:

0g
Unsaturated Fat:

5g
Cholesterol:

16mg
Sodium:

562mg
Carbohydrates:

1g
Fiber:

1g
Sugar:

0g
Protein:

6g
Nutrition data provided here is only an estimate. If you are tracking these things for medical purposes please consult an outside, trusted source. Thanks!