Instant Pot Pork Ribs are fall-off-the-bone tender with a succulent sauce. They turn any dinner into a backyard barbecue! This post first appeared on Food Fanatic: Pressure Cooker Pork Ribs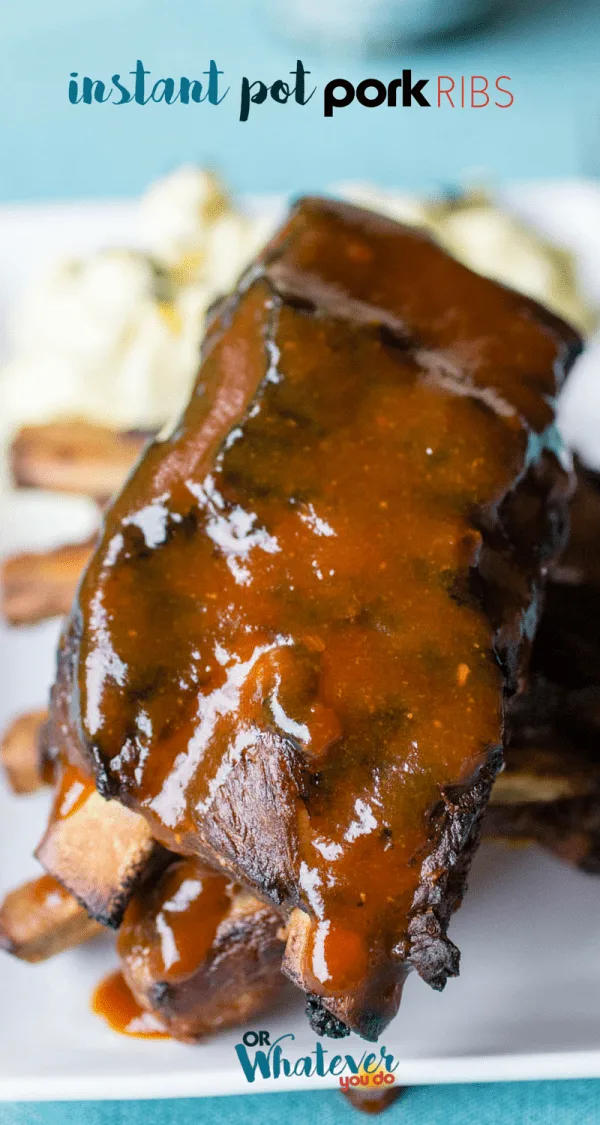 Instant Pot Pork Ribs
BBQ ribs are one of those things that pretty much everyone loves, but they are pretty hard to do really well. We've tried cooking them at home so many different ways, but none of them really added up until this time.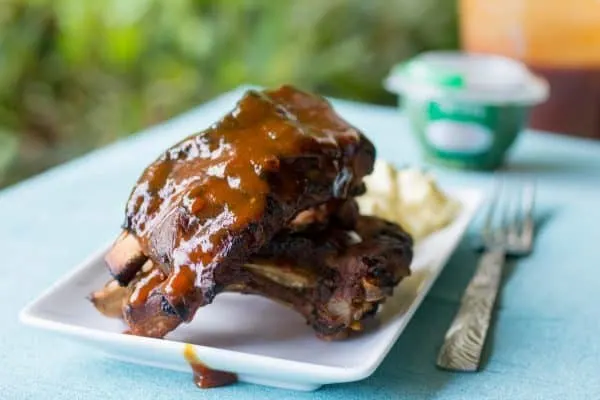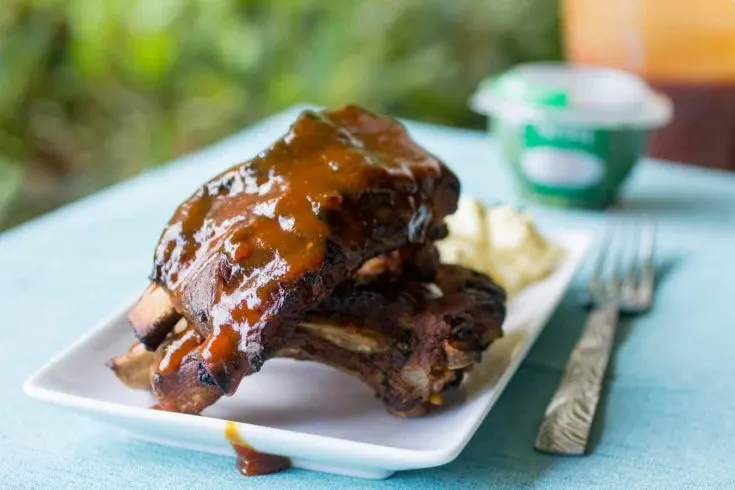 This time, it was like the stars actually aligned. I finally got my bbq sauce just right. The ribs were so tender, they were almost falling off the bone. The bit of a char they got out on the grill was the perfect way to get these ready to go. They were actually memorable. And what more can you really ask for from a meal?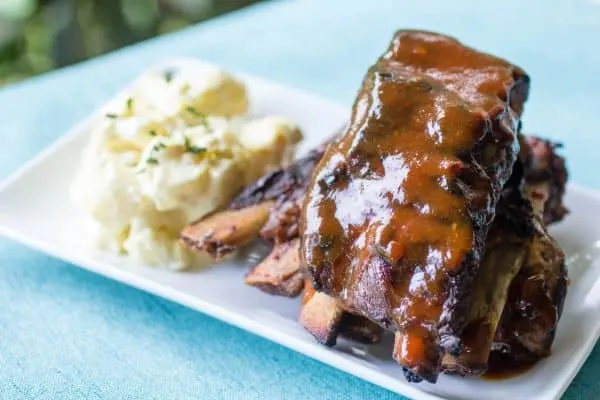 I just got an Instant Pot last month, and it has been like a whole new world opened up. I couldn't believe it. I saw an awesome Pressure Cooker BBQ Ribs recipe over on Our Best Bites, and knew that I had a plan for Sunday dinner.
Our Sunday dinners are huge. With just our own family and our immediate family, there are almost 20 people to feed. No matter what you make, feeding that many people is an undertaking. With the Instant Pot, I was able to do 6 racks of ribs in about an hour and a half, and most of that was the passive cooking time. That's amazing.
When I'm cooking for that kind of a crowd, I like to do as much of it the day before as humanly possible. That leaves me free to do last minute cleaning, side dishes, and oh yeah. Actually visiting with my guests on the day of the BBQ.
I had my husband fire up the grill for these, get a bit of a char on them, and then we served them with my mother-in-law's homemade potato salad, chips, and a green salad with my Greek Freak Salad Dressing.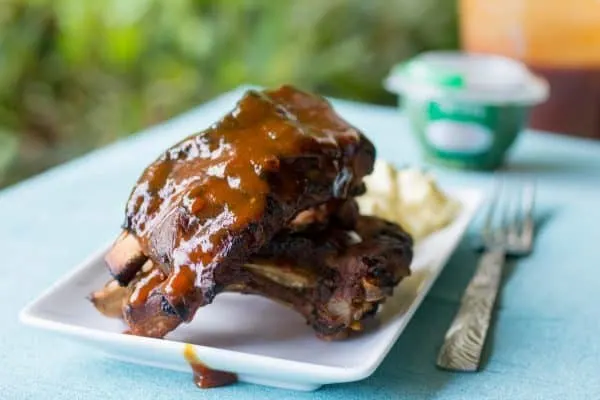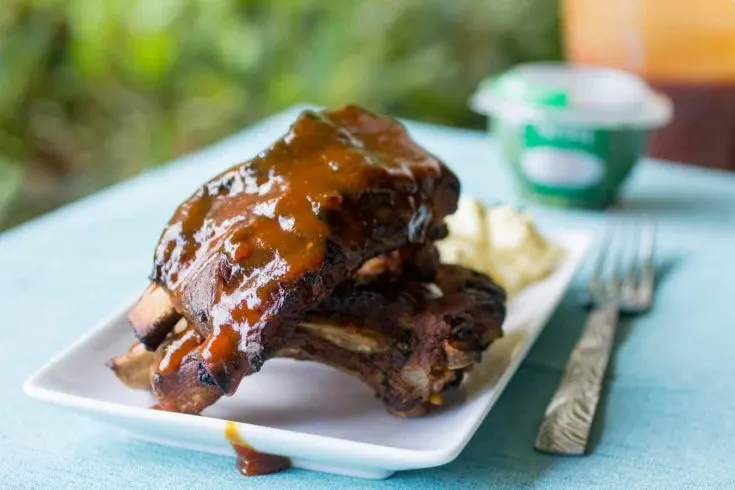 If you don't have a pressure cooker, you can definitely make these in a slow cooker. Just cook them low and slow for 5-6 hours with the same sauce ingredients, and finish on the grill just like you would with the pressure cooker version.
Don't be afraid of the ingredient list here. With the exception of the bacon salt, which is optional, most of these should be pantry staples. Beware — there are duplicate ingredients listed here for a purpose.
Yield: 6 servings
Instant Pot Pork Ribs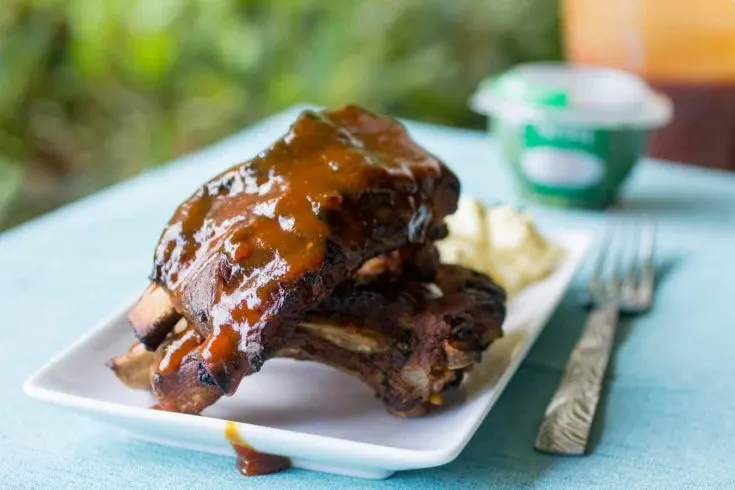 These tender and delicious Instant Pot Pork ribs are going to have you coming back for seconds!
Ingredients
For the Rub:
3 tablespoons Brown Sugar
1 tablespoon Mild Chili Powder
2 teaspoons Onion Powder
2 teaspoons Garlic Salt
1 teaspoon Mustard Powder
1 teaspoon Paprika
1/2 teaspoon Black Pepper
1/2 teaspoon Kosher Salt
1/4 teaspoon Cayenne Pepper
1/4 teaspoon Bacon Salt, Optional
For the Sauce Starters:
1 1/2 cups Ketchup
1 cup Diced Onion
1/2 cup Apple Cider Vinegar
1 cup Hard Cider
1/8 cup Soy Sauce
3 tablespoons Worcestershire Sauce
2 tablespoons Prepared Mustard
2 tablespoons Canola Oil, Or vegetable oil
1 tablespoon Mustard Powder
2 teaspoons Chopped Garlic
1/2 teaspoon Black Pepper
For the Sauce Finishers:
1 cup Ketchup
1/2 cup Brown Sugar
1/3 cup Apple Cider Vinegar
1/3 cup Honey
1/4 cup Prepared Mustard
1 teaspoon Crushed Red Pepper Flakes
Instructions
Make the rub:
Combine the brown sugar, chili powder, onion powder, garlic salt, mustard powder, paprika, pepper, salt, cayenne pepper, and bacon salt, and mix well.
Cut ribs into 3-4 bone sections, and coat liberally with the rub mixture. Place vertically in your pressure cooker so they are standing up on the bones. Mine fit about 2 racks of ribs this way. Don't overstuff.
Make the sauce starter:
Combine the ketchup, onion, vinegar, soy sauce, Worcestershire, mustard, canola oil, mustard powder, garlic, and pepper in a bowl, and pour over the top of the ribs.
Close the cooker and set to high pressure for 25 minutes.
Using the quick-release method, release the pressure. Remove the lid when safe to do so, and carefully remove the ribs from the pot. If making more than 2 racks of ribs, place more into the cooker as you did before, spoon some sauce over them, close the pot and repeat the cook cycle. If you are not cooking for an army like I do, proceed to the next step.
Remove the ribs to a separate plate, and either have someone grill them quickly over medium heat to get a bit of a char on them and caramelize some of the sauce on them, or place them on a parchment-lined cookie sheet and place under the broiler briefly.
While someone else is grilled the ribs, or right after you pull them out of the broiler (because NOPE. Don't walk away from the broiler while you are cooking things. I have wrecked SO MANY THINGS by just looking away for a sec!) turn your pressure cooker to simmer mode and add the sauce finisher ingredients: ketchup, brown sugar, vinegar, honey, mustard, and red pepper flakes. Simmer for 2-3 minutes, stirring frequently.
Serve the ribs with a healthy side of the sauce, and your favorite BBQ sides
Nutrition Information:
Yield:
6
Serving Size:
1
Amount Per Serving:
Calories:

715
Total Fat:

31g
Saturated Fat:

9g
Trans Fat:

0g
Unsaturated Fat:

21g
Cholesterol:

88mg
Sodium:

2563mg
Carbohydrates:

82g
Fiber:

3g
Sugar:

68g
Protein:

28g
Nutrition data provided here is only an estimate. If you are tracking these things for medical purposes please consult an outside, trusted source. Thanks!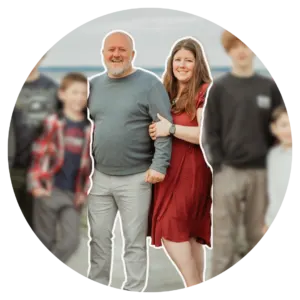 Nicole Johnson, a self-taught expert in grilling and outdoor cooking, launched Or Whatever You Do in 2010. Her blog, renowned for its comprehensive and creative outdoor cooking recipes, has garnered a vast audience of millions. Nicole's hands-on experience and passion for grilling shine through her work. Her husband, Jeremiah Johnson, also plays a pivotal role in recipe development, adding his culinary flair to the mix. Together, they form a dynamic duo, offering a rich and varied outdoor cooking experience to their followers.