Chicken Tamale Pie is an awesome family meal you can make it from scratch for dinner on a weekend like I did here, or cut some corners and save some time and use a couple convenience items to make this a quick weeknight meal. It's up to you!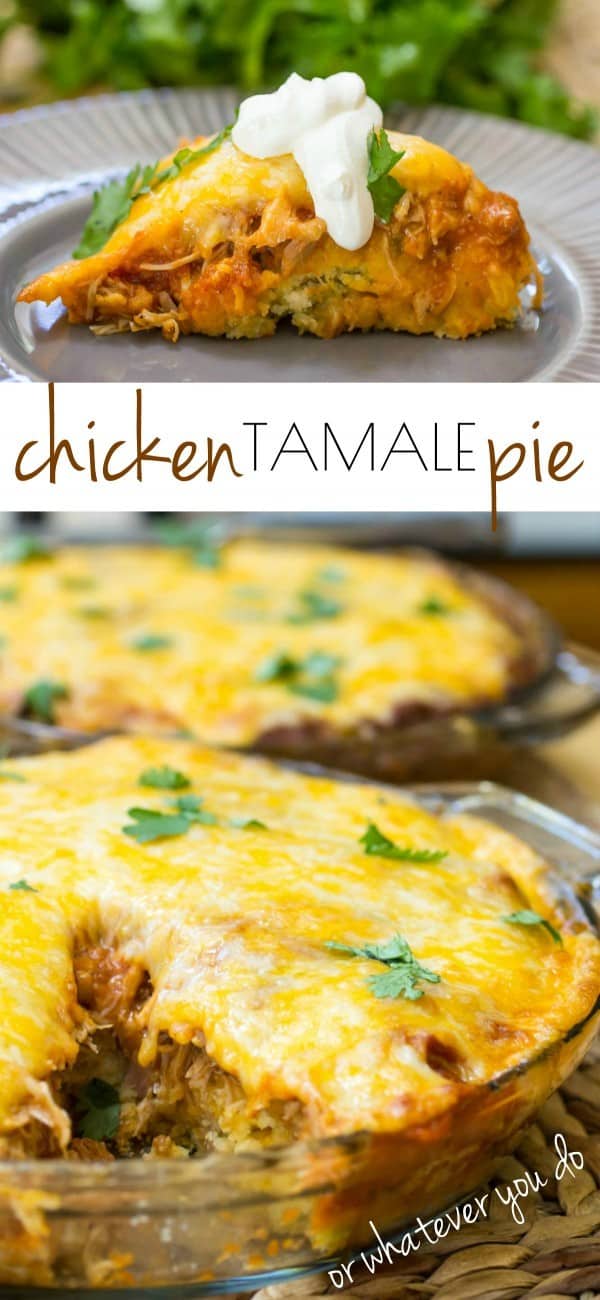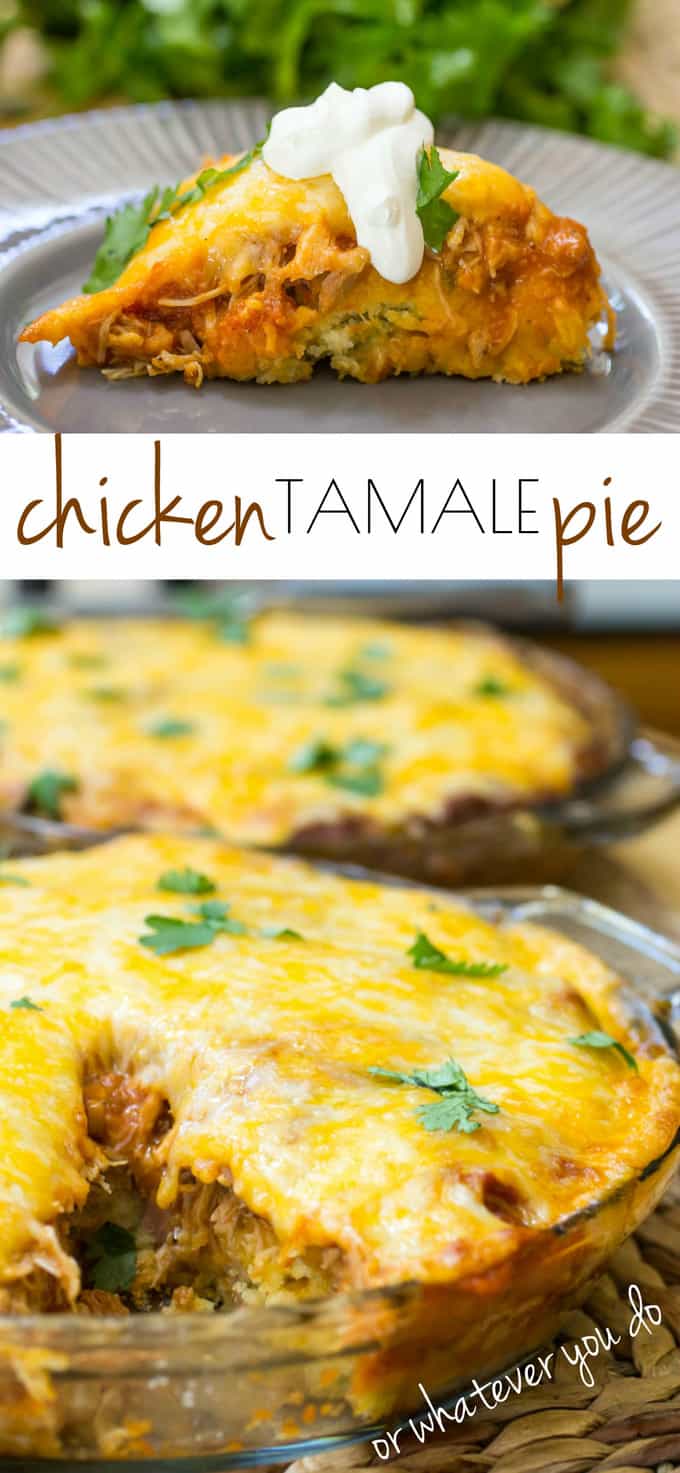 Chicken Tamale Pie
I've never really cooked a lot with boneless, skinless chicken thighs, and I was SO impressed with how this turned out! The chicken stayed really really juicy and tender through grilling, braising, AND baking.
First I gave them a generous sprinkling of Chile Lime Spiceology Seasoning. I'm like – in LOVE with that stuff lately. If you don't have any, you can use chili powder and garlic salt. It won't be exactly the same, but it'll still be delicious.
Throw those thighs on the grill and give them a little char. They don't have to be all the way cooked when you pull them, so just get them started and give them some color.
Next, toss them in a big pot, and put in a can of Spicy Red Pepper Diced Tomatoes, a can of Stewed Tomatoes with onions, peppers, and celery, and a can of water.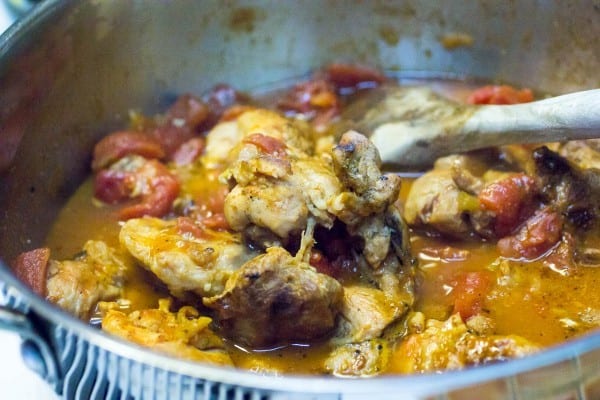 Simmer that mixture for about 30 minutes, and then use some tongs to get the chicken out of the cooking liquid, and shred it.
Save that cooking liquid though! It's going to become your enchilada sauce!
You can shred your chicken by hand if you'd like, or give it a rough chop, but I like to use my mixer to get it shredded faster. Just be careful. Some mixers can quickly go from shredded chicken to chicken mush if you get too crazy with it!
While your chicken is simmering you should get your tamale dough together. If you'd like step-by-step photos of that process, you can check out my Beefy Tamale Pie post.
Finish up your enchilada sauce while the tamale base is baking by adding a jar of El Pato Green Jalapeno Salsa. Its available in most grocery stores in the Mexican section. It's basically really really awesome tomato sauce with chiles in it too. It makes a GREAT addition to this. Use a food processor, blender, or a stick blender to puree your sauce. Be careful! It's hot!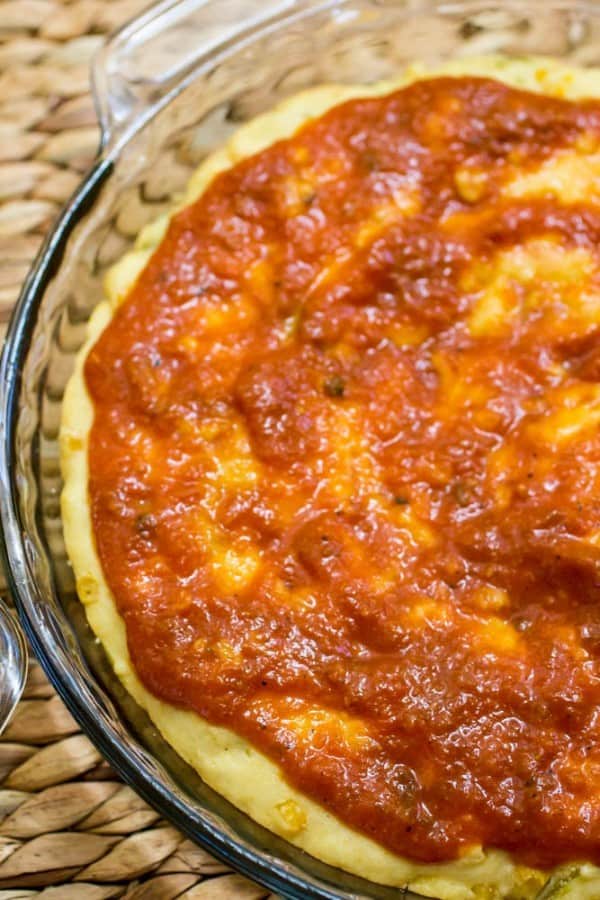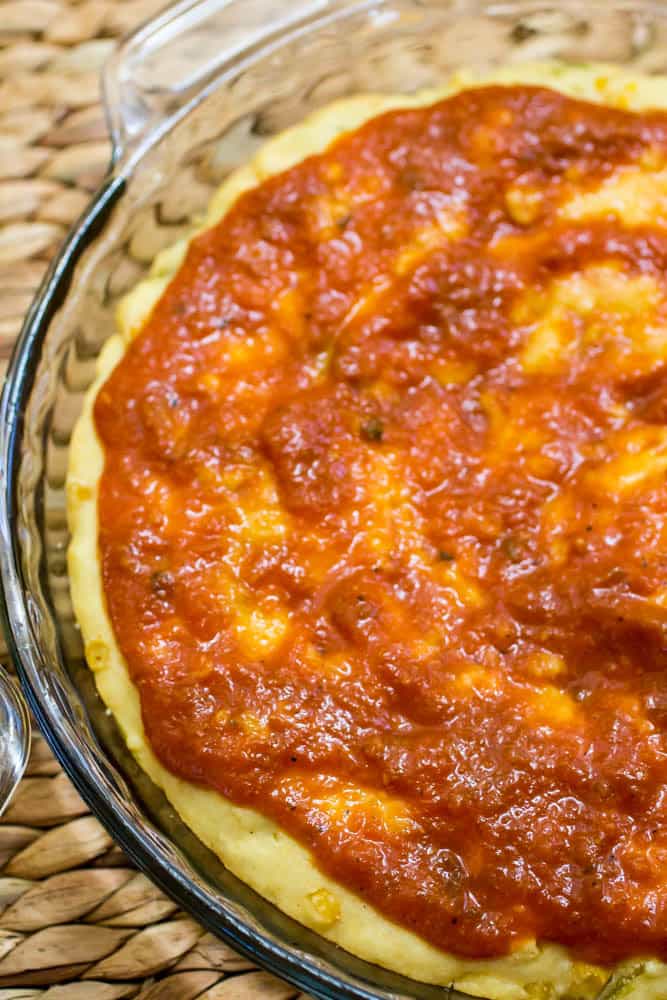 This recipe makes enough sauce for TWO enchilada pies. So be aware! Freeze the rest for next time you want this, or if you need a great enchilada sauce.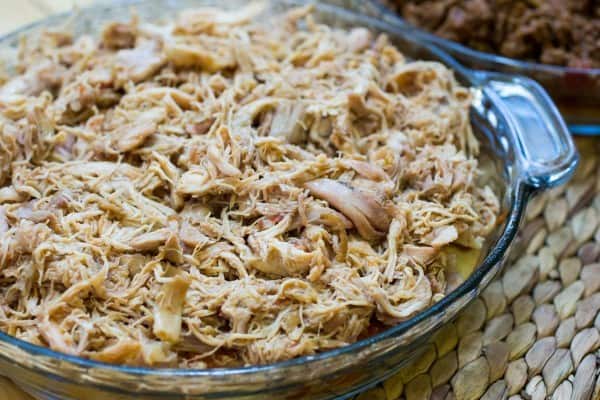 Heap on that chicken. Don't be shy! The more the merrier. Then cover it with a bunch of sauce, and even more cheese, and bake until bubbly and awesome.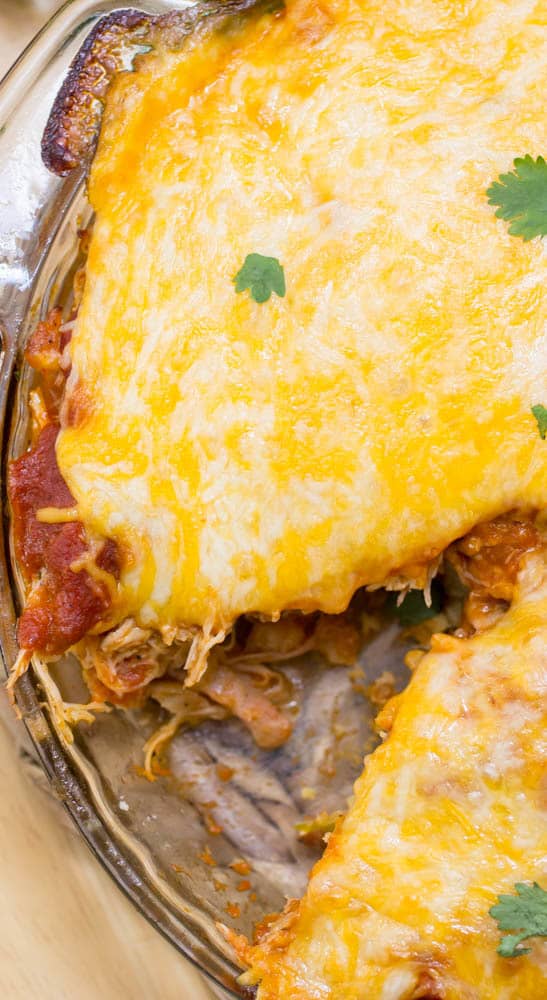 Serve with your favorite Mexican fixings. I love sour cream, cilantro, avocado, and salsa.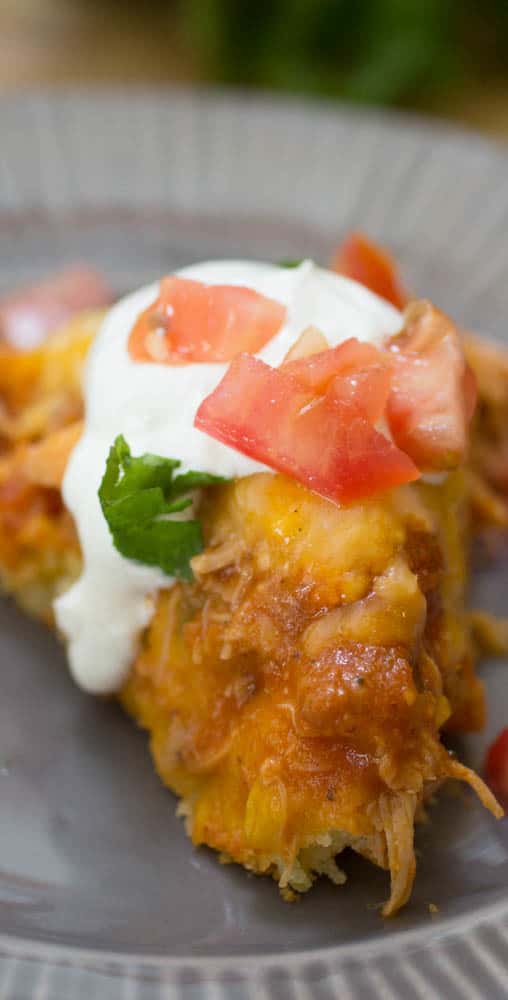 It's got all the flavor of a tamale, with none of the rolling, wrapping, and complicated work. I love real tamales, but I've never tackled making them myself. I'd never tried making Tamale Pie before I made these either, but I'd come across these awesome posts from 2 Teaspoons & Pinch Of Yum. The pie base I used exactly as it was written on 2 Teaspoons. It's fantastic! Please stop by there and at Pinch of Yum to check out their recipes and give them some love!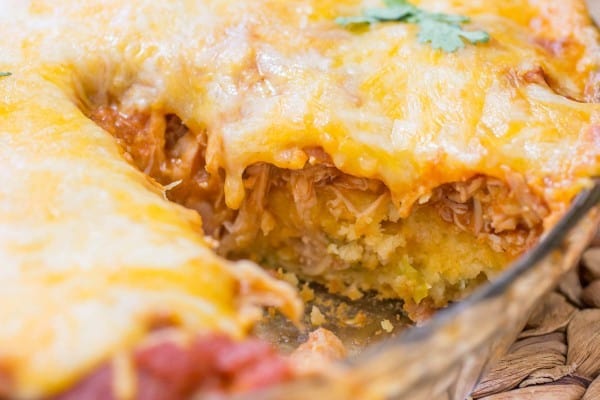 Yield: 6 people
Chicken Tamale Pie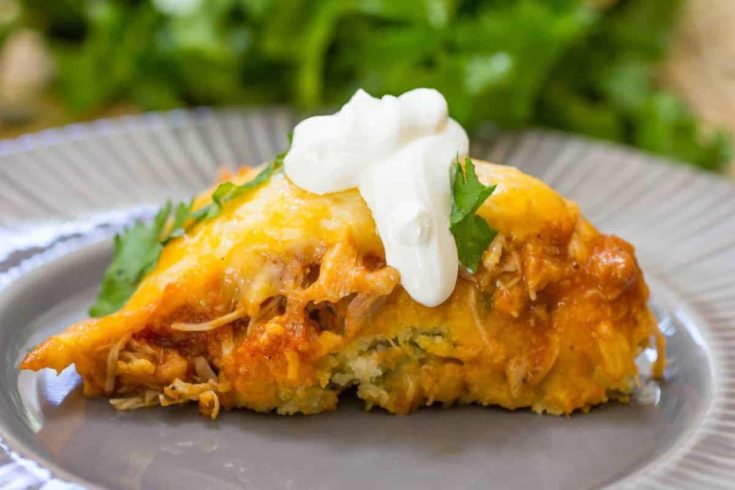 Chicken Tamale Pie has an easy pre-baked Tamale "crust", and then is loaded with flavorful shredded chicken thighs, and covered in loads of cheese and sauce. Such a wonderful change-up from taco Tuesday!
Total Time
1 hour
30 minutes
Ingredients
Filling & Sauce:
4 large chicken thighs, boneless and skinless
garlic salt - liberal sprinkling
1 - 7 3/4 oz El Pato green jalapeno salsa
2 tablespoons Chile Margarita Spiceologist Rub (again, sub regular chile powder to taste and add a squeeze of lime if you'd like.)
1 - 14.5 oz can Hunt's Spicy Red Pepper diced tomatoes
1 - 14.5 oz can stewed tomatoes with onions, bell peppers, and celery
Chile Margarita Spiceologist rub (or substitute chile powder, but I HIGHLY recommend that rub!)
Tamale Base:
1 tablespoon baking powder
1 can corn, drained
1 small can diced chiles - drained
1 egg
1/3 cup milk
4 tablespoons avocado oil
1/2 teaspoon salt
3 tablespoons sugar
2/3 cup flour
1/2 cup cornmeal
3-4 cups Mexican blend cheese
Instructions
Season the chicken thighs with garlic salt and Chile Margarita Spiceologist Rub. Grill over medium heat until the outside is no longer pink, and there are some good grill marks on each side, about 3-4 minutes a side.
Remove from the grill into a large pot, and pour in the stewed tomatoes, diced tomatoes, additional Chile Margarita Rub, and the El Pato Salsa. The chicken should be mostly covered with liquid. If necessary, add about 1/2 can of water. Simmer the chicken thighs for about 30 minutes to finish cooking and infuse with the flavor of the sauce.
While the chicken is simmering, make your tamale base.
Preheat your oven to 375. Combine the cornmeal, flour, sugar, baking powder, and salt. Drizzle in the avocado oil, and stir until the mixture is crumbly. In a separate bowl, mix together the milk and egg until combined. Stir into the cornmeal mixture, along with the chiles and corn. Prepare a pie pan with cooking spray, and spread the tamale base in. Bake at 350 for 20-25 minutes, or until set.
Remove the base from the oven and let cool for 10 minutes.
Remove the chicken thighs from the simmering liquid, and shred with two forks, or with your mixer. Puree the simmering liquid in a blender, or with a stick blender. Pour some over the base, and spread it around - pizza style.
Pile the chicken on top of the base and sauce. Top that with cheese, and bake at 350 until it is hot, bubbly, and awesome - or about 30 minutes.
Nutrition Information:
Amount Per Serving:
Calories:

99999
Total Fat:

0g
Saturated Fat:

0g
Trans Fat:

0g
Unsaturated Fat:

0g
Cholesterol:

0mg
Sodium:

0mg
Carbohydrates:

0g
Fiber:

0g
Sugar:

0g
Protein:

0g