These Easy Chicken Fajitas are going to blow you away. So simple and quick to make, you are going to wonder why you don't make these more often!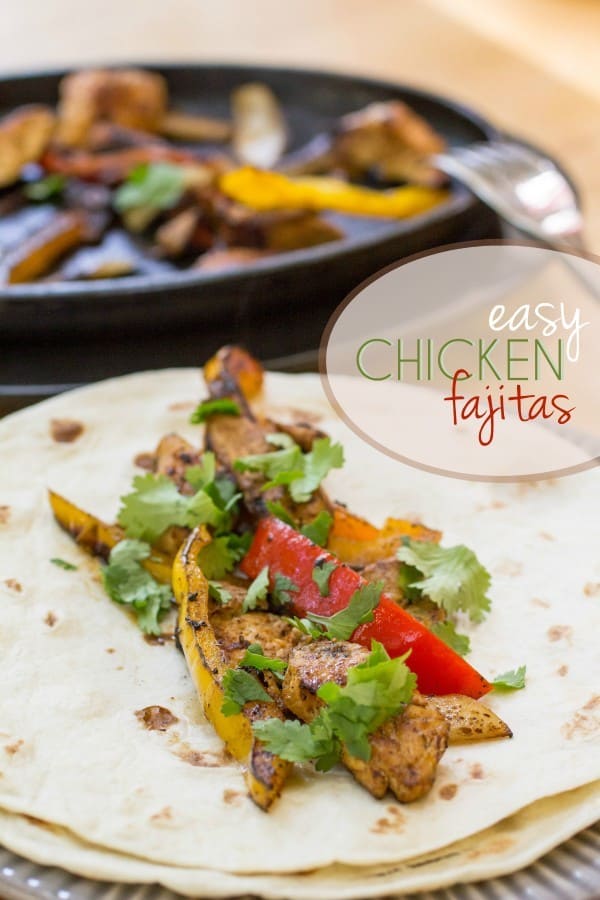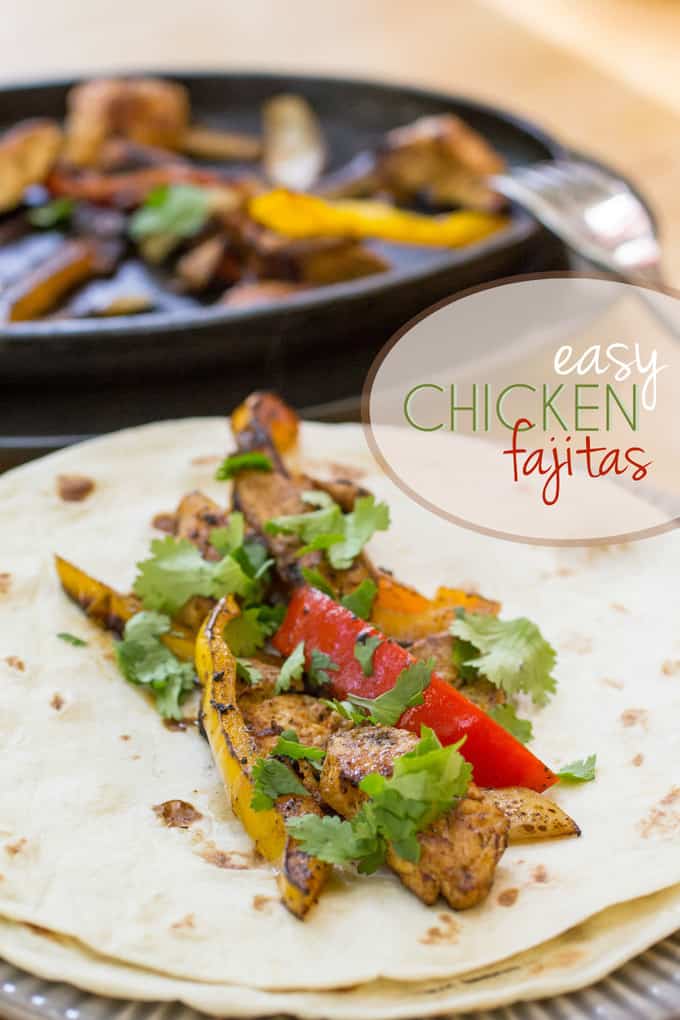 Easy Chicken Fajitas
I've been talking a LOT lately about how much I LOVE LOVE LOVE easy, quick, and tasty dinners. I mean – I have to. I'm busy, and I'm sure you're busy too! You may have seen my sheet pan fajitas here. LOVE those too.
This dinner came together in 30 minutes and was one of the best things I've eaten all month.
For reals.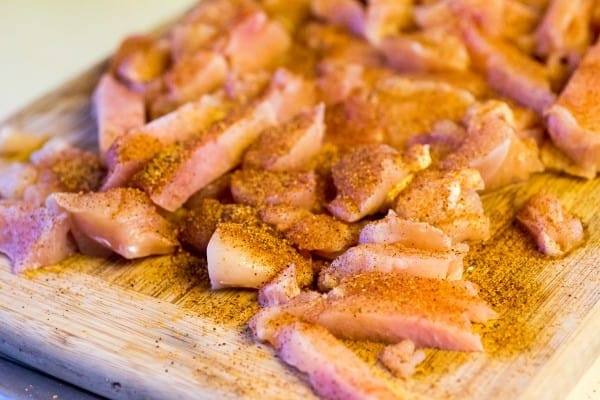 After you cut the chicken up, give it a really generous coating of this magical Chile Lime Spice Rub from Spiceology. You can buy it here at Spiceologist's site.
Then? Get a cast-iron pan really really hot. I like to use avocado oil – a couple tablespoons – because of its high smoke point. You don't need much if your cast-iron is seasoned well. Sprinkle on a little salt. (Spiceology seasoning depends on actual FLAVORS and not just sodium, so you may find you need to add a little to the dish, depending on your personal preference.)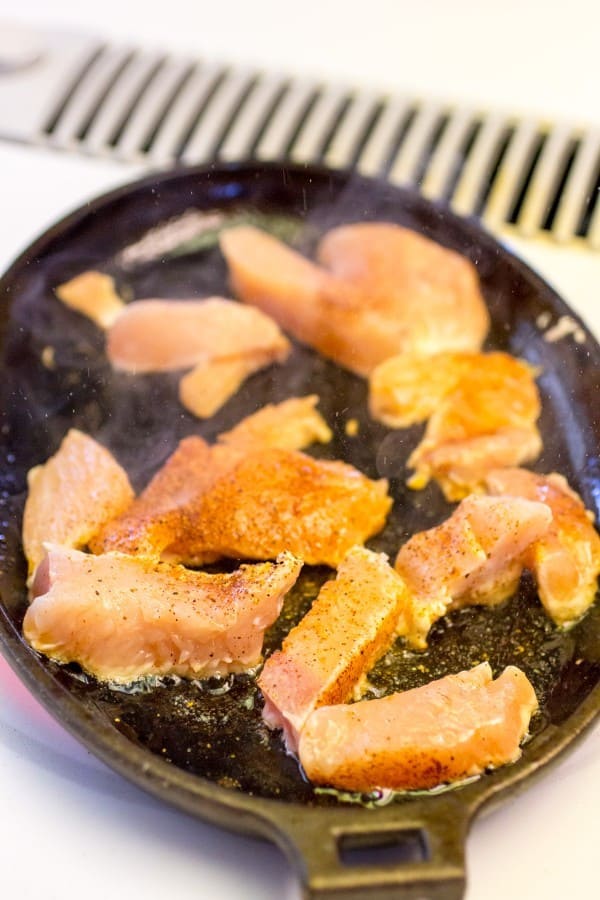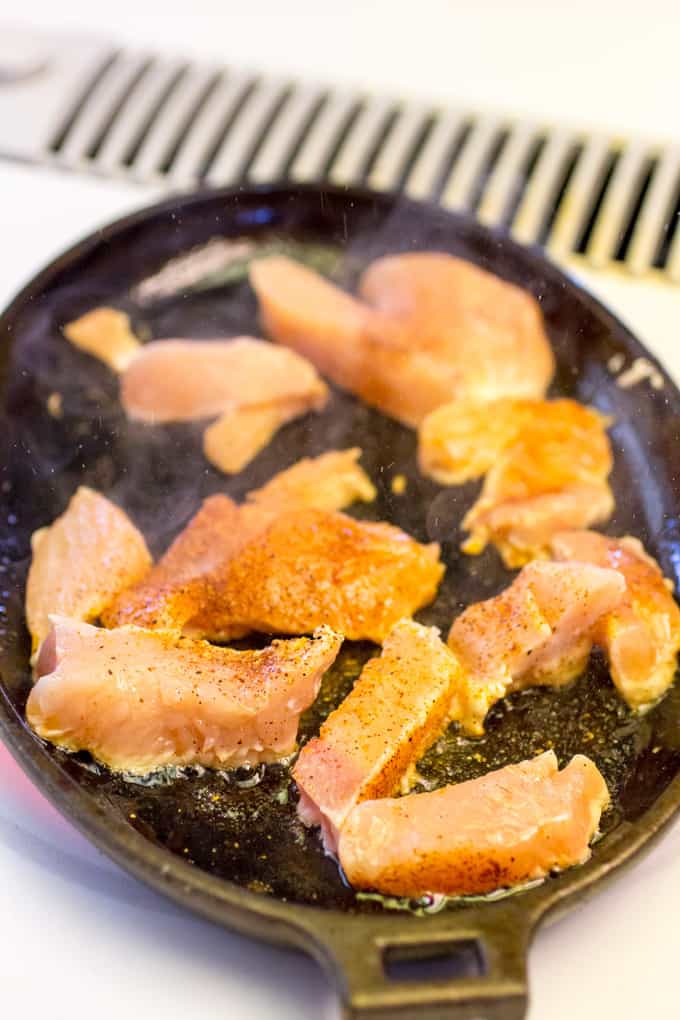 Flip it after a minute or two, and brown the other sides. After they are all browned, remove them from the pan and quickly cook the peppers and onions.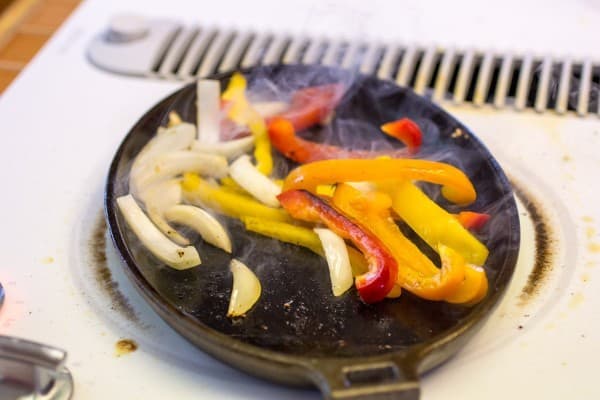 When the peppers are tender and getting browned, add back the chicken to finish cooking.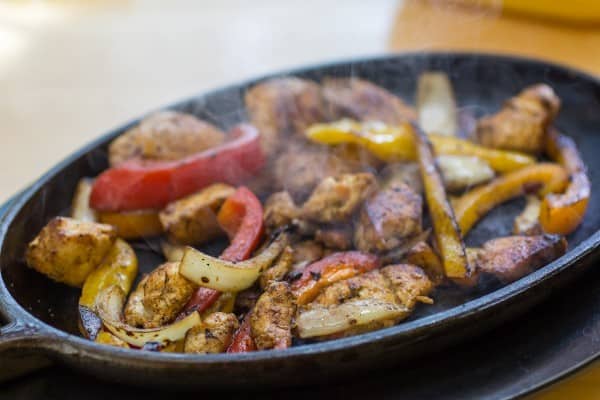 Serve with some cilantro, salsa, sour cream, and guacamole.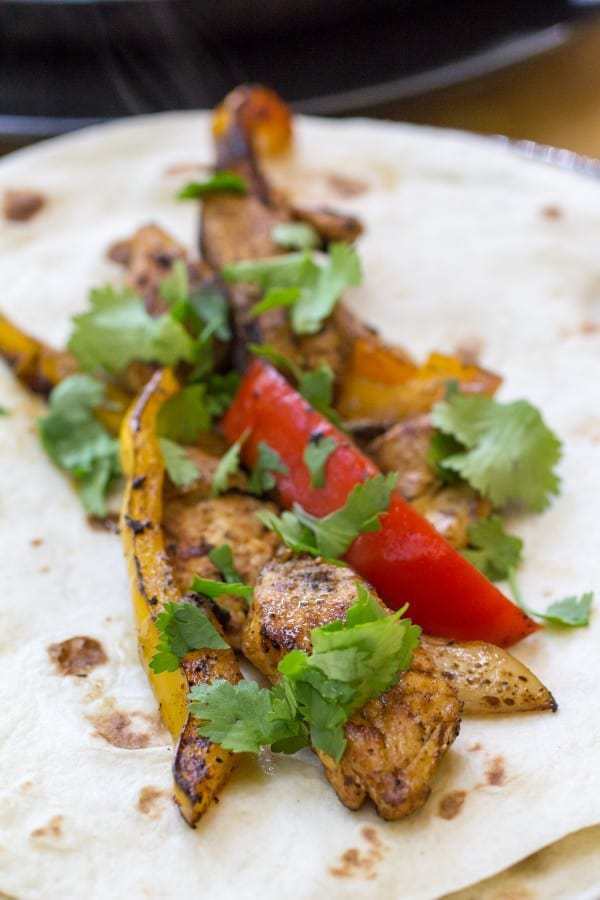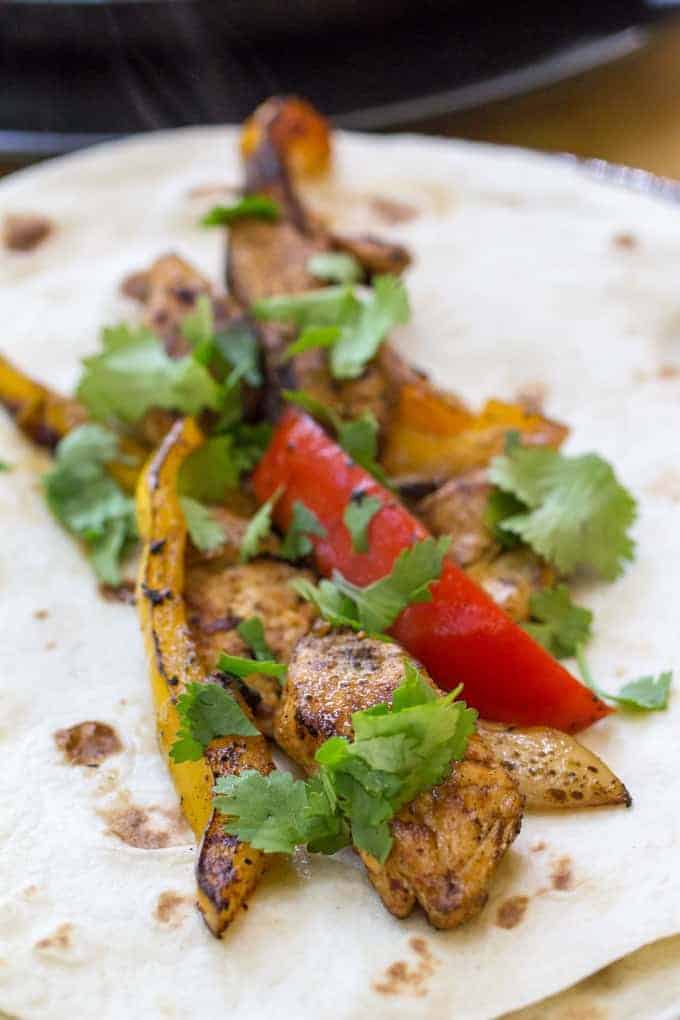 Or just cilantro and salsa if you forgot to pick up those other ingredients and your husband isn't home from the store yet. You know. Either way. 😉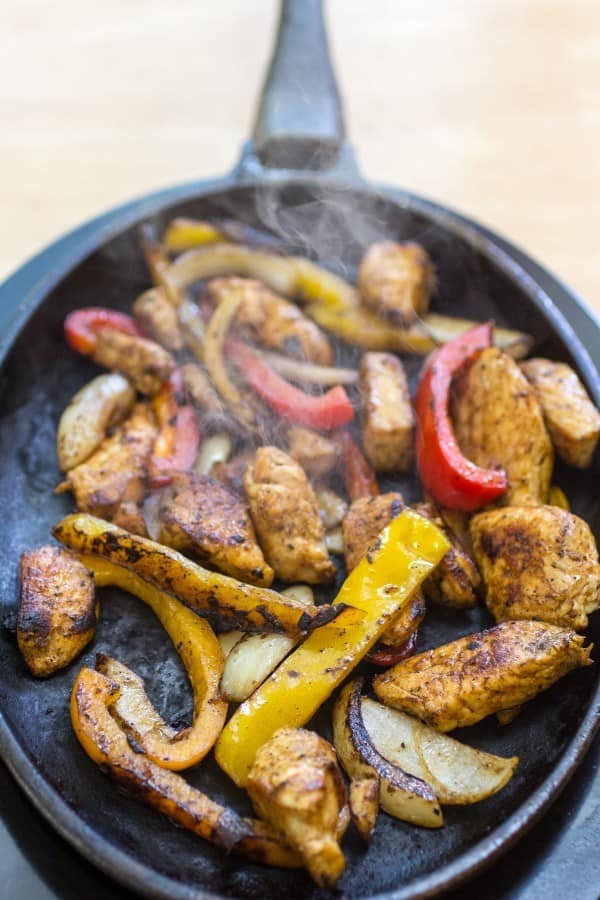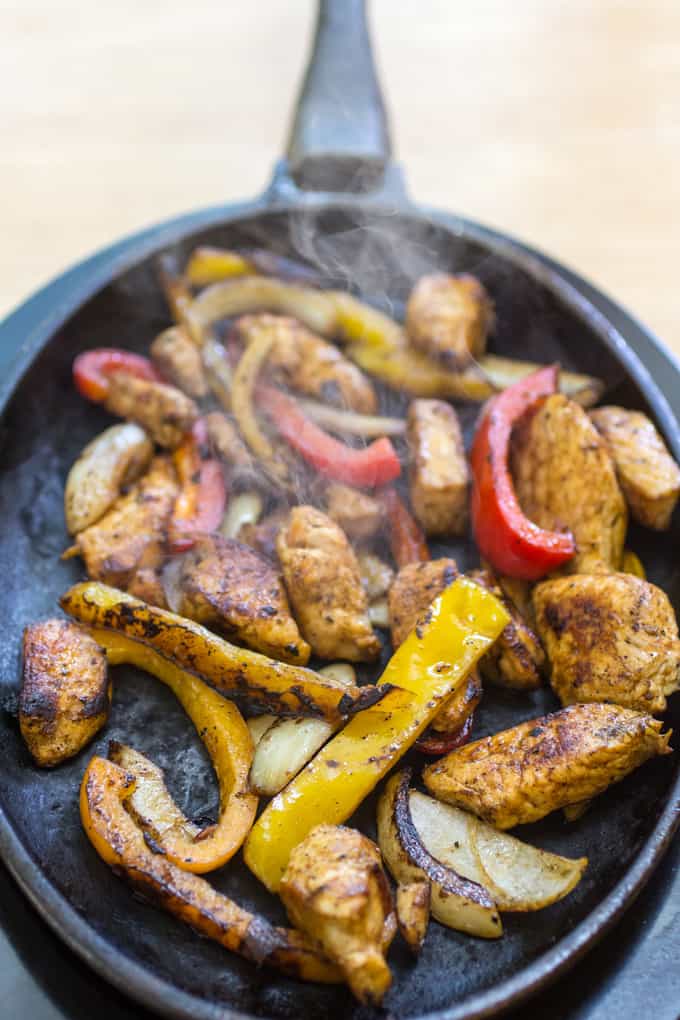 My Pressure Cooker Mexican Rice would also be perfect for a side with these, and easy too!
Yield: 3 people
Easy Chicken Fajitas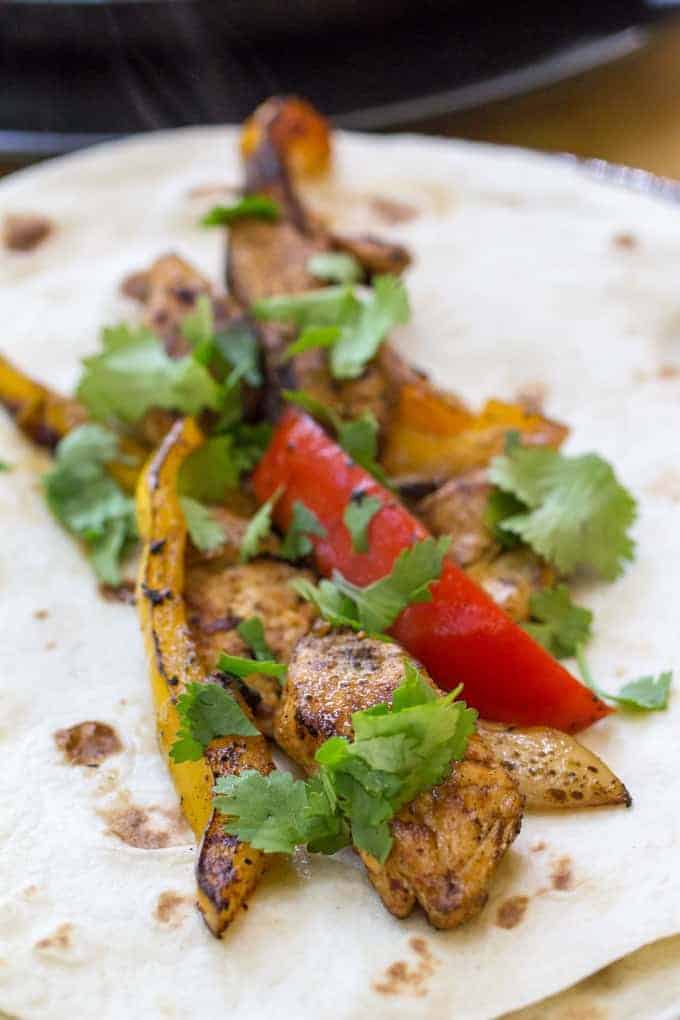 Flavorful and fast easy chicken fajitas go from the stove to the table in just under 30 minutes!
Ingredients
2 large Chicken Breasts, sliced
3 tablespoons Spiceology Chili Lime spice blend
2-3 tablespoons avocado oil
1/2 teaspoon salt
3 bell peppers, various colors, sliced
1 small onion, sliced
tortillas
salsa
sour cream
cilantro
Instructions
Cover chicken breast with seasonings. Let sit for 5 minutes.
Place some of the oil in your pan. Just enough to thinly coat the bottom. Heat over medium-high heat, and quickly cook chicken for 2 minutes a side, or until brown.
Remove chicken from the pan, and add a little more oil if necessary. Cook onions and peppers in skillet until they have some color but are still crisp.
Add chicken back into the skillet, and cook for an additional 2(ish) minutes, or until no longer pink. Remove pan from heat and serve hot with tortillas and garnishes.
Nutrition Information:
Amount Per Serving:
Calories:

2222
Total Fat:

0g
Saturated Fat:

0g
Trans Fat:

0g
Unsaturated Fat:

0g
Cholesterol:

0mg
Sodium:

0mg
Carbohydrates:

0g
Fiber:

0g
Sugar:

0g
Protein:

0g