Cheesy Broccoli Au Gratin takes an interesting turn on the Traeger grill. Here, it becomes grilled broccoli au gratin!
This is a bit different than my other broccoli au gratin recipe because it doesn't include cracker crust. However, you won't miss it. The smoky cheese on top of the broccoli tastes amazing, and provides just enough texture to make the casserole interesting.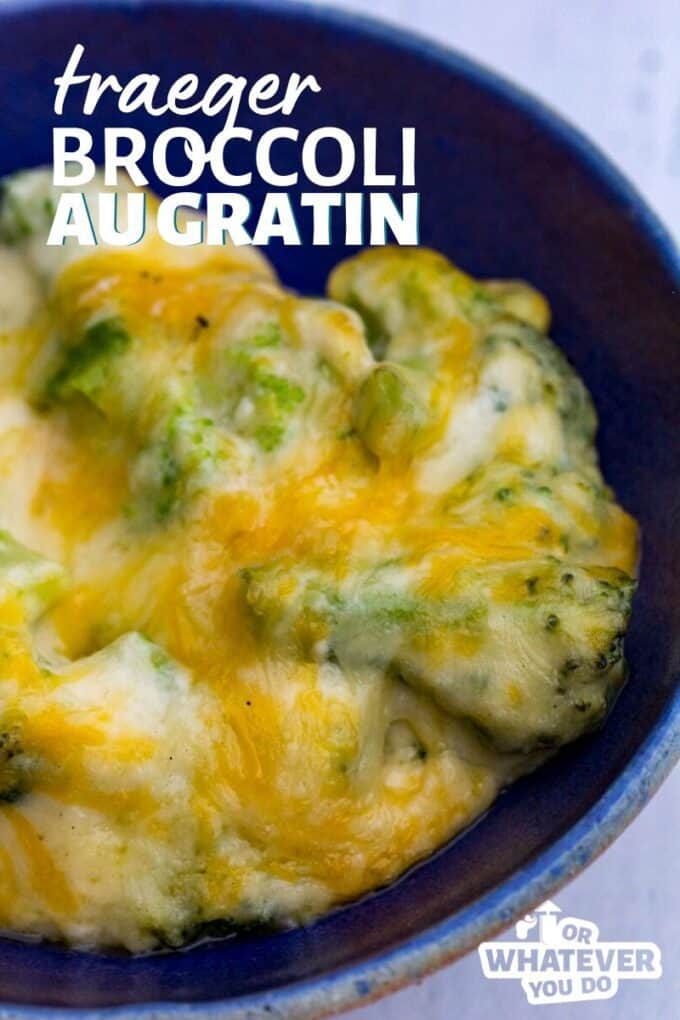 Grilled Broccoli On Your Traeger Grill
You can either use your stove top or your Traeger grill to prep the florets of broccoli. They can be roasted or par-boiled, depending on how much wood-fired flavor you want in the end result. Go easy on the pre-cook though. You want your cheesy broccoli casserole to still have some bite.
If you par-boil, make sure to run it under cool water so it doesn't overcook after you drain it. When you cover it in the cheese sauce and put it on the grill, it'll finish cooking there.
More Easy Traeger Recipes here!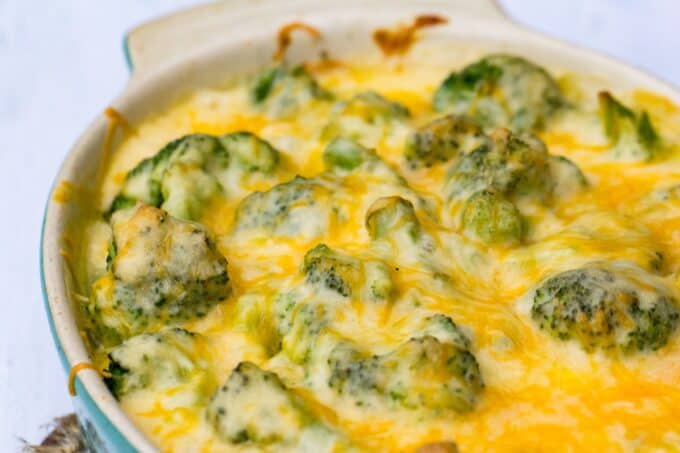 Fresh Broccoli Or Frozen Broccoli For Smoked Broccoli Au Gratin?
You can use either, but I recommend fresh broccoli. Frozen broccoli is convenient though. You tend to get all very similar sized florets. You don't have to necessarily par boil frozen broccoli either.
Being frozen "cooks" it in a sense. The freezing breaks down the cellulose the same way that parboiling would as well.
However, if you go with frozen florets, then make sure to pat them dry a bit. You don't need all that excess water getting in the way of things.
Get my easy Side Dish recipes!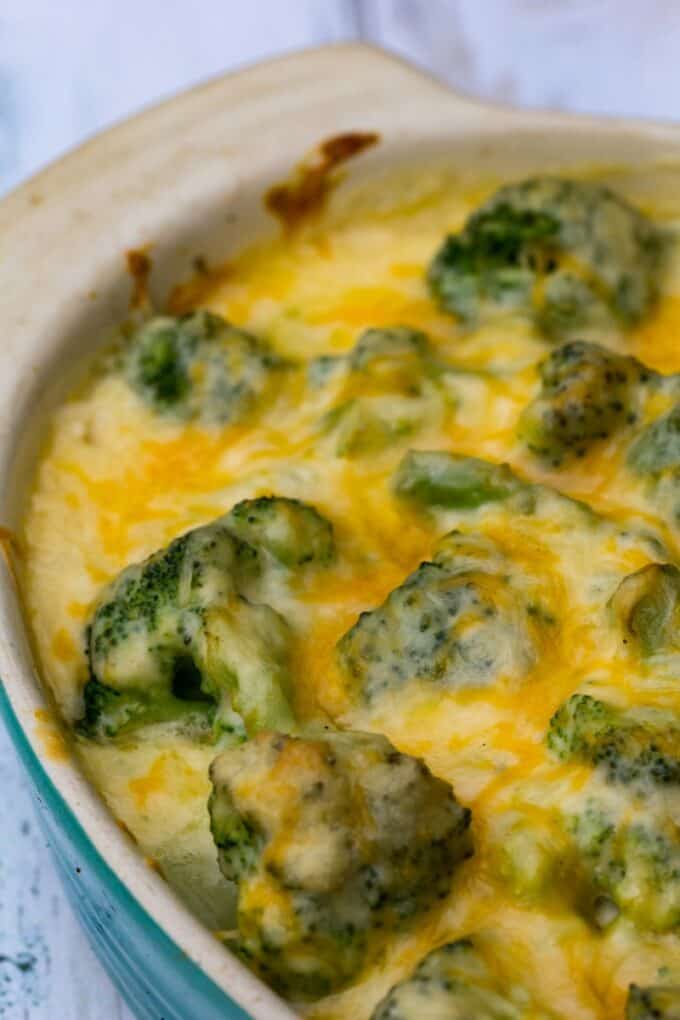 What Does Au Gratin Mean?
Something made "au gratin" means it is sprinkled with breadcrumbs and/or cheese and then browned.
For my broccoli au gratin, I like a mix of jack and cheddar. However, you can experiment with other cheeses if you prefer. A mix of jack and parmesan works too. If you want a tangier cheese topping, then swiss style cheeses works really well too.
With the smoke from the grill, any cheese you use is going to taste even better.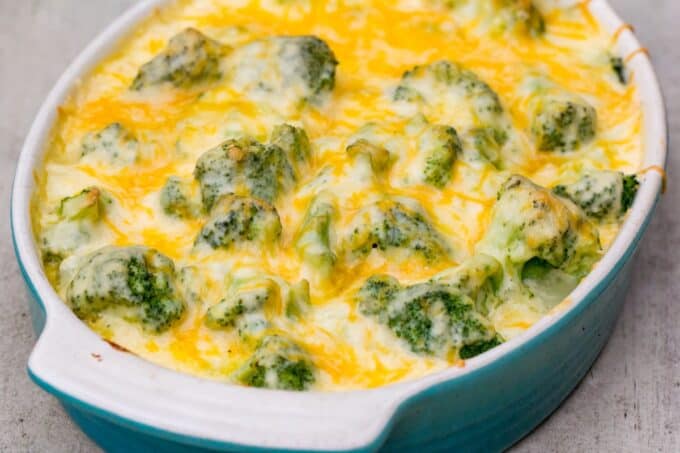 When Is The Broccoli Au Gratin Ready?
Since your broccoli is already pre-cooked, you can really go by how the golden cheese crust topping looks. You want the casserole to be heated through, the edges to be bubbling and the middle to be HOT. Then, once the cheese has melted and there is a golden-brown crust to the edges it is ready to go.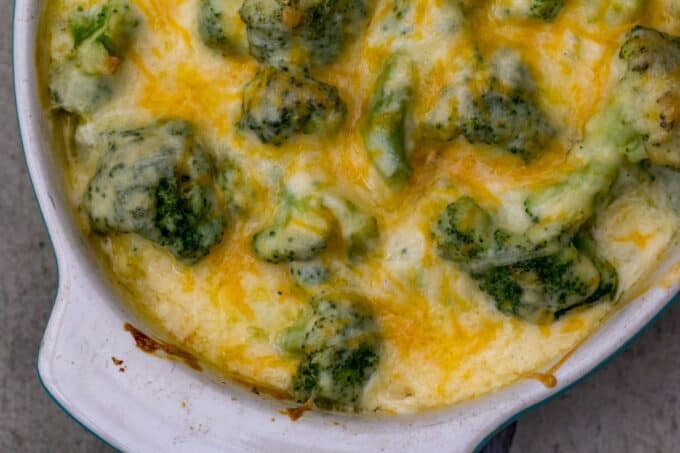 How Do I Store Broccoli Casserole Leftovers?
If you end up having leftovers, just make sure they are fully cooled before you stick the pan in the fridge, covered. If you want to be really on the ball I recommend putting leftovers into single portion-sized containers. You can leave some in the fridge for up to a week. However, I don't recommend freezing it.
Reheat your cheesy au gratin broccoli in the oven or air fryer for the best results. If you are desperate, you can use the microwave and I won't judge you for it (too harshly).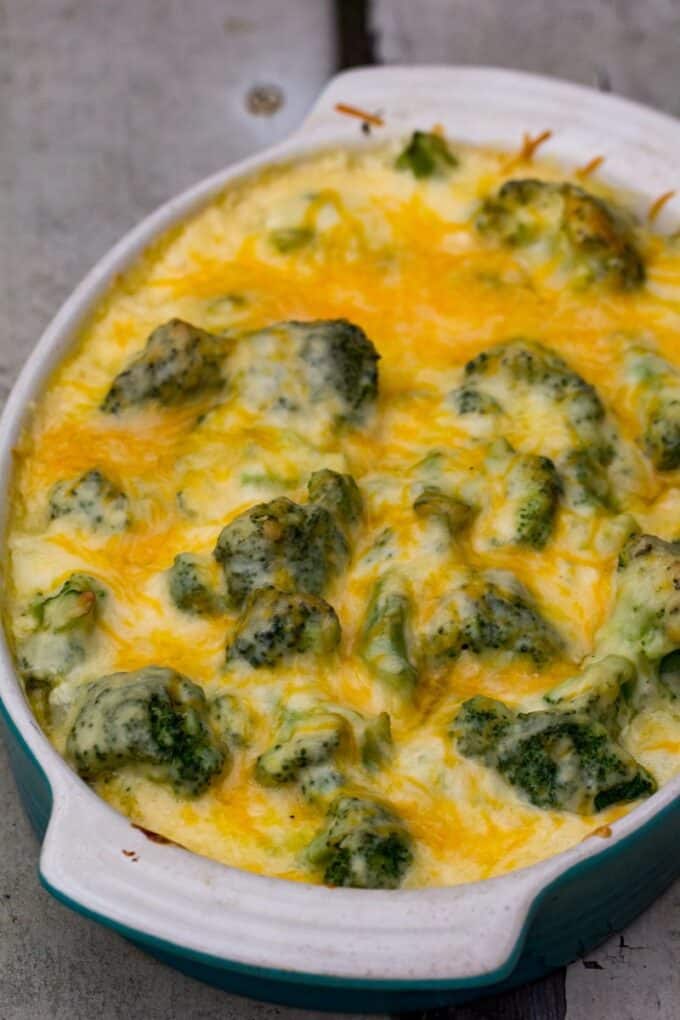 Can I Do This Recipe With Cauliflower?
You sure can! Cauliflower is not as fibrous as broccoli though so you don't need to par-cook it first.
Otherwise, the rest should be about the same. Let me know if you try it!
Follow me on Instagram!
What Can I Serve With Traeger Broccoli Au Gratin?
The great thing about smoked broccoli au gratin? Besides broccoli being one of the best green veggies out there, it goes great with everything! You can serve it with fish or seafood, chicken, pork, or beef. If you boil some egg noodles, it would make a great vegetarian dish too. Throw some grilled chicken breast on top and you have a close approximation to my chicken and broccoli noodles.
Here are some dishes I think work really well as entrees with Traeger grilled broccoli au gratin:
Pacific Northwest clam chowder – Who says the only good chowder comes from the east coast? Obviously, they never tried some of this chowder.
Pellet Grill Pasties – If you already are on the grill for the broccoli au gratin, then why not do some pasties too?
Smoked Chicken thighs – Already using the grill for the broccoli, then make some smoked chicken thighs. Such a perfect accompaniment here!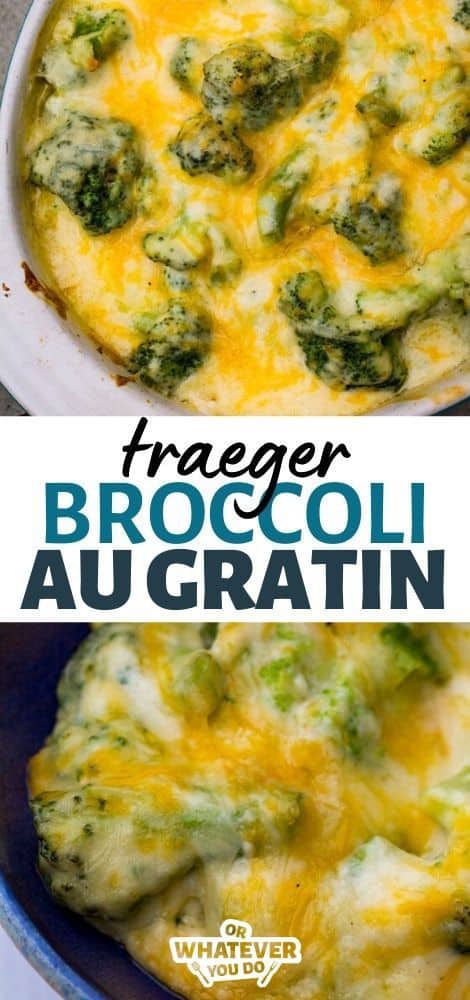 Want an amazing dessert to serve with this broccoli au gratin? Try these Pumpkin Cake Bars!
Yield: 12 people
Traeger Cheesy Broccoli Au Gratin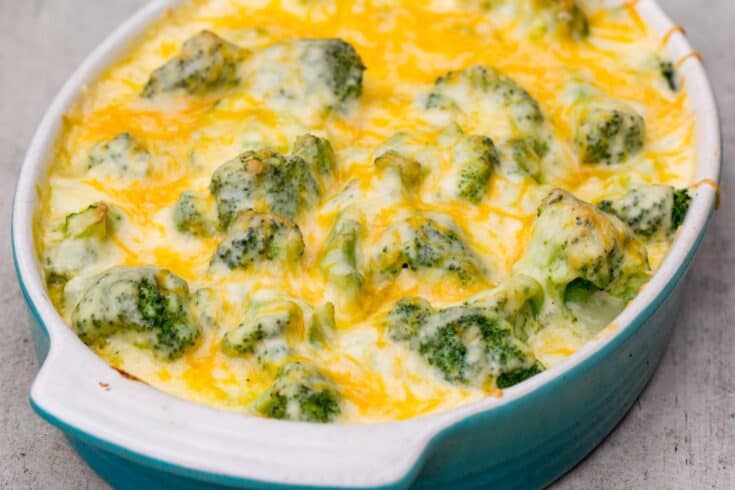 Traeger Grilled Cheesy Broccoli Au Gratin is a cheese-lover's dream. The homemade cream sauce gets poured on top of fresh broccoli and then copious amounts of cheese on top make this into one of my favorite holiday side dishes, EVER.
Ingredients
6 cups fresh broccoli florets
2 tablespoons olive oil
3/4 cup salted butter
1/2 cup flour
1/4 cup diced onion
6 cups whole milk
1/2 teaspoon dry mustard
1/4 teaspoon garlic powder
1/2 teaspoon salt, or more to taste
6 cups shredded cheddar blend cheese
Instructions
Preheat your grill to 375. Place broccoli on a large baking sheet and lightly drizzle with olive oil. Roast for 4-5 minutes.
Melt butter in a medium saute pan. Add onion and saute over medium-low heat for 4-5 minutes. Whisk in flour and reduce heat to low. Continue cooking for 5 minutes, stirring frequently.
Add milk, dry mustard, garlic powder, and salt. Whisk to combine, and cook over medium-low heat until the mixture is slightly thickened. Remove from heat and set aside.
Place broccoli in a large grill-safe baking pan that's been sprayed liberally with cooking spray. Pour sauce over the top. Stir in 3/4 of the cheese. Put the rest of the cheese on top.
Grill for 20-25 minutes, or until the cheese is beginning to brown in spots, the sauce is bubbly, and the broccoli is tender.
Recommended Products
As an Amazon Associate and member of other affiliate programs, I earn from qualifying purchases.
Nutrition Information:
Yield:
12
Serving Size:
1
Amount Per Serving:
Calories:

483
Total Fat:

38g
Saturated Fat:

21g
Trans Fat:

1g
Unsaturated Fat:

13g
Cholesterol:

101mg
Sodium:

648mg
Carbohydrates:

18g
Fiber:

3g
Sugar:

8g
Protein:

20g
Nutrition data provided here is only an estimate. If you are tracking these things for medical purposes please consult an outside, trusted source. Thanks!