Just when you thought a pile of tender roast beef and gravy couldn't get any better, I present to you the Smoked Hot Roast Beef Sandwich Boats. We took fresh hoagie rolls, cut out a very generous chunk from the middle, and loaded it up with as much smoked shredded beef as it will hold, along with enough gravy for the boat to sail away.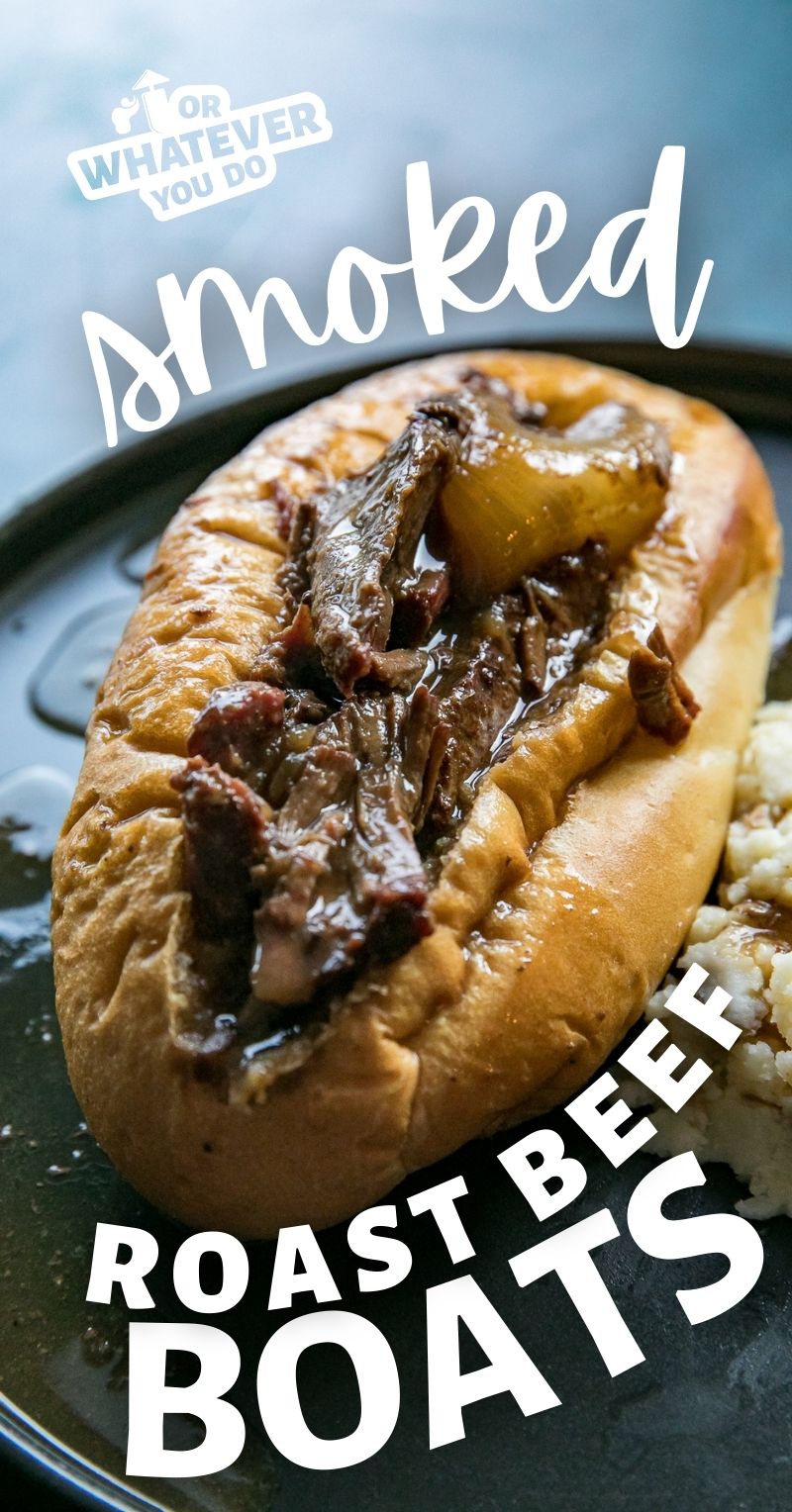 Smoked Hot Roast Beef Boats
In my book, hot roast beef sandwiches are legendary. It was my favorite meal to order out at restaurants when I was a kid, and growing up in Northern Minnesota means that it was on MOST menus back in the 80's and 90's. It is still on a lot of menus today, too, but not nearly as many as back then.
Here in the Pacific Northwest, where we've lived for the last 15 years (give or take), it is a rarity to find on a menu, and when you do manage to find it they usually make you the cheater diner version that uses shaved deli roast beef and the most powdery packet gravy that exists. That gets heaped on equally cheap (untoasted) white bread, slathered in gravy, and the whole thing is kind of a mushy mess.
That version can be done well, but it usually isn't and you're usually going to be disappointed if you aren't at a spot that is regionally famous for its prime rib or roast beef specials on the weekends.
Our version fires up the pellet grill, copious amounts of red wine and beef broth, several onions, and time, love, and tenderness. Then, forget the soggy white bread, these hoagie rolls are built to stand up to all the cold cuts you can throw at it, so some tender beef and gravy? No problem.
This is a sandwich meant to be eaten with a fork. Serve next to a pile of mashed potatoes, or if you really want to up your game, stick it next to a healthy handful of crunchy shoestring french fries. Also, with gravy, naturally. If you're going to go, go all out, I say.
Get all of my Easy Traeger Recipes here!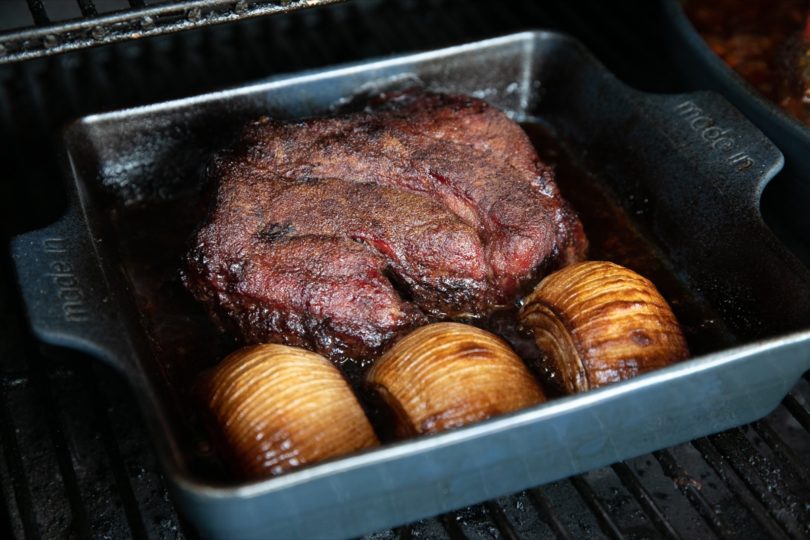 Hot Roast Beef Sandwich Boats Shopping List
Wondering if you have to hit the store? Here's the list of items you'll need to make this recipe. For specific amounts, please refer to the printable recipe card at the bottom of the post.
chuck roast
oil
salt & pepper
granulated garlic
onion powder
red wine
beef broth
onions
hoagie rolls
corn starch
More Traeger Beef Recipes here!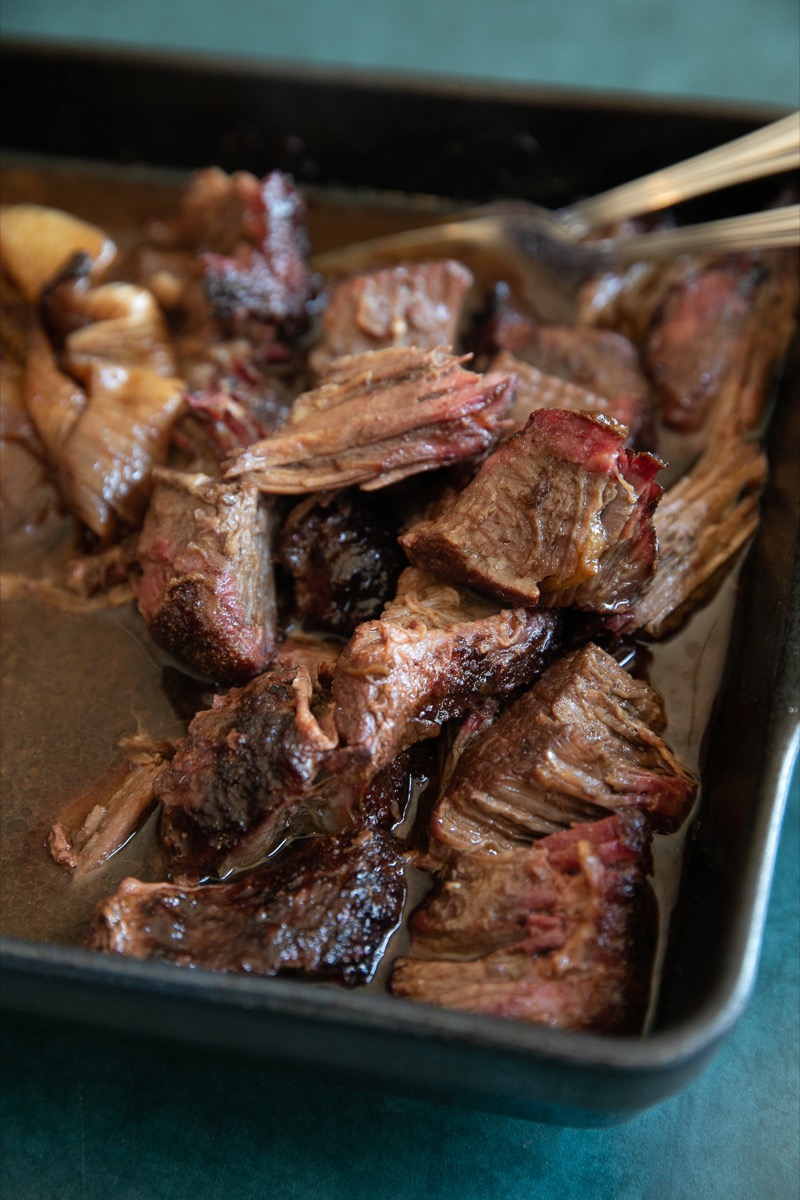 How to make Smoked Hot Beef Boats
This is just the overview so you can see what you're actually getting into here. When you are cooking, you'll want to use the full recipe at the bottom of the page.
Season and sear
Season the roast with all the things. Heat some oil up in a cast iron pan or on your Blackstone gas griddle and sear all sides of the roast.
Preheat your pellet grill
220° is the target! Put the roast into a roaster and give it enough red wine to make it nice and comfy and beef broth to come up 2/3 of the way up the pan. Let it braise for 2-3 hours.
Turn it up
I like to turn the heat up to around 325° for the last blast. Let it run until it is fork-tender, and make sure to maintain that liquid level. You'll likely need to add more beef broth since a lot will be evaporating in the grill.
Shred and bread
Once you can easily stick a fork into the roast, and it shreds when you twist it, remove it from the grill. Shred, discard the ugly bits, and pile as much meat as you can into your hoagie roll.
Don't forget the gravy!
Once you pull the meat out of the liquid, strain it and put it in a pot on the stove. Taste the broth and add some more water or beef broth, as needed. Then thicken with a cornstarch slurry and load that into the hoagie too.
Follow me on Instagram!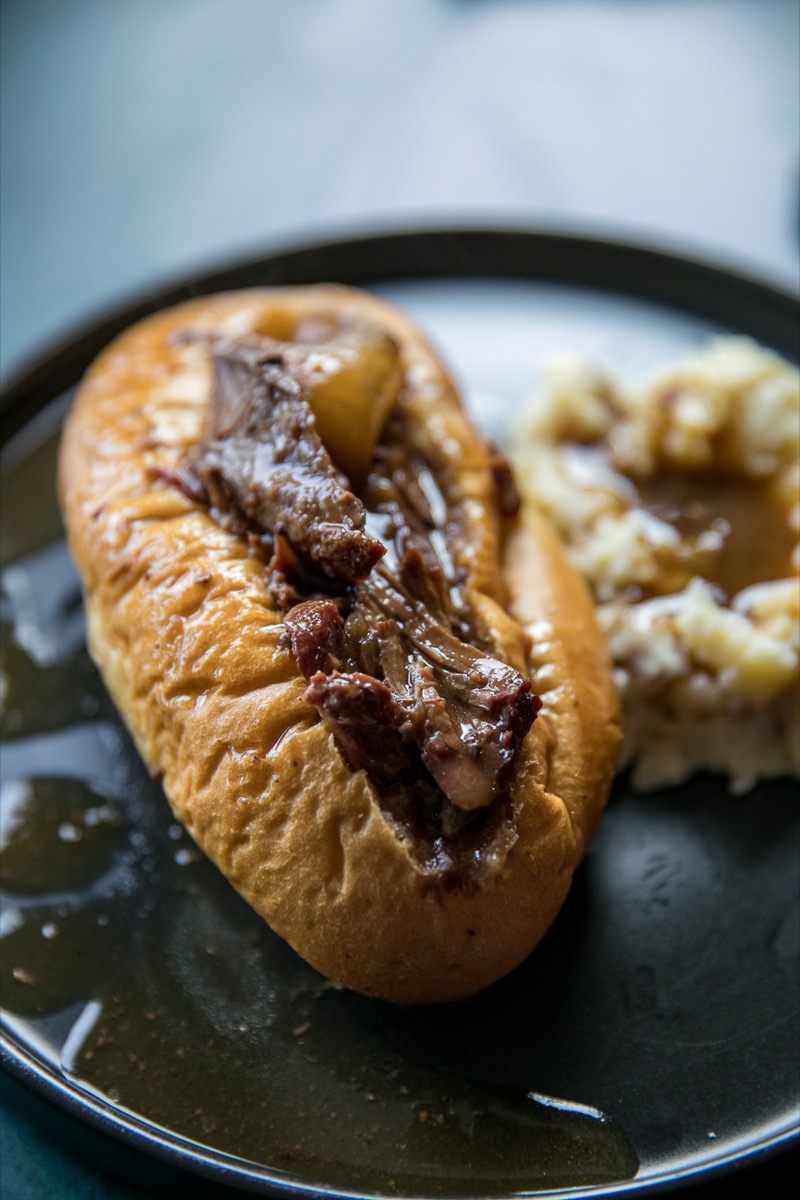 What's the best thing to serve with hot roast beef?
Pictured here you see a big pile of mashed potatoes. Kick them up a notch by making Smoked and Loaded Mashed Potatoes.
You can also get a little on the crazy side and serve them with my Air Fried French Fries, Blackstone Griddle Frozen French Fries, or next to a pile of our Traeger Smashed Potatoes.
With all of this bread, gravy, and potato, you might also want a salad on the side for more greens in your life. Try our Greek Salad for a nice contrast to the rich gravy!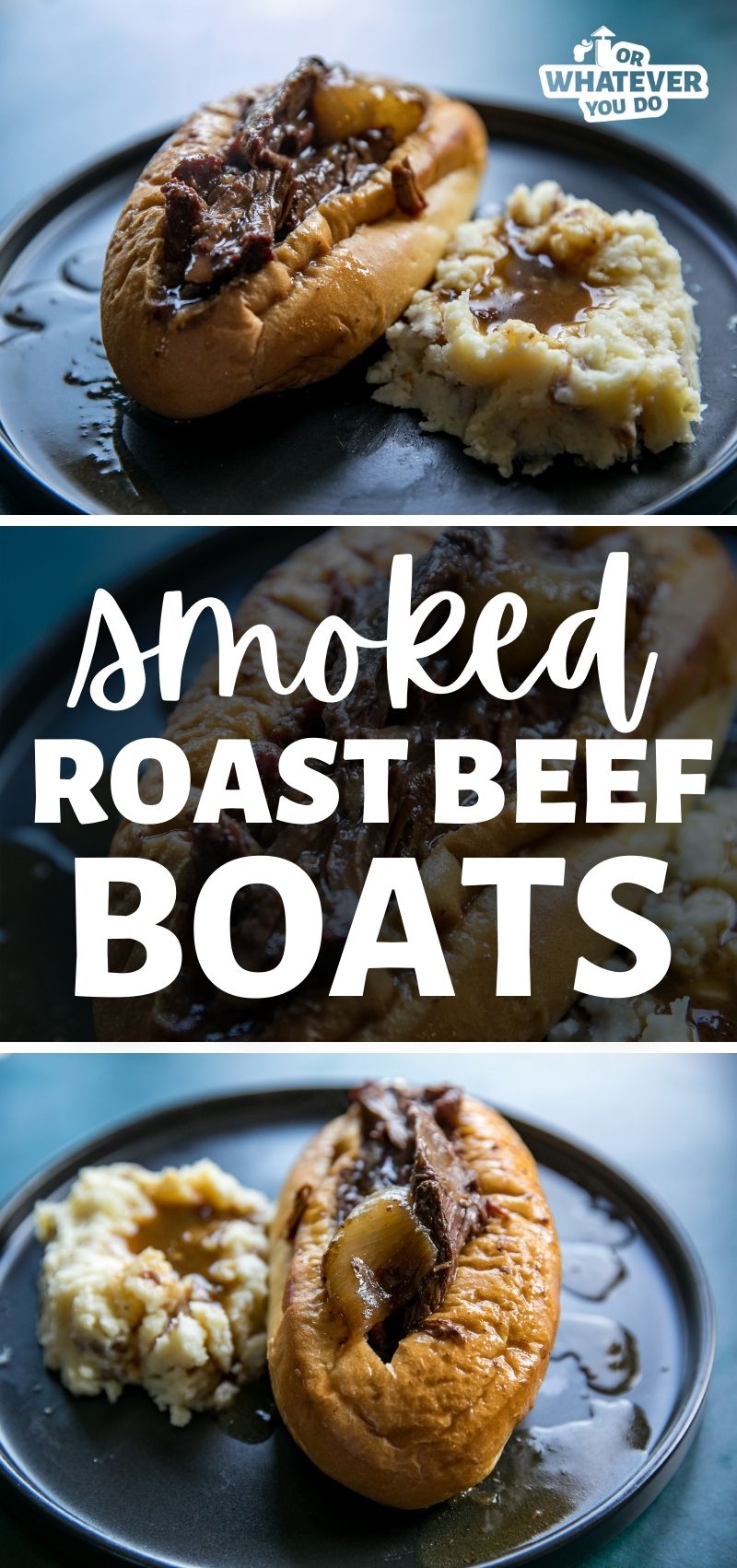 See our Leftover Roast Beef recipes here!
Yield: 8 servings
Smoked Hot Beef Sandwich Boats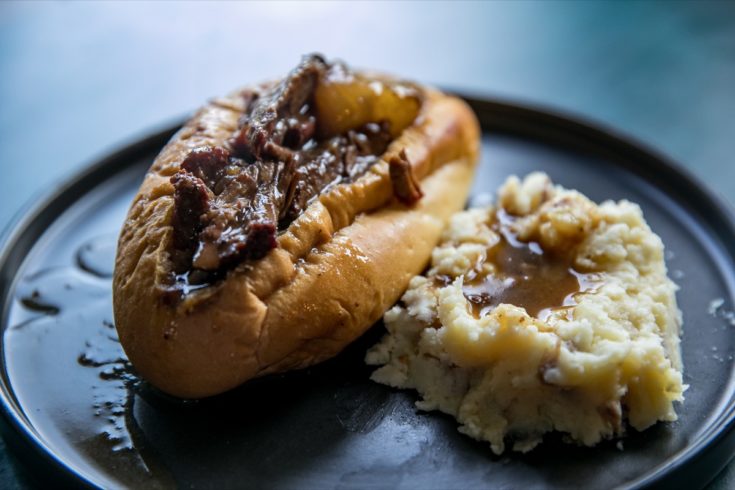 We took our Traeger Pot Roast and turned it into the most ridiculous, beefy, gravy-filled sandwich you've ever had to eat with a fork.
Total Time
5 hours
30 minutes
Ingredients
6 hoagie rolls
2 tablespoons canola or avocado oil
salt, pepper, onion powder, garlic salt, seasoned salt, (generous amounts)
3-4 pound beef chuck roast
2 large onions
4 cups beef broth
1 cup red wine
Cornstarch Slurry
3 tablespoons cornstarch
1/3 cup cold water
Instructions
Place the oil in the bottom of your cast iron pan, if using, and turn the heat on the burner to medium-high. Preheat your grill to 220°.
Season the piece of beef well with the salt, pepper, onion powder, garlic salt, and seasoned salt.
Place the roast into the cast iron pan, and let cook for 4-5 minutes, or until the bottom is well-browned.
Carefully flip the roast over onto the other side and brown that side well for another 4-5 minutes.
Place the roast into the pan it'll be cooking in. Place the sliced onion, beef broth, and red wine into the pan with the roast.
Cook at 220° for 2-3 hours, then increase the heat to 325° until your roast reaches 200° internal temperature and is fork-tender. How long this will take depends on the size of your roast, your grill, and what phase the moon is in, basically. Cook to temp and NOT to time.
Once the roast is done, remove it from the grill. Carefully remove the roast and vegetables from the pan and set them aside, covered tightly.
Strain out or spoon out most of the grease from the drippings (a grease tool works so well for this!) and then bring the rest of the drippings to a simmer. You need 3 cups of liquid, so if you need to add more beef broth be prepared to do so.
Mix together the cornstarch and cold water. Whisk into the gravy mix and reduce heat to low, stirring until thickened.
Pile your shredded beef into hoagie rolls, but on a plate with a lip to stop the gravy, and slather them with gravy.
Serve with your favorite roasted or mashed potatoes, crusty bread, and corn.
Recommended Products
As an Amazon Associate and member of other affiliate programs, I earn from qualifying purchases.
Nutrition Information:
Yield:
12
Serving Size:
1
Amount Per Serving:
Calories:

459
Total Fat:

27g
Saturated Fat:

11g
Trans Fat:

1g
Unsaturated Fat:

15g
Cholesterol:

130mg
Sodium:

634mg
Carbohydrates:

9g
Fiber:

1g
Sugar:

2g
Protein:

40g
Nutrition data provided here is only an estimate.