When you need a burger in your life, make it epic. Our Bacon Onion Smash Burger has smoked onions, bacon-wrapped smoked onions, double-smoked bacon, melted sharp cheddar, and two smashed wagyu beef patties. All of that gets sandwiched between a toasted onion bun!
Bacon Onion Smash Burgers
Smash burgers are the ultimate summer bbq meal, and these ones take them to a whole new level. We make burgers all the time here. Our kids love them, they are super easy to make for unlimited numbers of people, and pretty much everyone loves a good burger.
Smash burgers are especially quick and easy since they go onto a blazing hot gas griddle before being smashed super thin. They cook really quickly, have a great crust, and you can make about 20 at a time on even a mid-sized griddle.
Get all of my BLACKSTONE RECIPES here!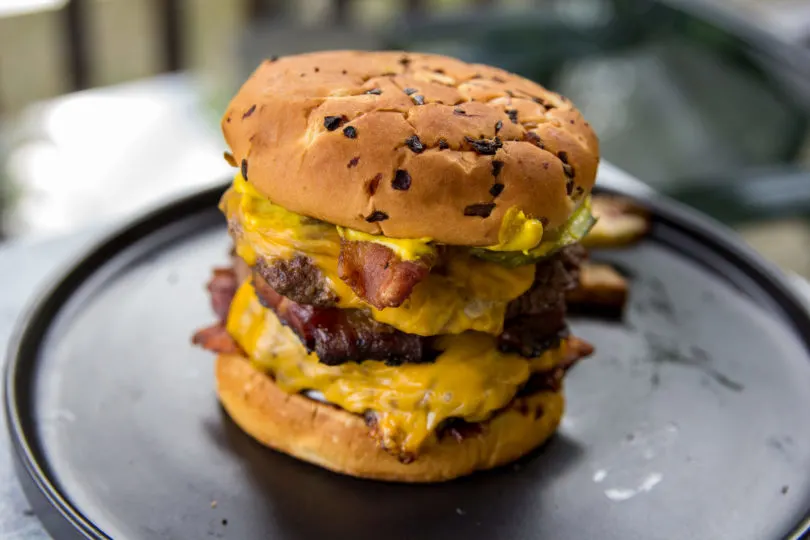 Bacon Onion Burger shopping list
Wondering if you have to hit the store? Here's the list of items you'll need to make this recipe. For specific amounts, please refer to the printable recipe card at the bottom of the post.
Onion buns
Ground beef
Cheddar cheese
Onions
Bacon
Pickles
Burger garnish
Try our Smoked Brat Burger!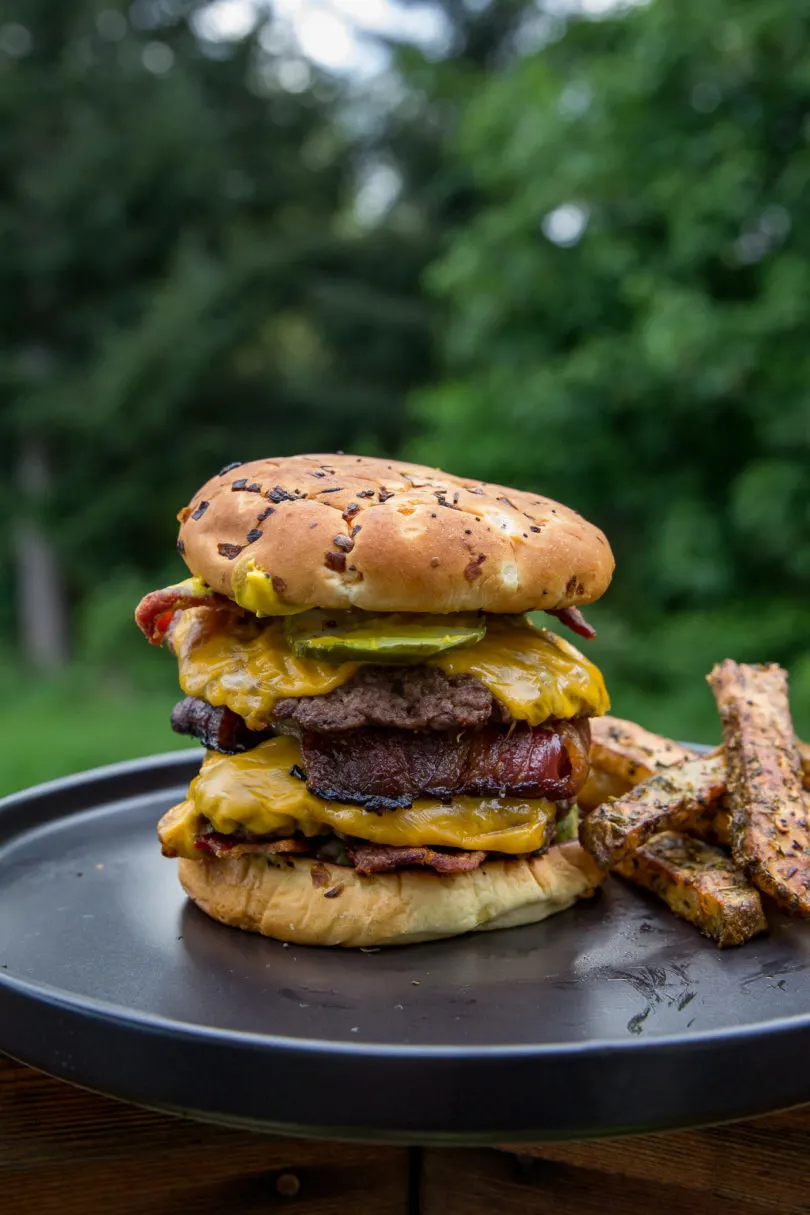 How to make Bacon Onion Smash Burgers
This is just the overview so you can see what you're actually getting into here. When you are cooking, you'll want to use the full recipe at the bottom of the page.
Wrap and smoke the onions
Wrap your onion slices with the thin-sliced bacon. Preheat your smoker to 225°, and place the wrapped onions directly on the grill grates. Smoke for 30 minutes, flip, and continue smoking at 225° for another 20ish minutes until the bacon is cooked. It'll crisp a little when it cools, so don't overcook!
Smoke or griddle the thick-cut bacon
Double-smoke your bacon or cook it on the griddle. Whatever you prefer. Our Traeger No-Flip Bacon is a great option!
Form the meatballs and preheat the griddle
Form 8 equal balls with your meat. Season the top sides. Preheat your griddle over medium-high heat.
SMASH THEM
Put your burgers seasoning-side-down on the griddle and use a piece of parchment paper between the meat and your smasher to prevent sticking, and then smash the burgers down onto the griddle. Season the side facing up when you have smashed all the burgers.
Flip and cheese
Flip the burgers once, top with cheese, and cover (if you have a griddle cover, use that. If you have a dome cover, use that.)
Toast those buns and serve
Toast the buns on the griddle and start loading up your burgers.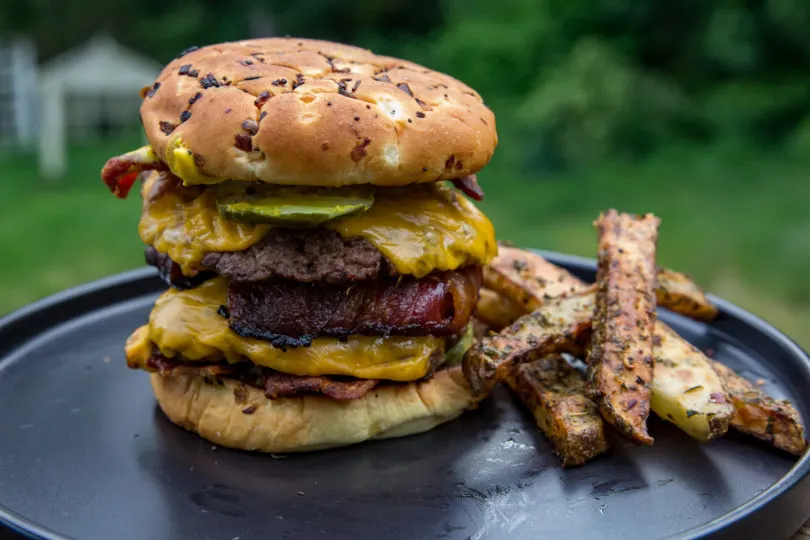 What should you serve with Smash Burgers?
We like to serve fries with burgers when we have them around. You can hit the easy button and make Frozen Fries on the griddle. If you don't have frozen fries around and have an air fryer, our Homemade Air Fryer French Fries are amazing!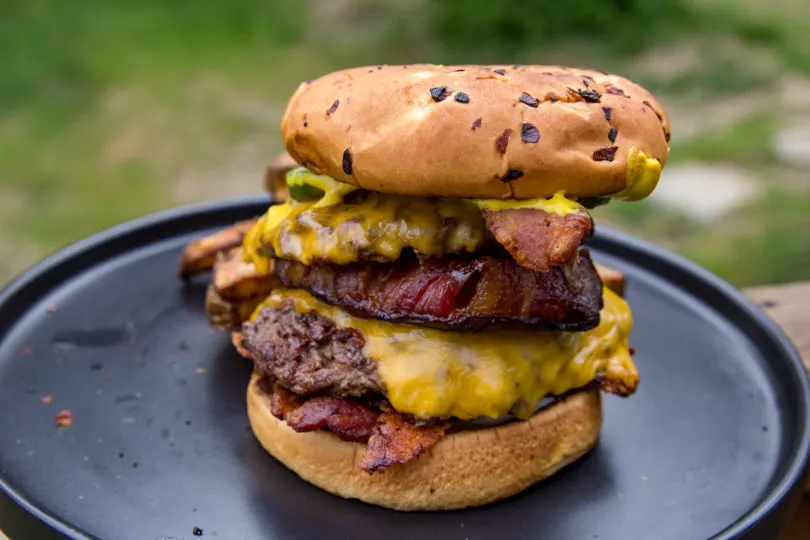 Bacon Onion Smash Burgers FAQ
Are the smoked bacon-wrapped onions really required?
Nooooo. I guess not. But they make this burger a LOT better!
What if I don't like smash burgers?
You do you! If you prefer smoked burgers, make those. Like griddle burgers that aren't smashed? Do your thing!
You can see all of the Burger Month recipes here in my Ultimate Burgers Roundup.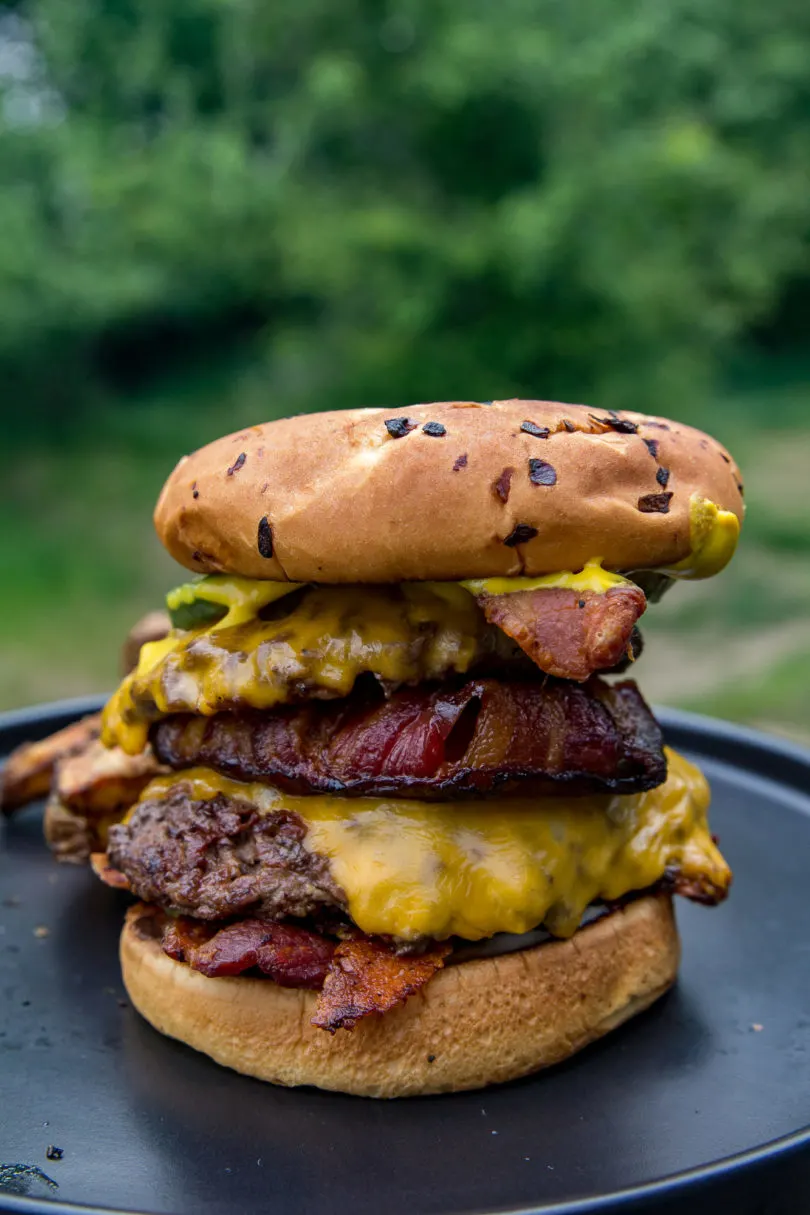 More recipes to love!
Check out these great recipes too!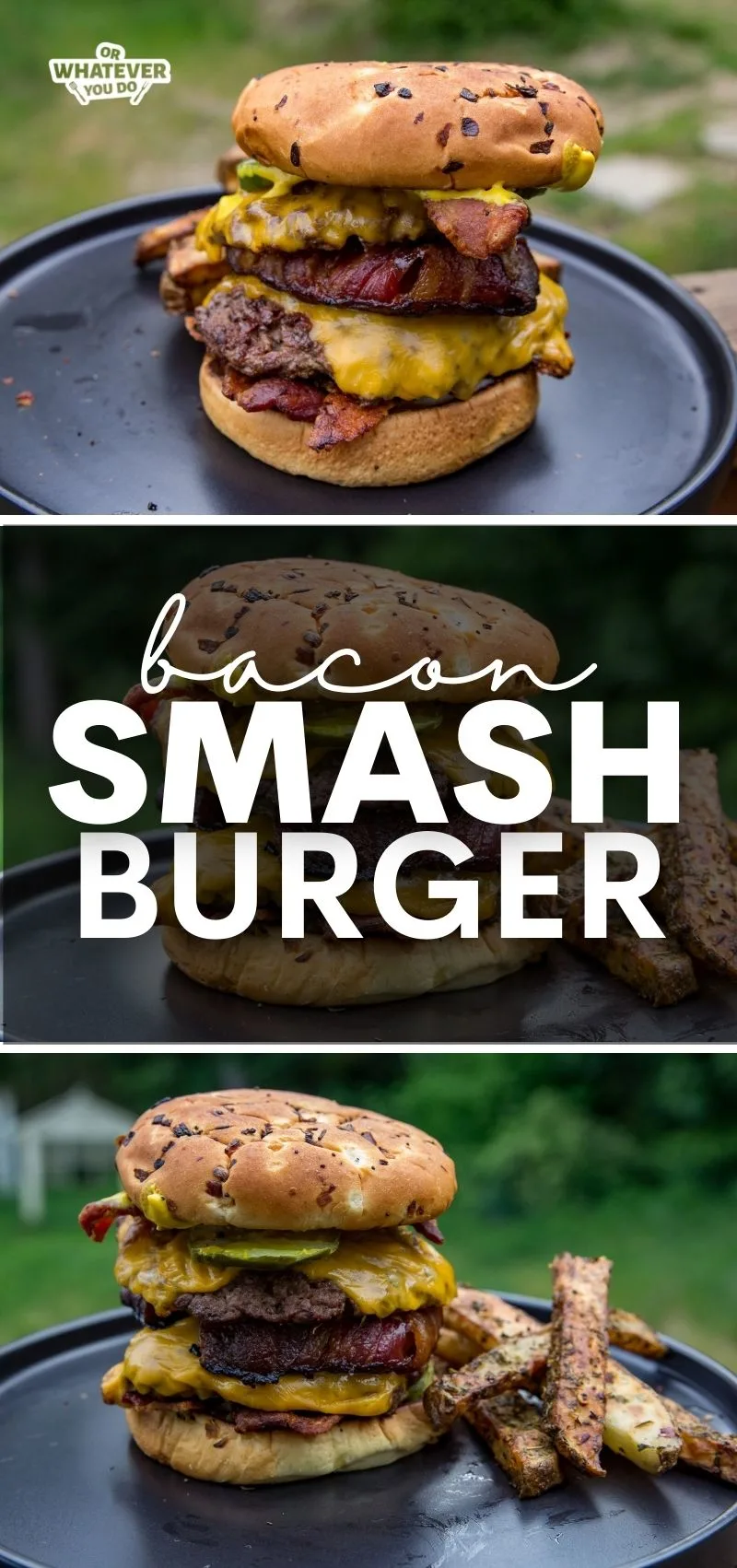 Yield: 8 servings
Bacon Onion Smash Burgers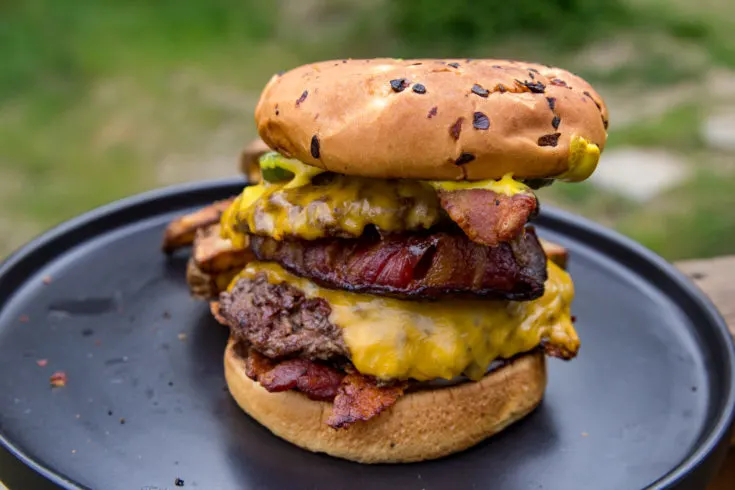 These easy flat top grilled smash burgers will be the hit of your dinner rotation. Skip the drive-thru and make restaurant-quality burgers right at home. The bacon-wrapped onions are not optional here! (Okay, they ARE, but don't skip them!)
Bacon-Wrapped Onions
1 hour
Total Time
1 hour
25 minutes
Ingredients
3 pounds ground beef
salt and pepper
8 slices cheese
8 hamburger buns
8 slices thick-cut bacon
Bacon-Wrapped Onions
8 slices onions
16 slices thin bacon
Instructions
Slice your onion into thick, 1/2" - 3/4" slices.
Form the burgers into 8 equally-sized balls. Season the tops with salt and pepper.
Preheat your griddle or flat top or cast iron over medium-high to high heat.
Place the burger balls onto the grill, and immediately smash down with a burger smasher, bacon press, or heavy-duty spatula.
Cook for several minutes until a dark-brown crust forms, season the uncooked side of the burger, and then flip.
Top with cheese, cover with a melting lid (if necessary), and cook another couple of minutes until the bottom also has the crust formed.
Remove from the flat top and serve hot!
Recommended Products
As an Amazon Associate and member of other affiliate programs, I earn from qualifying purchases.
Nutrition Information:
Yield:
8
Serving Size:
1
Amount Per Serving:
Calories:

876
Total Fat:

53g
Saturated Fat:

21g
Trans Fat:

2g
Unsaturated Fat:

26g
Cholesterol:

214mg
Sodium:

1192mg
Carbohydrates:

26g
Fiber:

1g
Sugar:

4g
Protein:

69g
Nutrition data provided here is only an estimate.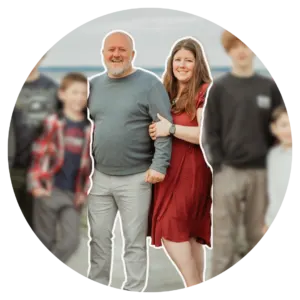 Nicole Johnson, a self-taught expert in grilling and outdoor cooking, launched Or Whatever You Do in 2010. Her blog, renowned for its comprehensive and creative outdoor cooking recipes, has garnered a vast audience of millions. Nicole's hands-on experience and passion for grilling shine through her work. Her husband, Jeremiah Johnson, also plays a pivotal role in recipe development, adding his culinary flair to the mix. Together, they form a dynamic duo, offering a rich and varied outdoor cooking experience to their followers.