Get excited, because you're about to have the best burger of your life. Our Blackstone Griddle Quadruple Smash Burger is one of the best burgers I've ever tasted. FIVE layers of thin, perfectly cooked smash burger patties, each one with its own piece of cheese, all sandwiched between a toasted hamburger bun.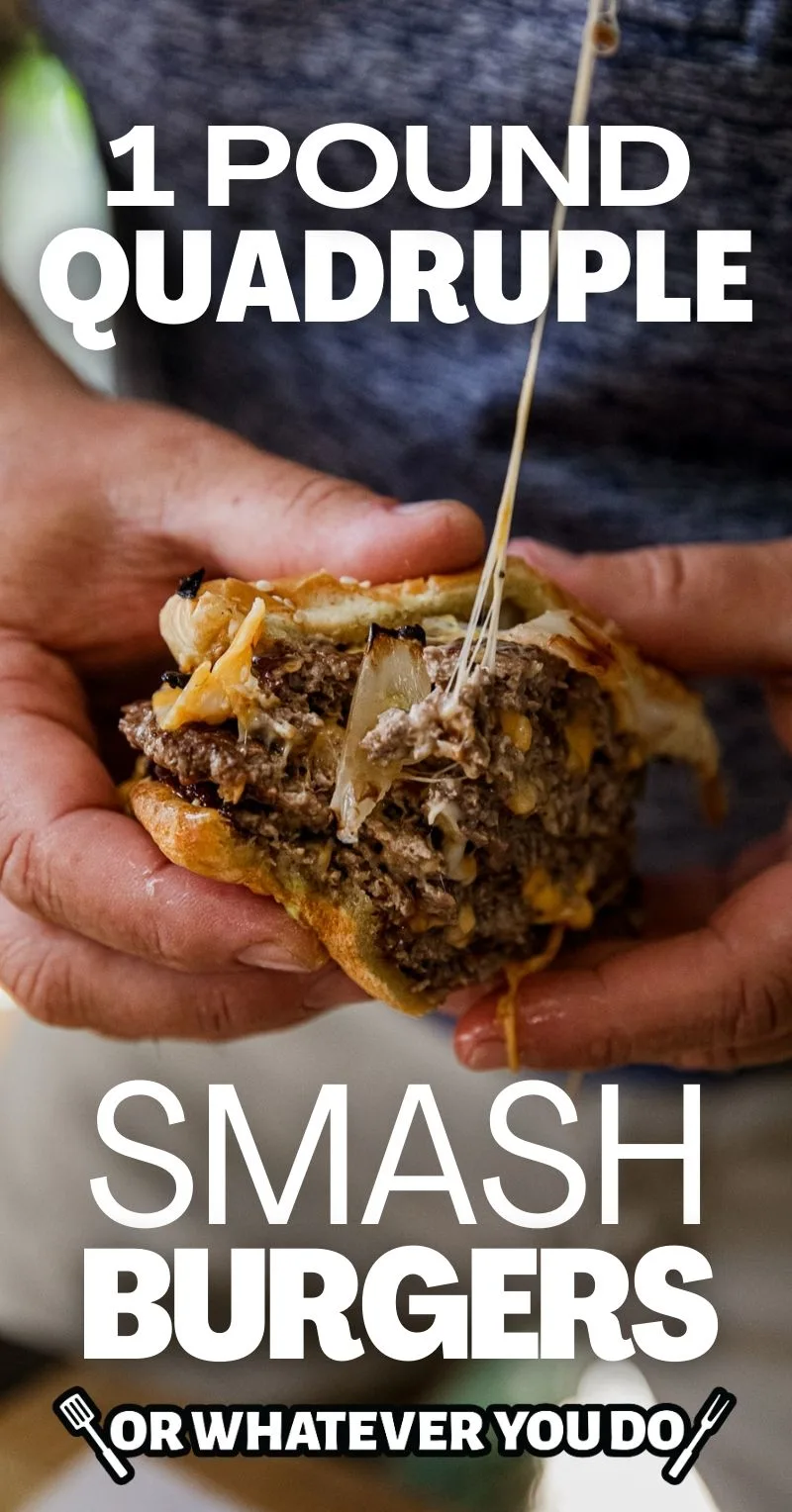 Blackstone Quadruple Smash Burger
Long live the cheeseburger! It is an American classic, and for great reason. Everyone likes cheeseburgers, anyone can make a GREAT burger, and they are so versatile and easily customizable! We aren't burger purists here, we like them in almost all forms. We've got our classic Smash Burgers, the Juicy Lucy, our Ultimate Bacon Onion Smash Burger that has bacon-wrapped onions as the co-star of the show, we have Bacon Bleu Cheese Burgers, the Jalapeno Jack Juicy Lucy, and even a Brat Burger for good measure. But this burger has them all beat, in my book.
When we first set out to make an epic burger that would fill up even our hungriest teenager, I really thought that it would be mostly hype. A burger stacked to the ceiling looks great on Instagram, but would it taste just as good??
It totally does. And then some.
We love the sides too, and have done fries about as many ways as is possible. From Frozen French Fries cooked on the griddle, Crispy Fries made from fresh potatoes, French Fries in the Air Fryer, and even Pan Fried Potato Wedges.
NOTE: I had a momentary "DUHHHHH" moment when I was writing this post and forgot that "quad" means ummmm – 4. Not 5. This is actually a "quintuple" smash burger, but since the post is already published and it is bad news to change the title and URL after it goes live, it is going to live on, much to my shame, with the incorrect name. No matter how many patties you decide to tackle in your burger, just know – it is going to be delicious.
More Blackstone Recipes here!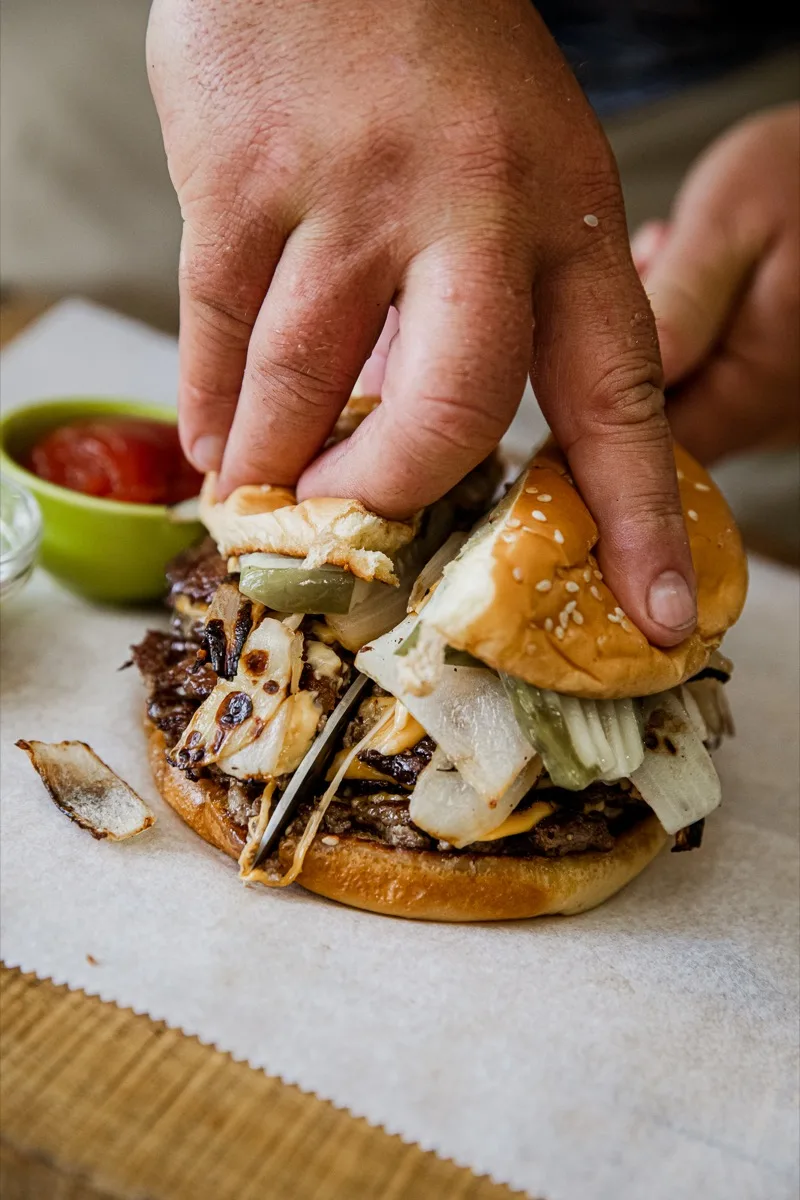 Quadruple Smash Burger shopping list
Wondering if you have to hit the store? Here's the list of items you'll need to make this recipe. For specific amounts, please refer to the printable recipe card at the bottom of the post.
Ground beef
Salt and pepper
American cheese (or Colby Jack slices)
Hamburger buns
Dill pickle chips
Onions
Tomato
Leaf lettuce
Ketchup
Mustard
Get all my favorite Recipes for Burgers here!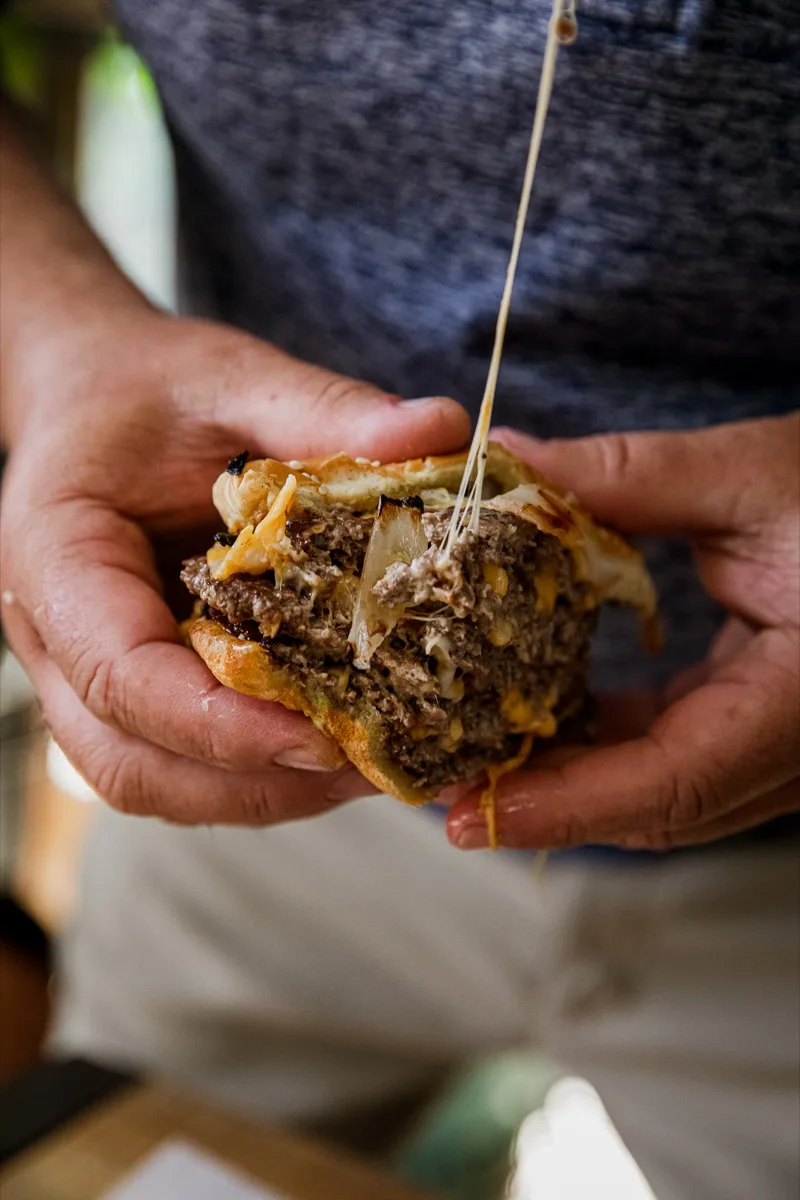 How to make Quadruple Smash Burgers
This is just the overview so you can see what you're actually getting into here. When you are cooking, you'll want to use the full recipe at the bottom of the page.
Preheat
Fire up that flat top gas griddle over medium-high heat.
Portion
While the griddle preheats, take the ground beef and form it into 20 (yes 20) equally-sized balls.
SMASH
Season the top of the balls. Put the balls, seasoning side down, onto the griddle. (Or as many of them as you can fit with about 3-4″ around each one for smashing.) Use your burger smasher or two sturdy spatulas, and SMASH. You want them nice a thin.
Cook
Let the smashed burgers cook for several minutes until the edges start looking slightly crispy. Season the top of the burgers and then flip. Press the uncooked side down a bit with your spatula so it cooks evenly.
Put a slice of cheese on each one after they are flipped.
Cook for a few minutes until the cheese is melted.
Toast your burger buns once you have some room on the griddle.
Eat
Load 'em up and eat! You don't HAVE to make every burger a quadruple if you can't handle it, just adjust the number of buns you toast accordingly.
Try our Potato Salad recipe!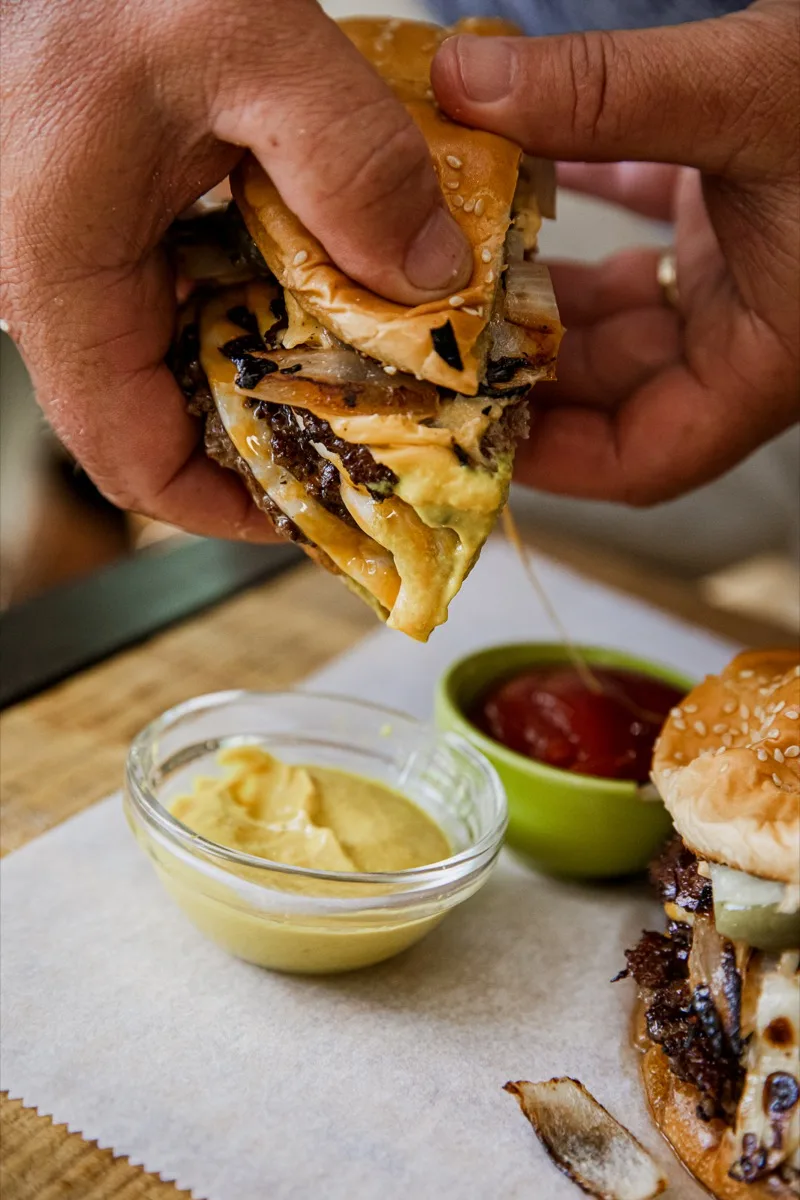 Quadruple Smash Burgers FAQ
Can these be made in advance?
They can, but they shouldn't. Smash Burgers are thin, so you want to serve them right after they are done cooking. If you're cooking for a giant crowd, making some 20 minutes in advance isn't going to seriously impact the end result, but aim for trying to get the burgers in people's hands as soon as possible after they come off the griddle.
What's the best way to store and reheat leftovers?
It is best not to have leftovers, but if you do, they can be reheated in the microwave. Just keep them off the buns, and if you have a stack of 5 I'd split it into two stacks for the reheat.
Are there any recommended substitutions or additions?
Sure! You can use a different type of cheese if you'd like. Pepper Jack adds a nice kick to the burger. Bacon is always a welcome addition too. A few of our kids like to build their own Big Macs and use shredded lettuce and thousand island dressing on their burgers too.
Some Smoked Baked Beans are great w/ this!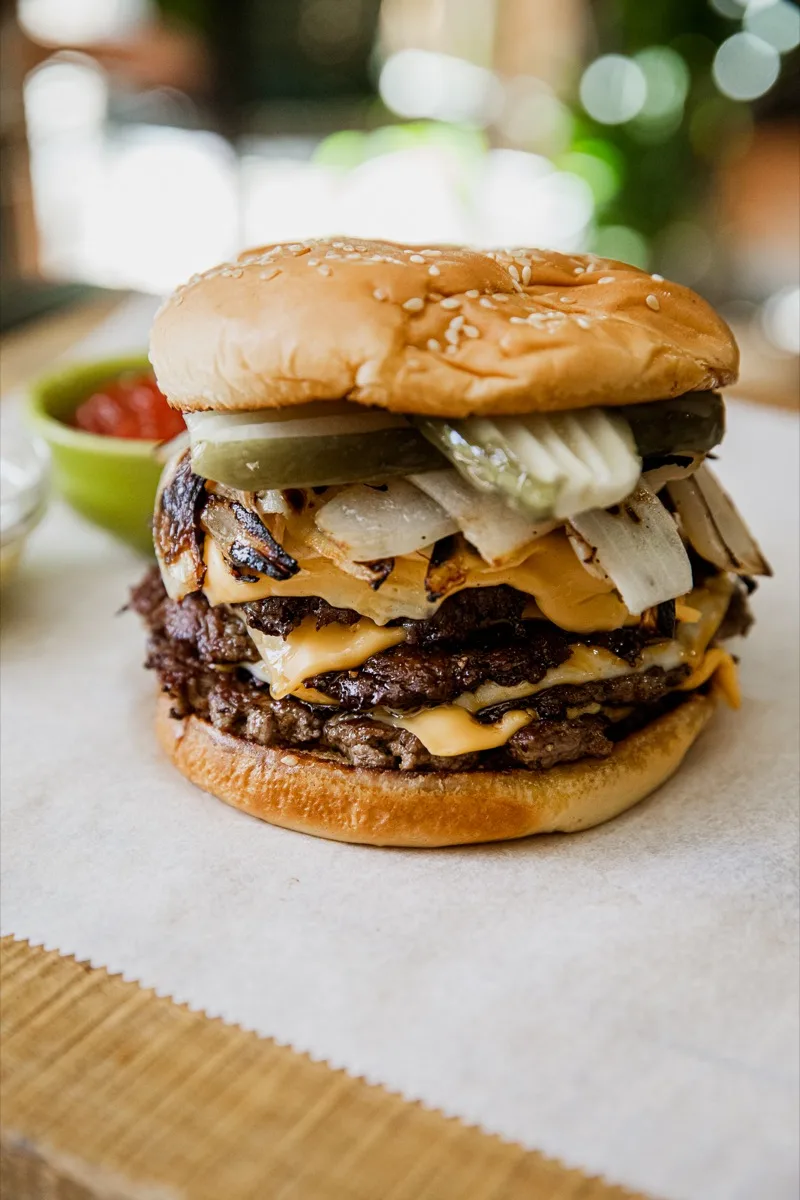 More great recipes to love!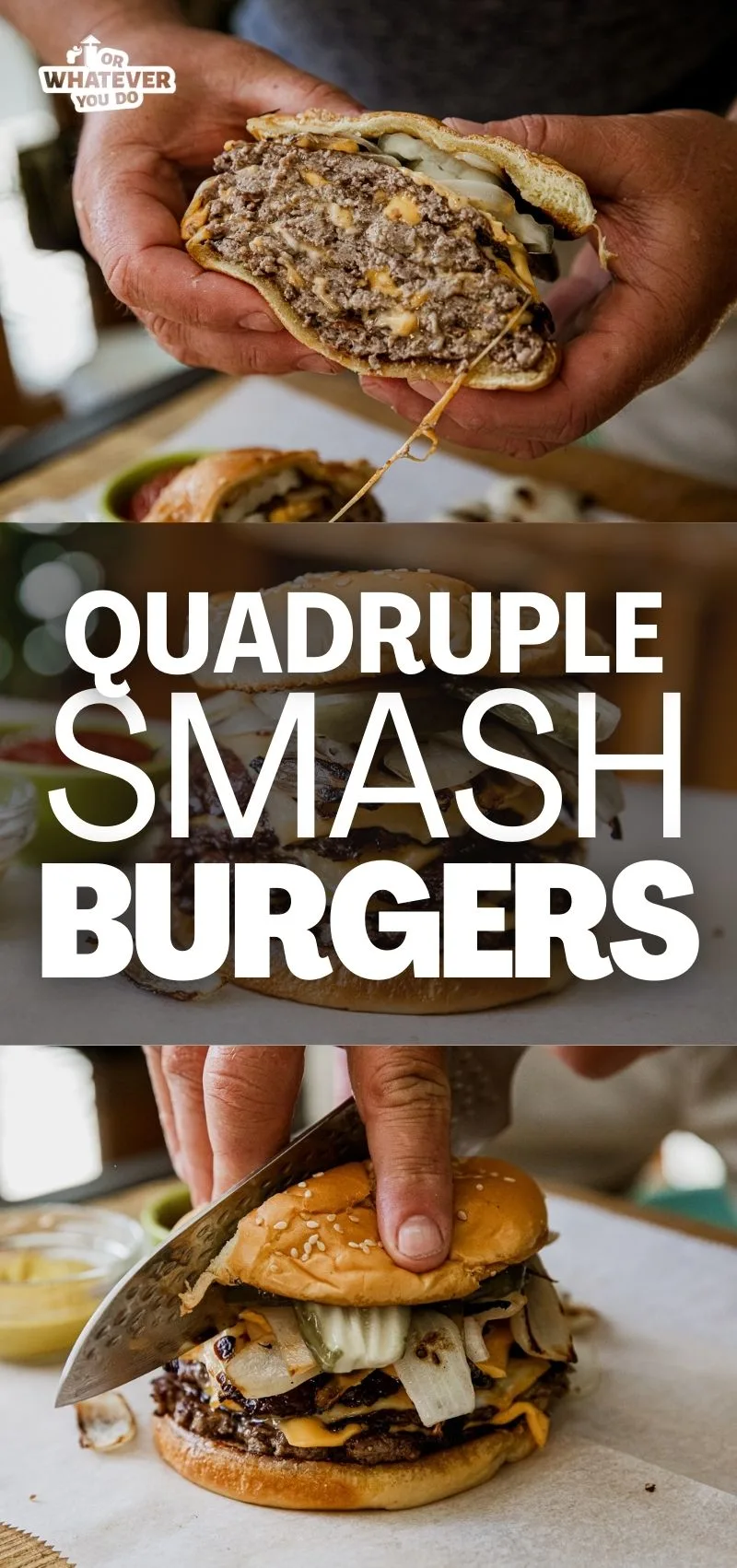 Yield: 4 servings
Quadruple Smash Burgers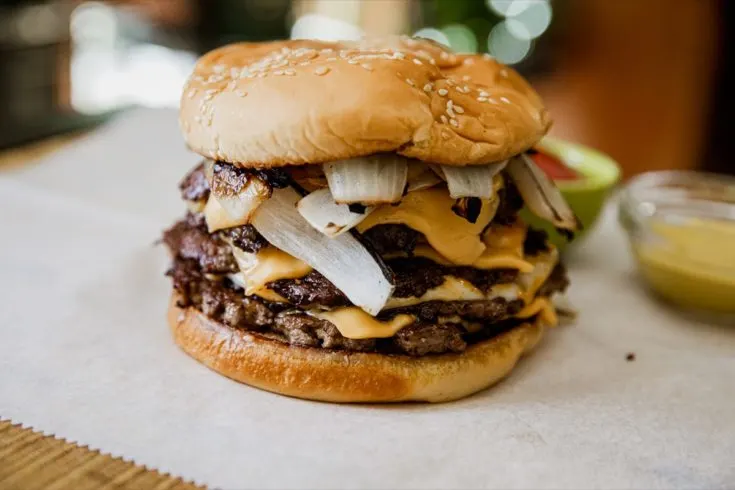 These giant 1-pound griddle-cooked quadruple smash burgers are worth EVERY bit of hype. So much cheese and meat and amazing things in every bite!
Bacon-Wrapped Onions
1 hour
Total Time
1 hour
25 minutes
Ingredients
4 pounds lean ground beef
salt and pepper
20 slices American cheese
4 hamburger buns
Fixings
16 dill pickle chips
1 small onions, diced
4 slices tomato
4 slices leaf lettuce
4 tablespoons ketchup
4 teaspoons mustard
Instructions
Form the burger into 20 equally-sized balls. They should be around 3 ounces each. Season the tops of each patty lightly with salt and pepper.
Preheat your griddle or flat top or cast iron over medium-high to high heat.
Place the burger balls onto the grill, one at a time, and immediately smash them down with a burger smasher, bacon press, or heavy-duty spatula.
Cook for several minutes until a dark-brown crust forms, season the uncooked side of the burger, and then flip.
Toast your buns.
Top each patty with a slice of cheese, cover with a melting dome (if necessary), and cook another couple of minutes until the bottom also has the crust formed.
Remove from the flat top, load up 5 patties to a bun, and serve hot!
Recommended Products
As an Amazon Associate and member of other affiliate programs, I earn from qualifying purchases.
Nutrition Information:
Yield:
4
Serving Size:
1
Amount Per Serving:
Calories:

1483
Total Fat:

79g
Saturated Fat:

35g
Trans Fat:

3g
Unsaturated Fat:

33g
Cholesterol:

482mg
Sodium:

2008mg
Carbohydrates:

32g
Fiber:

1g
Sugar:

9g
Protein:

151g
Nutrition data provided here is only an estimate.