Just in time for Thanksgiving, I'm sharing with you my recipe for wild rice mushroom dressing. This is one of my favorite variations on your typical dressing, and I love the flavor and varied texture that the wild rice provides. I'm a HUGE wild rice fan, so any excuse I have to use it I'm jumping on!
This dressing can be as super simple, or as incredibly complicated as you'd like it to be. You could do everything from scratch down to the bread and broth, or you can use some pre-made shortcut ingredients and speed up the process a bit. Either way, in the end you'll have a flavorful, unique, and popular side dish that would be a hit on almost anyone's Thanksgiving table.
We are off to Great Wolf Lodge today with all of the munchkins, so forgive my brevity of this post, but I didn't want to leave for vacation without sharing my favorite stuffing with you! Wish us luck, and patience, and FUN.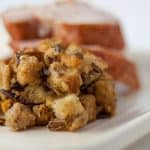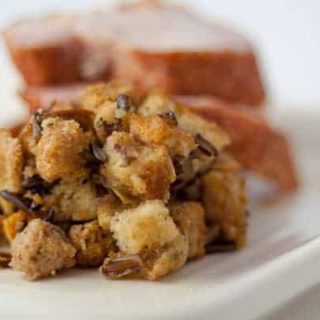 Wild Rice Mushroom Dressing
Ingredients
6

cups

cubed sage & onion stuffing mix

1 3/4

cups

chicken broth

1/4

cup

dry white wine

10

tablespoons

butter

divided

2

cups

chopped mushrooms

1/2

cup

onion

finely diced

1/2

cup

celery

finely diced

2

cups

cooked wild rice
Instructions
Melt 4 tablespoons of butter in a saute pan over medium high heat. Saute mushrooms, onion, and celery for 5 minutes, stirring frequently. Stir gently into the dry stuffing mix along with the cooked wild rice to evenly distribute.

Heat chicken broth, wine, and remaining 6 tablespoons of butter in a small pan until the butter is melted and the liquid is simmering. Pour over stuffing mixture, and stir until the stuffing is evenly moistened. Place into a baking dish.

Bake at 350 for 20-25 minutes, or until heated through and the top is lightly golden brown.