Explore the delightful taste of Grilled Peaches with this enticing recipe, perfect for warm summer months. Transform ripe peaches by grilling them, unlocking a delightful fusion of caramelized and smoky flavors. This versatile dish pairs well as a dessert with ice cream or as a scrumptious side for grilled meats.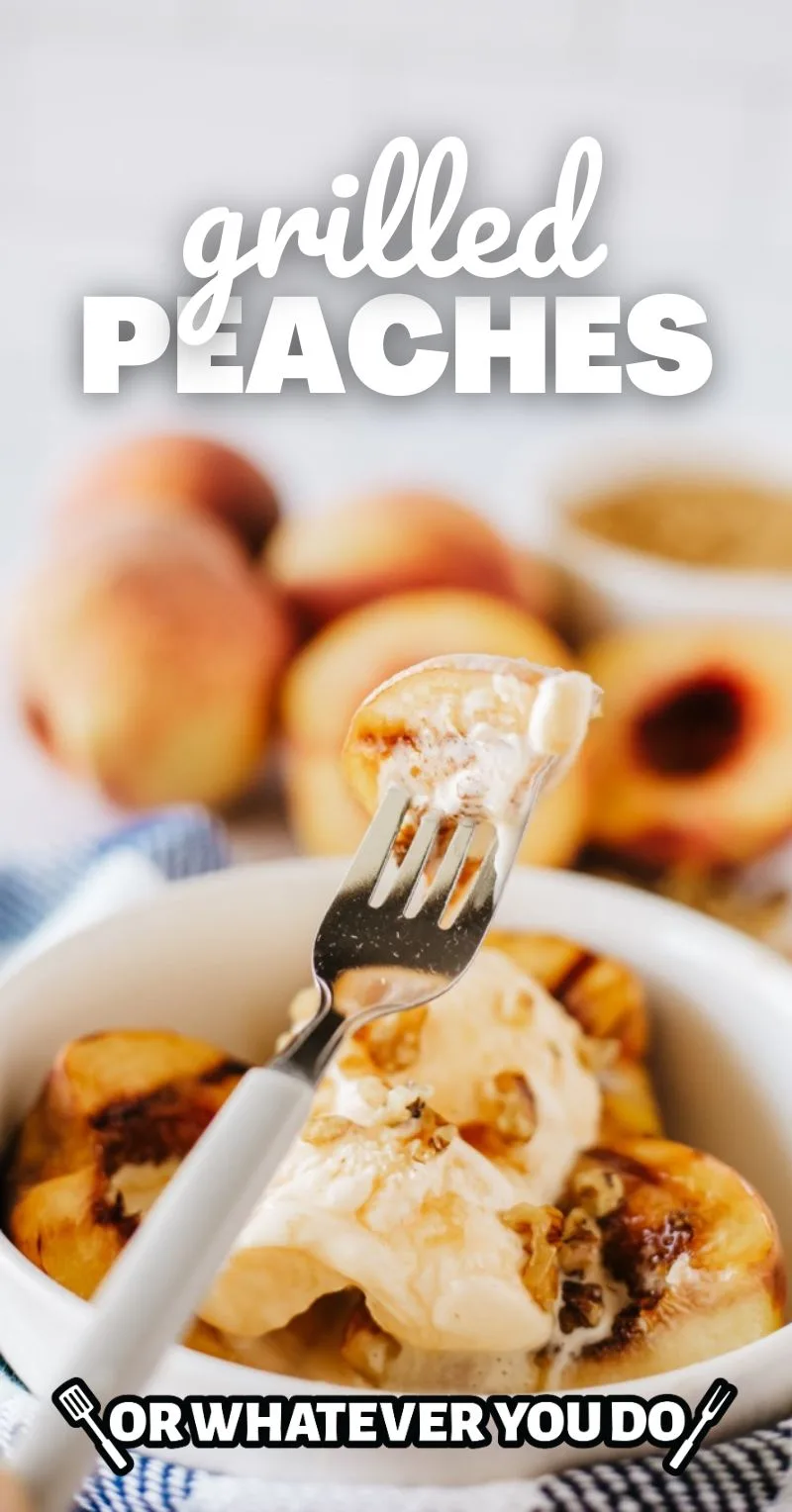 Easy Grilled Peaches Recipe
Our quick and simple Grilled Peaches recipe is easy to prepare, requires just a few ingredients, and there's minimal prep time involved. Ideal for backyard barbecues or a refreshing alternative to fruit salads, grilled peaches are sure to captivate your guests with their delicious taste and appealing presentation. Experience the perfect balance of sweetness and smoky char that grilled peaches provide.
Don't have a grill handy? This recipe can be made using a grill pan.
Want something extra delicious? Use these grilled peaches to make homemade peach ice cream!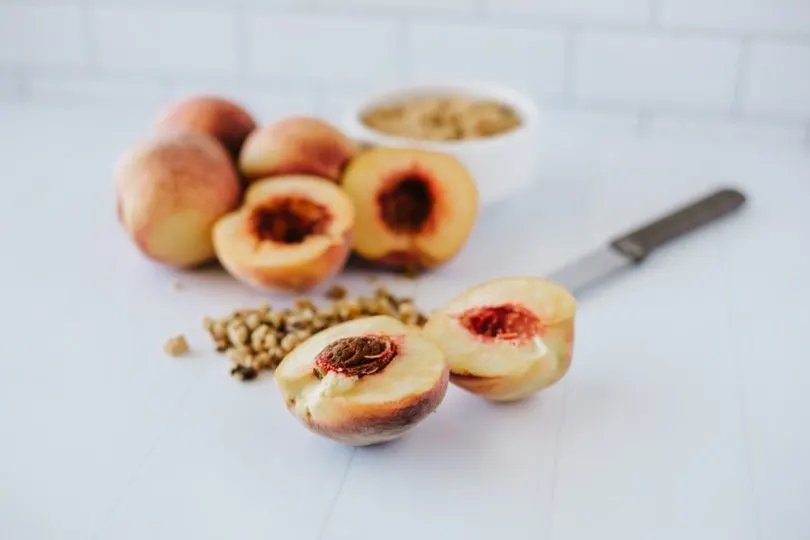 Grilled Peaches shopping list
Wondering if you have to hit the store? Here's the list of items you'll need to make this recipe. For specific amounts, please refer to the printable recipe card at the bottom of the post.
peaches
butter
brown sugar
vanilla ice cream
walnuts
caramel sauce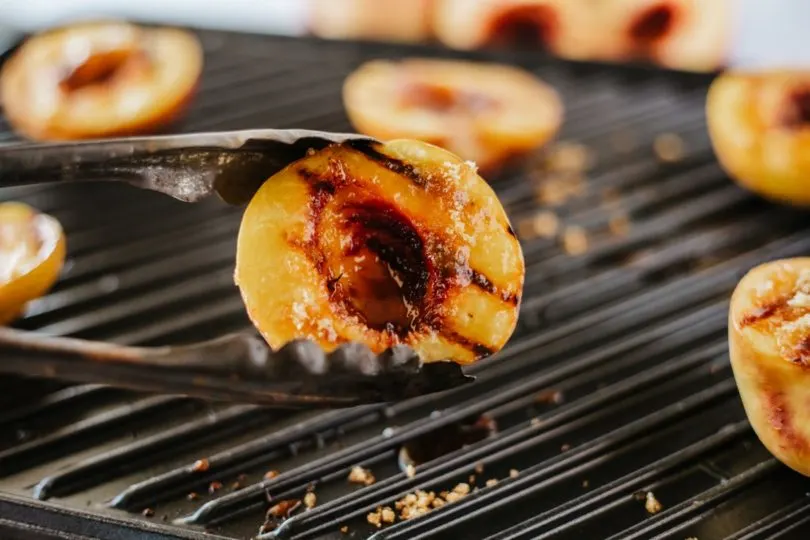 How to make Grilled Peaches
This is just the overview so you can see what you're actually getting into here. When you are cooking, you'll want to use the full recipe at the bottom of the page.
Preheat
Fire up the grill and preheat to 375°F. If you have grill grates, now is a good time to use them!
Prep
Halve the peaches and brush the tops with melted butter.
Grill
Place the halved peaches flat-side down on the grill. Grill for about 3 minutes, or until you have some good grill marks going. Flip over.
Sprinkle with a teaspoon of brown sugar and keep cooking for another 5-6 more minutes.
Drizzle
Split the halved, grilled peaches between two bowls, drizzle with caramel, and top with vanilla ice cream and chopped walnuts.
Enjoy
This is one of the easiest and most decadent desserts! Enjoy those fresh peaches while they are here because the season doesn't last long!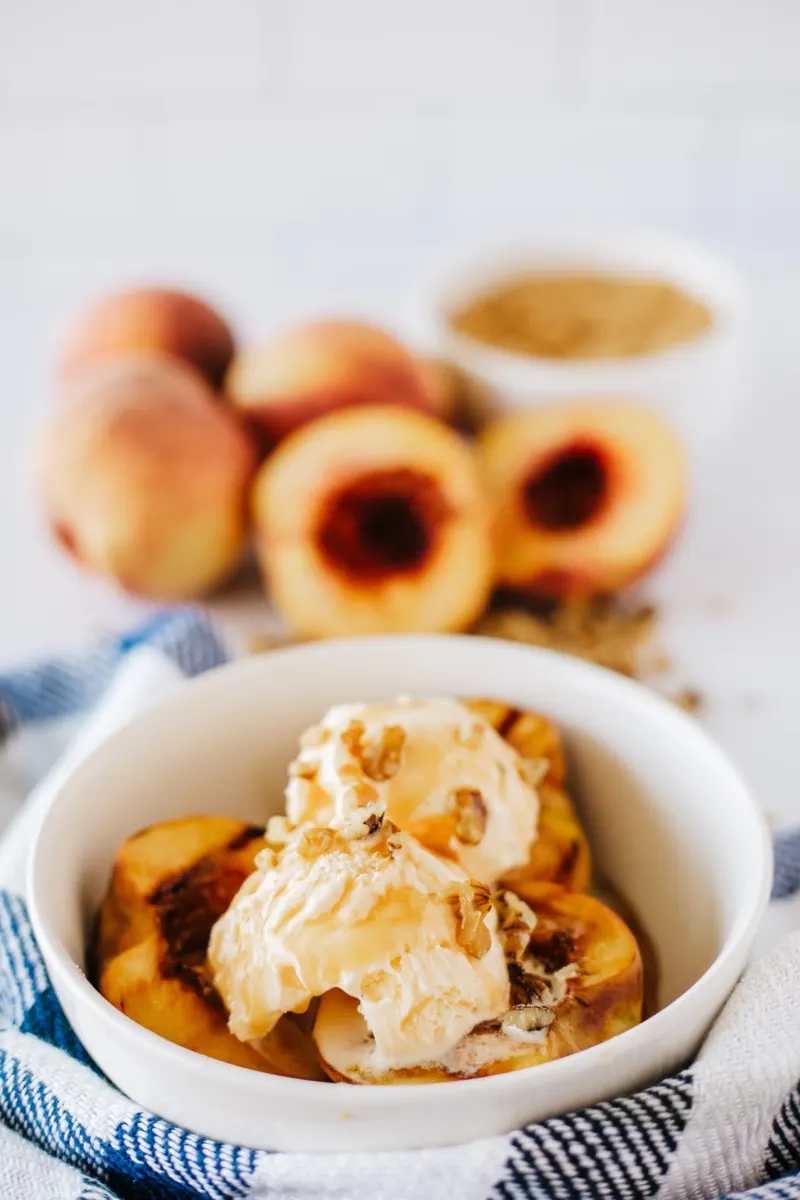 Grilled Peaches FAQ
What kind of peaches work best for this recipe?
When grilling peaches, it's best to choose firm, ripe peaches that are slightly underripe. The variety of peach is less important than the ripeness and firmness of the fruit. The following varieties are often recommended for grilling:
Freestone peaches: This type of peach has flesh that easily separates from the pit, making them ideal for grilling. Examples of freestone varieties include Elberta, Redhaven, and O'Henry.
Semi-freestone peaches: These peaches have flesh that partially separates from the pit. They can also work well for grilling. Examples include Flavorcrest and Suncrest.
When selecting peaches, avoid overly ripe or soft fruit, as they can become mushy and fall apart on the grill. The peaches should give slightly when gently squeezed but still be relatively firm. This firmness allows them to hold their shape during grilling and develop a delicious caramelized surface.
How should you store leftovers?
This recipe is best served right after it is cooked, so leftovers aren't recommended. If you overdo it, you can toss them in a baggie and store them in the fridge.
Are there any other suggested additions or substitutions?
You can sprinkle some cinnamon on the peaches along with the brown sugar after the grill marks are added if you are feeling a little spicy.
Want a little bit of a bite? Make your own caramel sauce and throw a little whiskey in there during the cook!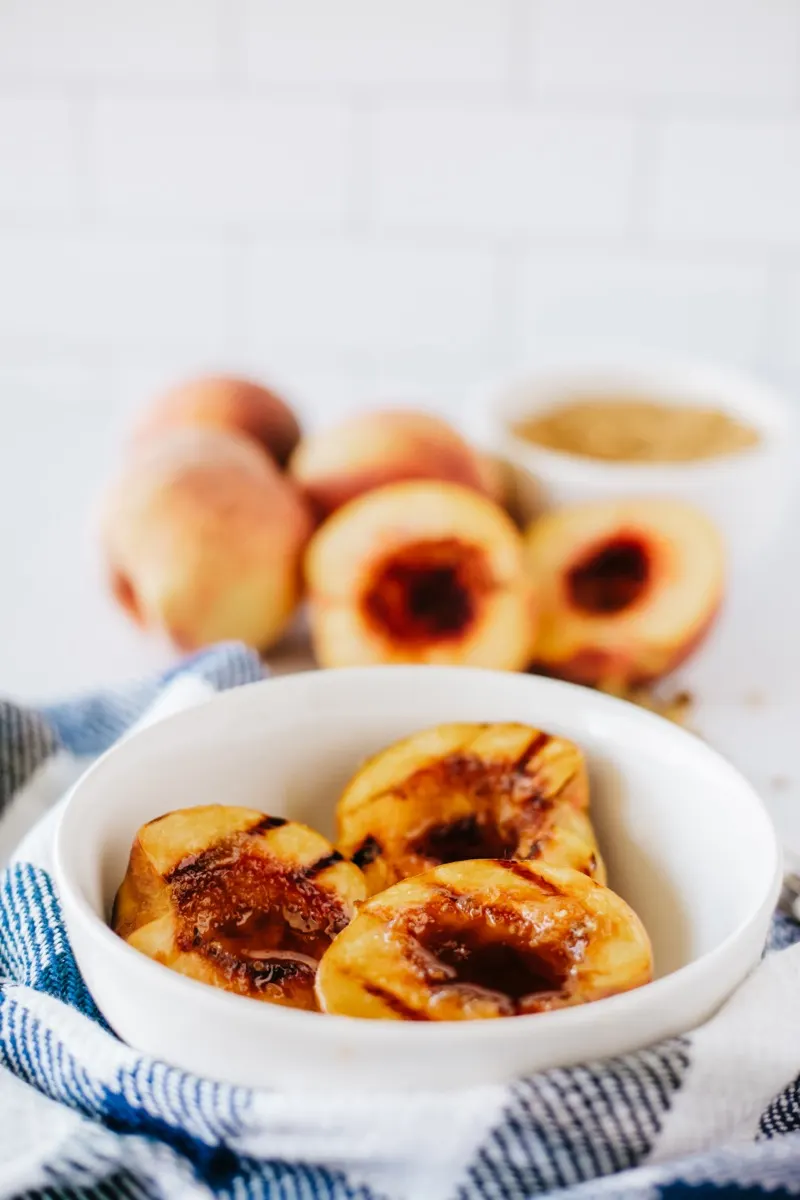 More great grilled dessert recipes to love!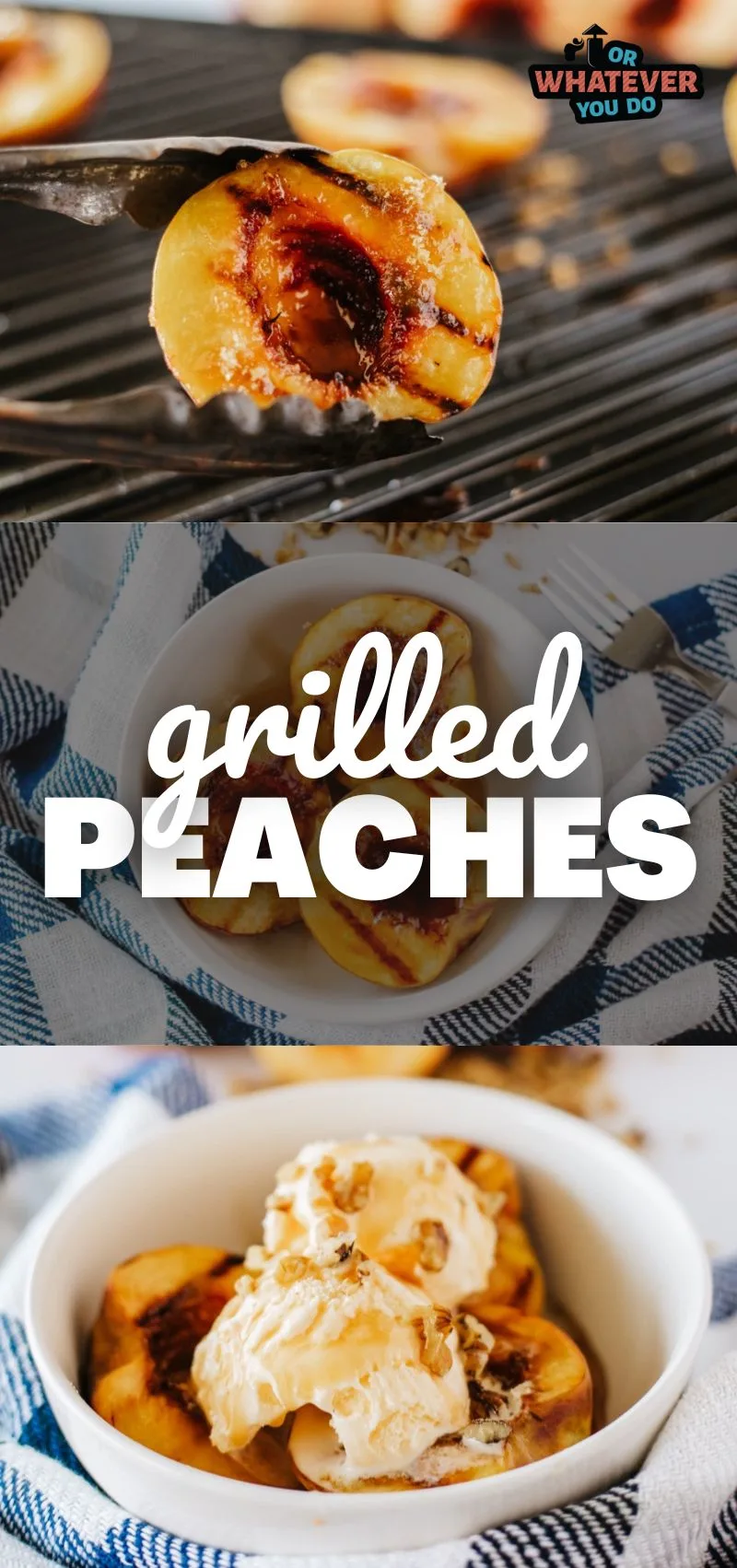 Yield: 2 servings
Traeger Grilled Peaches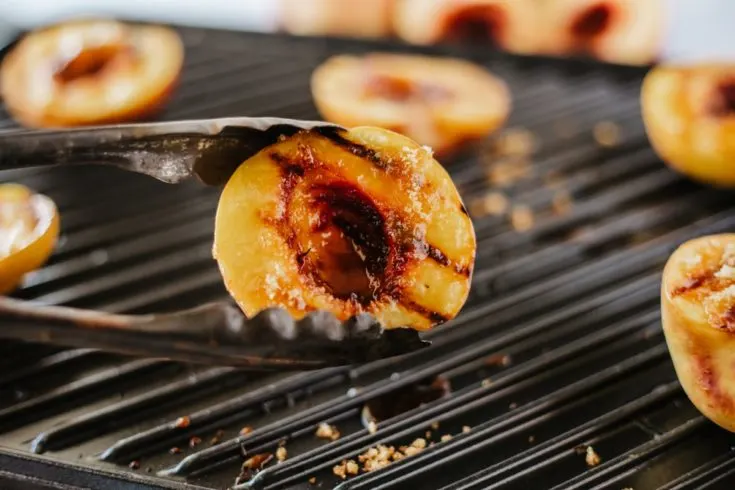 This incredible recipe for Grilled Peaches is perfect for a summer dessert! Make use of those fresh peaches while you can, and fire up the grill!
Ingredients
3 peaches, halved
2 tablespoons of melted butter
6 teaspoons of brown sugar
4 scoops of vanilla ice cream
chopped walnuts
caramel syrup
Instructions
Preheat your grill to 375°F.
Brush the top of each peach half with melted butter.
Place each flat side down on the grill. Grill for 3 minutes and flip.
Sprinkle the top of your grilled peach with a 1 teaspoon of brown sugar each.
Grill for about 6 more minutes.
Place 3 grilled peach halves in each bowl and drizzle with caramel syrup.
Top with two scoops of ice cream, more caramel, and walnuts.
Serve warm and enjoy!
Notes
You can use any type of grill for this recipe, even a grill pan on your stovetop!
Recommended Products
As an Amazon Associate and member of other affiliate programs, I earn from qualifying purchases.
Nutrition Information:
Yield:
2
Serving Size:
1
Amount Per Serving:
Calories:

588
Total Fat:

29g
Saturated Fat:

17g
Trans Fat:

0g
Unsaturated Fat:

10g
Cholesterol:

89mg
Sodium:

270mg
Carbohydrates:

79g
Fiber:

5g
Sugar:

73g
Protein:

8g
Nutrition data provided here is only an estimate.