Fire up the Traeger because we're mixing it up this week with this easy, homemade, Traeger Baked Cheddar Chicken recipe! Tender chicken breasts. Homemade cream sauce. Crunchy coating.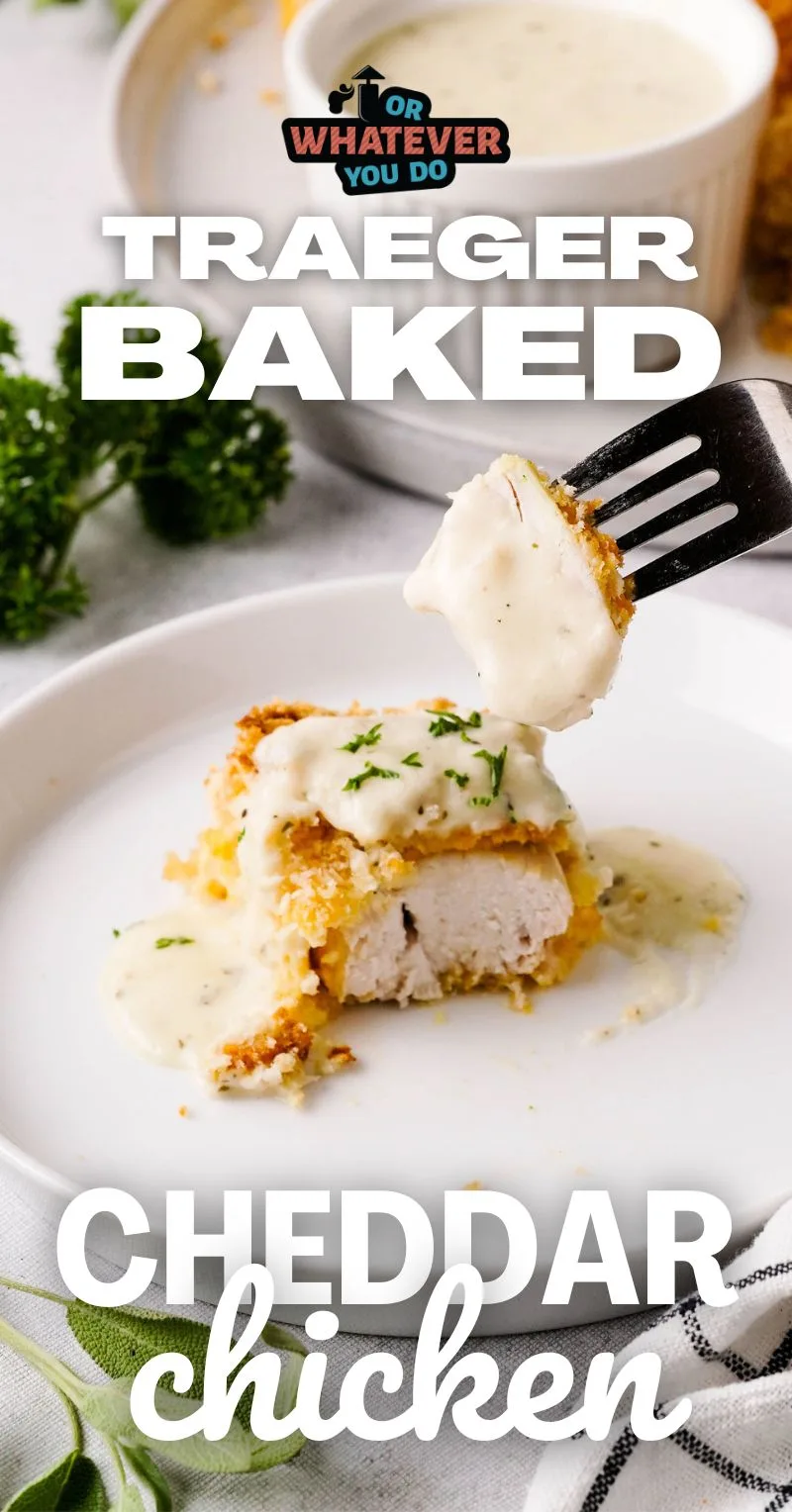 Traeger Baked Cheddar Chicken
We love a good homestyle chicken dish around here, and this one is particularly great. We use crushed up crackers for the crunchiest breading, which allows you to skip the fry pan and "bake" this hearty chicken dish but not lose out on any of the crunch.
Many versions of this exist on line, and a lot of them utilize cream of chicken and/or cheddar soup. That is definitely an option, but we tend to make our own homemade cream sauces in those kinds of dishes. It is so easy to do a homemade version, and then you're sure what's in it (and you can pronounce all of the ingredients too.)
Check out all of my Traeger Recipes!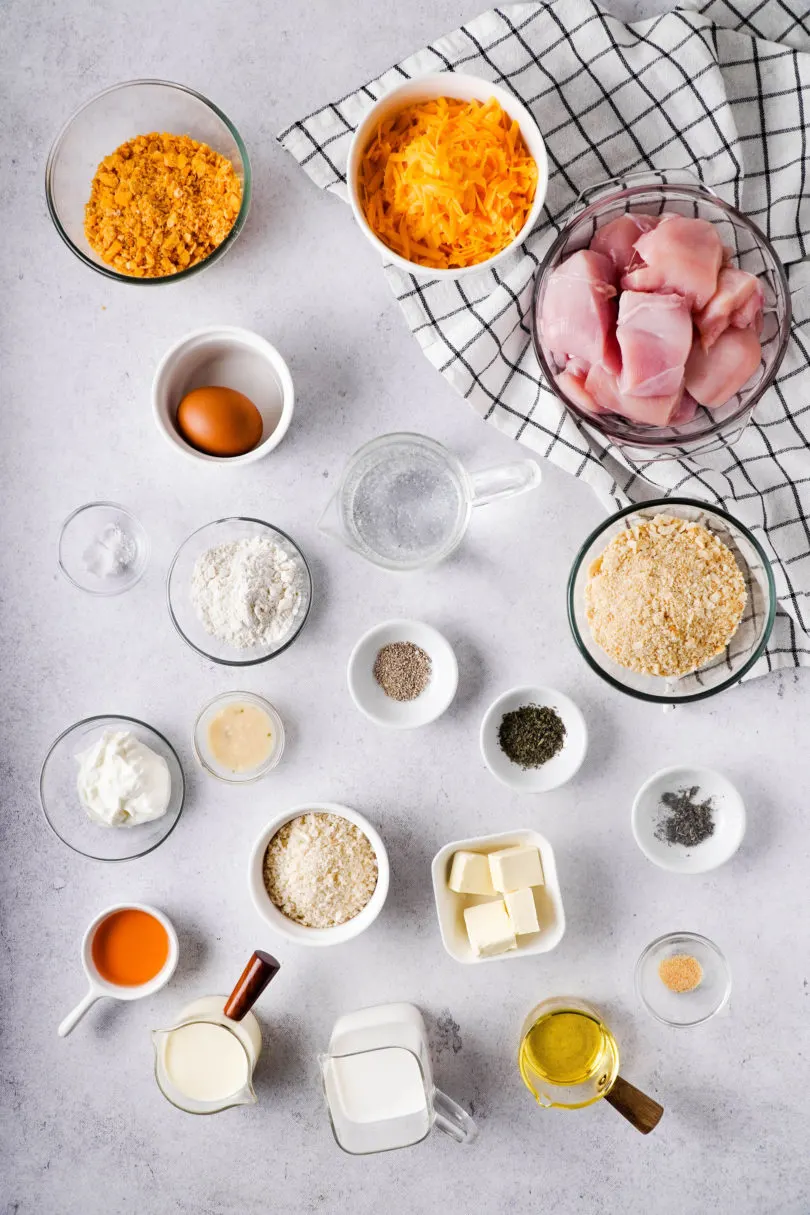 Traeger Baked Cheddar Chicken shopping list
Wondering if you have to hit the store? Here's the list of items you'll need to make this recipe. For specific amounts, please refer to the printable recipe card at the bottom of the post.
cheez-its (or another type of cheddar crackers)
chicken breasts
saltine crackers
panko
egg
milk
cheddar cheese
olive oil
butter
flour
salt & pepper
garlic powder
parsley
sage
chicken base
marsala wine
heavy cream
sour cream
More Easy Traeger Chicken Recipes here!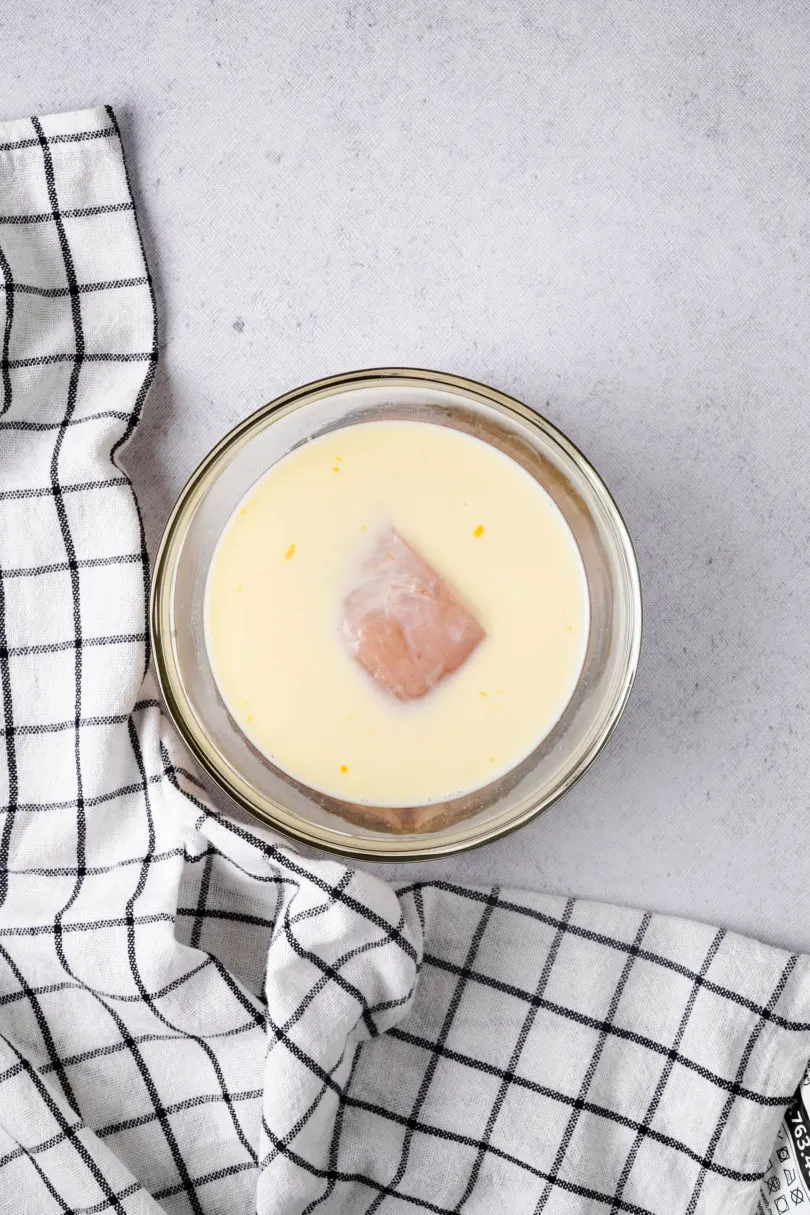 How to make Baked Cheddar Chicken on the Traeger
This is just the overview so you can see what you're actually getting into here. When you are cooking, you'll want to use the full recipe at the bottom of the page.
Preheat
Fire up the grill and let it heat to 400°F.
Bread
Start by taking 3-4 chicken breasts and cutting them up into large chunks.
Crush your crackers/panko mixture and put it in a shallow dish.
Mix up an egg with 1/2 cup of milk and set it in another dish.
Shred your cheese (or dump it out of the bag!) and put it in another shallow dish.
Prep your baking pans with cooking spray, and lay them all out next to each other, assembly-line style.
Dunk the chicken in the egg/milk mixture, and then coat it in the cheese.
You will have to kind of press the cheese on, and hold it on the chicken.
Carefully place the cheesed chicken into the crushed cracker/bread crumb mixture and press some onto both side of the chicken.
Place the chicken into your prepped baking dish. Repeat until all the chicken is coated.
Cook
Drizzle the chicken with a bit of olive oil, and place into the preheated grill.
Bake for 30-40 minutes, or until the chicken is at least 165°F internal.
The amount of cook time will depend on how big you cut your chicken chunks and how tightly they are packed into the baking dish.
Make the sauce
While the chicken is cooking, make the sauce by melting 4 tablespoons of butter in a non-stick pan. Whisk in 3 tablespoons of flour until all the lumps are gone.
Cook over medium-low heat for 2-3 minutes.
Season with salt, pepper, and garlic powder. Add 2 teaspoons of parsley and 1/4 teaspoons of sage.
Next add 2 cups of hot water, and 2 teaspoons of condensed chicken base. I use the Better Than Bouillon brand.
Cook this mixture until it is thickened, and then add approximately 1/2 cup of heavy cream, and 1/4 cup of sour cream. Stir until mixed, and reduce heat to low.
If you need to add more water because the gravy is too thick, don't be afraid to. These kinds of sauces are very forgiving. If it is not thick enough, make a cold water + flour roux, and add a little bit at a time while the mixture is simmering until it is thickened to your liking.
Serve
Keep the sauce warm until your chicken is done. Drizzle sauce over chicken, and serve with your favorite sides. We made garlic mashed potatoes and creamy balsamic green beans.
Try with our Roasted Garlic Mashed Potatoes!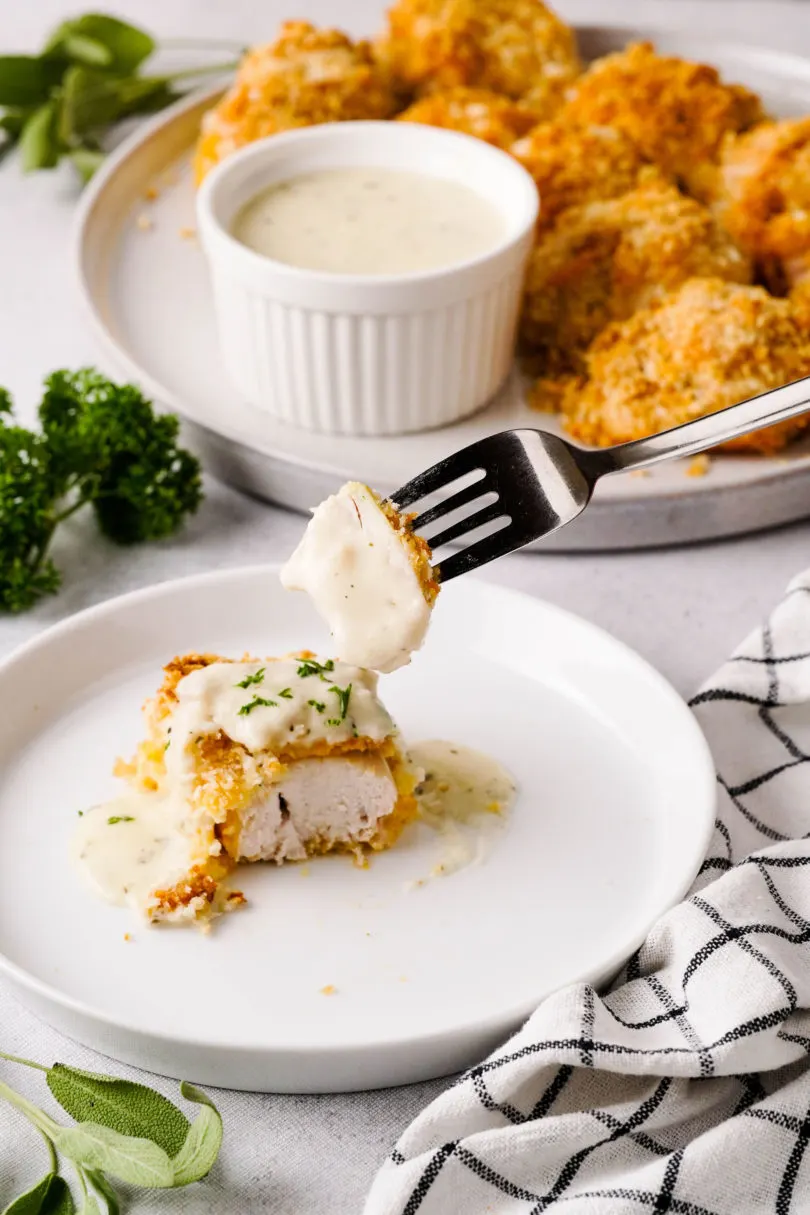 Baked Cheddar Chicken FAQ
What's the best way to store leftovers?
We usually just cover the baking dish with Press-and-Seal or plastic wrap and toss it in the fridge. If you are fancier than that, you can transfer it to your storage container of choice. It keeps well for 2-3 days.
What's the best way to reheat leftovers?
Since we're dealing with breading and sauce here, the microwave isn't really the best way to reheat. You CAN use it if that's what is most convenient, but an air fryer, oven, or back on the grill will get you the best results from your leftovers.
Do you have to make this on a pellet grill?
Nope! The pellet grill is basically a big outdoor oven. If you don't have one, if it is buried in snow, or if you just aren't feeling it right now, your regular oven works just as well for this dish.
See all of my chicken recipes!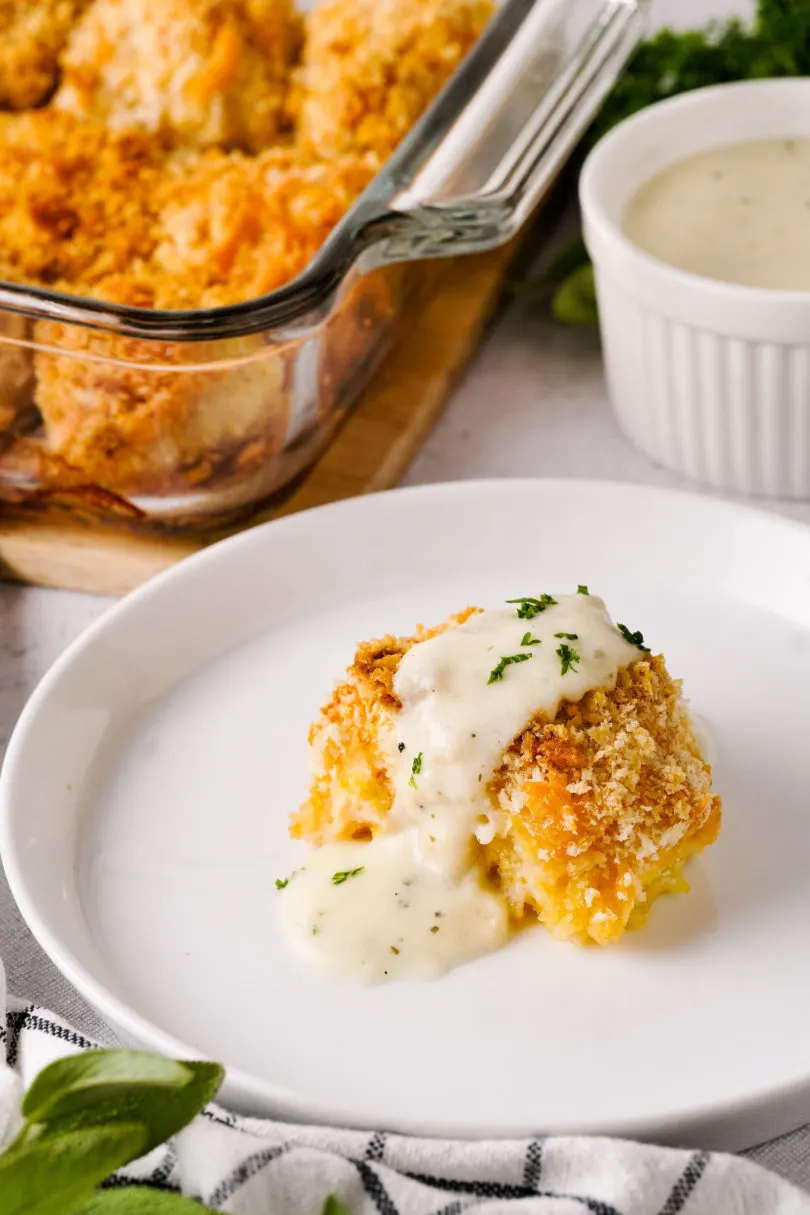 More great chicken recipes to enjoy!
This easy Traeger Grilled Chicken Sandwich is easy to whip up for a quick lunch or dinner! One of our favorite ways to use chicken breast.
Our Marinated Grilled Chicken Kabobs are perfect for a cookout or bbq! You can prep them in advance, and they cook up in a flash. Plus, the vegetables are already on the skewer!
Grilled Chicken Leg Quarters are a budget-friendly way to use this versatile cut of chicken. Go heavy on the seasoning and serve with your favorite carb. You'll love it!
I like to call these "poor man's chicken wings", but the rest of the internet calls them Grilled Butterflied Chicken Legs. No matter what you decide to refer to them as, they are delicious!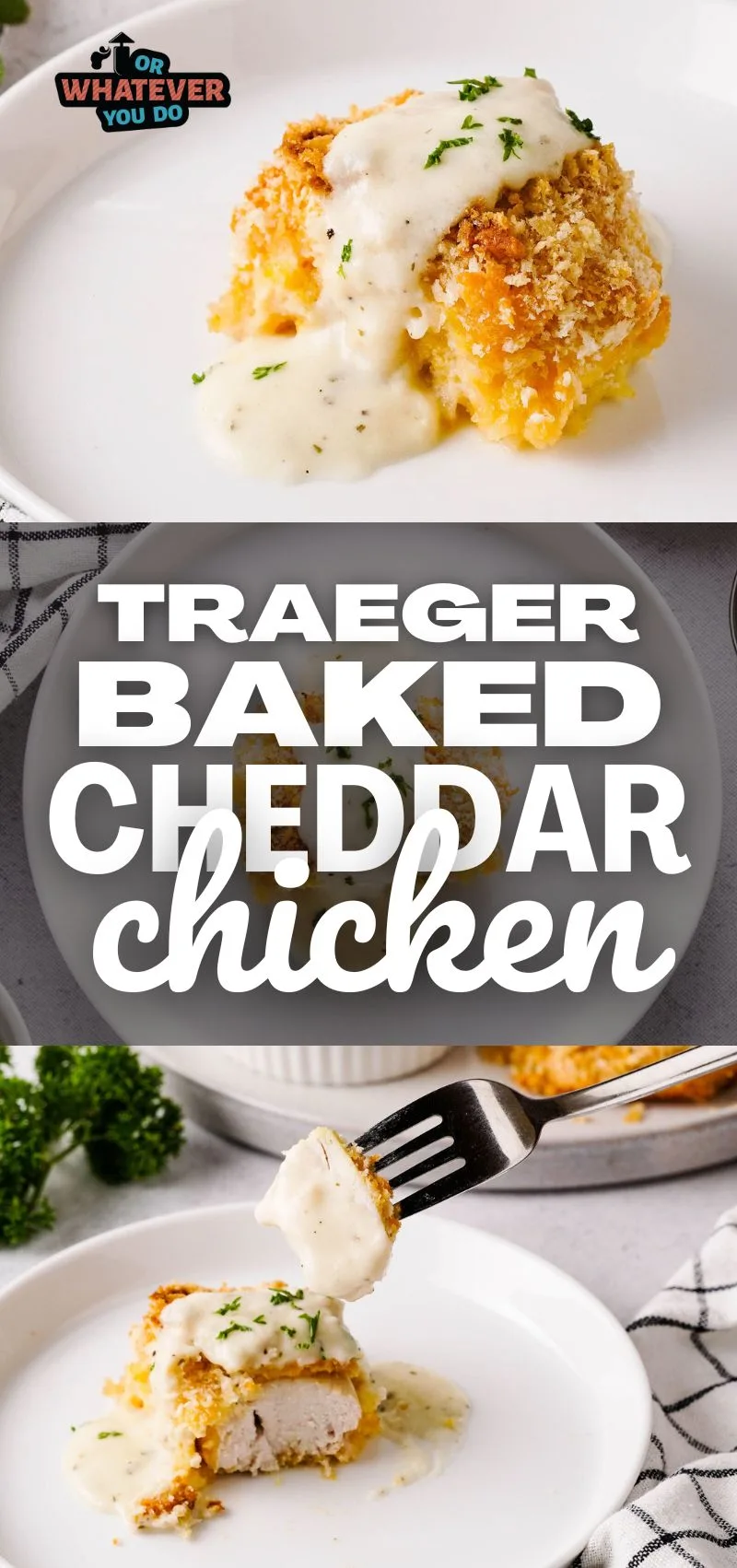 Yield: 8 people
Baked Cheddar Chicken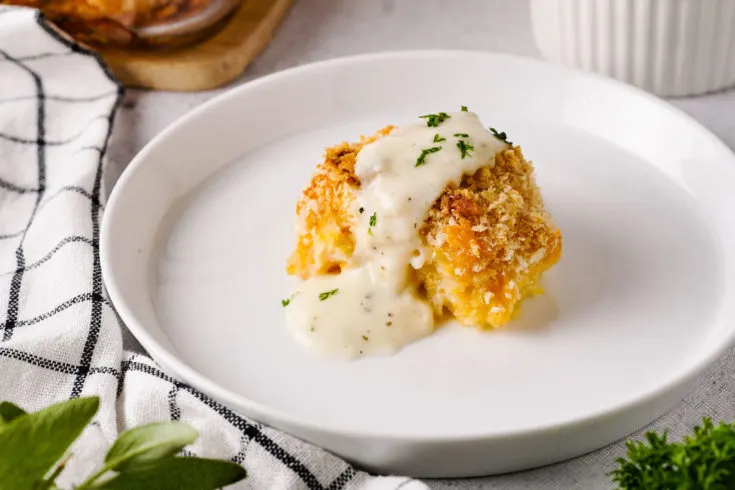 This crunchy, delicious, baked cheddar chicken is made right on the pellet grill! Homemade sauce. So. Much. CRUNCH. We love this recipe!
Ingredients
4 large chicken breasts, cut into large chunks
1 cup crushed Cheez-its
1 cup crushed saltines
1/2 cup panko bread crumbs
1 large egg
1/2 cup milk
2 cups shredded cheddar cheese
1/4 cup olive oil
4 tablespoons salted butter
3 tablespoons flour
1/2 teaspoon salt
1/4 teaspoon pepper
1/4 teaspoon garlic powder
1 teaspoon parsley
1/4 teaspoon sage
2 cups hot water
1 tablespoon condensed chicken base
3 tablespoons Marsala wine
1/2 cup heavy cream
1/4 cup sour cream
Instructions
Preheat your Traeger to 400°F. Lightly spray a grill-safe baking dish with cooking spray.
Combine the crushed Cheez-its, saltines, and bread crumbs in a bowl.
Whisk together the egg and milk.
Dip the chicken in egg wash then dip into cheese, and press cheese onto chicken. Move carefully to the bread crumb/cracker mixture and coat with crumbs.
Place the breaded chicken in the baking pan. Repeat until all chicken is coated.
Drizzle lightly with the olive oil. Bake in the Traeger at 400°F for 30-40 minutes, or until chicken is 165°F internal.
While chicken is cooking, prepare the sauce by melting the butter in a large pan. Add the flour and whisk to eliminate any lumps. Cook over medium-low heat for 2-3 minutes.
Add salt, pepper, and garlic powder. Add the dried parsley and sage.
Add hot water, condensed chicken base, and Marsala to the sauce pan and cook until mixture is thickened. Remove from heat and add the heavy cream and sour cream and stir to combine.
Serve by pouring sauce over the chicken and enjoying! Works great with mashed potatoes!
Recommended Products
As an Amazon Associate and member of other affiliate programs, I earn from qualifying purchases.
Nutrition Information:
Yield:
8
Serving Size:
1
Amount Per Serving:
Calories:

622
Total Fat:

40g
Saturated Fat:

17g
Trans Fat:

1g
Unsaturated Fat:

20g
Cholesterol:

141mg
Sodium:

797mg
Carbohydrates:

32g
Fiber:

1g
Sugar:

2g
Protein:

32g
Nutrition data provided here is only an estimate. If you are tracking these things for medical purposes please consult an outside, trusted source. Thanks!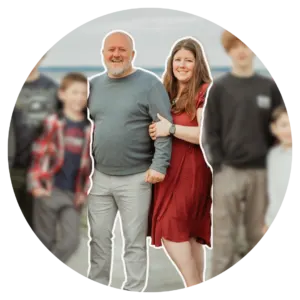 Nicole Johnson, a self-taught expert in grilling and outdoor cooking, launched Or Whatever You Do in 2010. Her blog, renowned for its comprehensive and creative outdoor cooking recipes, has garnered a vast audience of millions. Nicole's hands-on experience and passion for grilling shine through her work. Her husband, Jeremiah Johnson, also plays a pivotal role in recipe development, adding his culinary flair to the mix. Together, they form a dynamic duo, offering a rich and varied outdoor cooking experience to their followers.