These easy Grilled Crab Cakes are cooked on the pellet grill, and the wood fire lends a touch of smoke to the crab cakes that works so well with this easy appetizer.

Grilled Crab Cakes
Grilled crab cakes take advantage of your Pellet Grill to bring some smoke flavor to a classic crab cake recipe. I also have a red pepper aioli sauce to go with them. You can serve it on the side or drizzle it across the top of the crab cakes right before serving.
A pellet grill works best for this, but if you don't have one you can use a traditional gas or charcoal grill as well, just make sure to cook over indirect heat.
You also will need a cast iron skillet which can fit inside your grill for this recipe.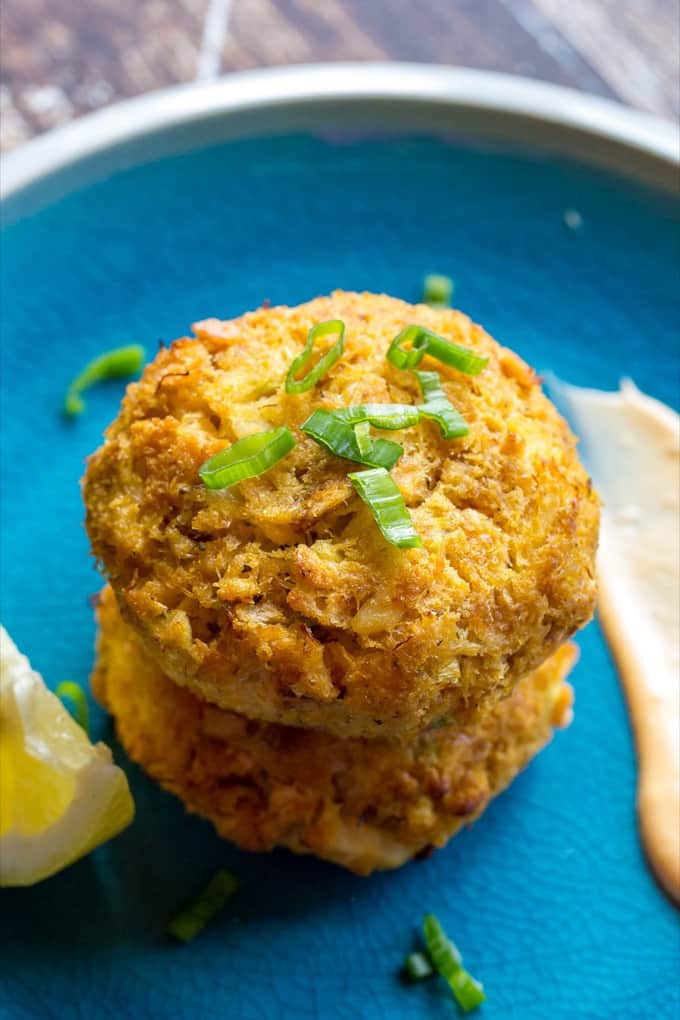 What is the best crab to use for crab cakes?
When it comes to getting crab for crab cakes, people from Maryland will tell you that blue crabs are the absolute best, but the chef at the fancy seafood place in Seattle is going to say the Dungeness of Washington are superior.
I'm personally partial to the snow crab for this particular recipe. While Dungeness is amazing to sit and pick and eat, if you are going to crack your own crab meat for these go for snow crab all the way.
The type of crab is actually not as important as what part the meat comes from.
In essence, crab meat is divided into three different levels of quality. The lump meat is the most expensive, whether you get it from the fish counter in the store or in a can from the aisle. The lump meat consists of the big chunky pieces pulled from the body of the crab.
Flake meat also comes from the main body of the crab. However, the flake meat consists of all the shredded up smaller bits that are collected. So, flake meat is still the body meat, but it just is smaller shredded up pieces.
It is like the difference between buying slab bacon and buying bacon ends and pieces. Bacon is bacon is bacon, it still will taste exactly the same, it just doesn't have the presentation quality. Typically, when someone bites into a crab cake they are going to judge it by the chunks of meat in it.
If there is only flake meat and no lump meat, then you might get folks wondering if you used real crab or fake crab (imitation crab meat which is made from pollock fish). They may even wonder if you have any crab meat in it at all.
That's definitely NOT what you want, and my own personal complaint about crab cakes at most restaurants. It is mostly filler, and that's not what you are going for in a crab cake.
The last type of crab meat is the leg and claw meat. The great thing about claw meat is it tastes every bit as good as lump meat but doesn't cost as much.
You can use any of these types of meat for crab cakes and it'll takes awesome.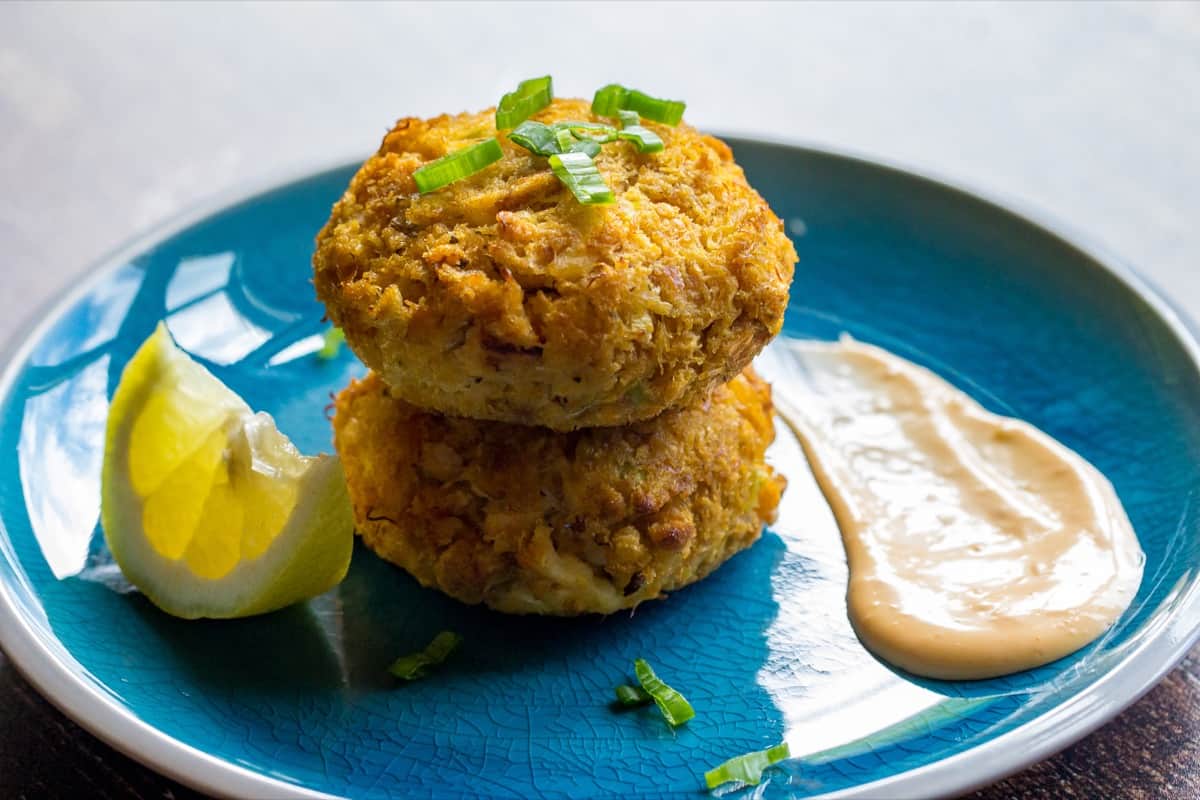 How to use a cast iron pan on a grill
A cast iron skillet is one of my favorite kitchen tools. They last forever, aren't expensive, and can go from the stove to the oven to the grill without worry.
Not only is your cast iron skillet great for frying, baking, blackening, and everything else you need a pan for, they can be every bit as non-stick as an expensive non-stick surface. You can use one to smash and tenderize meat. You can use them on top of another pan's lid to make sure it is on tight. Don't forget how useful they are for deep dish pizza too.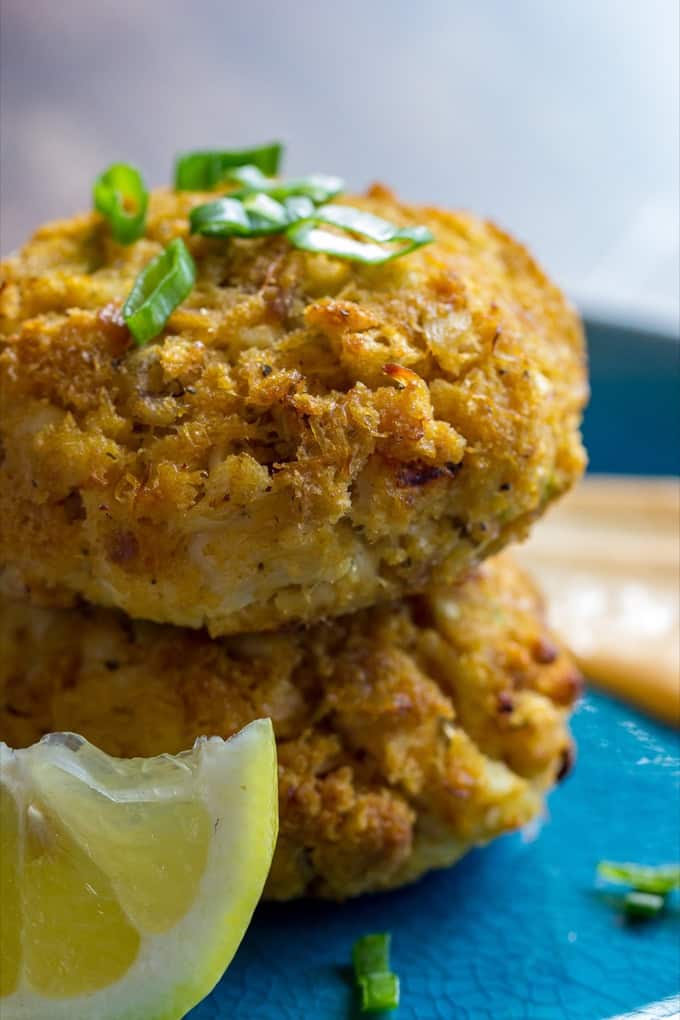 How to cook crab cakes on the grill
When you are cooking crab cakes on the grill, your cast iron skillet lets you get a super hot surface to help sear the exterior of the crab cake. You want the crab cake to develop that brown crust on the outside before you flip it. You will brown both sides in about 5 minutes.
Crab cakes cook very quickly, so you are looking at about five to ten minutes per side depending on how hot the cast iron pan gets. Another great thing about cast iron? You can leave it on the heat and not worry about hurting the pan before you add the crab cakes to it.
The smooth flat surface of your cast iron ensures a nice even heat and also makes sure that you don't lose any crab cake even if you are unlucky and one falls apart when you are trying to flip it.
This is another reason why the crab cakes shouldn't go right on the grill grates.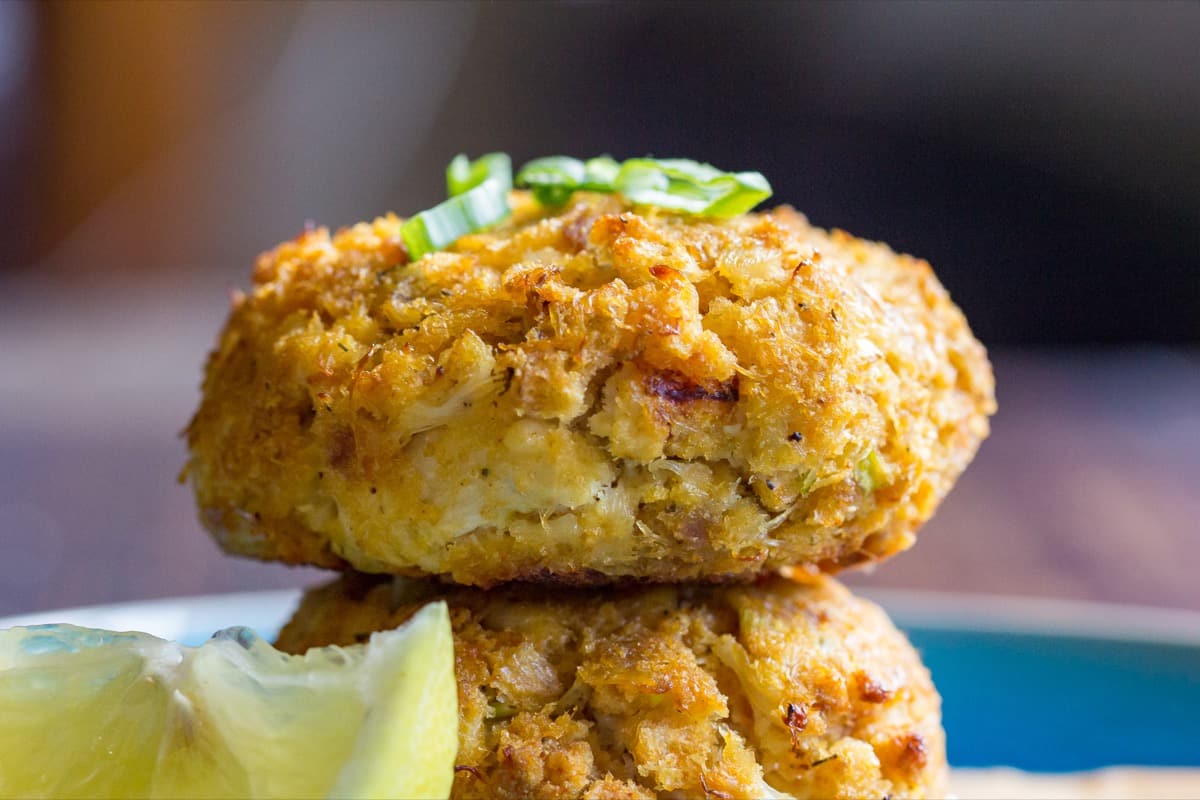 What else can I serve with Grilled Crab Cakes?
Crab cakes can be served as appetizers or as a main course. I think these sides work no matter how you want to serve them.
If you decide the crab cakes are going to be a side dish, then why not make it a nice part of a surf and turf dinner?
Blackstone Grill Steak – if you don't have a Blackstone, then you should at least have a cast iron skillet that will work to do the job.
Tomahawk Ribeye – mouth watering and impressive and perfect with crab cakes.
If you are going with crab cakes as your main dish, then I suggest these sides:
Pin for later!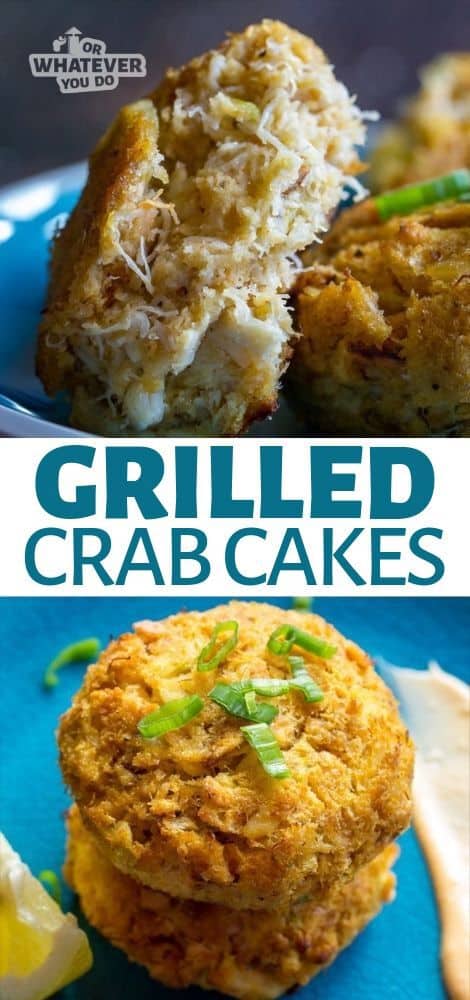 Yield: 6 servings
Grilled Crab Cakes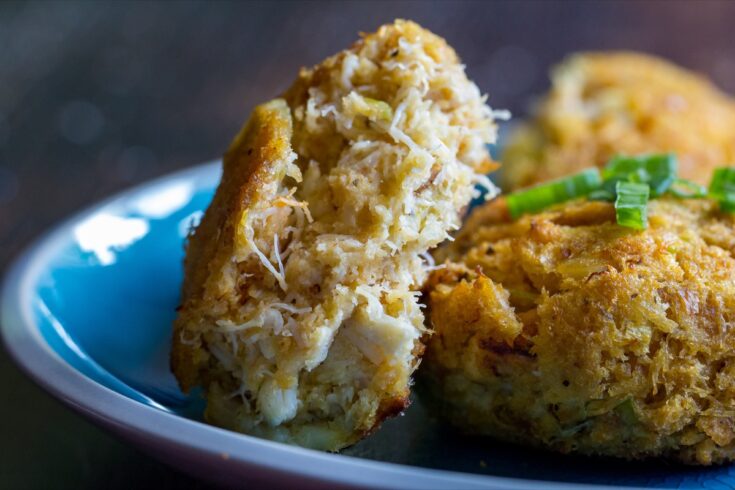 Easy Grilled Crab Cakes are mixed up and cooked in a cast iron pan on your grill. Use a pellet grill to add a touch of wood-fired flavor to this classic dish.
Ingredients
Crab Cakes
16 ounces crab
2 teaspoons minced garlic
2 tablespoons mayonnaise
1/2 teaspoon salt
1 egg white
1/2 - 3/4 cup corn flake crumbs
1 tablespoon avocado oil
Roasted Red Pepper Aioli (optional)
5 cloves roasted garlic
1/2 teaspoon salt
2 egg yolks
1/2 lemon's juice
2 red peppers, roasted, peeled, and sliced
1/3 - 1/2 cup avocado oil
Instructions
Crab Cakes
Preheat your grill with your cast iron pan on it to about 375-425°.
Combine all the ingredients gently in a bowl. Don't over mix!
Form into small patties. Oil your cast iron pan and place the patties into it.
Flip after 5-6 minutes and let brown on the other side. Internal temperatures should reach at least 155°.
Serve with Red Pepper Aioli.
Red Pepper Aioli
Combine all of the aioli ingredients in a blender.
Pulse until combined and emulsified.
Nutrition Information:
Yield:
6
Serving Size:
1
Amount Per Serving:
Calories:

251
Total Fat:

14g
Saturated Fat:

2g
Trans Fat:

0g
Unsaturated Fat:

11g
Cholesterol:

137mg
Sodium:

762mg
Carbohydrates:

15g
Fiber:

2g
Sugar:

8g
Protein:

16g
Nutrition data provided here is only an estimate. If you are tracking these things for medical purposes please consult an outside, trusted source. Thanks!