This Traeger Chicken Pot Pie takes a classic pie crust, fills it with delicious smoked chicken, fresh vegetables, and all in a sherry cream sauce that you're going to want in your life forever.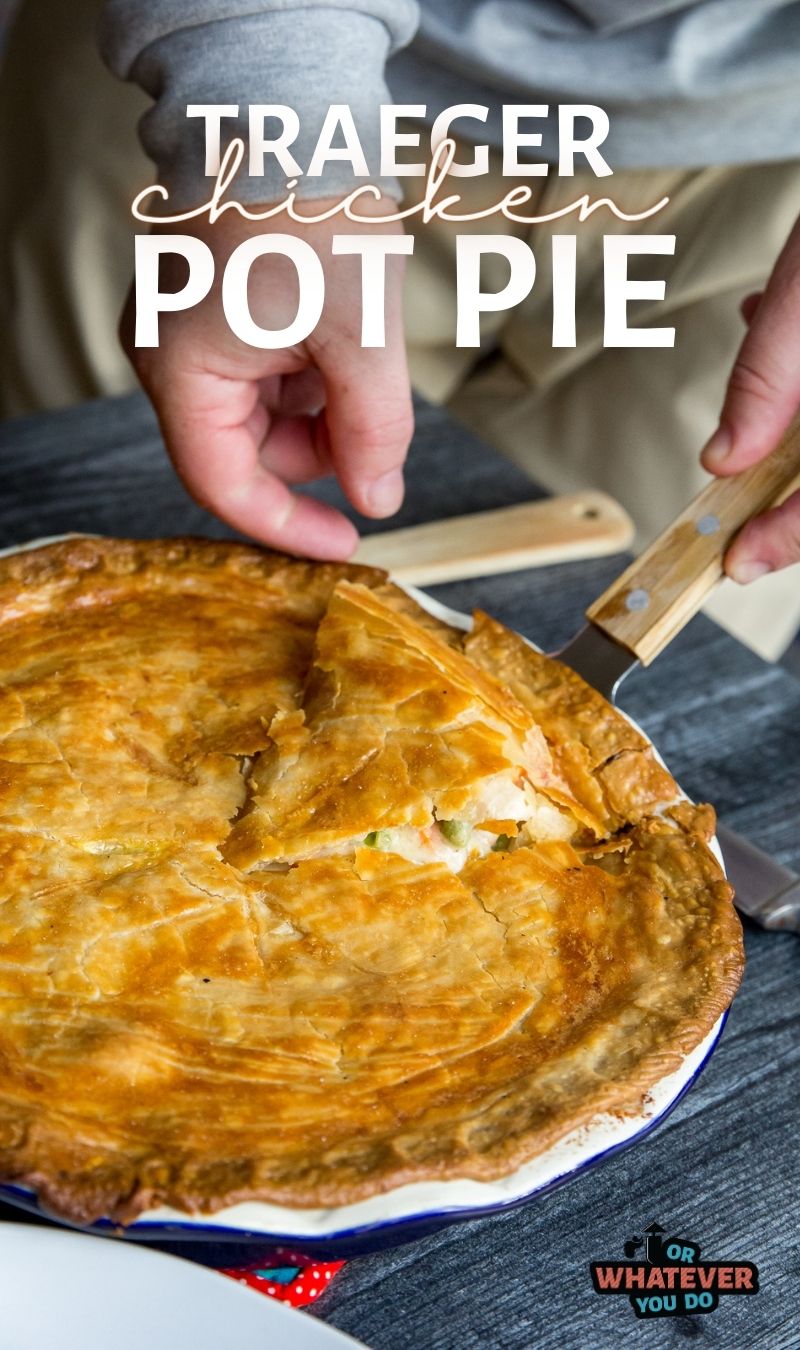 Traeger Smoked Chicken Pot Pie
Chicken pot pie is a classic dish that has been made for many many years and is one of my favorites. What is better than meat and gravy sandwiched between buttery pie crust?
Nothing. That's what.
In this version, we've taken the traditional pot pie and adapted it to fit the Traeger. Not only that, but we've also changed up the chicken gravy and made it into a rich, savory sherry cream sauce too, just for good measure.How to store leftover smoked chicken pot pie?
Get all of my Easy Traeger Recipes here!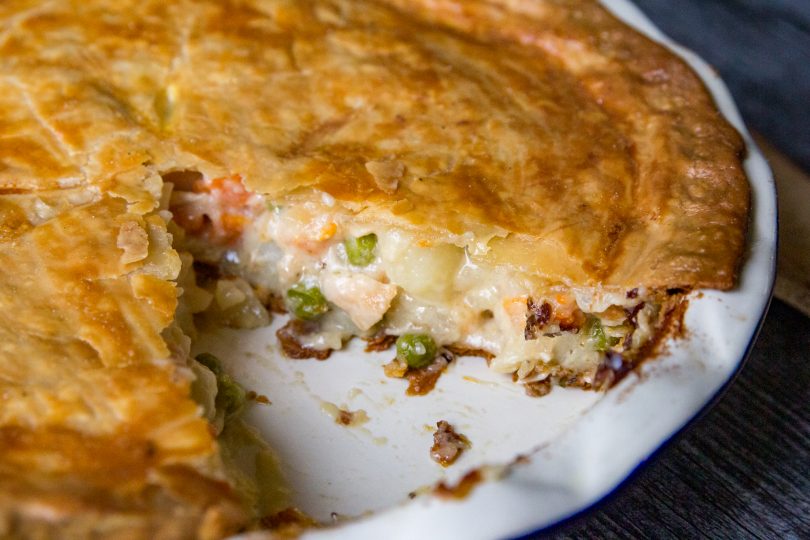 Creamy Chicken Pot Pie shopping list
boneless skinless chicken breasts

potatoes
peas (frozen okay)
diced carrots (frozen okay)
butter
oil
chicken broth
heavy whipping cream
cooking sherry
salt & pepper
fresh thyme leaves
corn starch
double pie crusts
egg
More Easy Traeger Chicken Recipes here!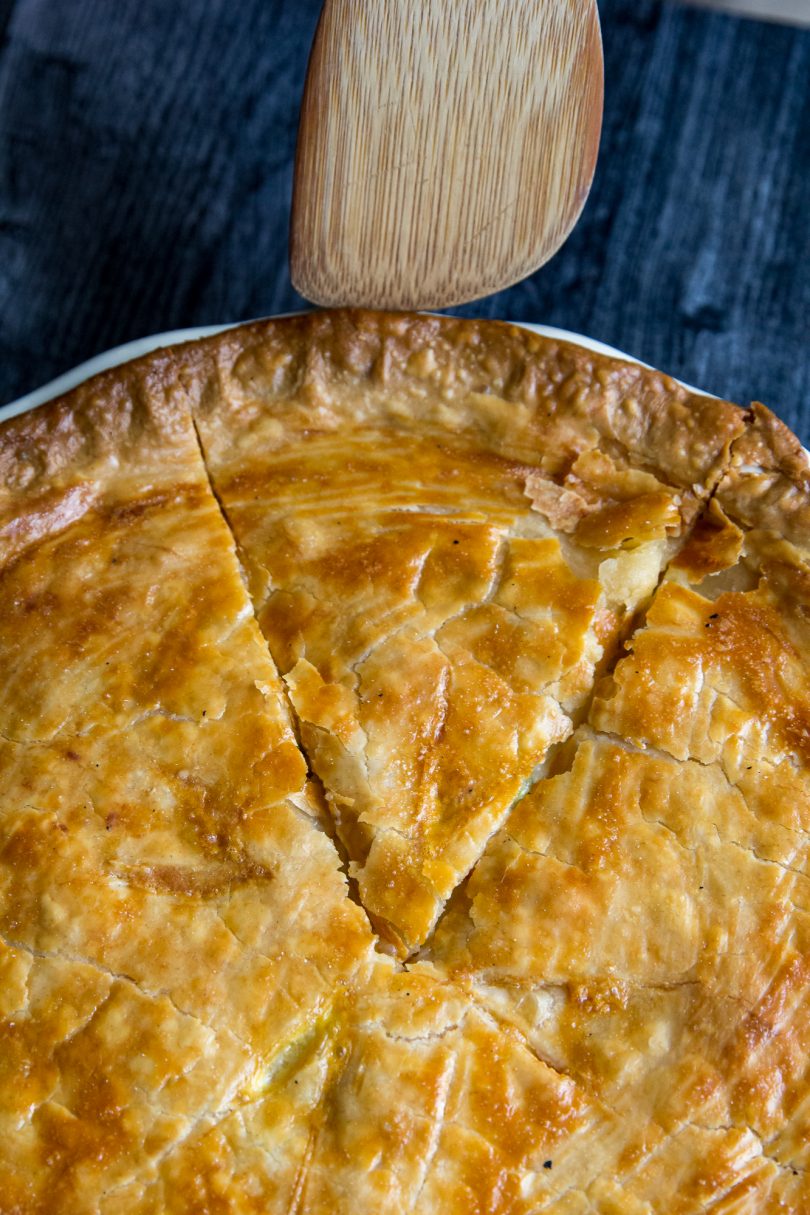 How to put together your Traeger Creamy Chicken Pot Pie
Want to know what you are getting yourself into? Here's the tl;dr version of the steps. Make sure to read the complete instructions down in the recipe card when you are cooking though! This is just the highlights.
Preheat your grill to 350.
Cook the potatoes and chicken breasts. Make the sauce in the same pan you cooked the chicken in.
Grease the pan, place the bottom crust down, pour in the filling, place the top crust down, seal the edges, cut some vents.
Bake in the pellet grill, and brush with egg wash during the last 10-15 minutes of cooking.
Join our Easy Traeger Recipes Facebook Group!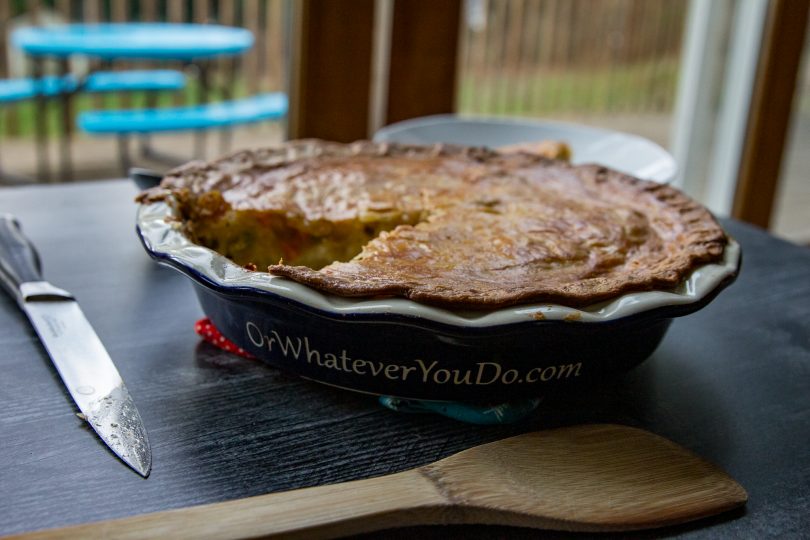 Can I make any substitutions?
As with most of our recipes, we encourage you to experiment! Make the recipe your own, and customize it to your own tastes and your family's preferences.
You can add more vegetables, different vegetables, add some cheese, sub in sweet potatoes, switch out marsala wine for sherry, etc.
My disclaimer, as always, is that I can't vouch for your changes so if things don't work out, that's kind of just the price of experimentation.
Follow me on Instagram!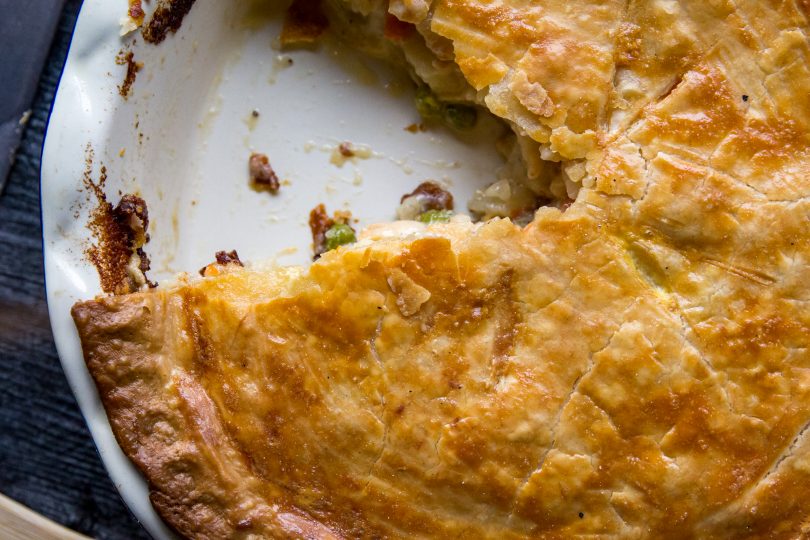 What can you serve with pot pie?
Pot pie has all of the makings of a meal, with vegetables, meat, and that pie crust. If you need something to round it out, I'd go with a salad. My Greek Salad or Homemade Caesar Dressing on some fresh romaine would be perfect!
For dessert, try something light and cool like this Raspberry Fluff Pie, or go the other direction and go rich and chocolate like this Hot Fudge Brownie Cake.
Get all of my easy dessert recipes here!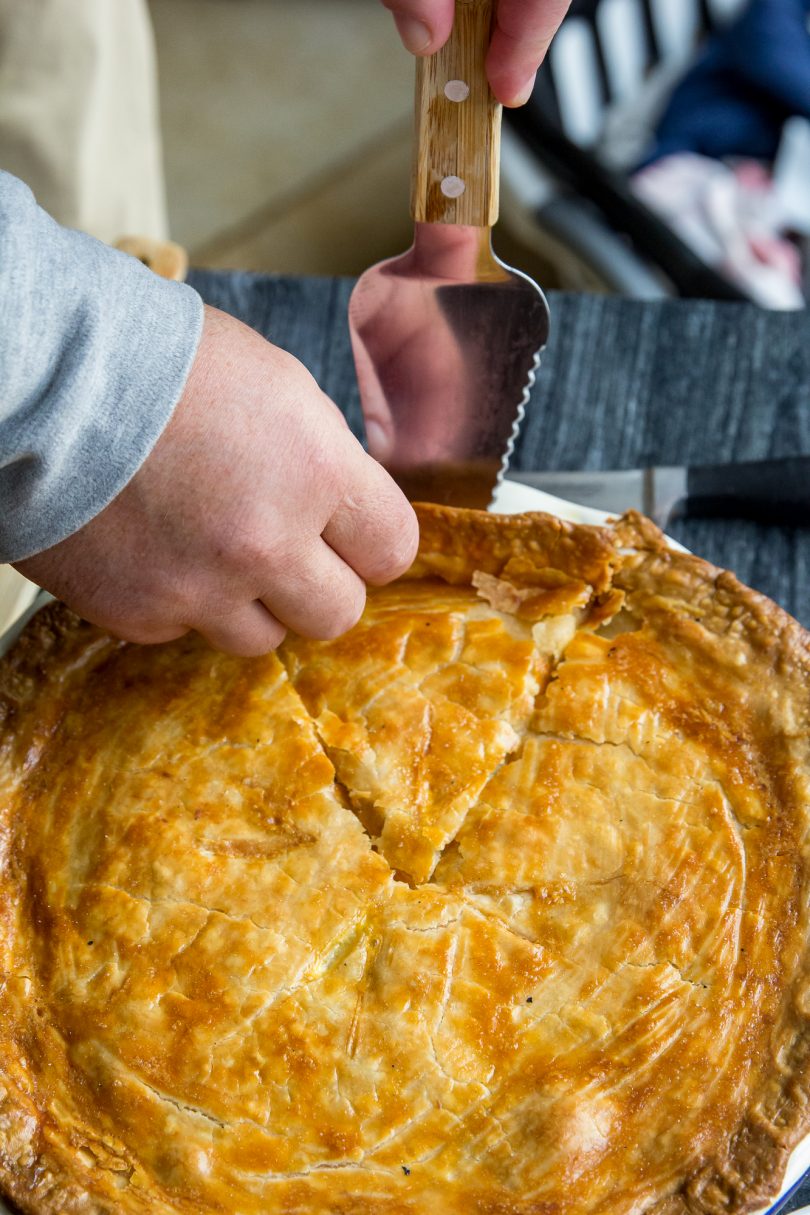 Can you freeze chicken pot pie?
Typically pot pie is a great option for a frozen meal, but in this case, the sauce has a significant cream element to it, and sometimes cream doesn't freeze all that well.
For that reason, I can't recommend freezing this for future cooking. If you try it, let me know! I'd love to hear how it goes!
Check out our OWYD shop!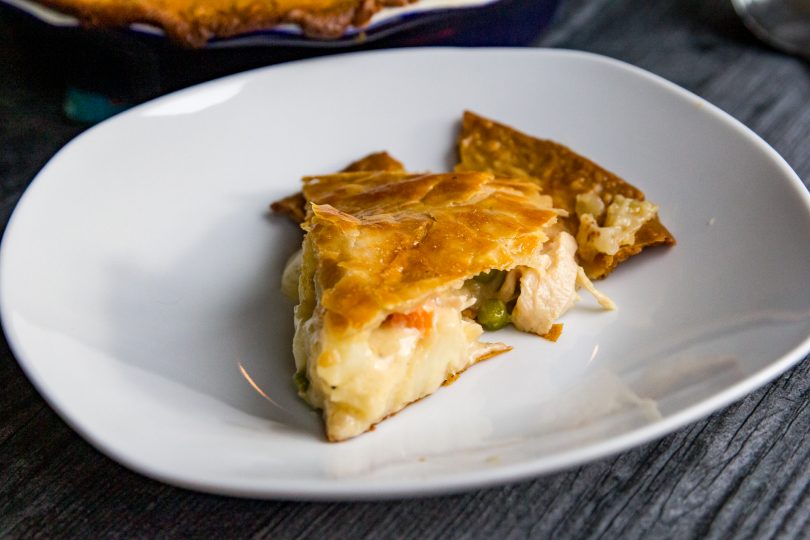 How to store leftover smoked chicken pot pie?
You can keep any leftovers wrapped in plastic wrap in the fridge for 2-3 days.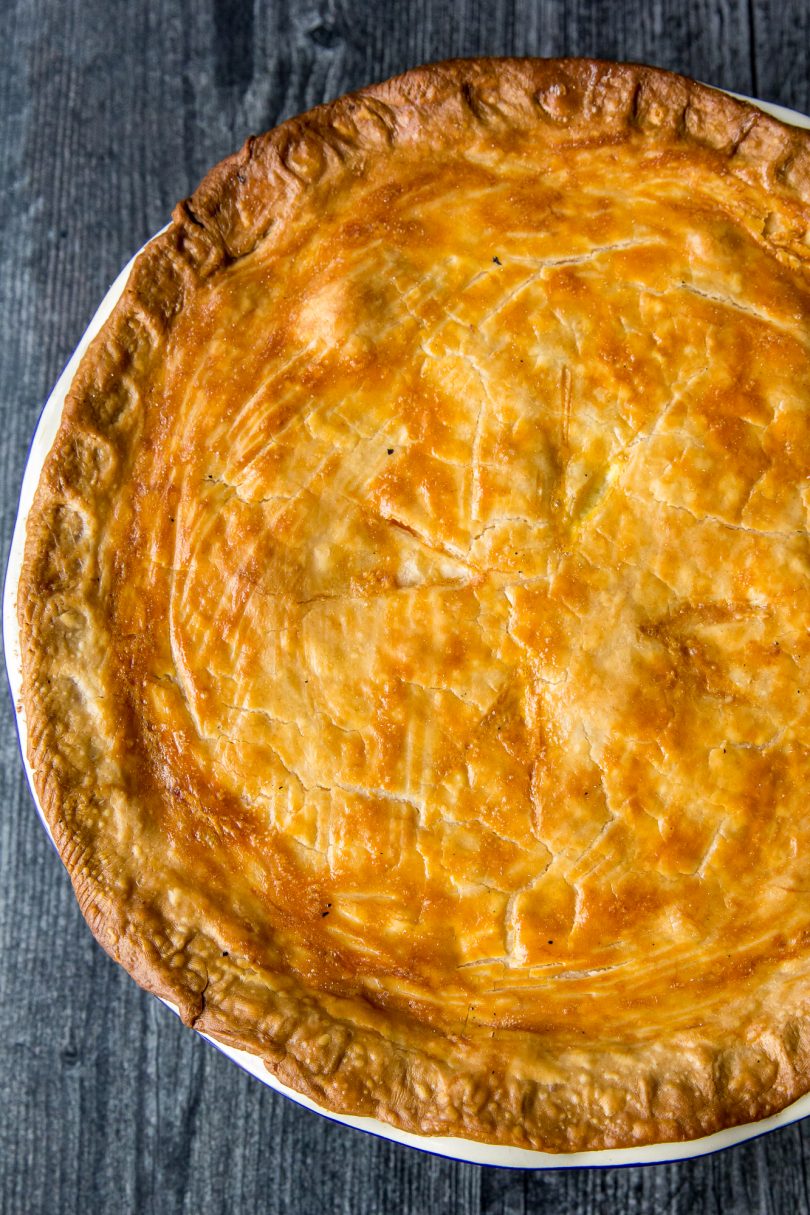 How to reheat the leftovers?
An air fryer or your oven is the best way to eat leftover pot pie. In a pinch, you could use the microwave but the crust won't be as good that way!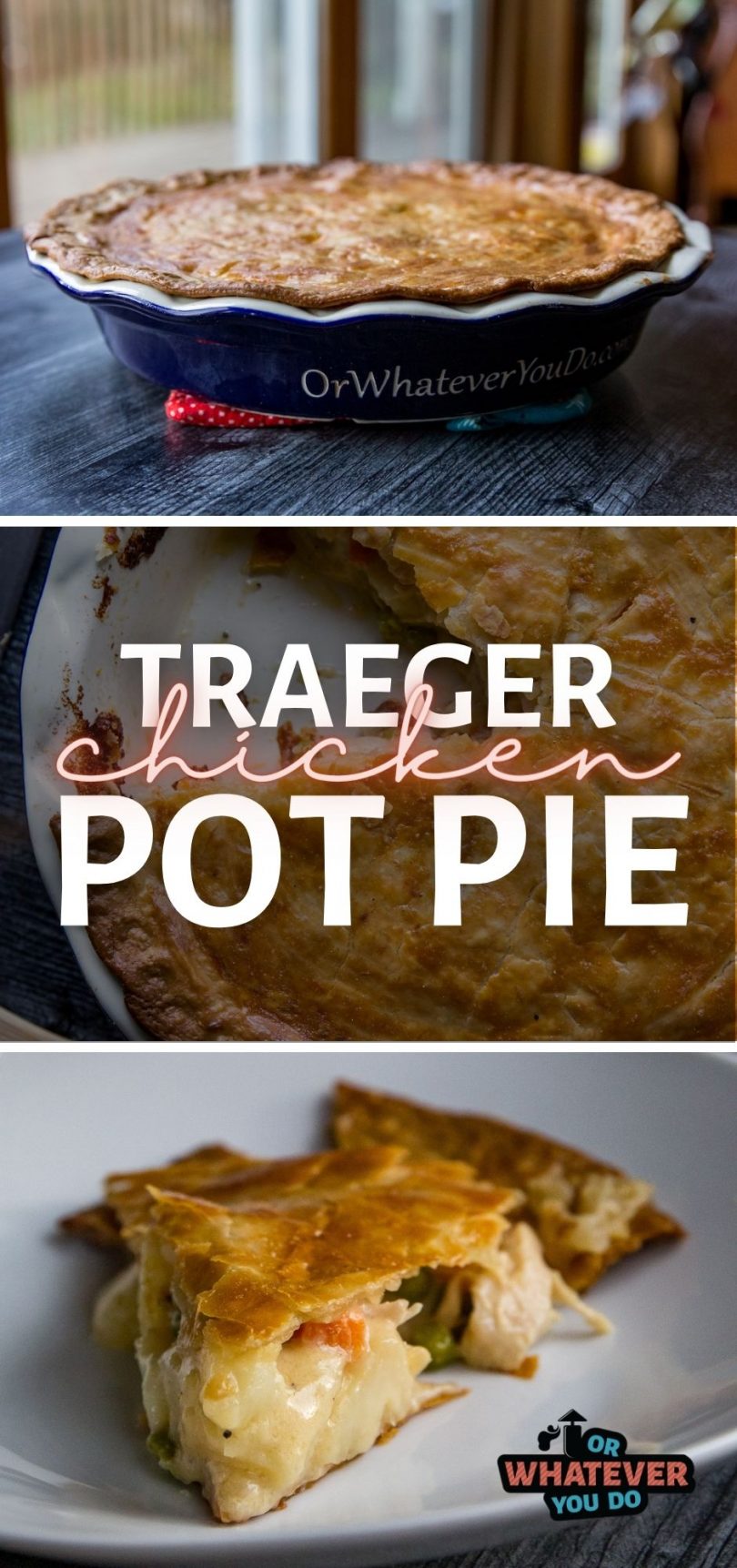 Yield: 6 servings
Traeger Smoked Chicken Pot Pie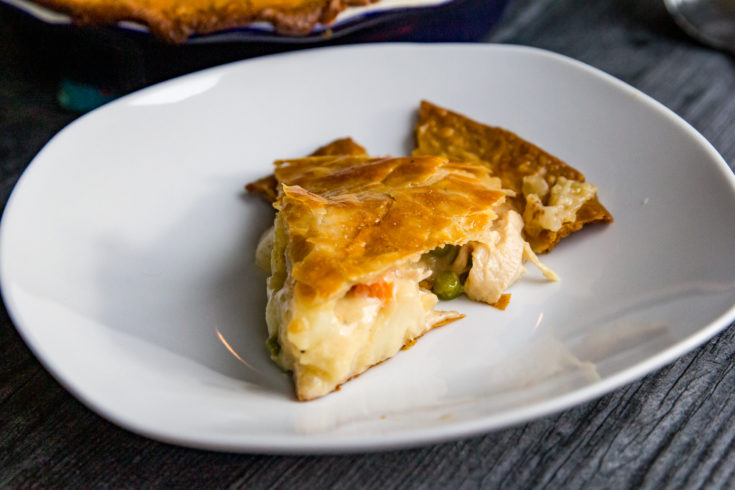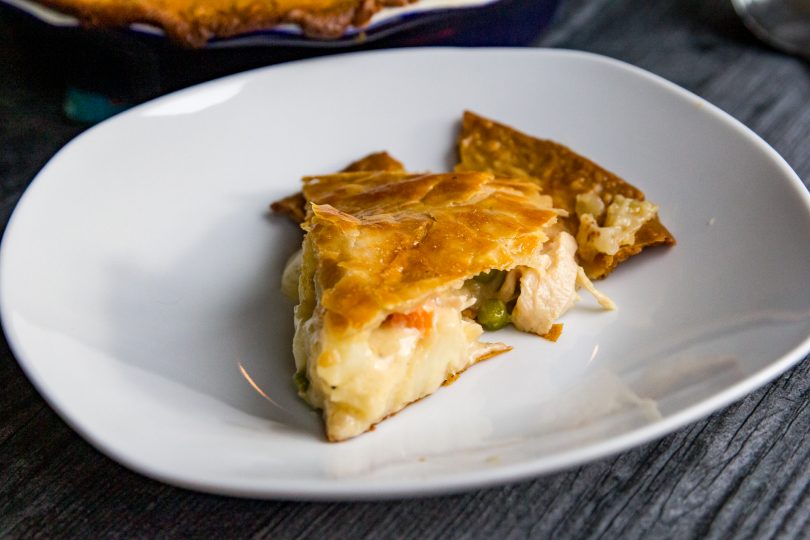 Juicy chicken breast is combined with vegetables and a sherry cream sauce before getting sandwiched between delicate pie crusts and baked on your pellet grill for that touch of wood-fired flavor that takes this pie from a childhood favorite to the ultimate comfort food.
Total Time
2 hours
20 minutes
Ingredients
1 pound boneless skinless chicken breasts
1 pound potatoes, peeled
1/2 cup peas (frozen okay)
1/2 cup diced carrots (frozen okay)
1 stick butter
1 tablespoon oil
1 cup chicken broth
1 1/3 cup heavy whipping cream
3 tablespoons cooking sherry
4 teaspoon salt
1/2 teaspoon black pepper
1/2 teaspoon fresh thyme leaves
3 tablespoons corn starch
1/4 cup cold water
1 pie crust
1 egg
Instructions
Put a large pot of water on your stovetop to boil and add 1 tablespoon of your salt.
While your water is coming up to a boil, cut your chicken breasts into 1/2 inch cubes.
Put a large saucepan on your oven on medium heat. While the pan is heating, add your cooking oil. After it is hot, add in your chicken and the rest of your salt, pepper, and thyme. Let the chicken cook for about 5 minutes. (You can also use smoked chicken breasts if you'd like! Here's an easy recipe that would work really well.)
Cut your potatoes into 1 1/2 inch pieces while your chicken is cooking and put them into your boiling water for eight minutes. Drain the potatoes and set them aside.
When your chicken is done cooking, deglaze the pan with the sherry first and then your chicken stock.
Next, add the cream, carrots, peas, potatoes, and the whole stick of butter and bring to a simmer. Mix your corn starch and water together in a small bowl and pour it into the saucepan. Stir it evenly through the pan and let it thicken.
Pull the pan from the stove and set it aside for now.
Fire up your grill and preheat it to 350 degrees Fahrenheit.
Grease the bottom of your pie tin and line the bottom of the tin with the bottom crust. Pour the filling mixture into the pie tin and spread it evenly making sure to only fill it just to the top edge of the tin.
Lay the top crust down and press the edge of the top crust into the edge of the bottom crust coming up the side of the tin.
Make three or four small one-inch slices into the top of the crust to allow steam to vent during cooking.
Place your pot pie onto the grill and let cook for 45-50 minutes.
With about 15 minutes of cooking left, beat your egg and brush it onto the top of the pie crust. This will make it a beautiful golden brown on top.
When it's done cooking, pull it off the grill and let it cool for 15 minutes before serving.
Nutrition Information:
Yield:
6
Serving Size:
1
Amount Per Serving:
Calories:

710
Total Fat:

48g
Saturated Fat:

25g
Trans Fat:

1g
Unsaturated Fat:

19g
Cholesterol:

196mg
Sodium:

1949mg
Carbohydrates:

40g
Fiber:

4g
Sugar:

5g
Protein:

31g
Nutrition data provided here is only an estimate.