Fire up your smoker because we've got an easy, delicious, and economical way to enjoy beef cooked on your pellet grill! This Traeger Brisket-Style Marinated London Broil recipe uses a white balsamic-based marinade and a brisket-style recipe to make a tender, delicious beef roast!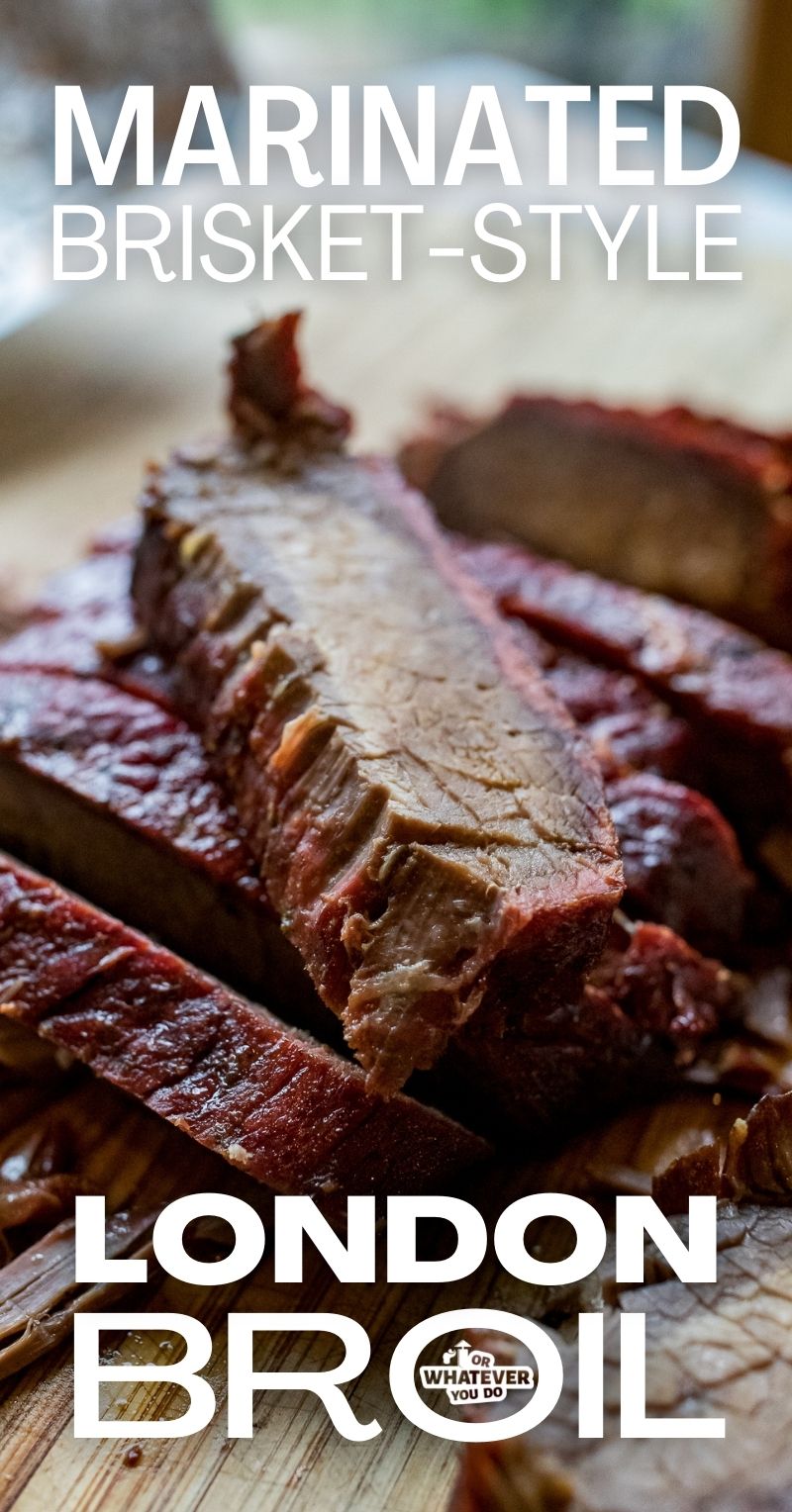 Marinated & Smoked London Broil
We love making London Broils! For so long I would pass by this cut of meat thinking it was somehow inferior to my regular rotation of steak, chuck roast, tri-tip, and round roasts. Mistakes were definitely made. I admit it. I WAS WRONG.
This Smoked London Broil gets an overnight marinade in olive oil, balsamic vinegar, and chimichurri before getting smoked, wrapped, and cooked brisket-style.
This would be great served alongside a big pile of homemade creamy coleslaw, homemade baked beans, and a pan of grilled smashed potatoes.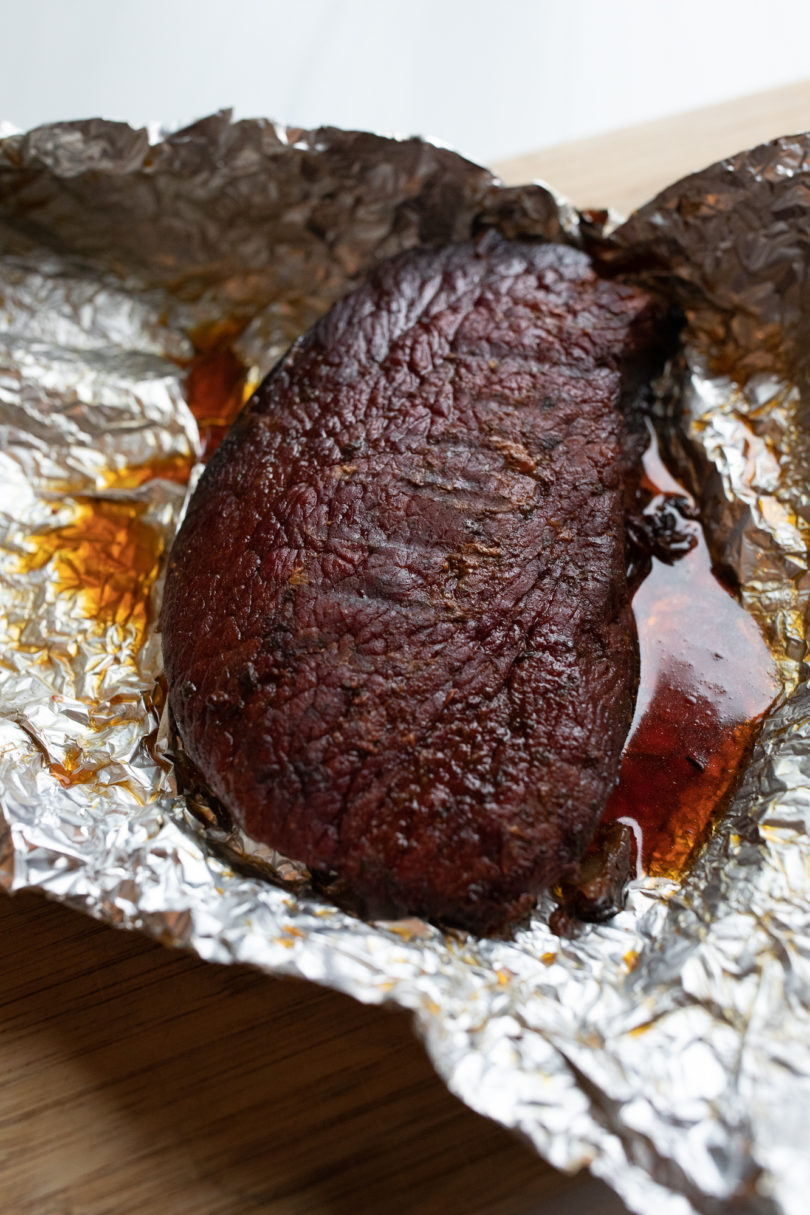 Traeger London Broil shopping list
Wondering if you have to hit the store? Here's the list of items you'll need to make this recipe. For specific amounts, please refer to the printable recipe card at the bottom of the post.
London Broil
SPG
Chimichurri
Olive Oil
White Balsamic Vinegar
Garlic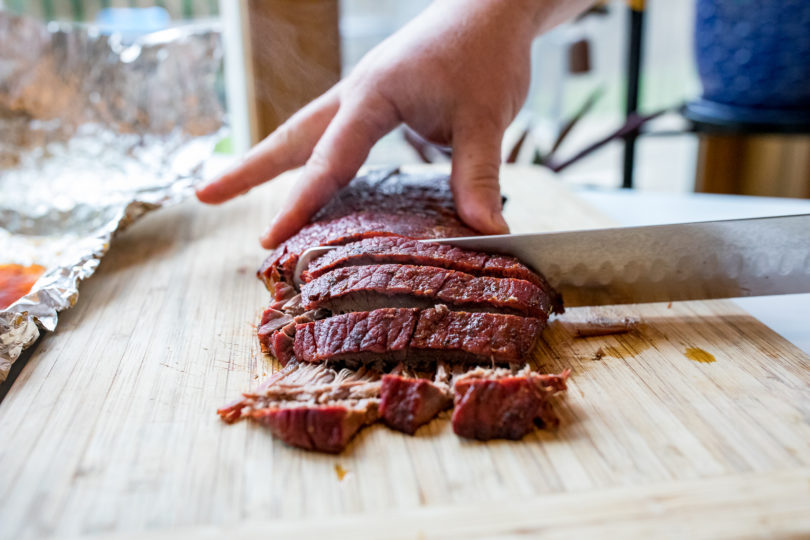 How to make Smoked Brisket-Style London Broil
This is just the overview so you can see what you're actually getting into here. When you are cooking, you'll want to use the full recipe at the bottom of the page.
Marinate
Mix together all the marinade ingredients and put the London Broil in with it. Let it marinade overnight.
Fire up the smoker
We're going for around 225°, so get as close as you can.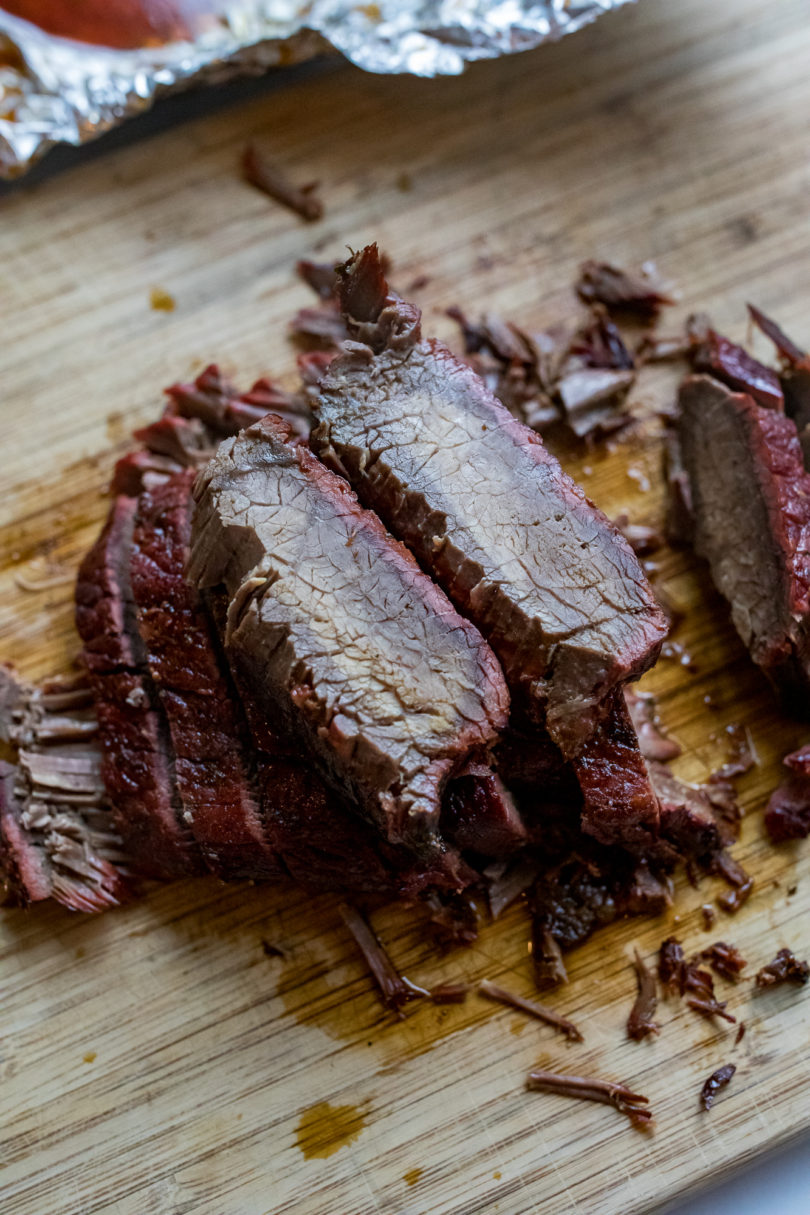 Smoke
Remove the meat from the marinade and pat dry with paper towels. Sprinkle with the SPG blend and place on the smoker.
Wrap
Smoke the London Broil until it reaches around 160°F. Wrap with butcher paper or tin foil and place back into the smoker. Smoke until the roast reaches 204-205° and a probe goes in easily.
Rest, slice, and serve
Let the roast rest for 15-20 minutes, minimum, before serving. Slice across the grain and serve with bbq sauce.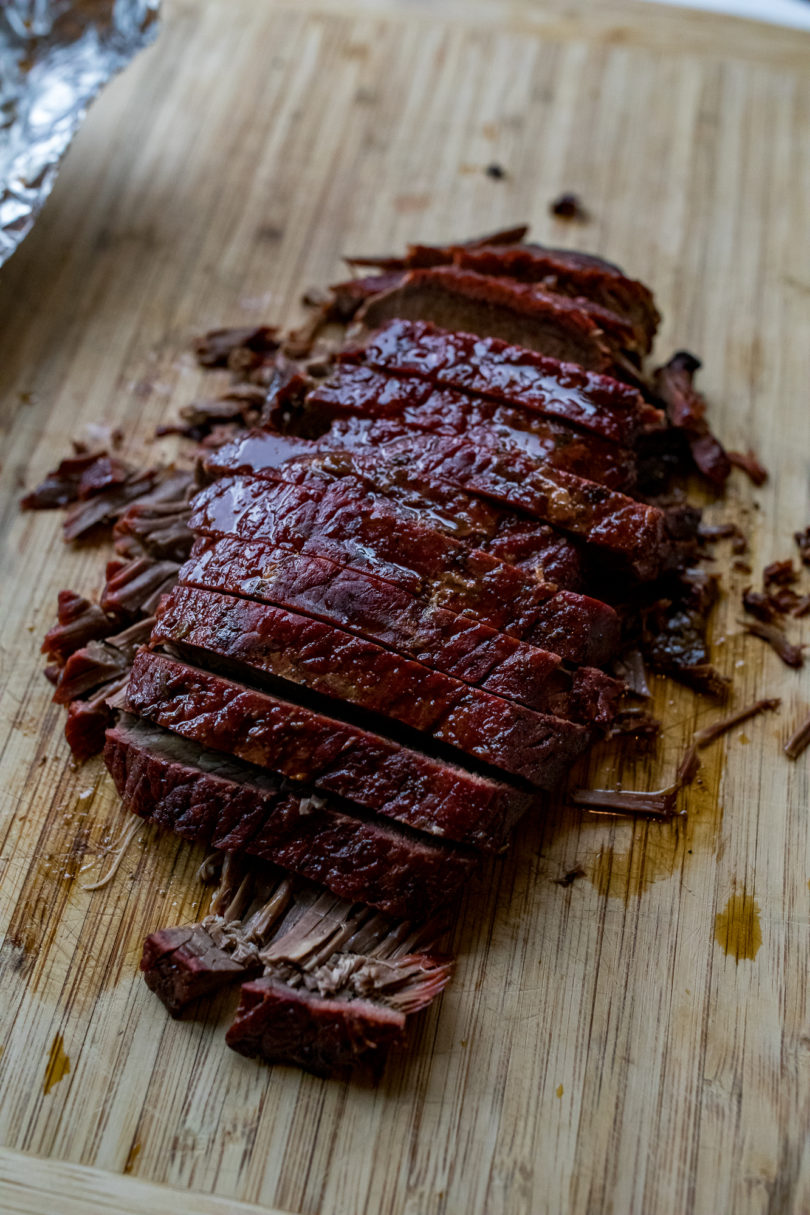 Get our FREE Pellet Grill Appetizers Recipe E-Book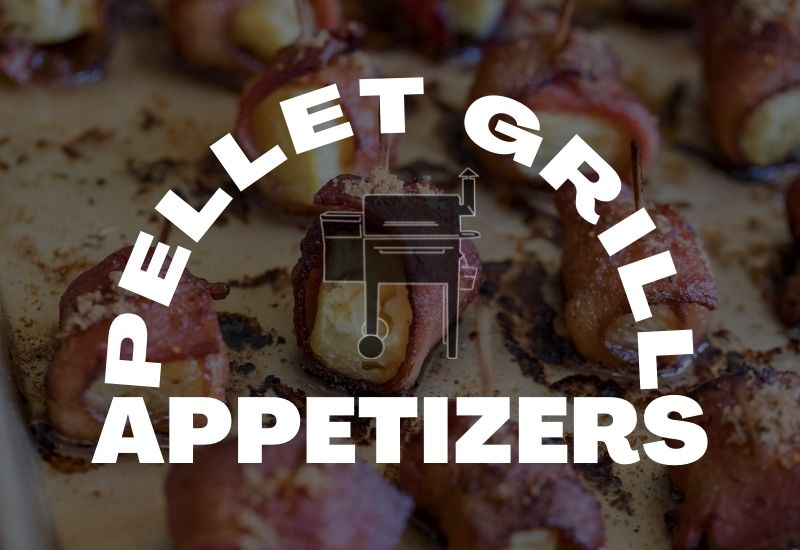 Get our 75 ESSENTIAL Traeger Recipes here!
Traeger London Broil FAQ
How do you store leftovers?
Sealed up in the fridge for 2-3 days is ideal.
What's the best way to reheat leftovers?
The microwave works well to reheat this dish. Just make sure not to overcook!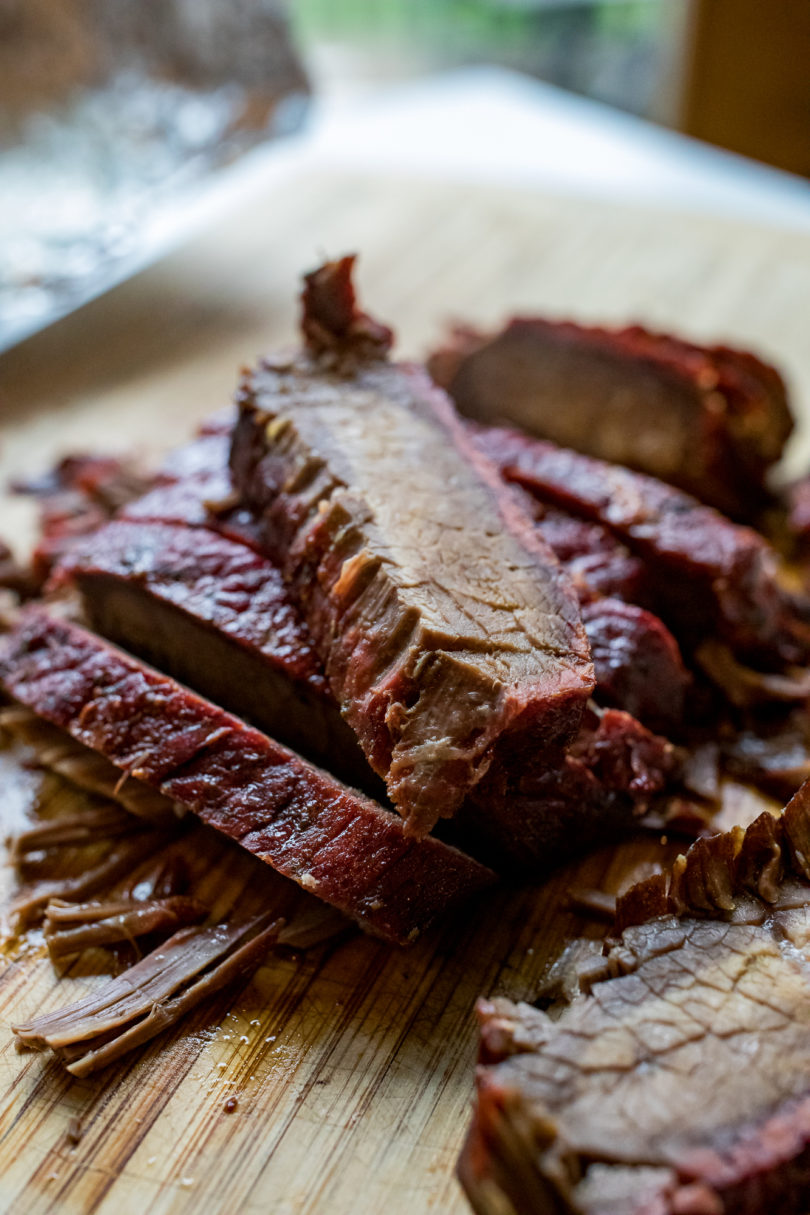 More great ways to cook beef on the Traeger
Some more favorites from OWYD readers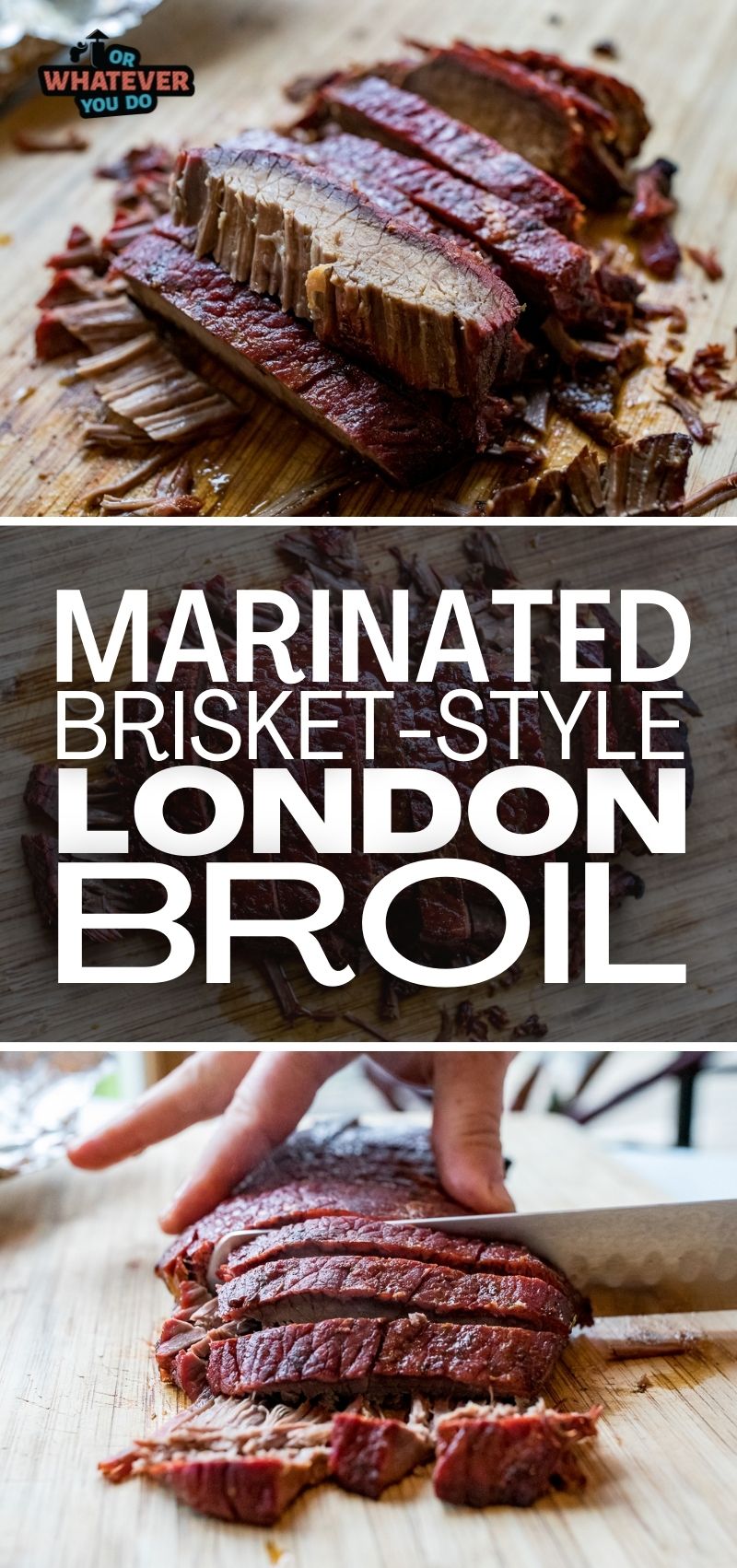 Yield: 6 servings
Smoked and Marinated Brisket-Style London Broil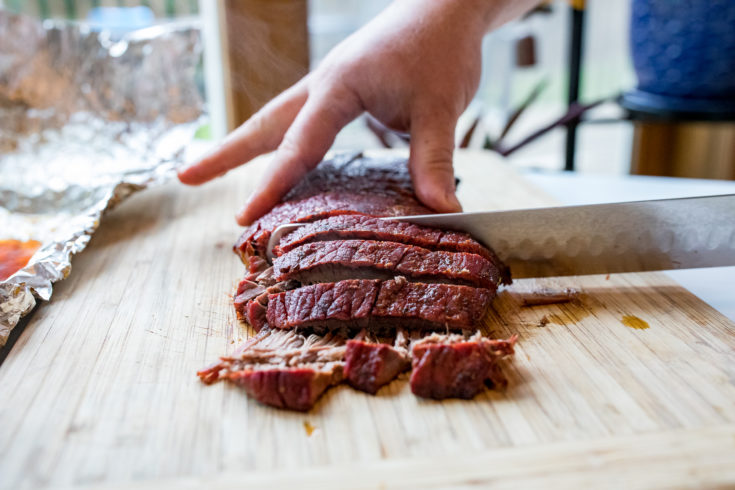 We took a London Broil and marinated it overnight in a white balsamic chimichurri, and then smoked it like a brisket! So delicious!
Total Time
6 hours
15 minutes
Ingredients
Marinade
3 tablespoons chimichurri*
1/4 cup white balsamic vinegar
1/4 cup extra virgin olive oil
2 cloves chopped garlic
Rub for meat
1 tablespoon SPG (or your own blend of salt, pepper, and garlic powder)
Instructions
Mix the marinade ingredients together and place into a plastic freezer bag along with the meat. Marinate overnight in the fridge.
Fire up the smoker or pellet grill and get it to an even 225°.
Evenly coat the roast with the SPG rub and place on the smoker.
Smoke until the internal temperature is 160°F. Wrap the roast with butcher paper or tin foil and place it back on the smoker. Cook until it reaches 205°.
Remove from the grill and let rest, wrapped, for 30-60 minutes.
Slice and enjoy!
Recommended Products
As an Amazon Associate and member of other affiliate programs, I earn from qualifying purchases.
Nutrition Information:
Yield:
6
Serving Size:
1
Amount Per Serving:
Calories:

580
Total Fat:

42g
Saturated Fat:

13g
Trans Fat:

0g
Unsaturated Fat:

25g
Cholesterol:

176mg
Sodium:

315mg
Carbohydrates:

3g
Fiber:

0g
Sugar:

2g
Protein:

45g
Nutrition data provided here is only an estimate.