Our Smoked Over the Top Chili is full of tomatoes, onions, and beans, and gets its unique name from having a seasoned ground beef meatball cooked right over the top of the chili pot right in your pellet grill.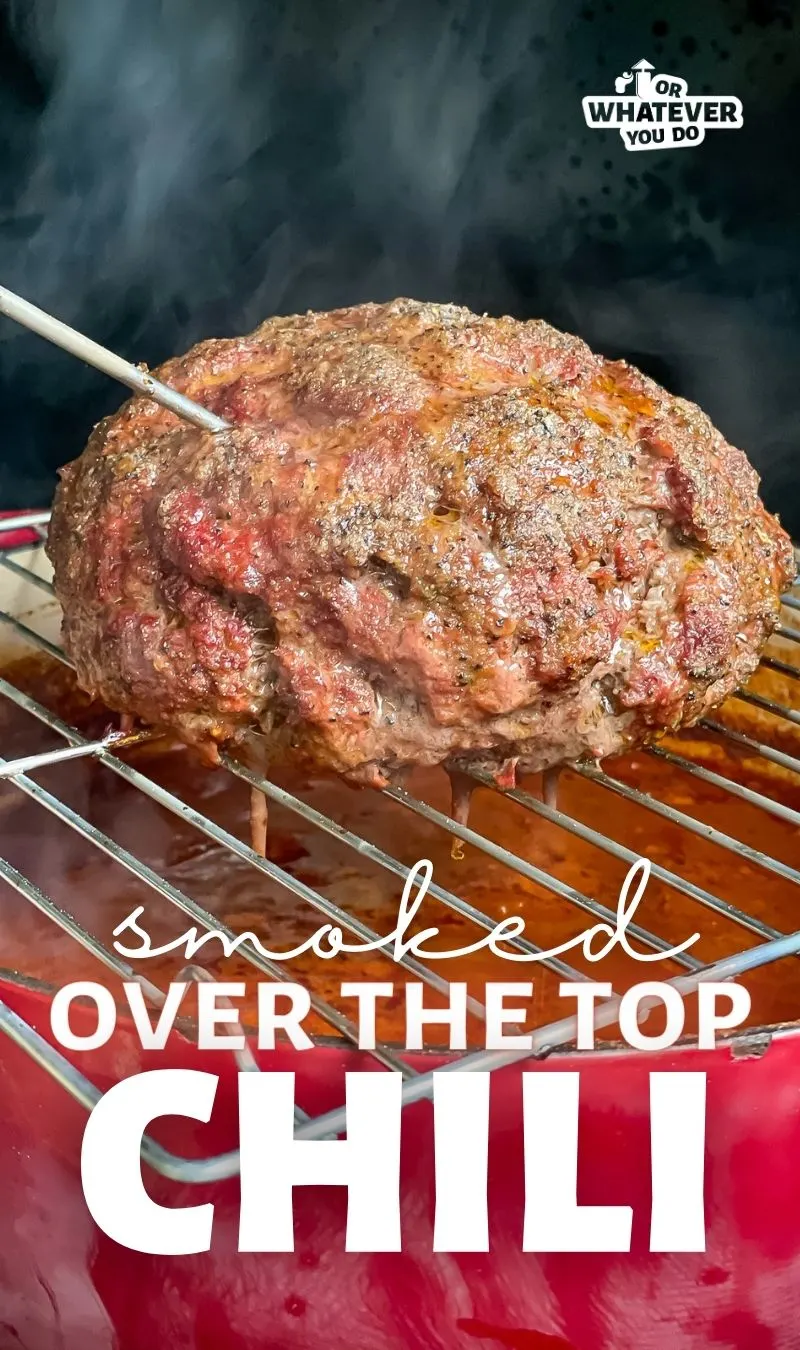 Traeger Over the Top Smoked Chili Recipe
This recipe has been making the rounds on Facebook for quite a while. The method itself was rumored to be started over in a Big Green Egg group, but it has taken on quite a life of its own in the few years since.
I can't believe it took us so long to try!
I took my Brisket Chili recipe and turned it into this Over the Top version, and added in a couple of different rubs to the mix.
More Easy Traeger Recipes here!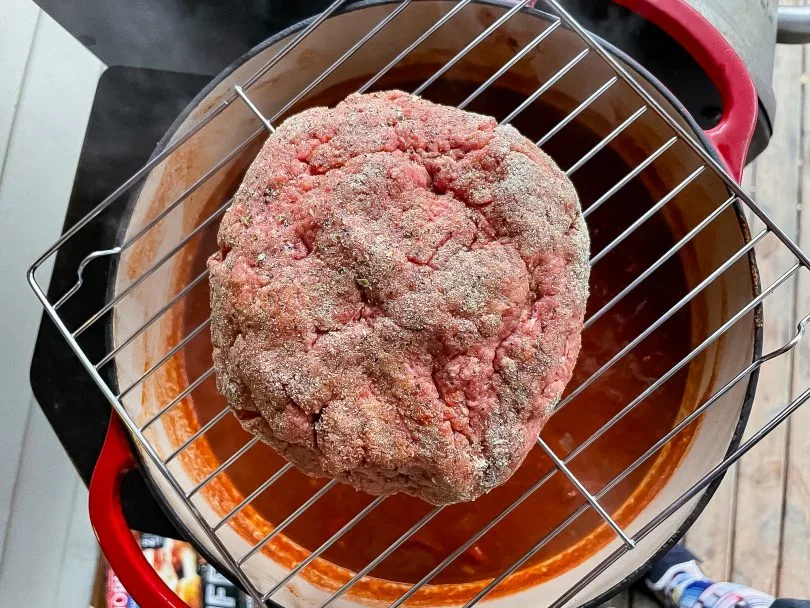 Over the Top Chili shopping list
Want to know if you have to hit the store? Check out the list below!
oil
onion
1/2 cup diced chilies or peppers, like hatch or jalapeño or bell peppers (I used hatch chilies that were located in a bag in the refrigerated section)
diced tomatoes in juice
stewed tomatoes
Rotel (whichever flavor is your favorite)
chili beans
chili seasoning mix (or your own, but I like the one I linked by Carroll Shelby.)
lean ground beef
Hatch chili powder (optional)
Jalapeño Lime Pilsner rub (optional)
More Traeger Beef Recipes here!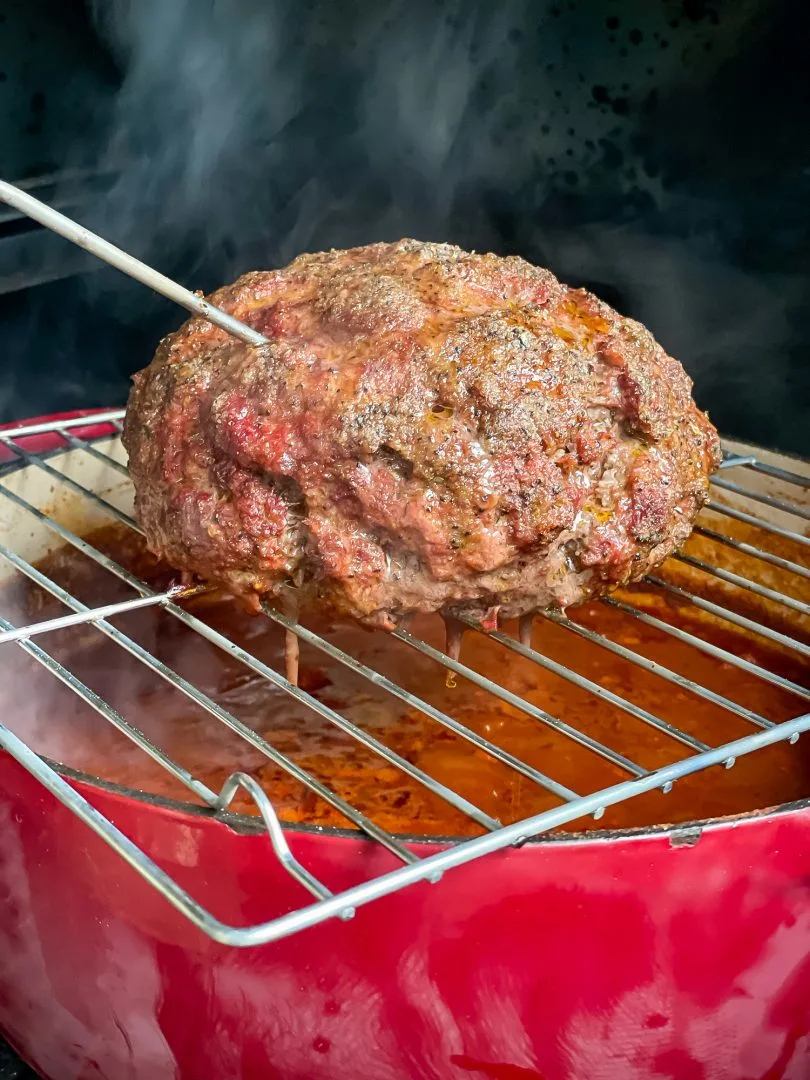 How to make Over the Top Chili
Over the top chili is actually easier to make than regular chili, and is much more hands off. With this unique method, a giant seasoned ground beef meatball is smoked over the top of the chili pot with the chili base in it.
If you have a grill with a top shelf, you can position the meatball on the top shelf above the pot. Mine doesn't, so we just used a baking rack on top of our Dutch oven for that part. Make sure to spray it with cooking spray first!
Here's the run-down on the process so you know a bit about what you are getting into, but make sure to read the recipe card at the bottom of the post for the FULL instructions.
Saute the onions and chilis in the Dutch oven until they are softened.
Add the rest of the chili base ingredients to the pot and heat to a simmer.
Form the meatball. Place on a rack on top of the Dutch oven.
Place the whole shebang onto your pellet grill that's set to 275°.
Smoke at 275° for 45-60 minutes. Turn up the heat to 325° and cook until the meatball reaches 145-150°. Stir it periodically and watch that the chili base doesn't reduce too much or burn. Add a little more water, if necessary.
Put the meat into the chili base and break it up.
Cook another 20 minutes or so, and serve hot.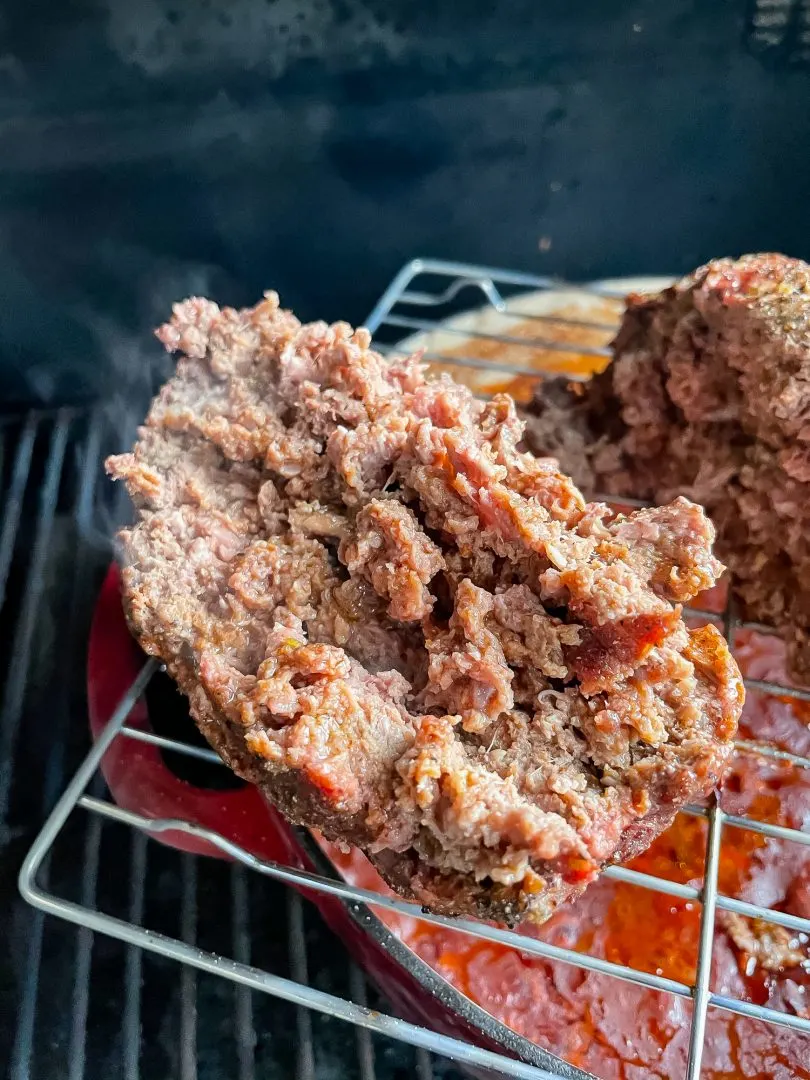 Substitutions and Add-ins
As with the vast majority of my recipes, ad-libbing is basically required. No recipe is going to be perfect for EVERYONE since we are all so unique and have very different preferences, so I always encourage people to make it their own and adjust according to their own tastes.
Some easy substitutions and that can be made are listed below.
Throw in some more vegetables, like bell peppers, celery, etc.
Make it spicier! Hot sauce would make this even better!
Use your own chili spice mix.
Leave out the beans or add in more.
Think coffee or chocolate make chili amazing? Toss some in, if you are brave.
Follow me on Instagram!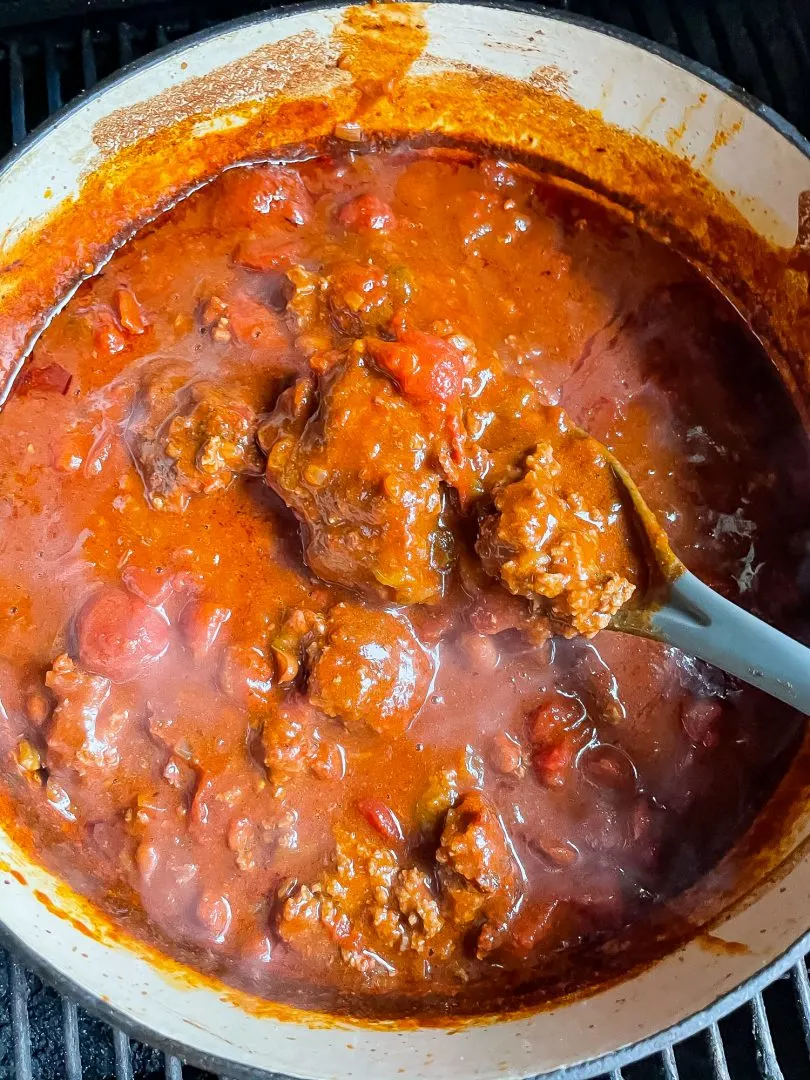 What can you serve with Smoked Over the Top Chili?
My favorite thing to serve with chili is Griddle Corn Cakes. We serve those with whipped honey butter and it is basically my favorite thing, ever.
If you have a special love for jalapenos, you might want to try our Jalapeno Cheddar Cornbread Muffins too!
I also have a pretty cool Instant Pot Cornbread recipe too.
Join our Easy Traeger Recipes Facebook Group!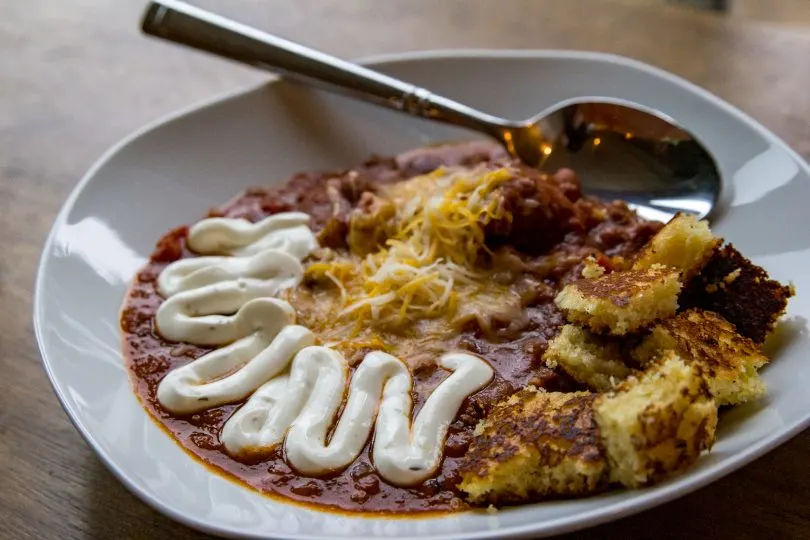 What cocktails are best with chili?
With anything spicy, I like to get the shaker out and whip up a margarita. Even though that is traditionally served with Mexican dishes, it works really well with chili too.
My Classic Margarita is traditional, bright, and perfect. Use fresh limes and good tequila for the best results!
Like something a little fruity? I have a Raspberry Margarita and Blackberry Margarita too.
Try our Over the Top Sloppy Joes too!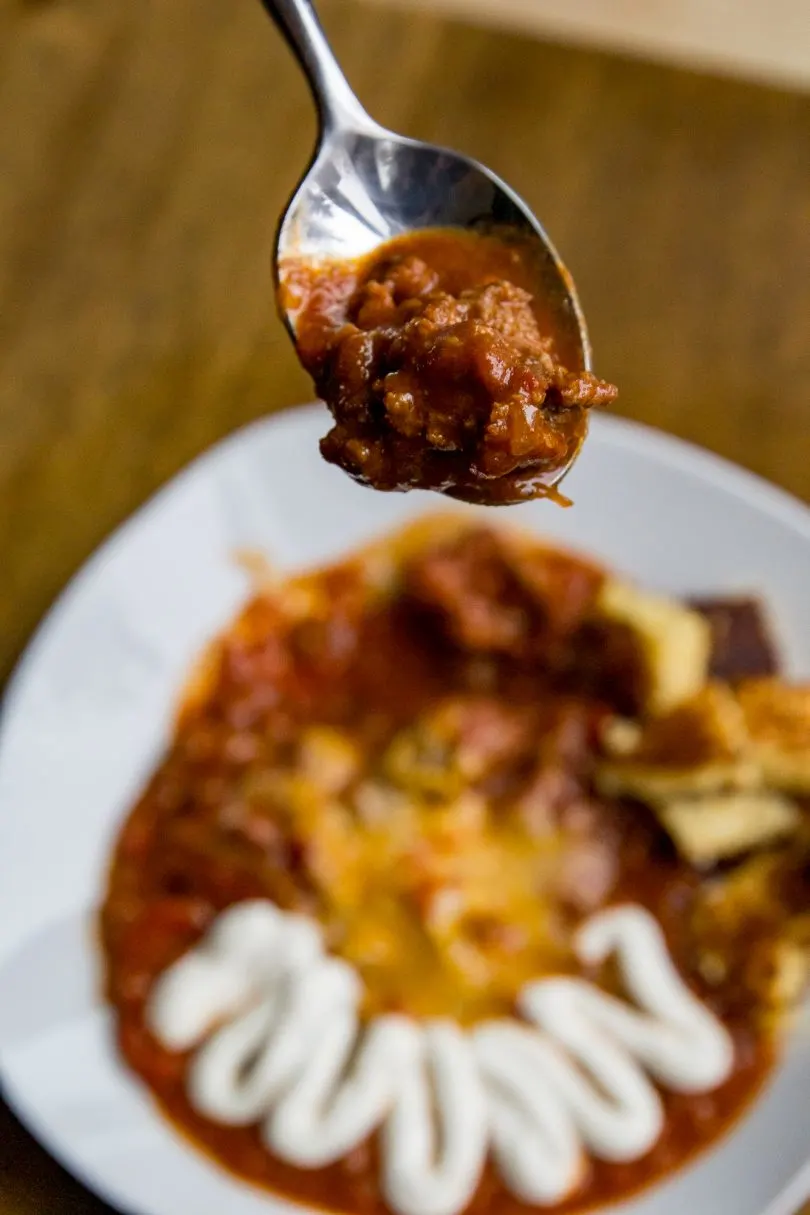 How can you get extra smoke into your chili?
If you LOVE chili and want to really maximize the smoke flavor you can also pre-smoke the onion and chilies before tossing them in the pot instead of sauteing them.
I think this was the perfect level of smoke for the dish though!
Follow me on Instagram!
Featured Reader Reviews
This was phenomenal! I used Sam Adams lager in place of the water and added extra hatch chiles. I smoked the onion & peppers before hand as well. It was SPICY but so so delicious.

Marina – on pinterest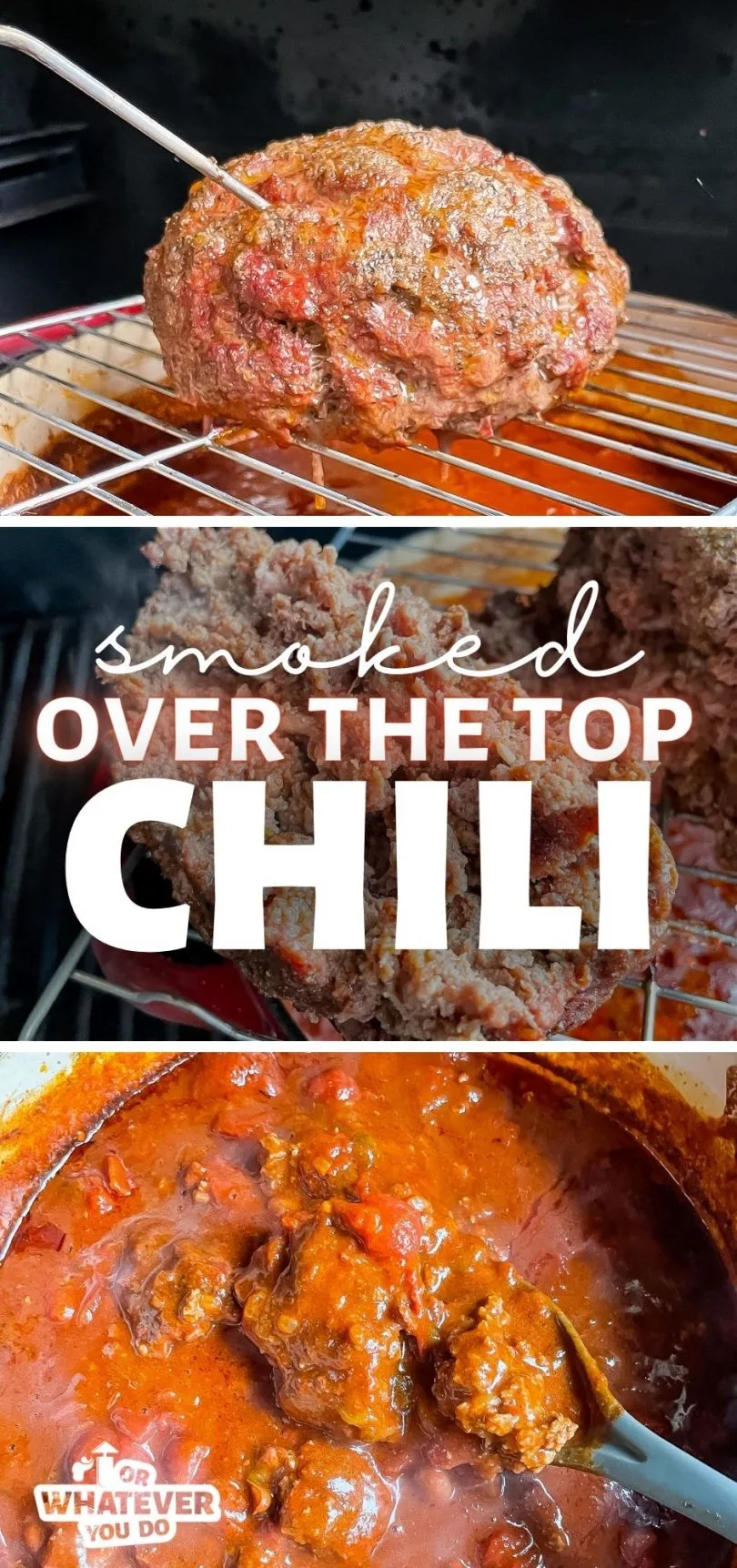 Yield: 12 servings
Traeger Smoked Over the Top Chili Recipe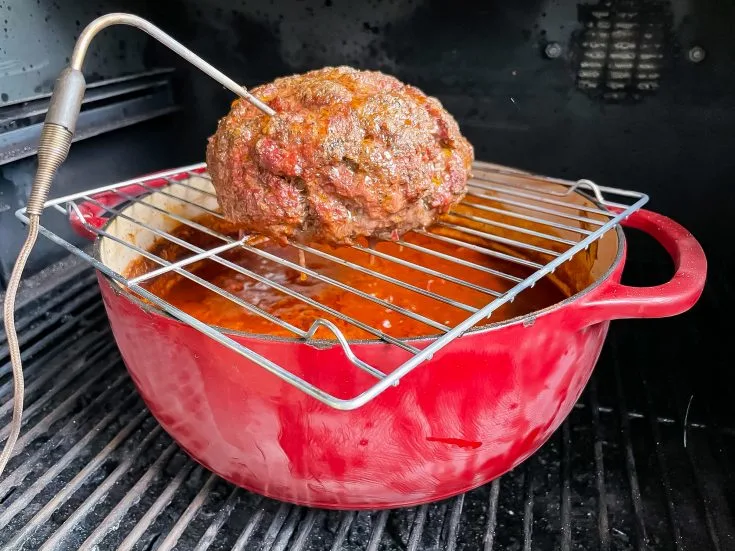 Delicious smoked over the top chili is one for the "keeper" file! Smoked seasoned ground beef is crumbled and put into a rich chili base
Total Time
3 hours
20 minutes
Ingredients
Chili:
2 tablespoons oil
1 onion, diced
1/2 cup diced chilies or peppers, like hatch or jalapeño or bell peppers (I used hatch chilies that were located in a bag in the refrigerated section)
1 28oz can diced tomatoes in juice
1 15oz can stewed tomatoes
1 can Rotel (whichever flavor is your favorite)
28 oz can water
1-2 cans chili beans (optional)
1 package chili seasoning mix (or your own, but I like the one in the pics by Carroll Shelby.)
SPG to taste
Meat:
2 pounds lean ground beef
1 tablespoon chili powder
1/2 tablespoon hatch chili powder
1 tablespoon SPG
Generous amounts of Jalapeño Lime Pilsner rub (optional)
Instructions
In a large Dutch oven on the stovetop, heat over medium heat until hot. Add onions and chilies and cook until soft.
Add in all the tomatoes, the water, and the chili seasoning mix and stir to combine. Heat over medium heat until simmering.
In a large bowl, mix together the meat ingredients, holding off on the rub, form into a large ball, sprinkle all sides with the jalapeño lime Pilsner rub (if using) and place the whole things on a rack above the chili.
Place onto your preheated pellet grill at 275 degrees. Cook for 45-60 minutes stirring the chili periodically.
Turn the grill up to 325-350 and continue cooking until the meat is 145-150 degrees.
Place the meat into the chili and break it apart.
Cook another 20 minutes, stirring well, and serve hot.
Recommended Products
As an Amazon Associate and member of other affiliate programs, I earn from qualifying purchases.
Nutrition Information:
Yield:
12
Serving Size:
1
Amount Per Serving:
Calories:

327
Total Fat:

15g
Saturated Fat:

5g
Trans Fat:

0g
Unsaturated Fat:

8g
Cholesterol:

76mg
Sodium:

752mg
Carbohydrates:

19g
Fiber:

4g
Sugar:

8g
Protein:

27g
Nutrition data provided here is only an estimate.