Our Blackstone Chicken with Mushroom Gravy takes tender chicken breasts that are sauteed along with mushrooms in copious amounts of butter on the Blackstone and then tops the whole thing with savory mushroom gravy.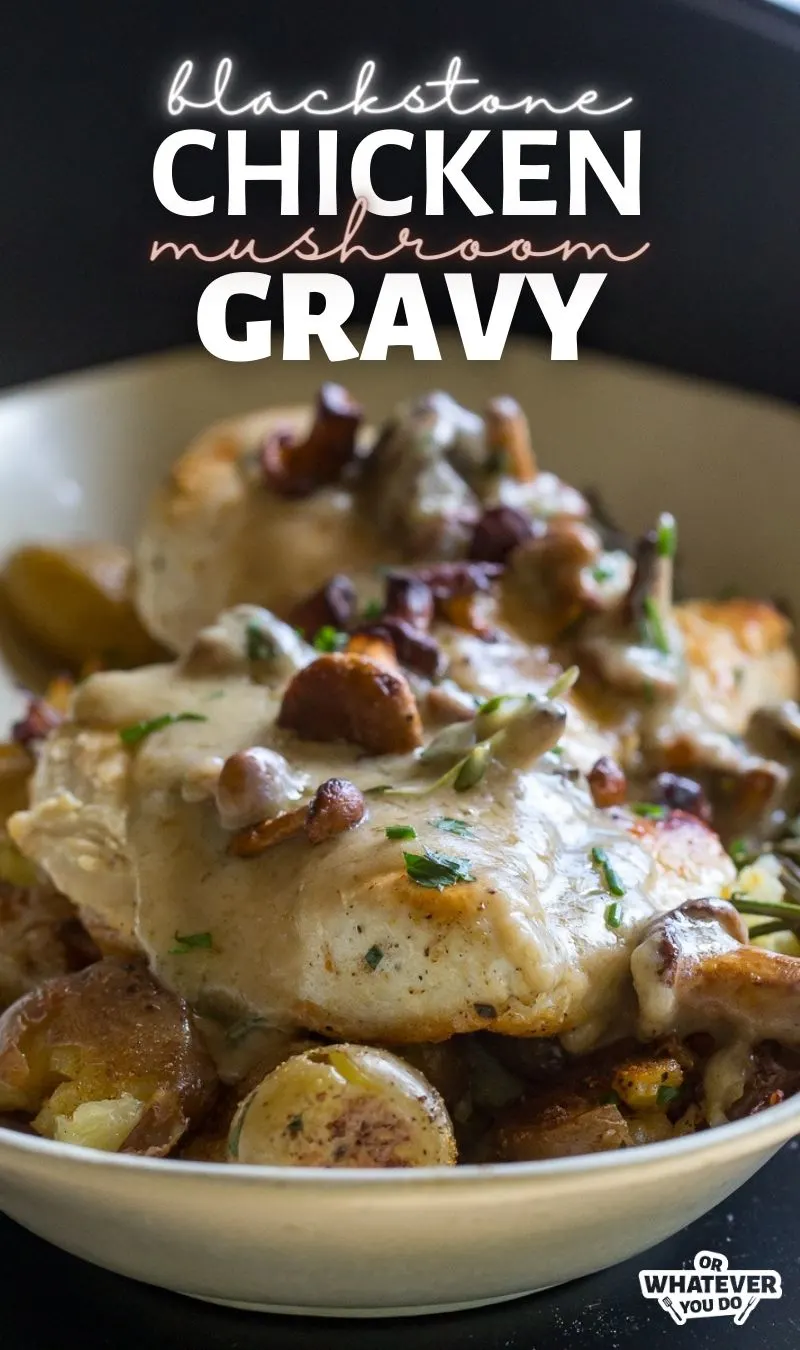 Blackstone Chicken with Mushroom Gravy
Sometimes making sauced dishes on the Blackstone can be a challenge, but if you have the right tools it can be a snap.
For this dish, we use the Blackstone for the browning, but make the pan sauce in a cast iron pan. It can be placed on the Blackstone or cooked inside on the stove, either way, will work here.
Likewise, if you don't have a Blackstone you can use a cast iron pan on the stove as well.
What you see pictured here was cooked on the Blackstone though, so Blackstone chicken it is!
Get all of my BLACKSTONE RECIPES here!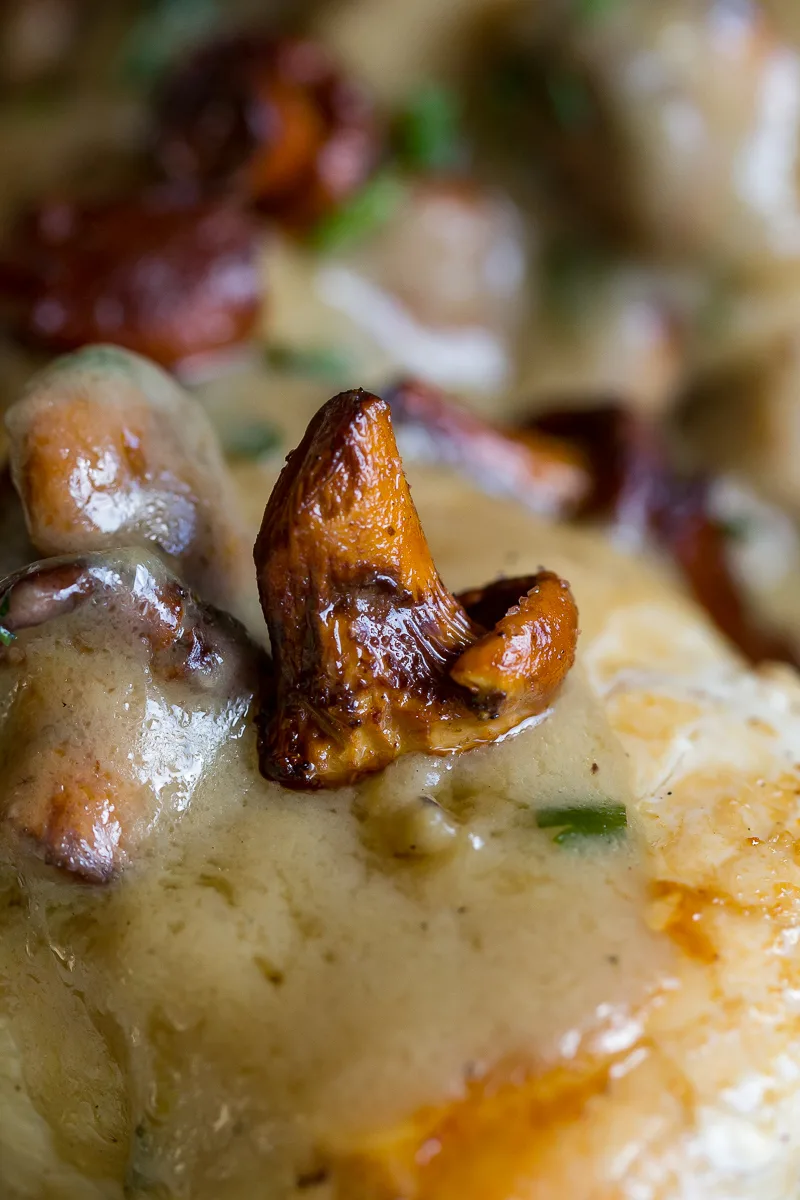 How to cook juicy chicken breast on the Blackstone Flat Top Griddle
Chicken breast is notoriously hard to cook properly, and that's typically due to cooking it too hot and too long. You need it to get to 165°, but ideally, you want to get it there gently and then pull it off of the heat a few degrees prior to that magic 165°.
In order to know what temperature your chicken is at any given point, you need to make sure you have a fast and accurate thermometer.
We use the ThermoWorks Mk4 around here, and love it! You can see all the ThermoWorks gear that we use and love here on our OWYD ThermoWorks page!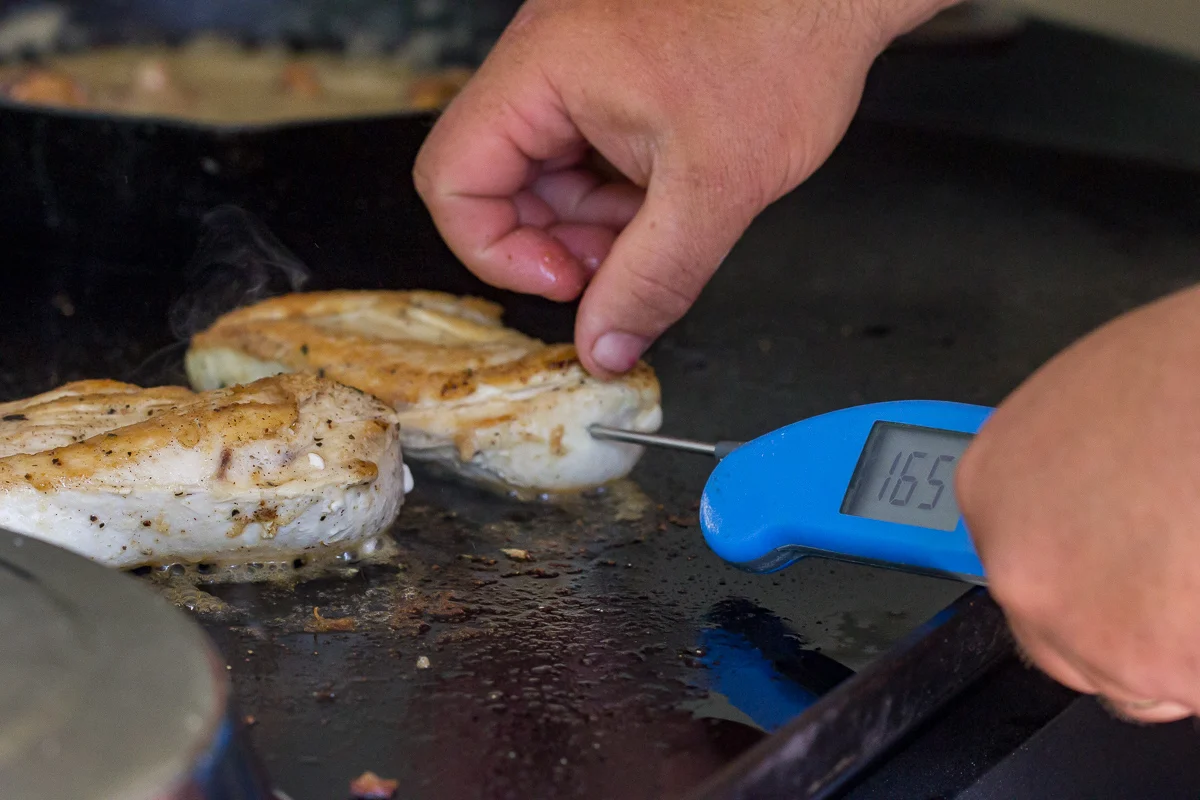 Creamy Chicken and Mushrooms shopping list
2 boneless skinless chicken breasts
avocado oil
salt
onion powder
garlic powder
black pepper
butter
chanterelles
flour
chicken broth
parsley
chives
Mushroom Powder (optional but REALLY adds a ton, so get some!)
See all of my chicken recipes!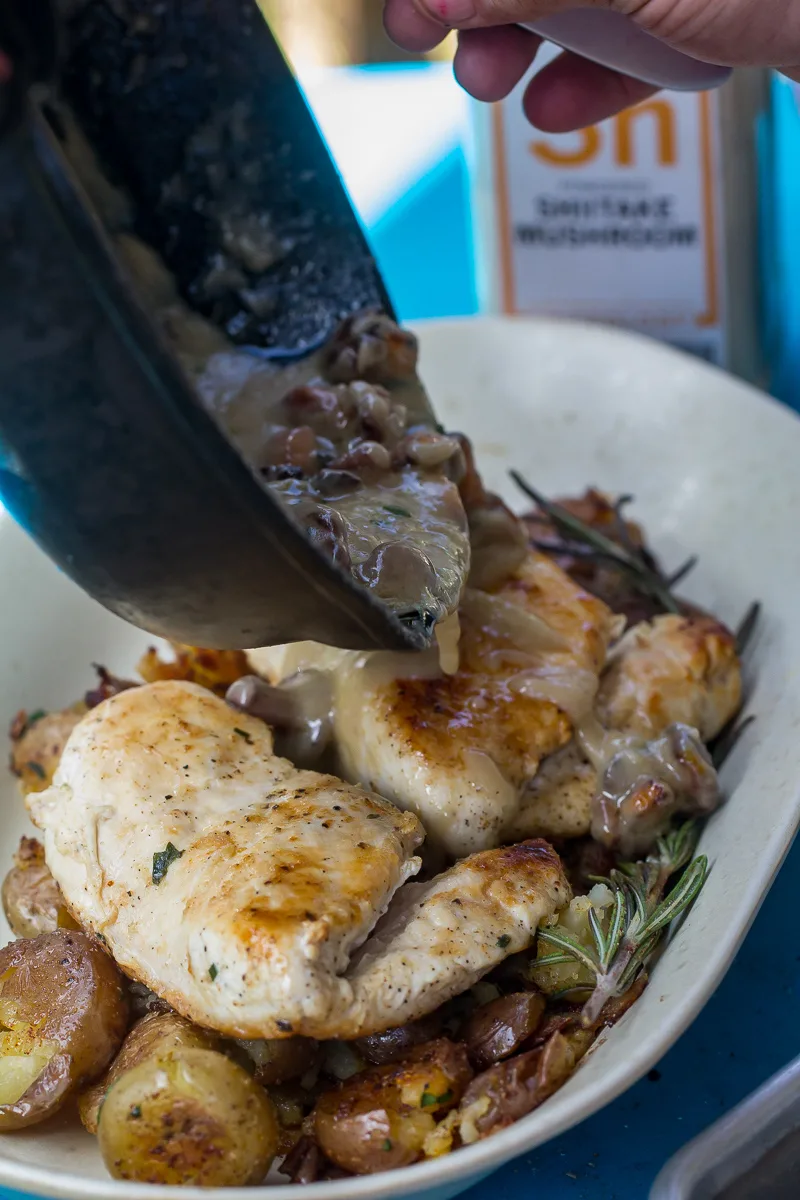 How to make Chicken with Mushroom Gravy
Season your chicken breasts.
Preheat your griddle.
Cook the chicken.
Make the gravy while the chicken cooks.
Finish cooking chicken, pull from the griddle at 163°.
Serve with rice, potatoes, or pasta and generous amounts of the gravy.
Follow me on Instagram!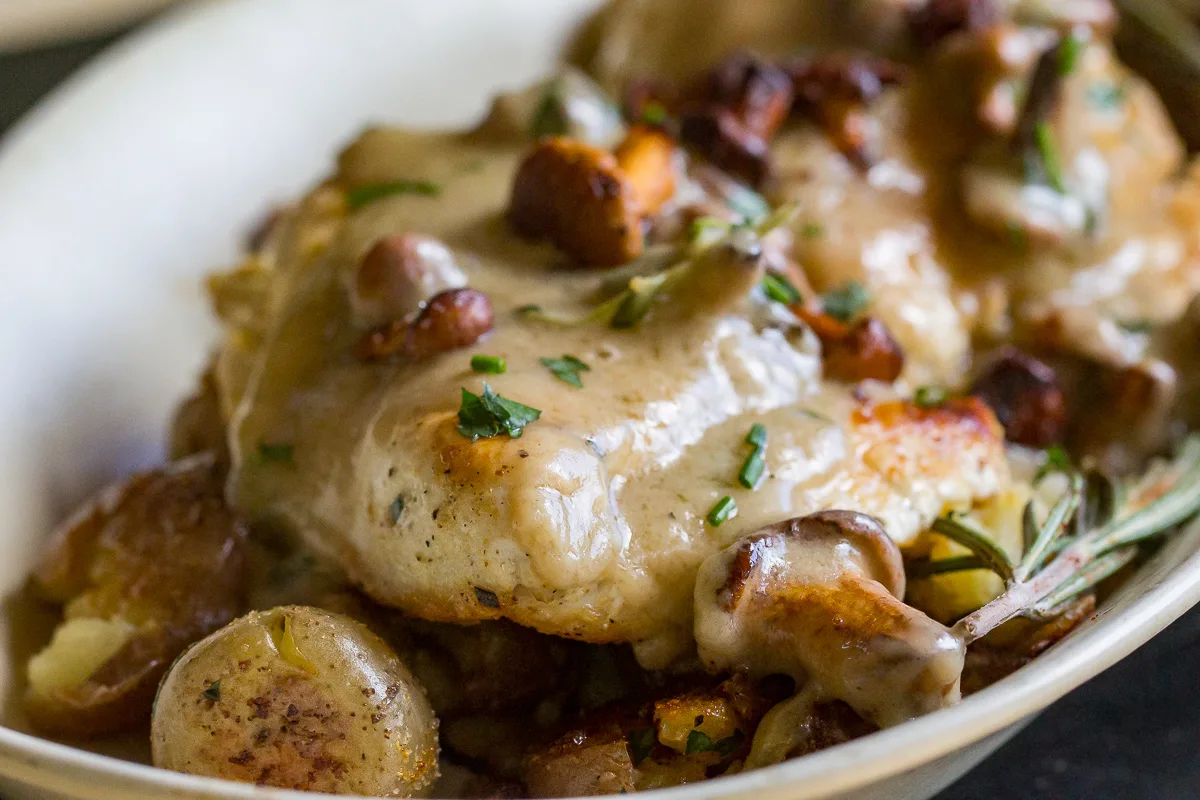 Is it a sauce or is it gravy?
That's a great question, and probably going to open up a whole can of worms down in the comments, but maybe you guys can school me a little.
What makes something a gravy?
I used to think that gravy was always a thickened mixture of animal stock with fat and a thickening agent like flour or corn starch. But then I met the "Sunday Gravy" that has been made for all of the years in Italian kitchens and that is decidedly DELICIOUS, but also blows my "gravy" definition out of the water.
What say you? Sauce or gravy? Where's your line?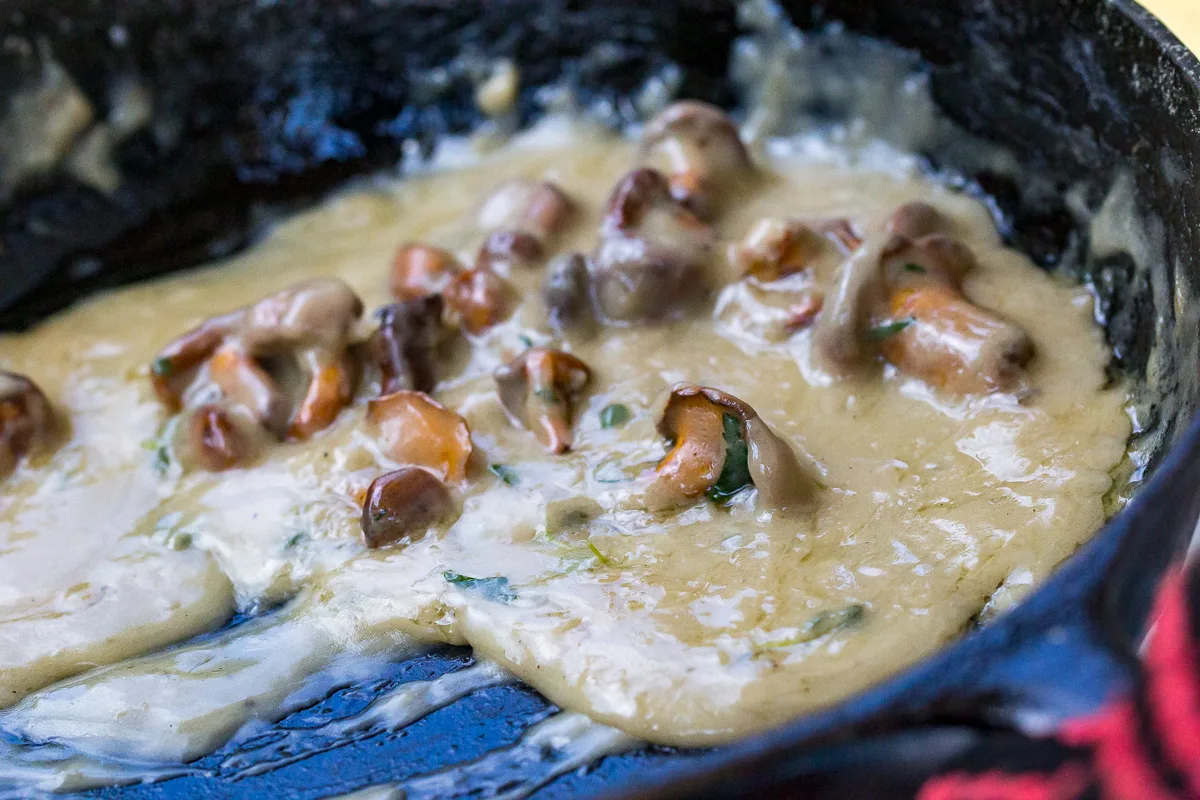 What kind of mushrooms work best for this dish?
In the dish pictured here, we used primarily Chanterelle mushrooms. Those can be hard to come by though out of season. Crimini, Baby Bellas, Portabella, and even shiitake mushrooms would be great in this dish.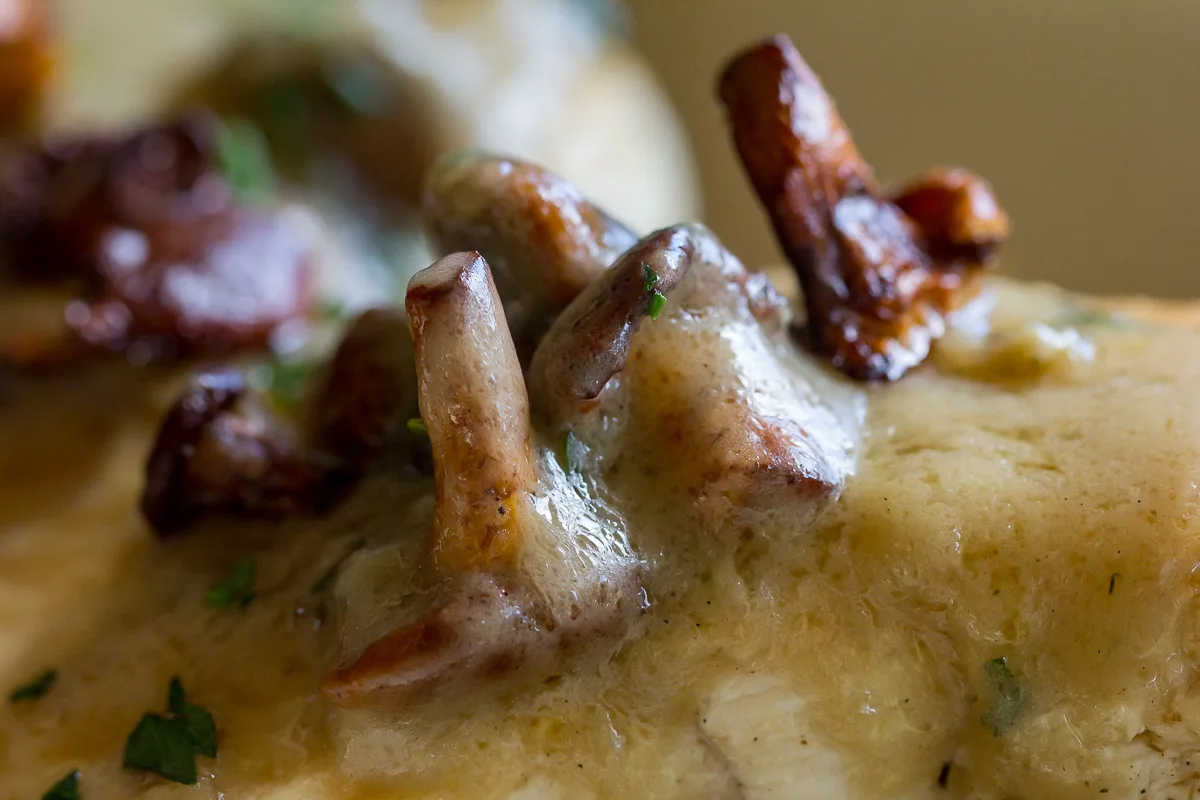 What about this mushroom powder?
This stuff is magic. I use it in SO many things, but most notably in my Beef Stroganoff and Ground Beef Stroganoff, this Traeger White Wine Chicken and Mushrooms, Wild Rice Pilaf, Creamy Mushroom Pasta, Mushroom Risotto, etc.
Basically, anything that needs a hit of umami to round out the flavor could benefit from a few shakes of this mushroom powder from Spiceology.
What should you serve with Chicken and Mushroom Cream Sauce?
More recipes to love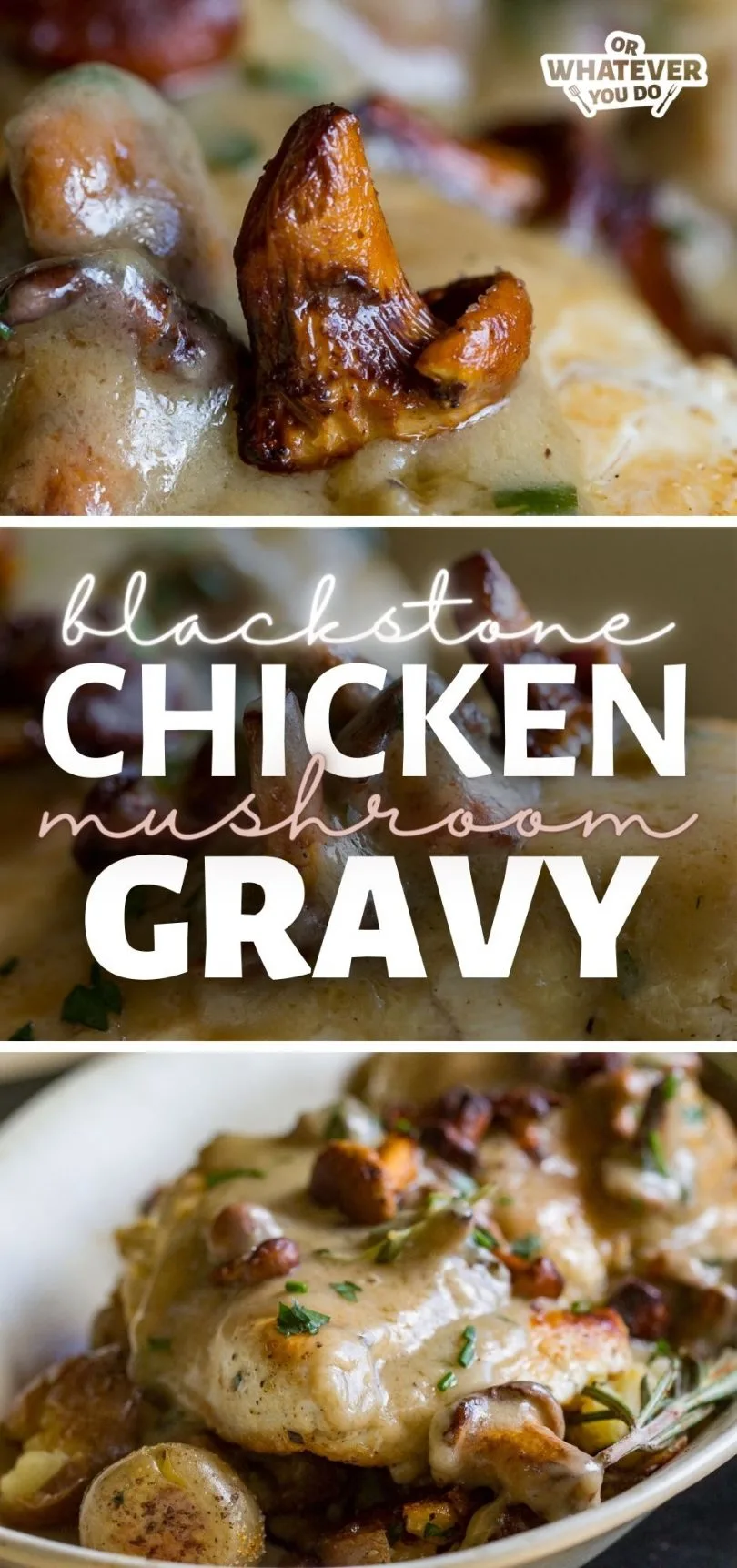 Yield: 8 servings
Blackstone Chicken with Mushroom Gravy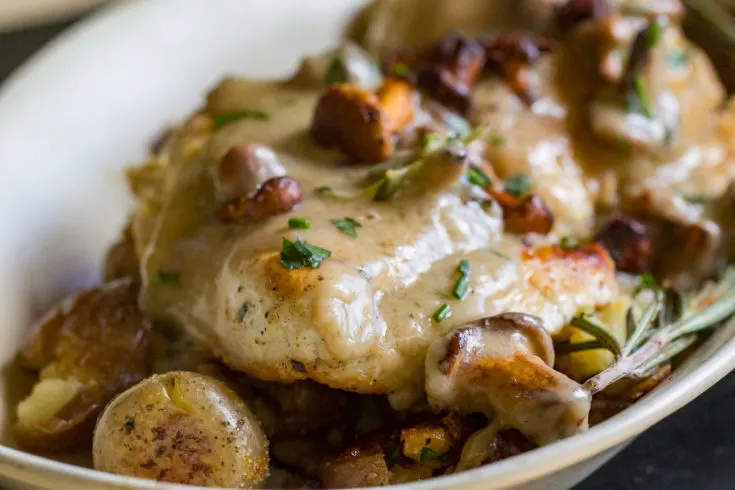 This buttery sauteed chicken is made on the Blackstone and then gets smothered with a mushroom gravy.
Ingredients
Chicken
2 large boneless skinless chicken breasts
1 teaspoon avocado oil
1/4 teaspoon salt
1/4 teaspoon onion powder
1/4 teaspoon garlic powder
1/4 teaspoon black pepper
Mushrooms
1/2 cup chanterelle, (or other) mushrooms
1/4 teaspoon salt
1 tablespoon butter
Gravy
2 tablespoons butter
3 tablespoons flour
8 ounces chicken broth
1/4 teaspoon salt
1/4 teaspoon pepper
1 teaspoon powdered mushrooms
1/2 teaspoon chopped Italian parsley
1/2 teaspoon chopped chives
Instructions
Startup your flat top griddle and preheat it on medium-low heat.
Place a medium-sized cast iron on the griddle surface at the same time to preheat as well.
While you're waiting for your griddle to come up to temp, add your oil to your chicken breasts, and then season them with the dry ingredients.
After your griddle is heated, put your chicken breasts on the griddle and begin cooking them for six minutes per side. Chicken breasts are safe to eat after they have reached an internal temperature of at least 165 degrees Fahrenheit.
While the breasts are cooking, put your mushrooms, 1/4 teaspoon of salt, and 1 tablespoon of butter into the cast iron pan and sauté them.
Stir the mushrooms while they are cooking.
Keep cooking until the juices have been cooked out.
When the mushrooms have finished cooking, add the rest of your butter and the flour to the pan and cook it down for three minutes.
Next, add in your chicken broth and the rest of your dry ingredients as well as the parsley and chives.
Let the ingredients in the pan come to a simmer and then add the chicken breasts back into the pan and let cook for another three minutes or until the sauce starts to thicken.
Pull the pan from the grill and it is ready to serve.
Recommended Products
As an Amazon Associate and member of other affiliate programs, I earn from qualifying purchases.
Nutrition Information:
Yield:
4
Serving Size:
1
Amount Per Serving:
Calories:

213
Total Fat:

12g
Saturated Fat:

6g
Trans Fat:

0g
Unsaturated Fat:

5g
Cholesterol:

75mg
Sodium:

741mg
Carbohydrates:

5g
Fiber:

0g
Sugar:

0g
Protein:

20g
Nutrition data provided here is only an estimate.